TOP 10 VERIFIED & RECOMMENDED BVI CATAMARAN CHARTER
Our senior charter brokers Daniel Asmus and Yanna Pristas have selected these 10 catamarans as a proposition of the first choice when choosing a crewed catamaran the BVI. Note that many of these are booked way ahead, inquiring early is essential.
Non-resident catamarans might be available on your dates.
The British Virgin Islands (BVI) is a catamaran paradise. Catamarans are known for their stability and capability to cover short distances swiftly, which is of extreme use in the BVI – with 10 to 20 nautical miles between anchorages.
Guests often choose luxury crewed catamarans for a seamless yacht charter vacation in the BVI. A family-friendly and budget-conscious choice below motor yachts – catamarans are comfortable and beloved.
Charter guests with families absolutely adore the trampoline! Both kids and adults find bouncing on it super relaxing, especially with the breathtaking backdrop of turquoise waters.
Key Locations for a crewed Catamaran in the  BVI
The majority of catamaran charters in the British Virgin Islands originate from either Nanny Cay or the US Virgin Islands.  Clearances at the border are required upon arrival in the BVI by air or sea. Another starting point for some charters is Hodges Creek Marina located on the East End. If you're arriving via flight, the marina is conveniently situated just a 15-minute drive from the Terrance B. Lettsome International Airport on Beef Island.
If you happen to arrive days before your charter begins, consider a stay at White Bay (Jost Van Dyke) or the renowned Bitter End Yacht Club in Virgin Gorda. It's not just a historical spot but also offers a range of luxurious amenities and exciting water-based activities.
Ensure you allocate some time to visit Peter Island during your sailing adventure. This verdant haven boasts over 200 varieties of flora and fauna, vibrant coral reefs, and pristine, white sandy beaches.
A trip to the BVI wouldn't be complete without a visit to the Bubbly Pool, a unique natural jacuzzi. Located on the northeast shore of Jost Van Dyke, which is one of the smaller islands in the BVI, this naturally formed pool offers a refreshing experience for visitors.
Another iconic spot is The Baths in Virgin Gorda, with its maze of giant boulders creating tidal pools, tunnels, arches, and scenic grottoes. It's a geological wonder and a favorite spot for both snorkeling and exploration.
Anegada, the only coral island in the BVI volcanic chain, is known for its stunning beaches and the unique Horseshoe Reef, which shelters vibrant marine life and historic shipwrecks. The island is also famous for its lobster dishes.
While in the vicinity of Jost Van Dyke, aside from the Bubbly Pool, you might want to drop by the Soggy Dollar Bar, the birthplace of the famous Painkiller cocktail. It's a quintessential beach bar experience.
Norman Island, reputedly the inspiration for Robert Louis Stevenson's "Treasure Island," is famous for the Caves, a popular snorkeling spot, and Willy T's, a floating bar and restaurant.
Top 10 Catamarans for BVI yacht charter
As hand-selected by our Senior BVI Brokers Daniel Asmus and Yanna Pristas based on previous experience and extensive networking contacts.
1. HEMISPHERE|145 FT
HEMISPHERE, the world's largest sailing catamaran, embodies the characteristics of a superyacht featuring expansive lounging zones, a versatile gear collection, and entertainment options that can please people of all ages. Her multi-hull design increases stability and safety even in rougher waters- making her the perfect vessel for a group with first-time charterers, children, and the elderly. 
HEMISPHERE embodies the essence of onboard luxury through spacious decks, terrace lounges, sunbeds, and sofas. Her past visitors were lucky enough to watch dolphins play while having their meals at the al fresco dining area. What sets chartering on HEMISPHERE is her crew of 10, led by Captain Bladen, a qualified dive instructor with comprehensive knowledge and passion for marine life. He and two dive instructors can help you become PADI certified while on board at the Nitrox-capable dive center. The crew members always stay vigilant, from water activities to sudden excursions to relentlessly nurturing guests' requests.
AMENITIES AND TOYS
HEMISPHERE is the dream charter for guests looking for a charter experience of diving, fishing, and snorkeling. Her 53.8ft sports fishing tender is perfect for exploring ashore, reaching special dive sites, and trying tournament-standard fishing.
Apart from the fishing and snorkeling gear, HEMISPHERE's collection includes 2 additional tenders, SeaBobs, windsurfers, kayaks, waterskis, wakeboards, kneeboards, SUP, inflatables, diving board, and full scuba diving facilities for 12 guests. Upon spending the day trying water sports and island hopping, guests get rejuvenated at the large deck jacuzzi.
GUEST COMMENTS
'I have been on many boats in my 57 years, and this holiday has surpassed all of them. The crew are the best we have been with. Sharks, whales, dolphins, sunsets, cocktails, laughter, loads of love -thank you, Gavin and crew.'
2. REVE BLEU| 68 FT
After Embarking on REVE BLEU, the charter guests often get surprised because she feels like a larger yacht- featuring 200 sqm of living space. This child-friendly multihull catamaran provides a stable and safe charter experience while the flexibility of usable living spaces provides comfort for the children. REVE BLEU's unique cabins with sunroofs let the guests have a stargazing experience at night, while the master cabin users get maximum privacy thanks to the private stairs to the deck.
REVE BLEU's guests usually relax at the aft cockpit's spacious lounging space, where the crew -Brice, Steve, Gaïa, and Augustin– help them learn about the BVI coast or serve them with snacks and drinks. Chef Augustin, who spent 4 years in a Michelin-star restaurant, whips up anything for the guests – be it food for toddlers or exquisite seafood dishes made from fresh local produce
AMENITIES AND TOYS
Even a few years back, it was unimaginable for a 68-foot catamaran to have a 42-foot chase boat worthy of stony shores, diving, and fishing. REVE BLEU MED dials up the chartering experience by providing access to island exploration and activities -often provided at larger catamarans.
REVE BLEU has an impressive water sports collection: Seabobs, towables, kites with kite sails, SUPs, kayaks, snorkeling gear, electric scooters, and electric bikes. Our past clients were ecstatic after trying water activities- water skiing and wakeboarding- with their children.
3. IPHARRA| 102 FT
IPHARRA's interior greets guests with a warm and romantic atmosphere complemented by the Caribbean sun. Our past guests favored lounging at the spacious main salon, where they could enjoy generous views through large windows and have group bonding activities. As for the outdoor spaces, IPHARRA's flybridge -equipped with a bar, large sofa, and deck chairs- allows guests to sprawl over in the shade or tan in the sun.
No matter how fancy a vessel is, you can't enjoy sailing unless the crew members do their best. IPHARRA's Captain Franck, who has been sailing for 18 years, ensures the guests get the best of everything- sailing to hidden locations, stable sailing, and water activities. Our previous clients also loved enjoying Chef Sam's creative cooking at the open gallery and found some cooking tips they could use back home.
AMENITIES AND TOYS
IPHARRA is fitted with a stern Hydraulic elevator to facilitate access to the boat. She is equipped with two tenders and a large collection of sea toys-Seabob, paddle boards, Jobe banana rider, Tubes, Jumpseat, Wakeboard, kneeboard, Laser Sailboat, Kayaks, BIC Sport Tobago- for all ages.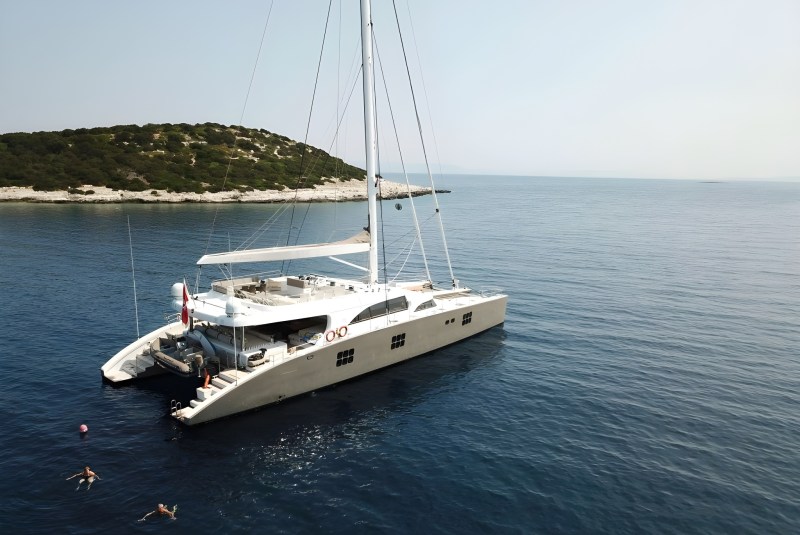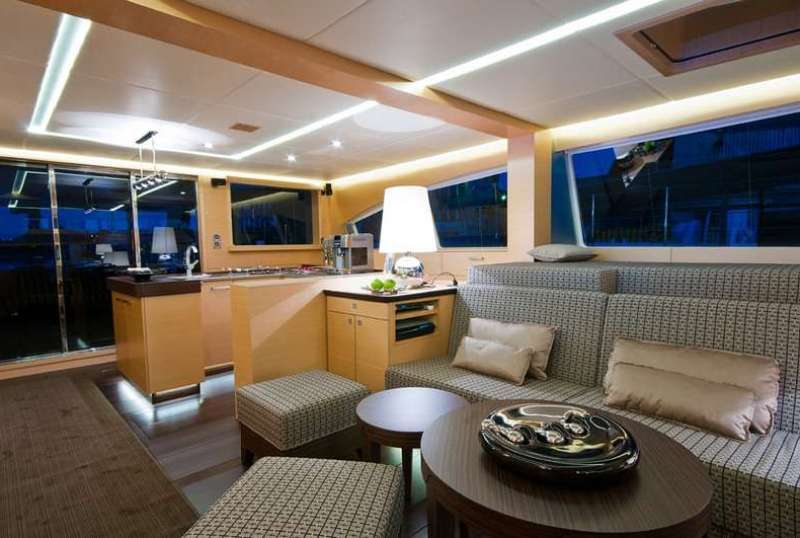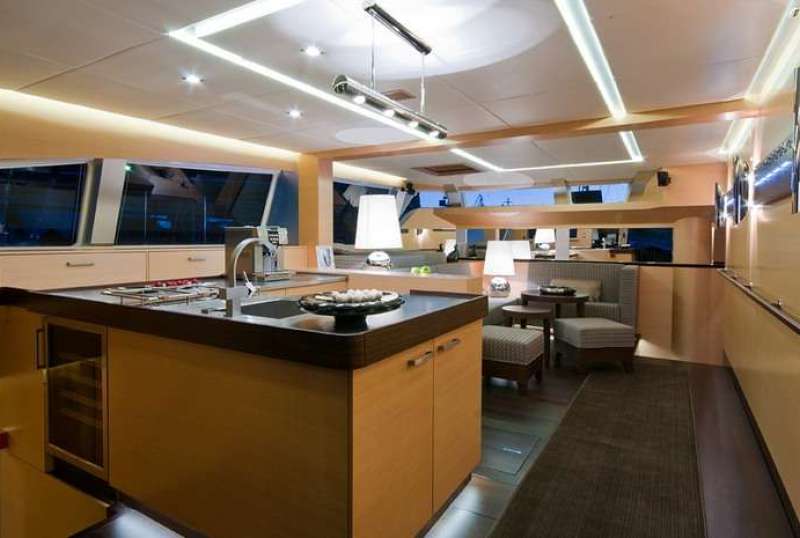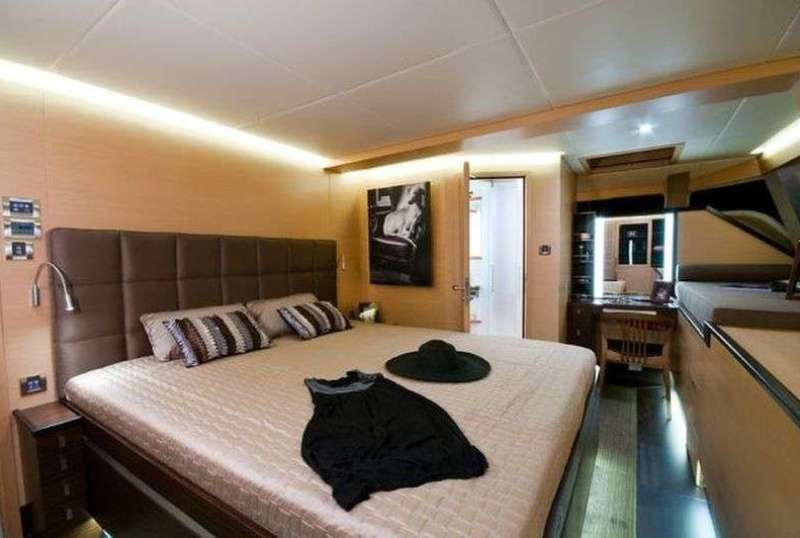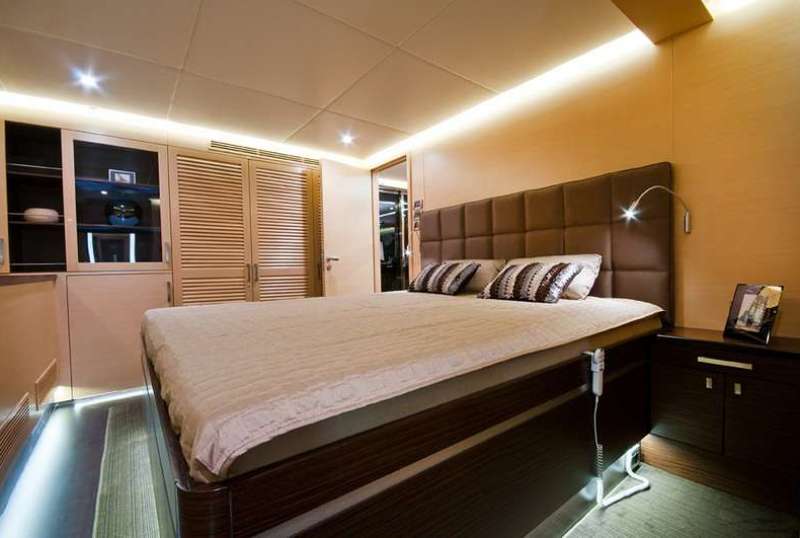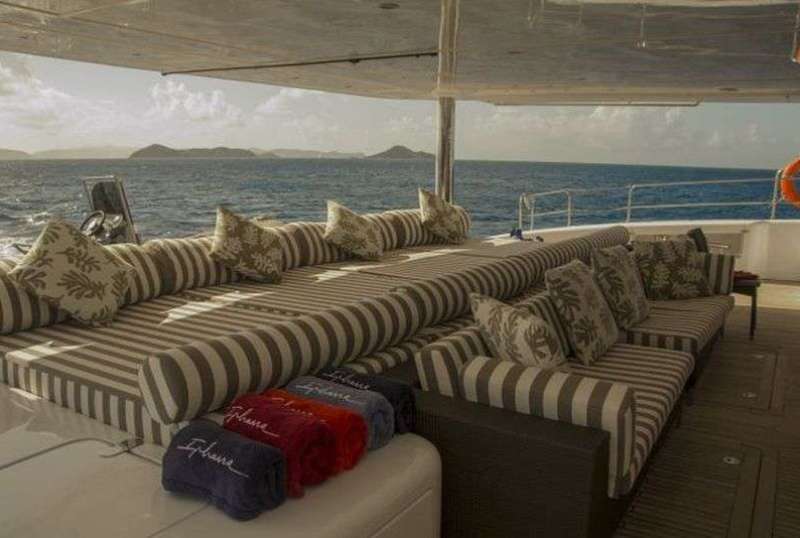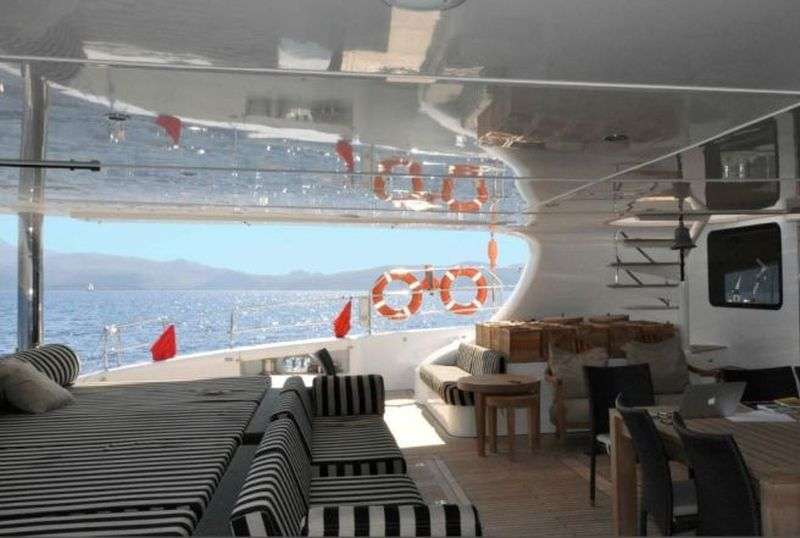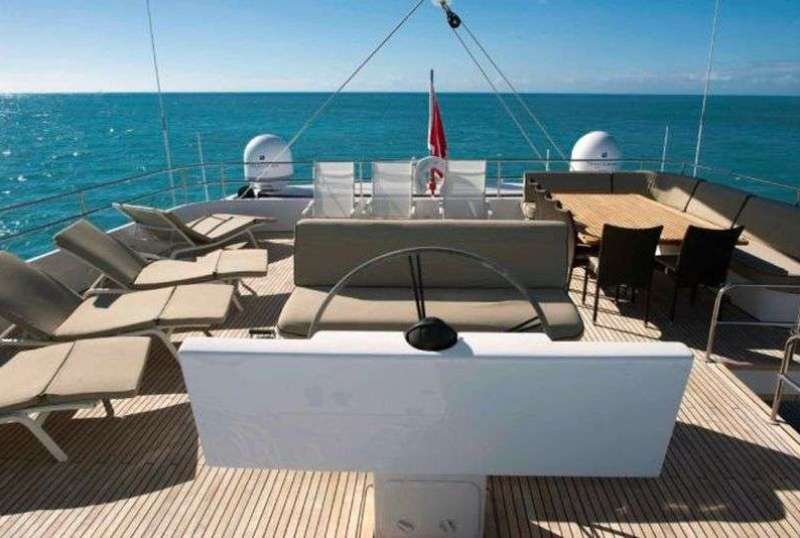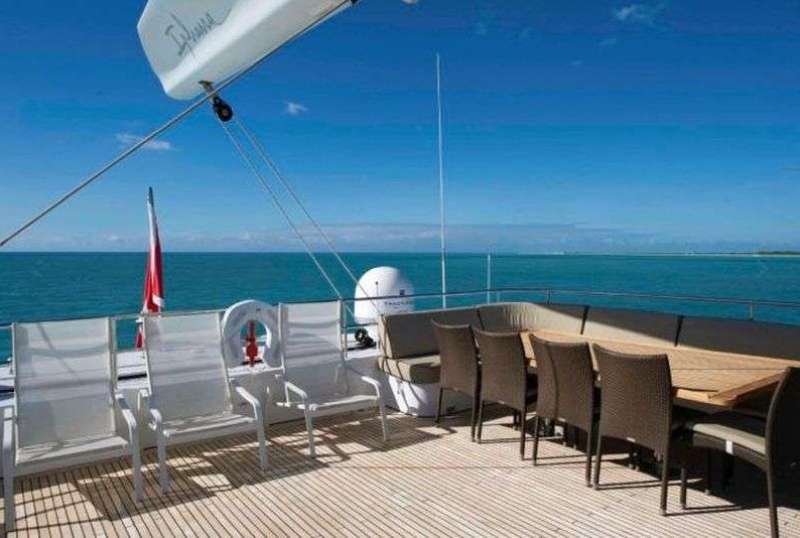 IPHARRA
From $68,000/week
5 cabins
102 ft
Sunreef Yachts
10 guests
Refit: 2017
50 Litres/Hr
4. BUNDALONG| 80 FT
BUNDALONG, a Sunreef 80, displays a combination of exterior and interior areas easily flowing into one another. She is a popular vessel among older adults and individuals who prefer a classic boat accompanied by modern features– featuring teak, high bulwarks, and classy lines. We always heard good words about BUNDALONG's flexible layout and spacious common zones (aft, saloon, bow terrace) as guests spent hours lounging and relaxing. Previous guests who got lethargic after sprawling on BUNDALONG's spacious sun pads used the gym equipment (yoga mats and blocks, resistance bands, free weights) to feel better.
Since BUNDALONG's furniture pieces are movable, crew members could organize events and parties sans the congested feeling. Also, the Sonos Surround sound system throughout the main salon, cockpit, and flybridge ensured that guests had the onboard clubbing/party experience.
AMENITIES AND TOYS
BUNDALONG has enough fishing gear (basic light tackle, big rig fishing trolling gear, offshore trolling gear) and a Williams 505 diesel jet tender (10 pax) for deep sea fishing. Individuals who prefer water activities can spend hours with her water toy collection- SUP, Seabobs, efoil, snorkel gear, and Water skis.
5. RELENTLESS II| 80 FT
RELENTLESS II exudes a luxury hotel vibe with an expansive layout that defies any claustrophobic sensations typically associated with boats of this size. Her royal blue interior welcomes the guests after a long day and ensures a good night's sleep. If the guests feel burned out, the massage therapist and wellness coach onboard can help them feel better.
RELENTLESS II boasts circular windows for unobstructed panoramic views– enhancing the connection with the surrounding coast. The common spaces have sun beds and sofas, while a sun awning offers shade and basking in the open air. RELENTLESS II's knowledgeable Captain Magnus and crew provide an immersive experience, sharing their insights about the islands and the local attractions. From excursions to the hidden gems of BVI and special diet-based meals to assistance with water activities, the team is ready to go the extra mile for the guests.
AMENITIES AND TOYS
RELENTLESS II is equipped with a 16′ Dinghy, Water Skis (Adult and Kids), Kneeboard, Snorkel Gear, Tube, Wake Board, Floating Mats, Swim Platform, Boarding Ladder, Beach Games, SUP, Sea Bobs, and E-Foils. Although RELENTLESS II possesses fishing gear, we have fishing permits for USVI only. However, the crew can arrange deep-sea fishing at guests' expense if they notify us during booking.
Upon returning from salty water, guests can wash off dirt at two rainfall cockpit showers. Also, the Jacuzzi can invigorate their muscles and minds for new adventures of the next day.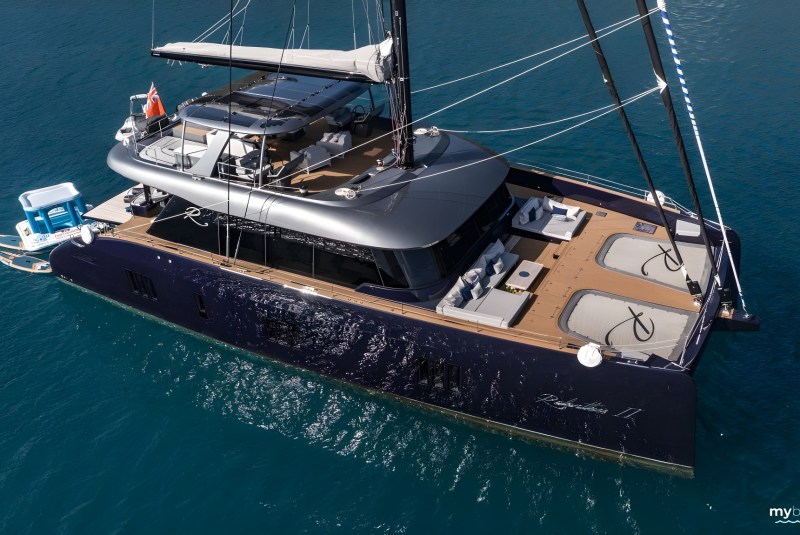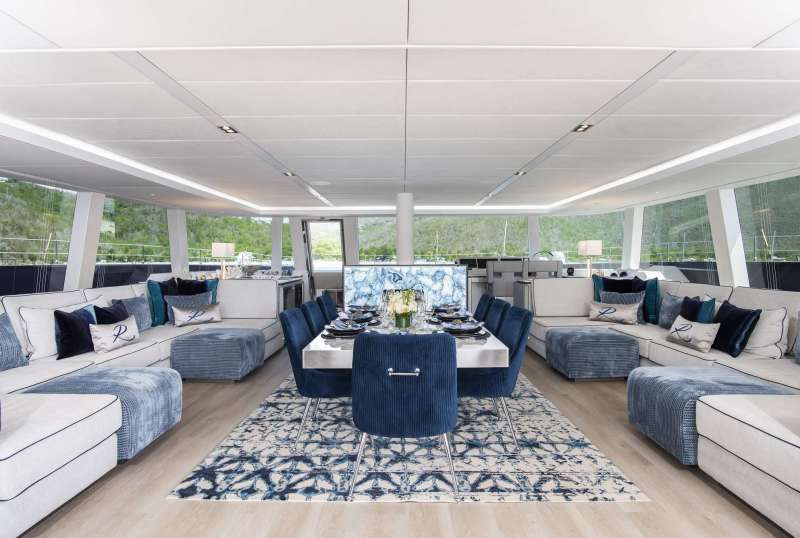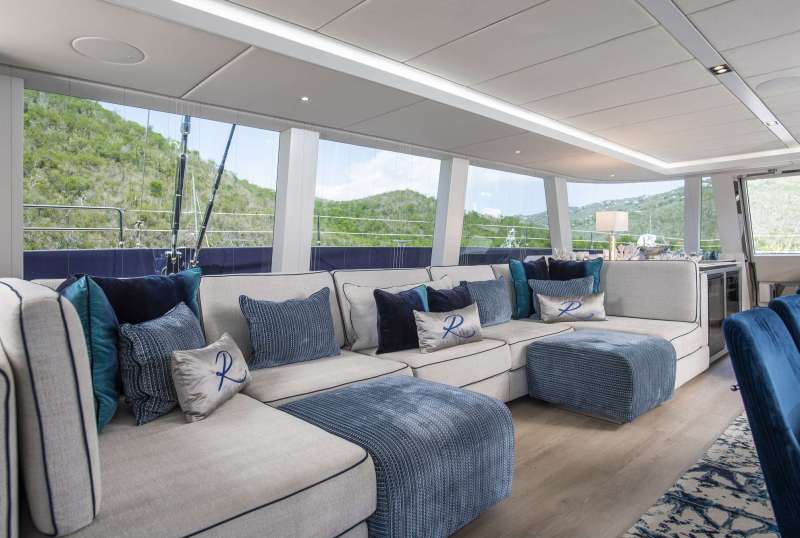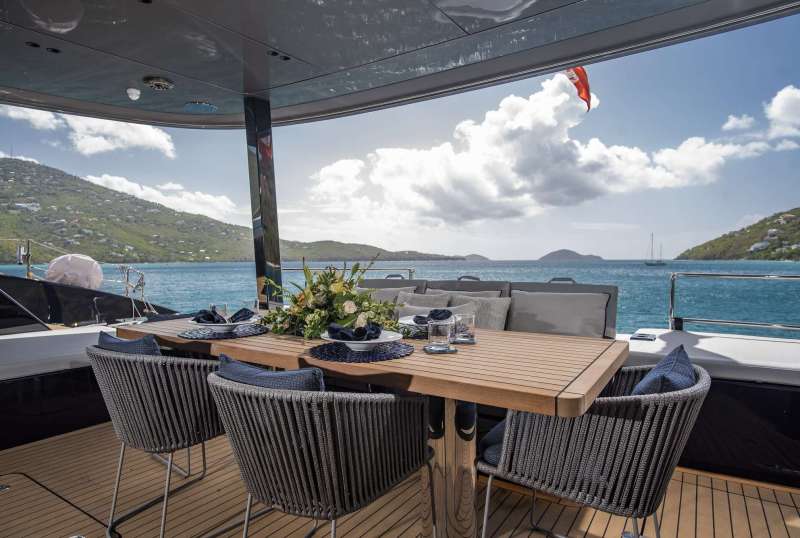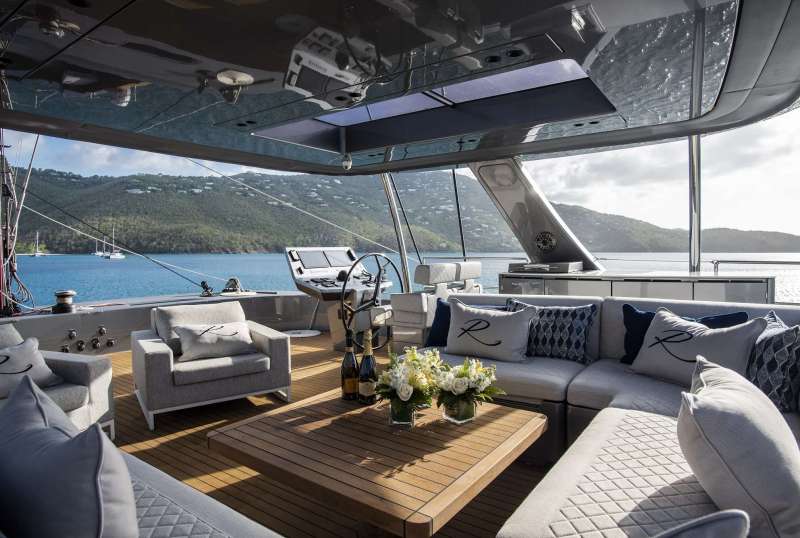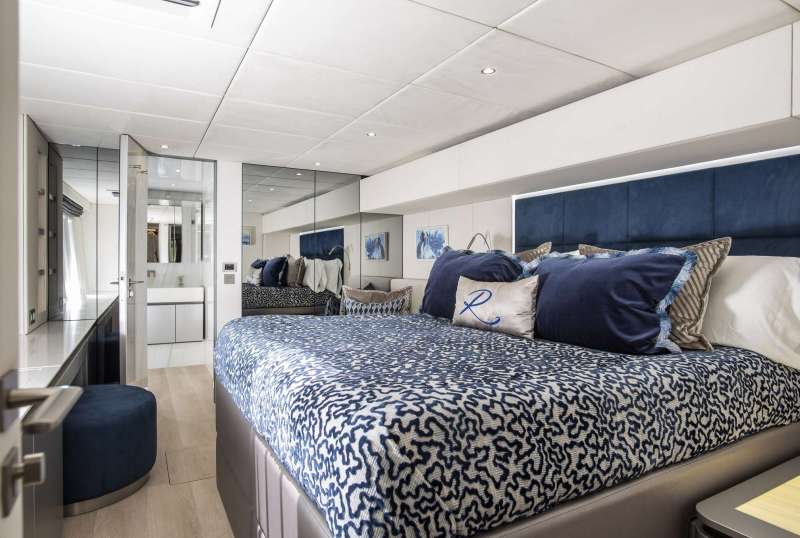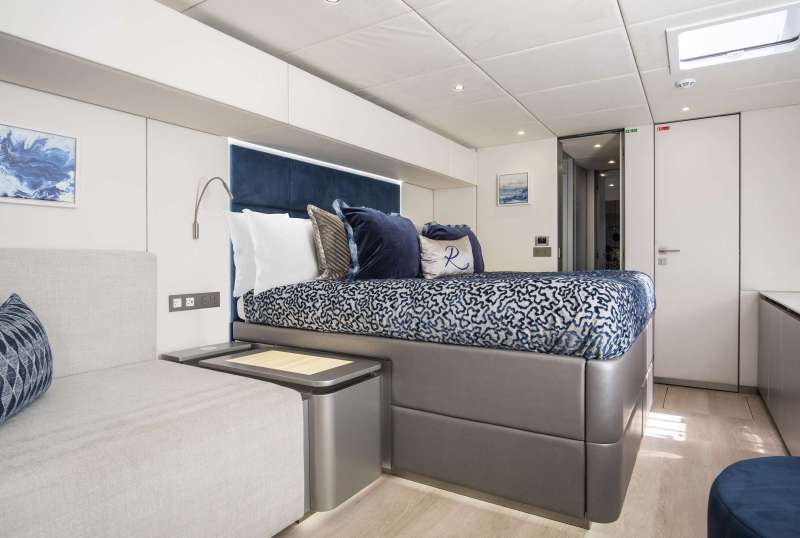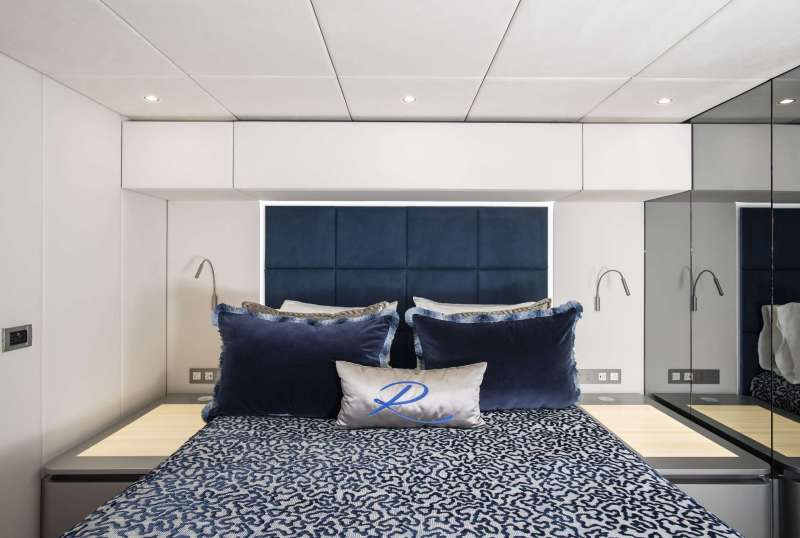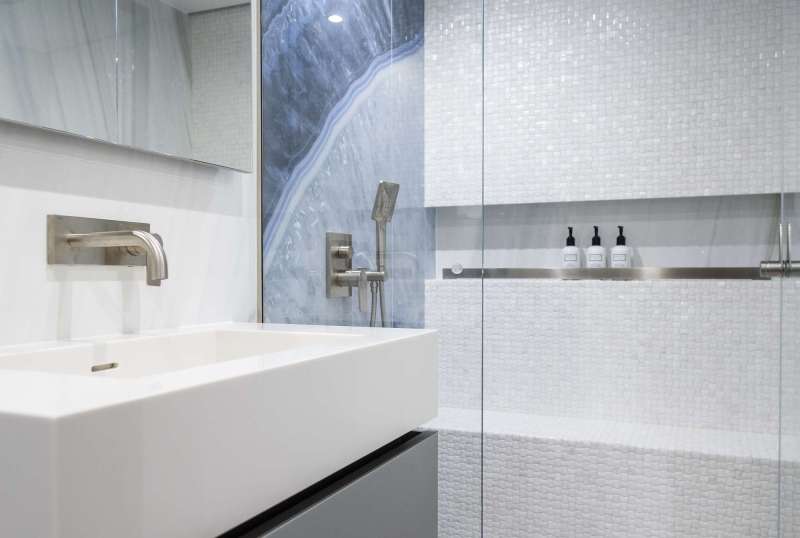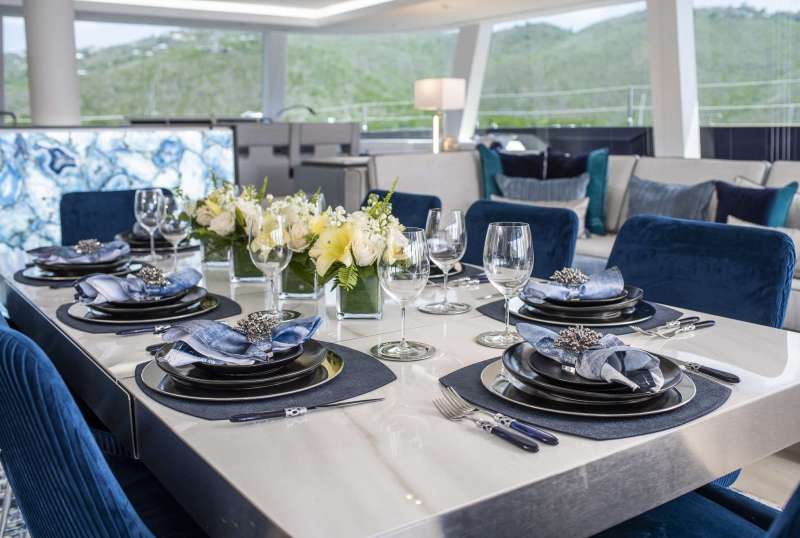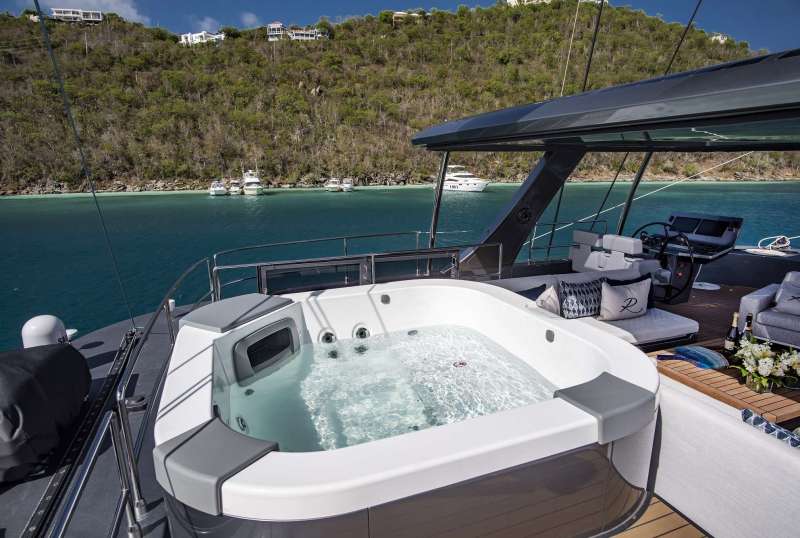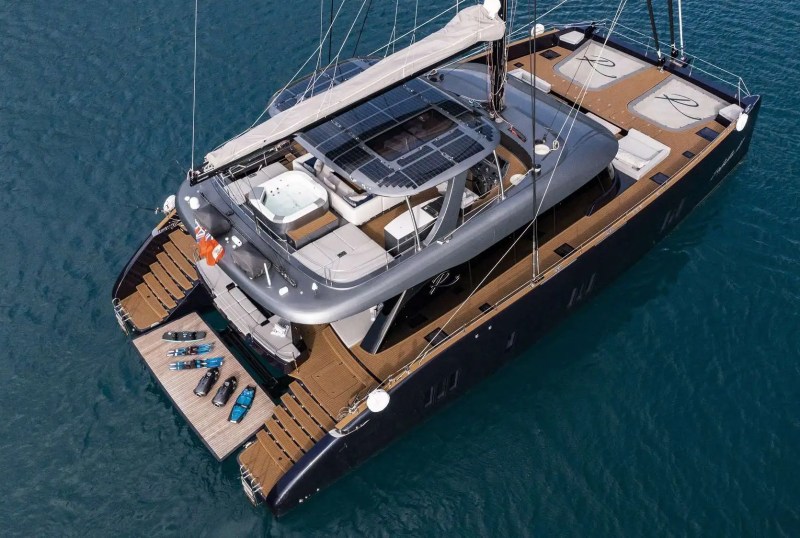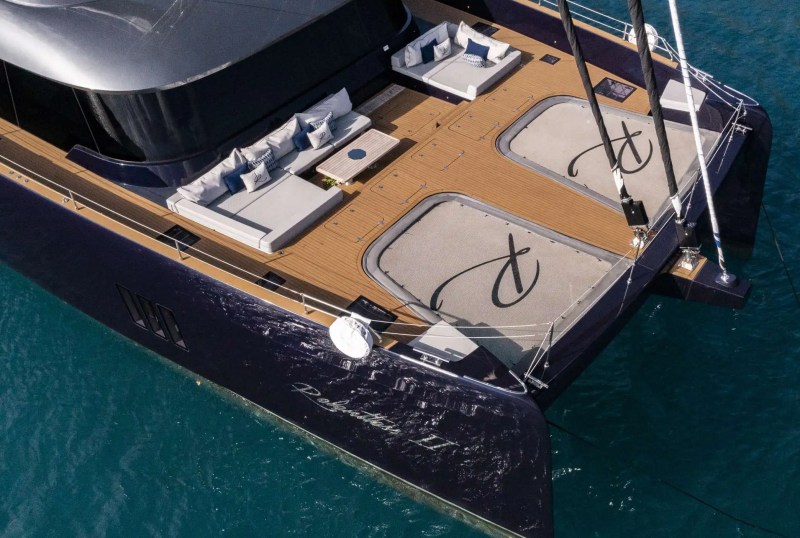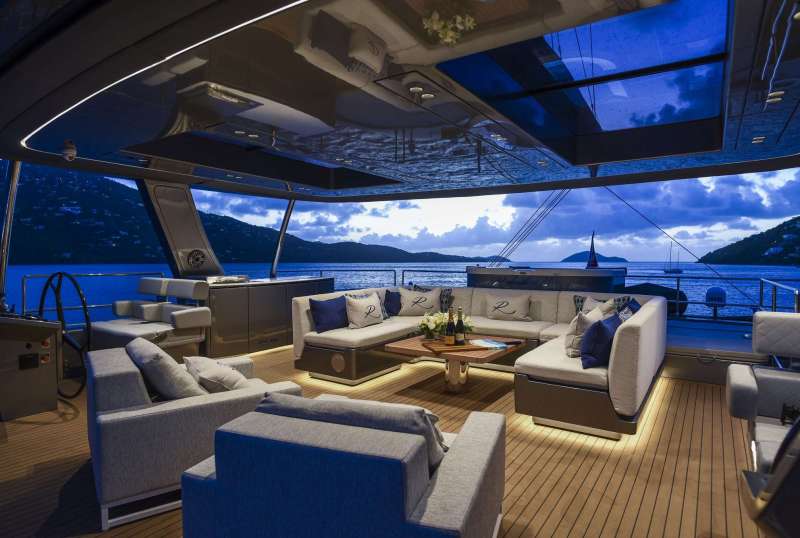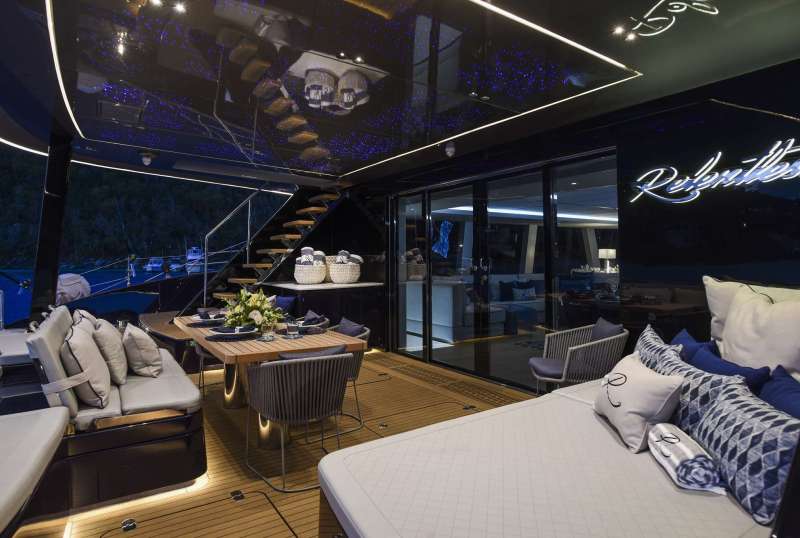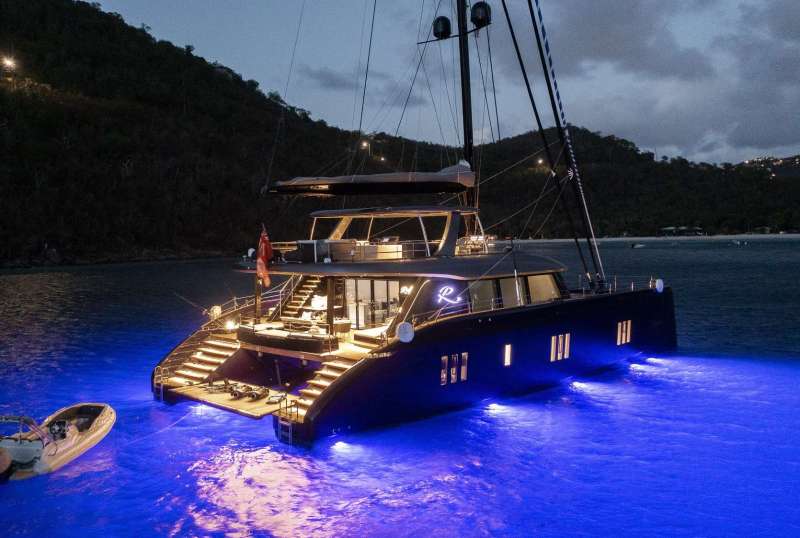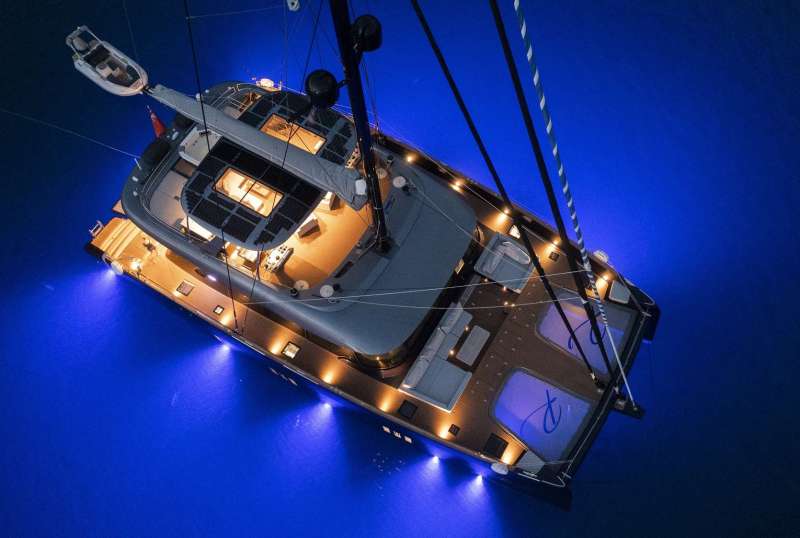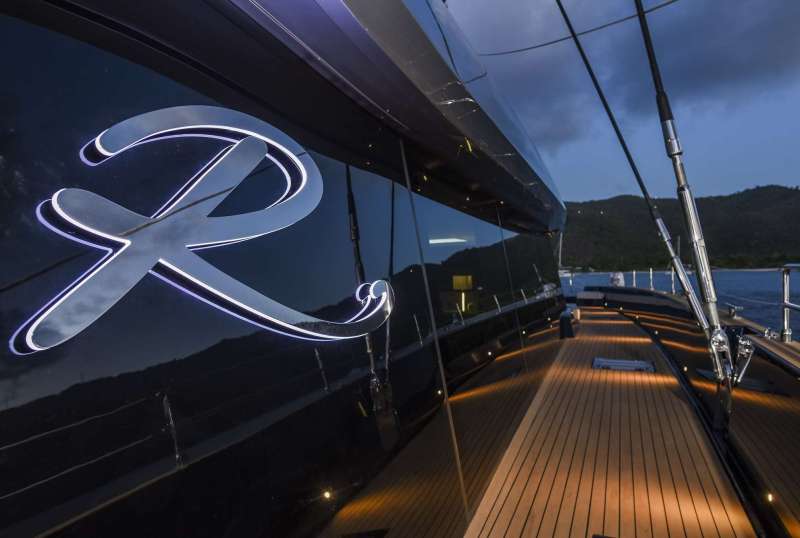 RELENTLESS II 80
From $93,700/week
4 cabins
80 ft
Sunreef Yachts
8 guests
Built: 2022
6. SOL|80 FT
Chartering at SOL- a sustainable, noiseless, and majorly solar-based catamaran– will be a one-of-a-kind experience for the visitors. We had vegan and allergy-prone visitors who were overjoyed to find organic bedding, interior elements excluding animal products, and non-toxic personal care items. Her vast bow, cockpit, saloon, and flybridge areas are equal to yachts twice SOL's length, allowing guests to have private moments or enjoy the sea isolated.
SOL ensures an unparalleled sailing vacation through her crew members. Captain Jack- a qualified Dive Master who spent the past 12 years in the Caribbean- can help you cover all the famous BVI charter locations without the rush of tourists. In case the guests prefer fully plant-based cuisine, the Chef is well versed at creating such meals from the produce of local small farmers. SOL's multi-talented engineer Caroline is also a yoga instructor; she creates custom yoga classes onboard.
AMENITIES AND TOYS
SOL's 16-foot dinghy and fishing gear (Trolling / Casting, Rods) are perfect for inshore fishing. Guests can record their underwater activities, such as snorkeling, with the available Go Pro. SOL also provides many water toys: Floating Mats, Foil boards, Swim Platform, Jet Skis, Tube, Water Skis (adult and children), Inflatables, and SUP.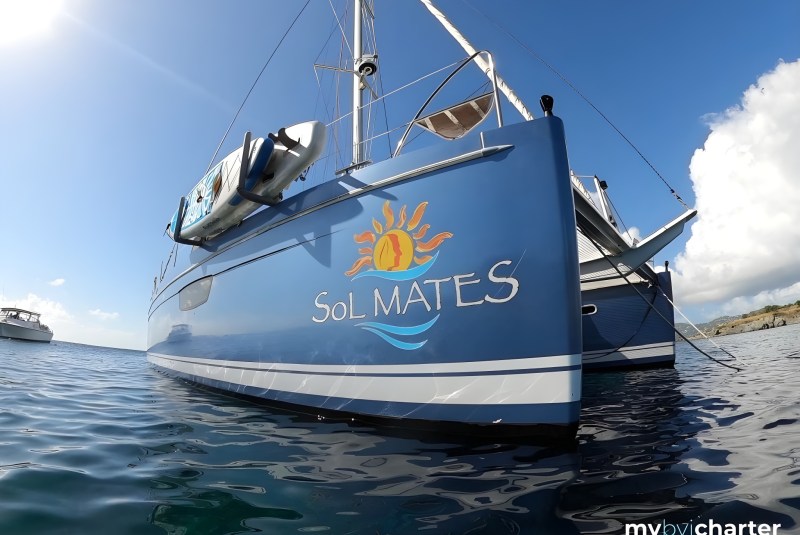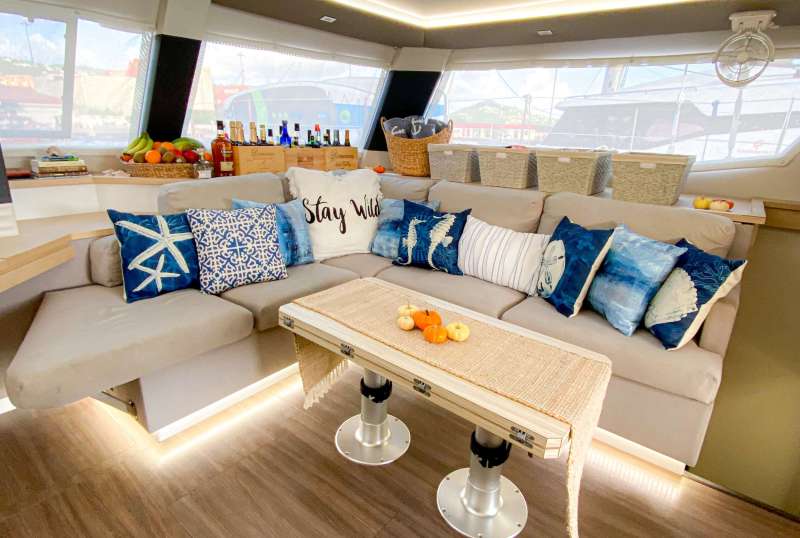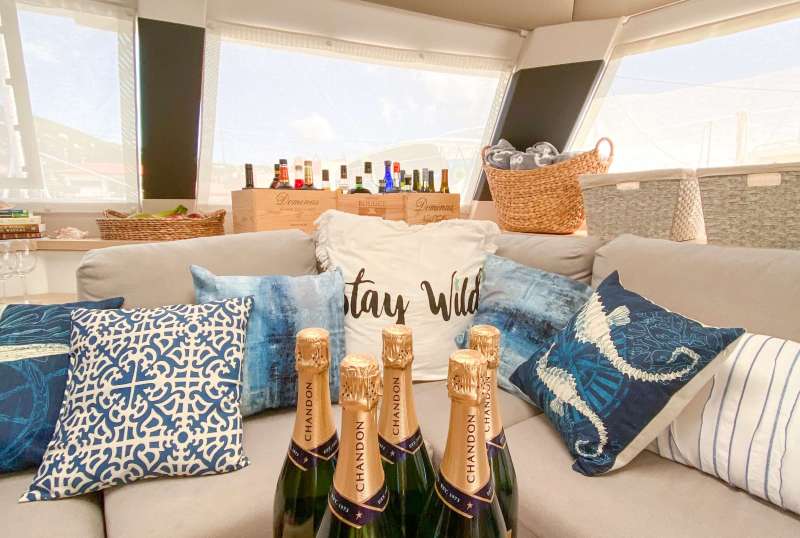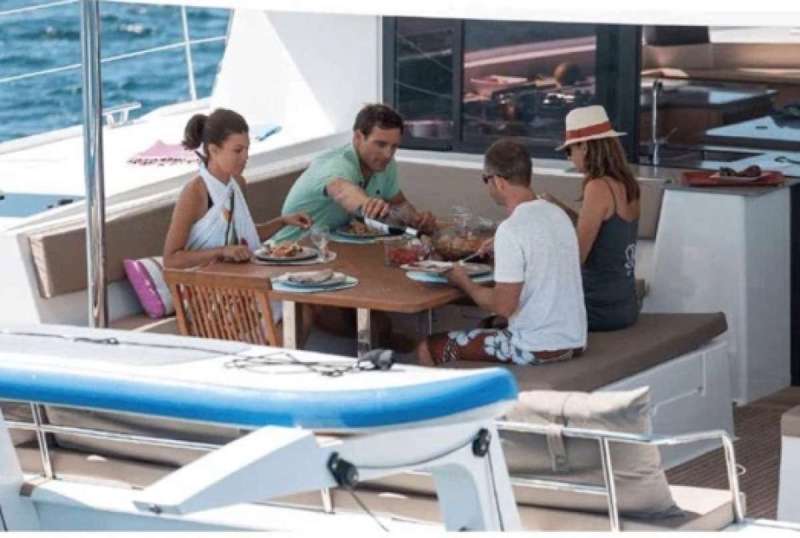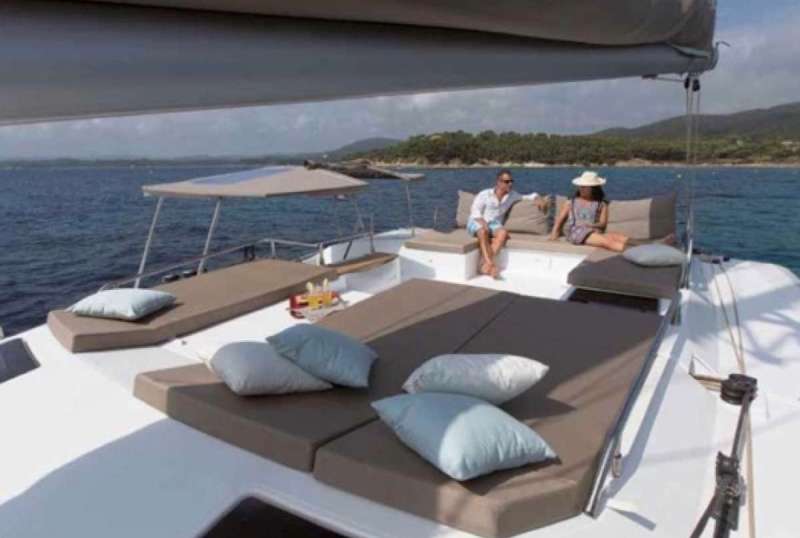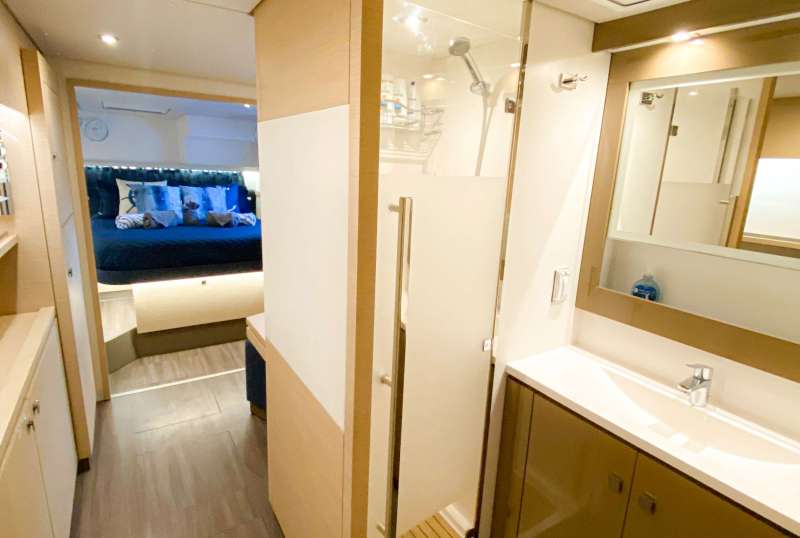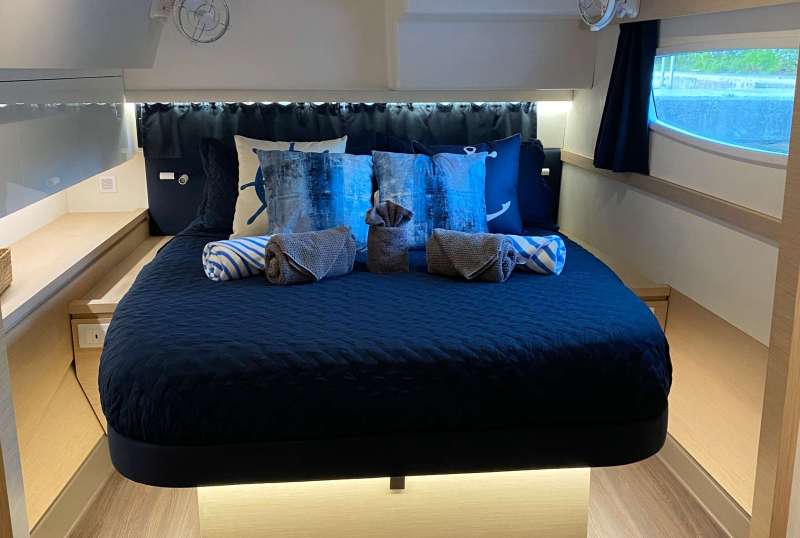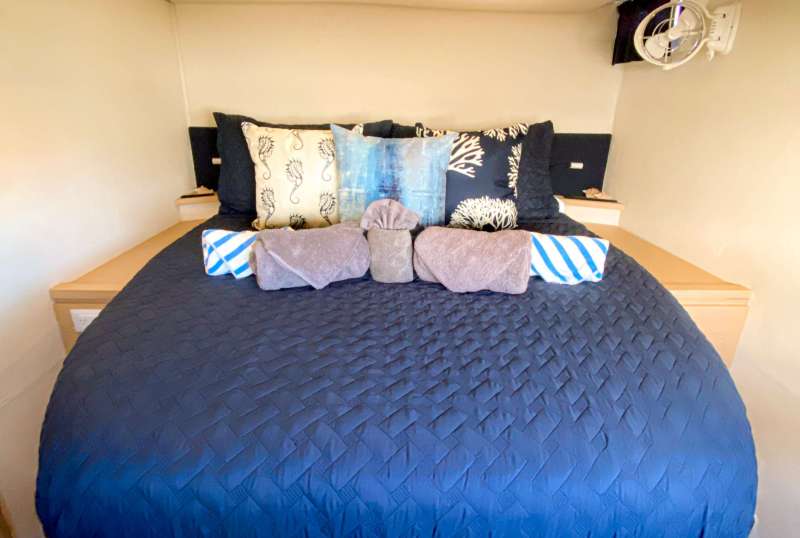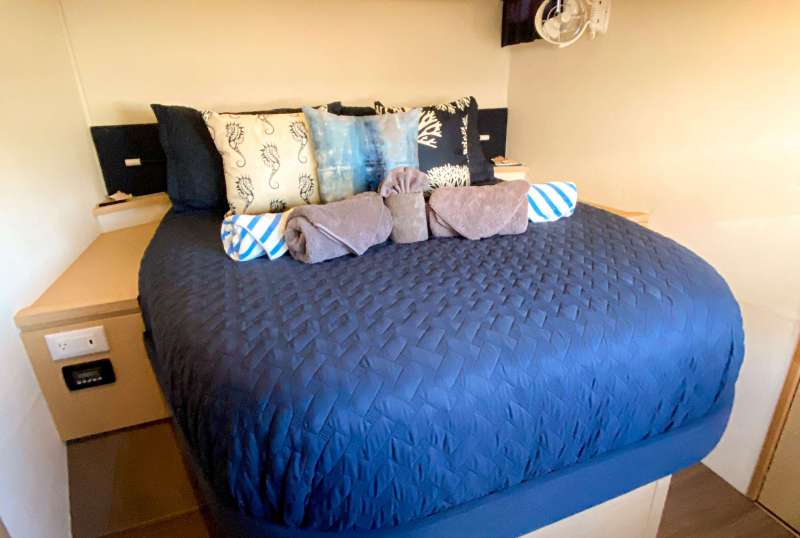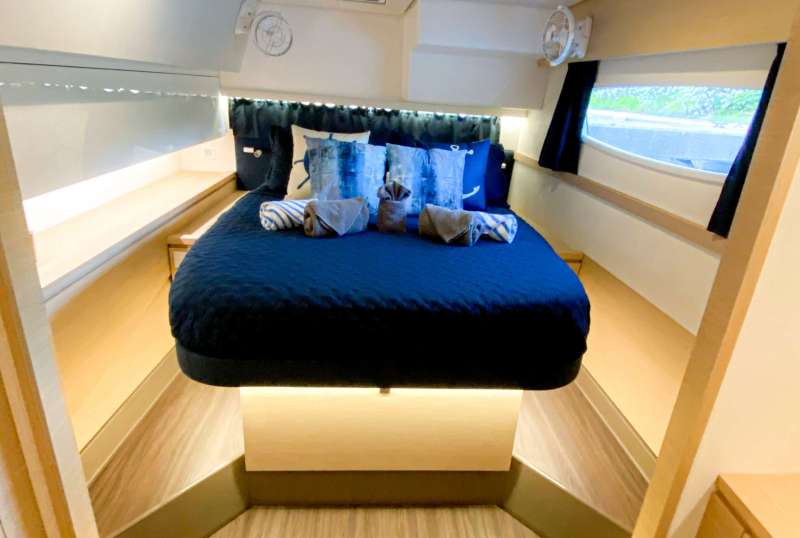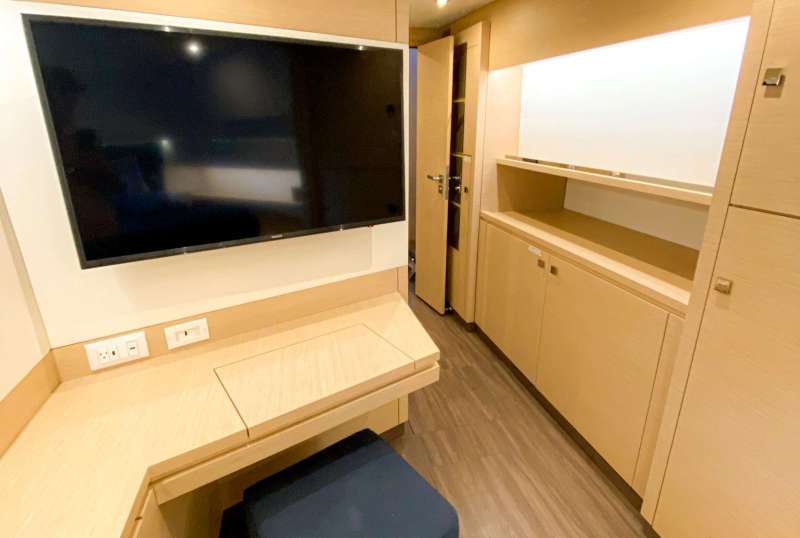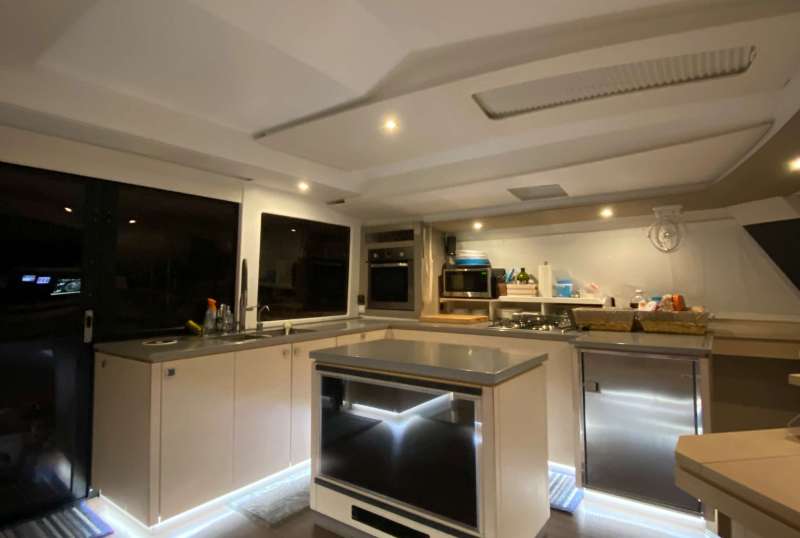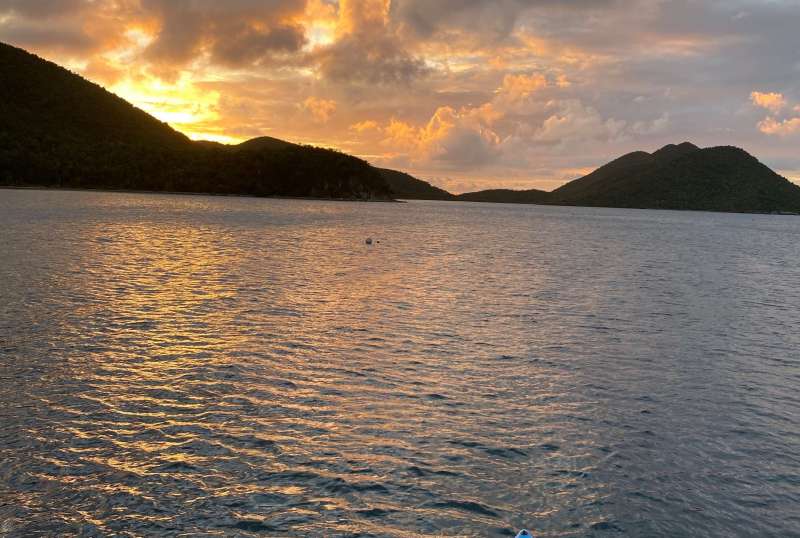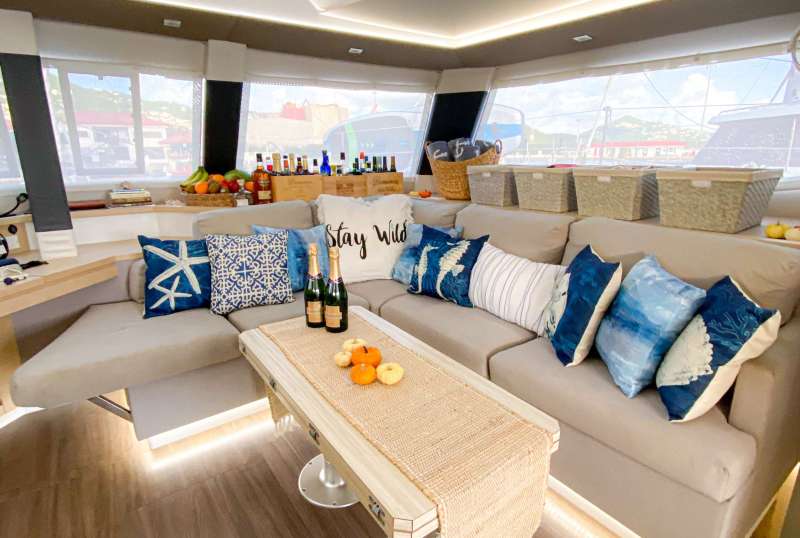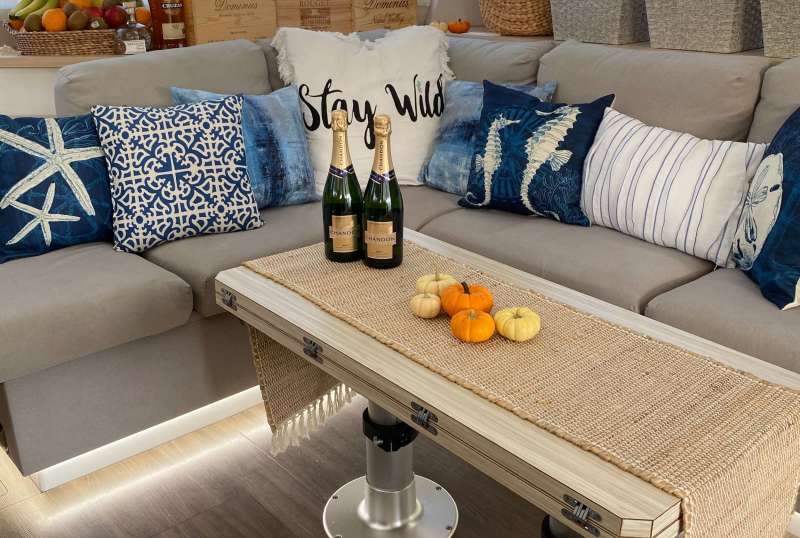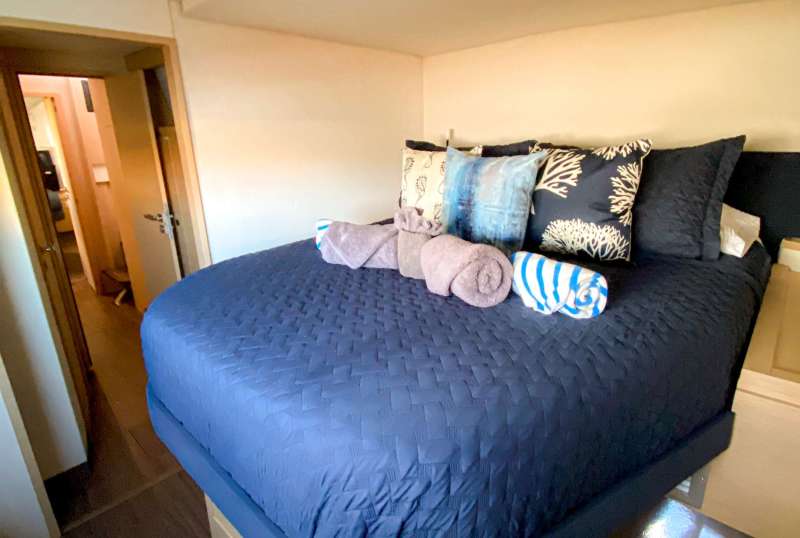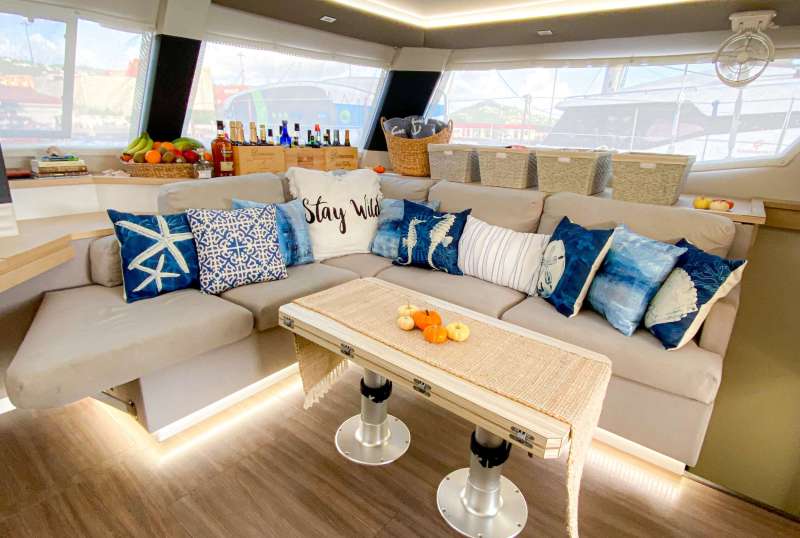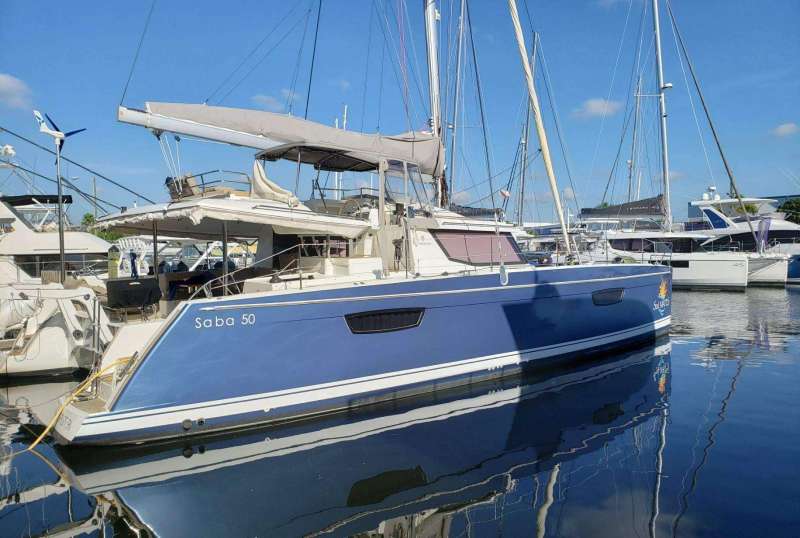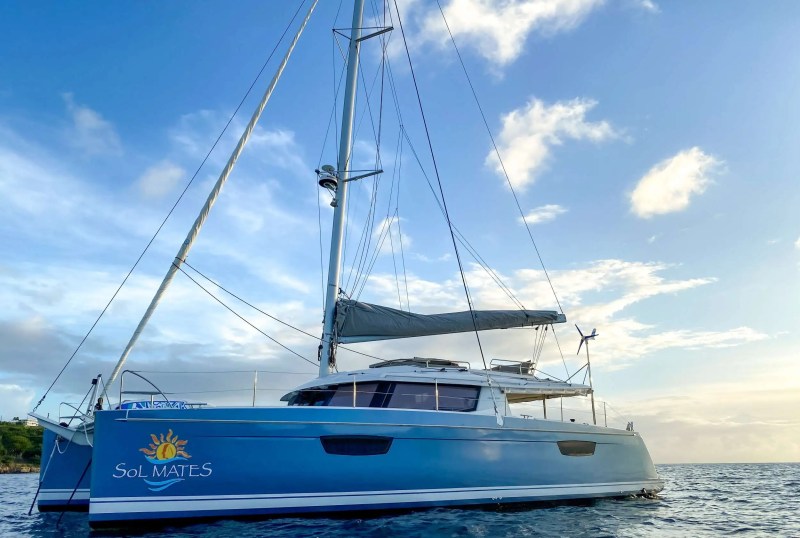 Sol Mates
From $18,000/week
3 cabins
50 ft
Fountaine Pajot
6 guests
Built: 2018
7. ONE PLANET| 77 FT
ONE PLANET is the first 100% electric sailing catamaran of this size that boasts the luxury of fountaine pajot vessels- allowing the guests to explore the Caribbean with minimal carbon footprint. This 2023 sunreef catamaran with striking black exterior sails is noiseless thanks to her solar skin and electric propulsion, while functioning with wind, sunlight and seawater.
Apart from ONE PLANET's private lounging spaces featuring 360-degree views and high-tech amenities, the crew of 4 ensures a memorable experience for the visitors. You will never have a dull moment during the charter as Captain Herve excels at chartering safely while organizing activities and picking out the best clubs and restaurants. Also, previous guests raved about Chef Faucci's Michelin-grade, organic meals from local produce.
AMENITIES AND TOYS
ONE PLANET's water toys and game collection include Beach Games, a WilliamsJet Tender (9 people) , Seabob F5S, E-Foil, Wing Foil, Wakeboard, SUP, and Oru Kayaks.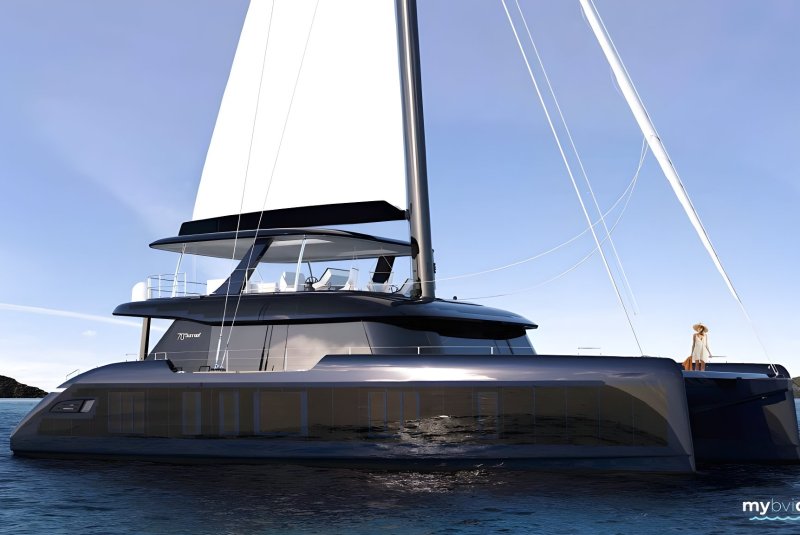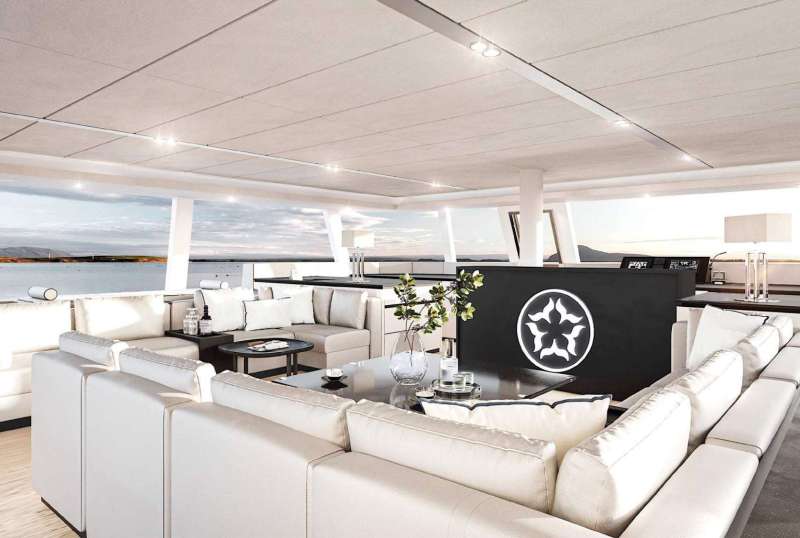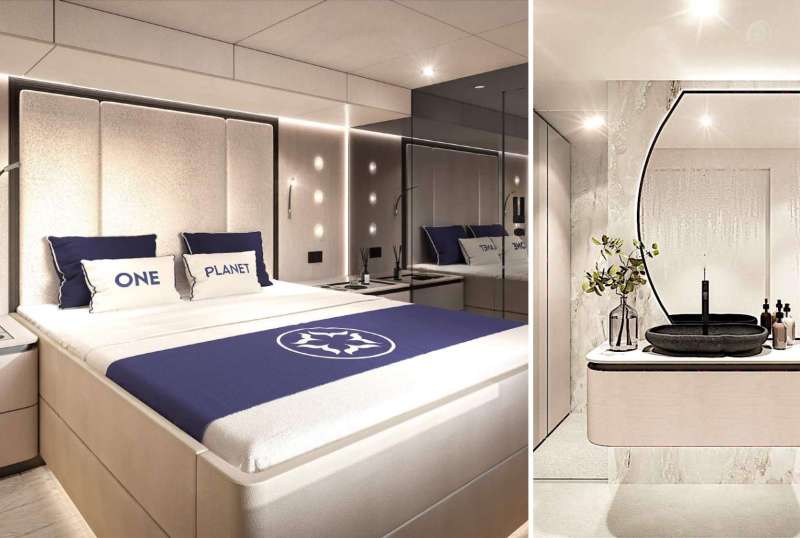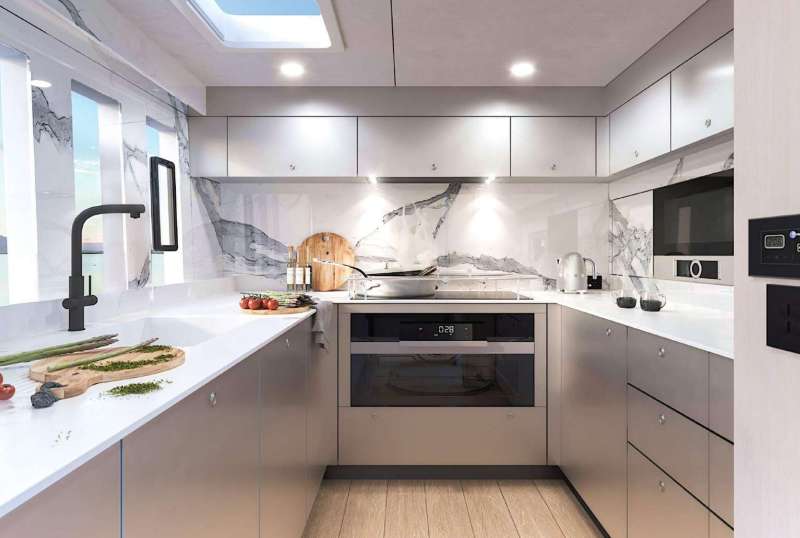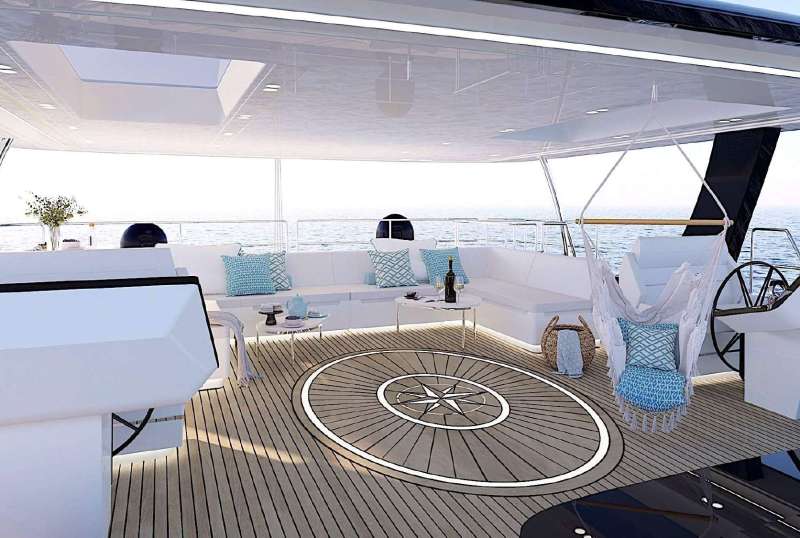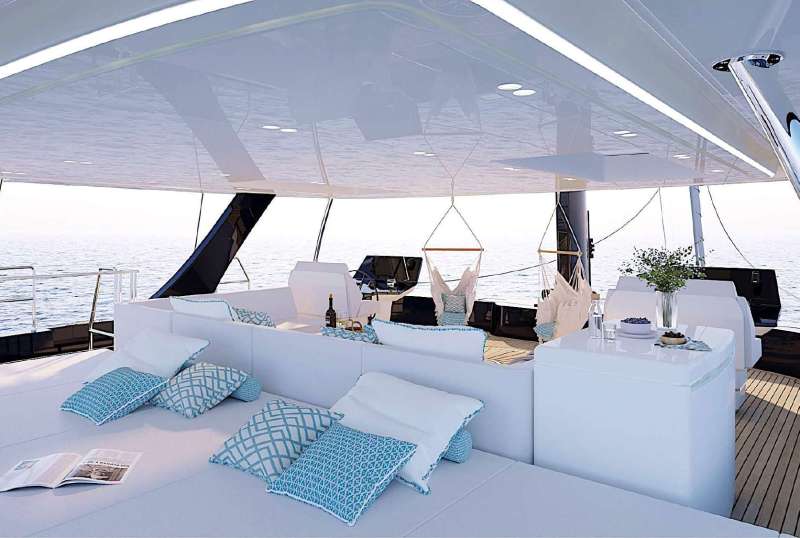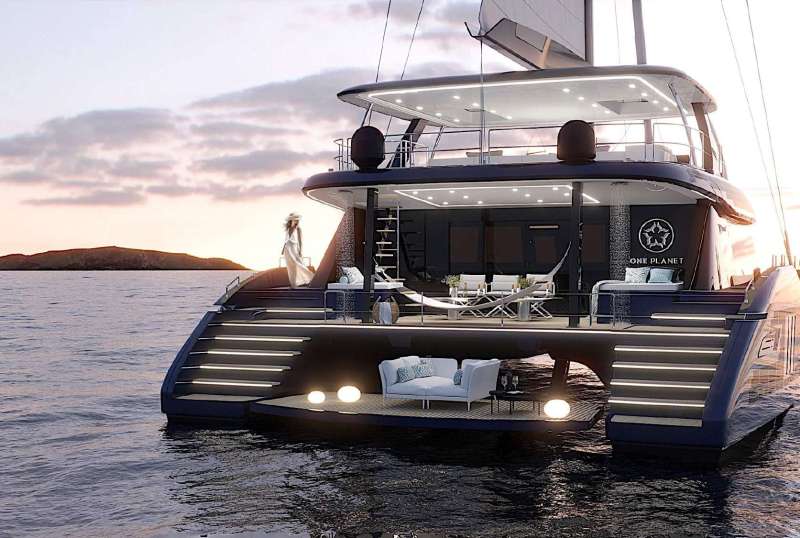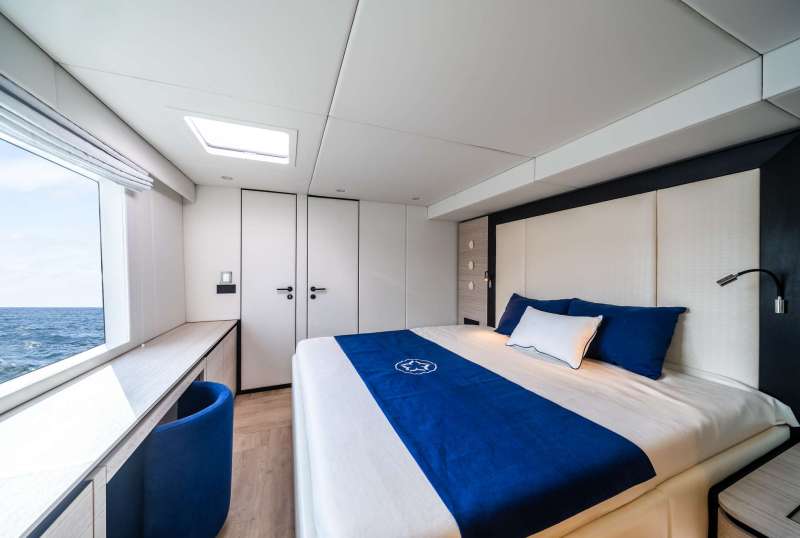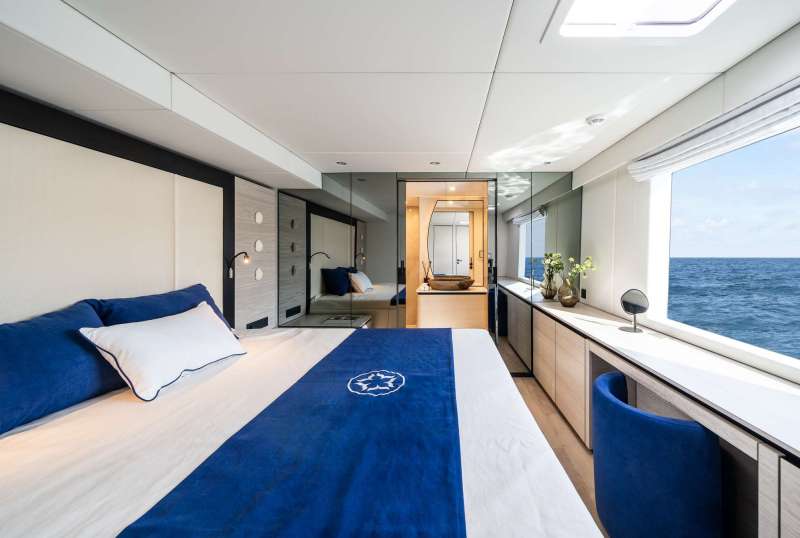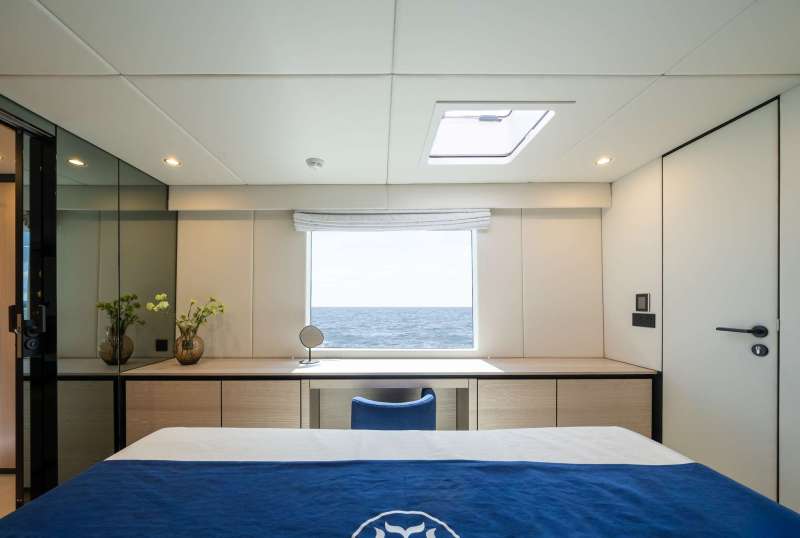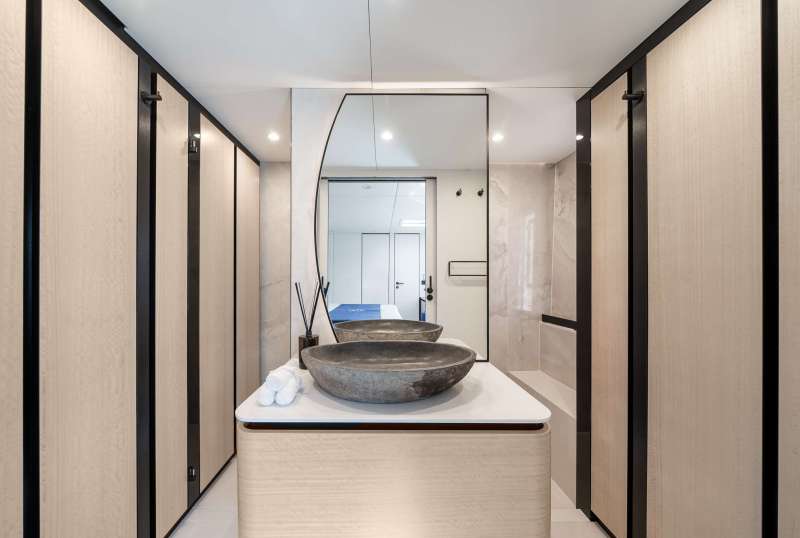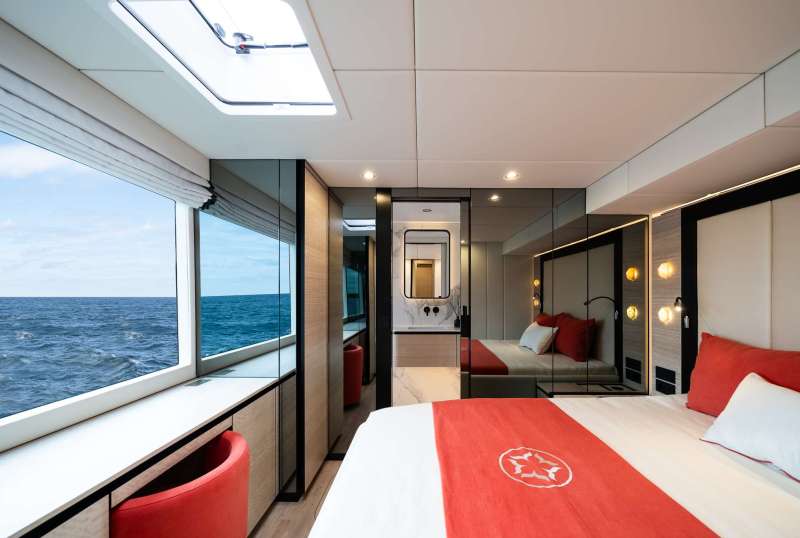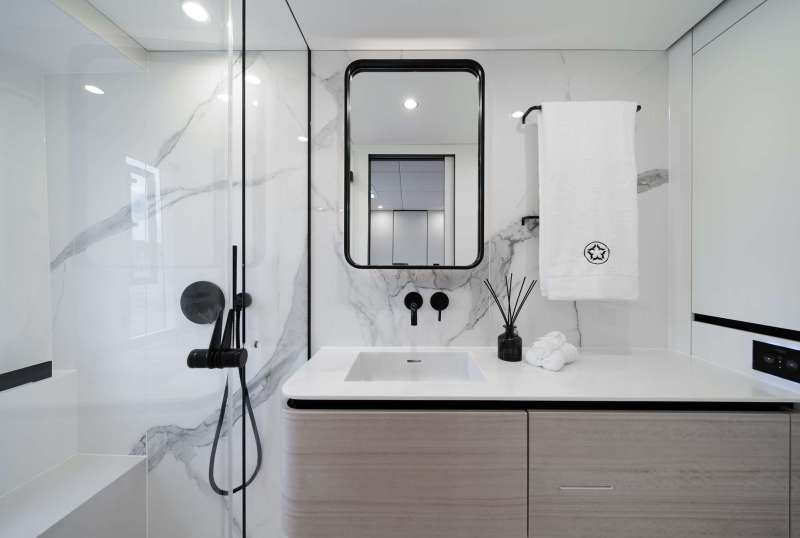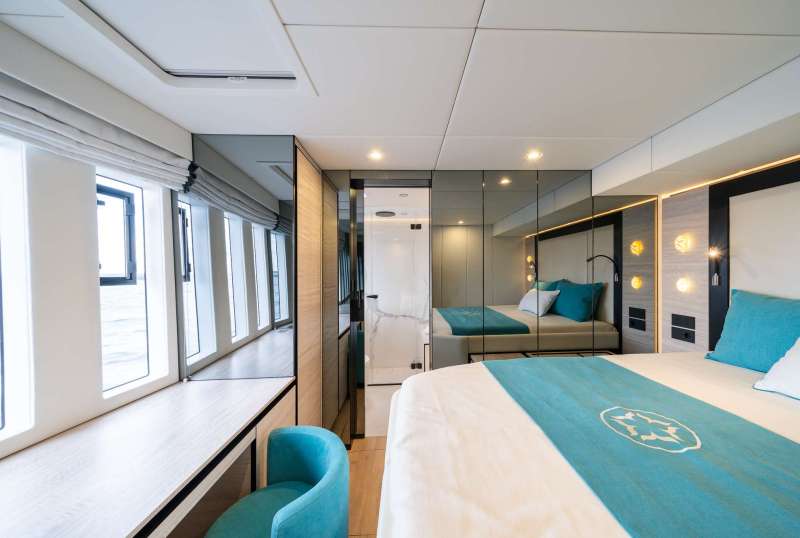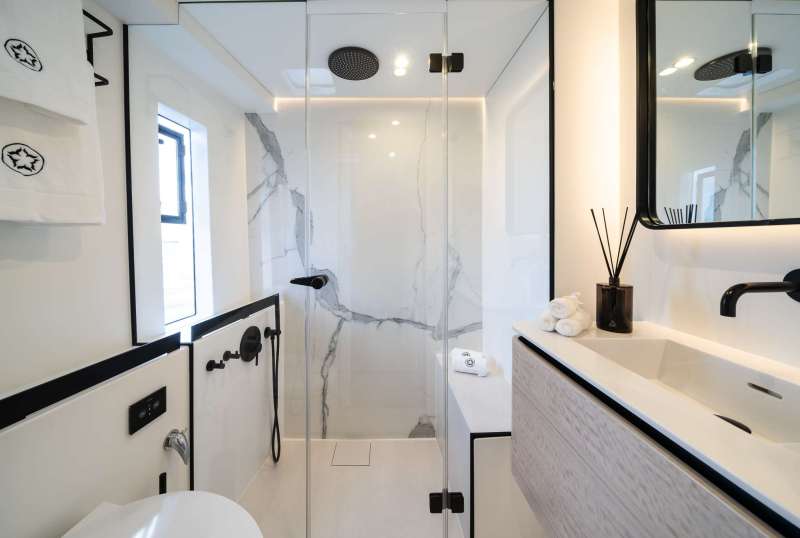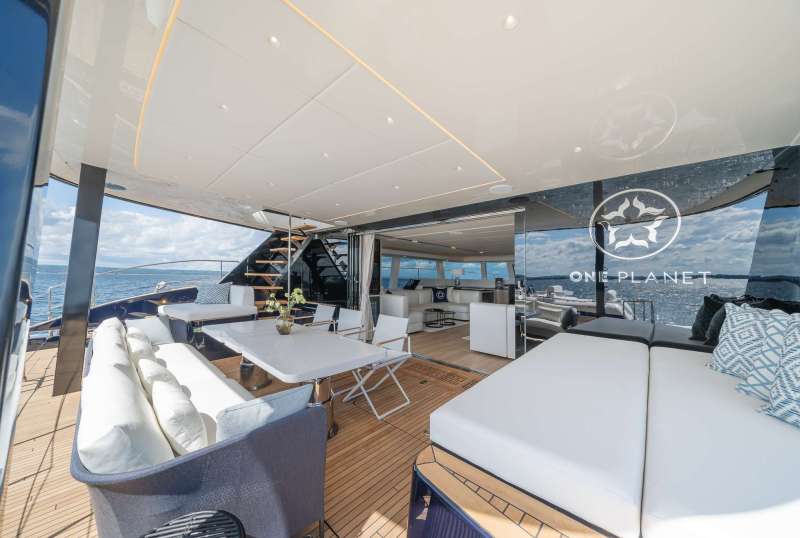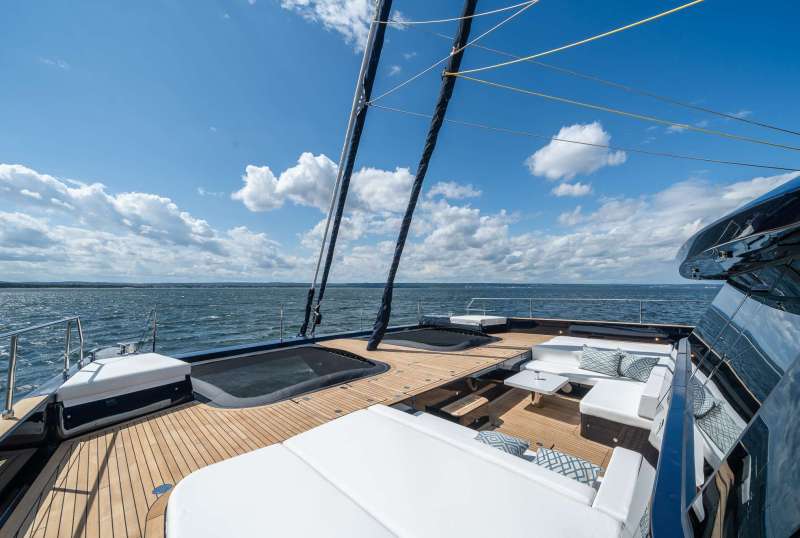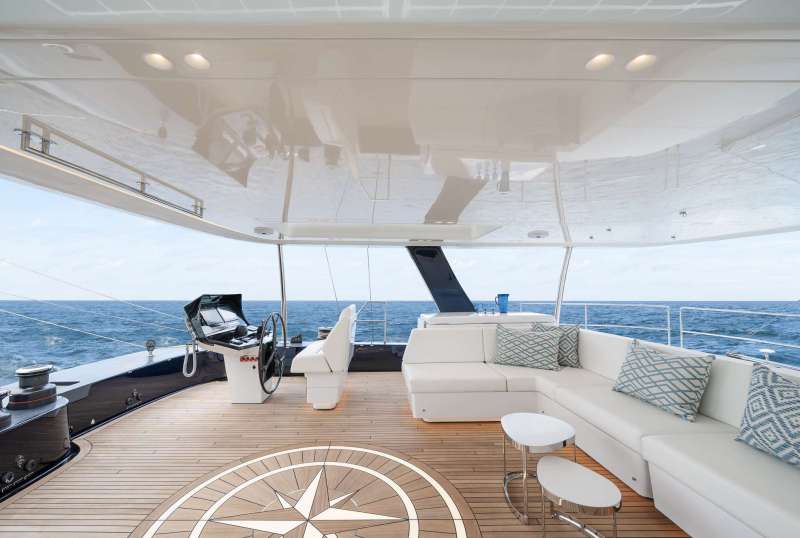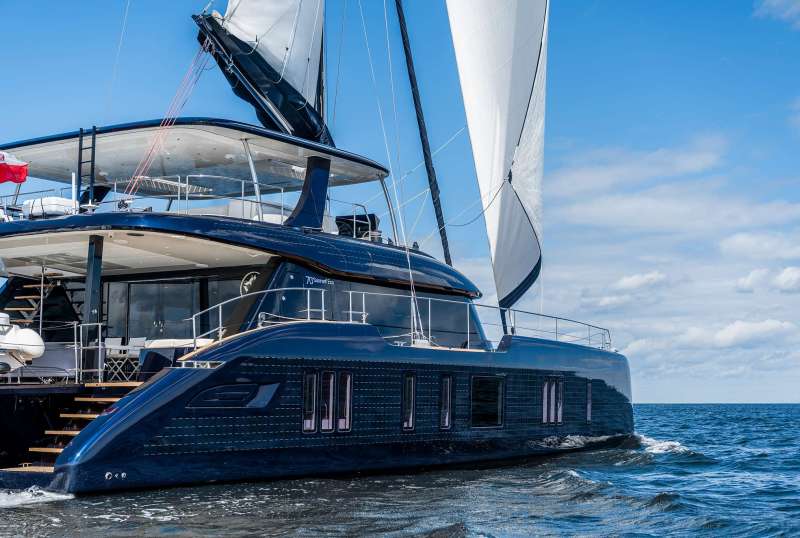 ONE PLANET
From $82,000/week
4 cabins
77 ft
Sunreef Yachts
8 guests
Built: 2023
8. MAVERICK| 70 FT
MAVERICK's striking bubblegum pink sail, accompanied by the games, sundeck trampolines, and water toys, makes her the perfect vessel for a charter group with children. Even younger kids can comfortably enjoy the BVI coastline at the spacious saloon featuring panoramic windows. The sleek and flexible design created an open, airy interior- often seen in larger catamarans.
MAVERICK's hospitable and experienced crew makes the chartering experience memorable for the visitors. Captain Tyrone is famous for caring for the guests on land and the sea. He prioritizes safety maneuvers over everything during sailing and lets his trusted people take care of the guests when they are visiting the islands. Chef Jenna dazzled past clients through her palatable menu. She even created homemade desserts for individuals craving homemade delicacies.
AMENITIES AND TOYS
MAVERICK's assorted reading material and selection of Board Games satisfied guests looking for non-digital activities to pass the time at night. She is equipped with plenty of toys, gear, and tender: Brig tender, Sea bob, Waterski, Wakeboard, Paddleboard, Kneeboard, Windsurfer, Sea Scooters, inflatables, Fishing Gear, and Diving board. Since Captain Tyrone has a PADI certificate, he teaches the basics to guests who want to try snorkeling for the first time.
Guest Comment
'By far, this was the most professional crew we have ever had on a Charter. Captain Tyrone and Chef Jenna were truly amazing. The food was so good, well presented, and just perfect at every meal. Not a single issue. Jenna's food is the best we have had on a Charter".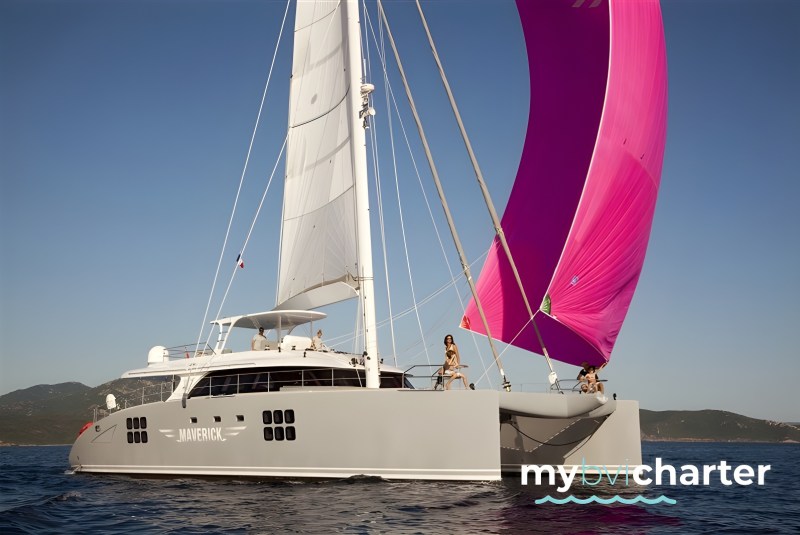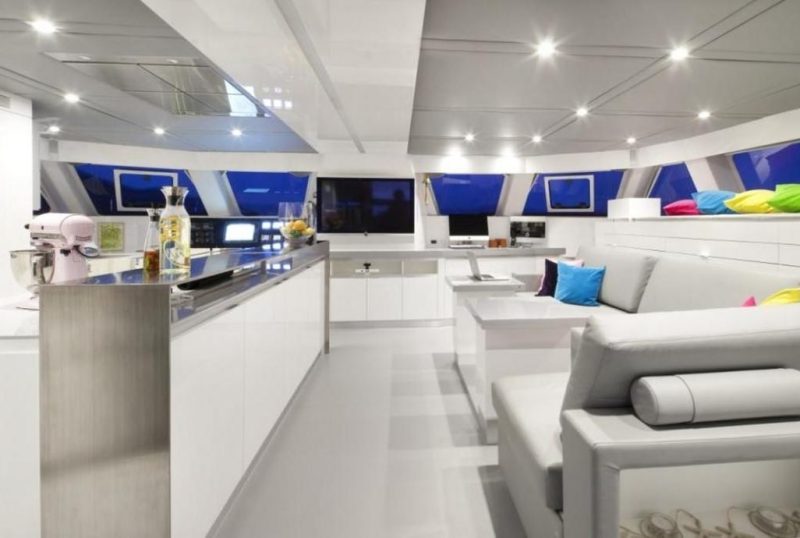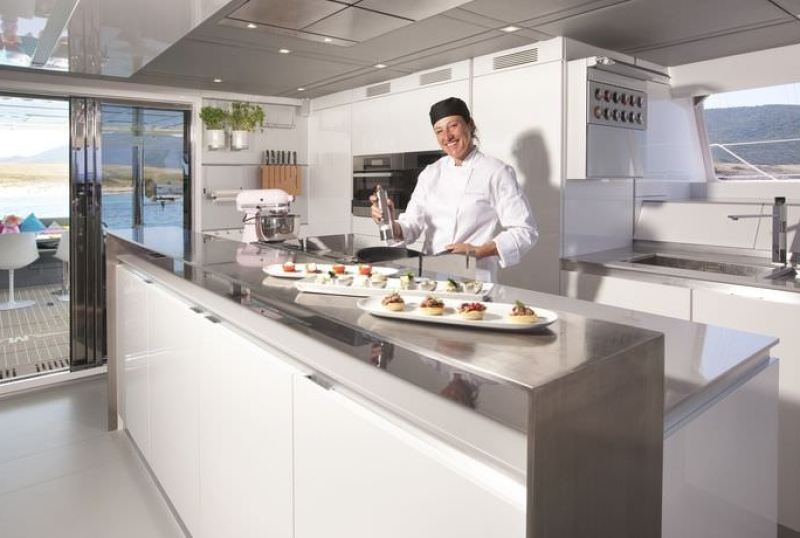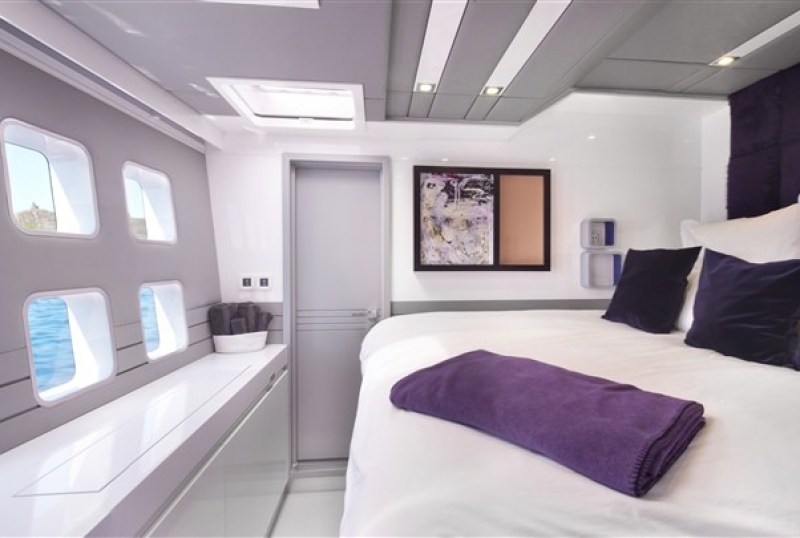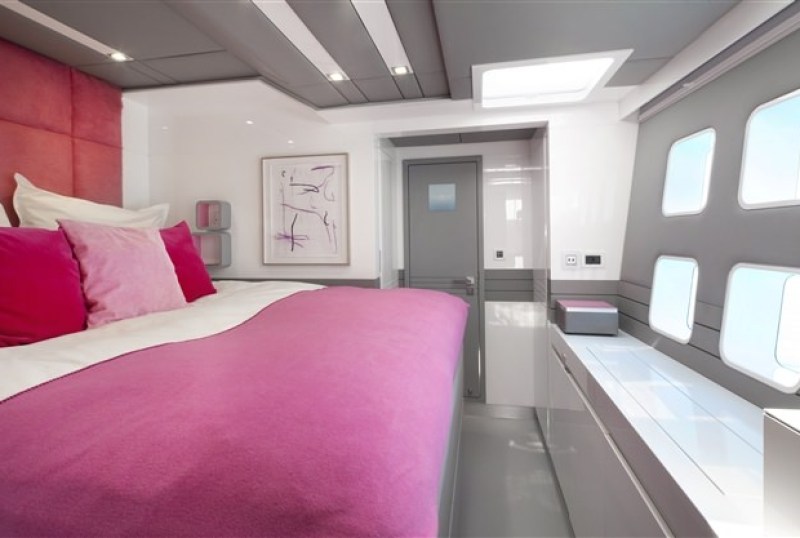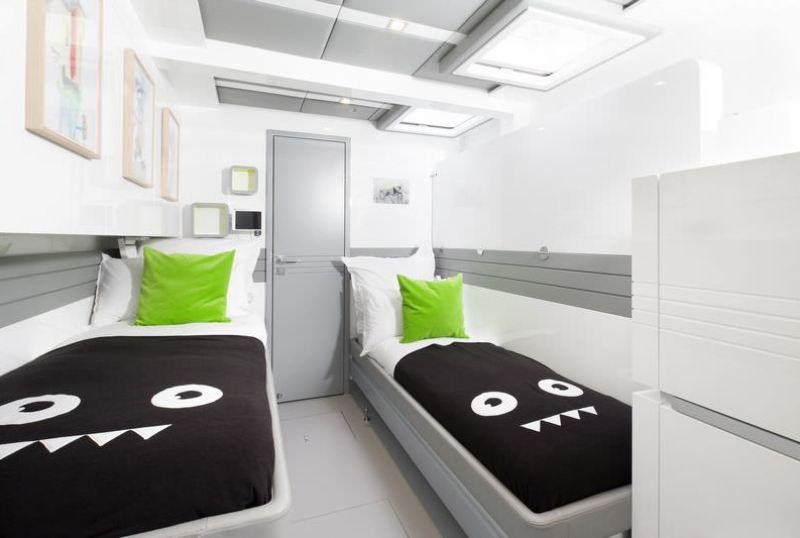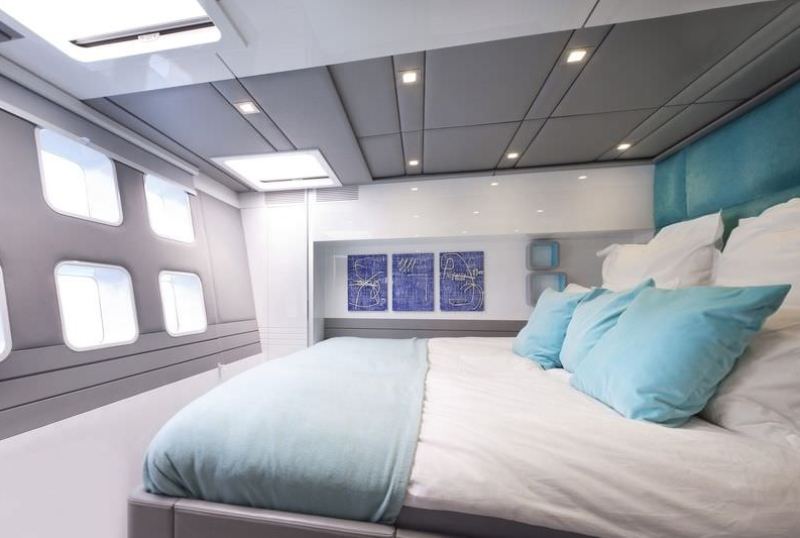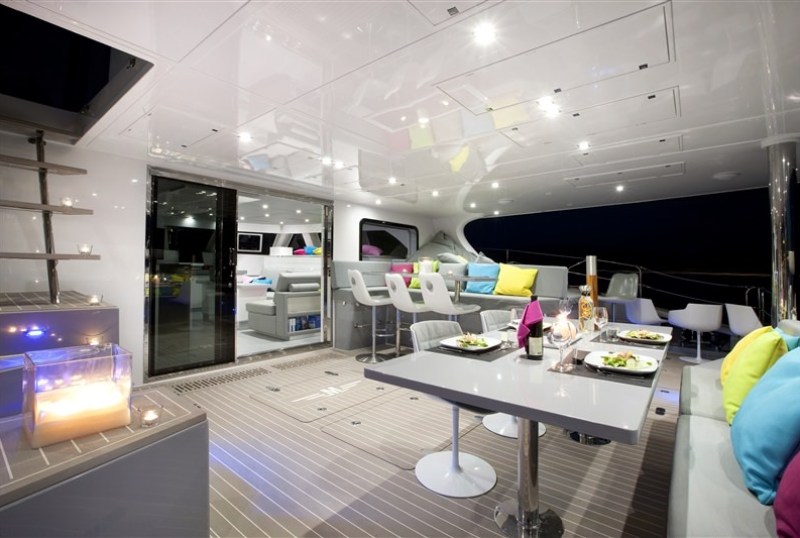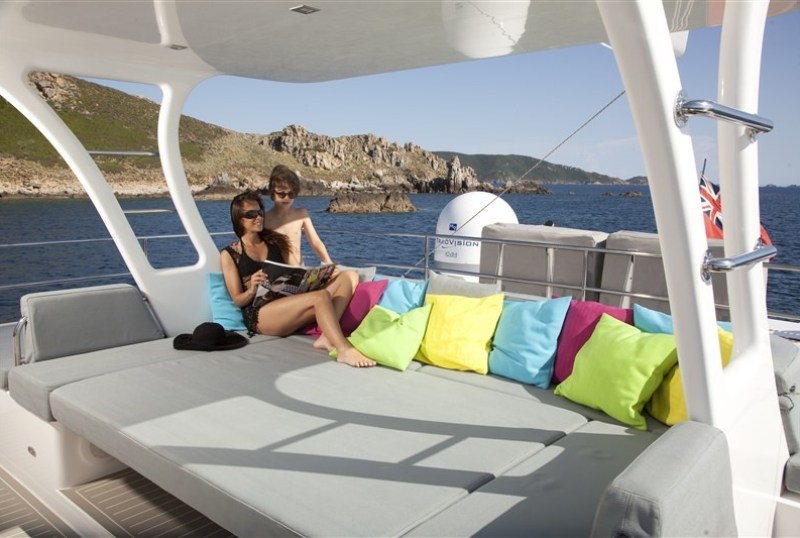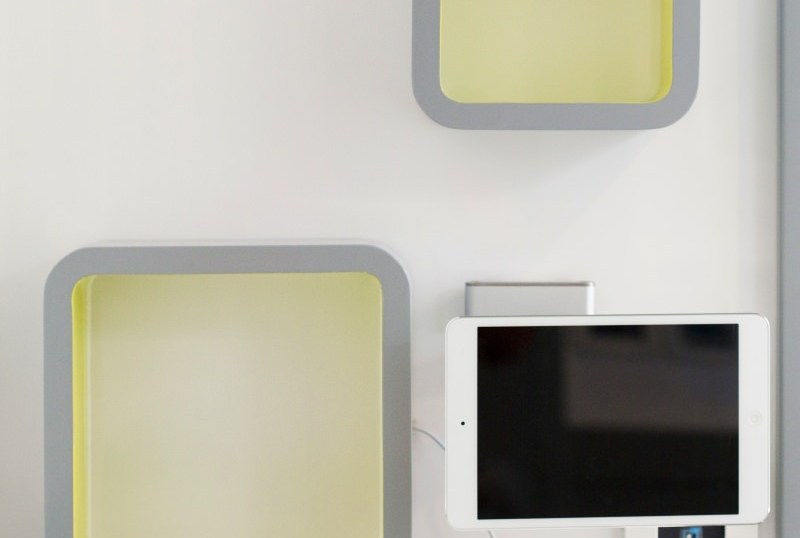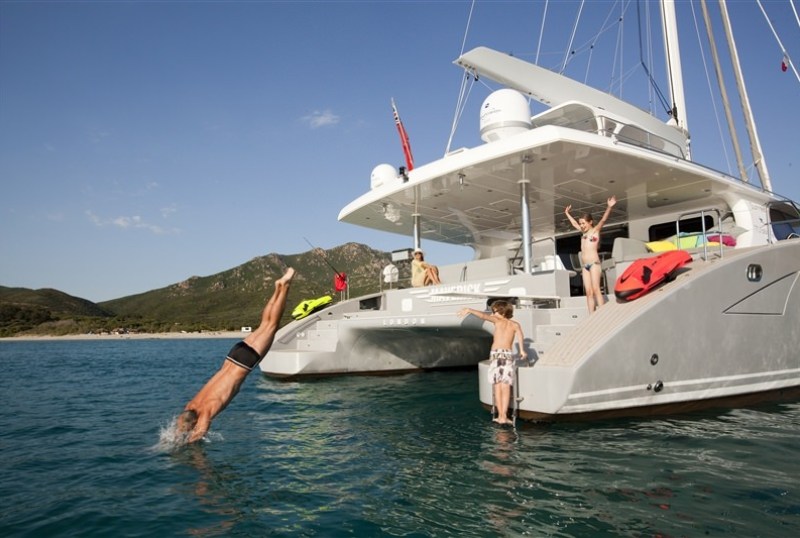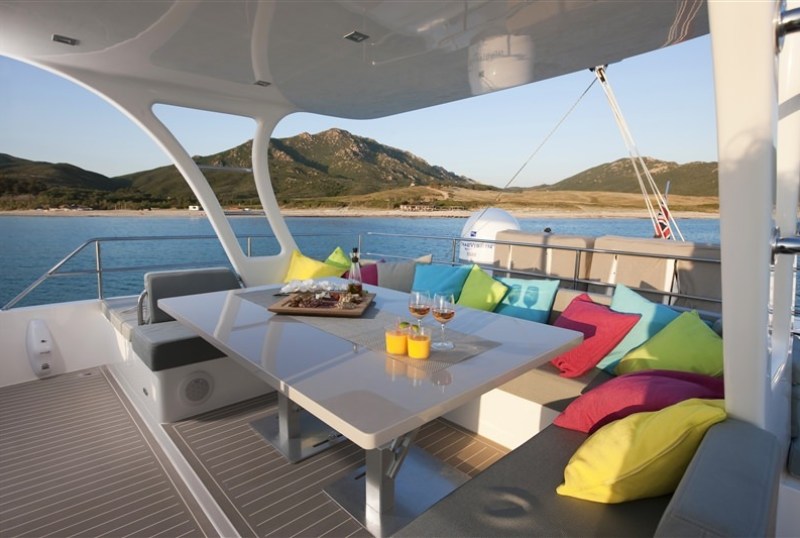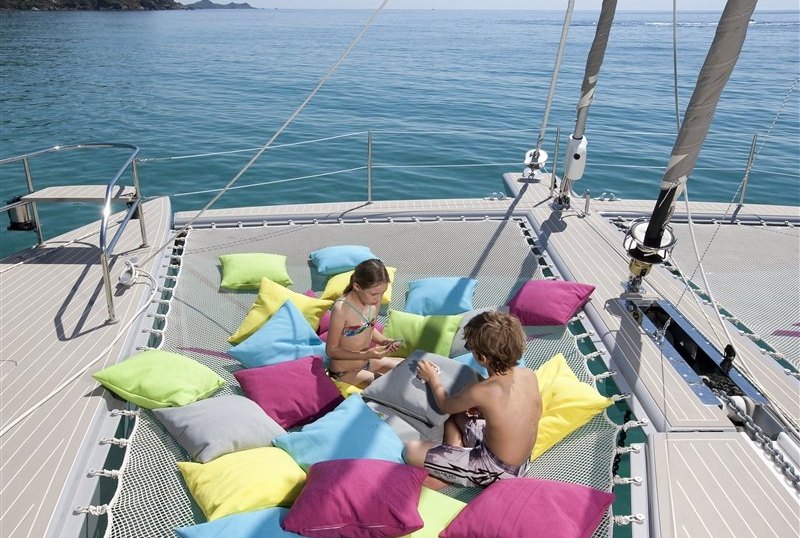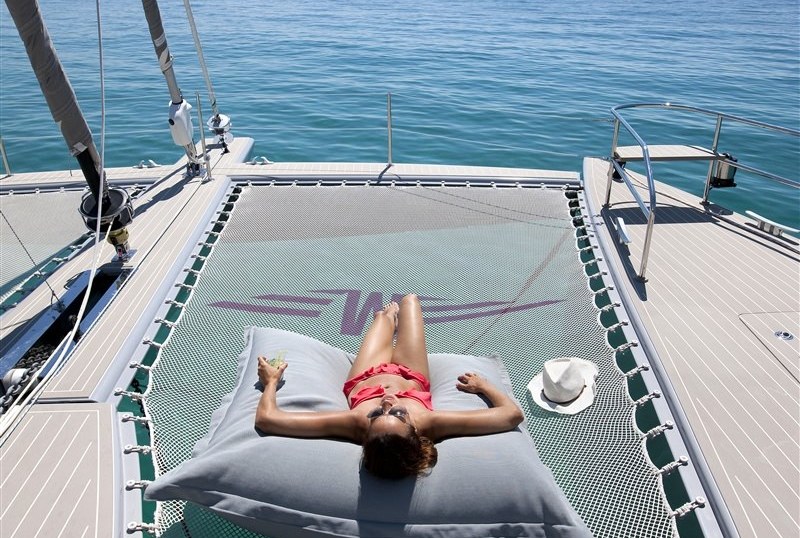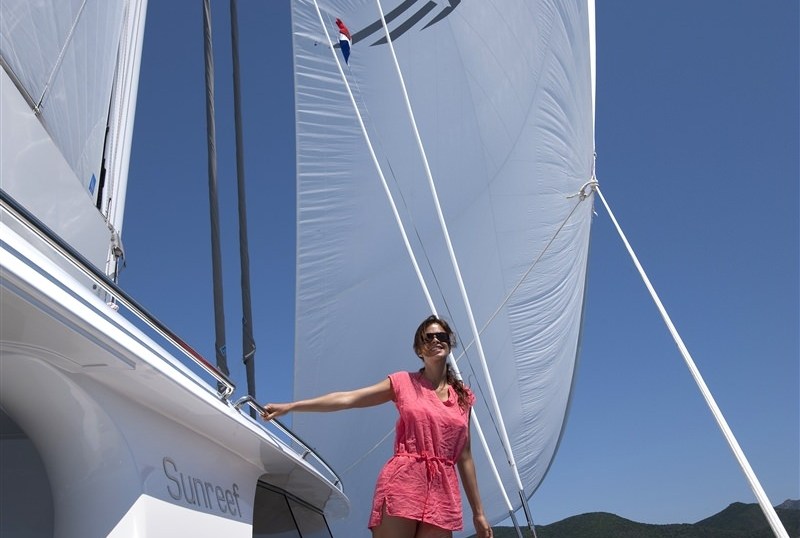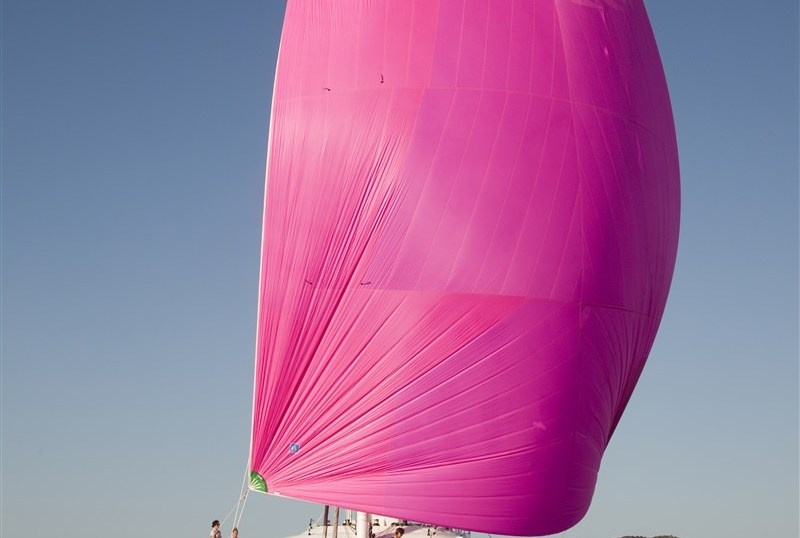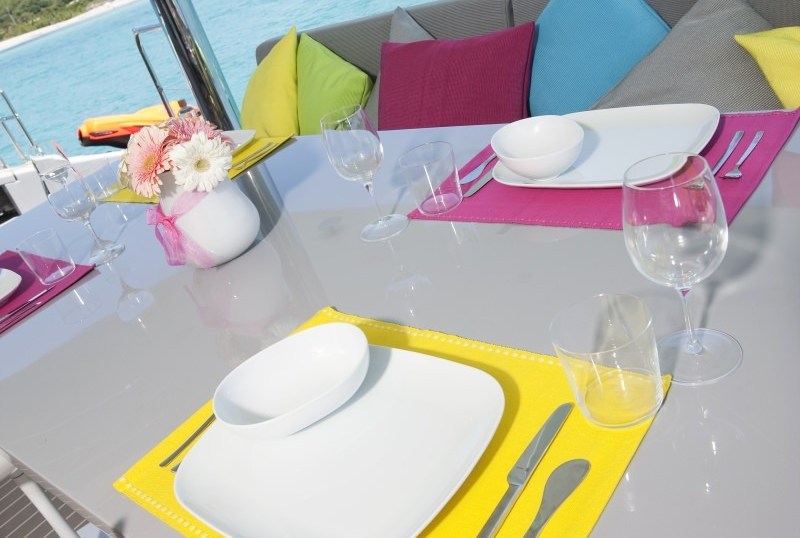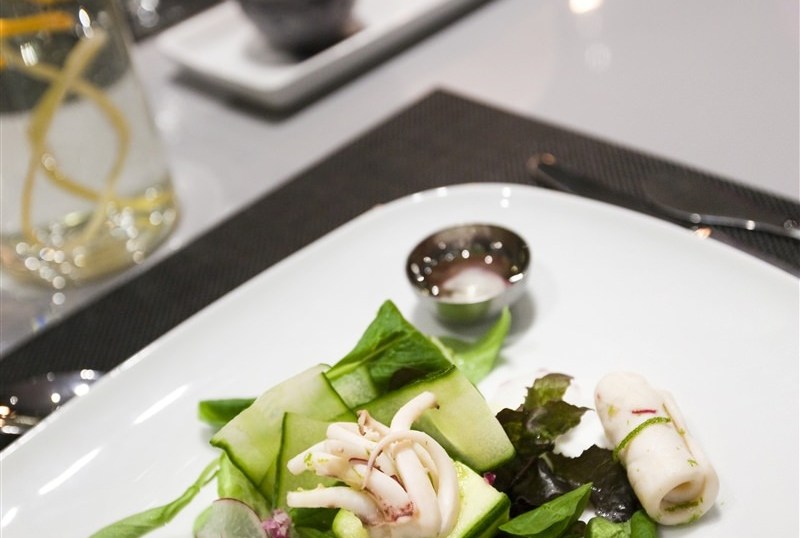 MAVERICK
From $44,500/week
4 cabins
70 ft
Sunreef Yachts
9 guests
Refit: 2019
35 Litres/Hr
9. TRU NORTH| 67 FT
Sail around BVI on the TRU NORTH charter to take part in 'Traveling Green' and preserve the oceans and the beautiful islands, besides receiving the peak of hospitality. The crew members – Jaco, Simone, and Euan-will make your BVI sailing vacation unforgettable by highlighting the local attractions, special diet meals, and water activities that won't be tiresome. Captain Jaco creates a bond with the guests by sharing his most daring adventures and letting them experience sailing hands-on. Also, the crew can create a customized itinerary upon advance request based on your preferences- fishing, on-shore activities, or water sports.
If relaxation and comfort are what you are after, TRU NORTH's multi-leveled lounging areas are perfect for stretching out and enjoying the scenery slowly drifting by. Past visitors, especially groups consisting of four couples, loved the four queen cabins and isolated sunbathing zones. The spacious bimini provides shade and Hammocks, while the Starlink internet keeps the visitors connected.
AMENITIES AND TOYS
For those looking to take in the magnificent waters, TRU NORTH offers an array of water toys for all ages, whether you are keen to catch a prized fish or explore the incredible underwater life. Her fully certified Divemaster crew members will lead guests to sights unseen with their own dive compressor. Also, the crew has fishing wisdom and can bring out your inner fisherman.
Apart from the gears, TRU NORTH's water sports games collection include a 14′ Dinghy (10 people), Water Skis (Adult and Kids), Zup Board, Wake Board, Kneeboard, Floating Mats, SUPs, Inflatable Kayak, Sea Scooters, and Beach Games.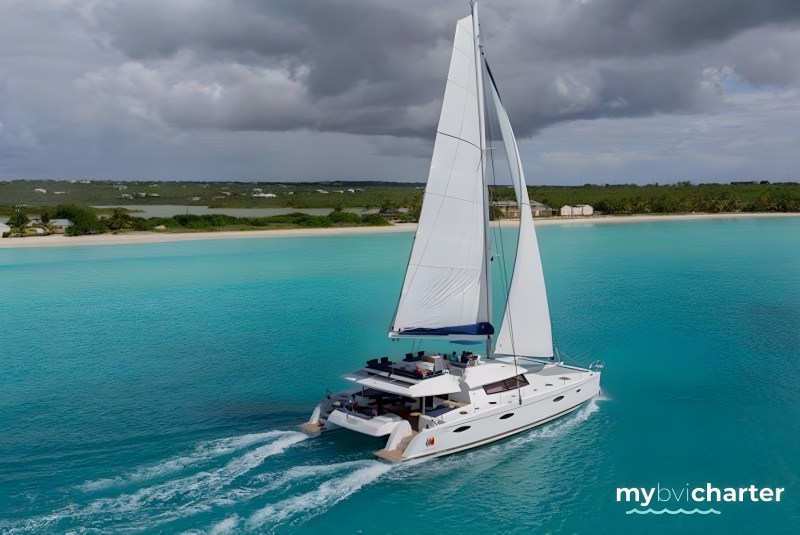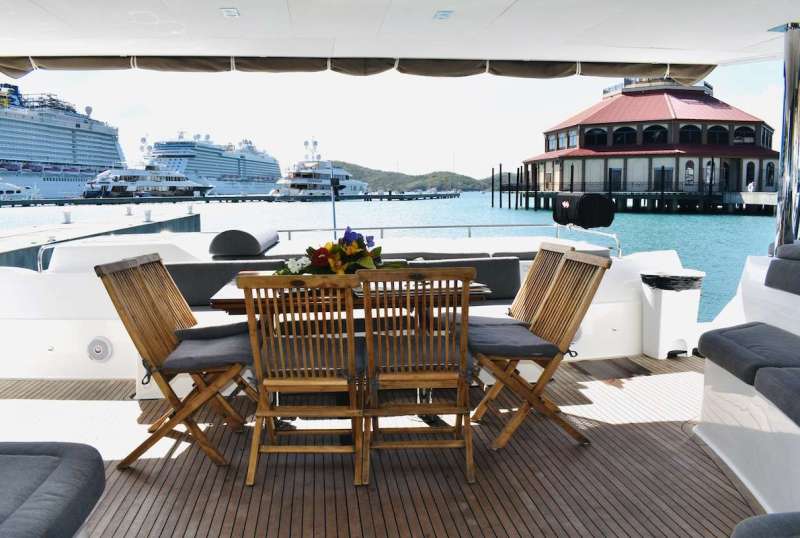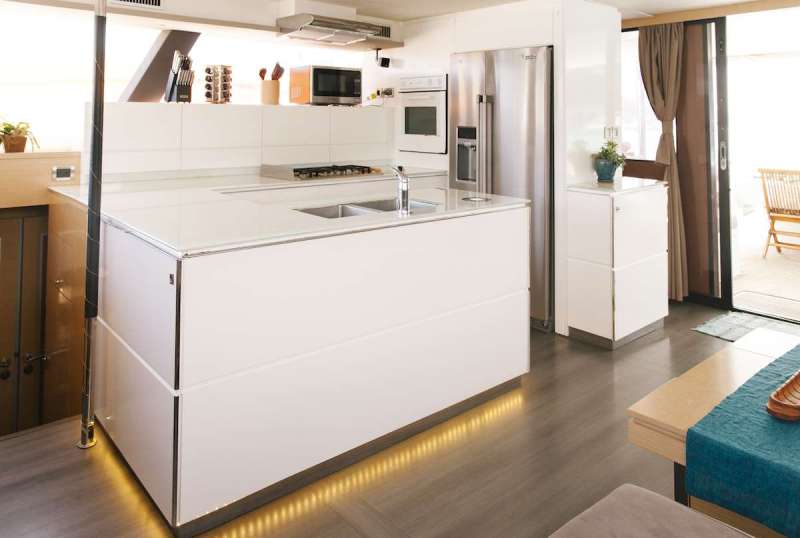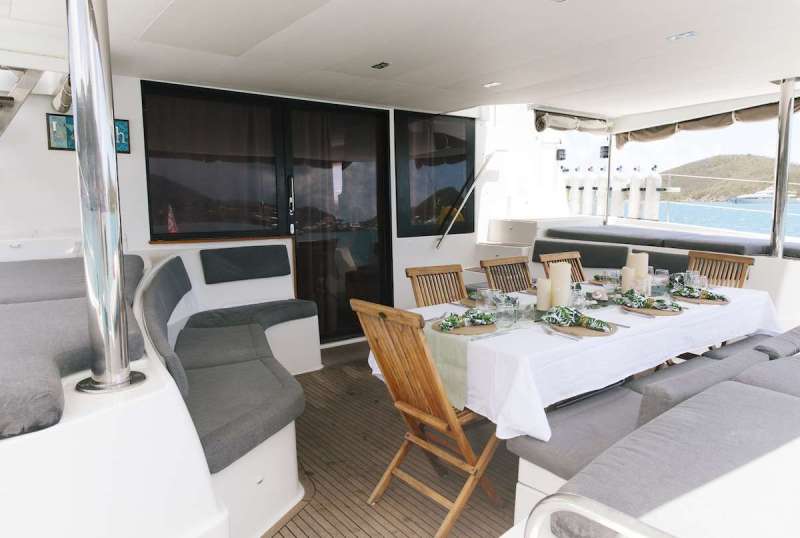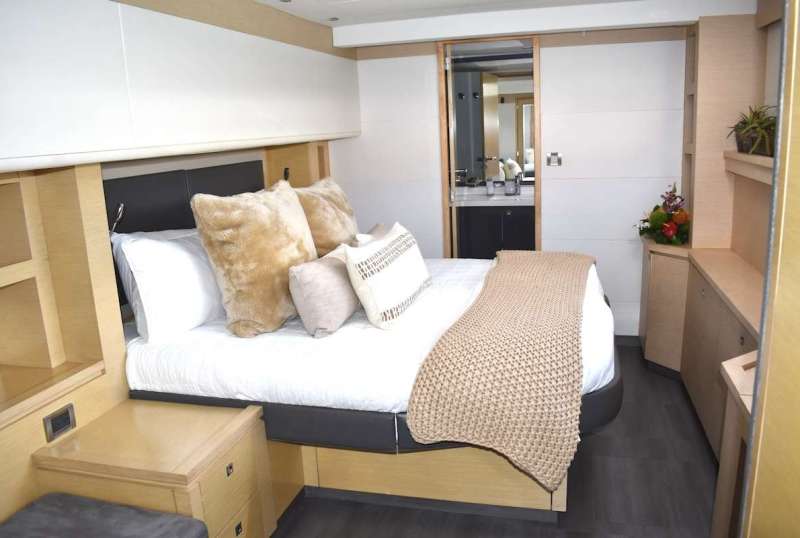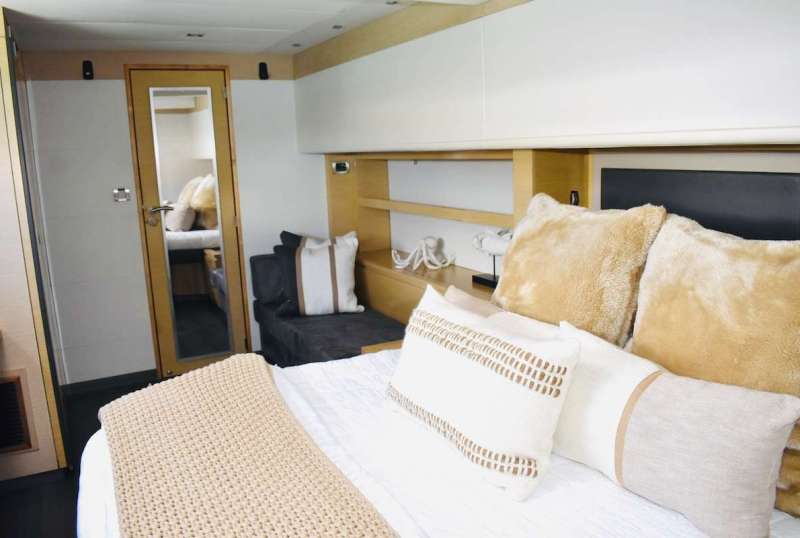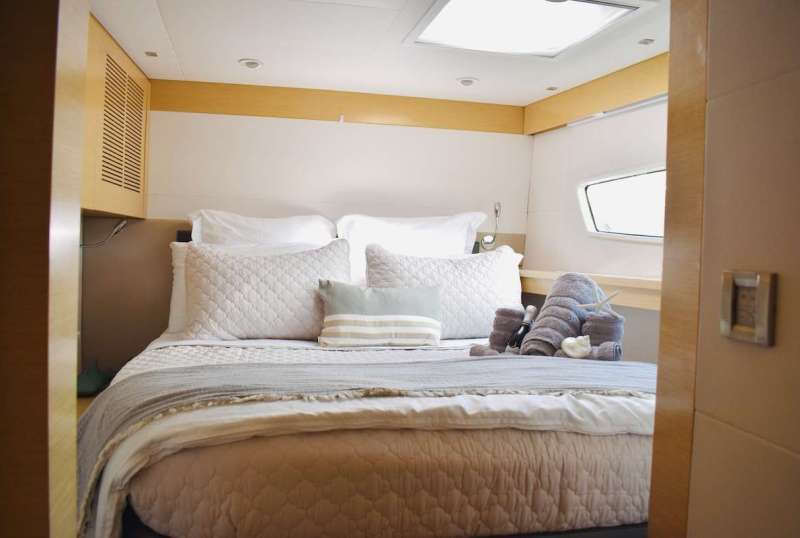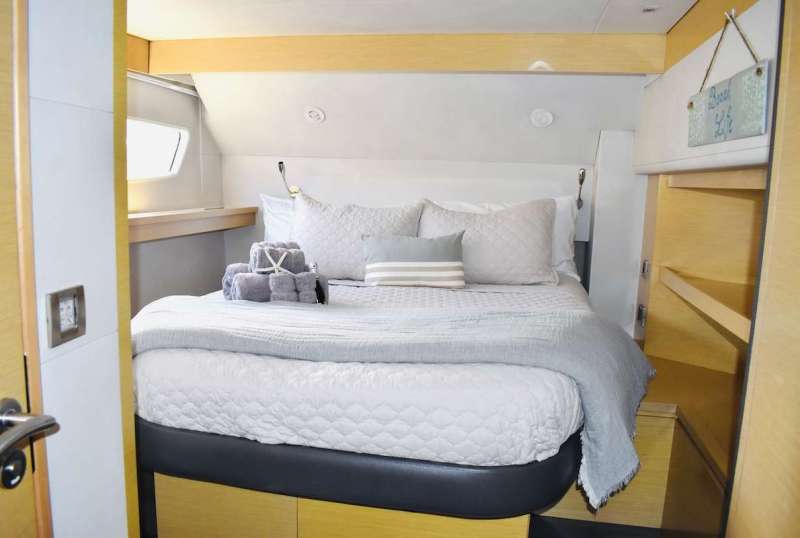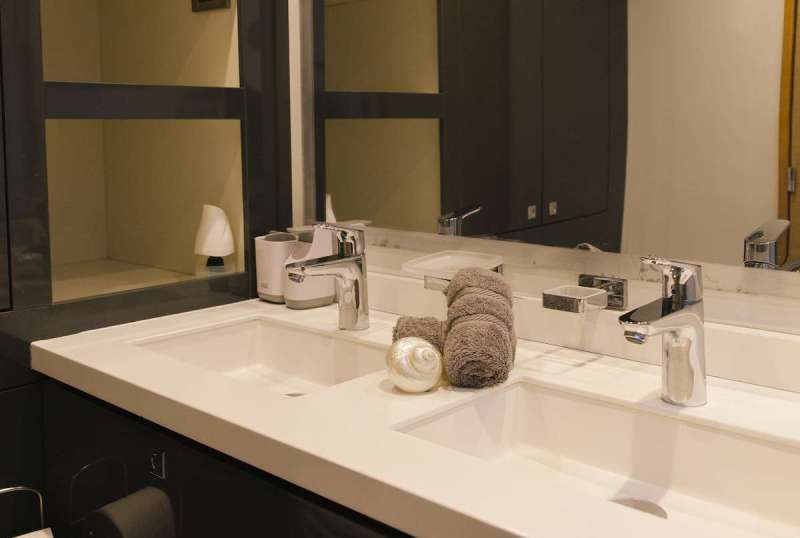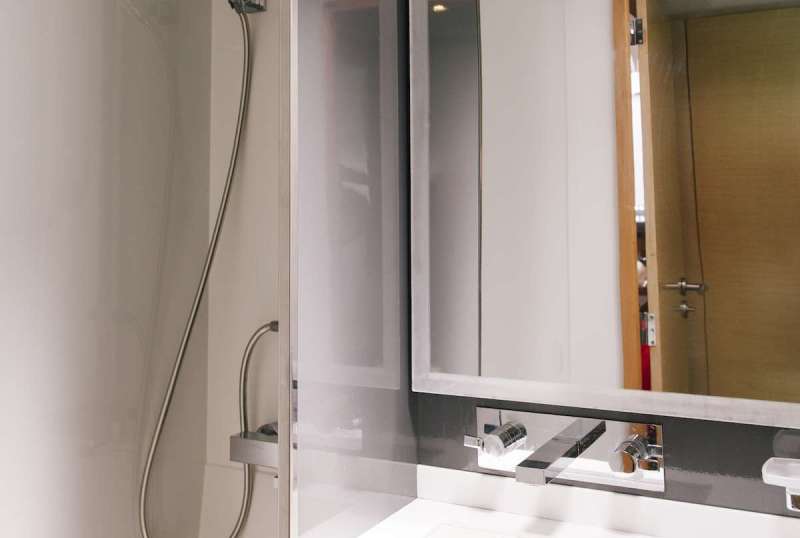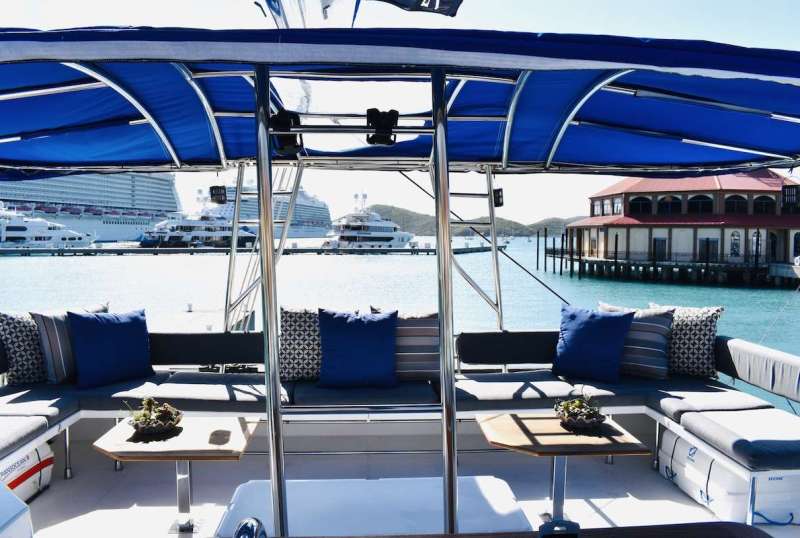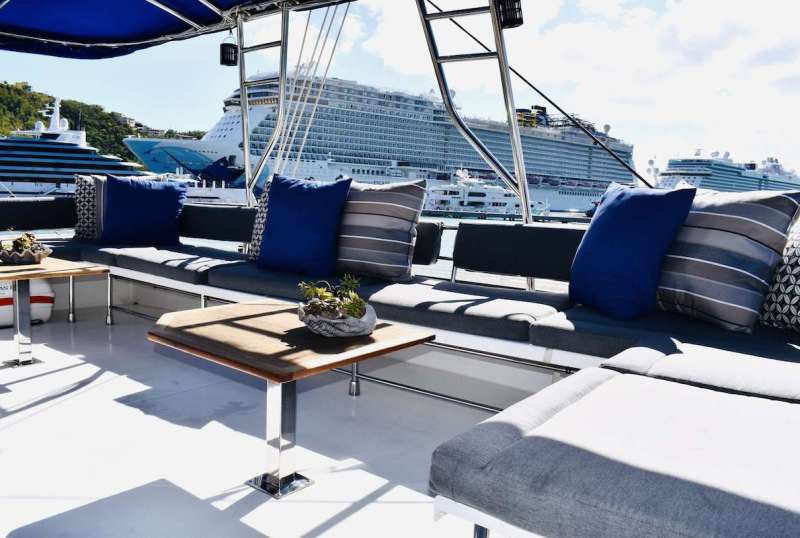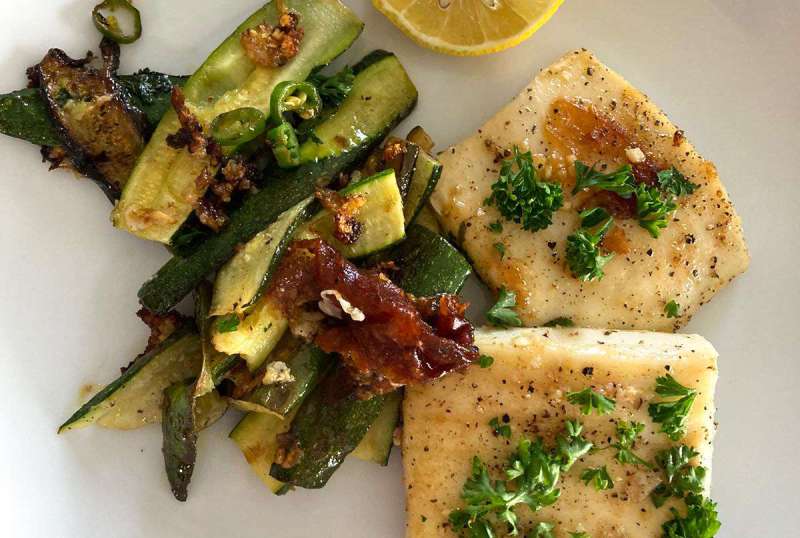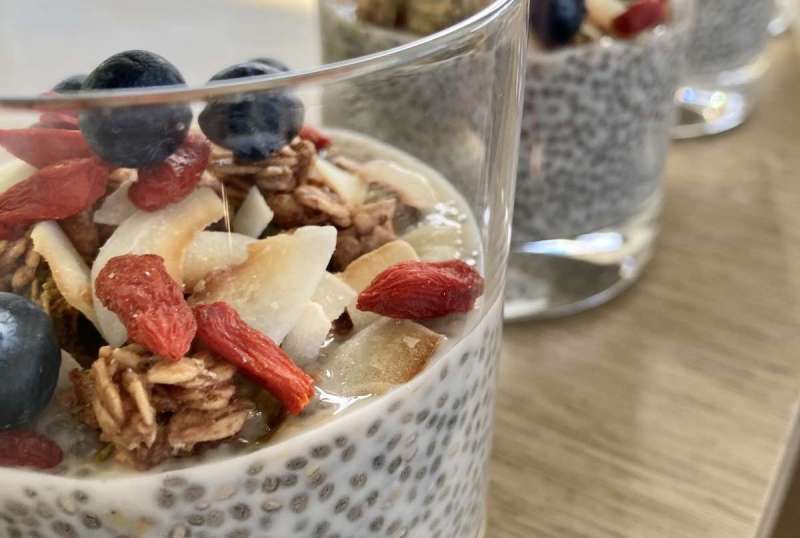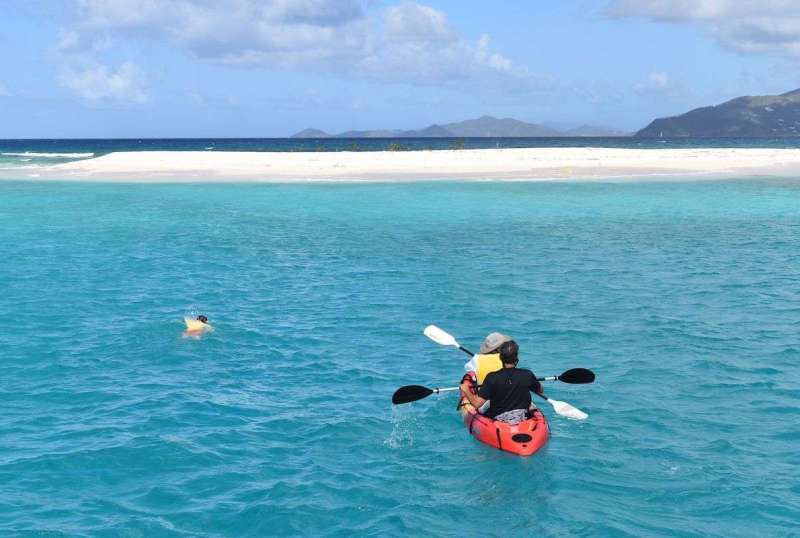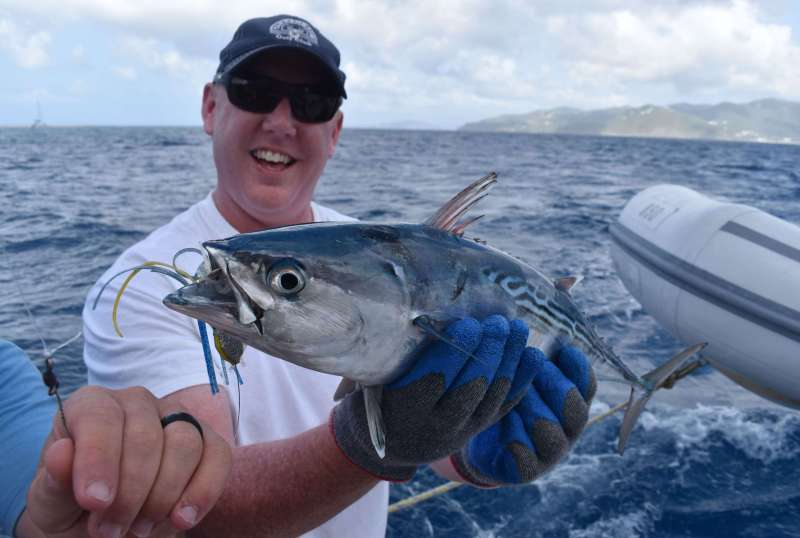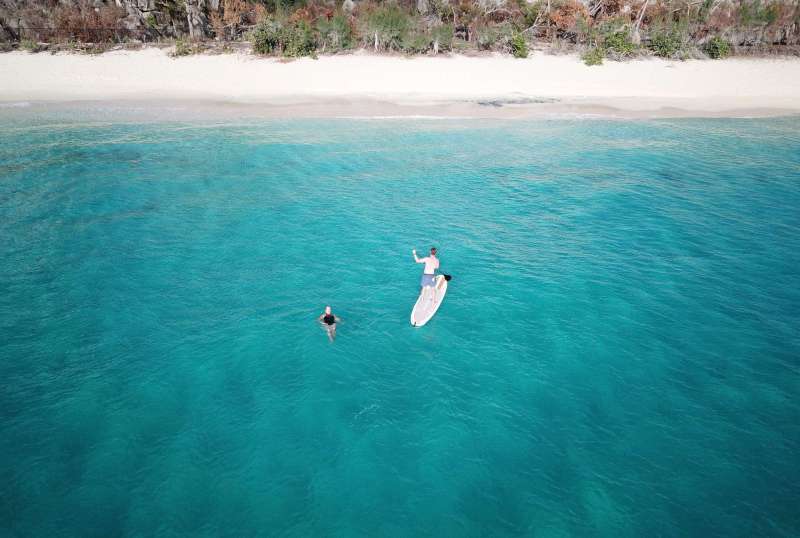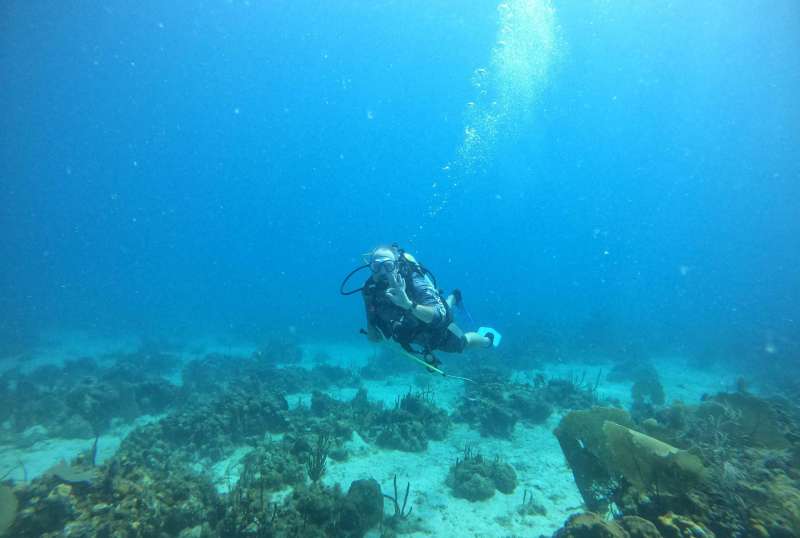 TRUE STORY
From $35,000/week
4 cabins
67 ft
Fountaine Pajot
8 guests
Built: 2017
10. XANDROS| 65 FT
XANDROS's revolutionized catamaran designs under 70 feet through clever layout- featuring a full bar, dining area, lounges, and dual helms. Even though previous guests were concerned about being claustrophobic onboard, her guest cabins and saloon with good overhead height and excellent natural light pleasantly surprised them upon arrival. At XANDROS, you can look straight through the fore to aft and out over your surroundings with commanding 360° views.
The Three Crew members are experienced sailors who guide the guests toward an unforgettable charter experience. Captain Mayon is a NAUI Dive Instructor who can lead interested guests toward a SCUBA certification on board. First Mate Elizabeth Bork is a certified Yoga Instructor -specializing in Vinyasa Flow and SUP Yoga- who helped previous guests remove their tiredness and adrenal fatigue. At XANDROS, you will get to taste Caribbean cuisine as Chef Sam creates an authentic dining experience through fresh local produce.
AMENITIES AND TOYS
Captain Mayon usually instructs the guests on using the dive equipment and compressor. If you are more into water sports, XANDROS's extensive water gear assortment – Water Skis, Seabob, E-foil, inflatables, tender, Surfboards, fishing gear, snorkel gear, U/Water Camera- won't disappoint.
GUEST COMMENT:
"Words cannot explain how incredible this trip was. Everything, from the food to the activities, were absolutely perfect. We appreciate everything that both of you did for us and you made every moment memorable. We will remember this trip for the rest of our lives and that is all thanks to you."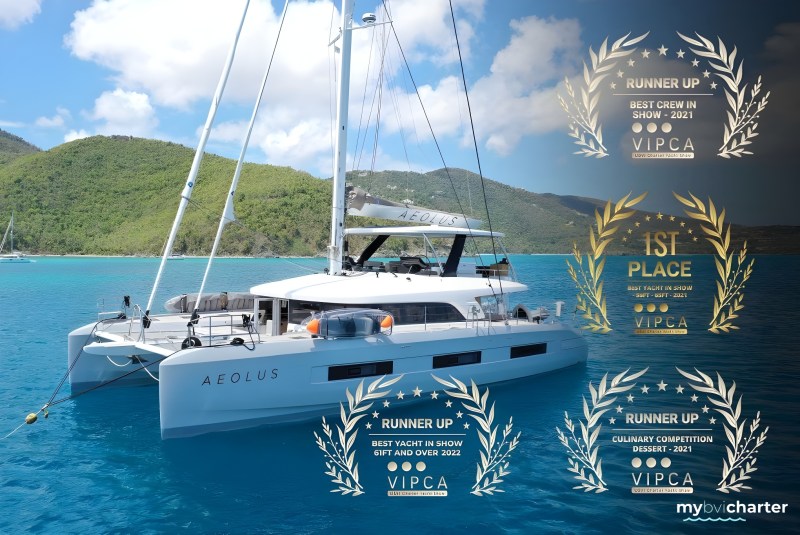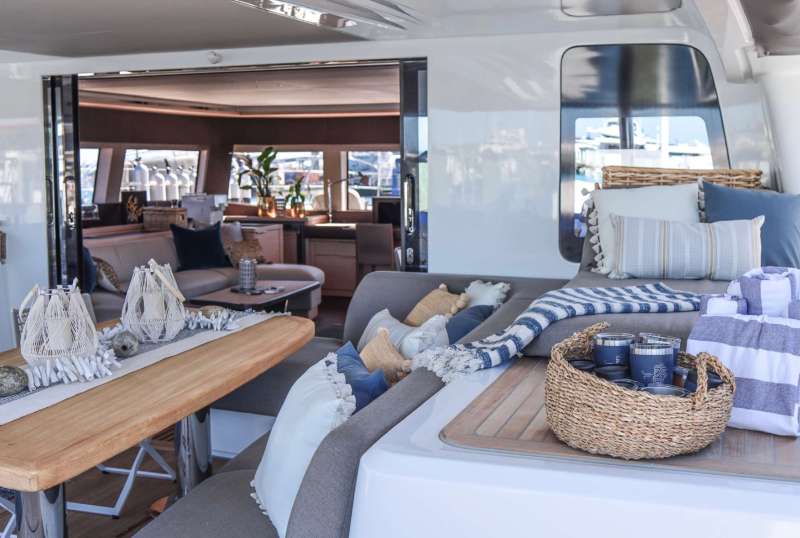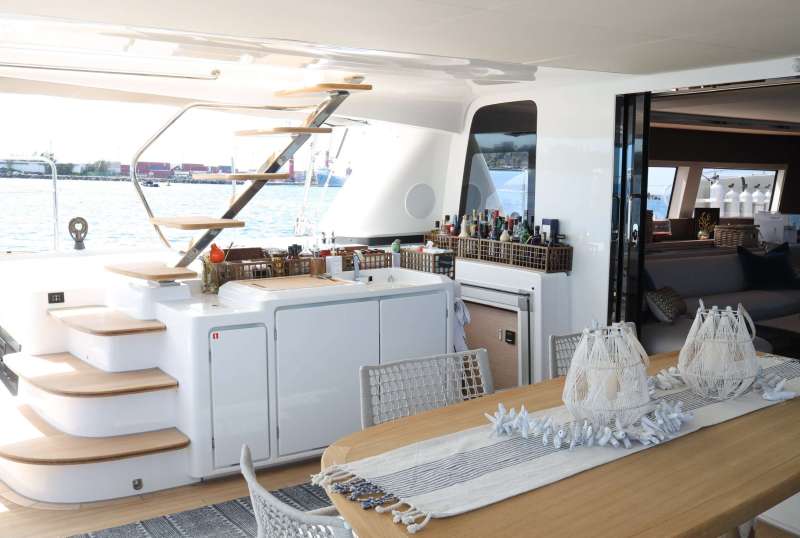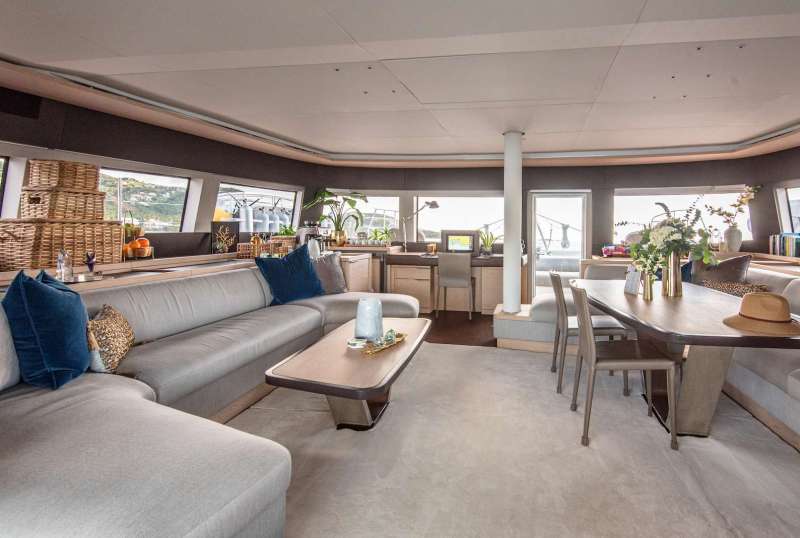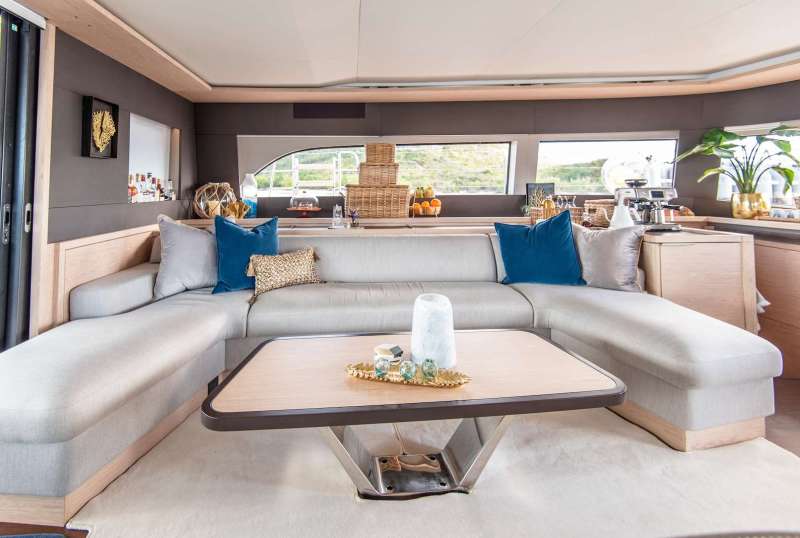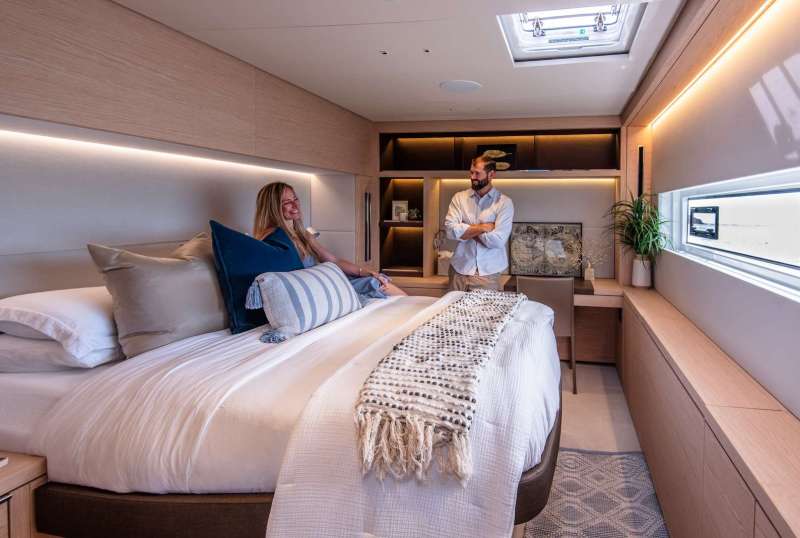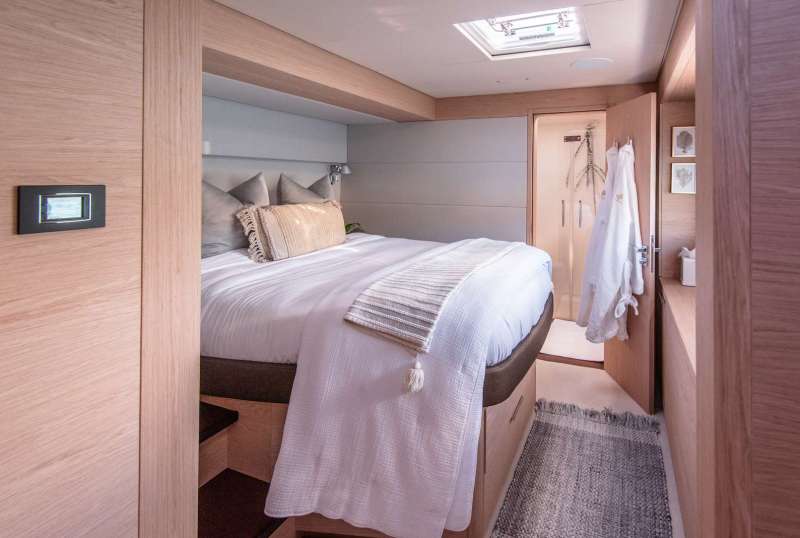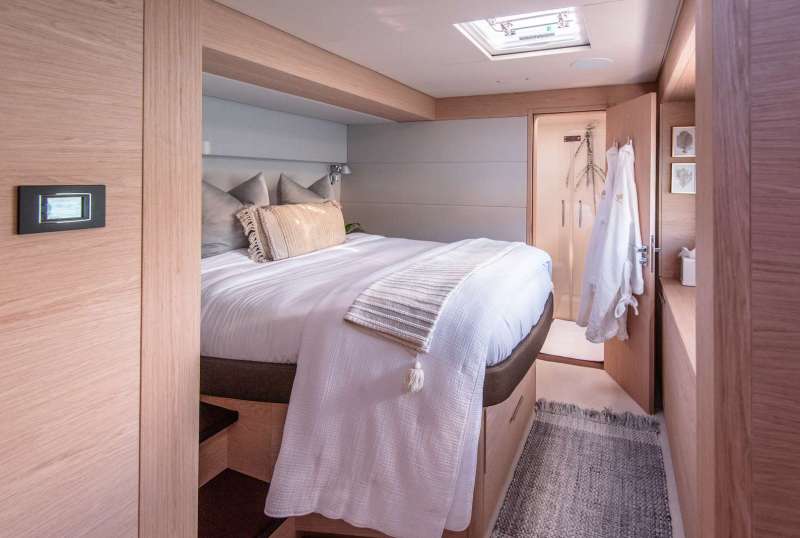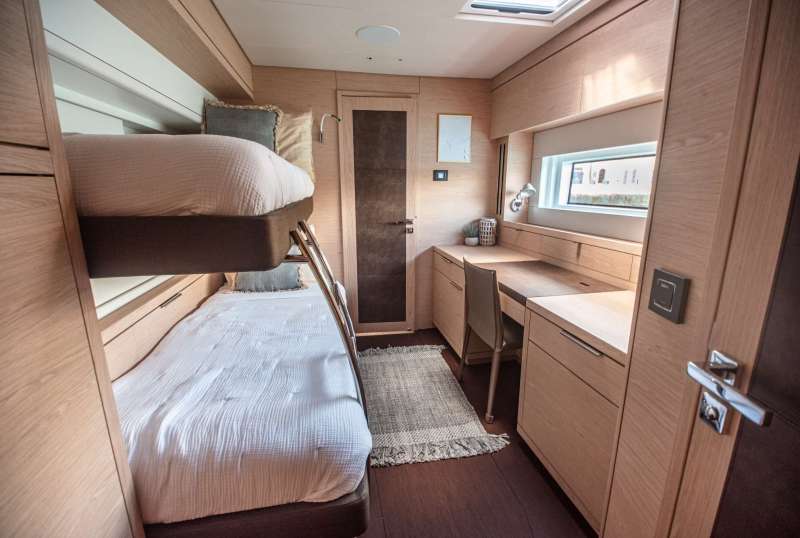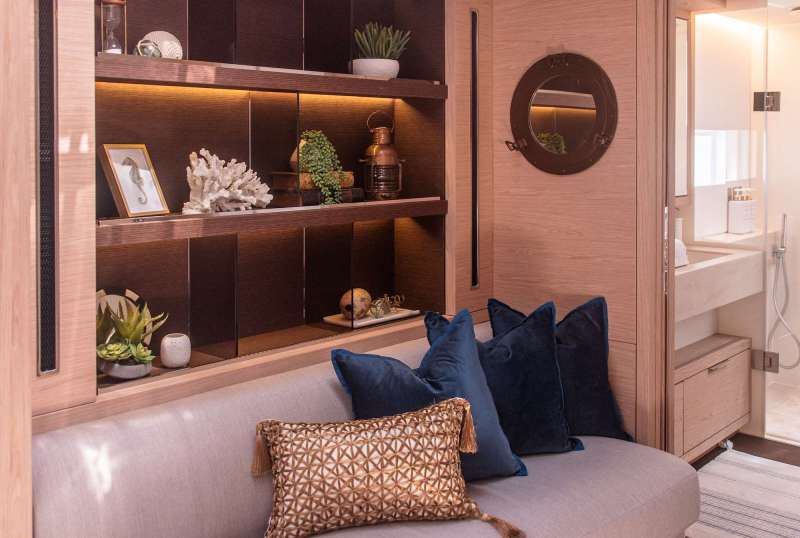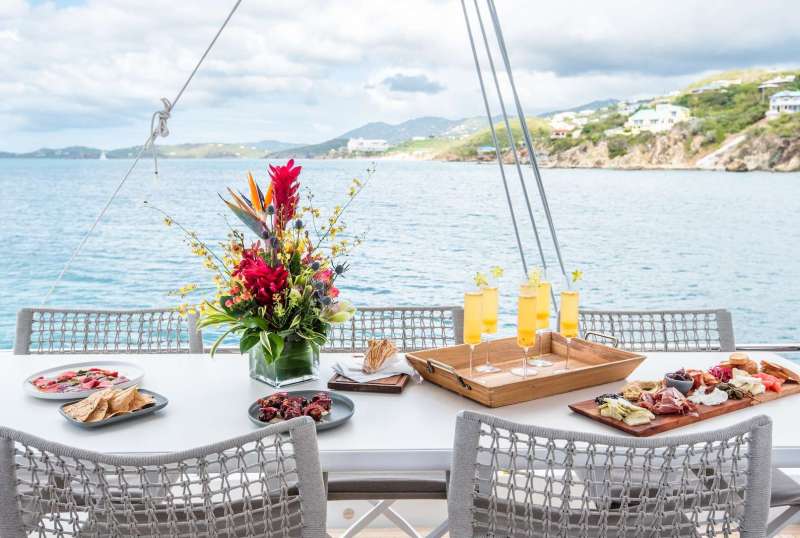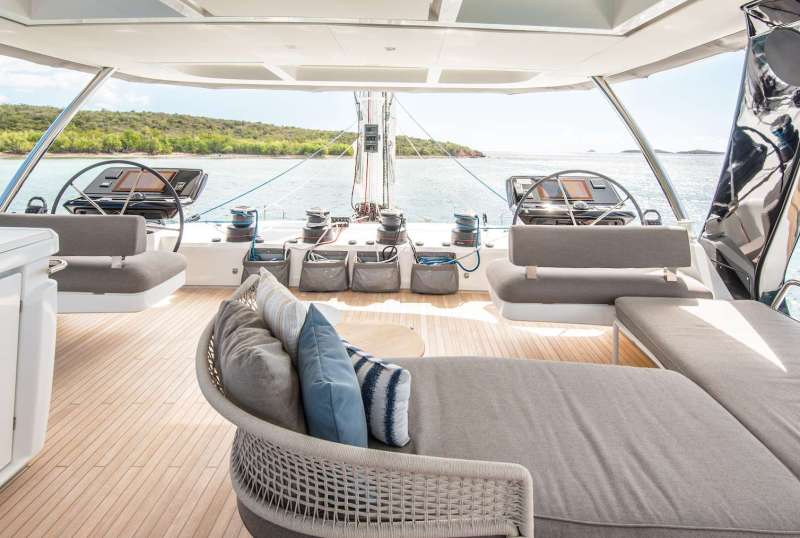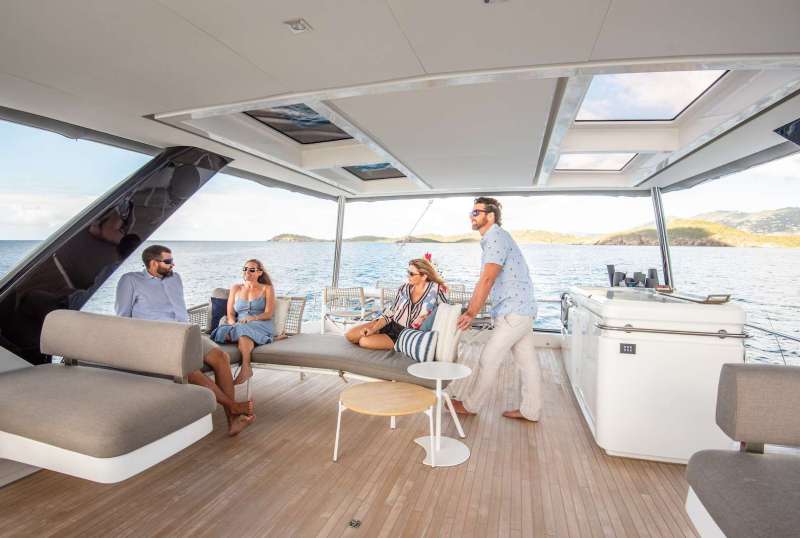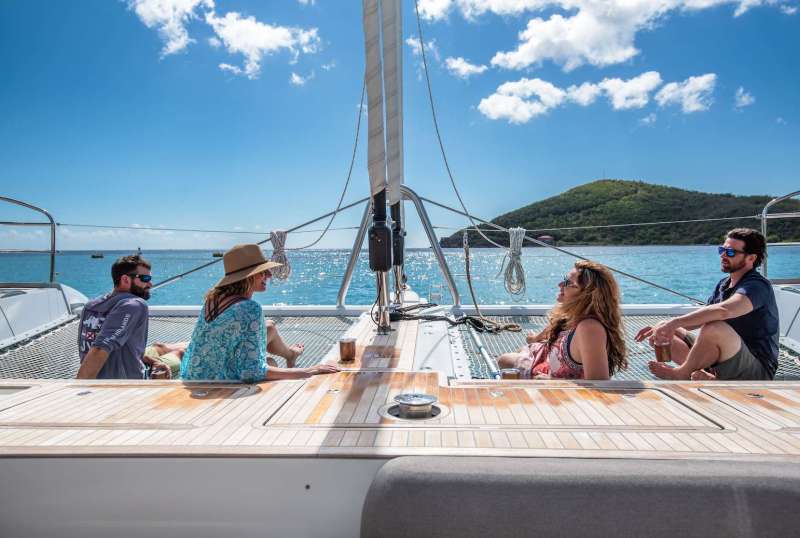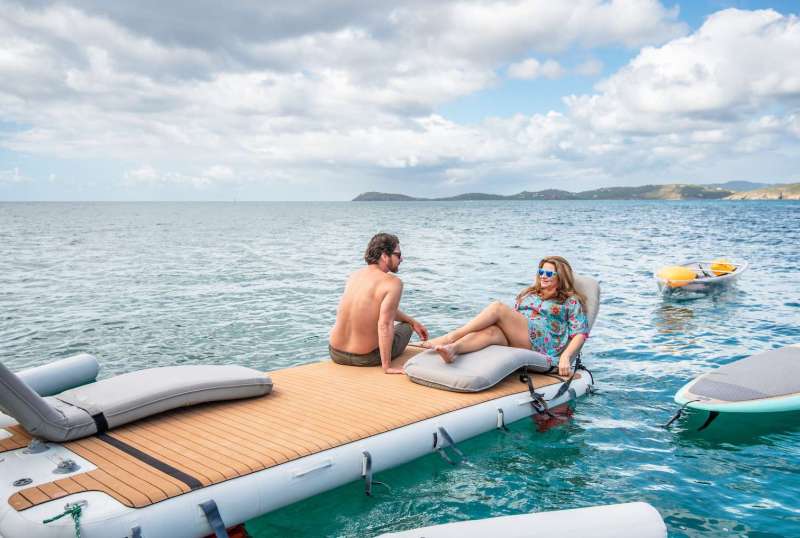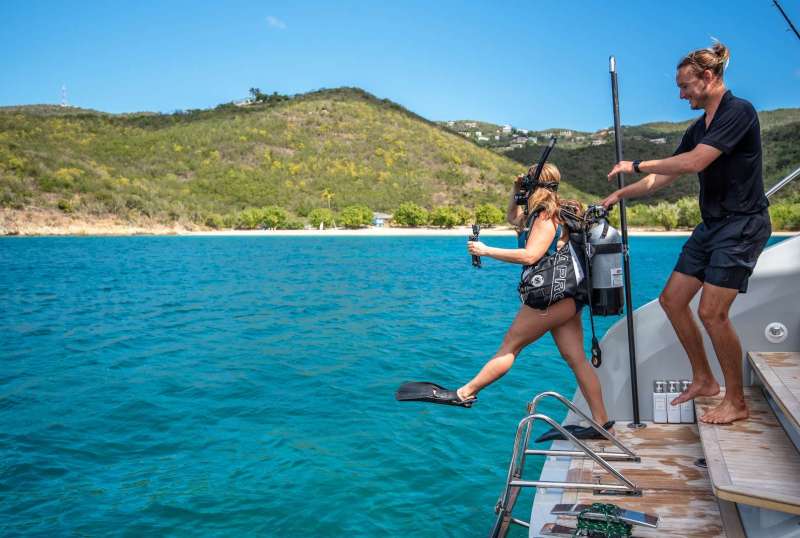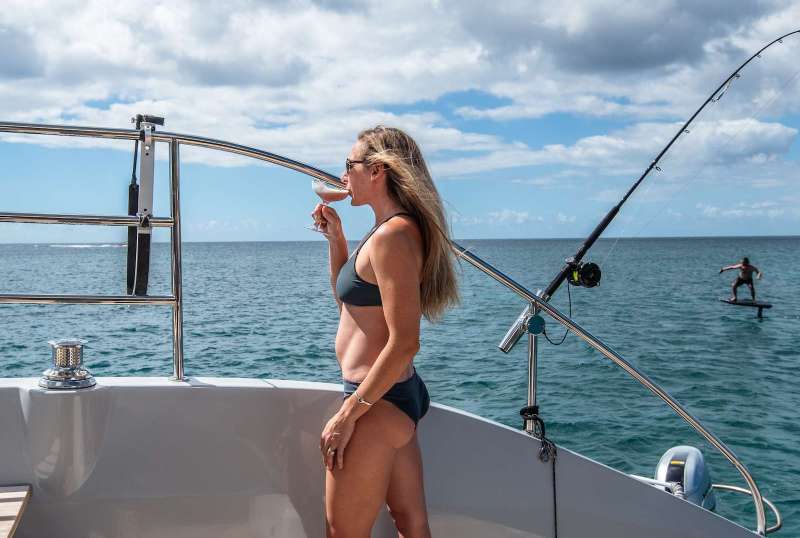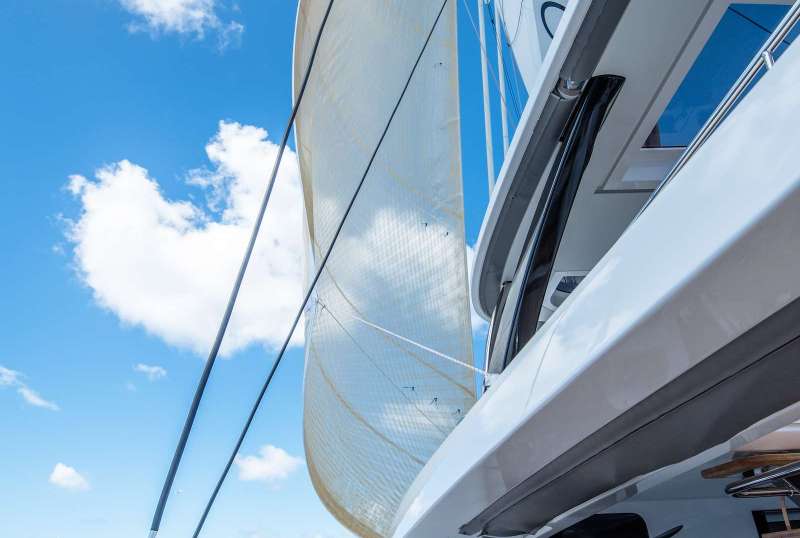 XANDROS
From $59,000/week
4 cabins
65 ft
Lagoon
8 guests
Built: 2021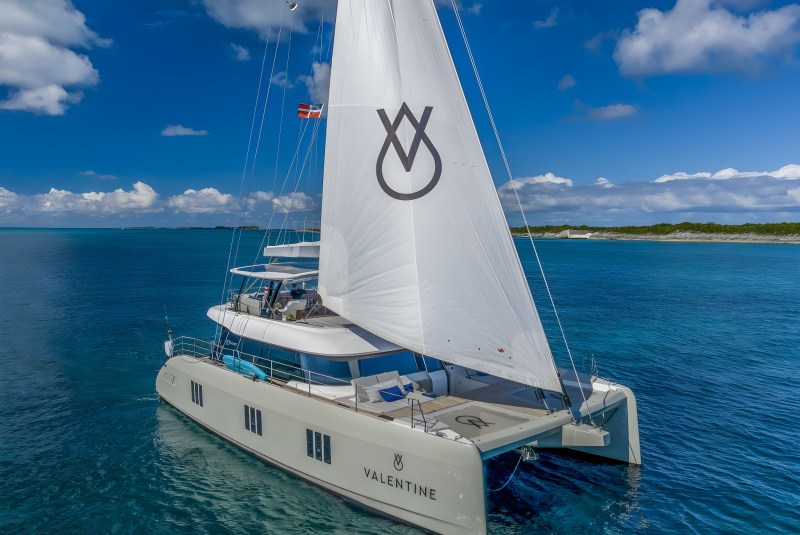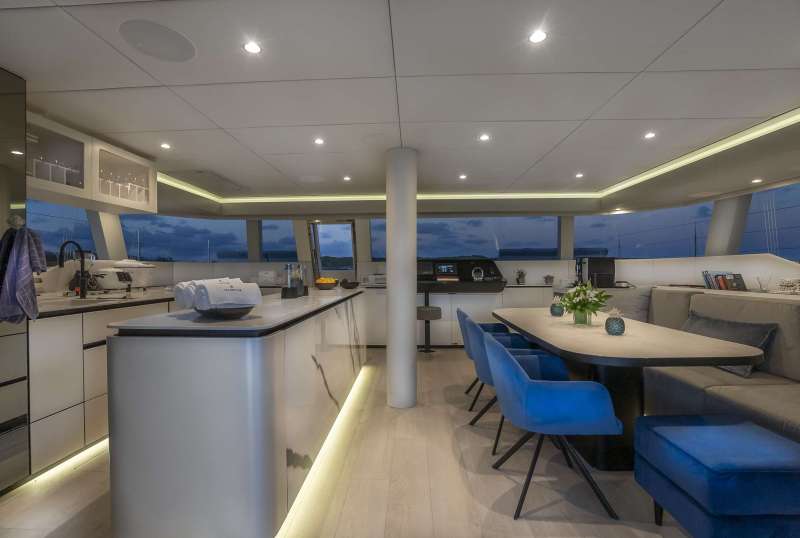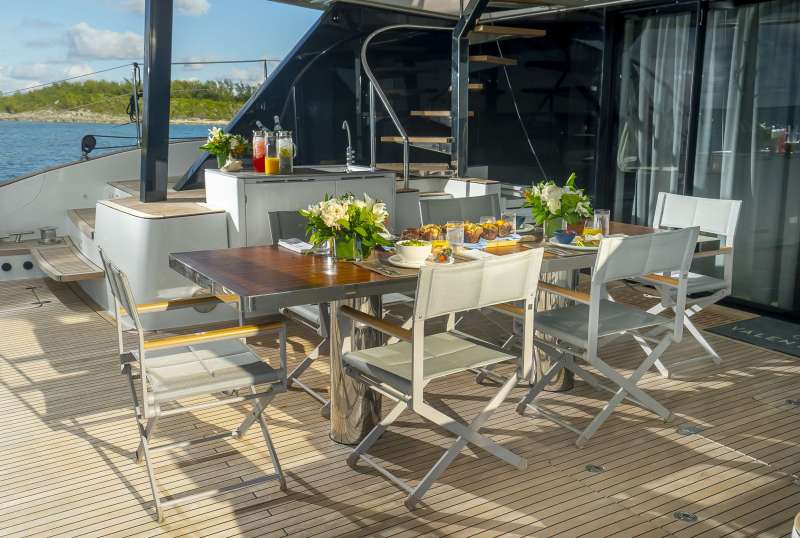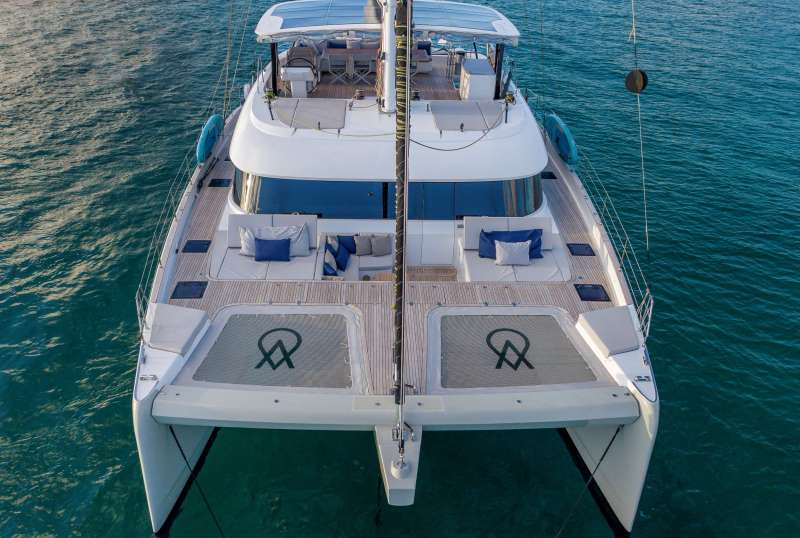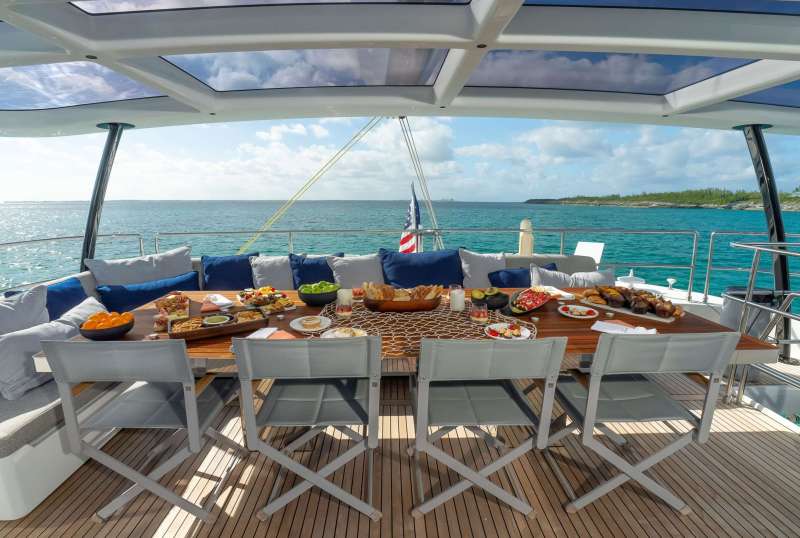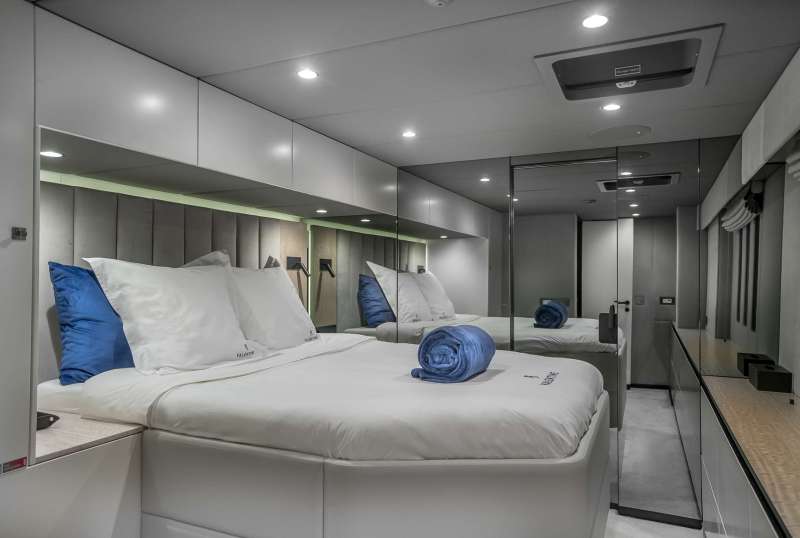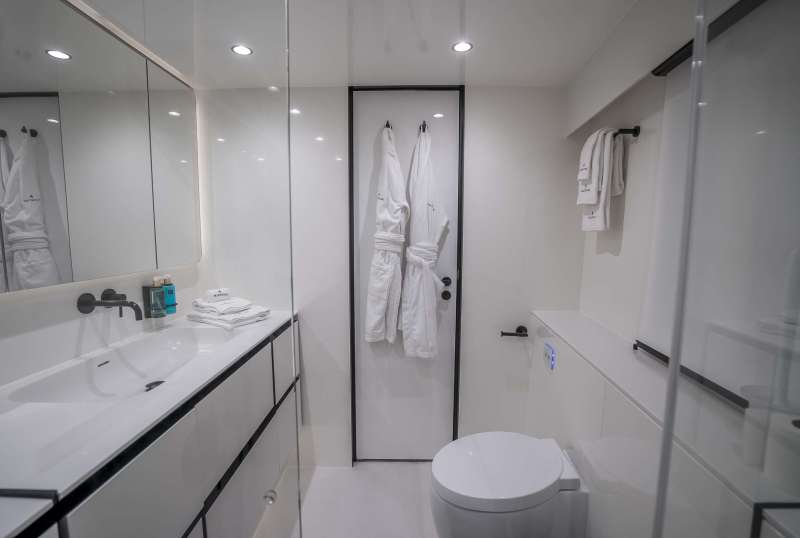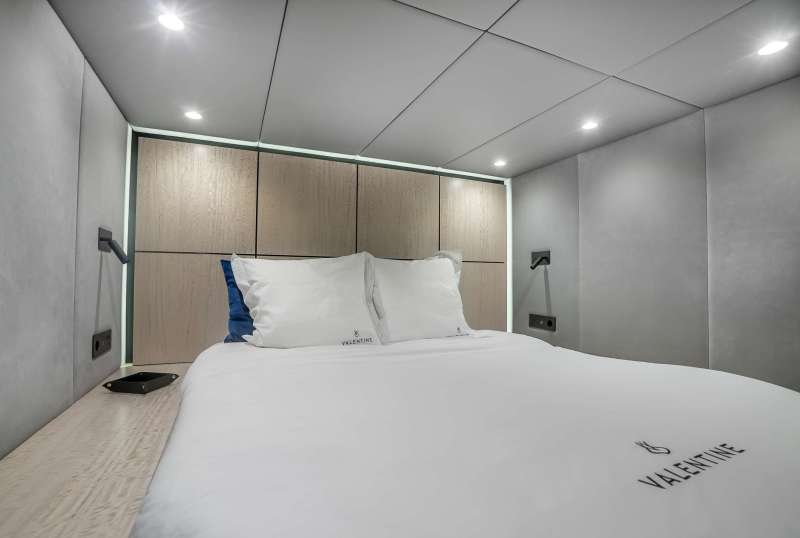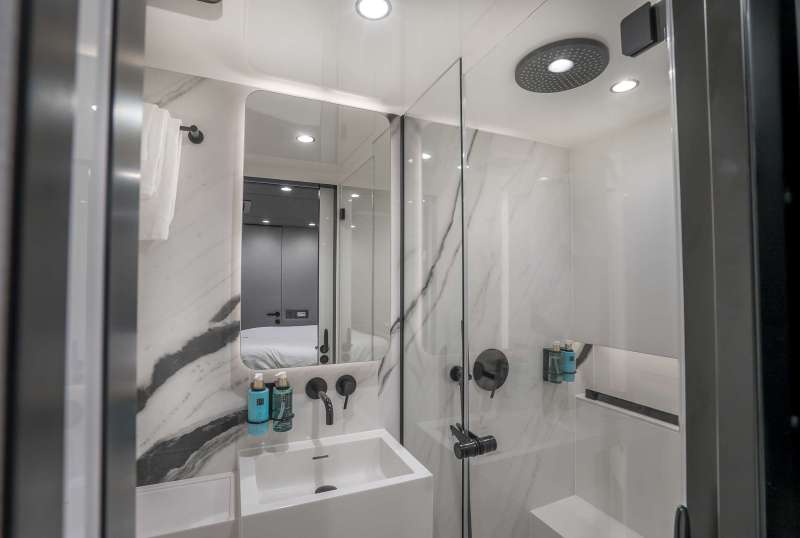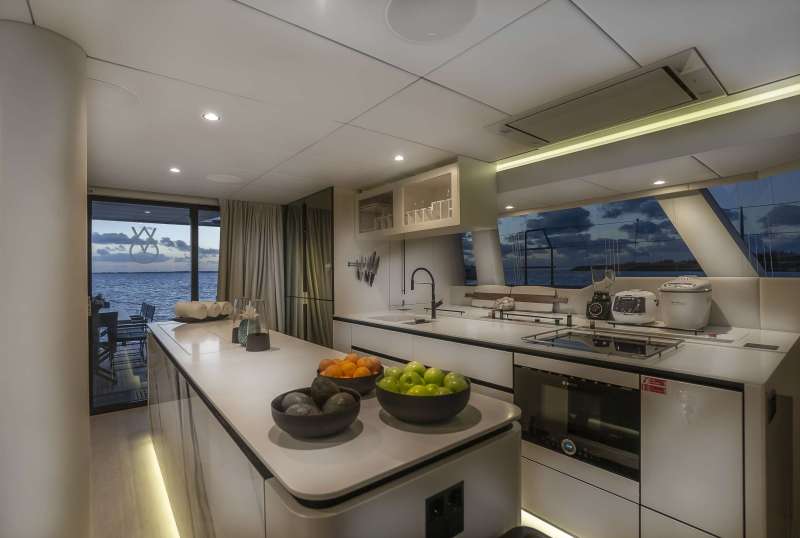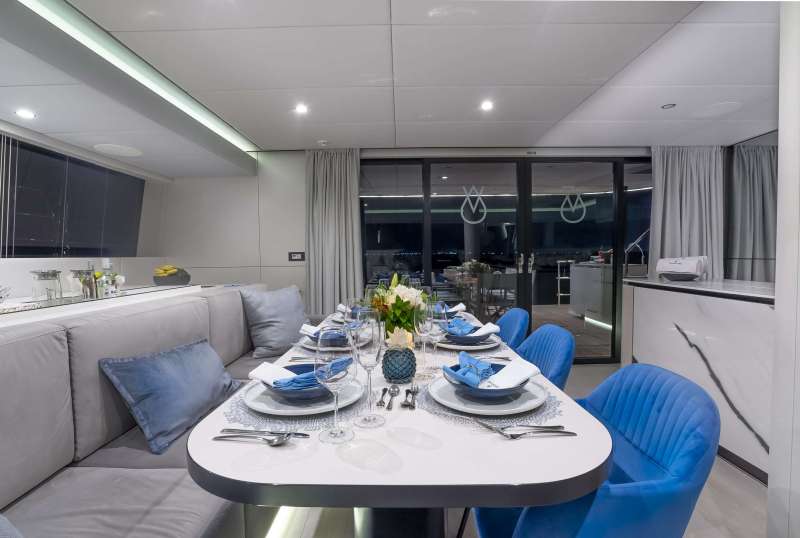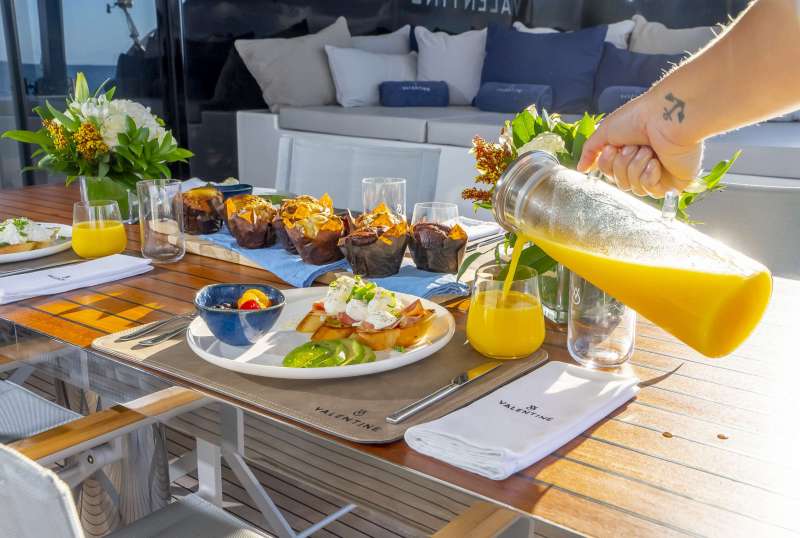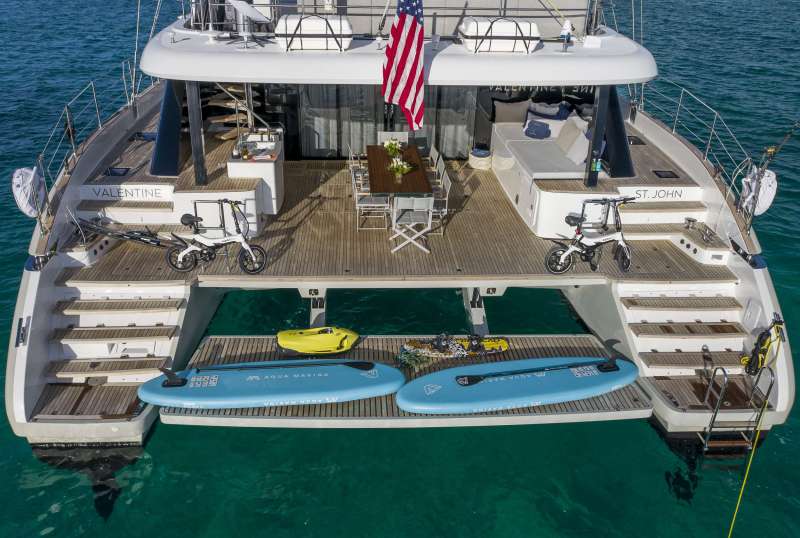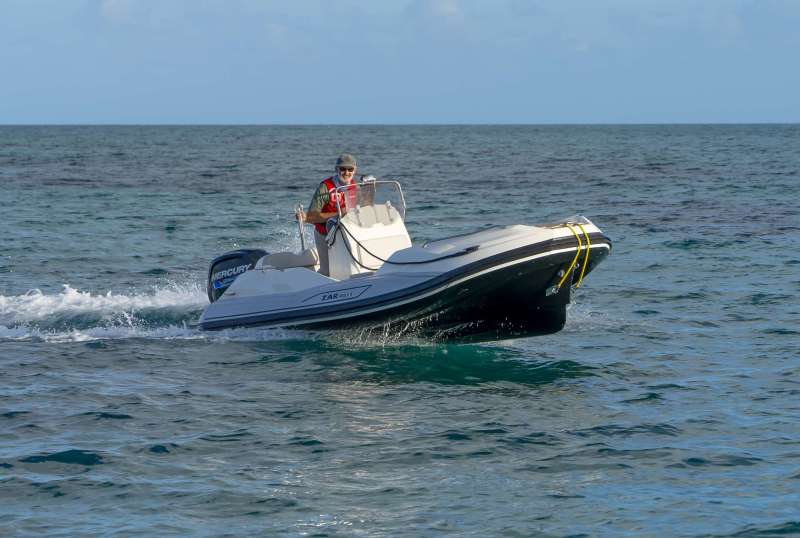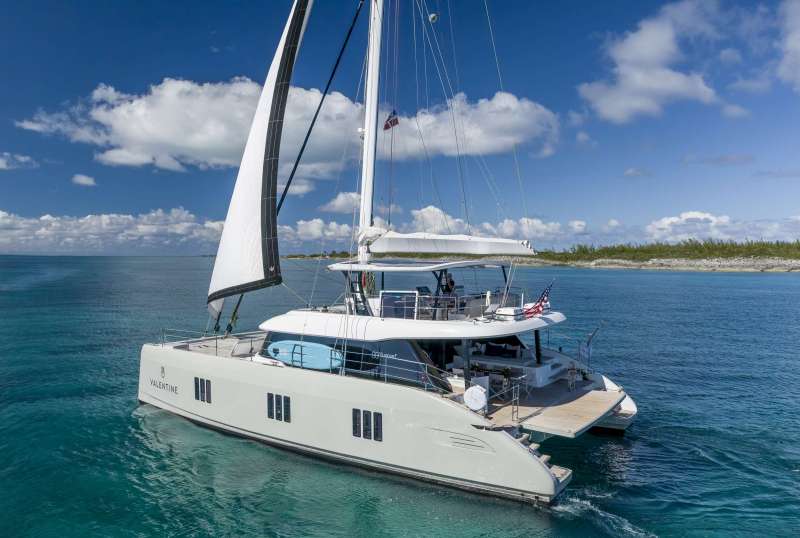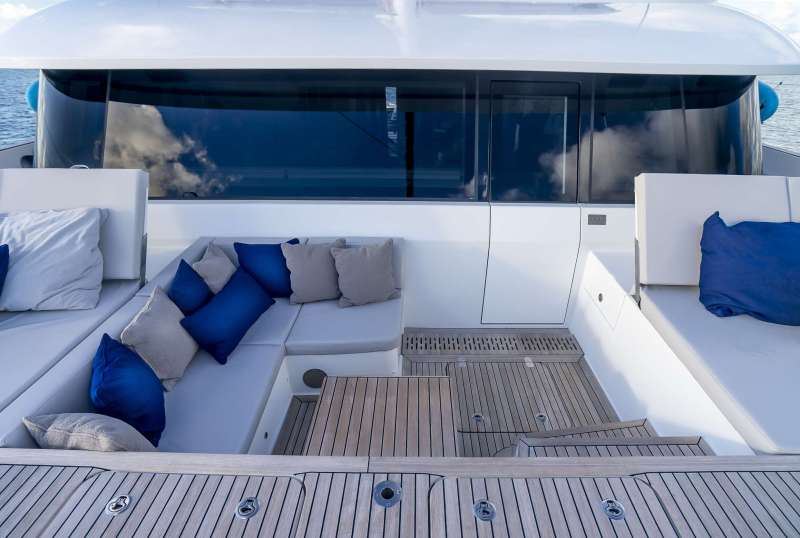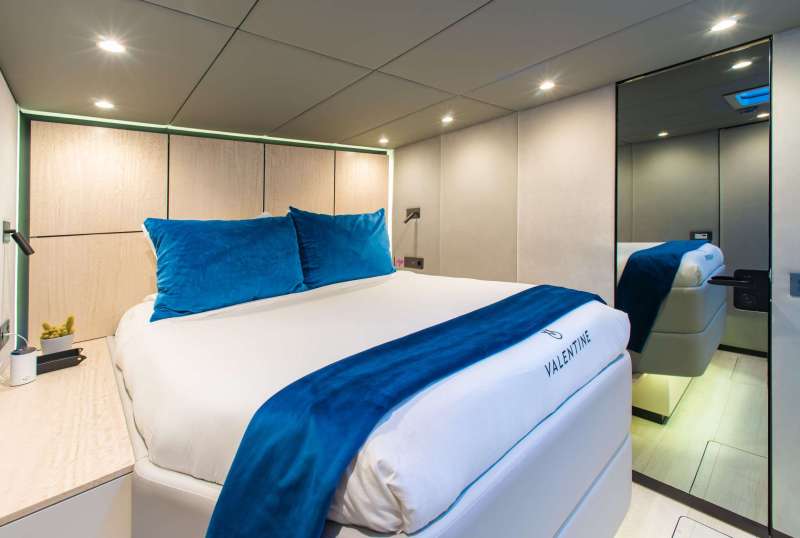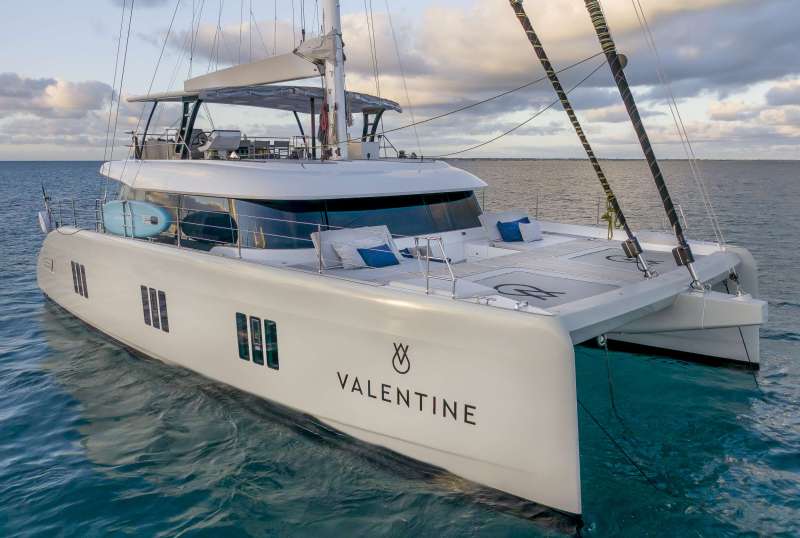 VALENTINE
From $45,700/week
4 cabins
60 ft
Sunreef Yachts
8 guests
Built: 2021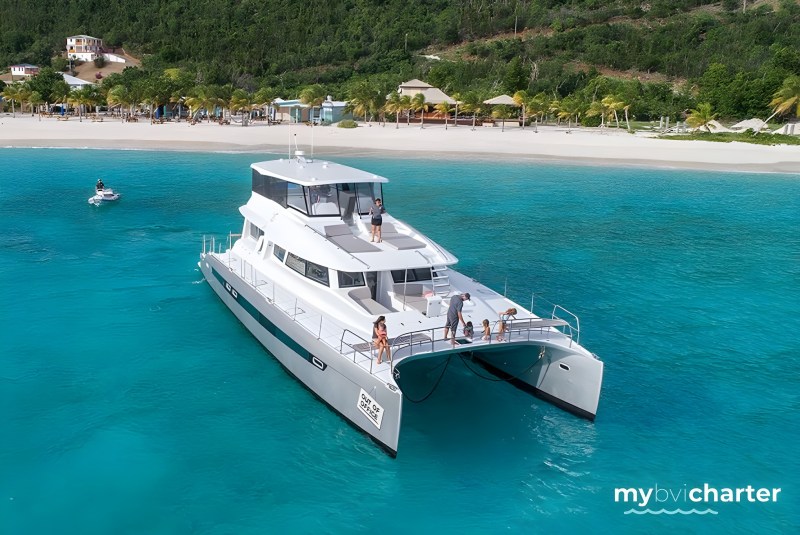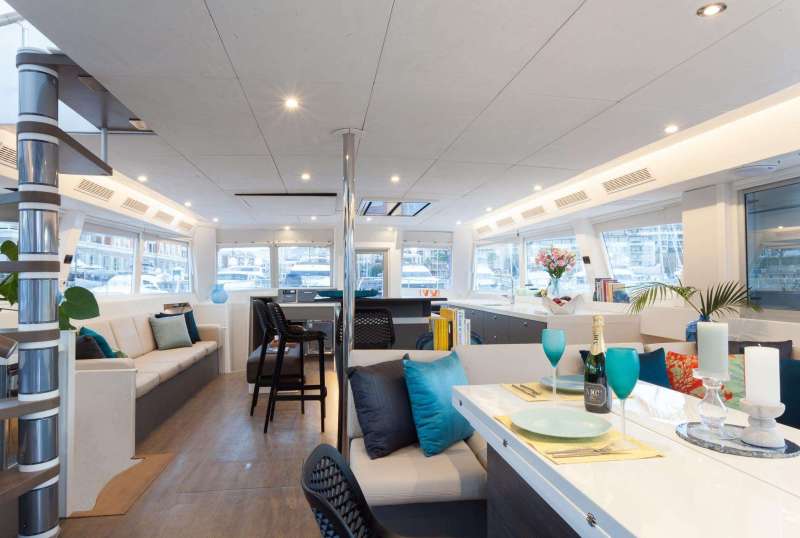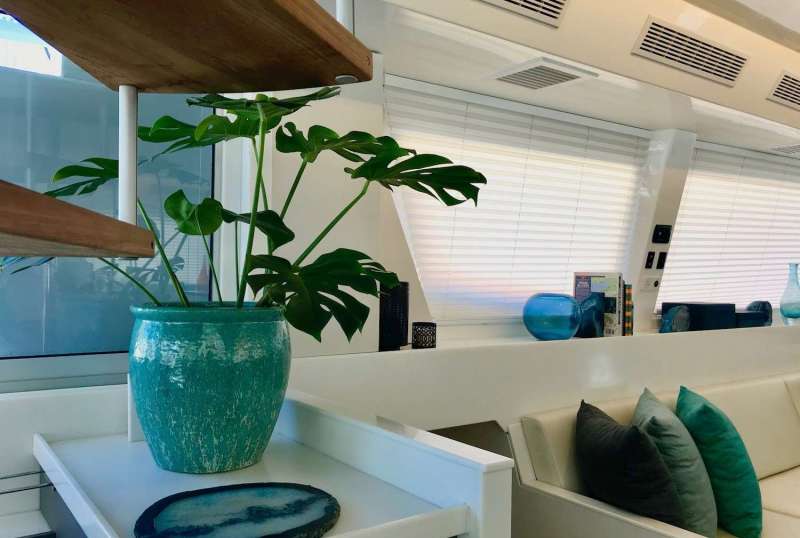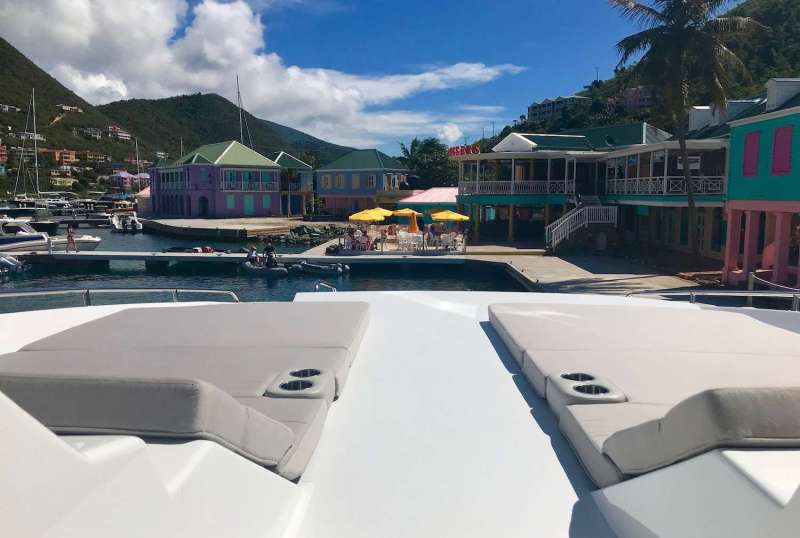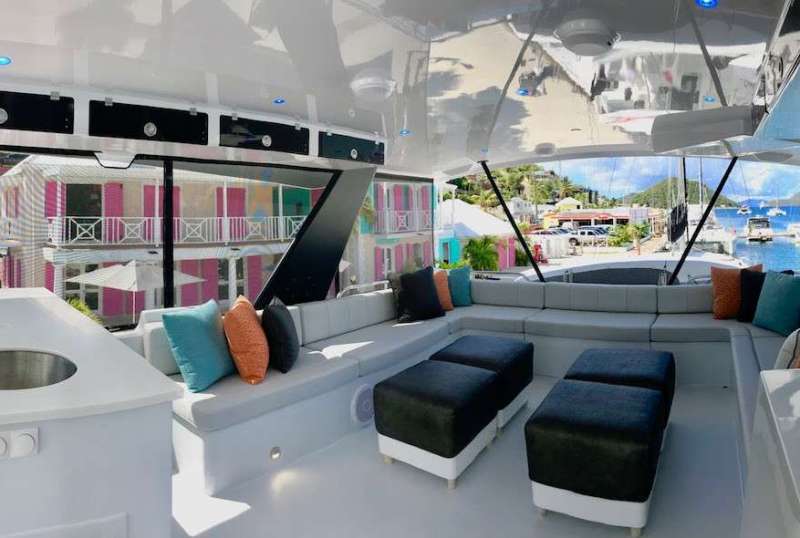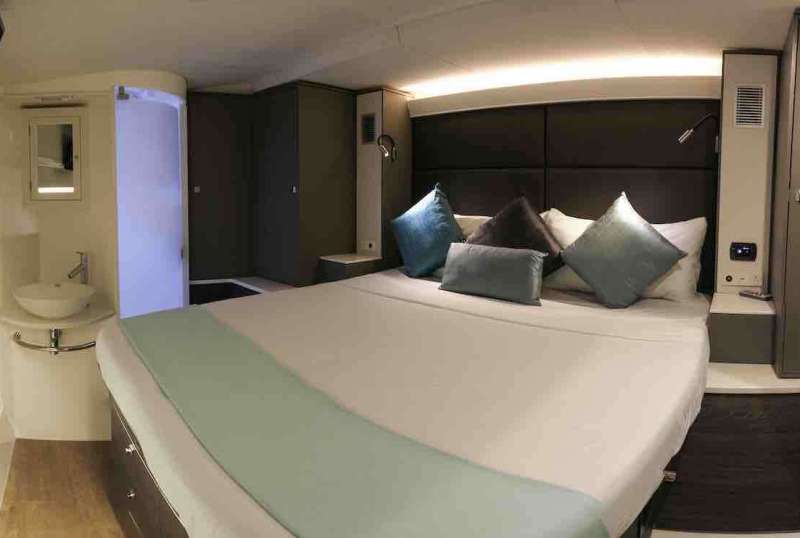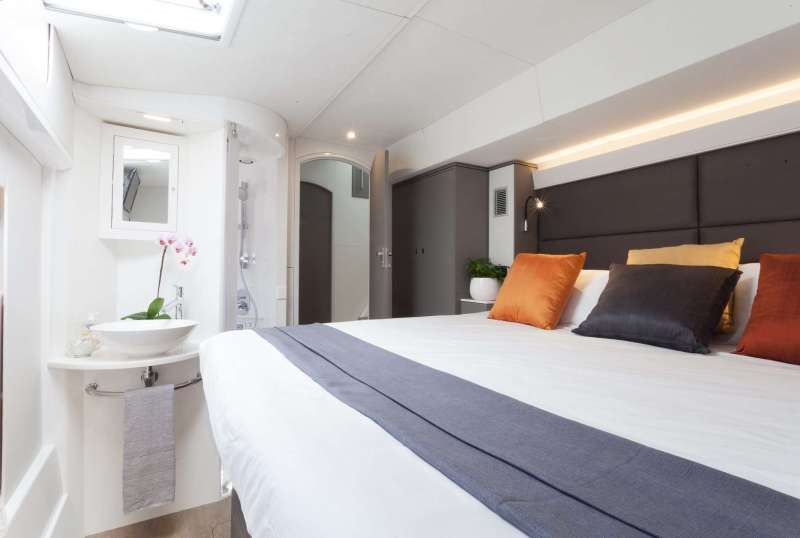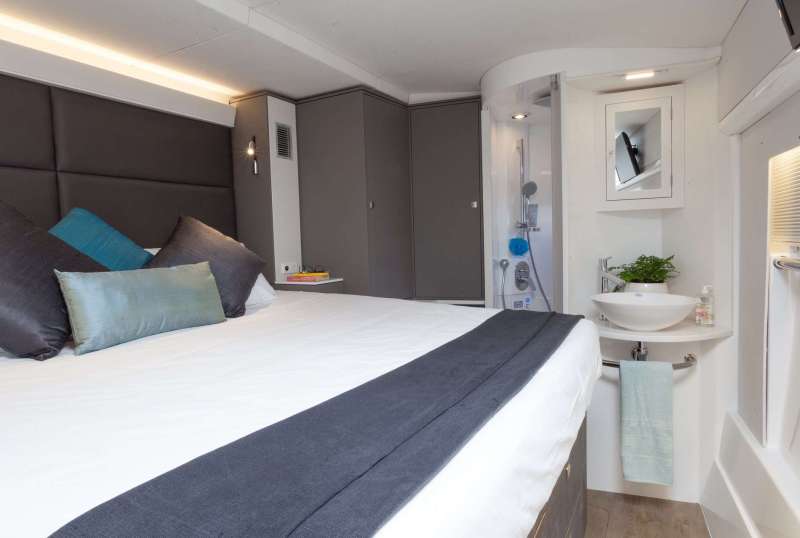 VOYAGE 650 Power Cat
From $45,660/week
6 cabins
65 ft
VOYAGE
12 guests
Refit: 2019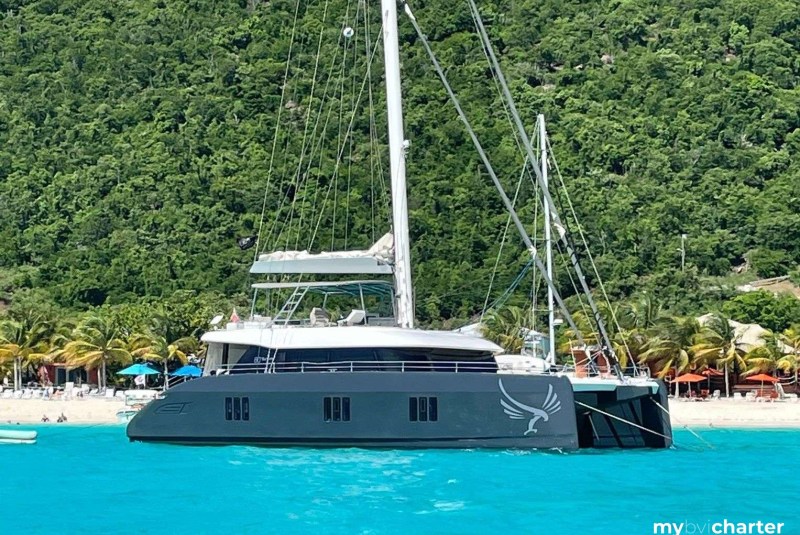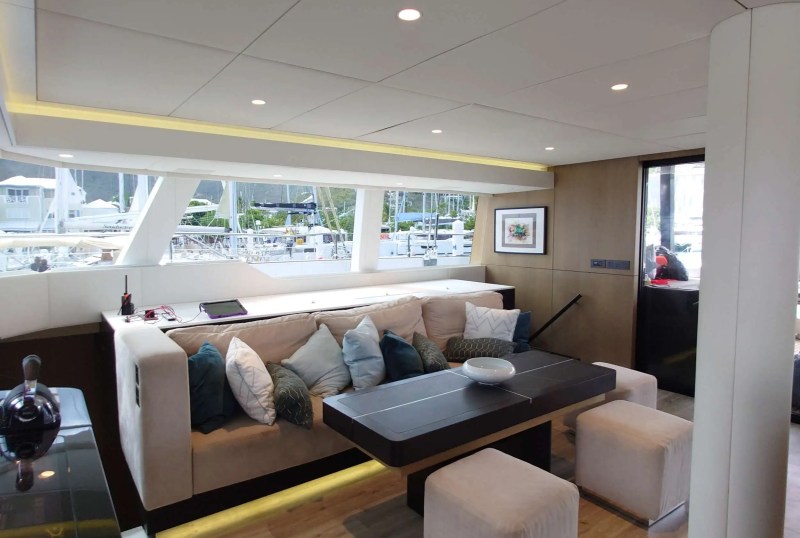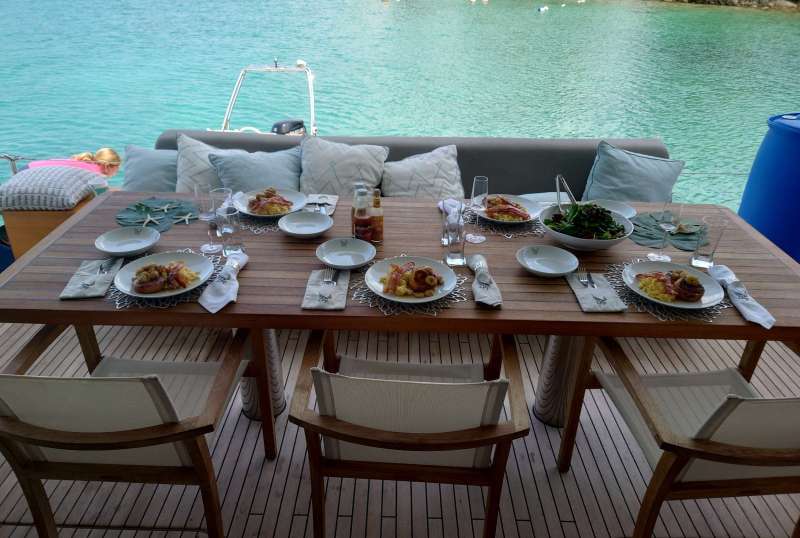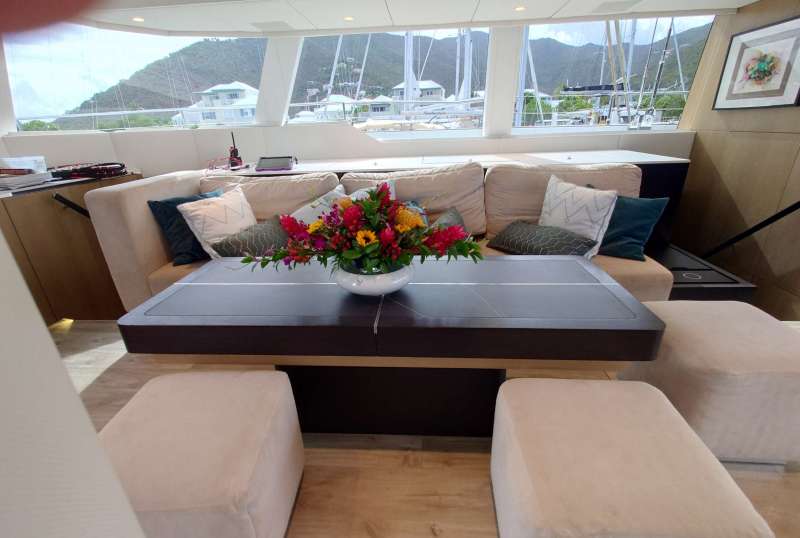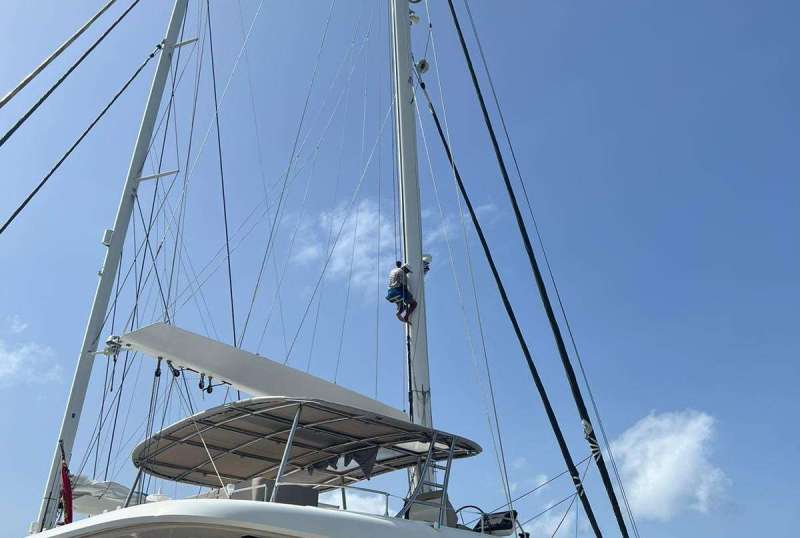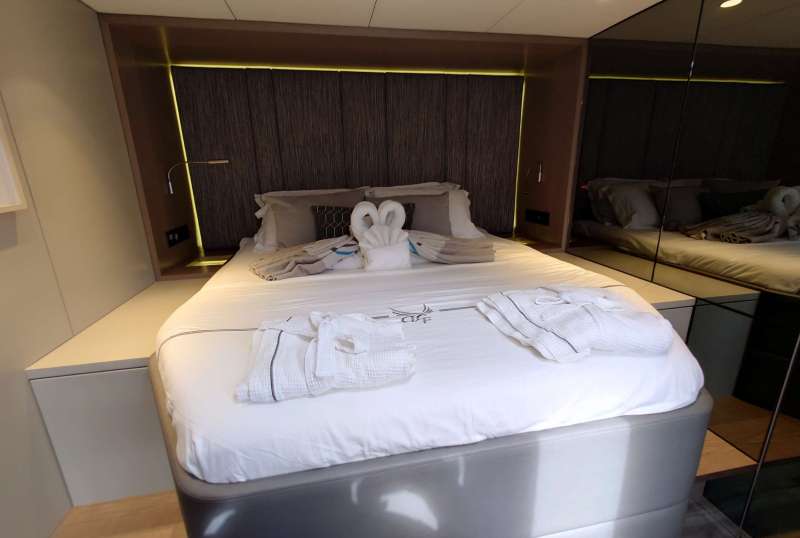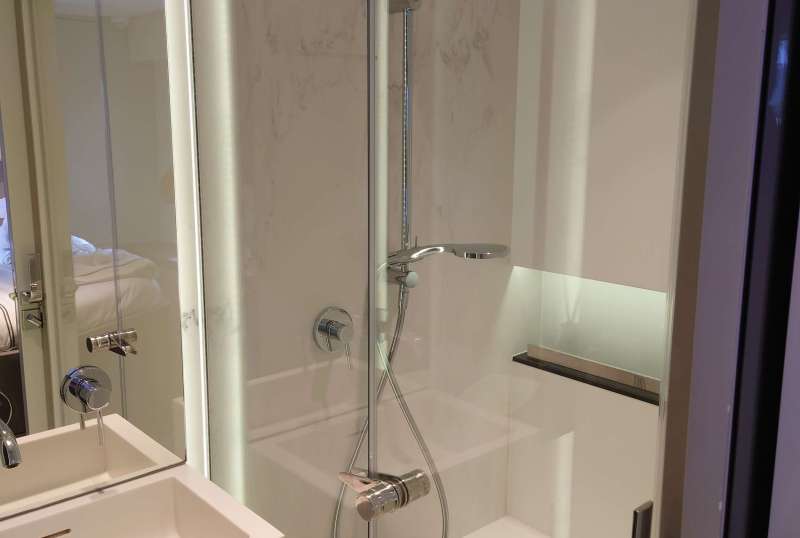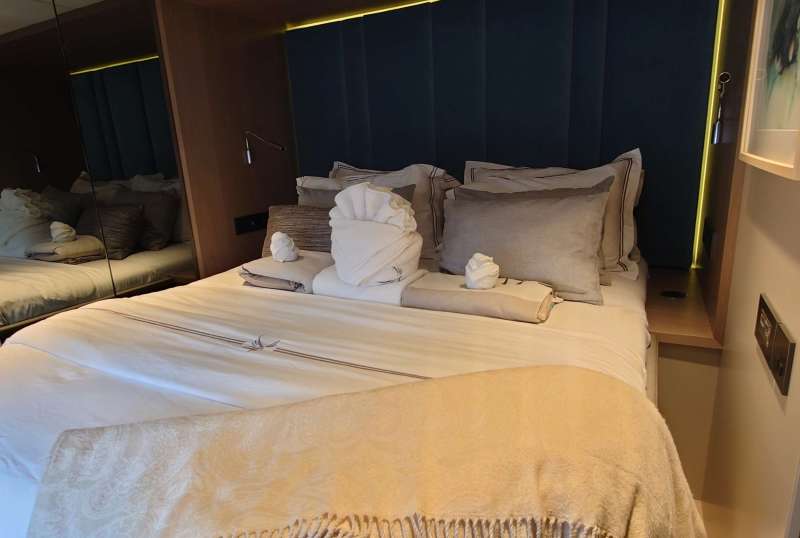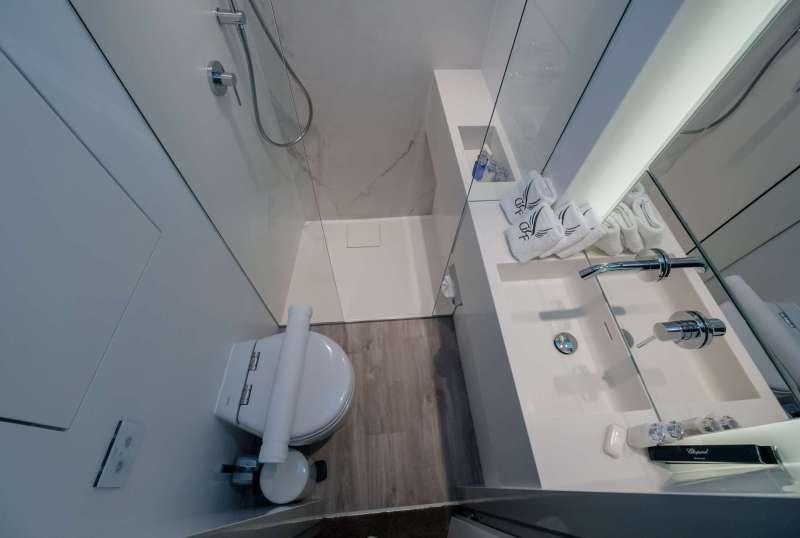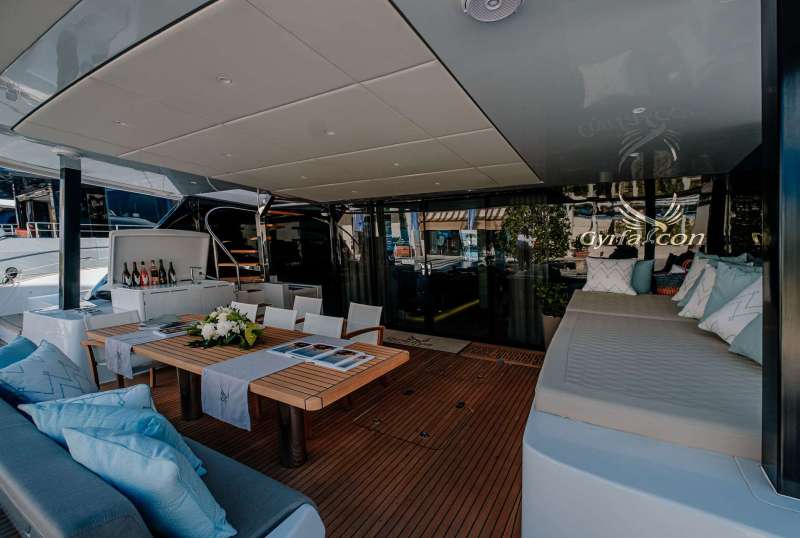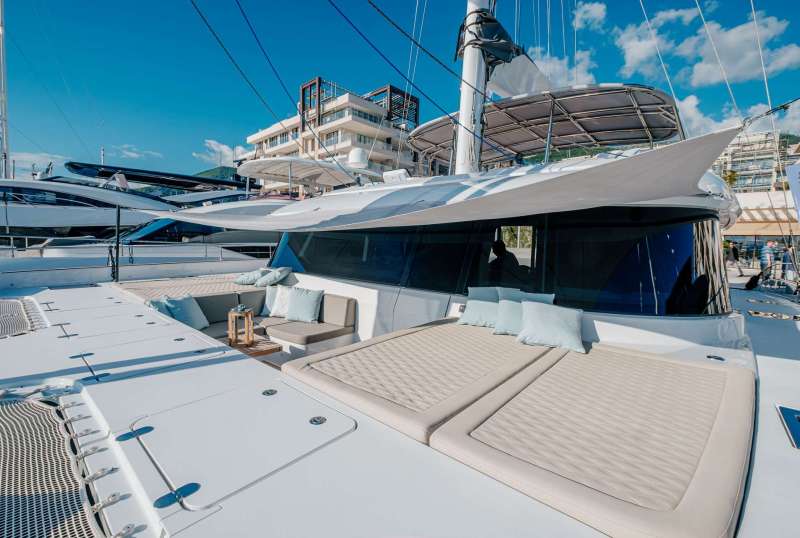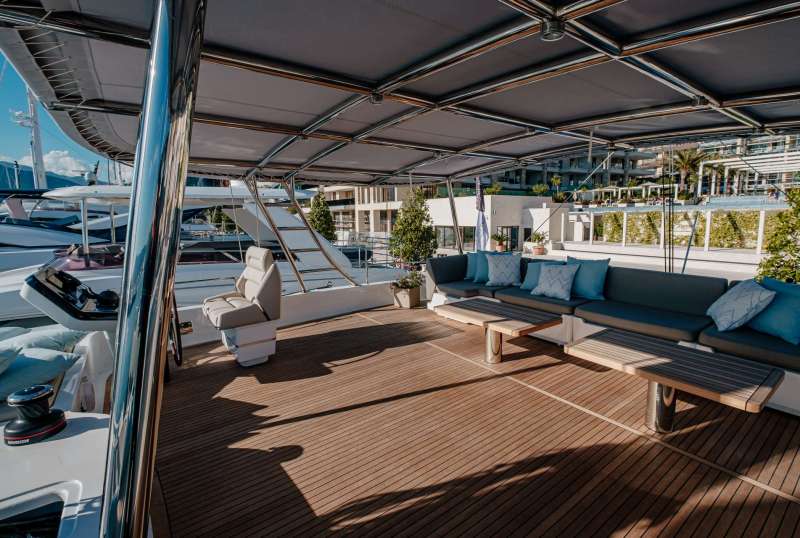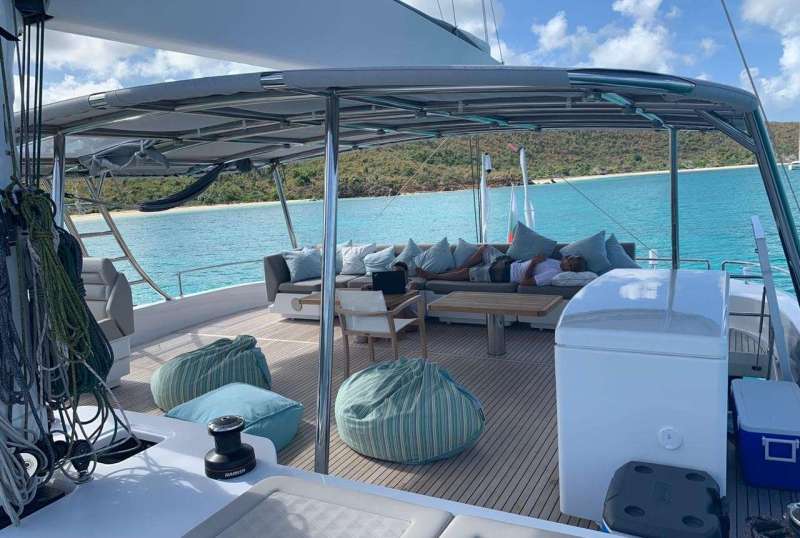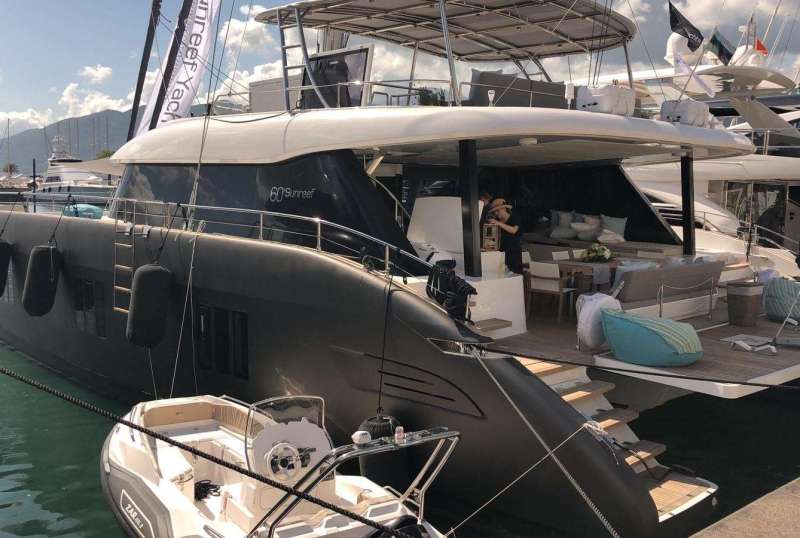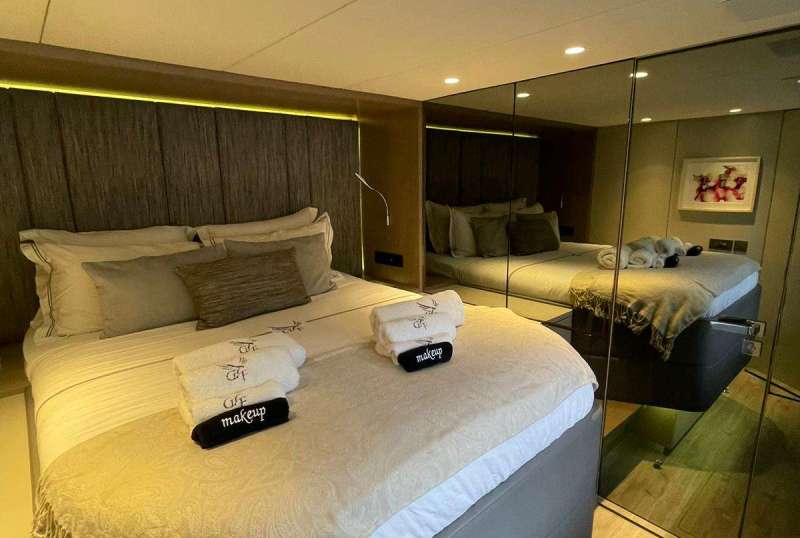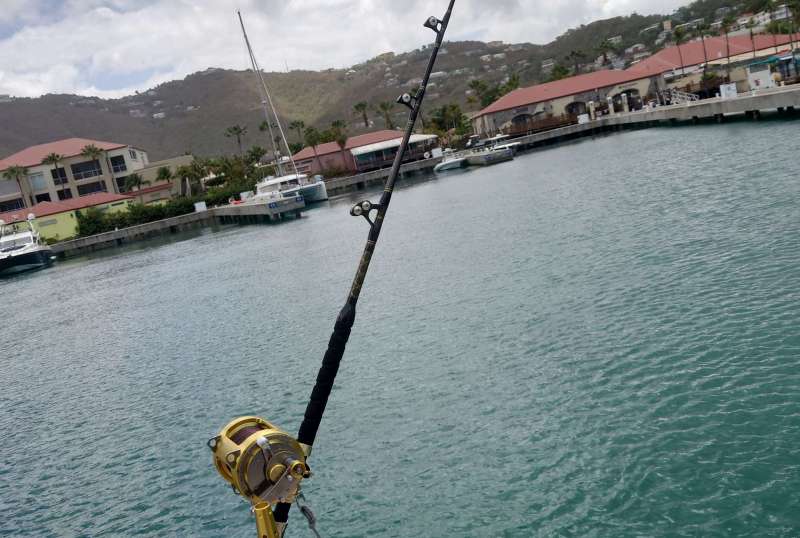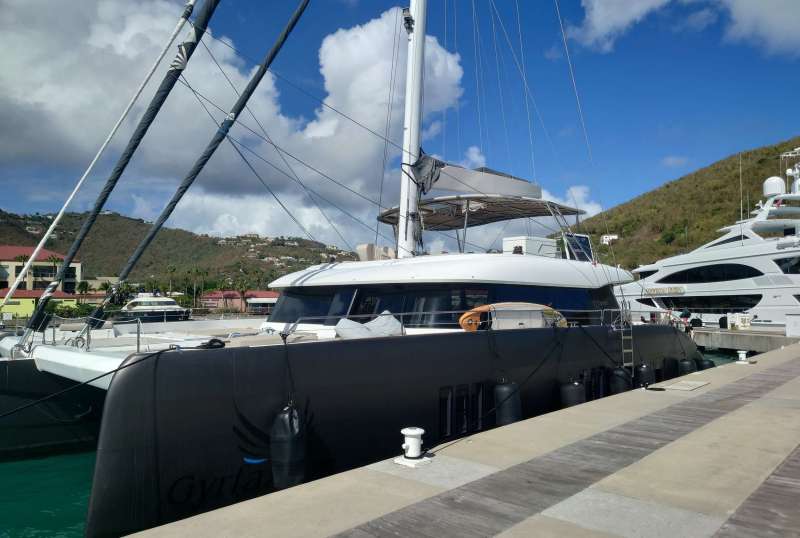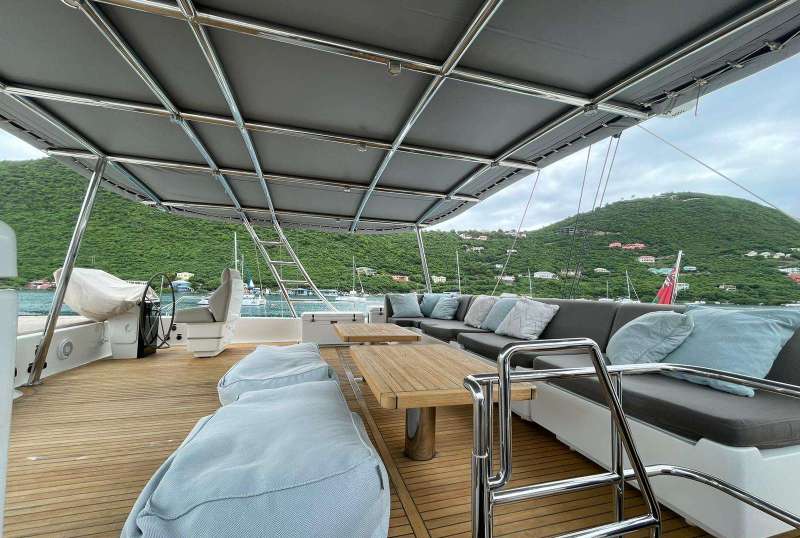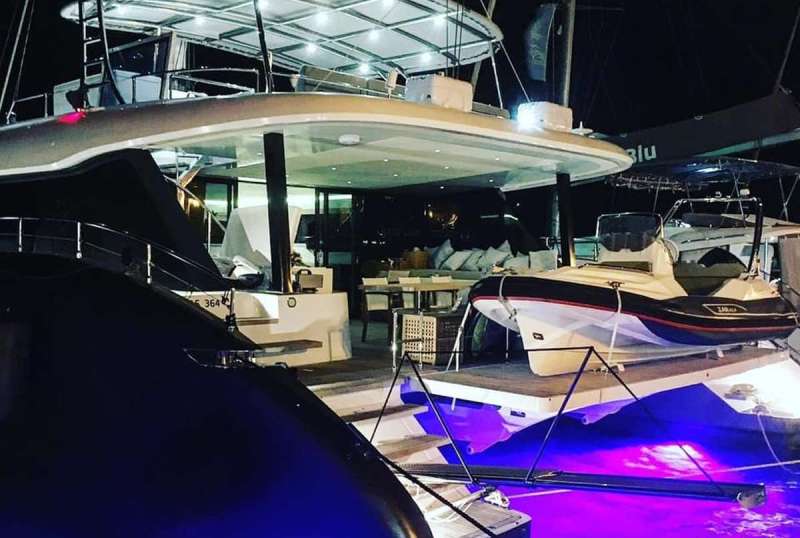 GYRFALCON
From $45,000/week
5 cabins
60 ft
Sunreef Yachts
10 guests
Built: 2019
30 Litres/Hr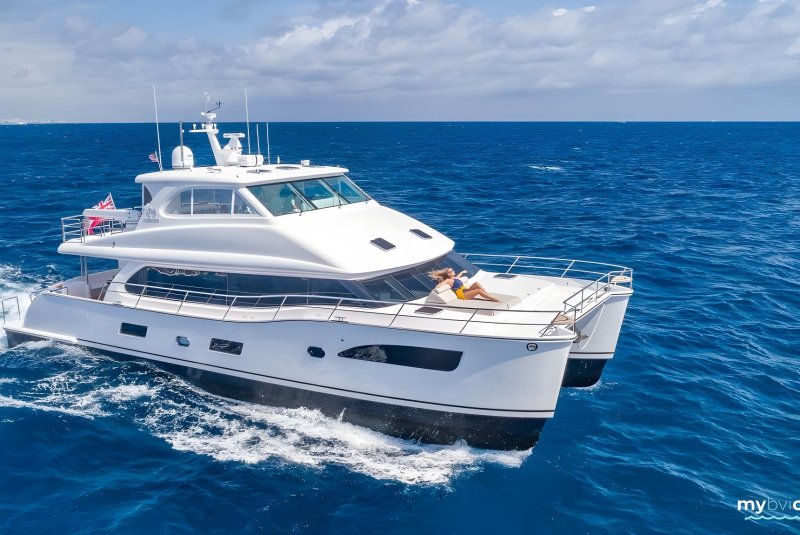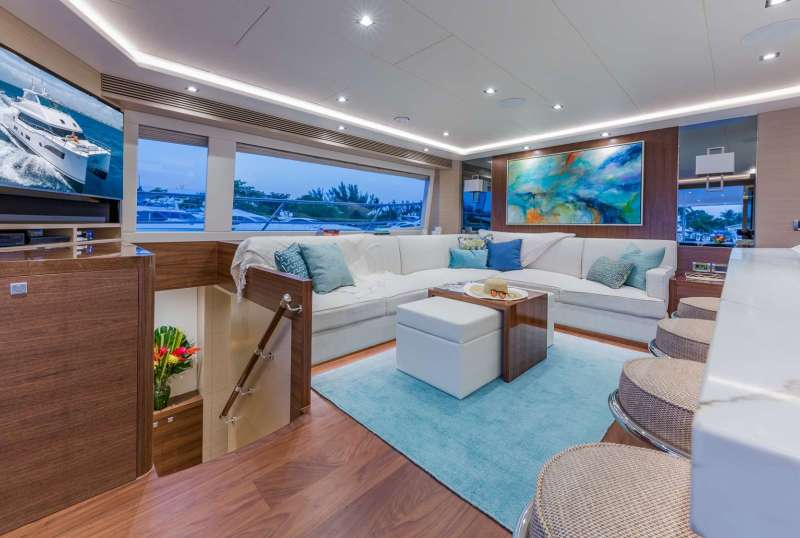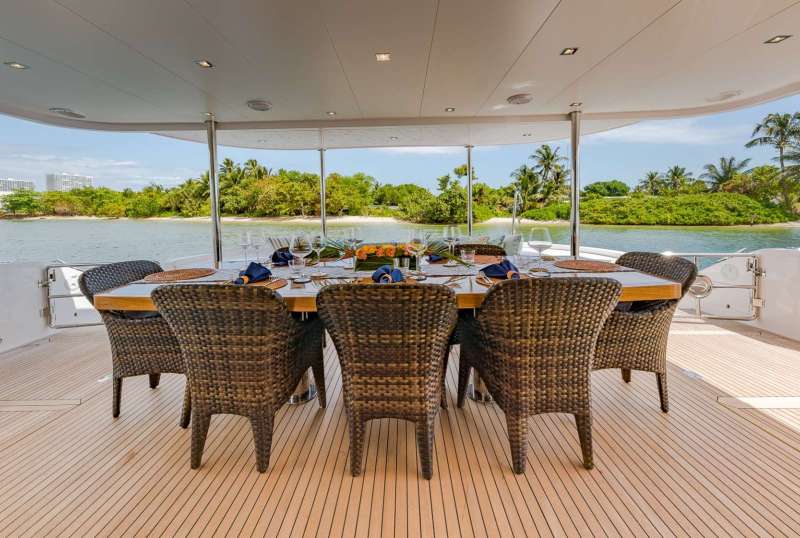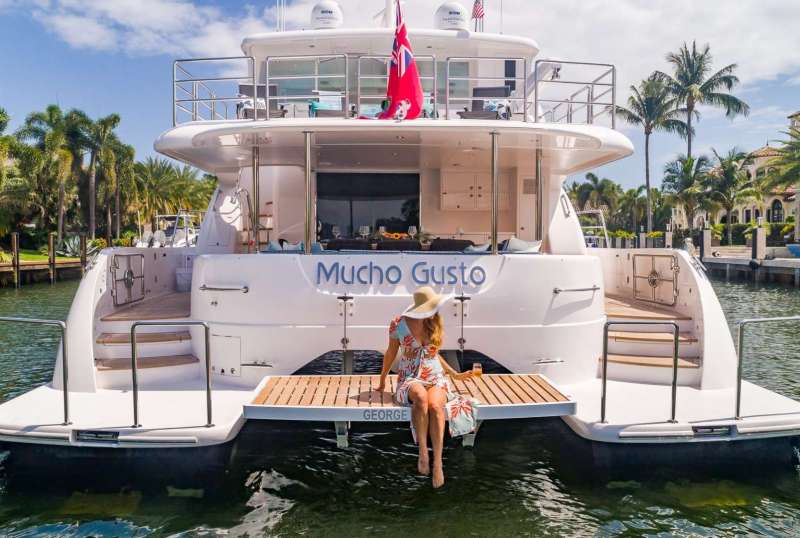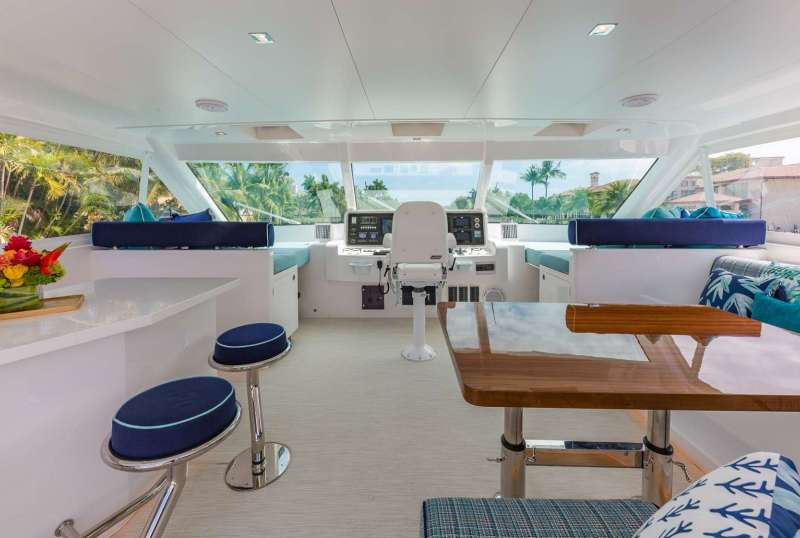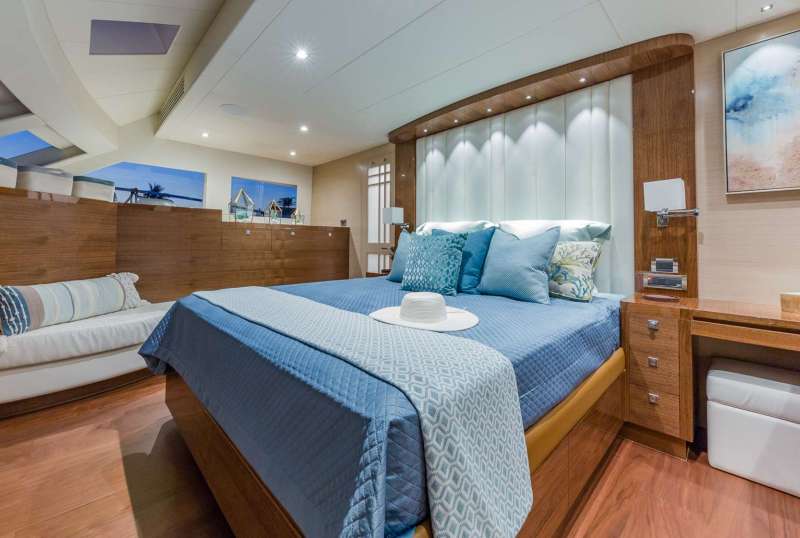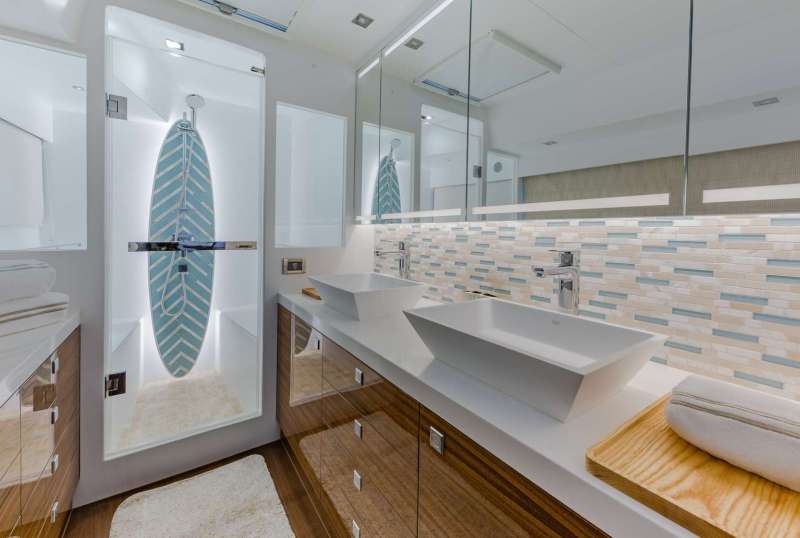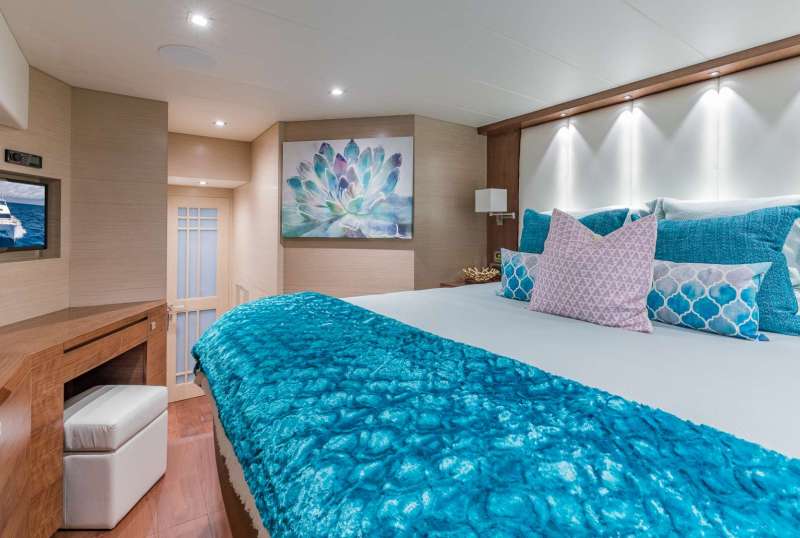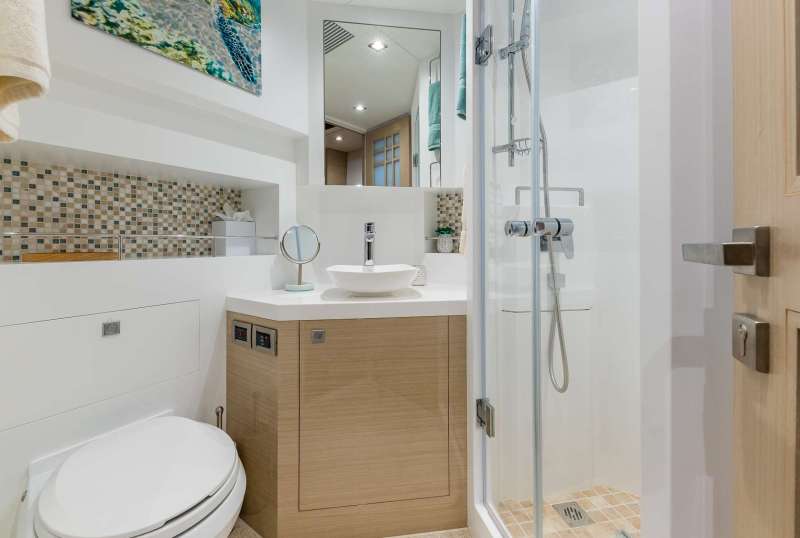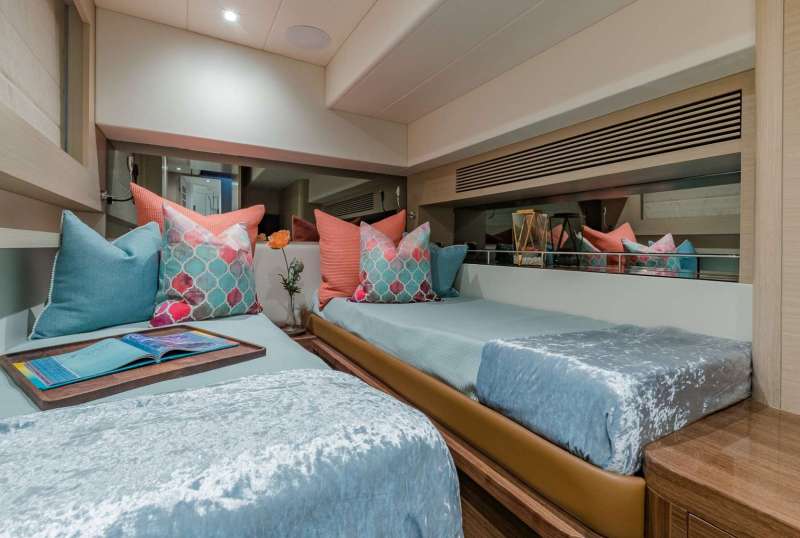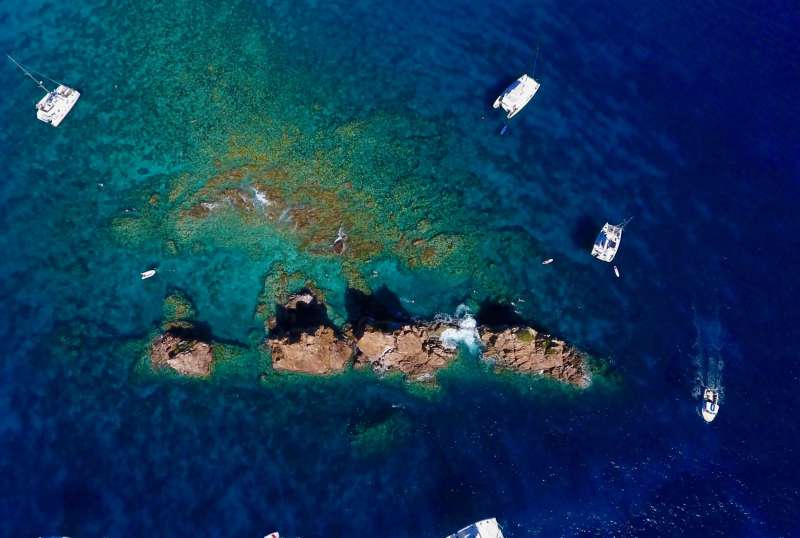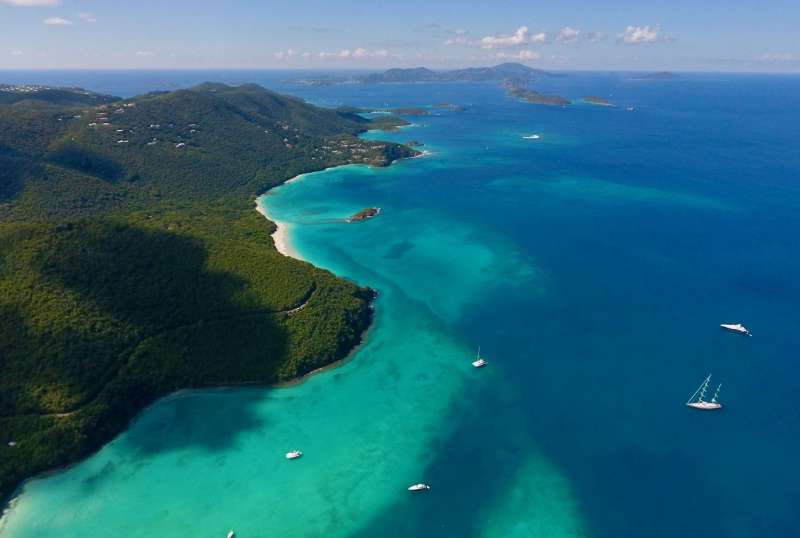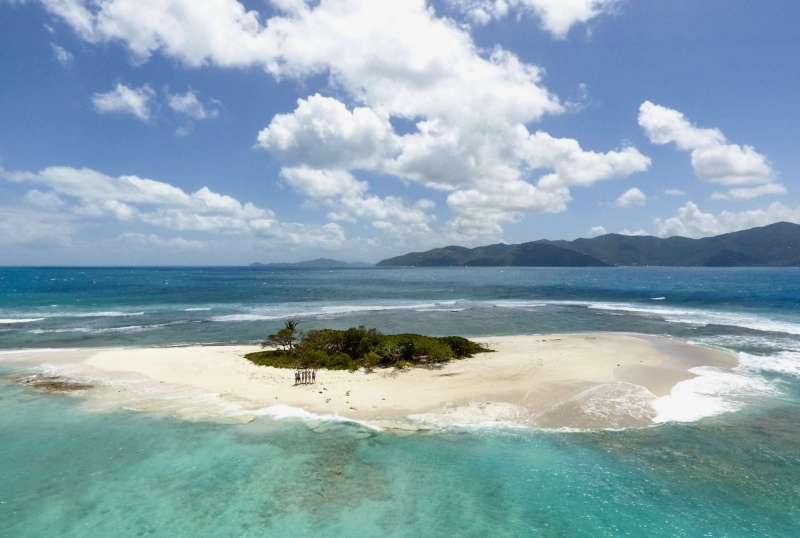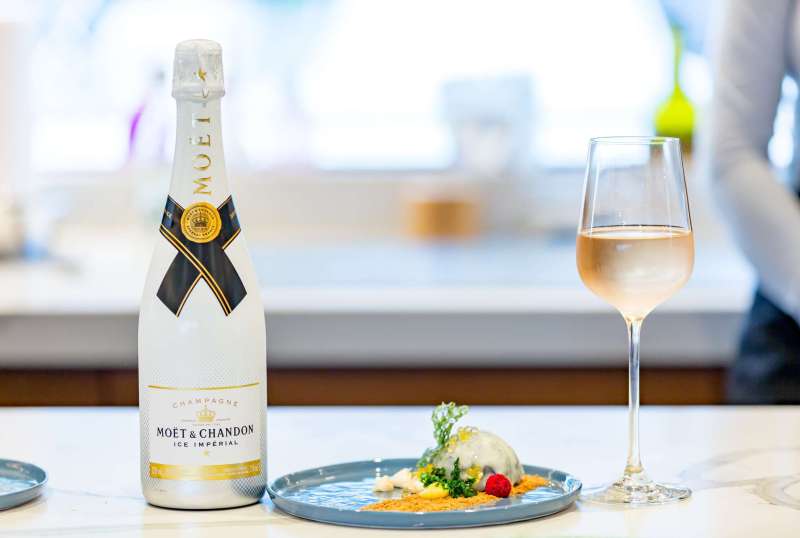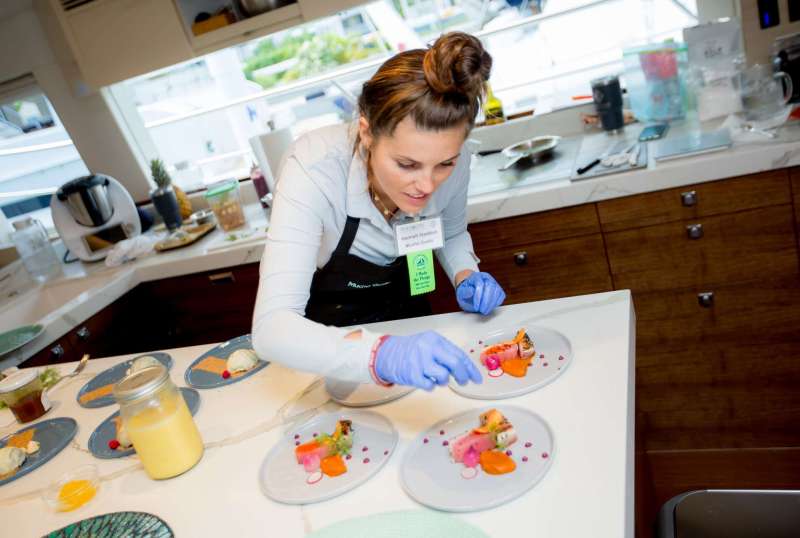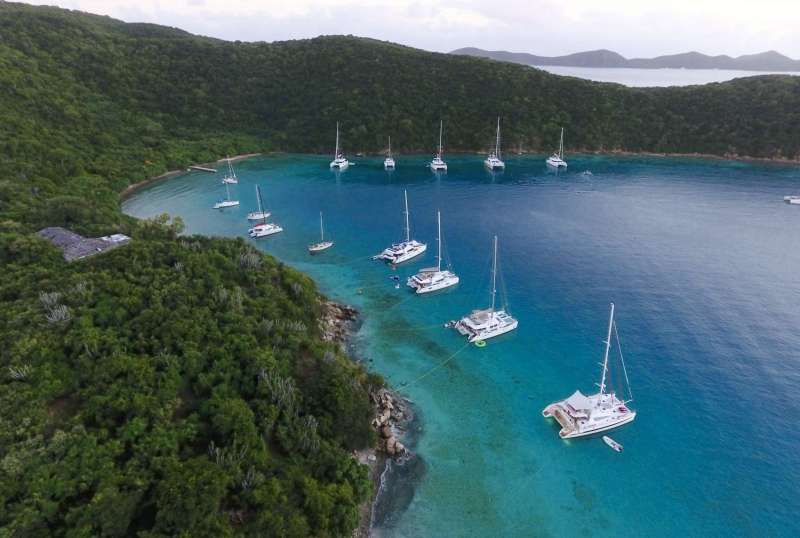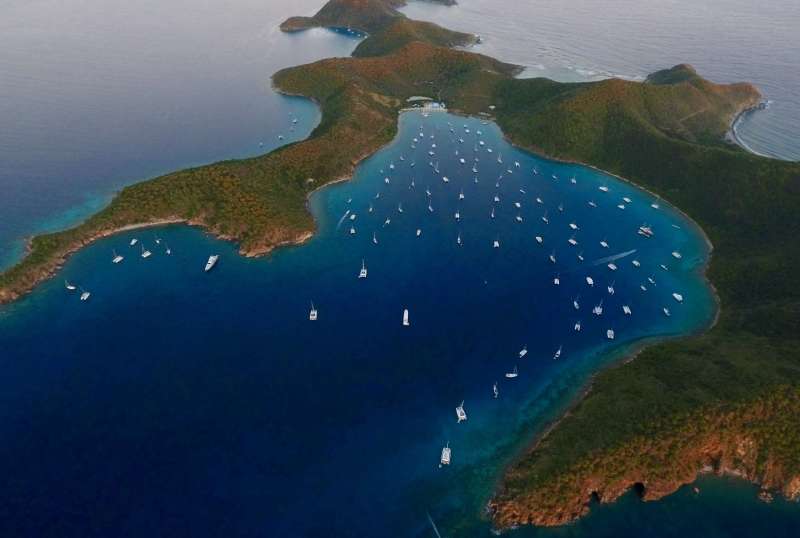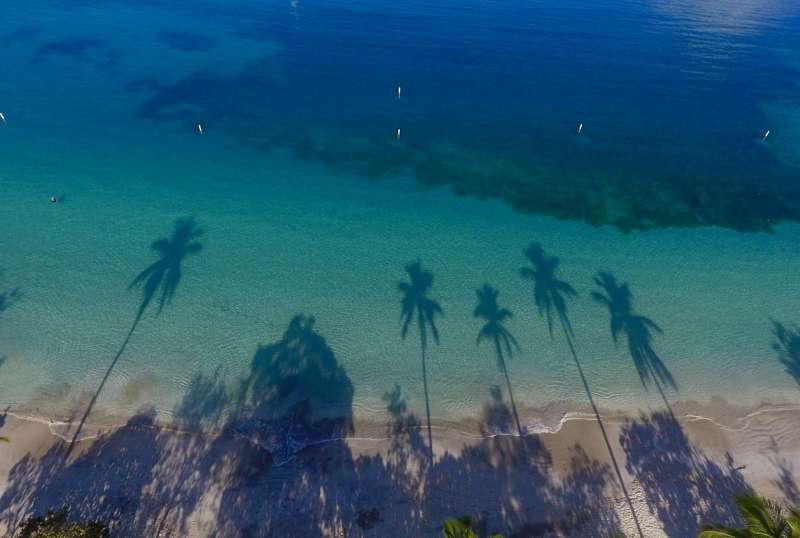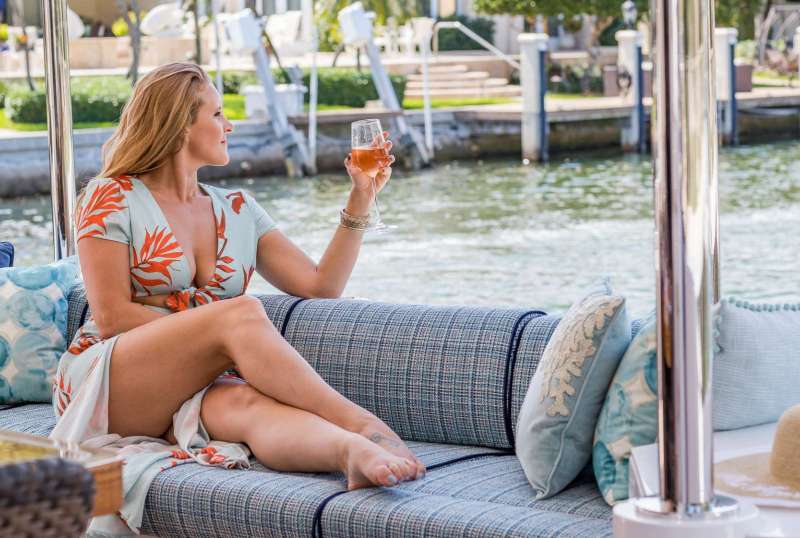 MUCHO GUSTO
From $45,000/week
3 cabins
65 ft
Horizon
6 guests
Built: 2019
75 US Gall/Hr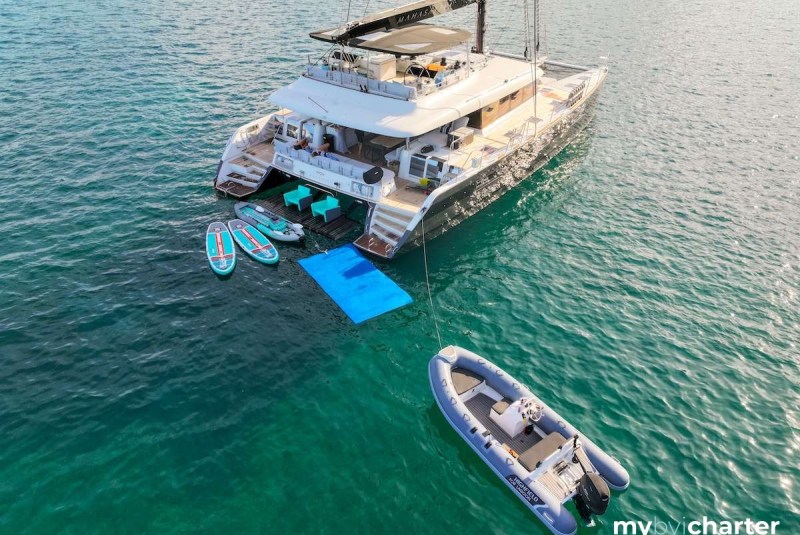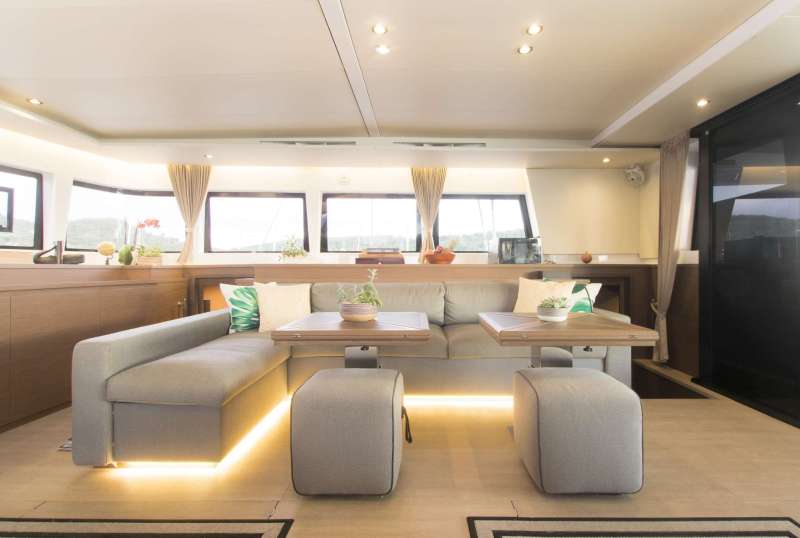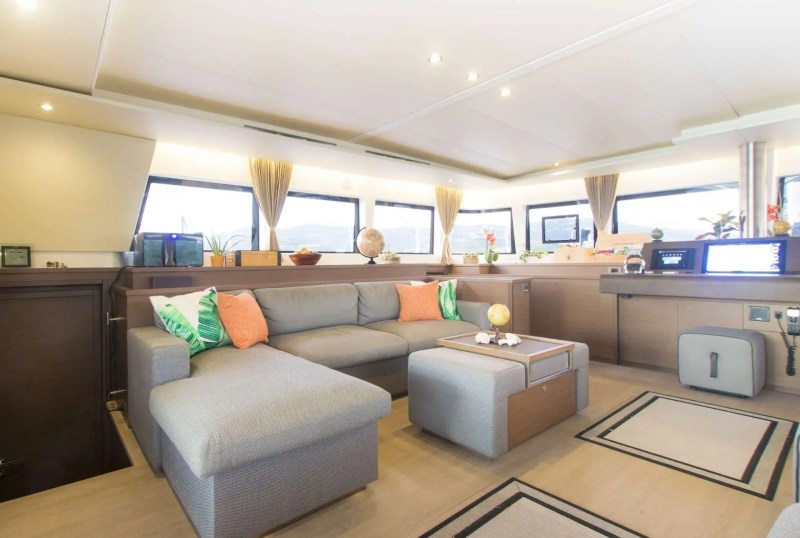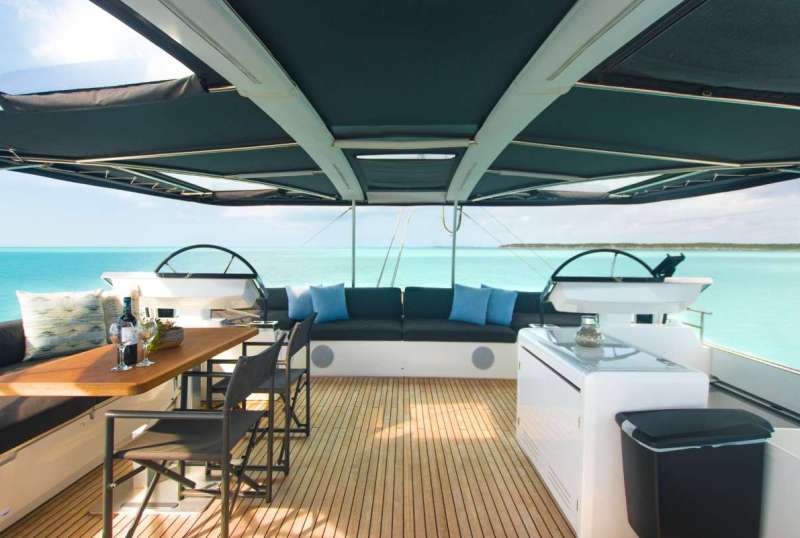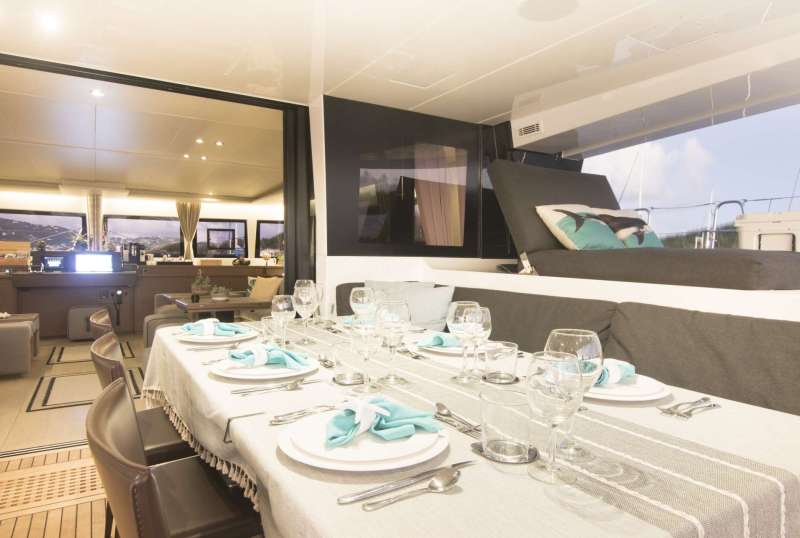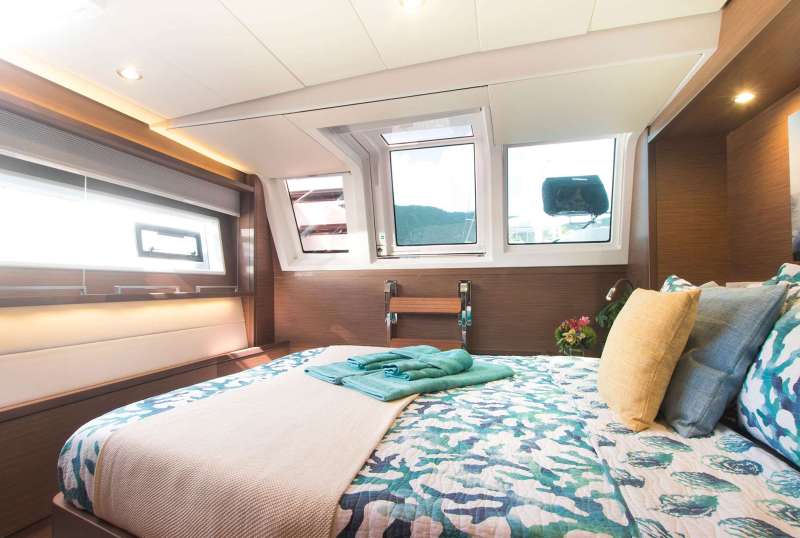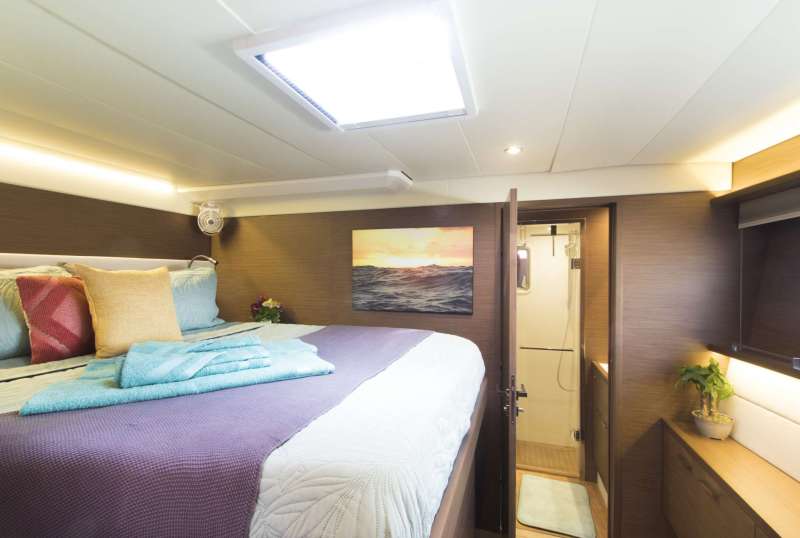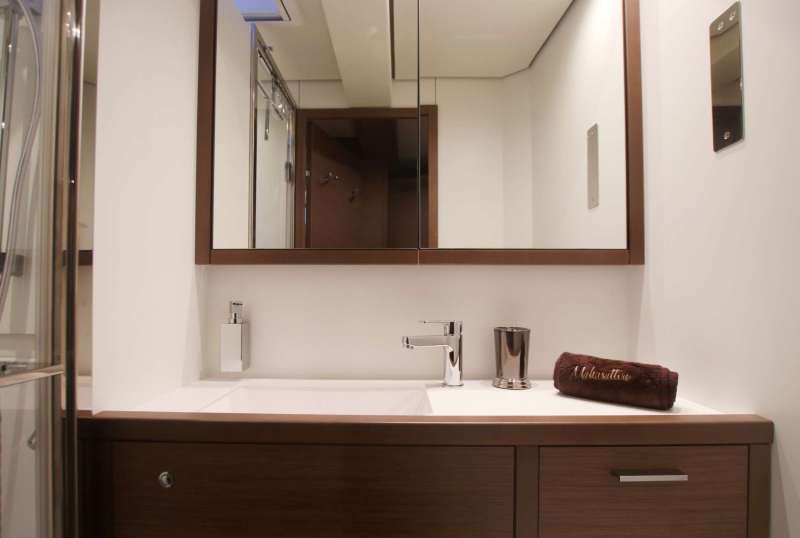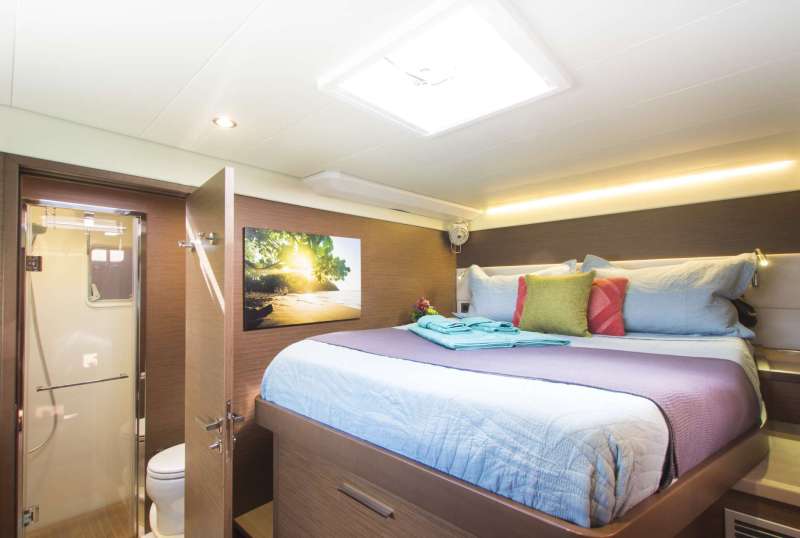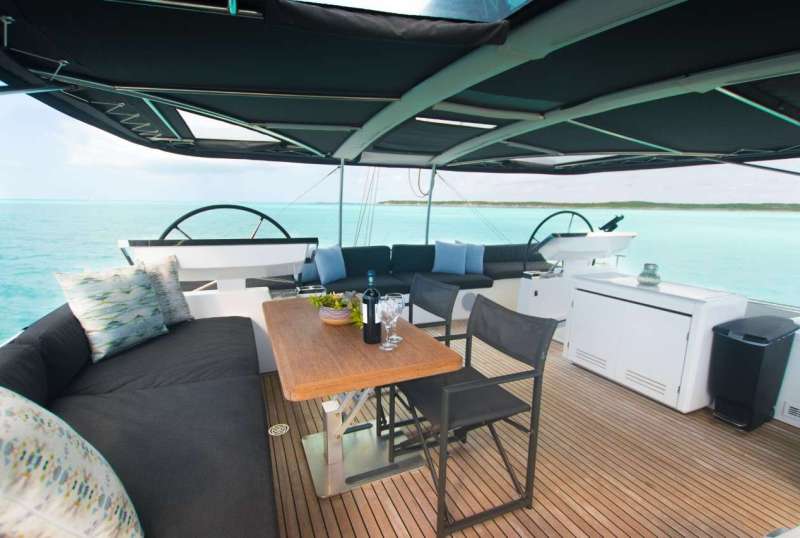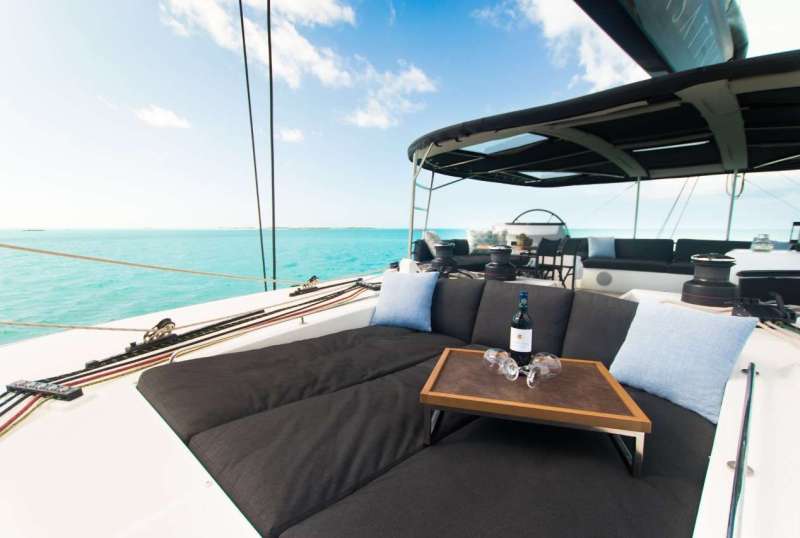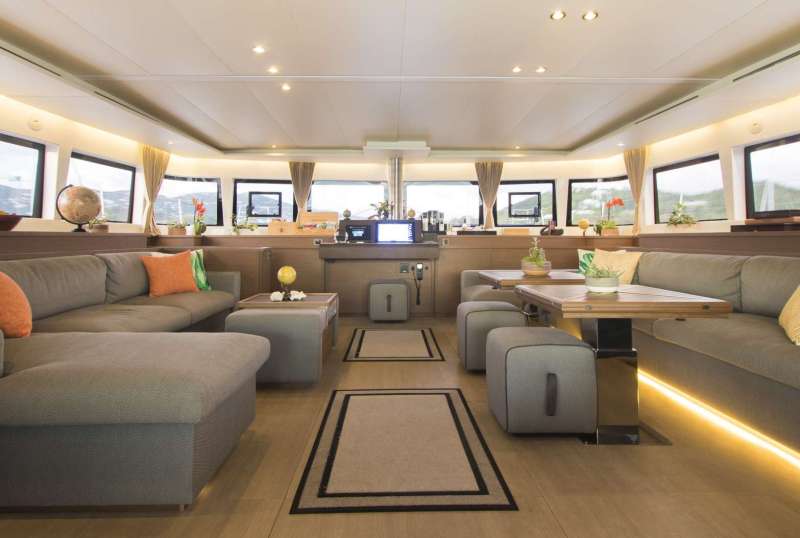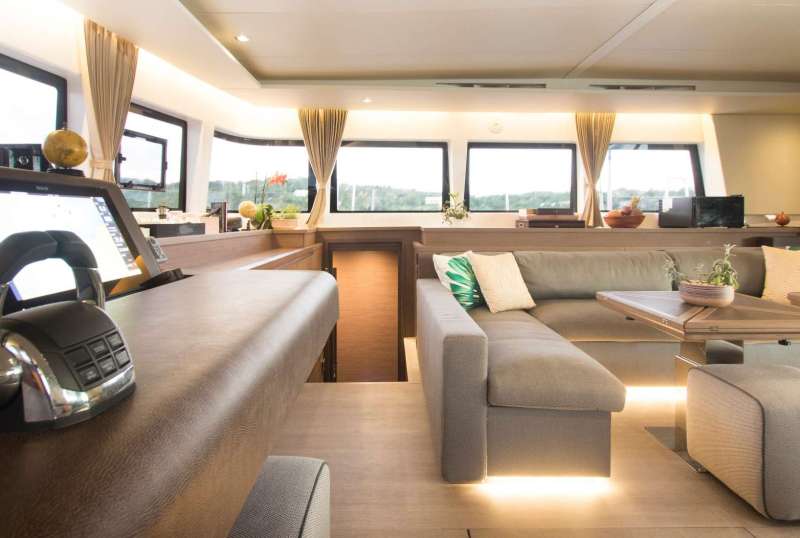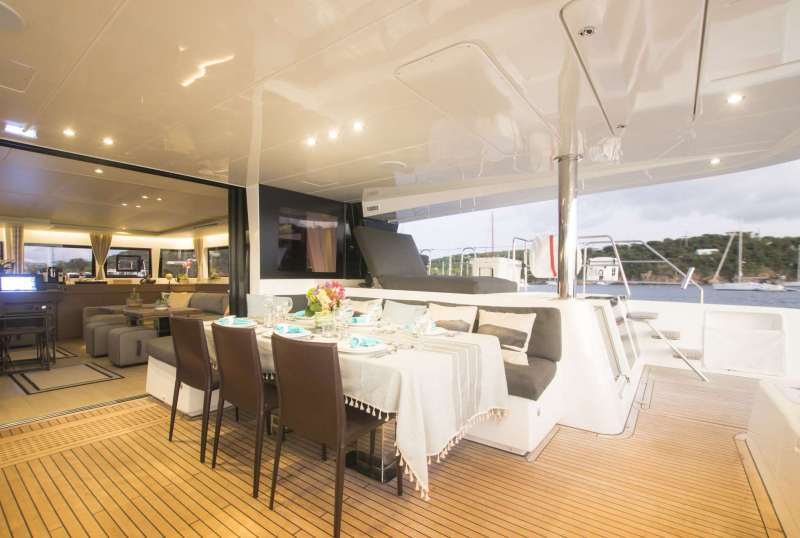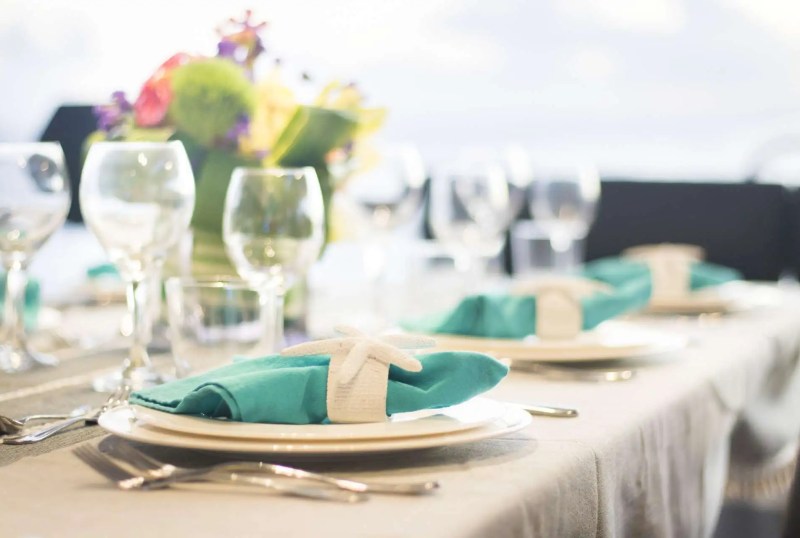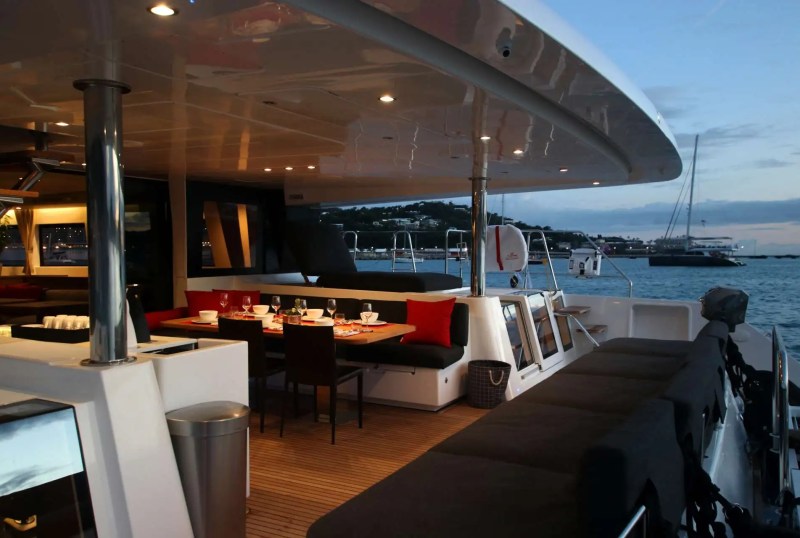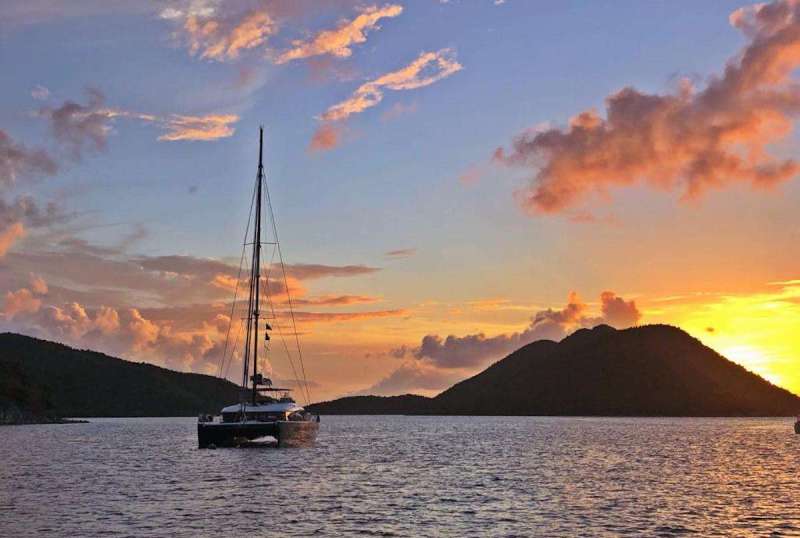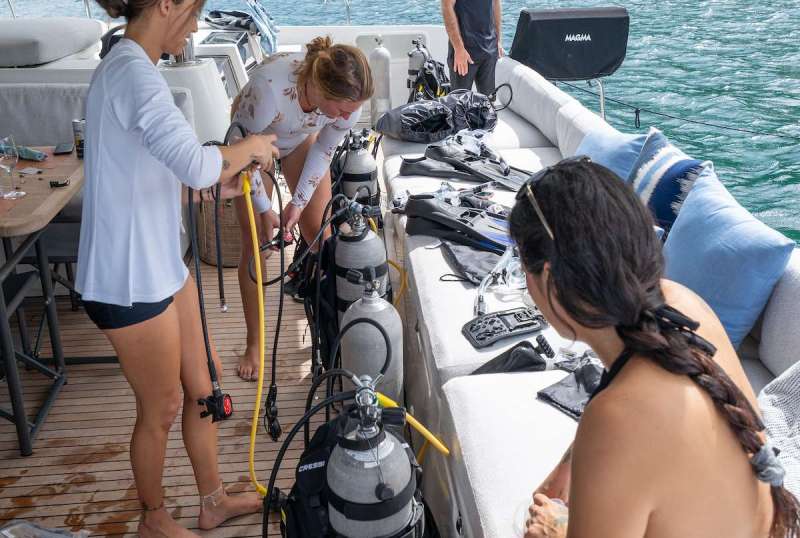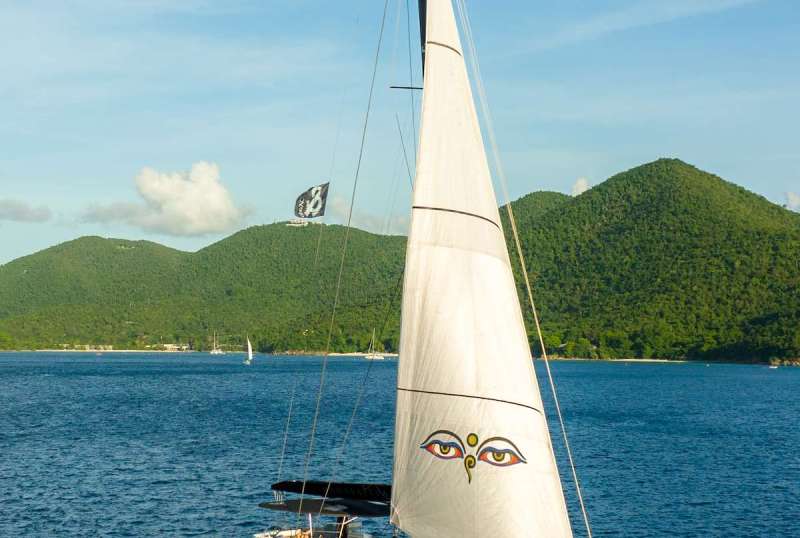 MAHASATTVA
From $44,700/week
4 cabins
62 ft
Lagoon
8 guests
Built: 2018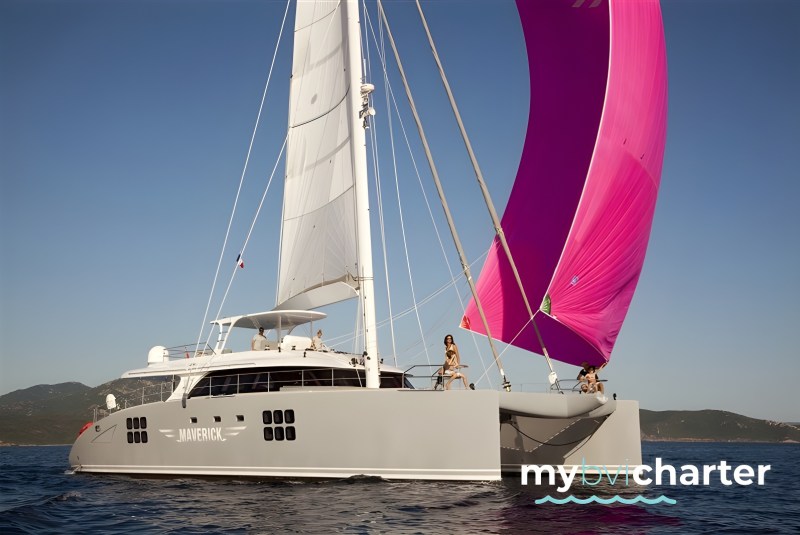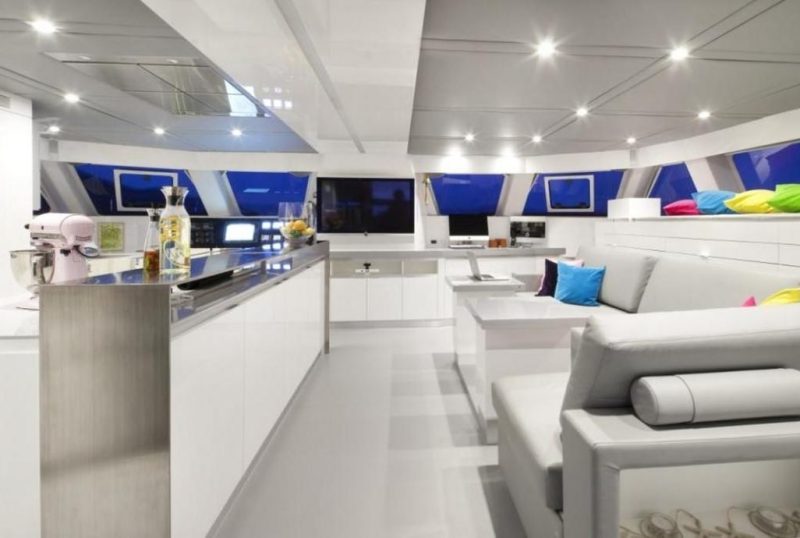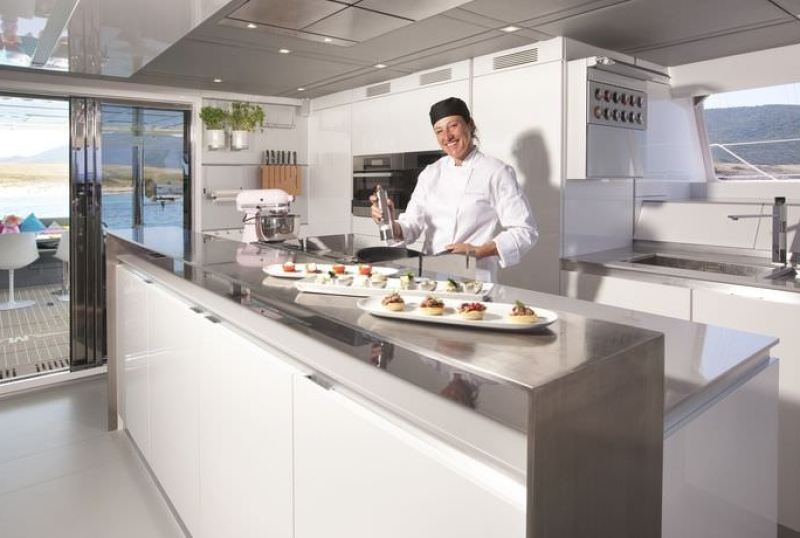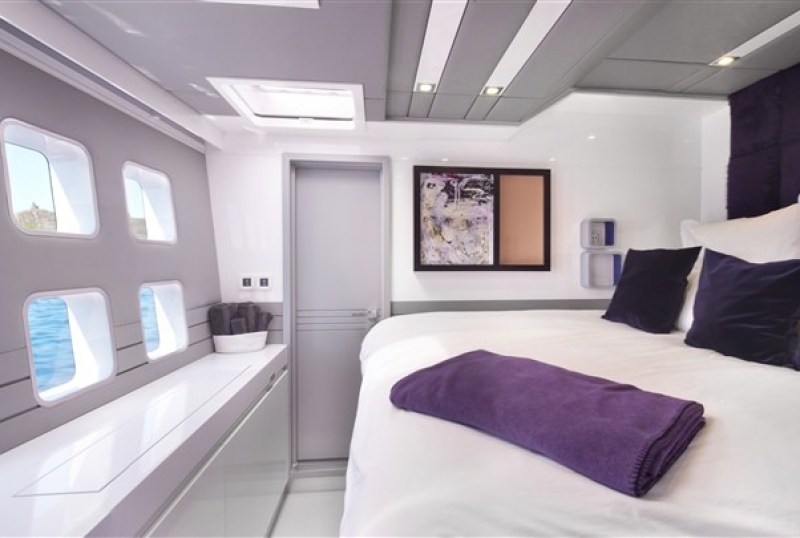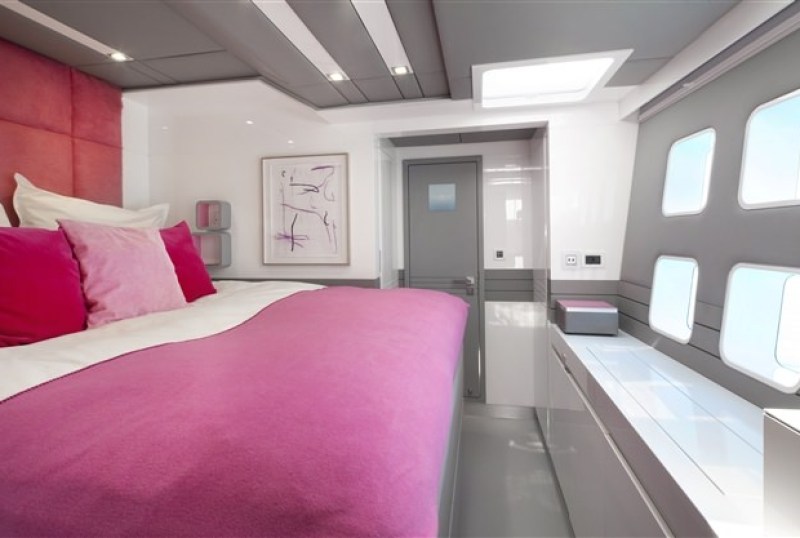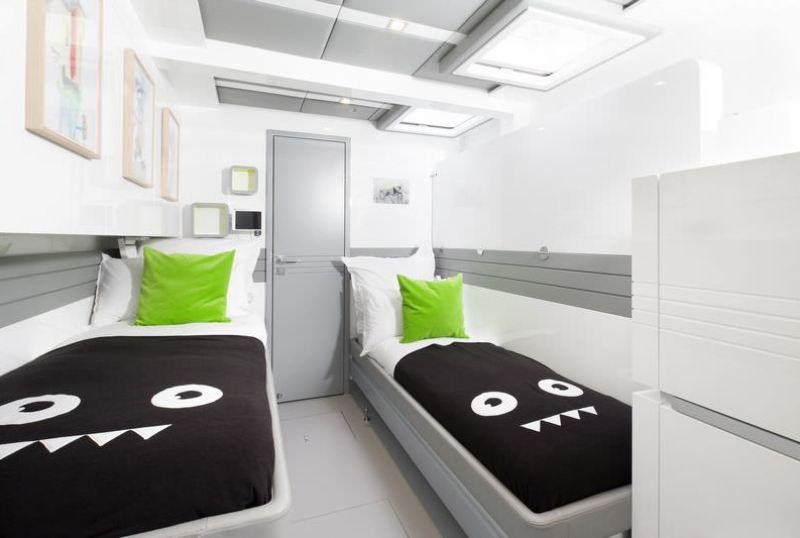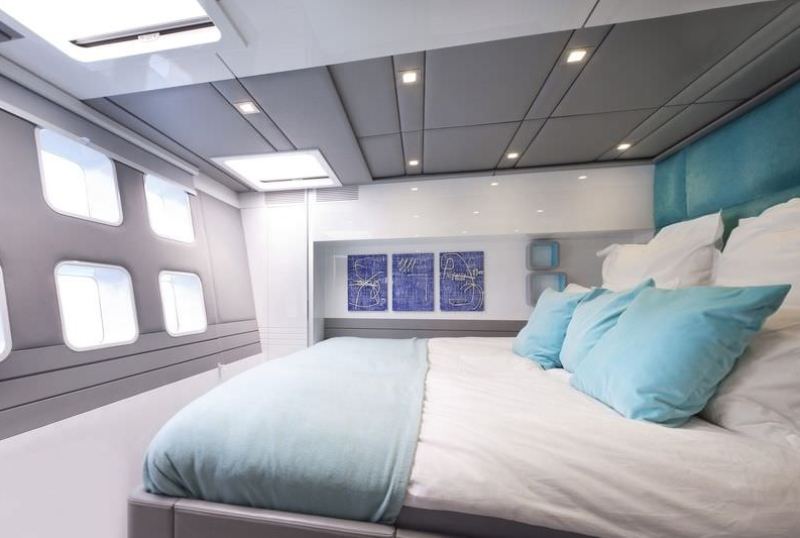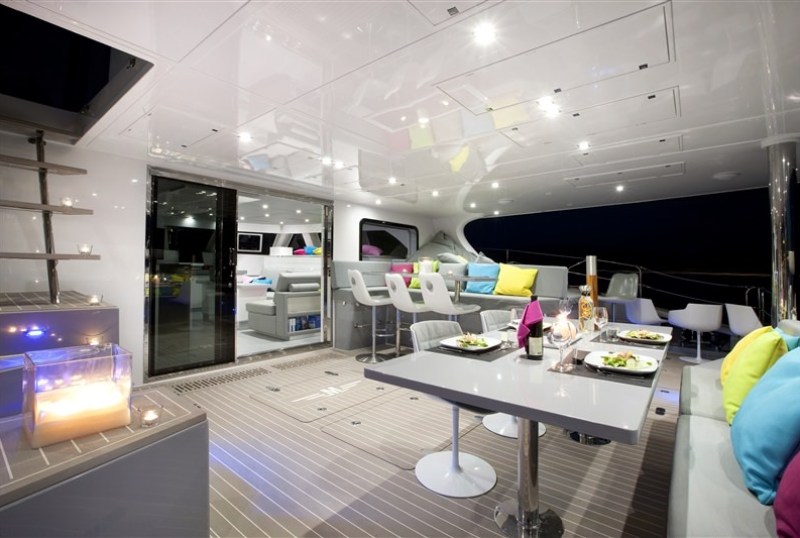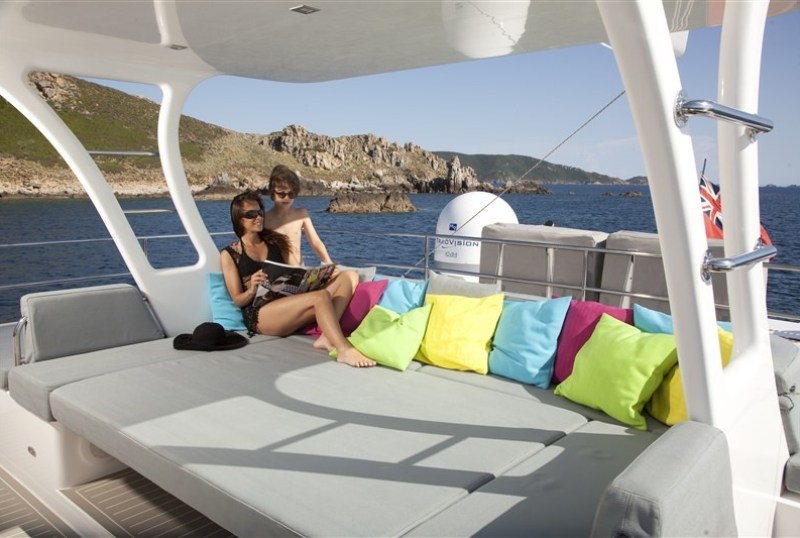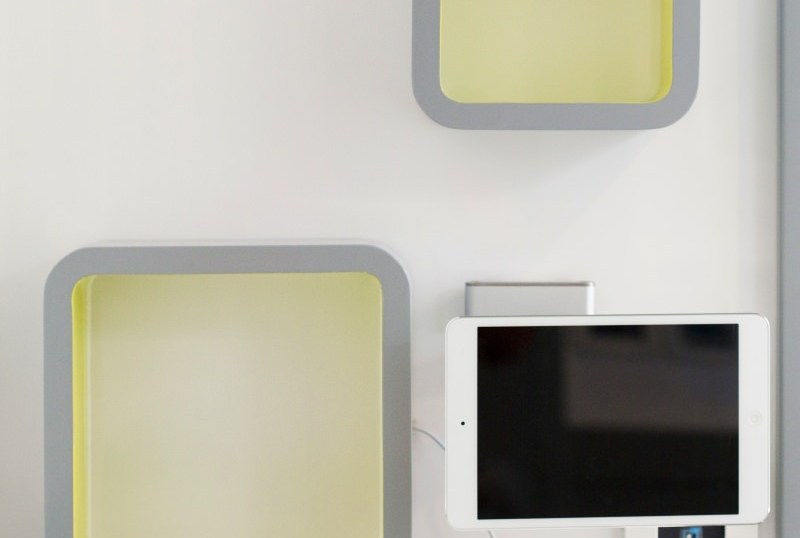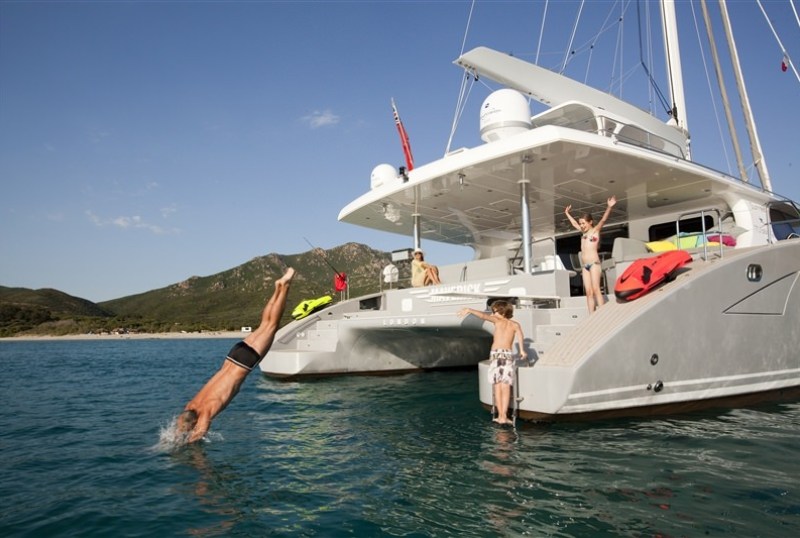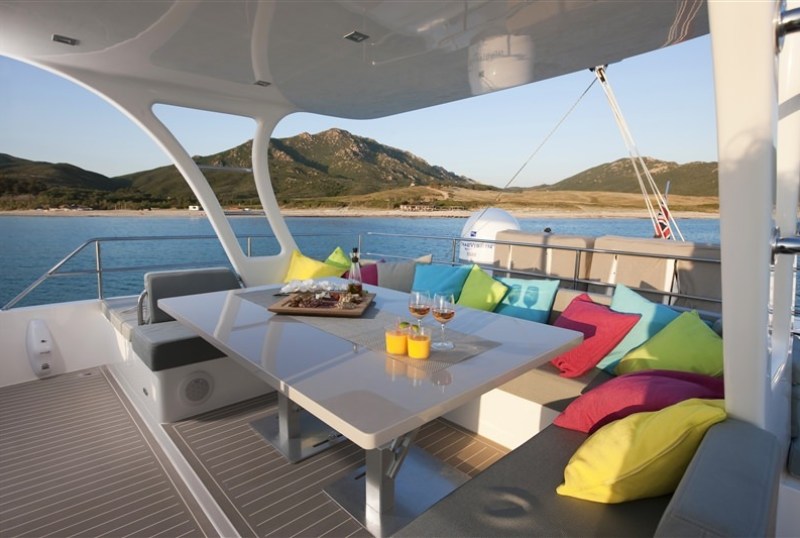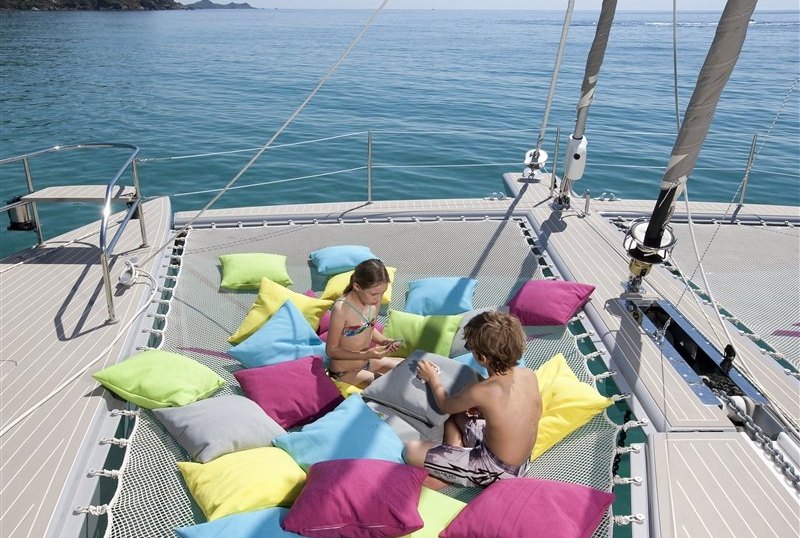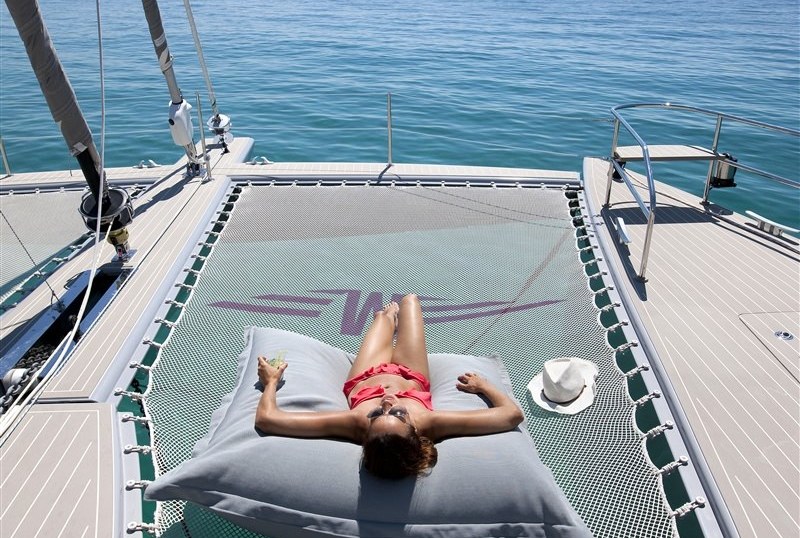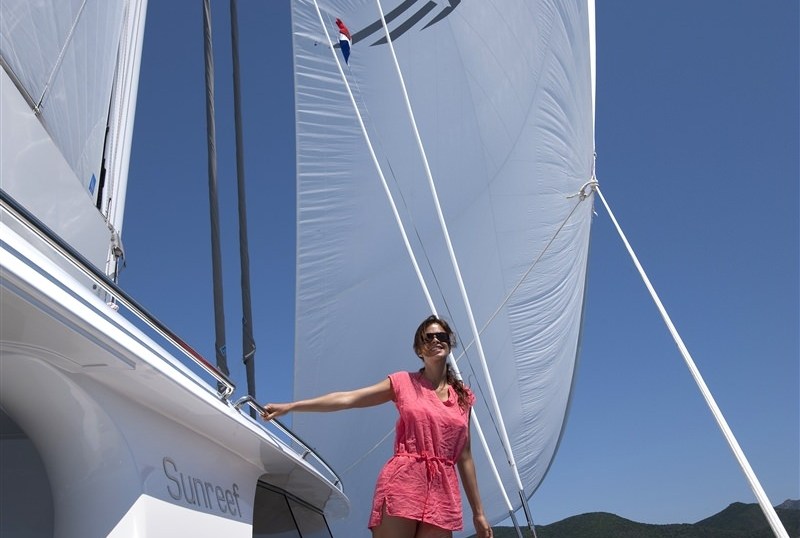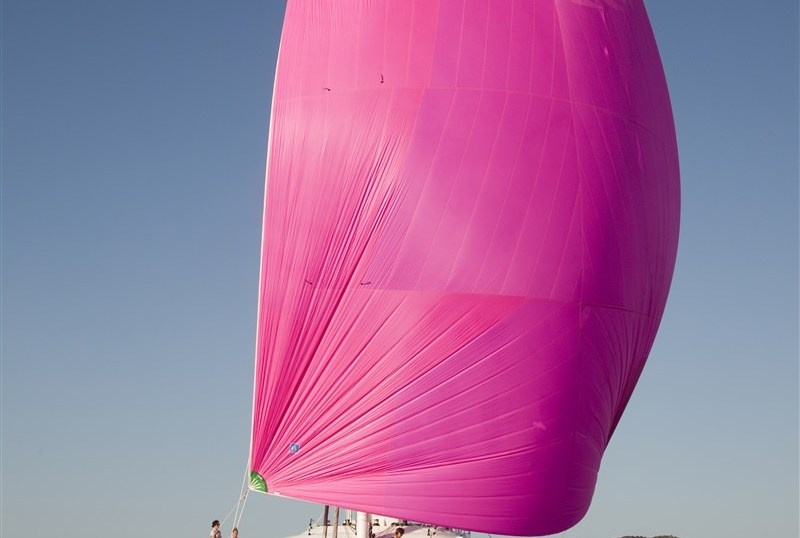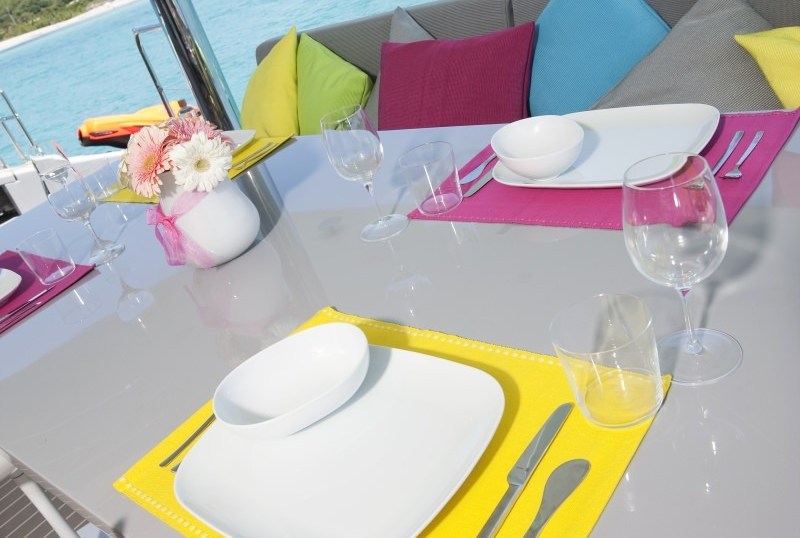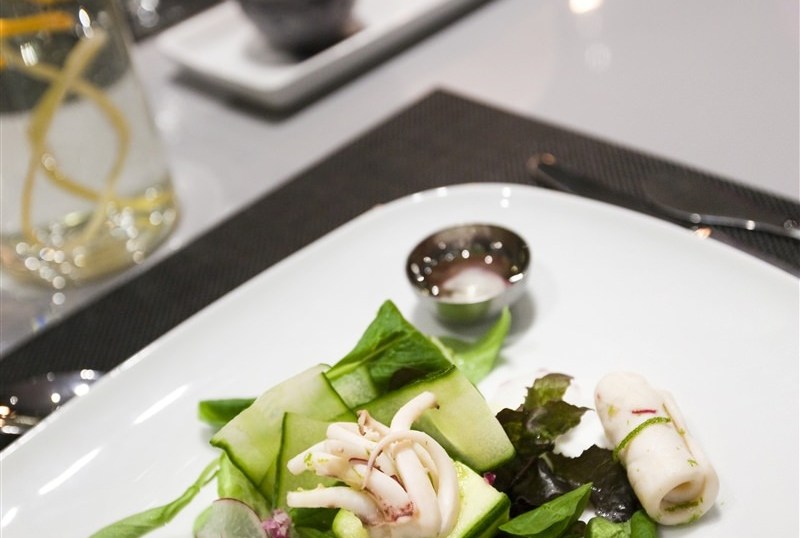 MAVERICK
From $44,500/week
4 cabins
70 ft
Sunreef Yachts
9 guests
Refit: 2019
35 Litres/Hr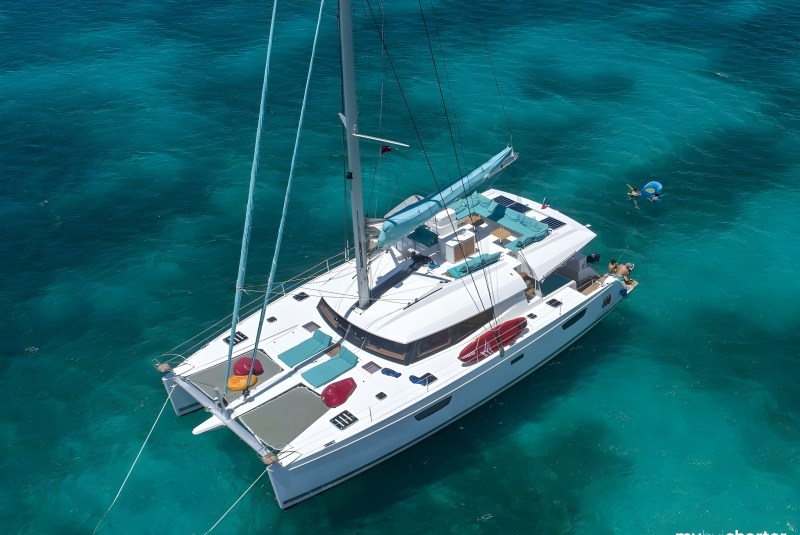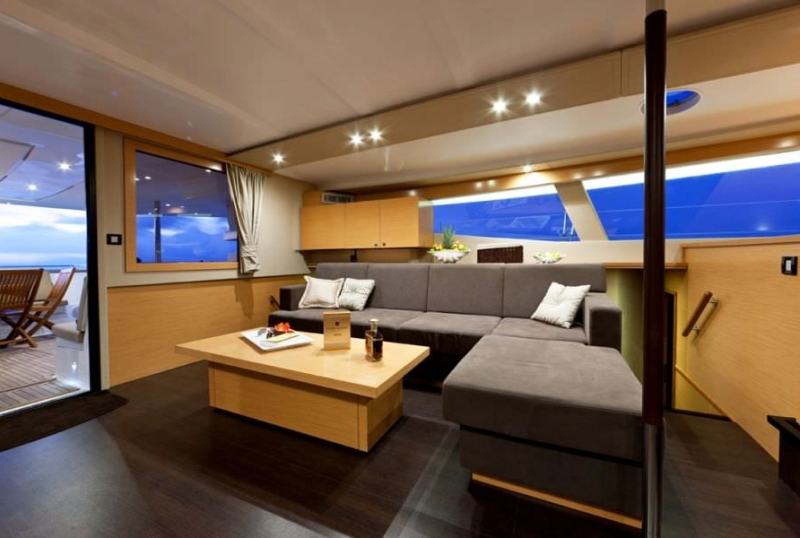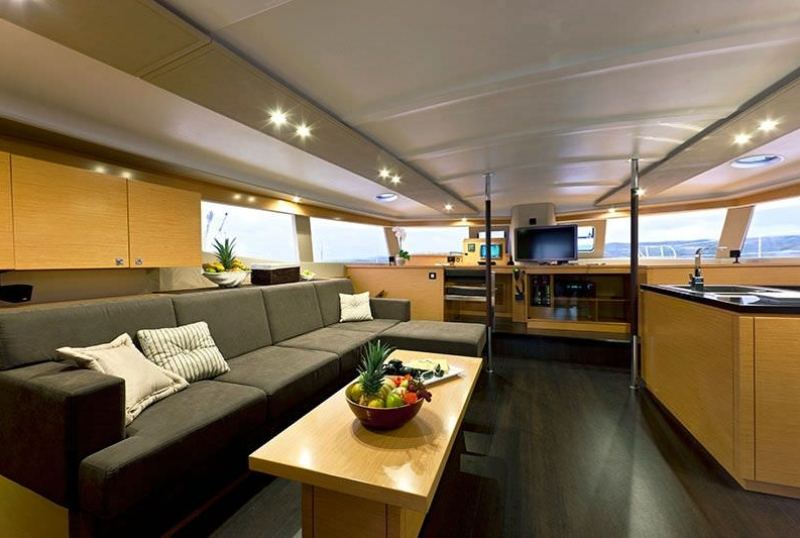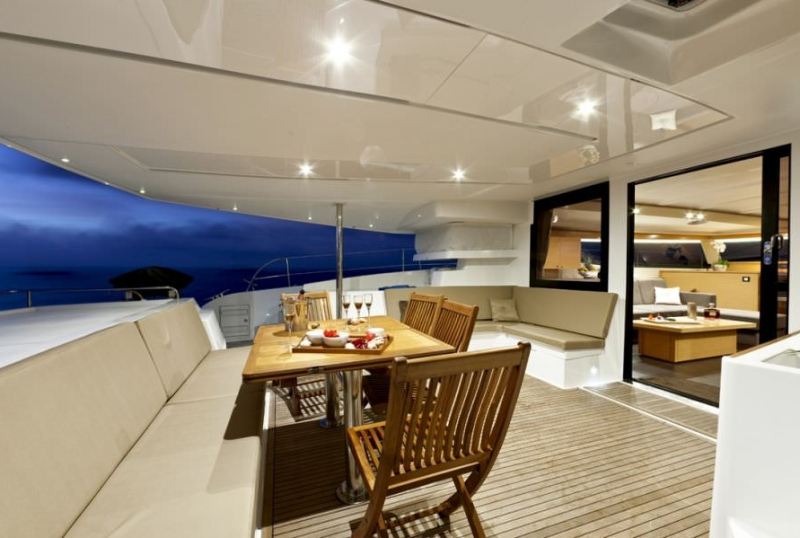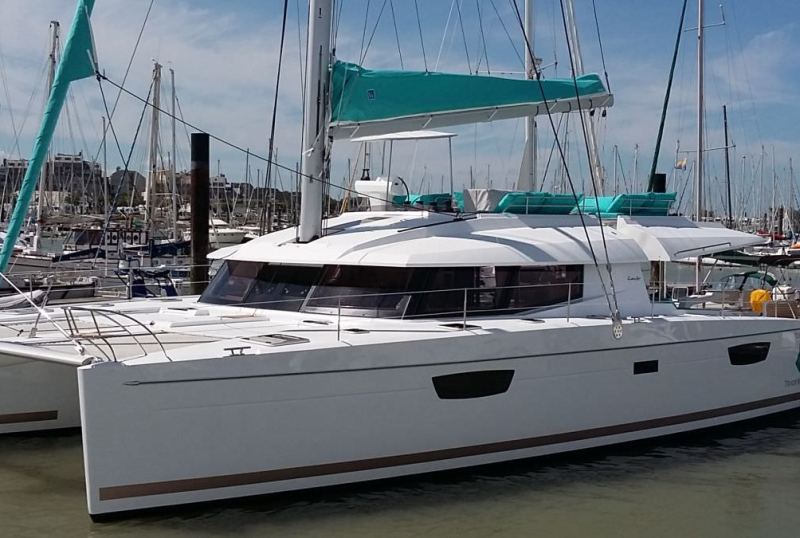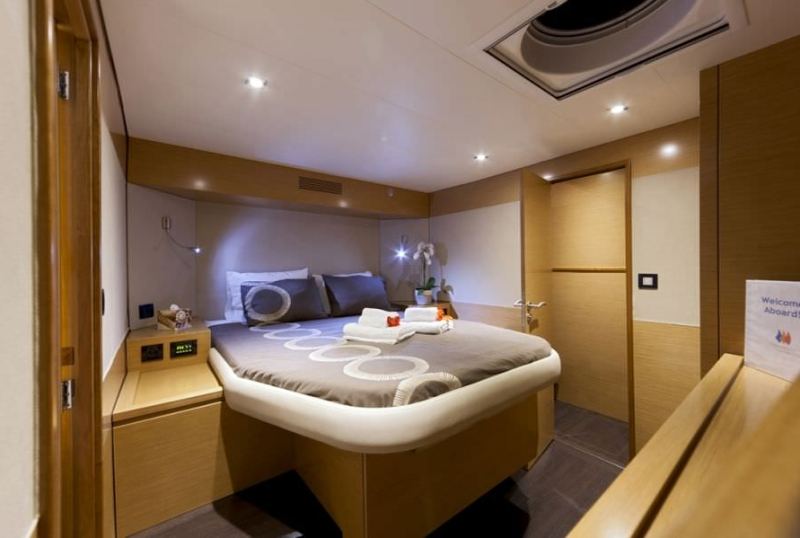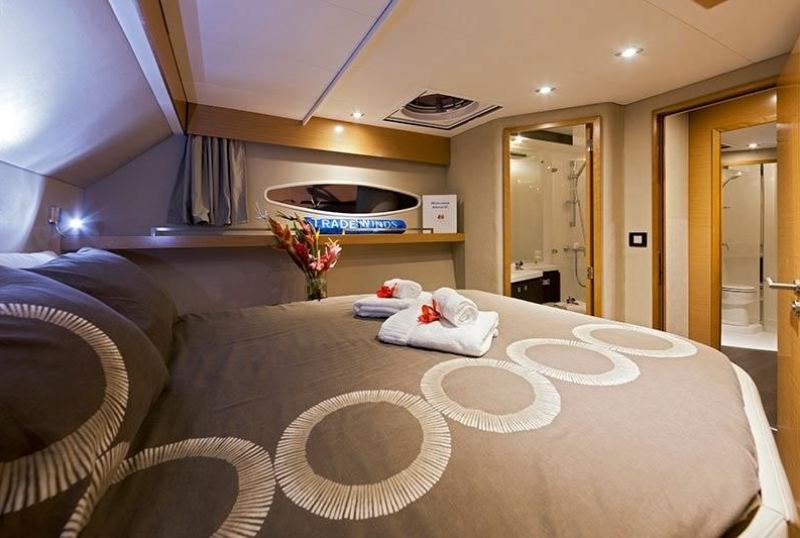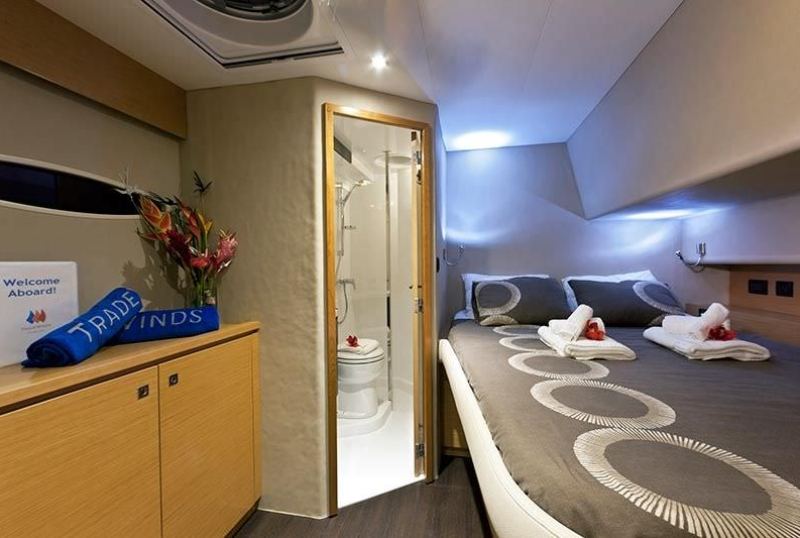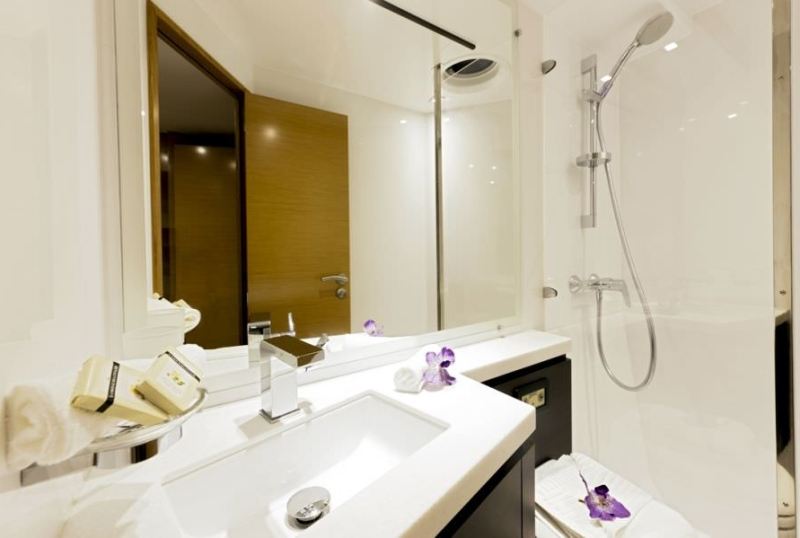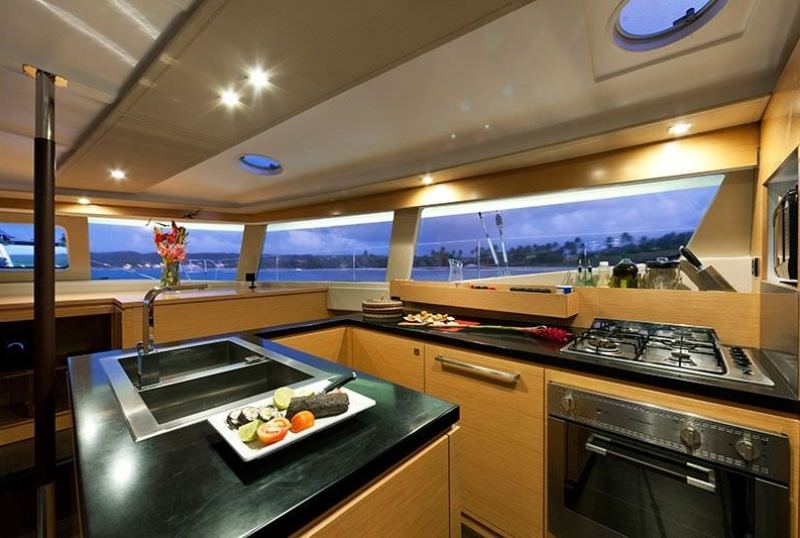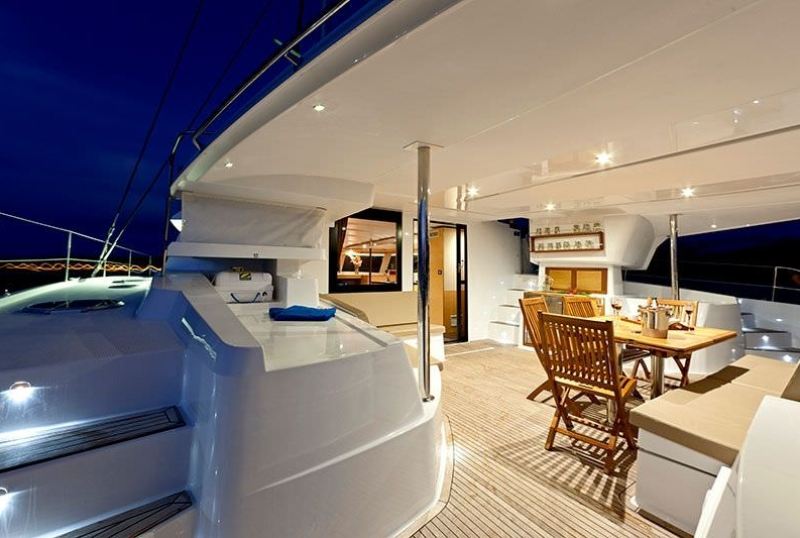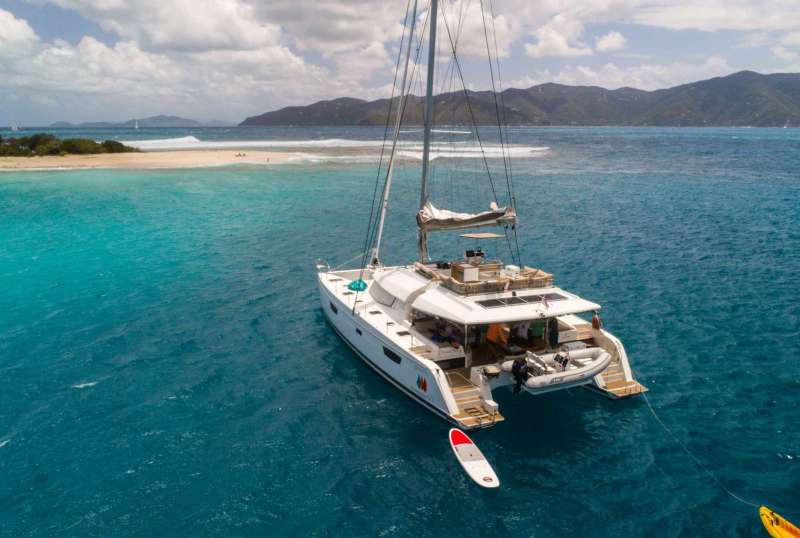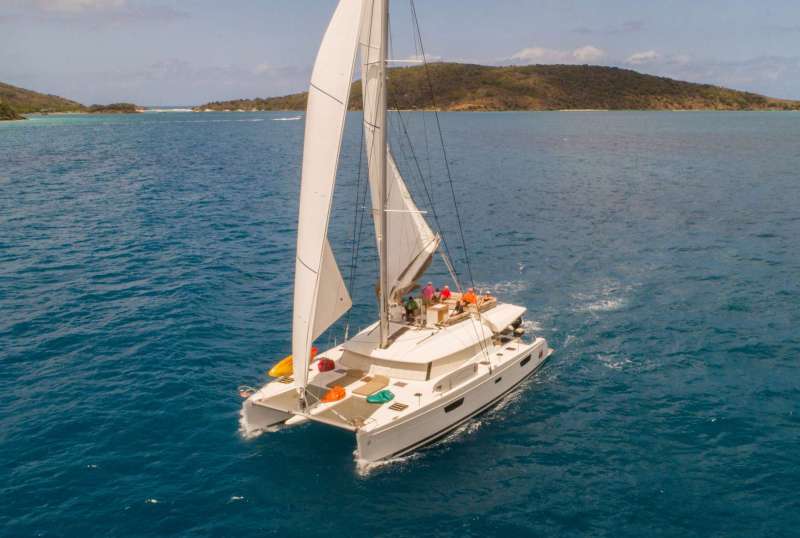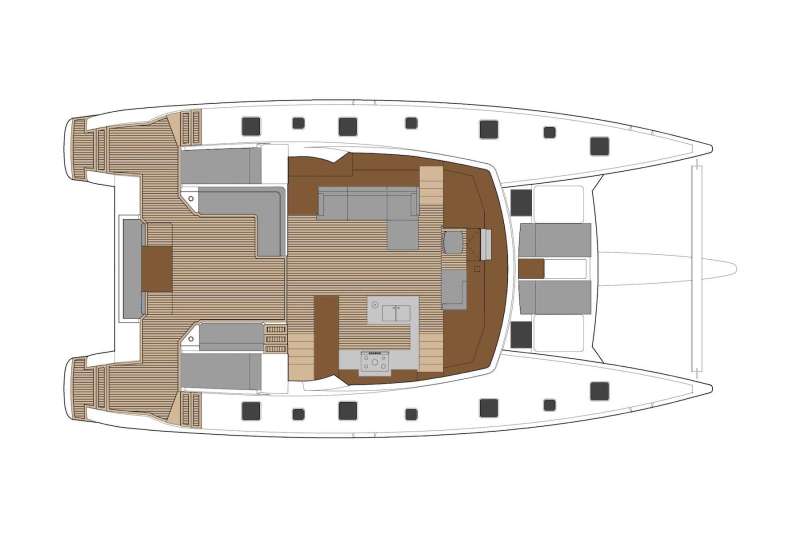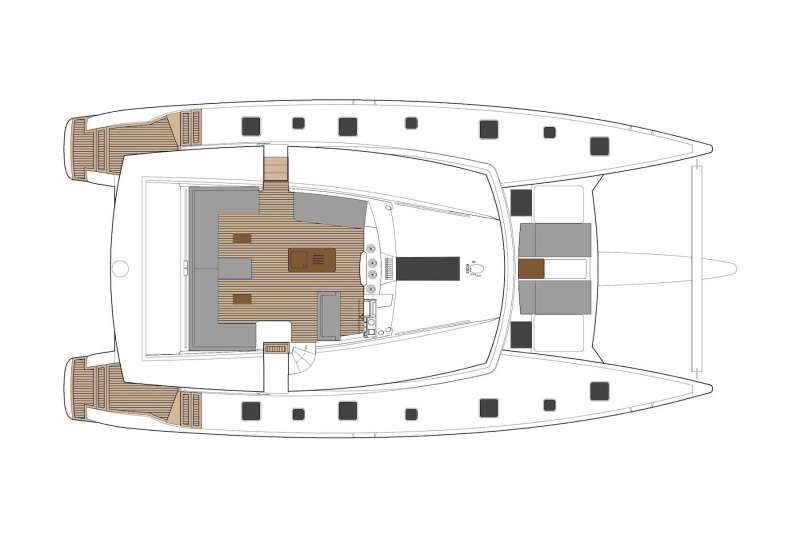 Luxury TW60 4 Cabin
From $44,500/week
4 cabins
60 ft
Fountaine Pajot
8 guests
Built: 2016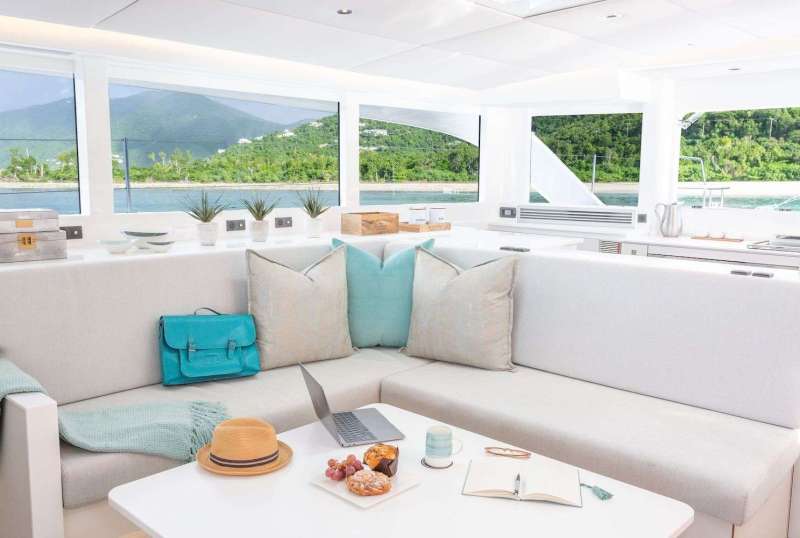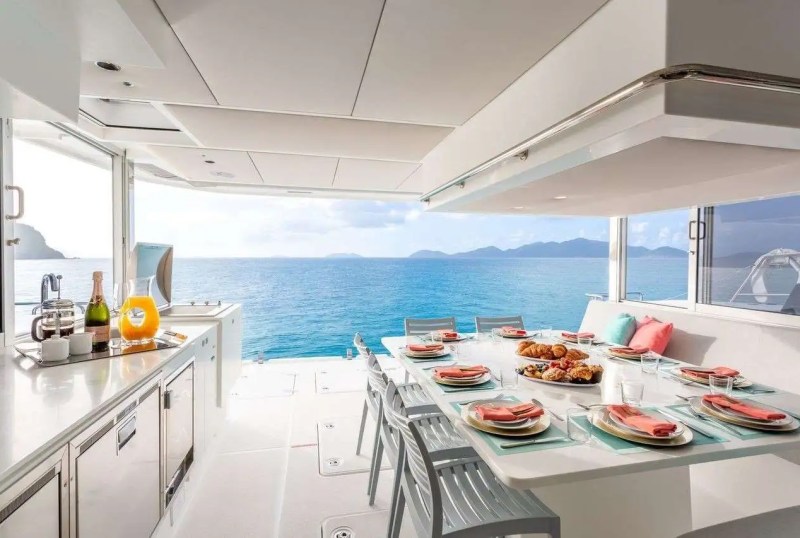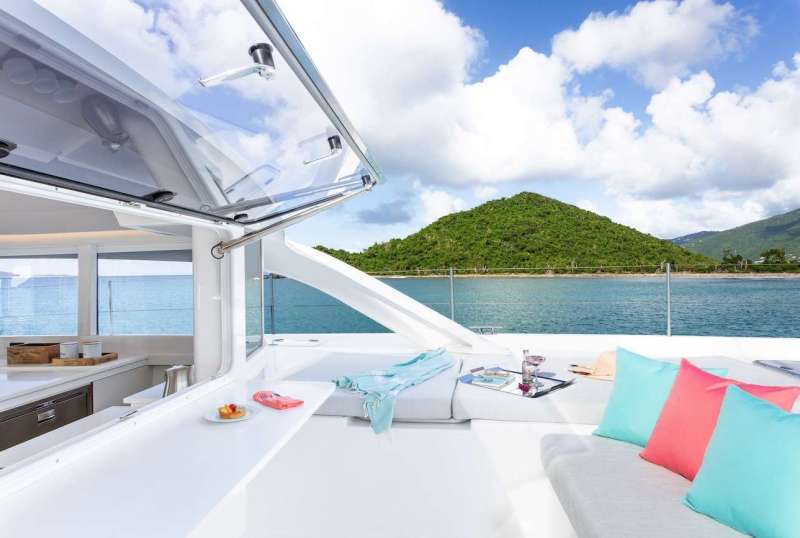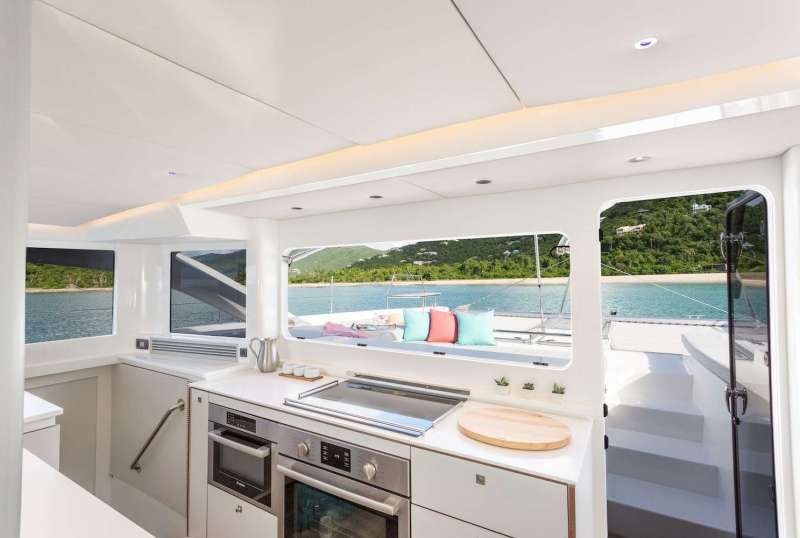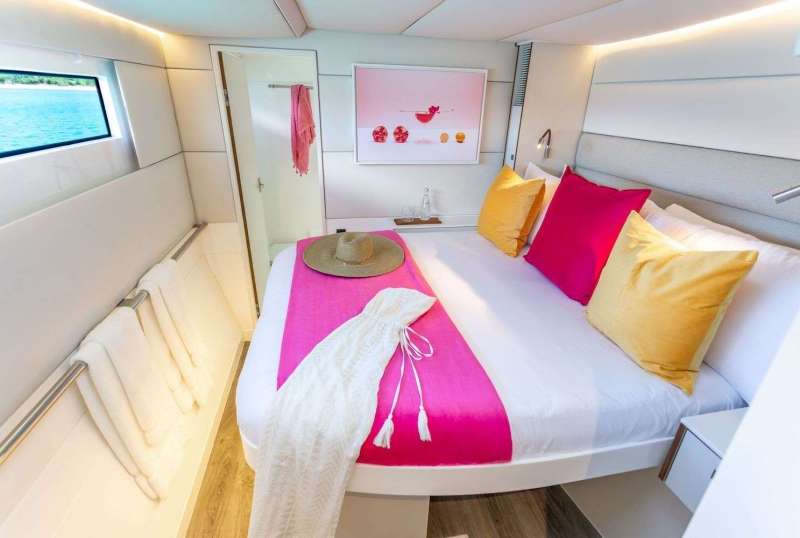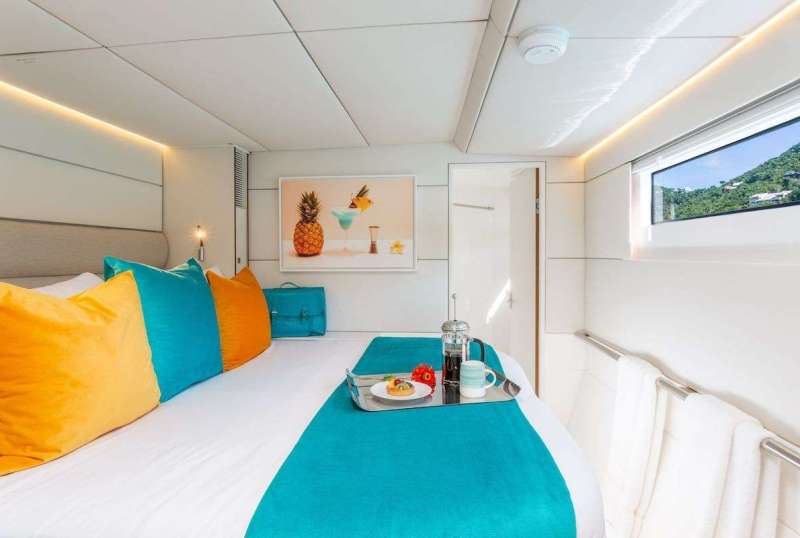 VOYAGE 590
From $44,172/week
6 cabins
59 ft
VOYAGE yacht
12 guests
Built: 2020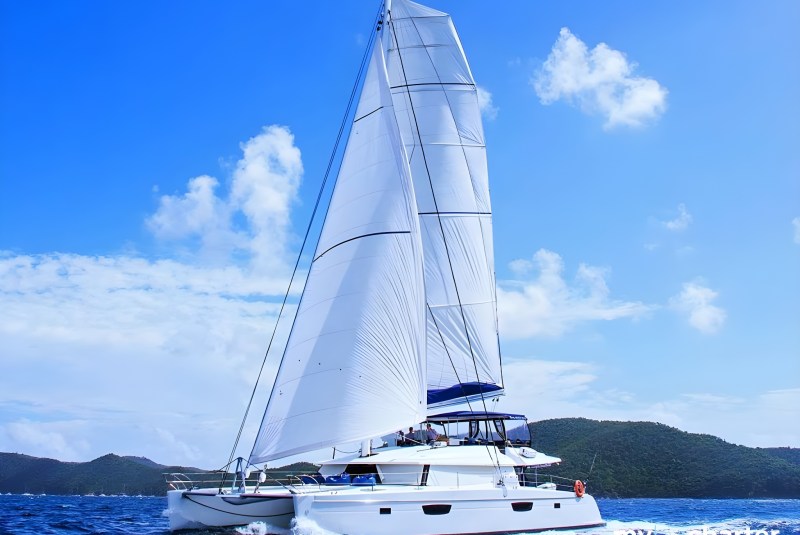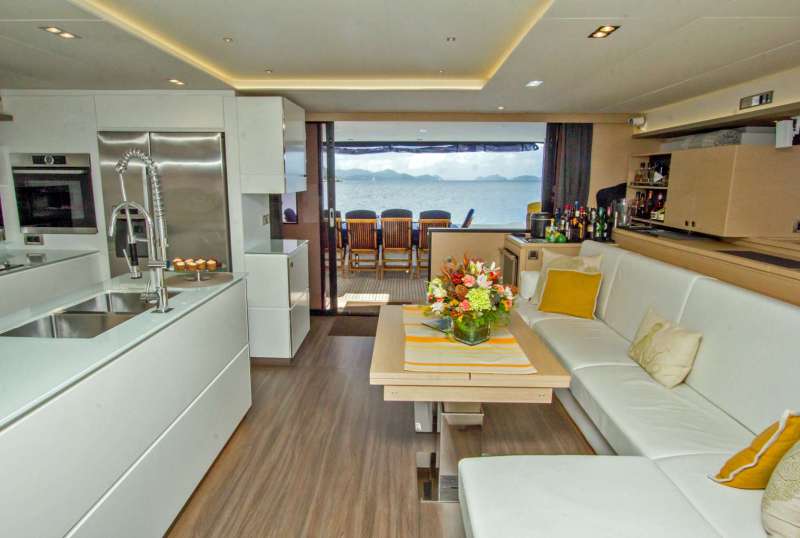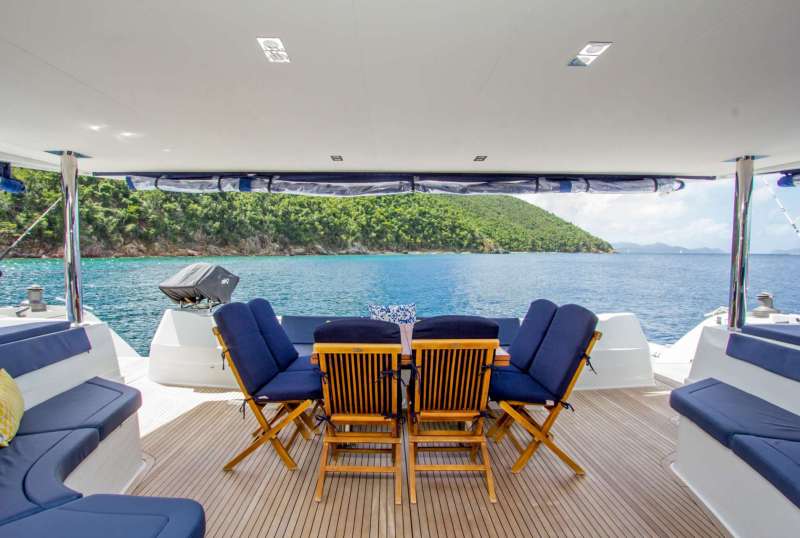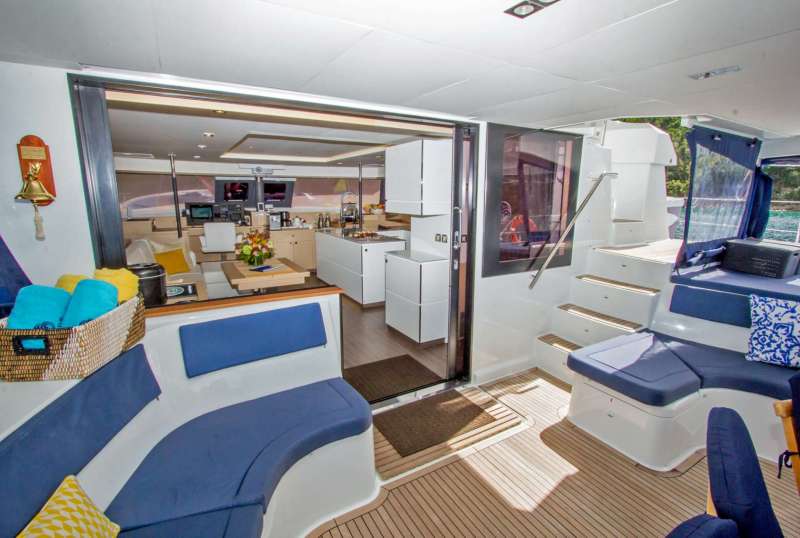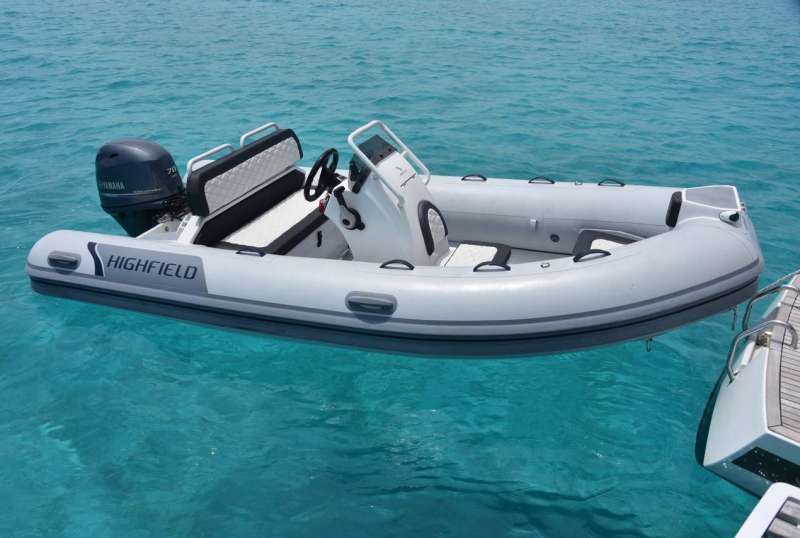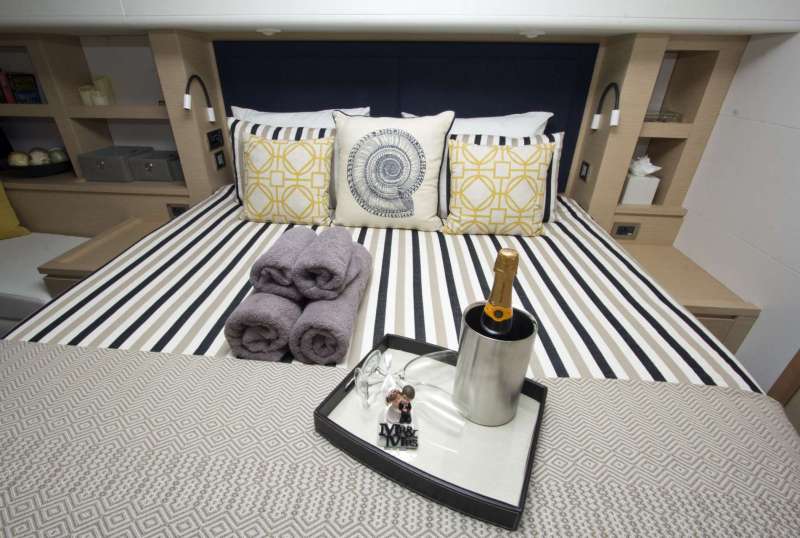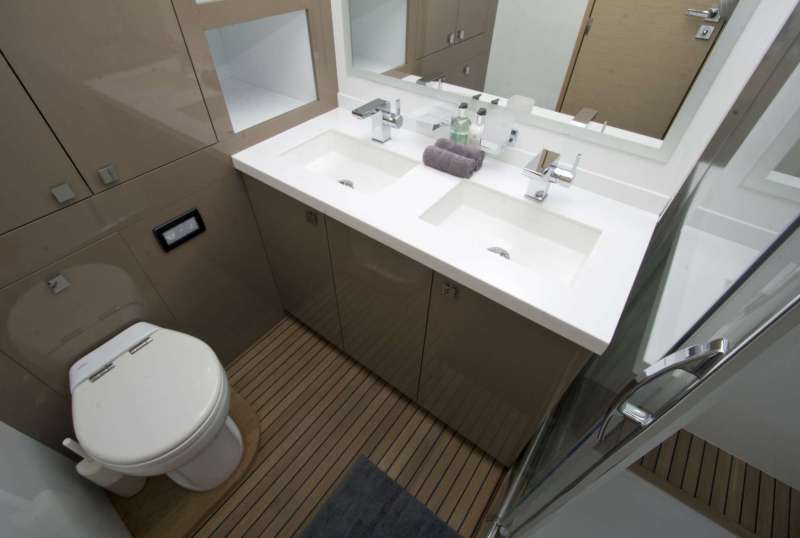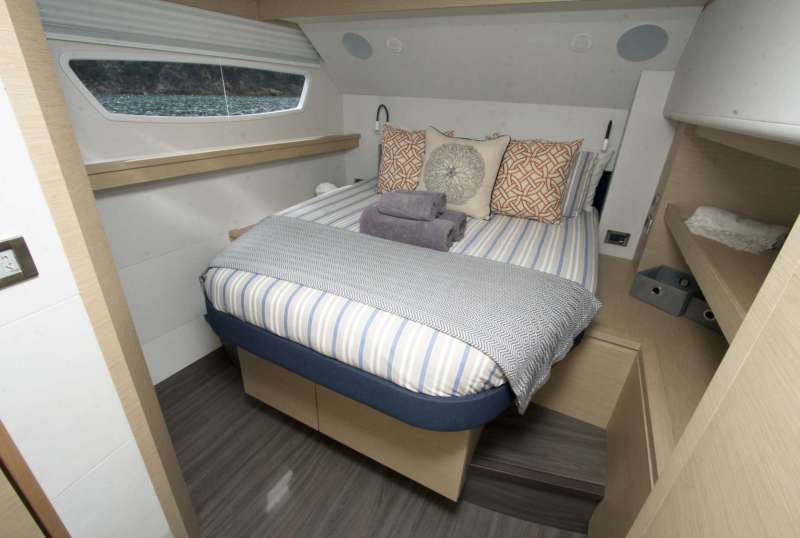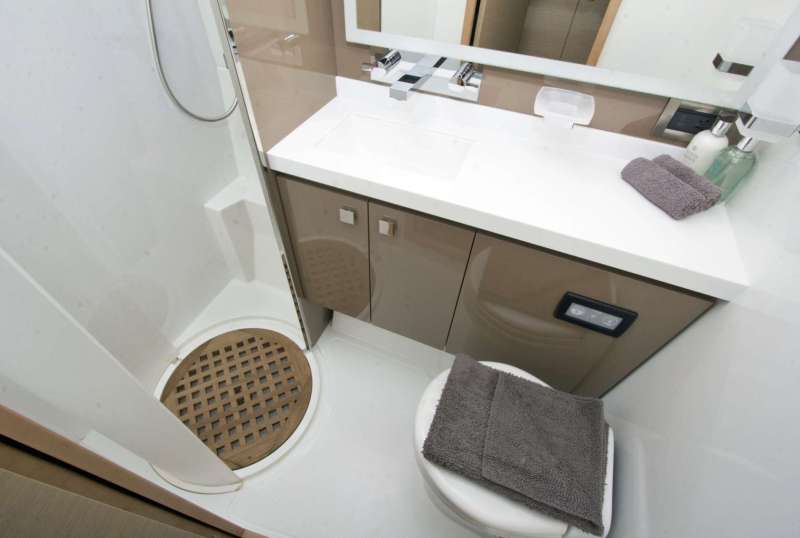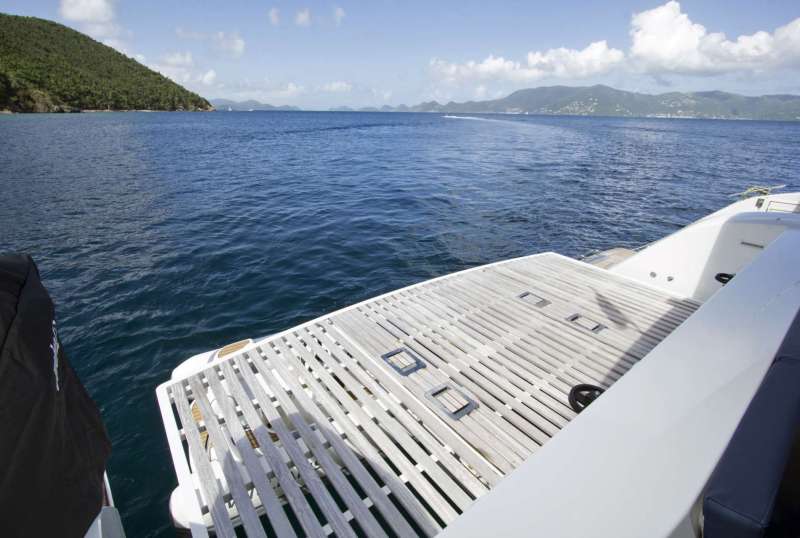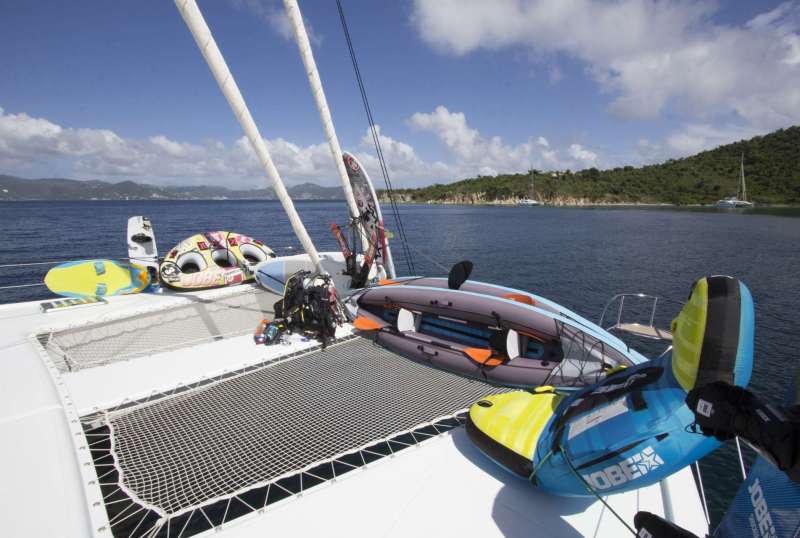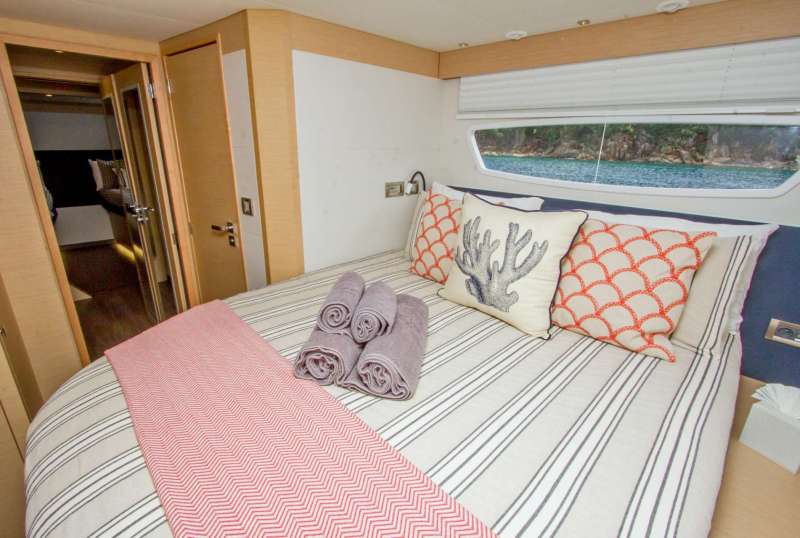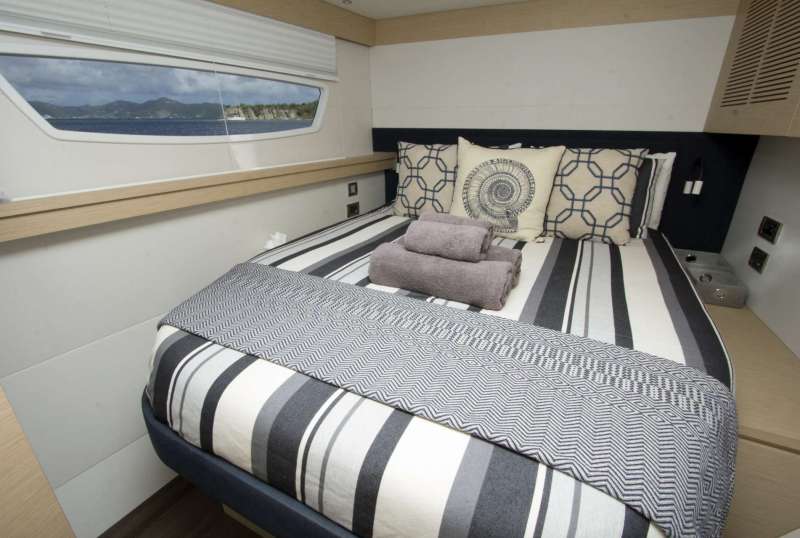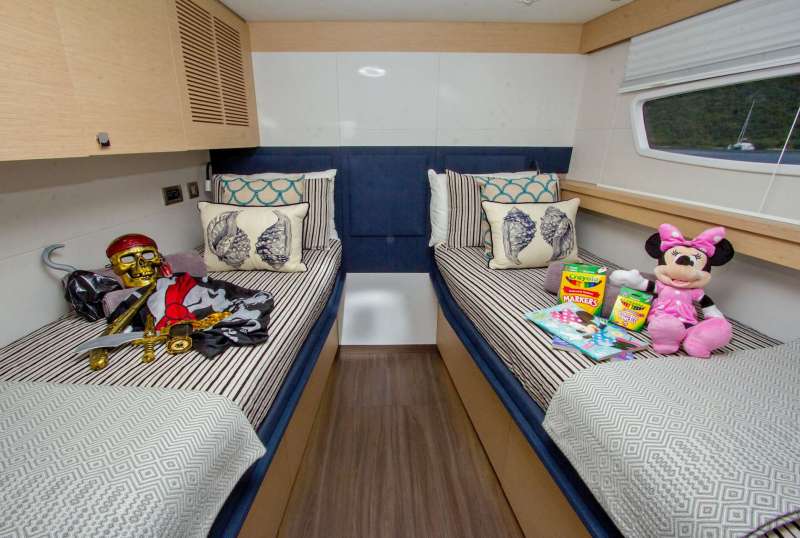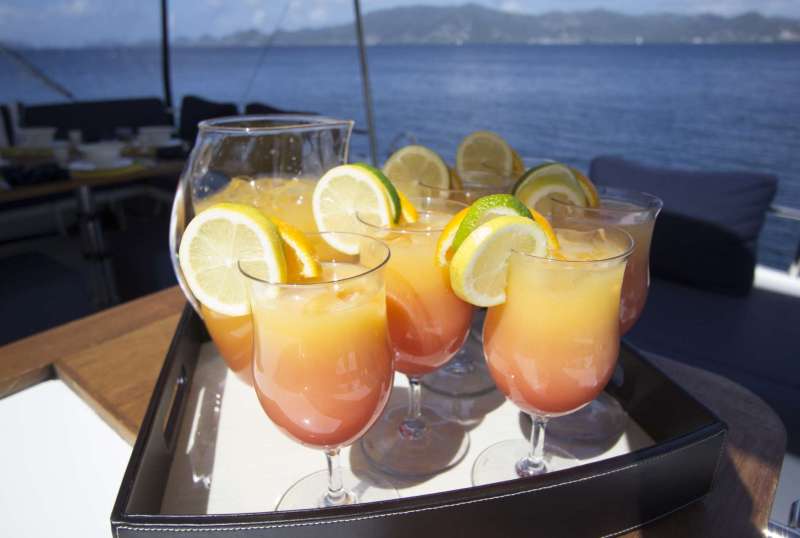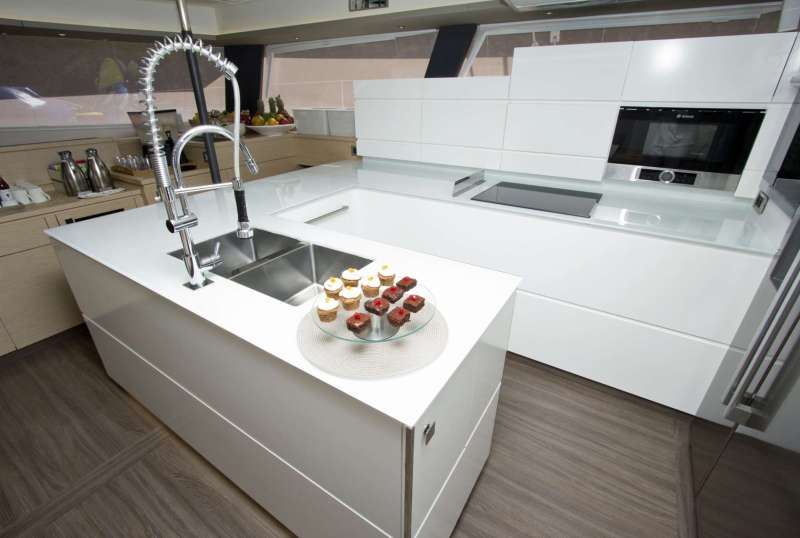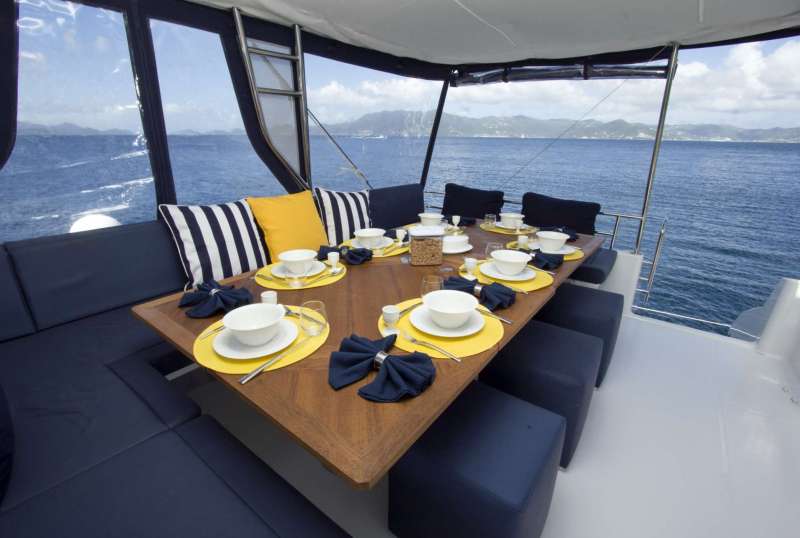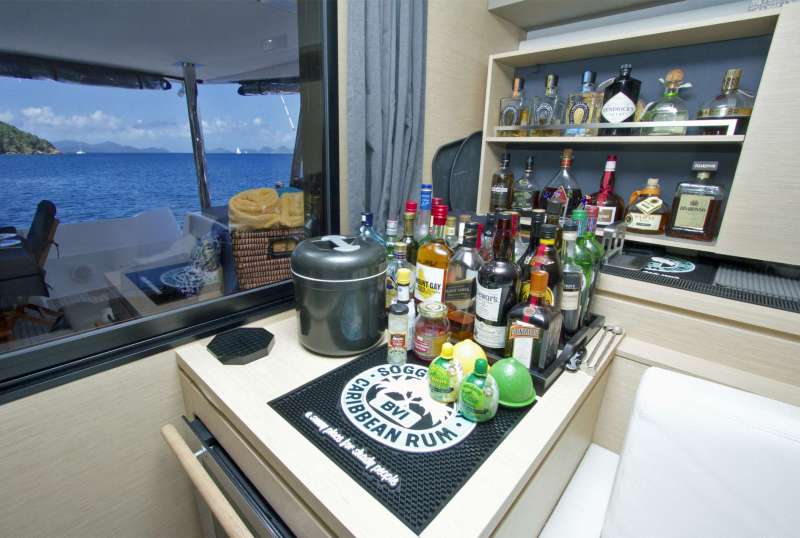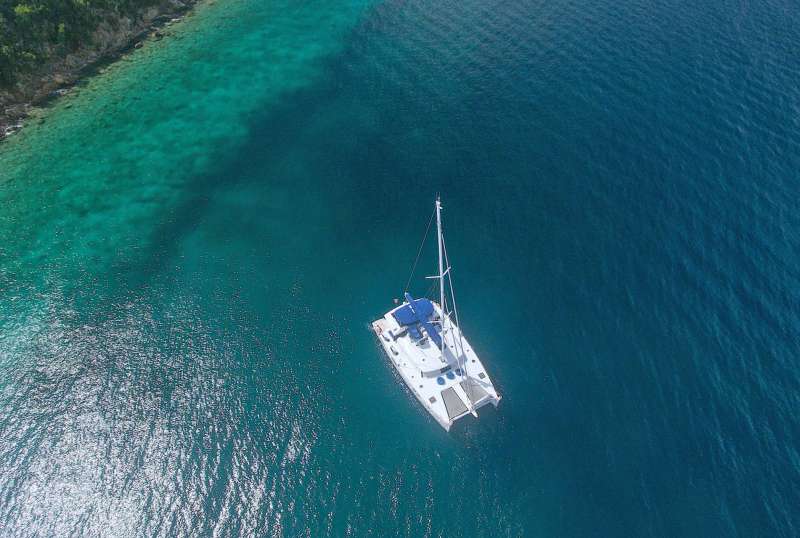 NENNE
From $44,000/week
5 cabins
67 ft
Fountaine Pajot
10 guests
Refit: The latest, 2020 ele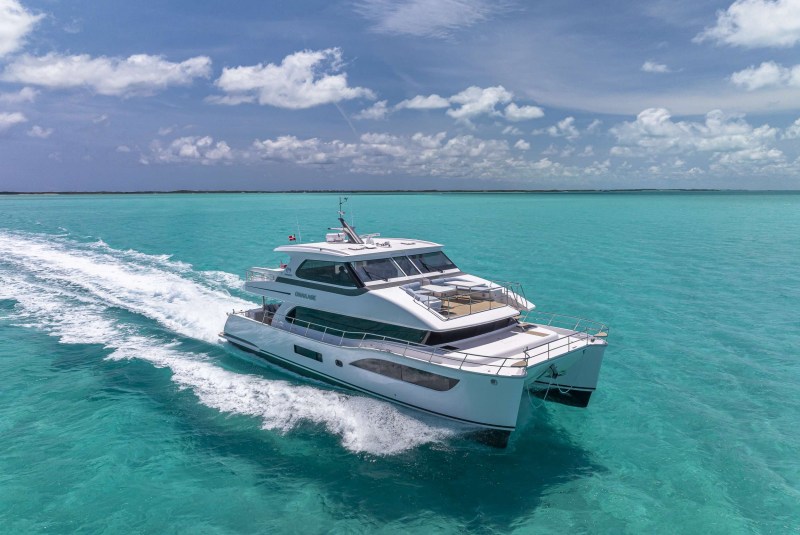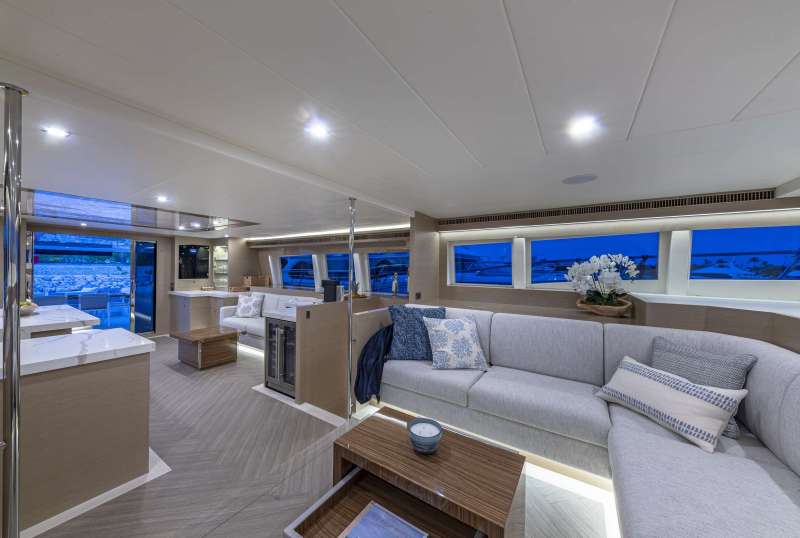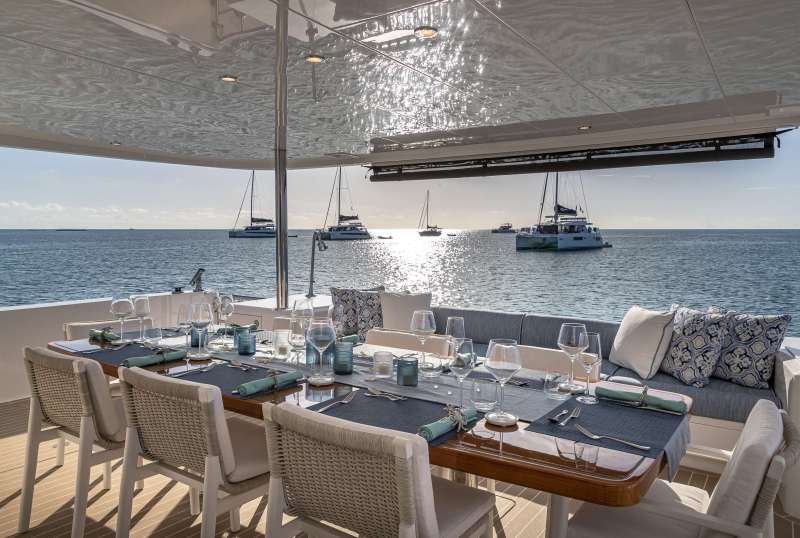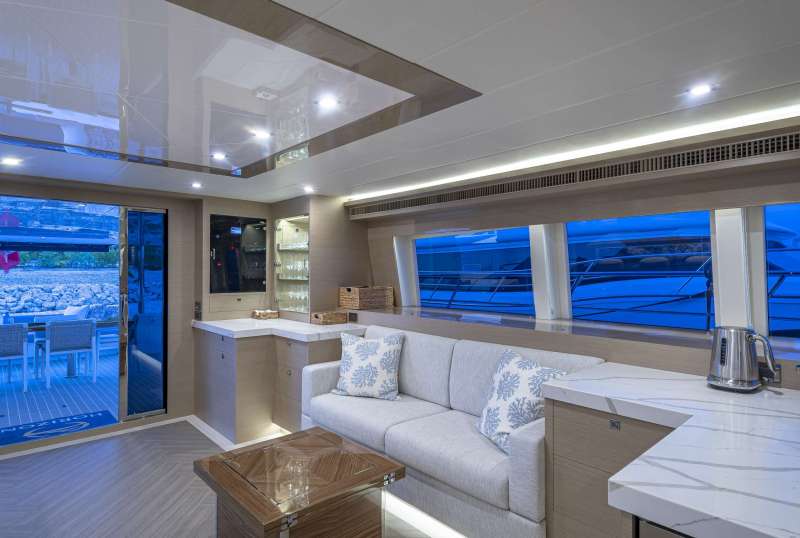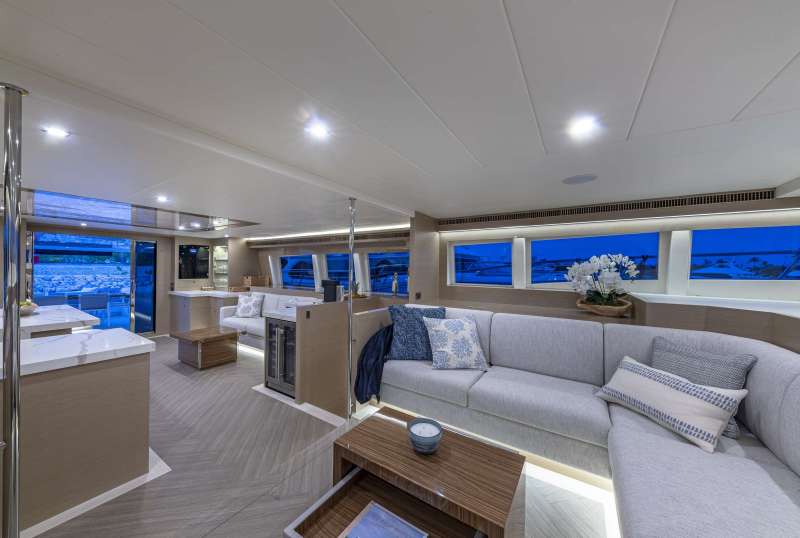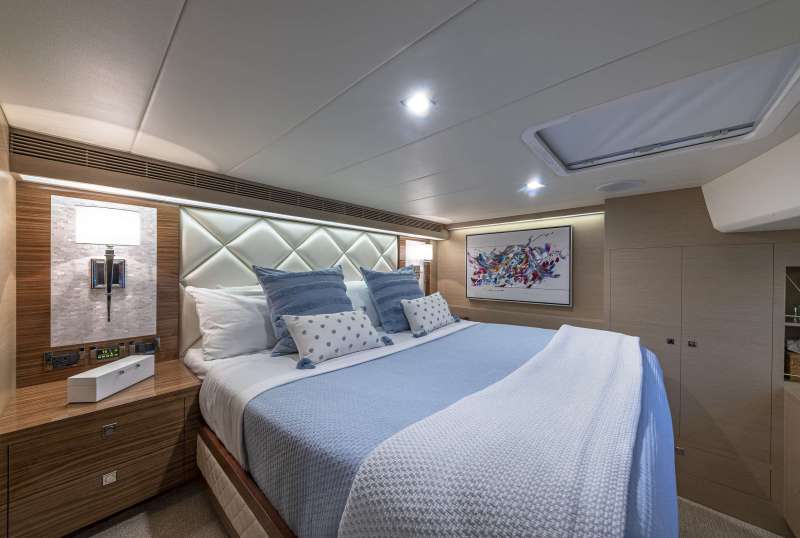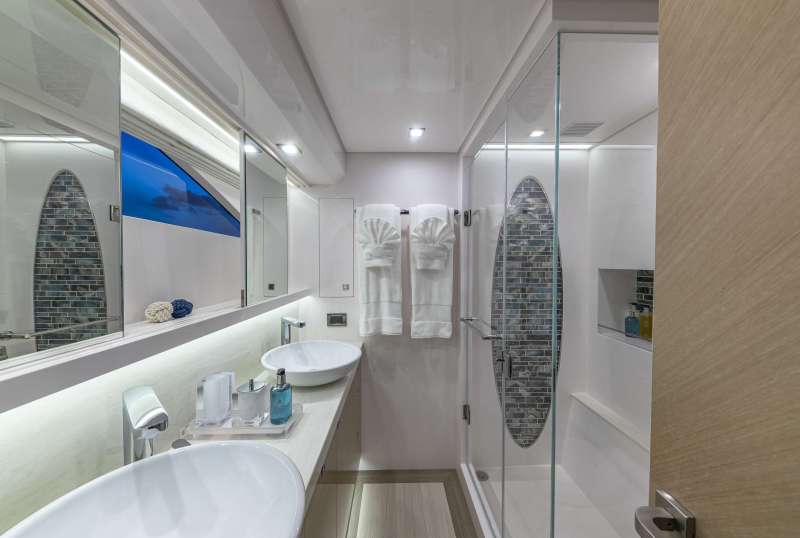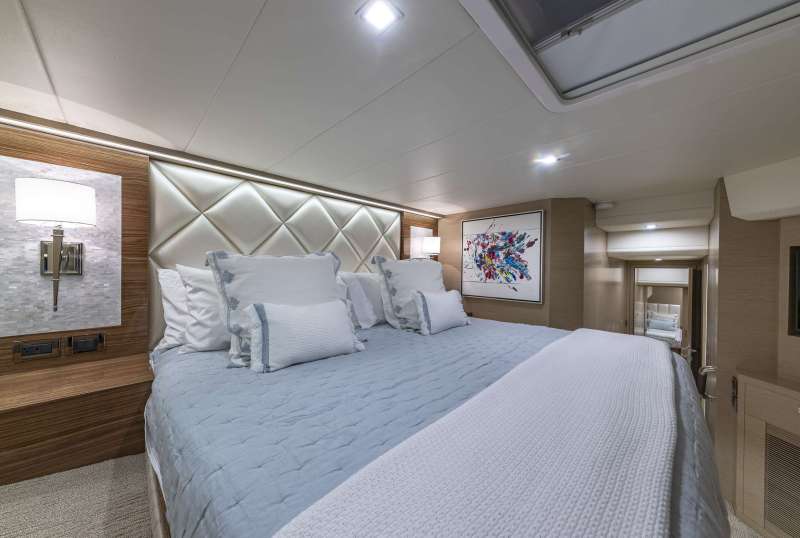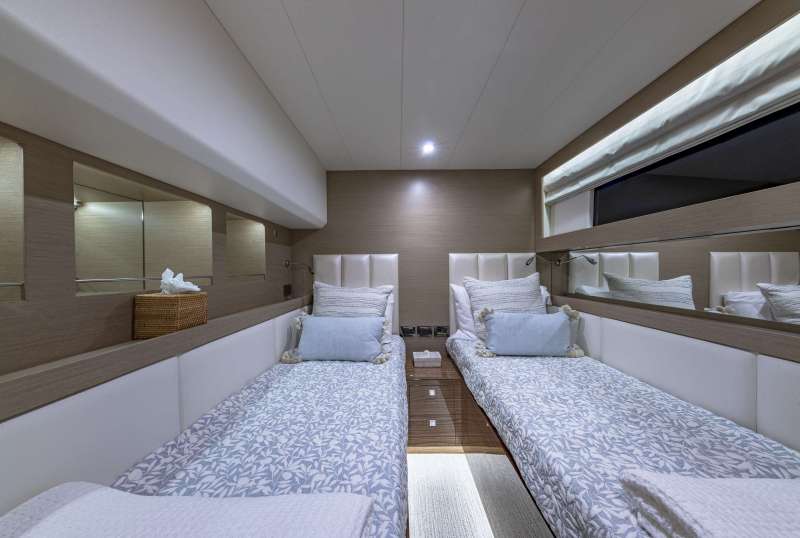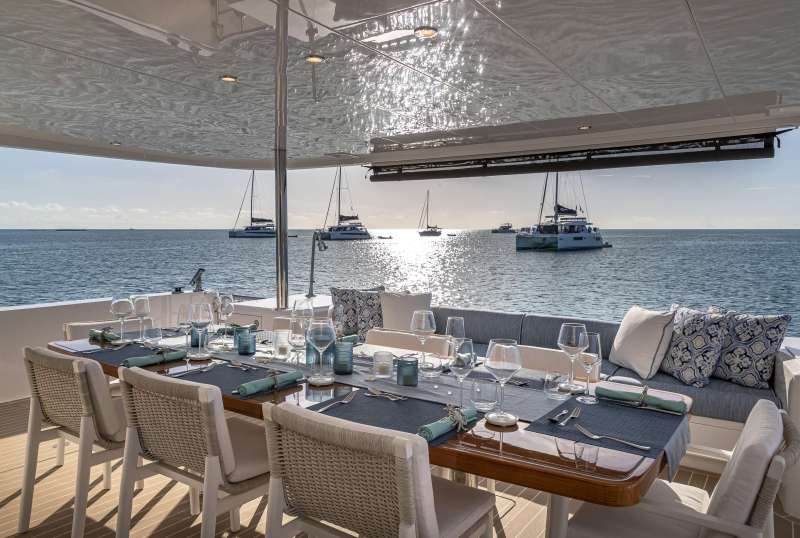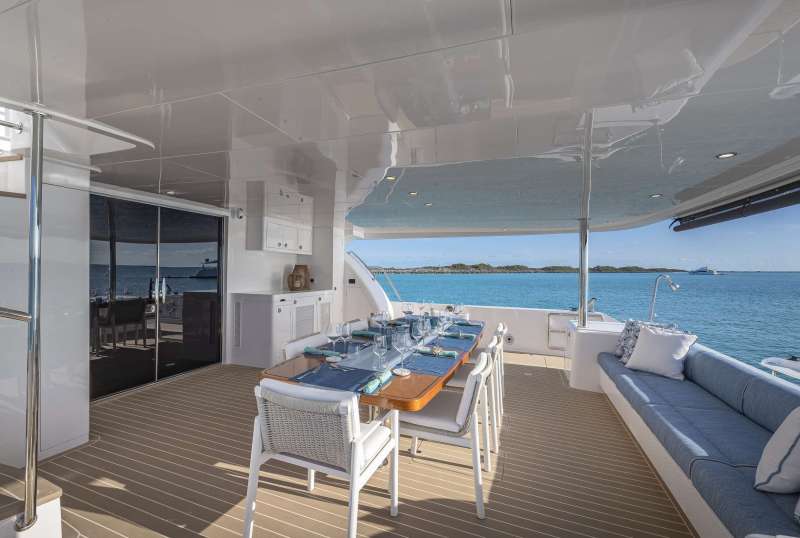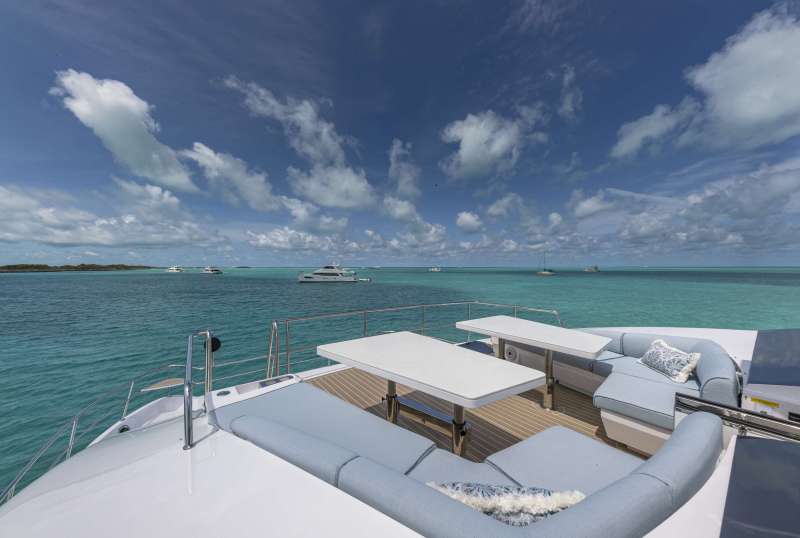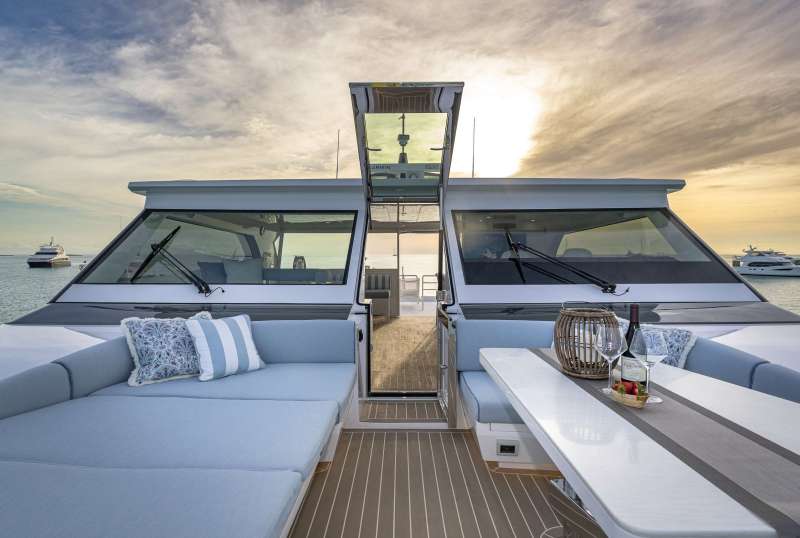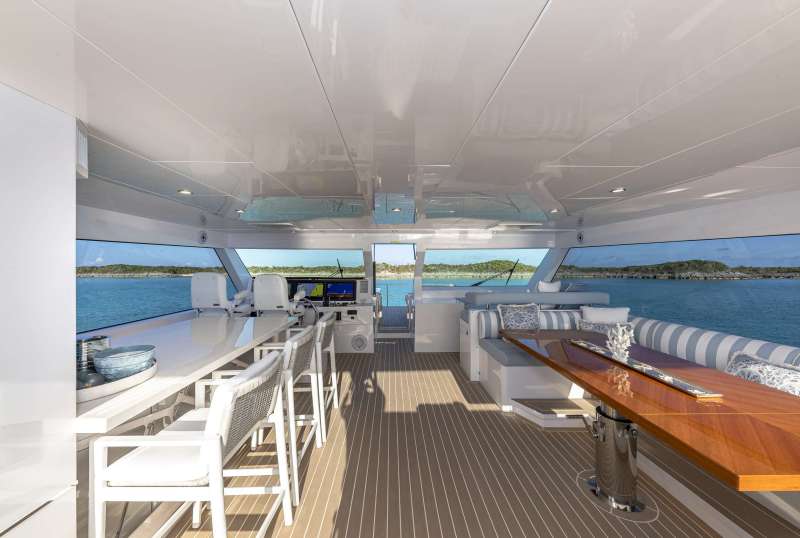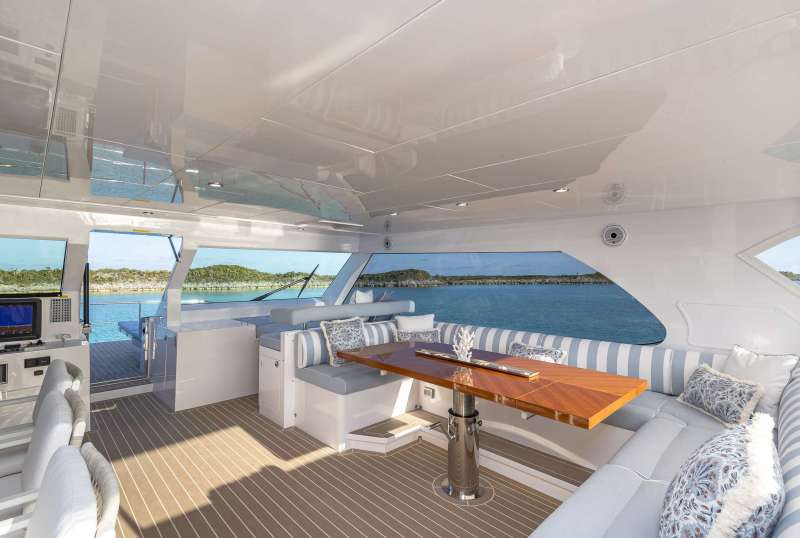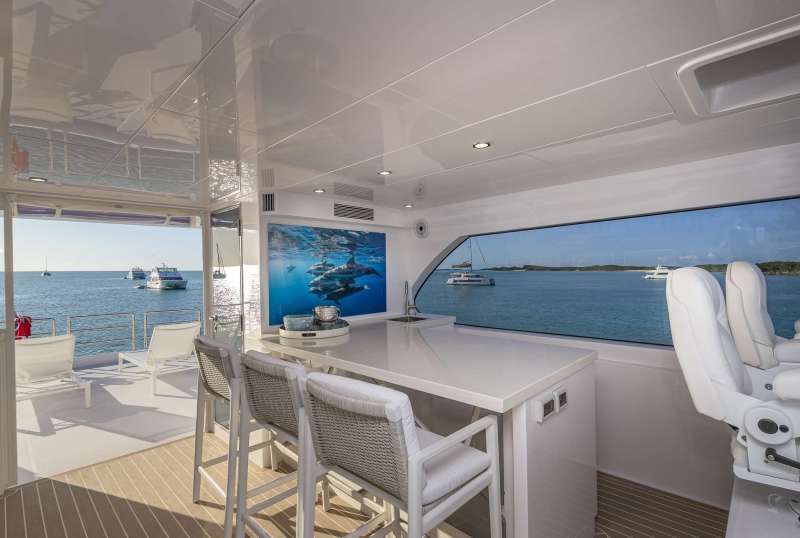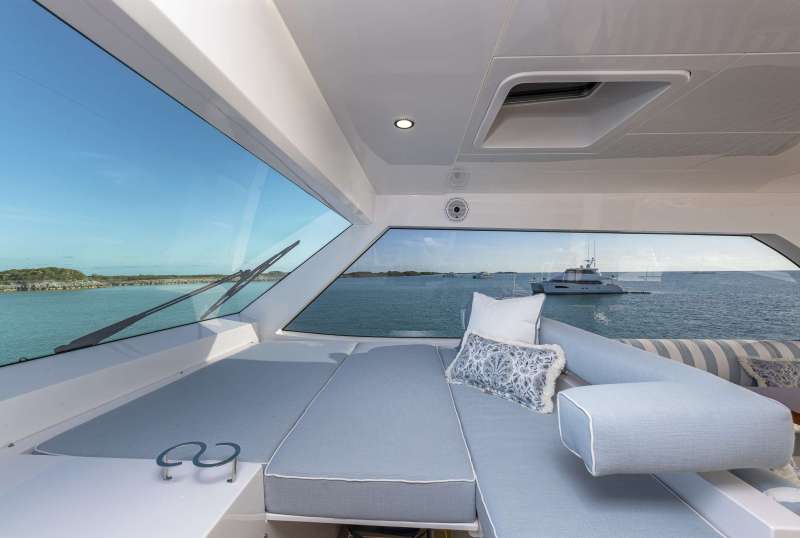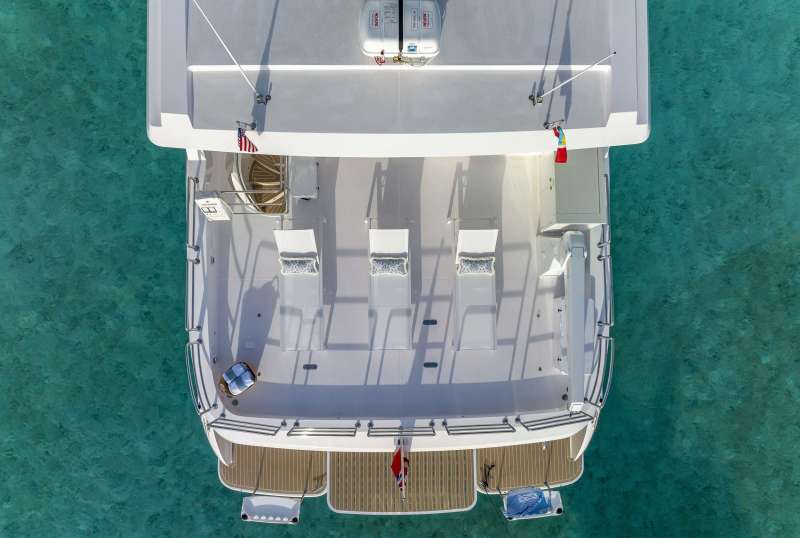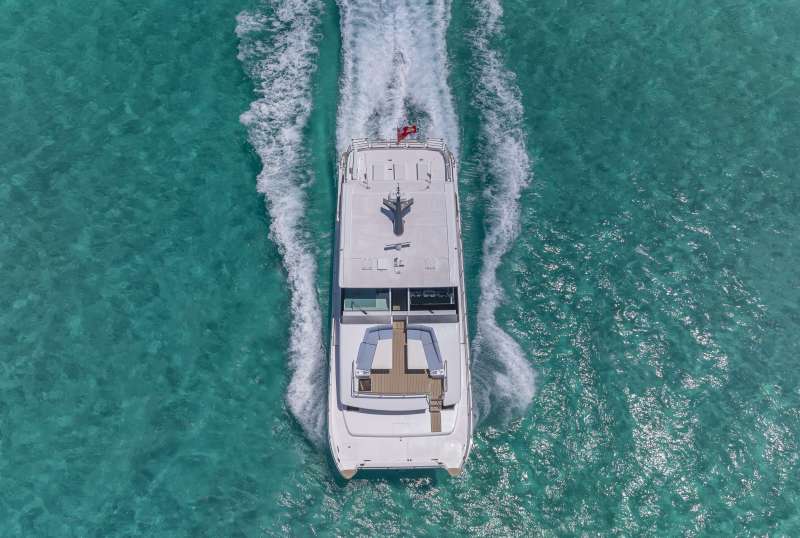 OMAKASE
From $43,900/week
3 cabins
68 ft
Horizon
6 guests
Built: 2023
48 US Gall/Hr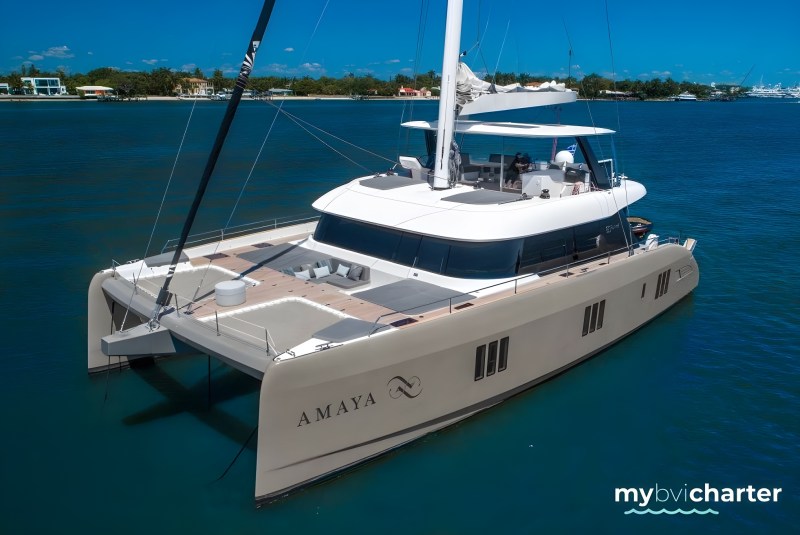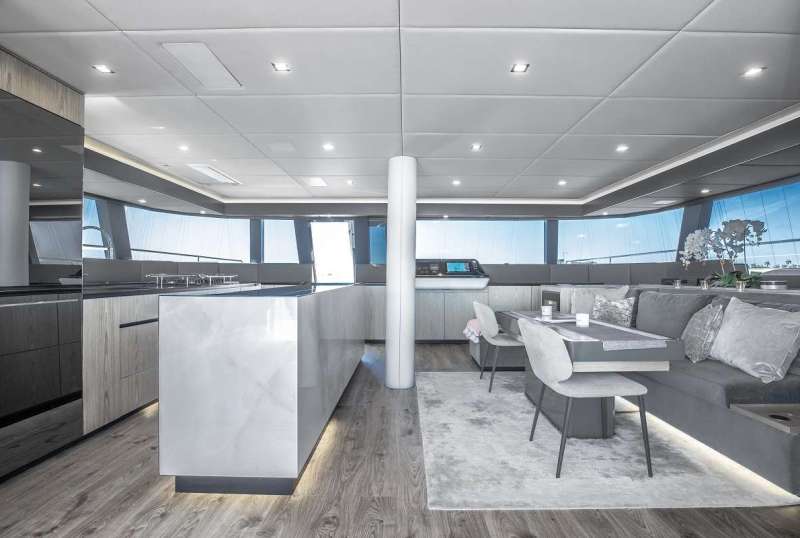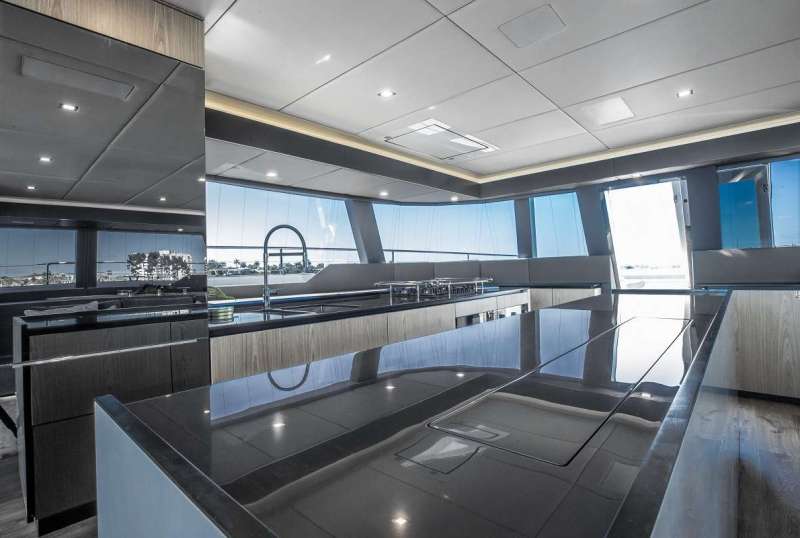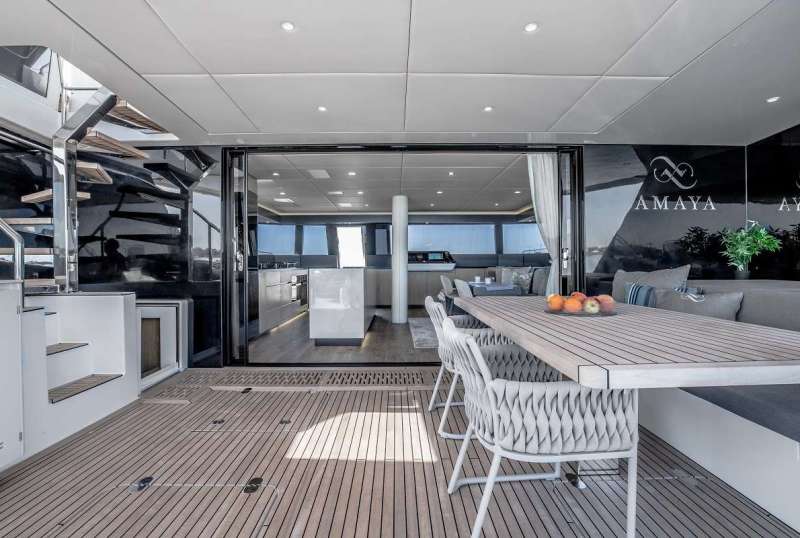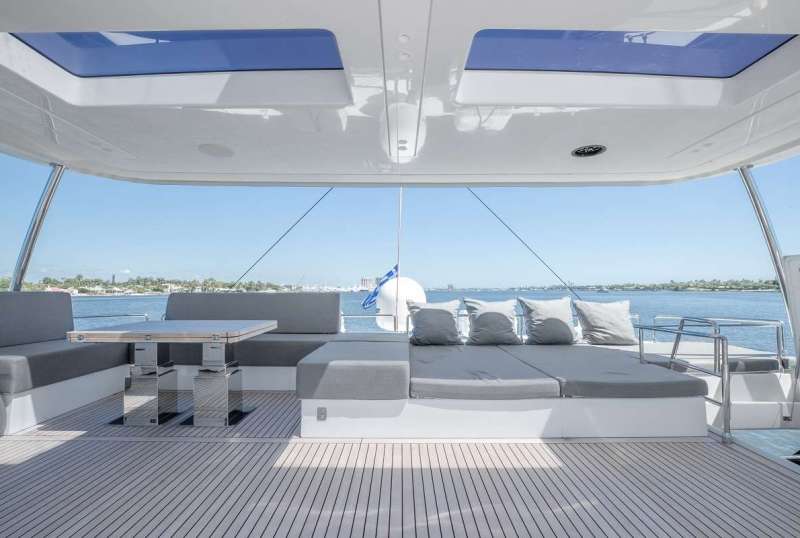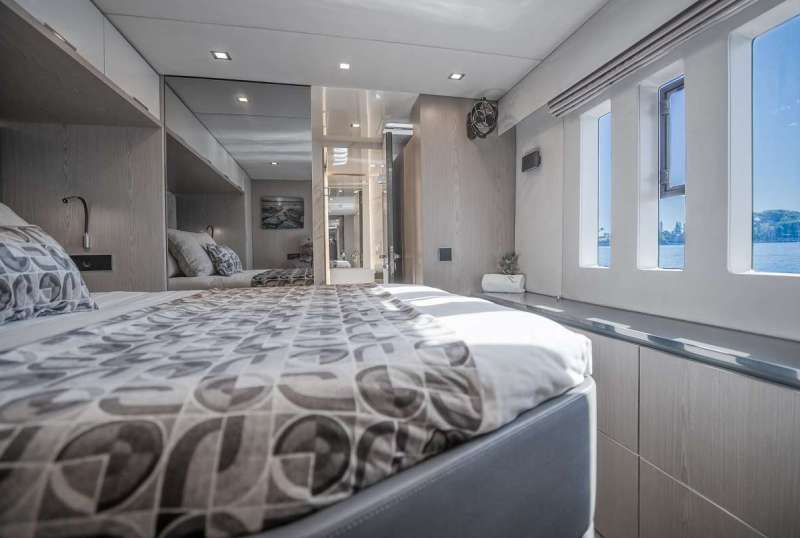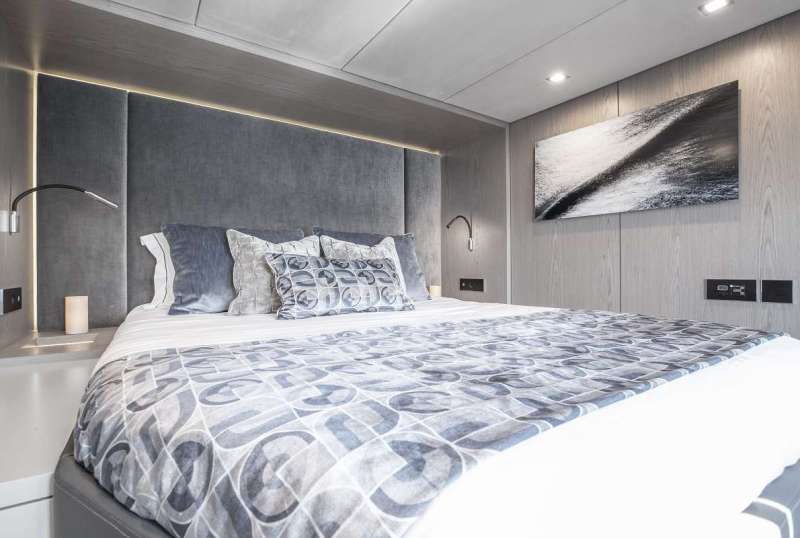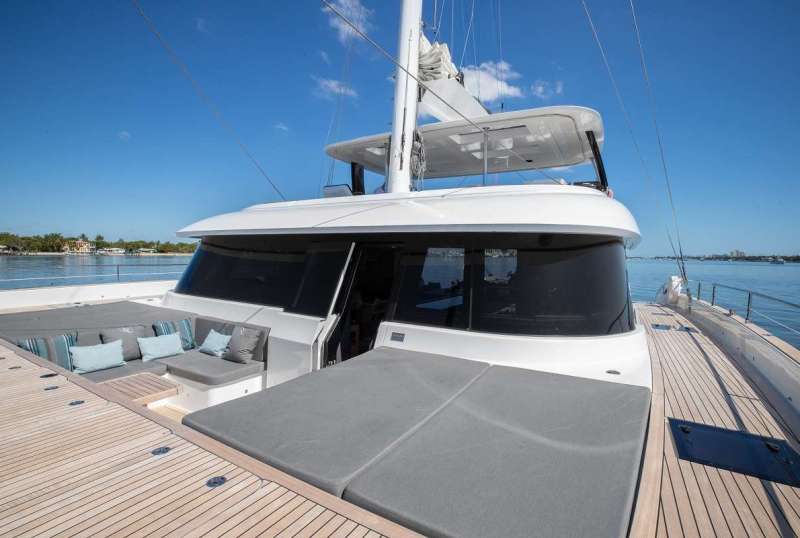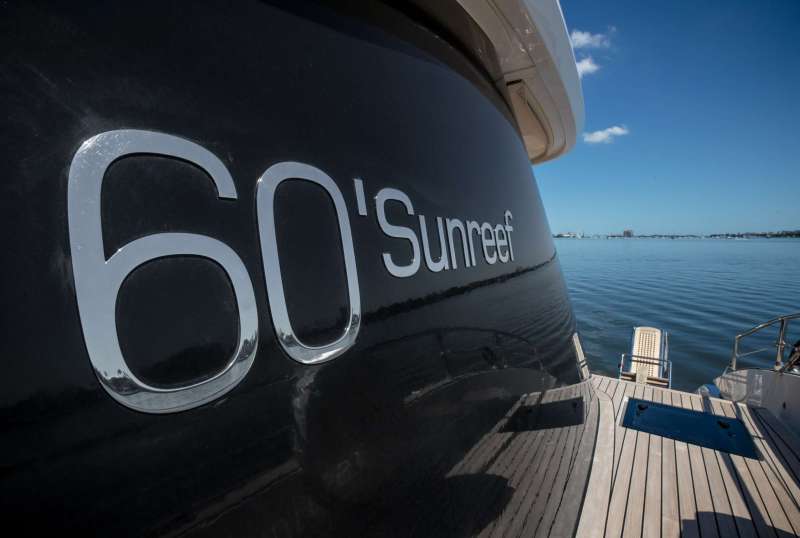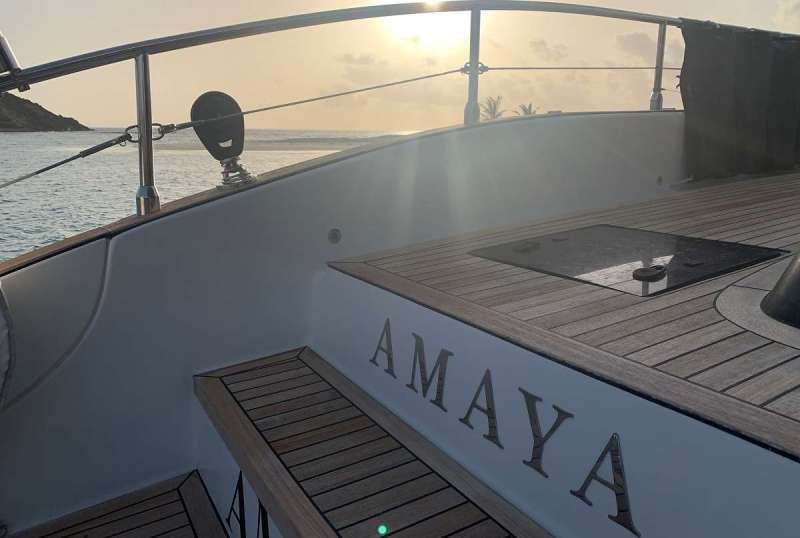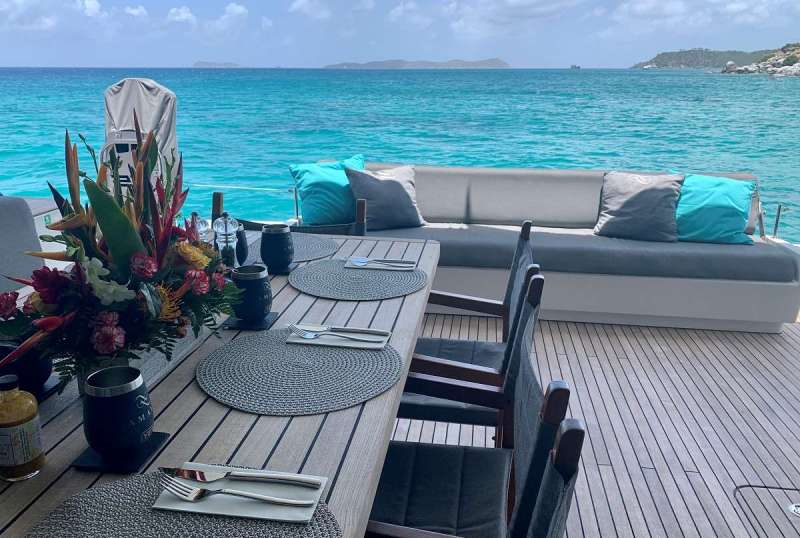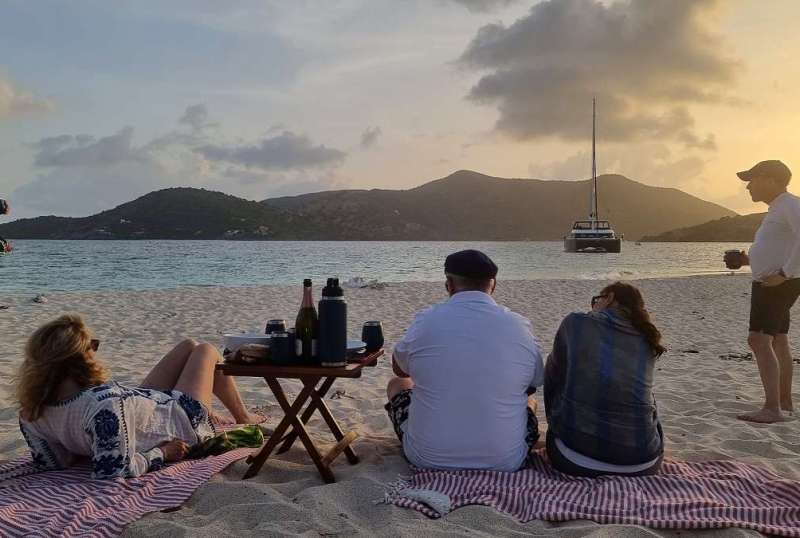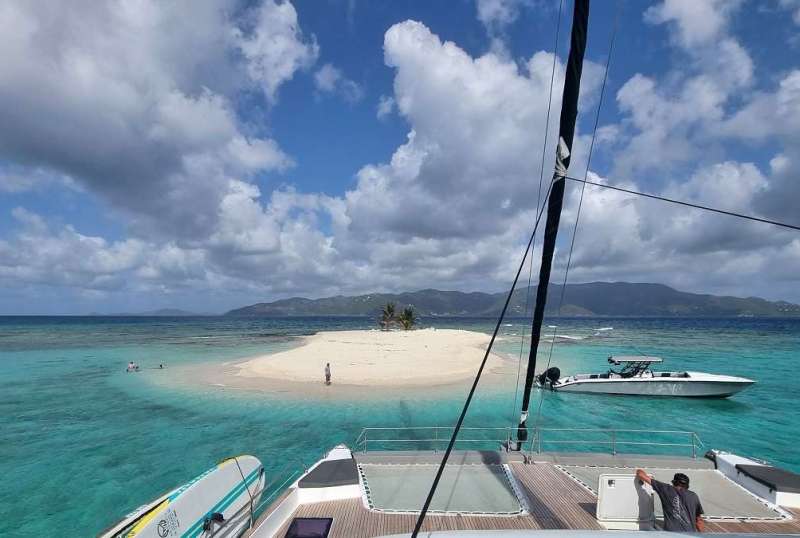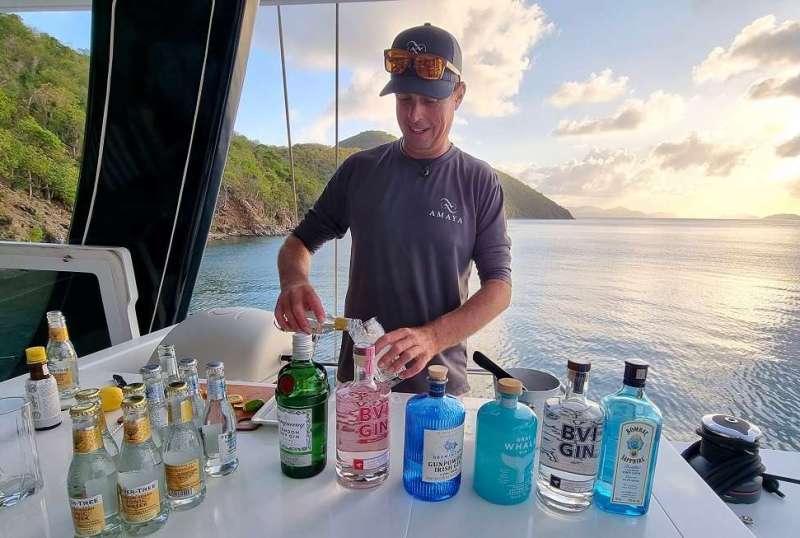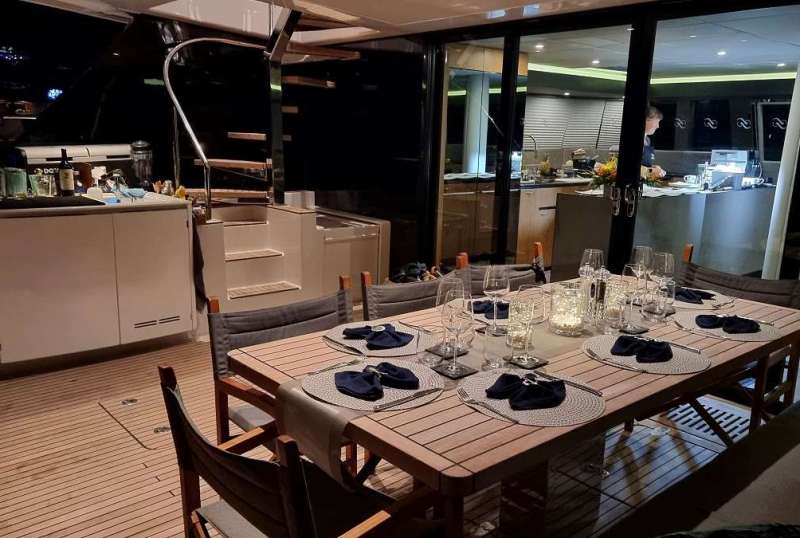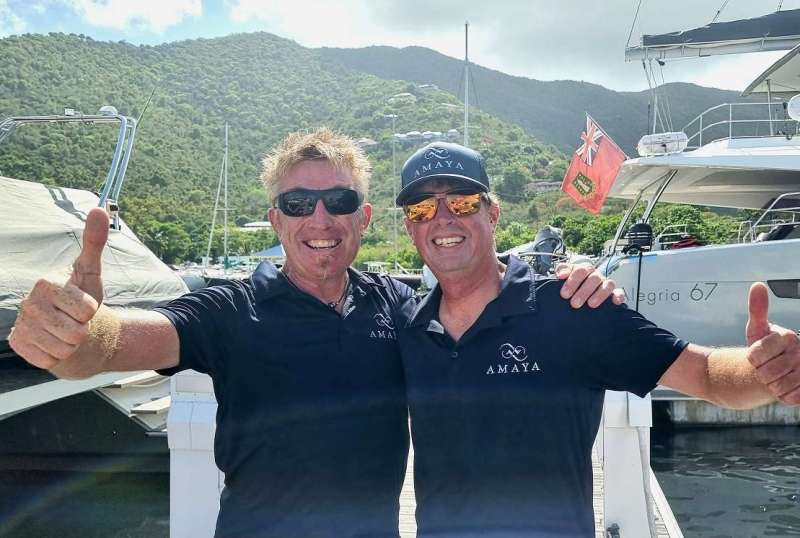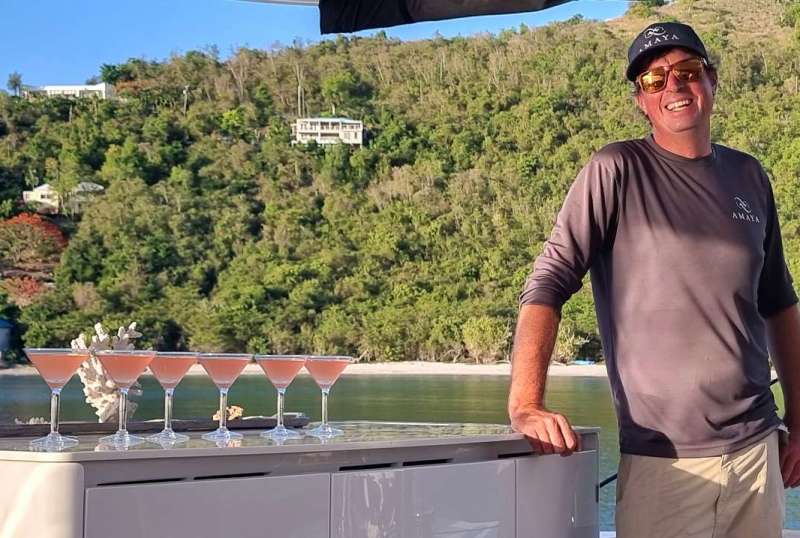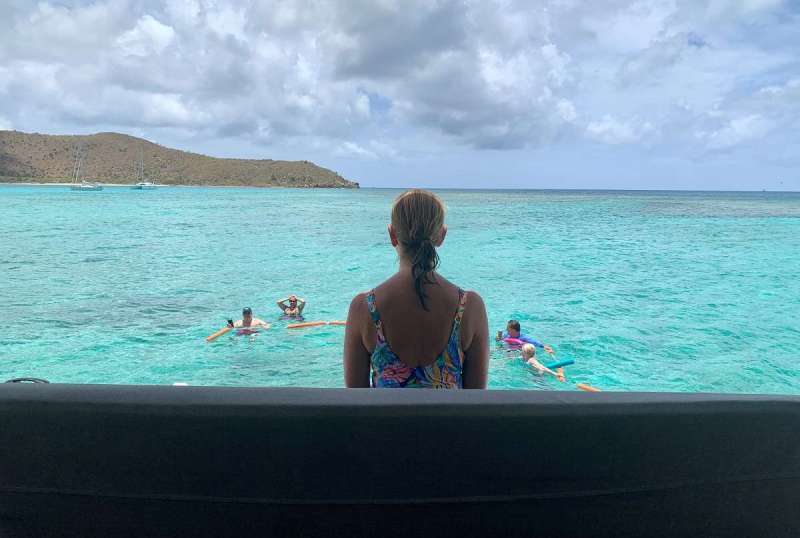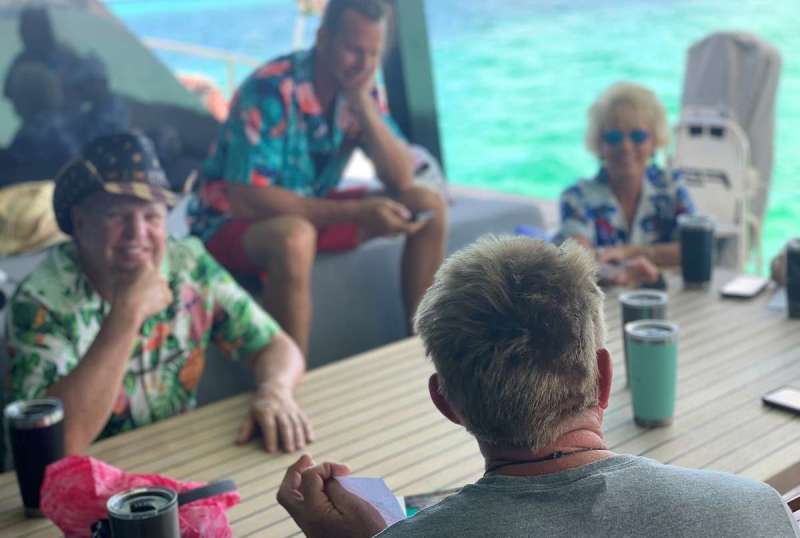 AMAYA
From $43,200/week
4 cabins
60 ft
Sunreef Yachts
8 guests
Refit: 2023
10 Litres/Hr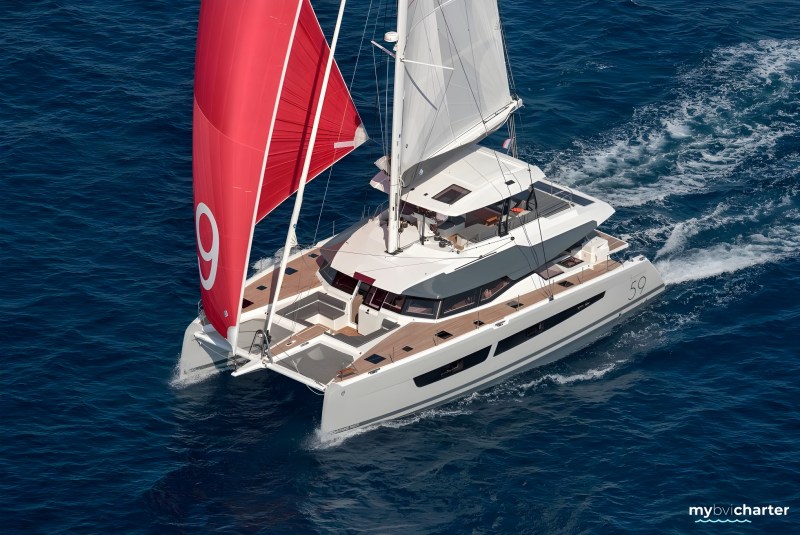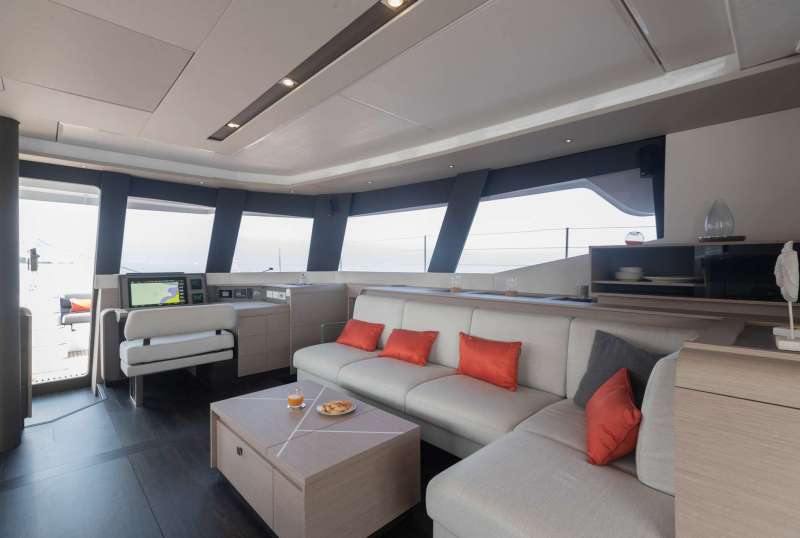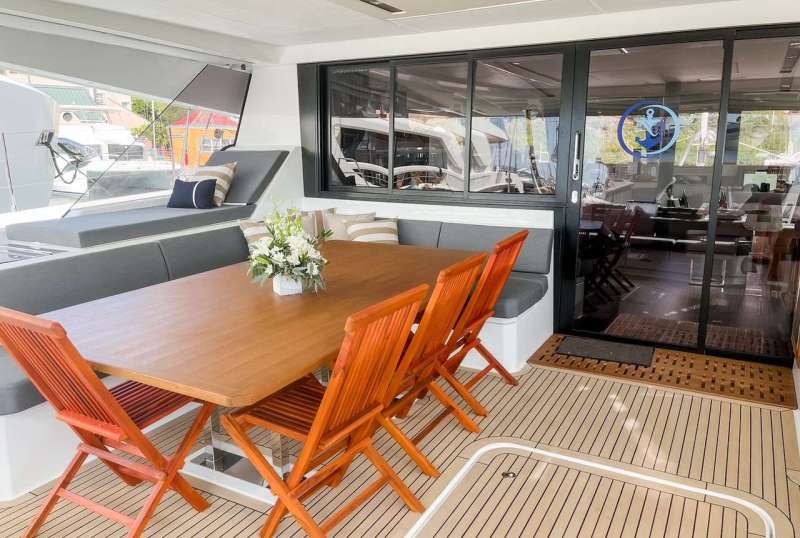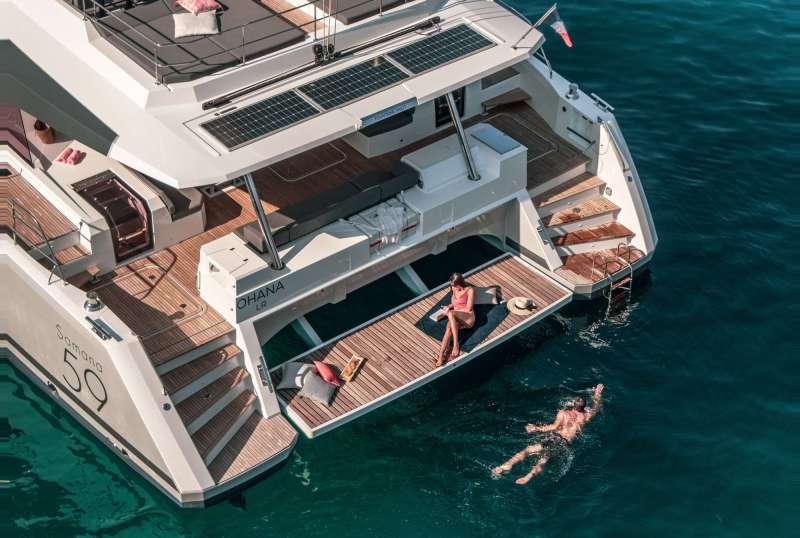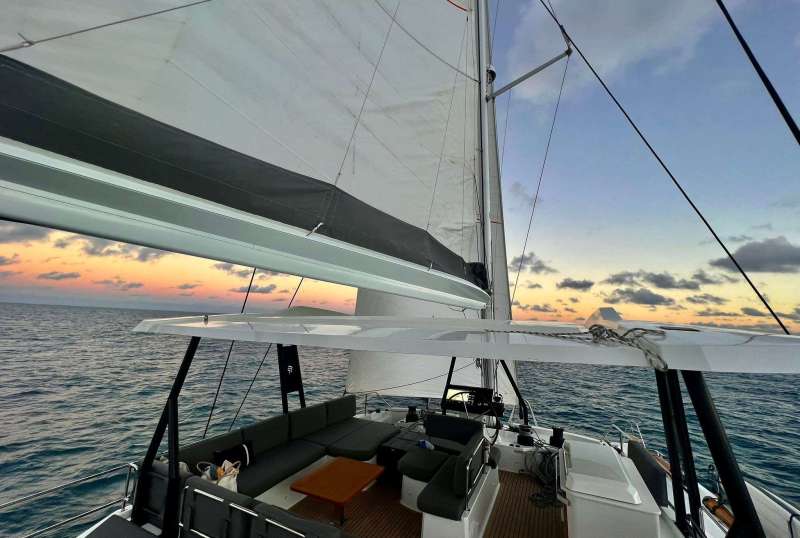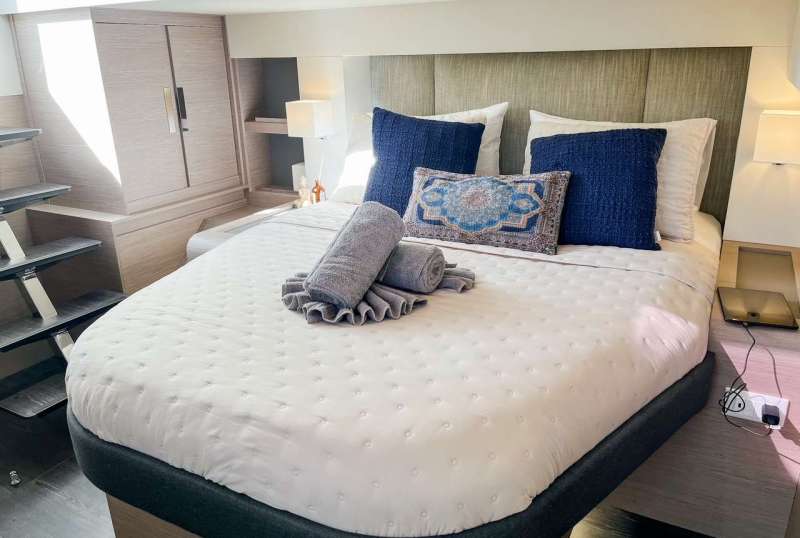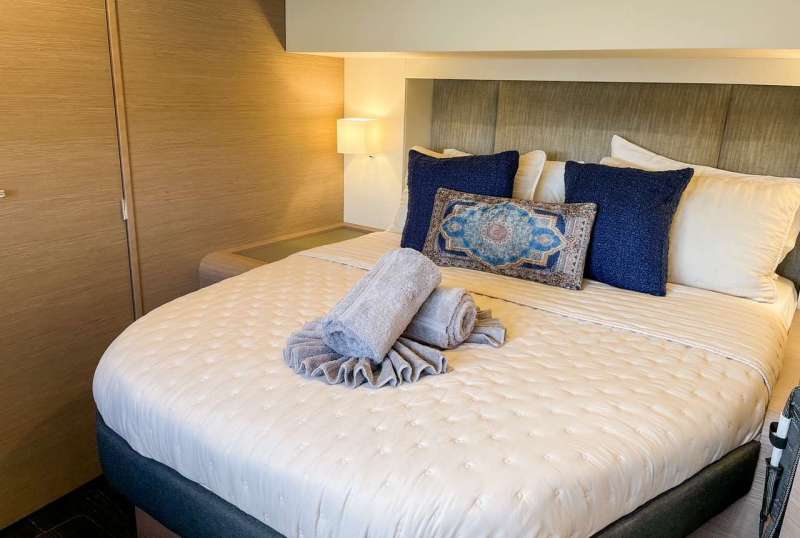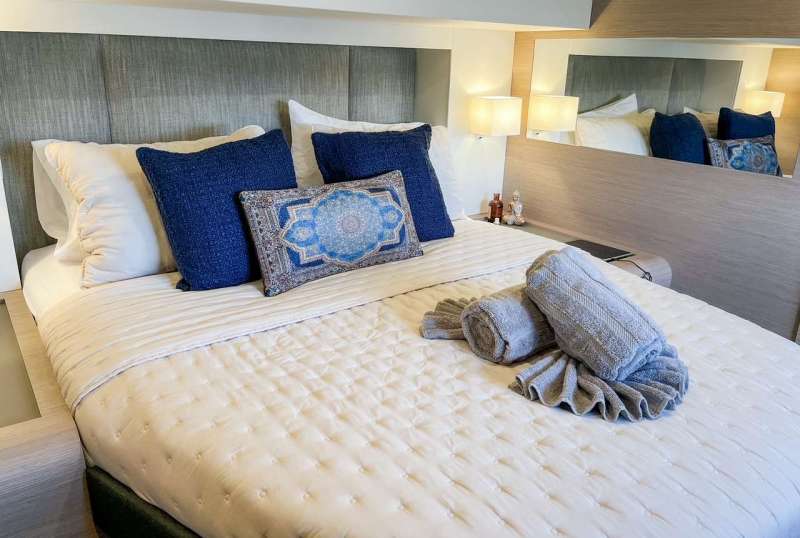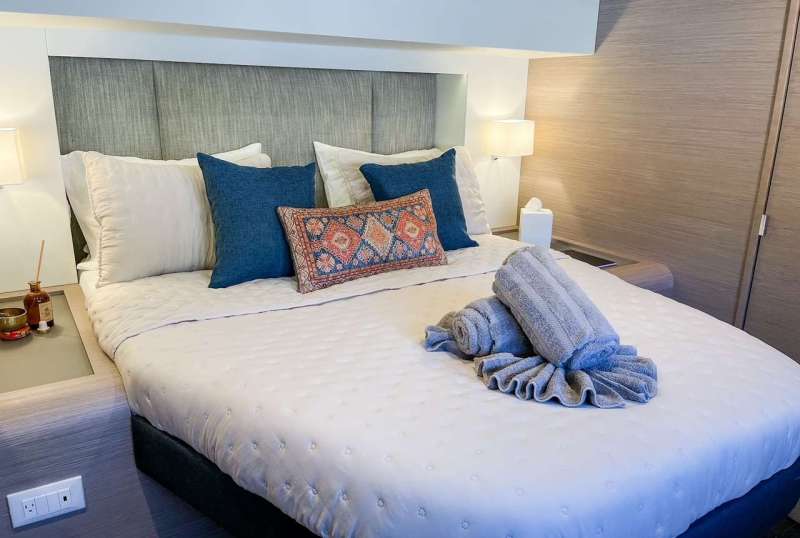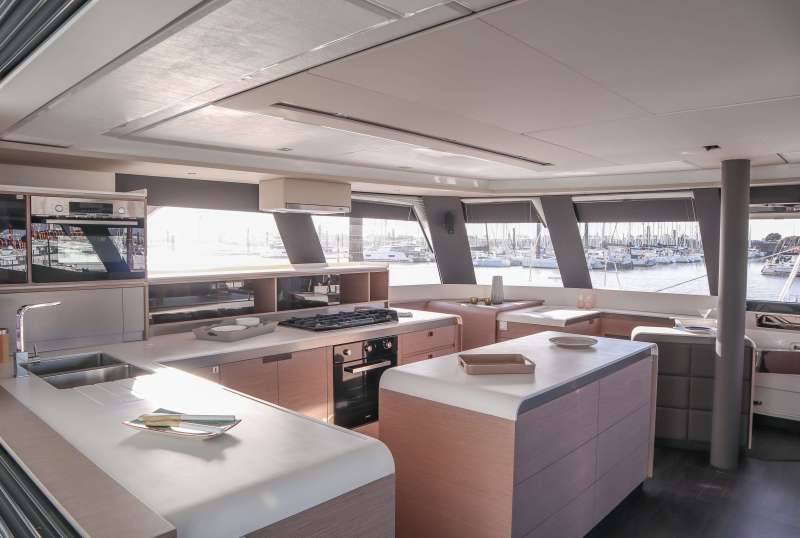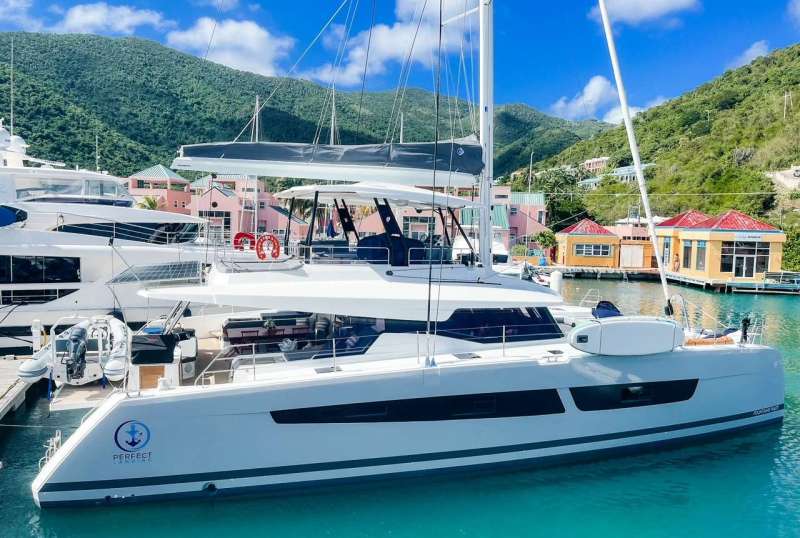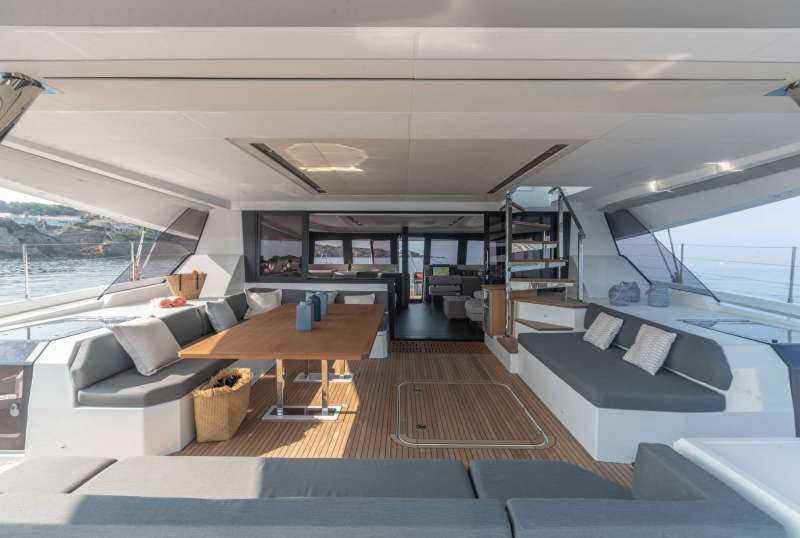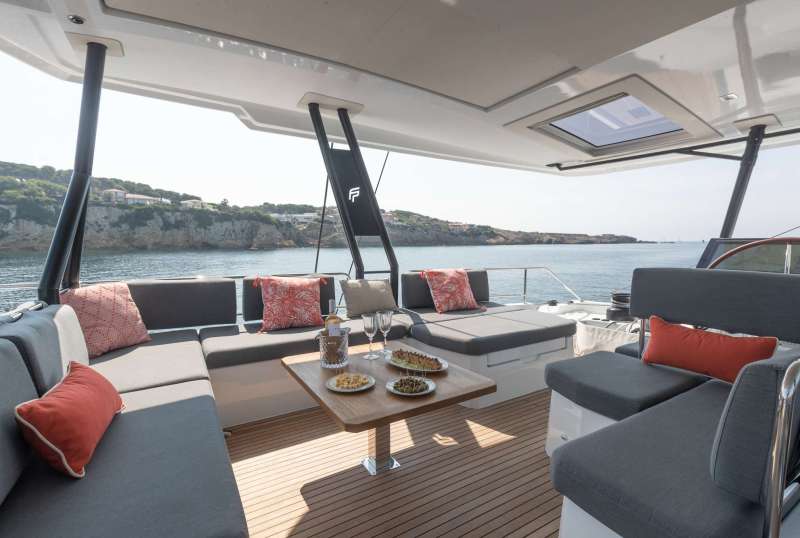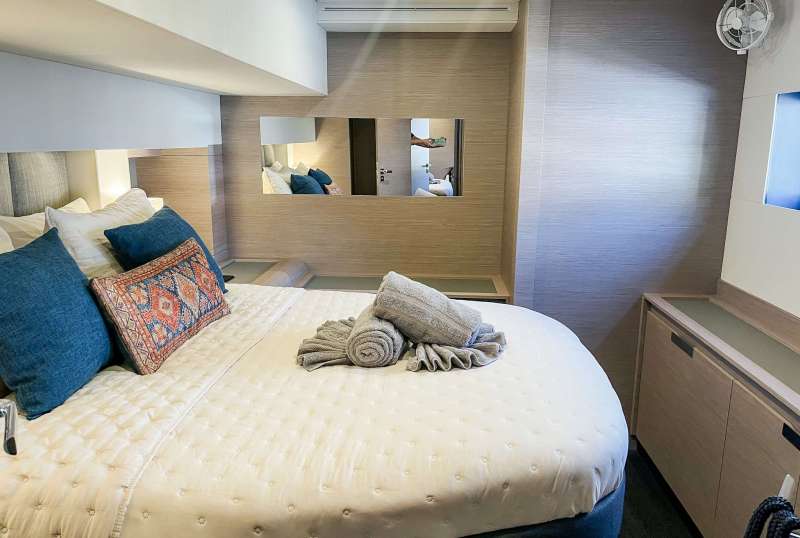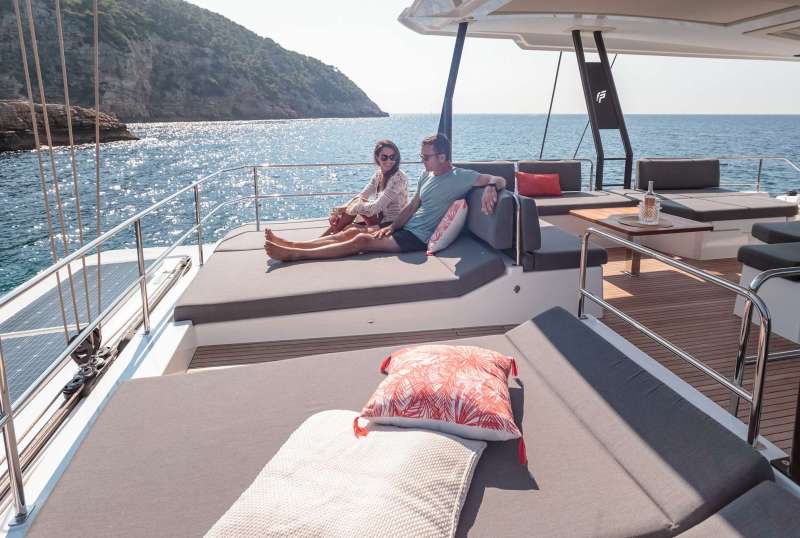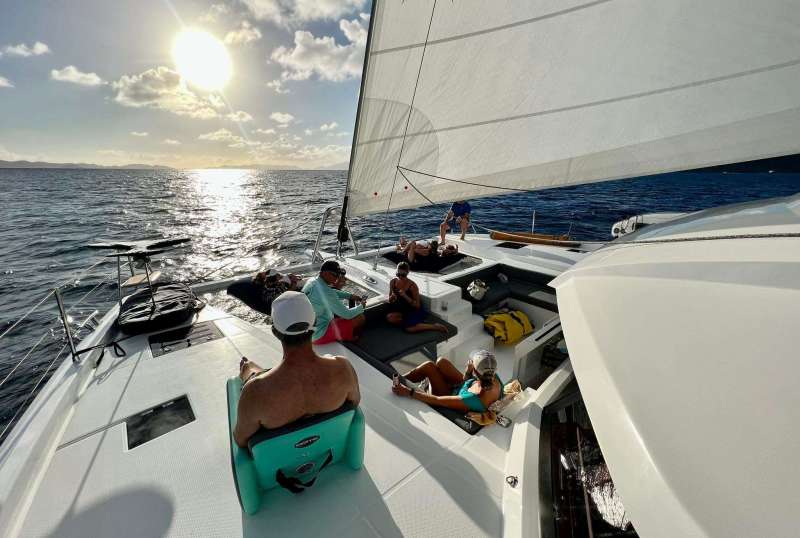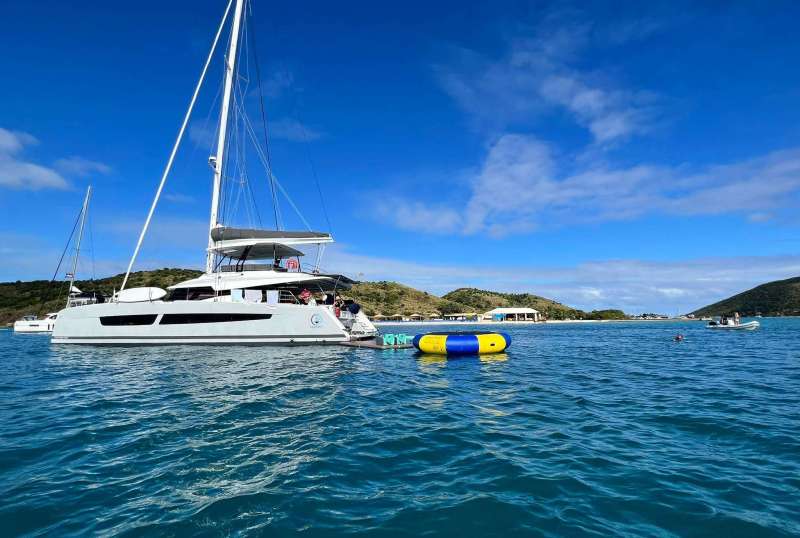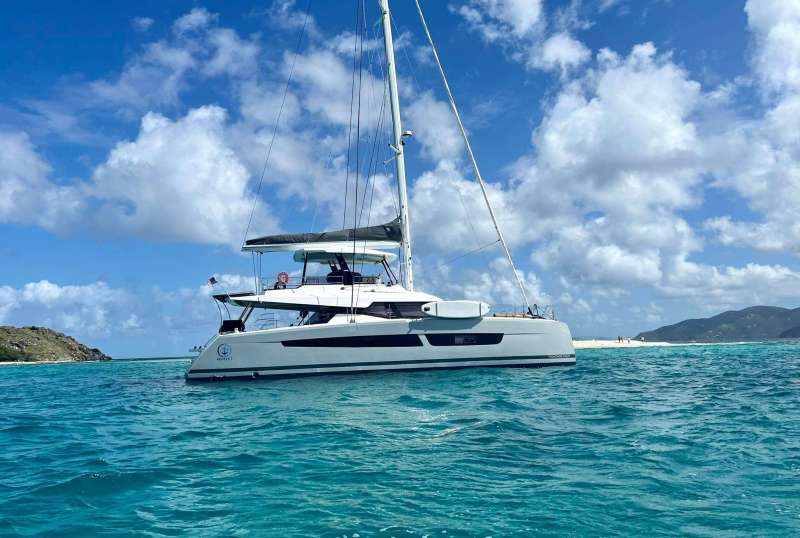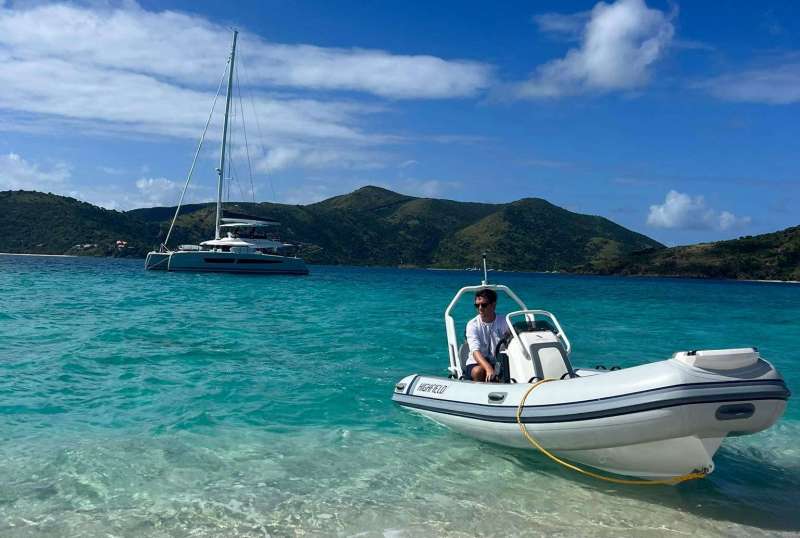 PERFECT LANDING
From $42,000/week
5 cabins
61 ft
Fountaine Pajot
10 guests
Built: 2022