TOP 10 VERIFIED & RECOMMENDED BVI MOTOR YACHT CHARTERS
The offer of motor yachts in the BVI is primarily limited by marina space for larger size vessels and legislation – it's much easier to do a few charters from USVI (Yacht Haven Grande) or come for a few charters from as far as the Bahamas.
Nevertheless, in the post-2022 seasons, we're seeing a steady increase in the numbers of superyachts (we mean +100′ vessels) chartered in the BVI waters. Comparing 2019/2020 and 2022/2023 seasons, we're seeing an increase of as much as 60%.
Covering the top locations from the 50-plus islands and cays at your BVI yacht charter vacation, get easier with your own private yacht charter. For a speedy charter yacht experience, find a vessel according to the size and necessities of your charter group. We have hand-picked the top 10 BVI motor yacht charters that will guarantee luxury and adventure in the picturesque Leeward Islands.
Highlights of the British Virgin Islands Motor Yacht Charter
November – May is the peak charter season in the BVI; with peaks during Thanksgiving, New Years, and spring breaks. If you are looking to sail off-season, keep an eye on hurricane forecasts in September-November, when tropical systems or hurricanes are most likely to occur.
If you are flying internationally, starting from the largest island Tortola will save time and energy because of the proximity to the Beef Island airport. Since large charter yachts usually start from USVI or Virgin Gorda, you'll be able to use helicopters or water taxis/land taxis to move to the final location. A ferry from St Thomas is still the worst-case possibility.
Anchoring at Cane Garden Bay can be challenging in peak seasons due to crowding and swell. So, plan wisely and try to anchor in the south and southwest areas of the bay, backed against the reef/shoal areas.
Apart from trendy beach bars at Jost Van Dyke, take some time to discover and explore the less-known areas of Biras Creek, Key Bay, or Benure's Bay to enjoy the secluded beaches and coves.
Top 10 Yachts Suggestions for BVI motor yacht charter
The yachts in this selection are hand-selected by our Senior Brokers Daniel Asmus and Yanna Pristas. Note that many motor yachts offered here are not in the yacht database and might not be based in the British Virgin Islands for the entire charter season.
Please inquire about the availability of Motor Yachts for your date. Depending on the charter date, Bahamas based yachts or Windward Island motor yachts might be available.
1. SERENITY| 133 FT
SERENITY radiates luxury through over-the-top amenities (elevator, balconies, a jacuzzi) and peace (wooden interior, unique furniture pieces, and Zen-inspired artwork) simultaneously. Former guests absolutely loved the superyacht's 900-square-foot master suite, mostly because of its two outdoor balconies where they could enjoy the shoreline privately. SERENITY also boasts a third balcony at the sundeck, where you can enjoy the sun and the sea.
Unlike the majority of the charters from the BVI, SERENITY has an air-conditioned al fresco dining setting– leading to visitors preferring the al fresco over the formal dining space. The crew (7) caters to the guests' needs by charter tips, drinks, and exquisite meals. They can also throw a party at the sundeck featuring a full bar and a vast beach club at the water level. SERENITY's popular feature among the older adults was her elevator, which eased their toil while going to multi-leveled lounging spaces from the cabins.
AMENITIES AND TOYS
SERENITY has enough onboard features, water toys, and gears to keep the guests entertained during a charter of one week or longer. The en-suite bathrooms possess spa-like rain showers, while the Jacuzzi delights the guests with a three-tiered waterfall. Her "Beach set up" tables and chairs are enough to hold a party on a secluded island.
Since you can't anchor strait to the BVI coast for most cases, the powerful tenders -35 feet Scout and 12' Williams jet tender– can take you to the islands or fishing spots fast. In case you don't have experience with snorkeling and fishing, our experienced crew members can teach you the basics. The versatile water sports and gear collection includes Sea-Doos, Sea Bobs, Sea Scooters, glass bottom kayaks, paddleboards, wakeboards, windsurfing equipment, surfboards, and bodyboards.
2. ALEGRE | 131 FT
At ALEGRE, we possess the latest equipment, water toys, and an international crew from diverse backgrounds. Her dreamy interior -replicating the sea with a splash of teal and blue- mesmerized the former charterers. Her layout was catered around entertainment and views of the sea, such as the saloon, where the abundance of glass presents the guests with an unobstructed view of the coastline.
Guests can access multi-level open spaces at ALEGRE- ensuring privacy during sun busking. Also, the full-length sundeck with a built-in BBQ proved to be a great space for birthdays, themed events, or special celebrations.
AMENITIES AND TOYS
At ALEGRE, guests can follow their workout routine while enjoying the sea breeze at the sundeck gym. After a hectic day of sightseeing, the enormous foredeck Jacuzzi helps to reduce stress and calm the nerves.
ALEGRE maintains a full inventory of toys and tenders: a 28-foot sports fishing boat, Williams Diesel Jet Tender, Jetski, Seabob, kayaks, SUP, and Flyt board. If you want to venture into fishing equipment and snorkeling, there are plenty of gears and an experienced crew to teach you the basics.
3. KOJU | 121 FT
KOJU feels like a mega yacht due to the clever design aspects- window walls, mirrors, natural light, and open-plan interior. Her main salon and master suite feature wide-spanning windows- letting the guests take in the stunning 360-degree views and enjoy the sunshine. From the feedback of previous guests, the seating zone is very resourceful, especially when the master suite needed a separate space for an office, vanity, or play zone for children.
KOJU's multileveled (4) common spaces provide privacy to the charterers like no other vessel in BVI. From socializing on the comfortable sofa at the lounge to enjoying the sunset at the aft dining to the unique and intimate 'cocoon-style' observation deck, there are private spaces for every person onboard. If you want to enjoy the sunset at sea level, there is an expansive Hamptons-style beach club with a detachable canopy and sun loungers to relax.
AMENITIES AND TOYS
KOJU's large foredeck features a Jacuzzi and sun pads. Guests can also do regular training with sporting equipment and weights. Her tender and water toy collection includes a 34' Intrepid chase boat, jet skis, Flyboard, Seabobs, SU paddle boards, Kayaks, tankless dive systems, eFoil, and various inflatables.
KOJU's Crew of 8 people is knowledgeable about fishing and underwater activities. So, even the beginner can try snorkeling and fishing thanks to the onboard equipment: However, pros can for deep sea fishing, as the gears  (trolling, bottom, and electric deep drop reels) are top-notch.
4. TAIL LIGHTS| 116 FT
TAIL LIGHTS was built for maximum comfort and entertainment by the onboard facilities, vast communal spaces, and staterooms with a luxury resort vibe. Her private master suite amazed guests who wanted isolation courtesy of the private staircase, a sitting/office area, and a self-service bar.
The versatility of TAIL LIGHTS shines through its numerous outdoor areas, where former charterers spent most of their time. From the bow to the flybridge and the aft deck, there's a space for everyone to unwind and take in the breathtaking views. The main aft deck of TAIL LIGHTS provides an additional al fresco dining option surrounded by the soothing sea breeze- creating moments of pure delight.
AMENITIES AND TOYS
TAIL LIGHTS promises the ultimate luxury yacht experience for families with children and diverse charter groups by offering many water gear and amenities. We found guests spending hours in the flybridge-soaking at the large center-line Jacuzzi (6 people) or enjoying a drink while watching the TV. Her exclusive water sports collection includes 2 tenders, Jetski, Sea Scooters, Electric Scooters, many Inflatables, Water skis, Kneeboard, Snorkel Gears, and Wakeboard.
TAIL LIGHTS' fishing gear is a dream for seasoned fishermen. Her gears- premium bottom, trolling equipment, and spearfishing pole- are sufficient to catch Marlin, Yellow and Black Fin Tuna, and Wahoo. If the guests want a laid-back experience, we can set up a beach picnic or party, as plenty of elements are available onboard.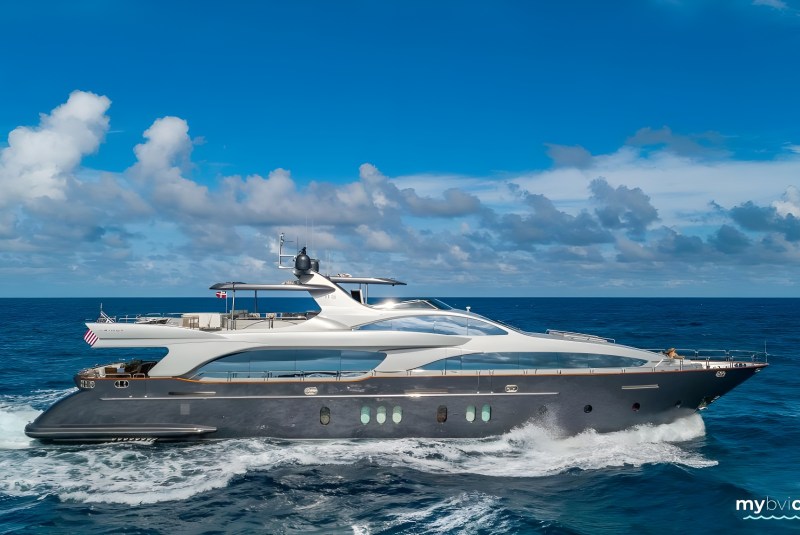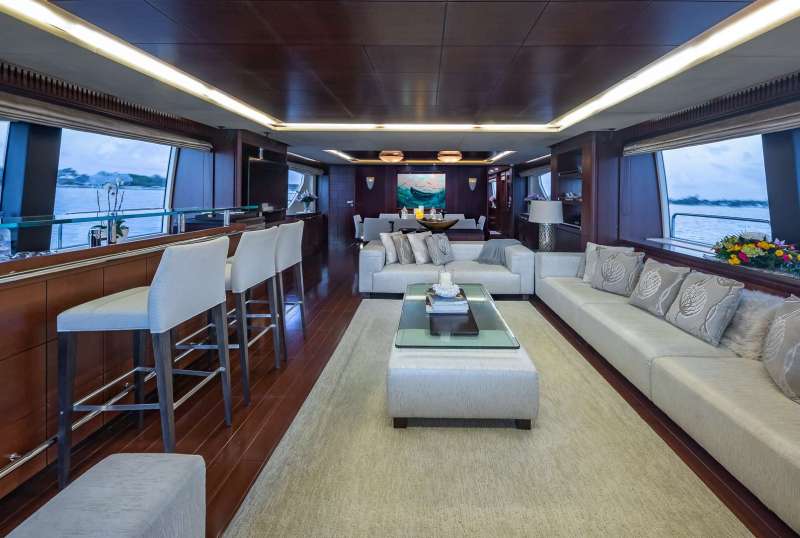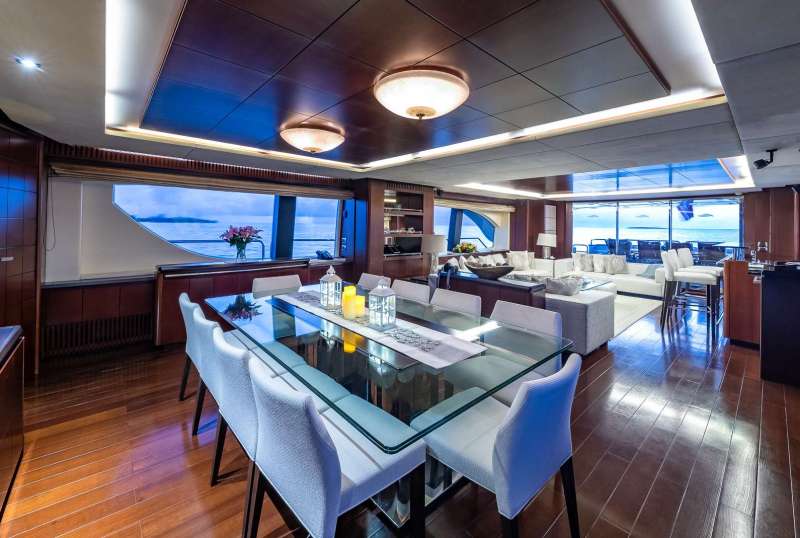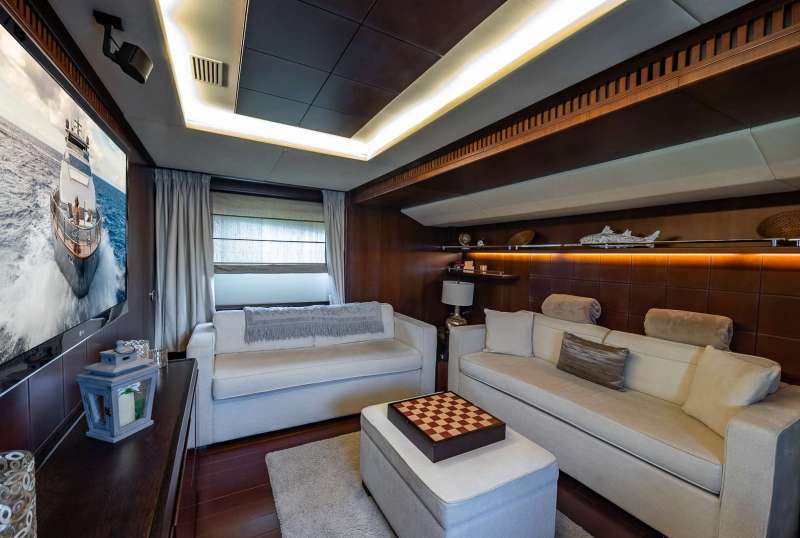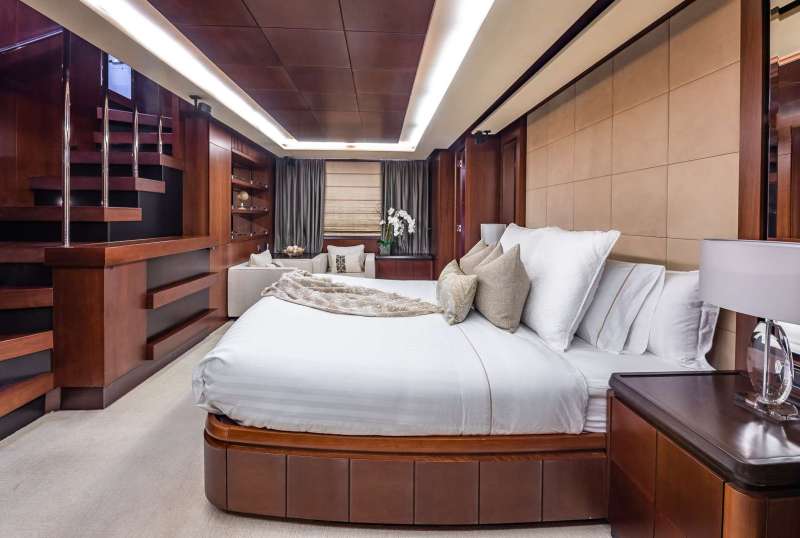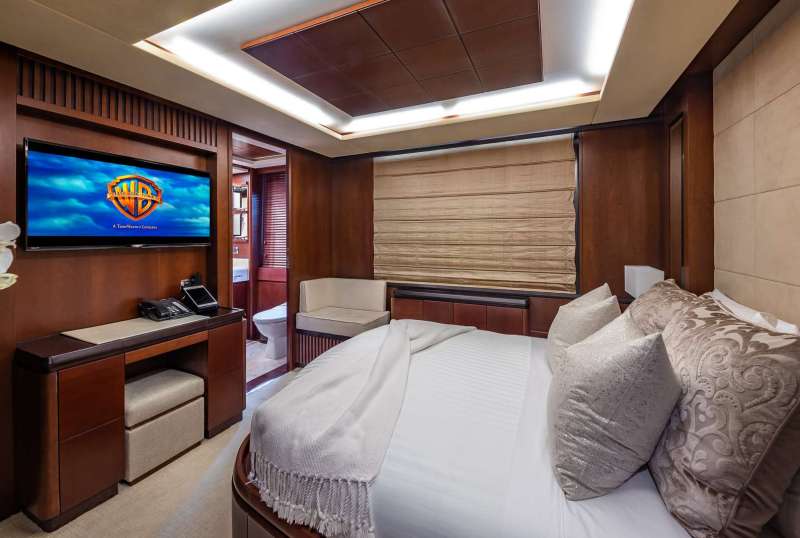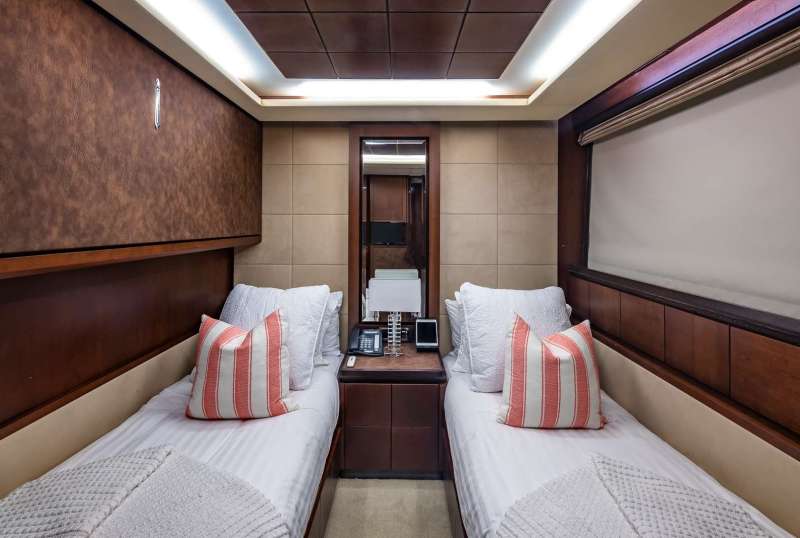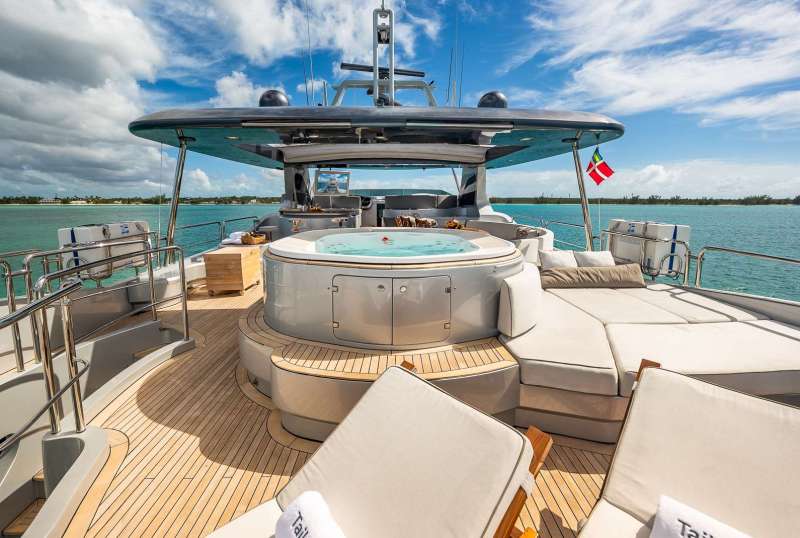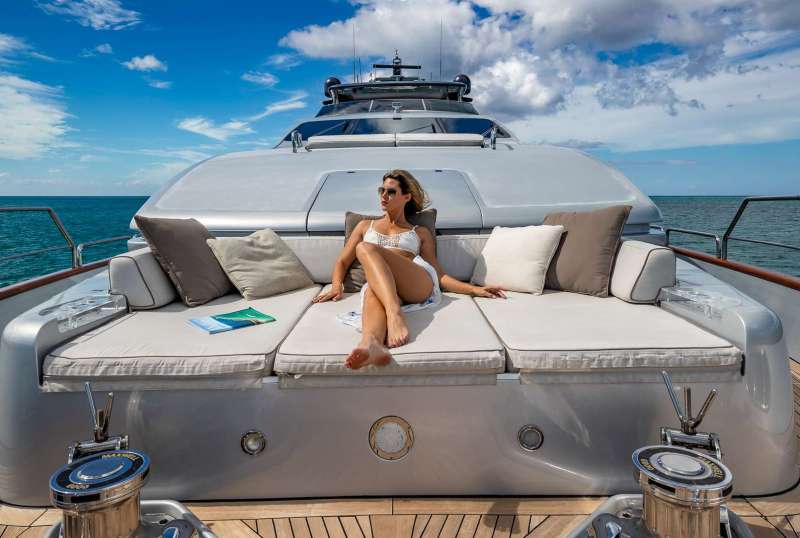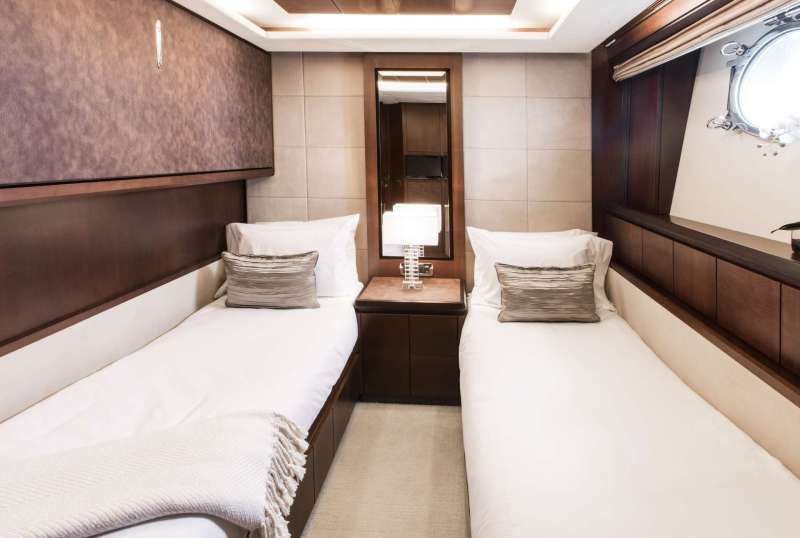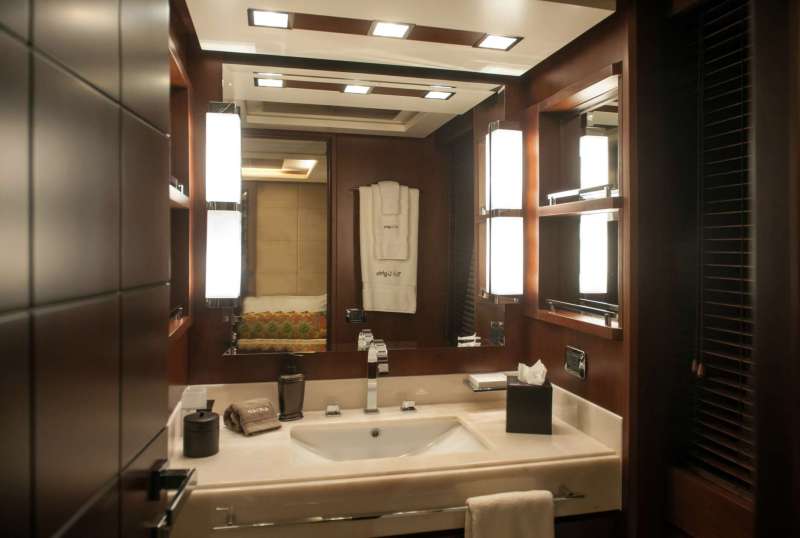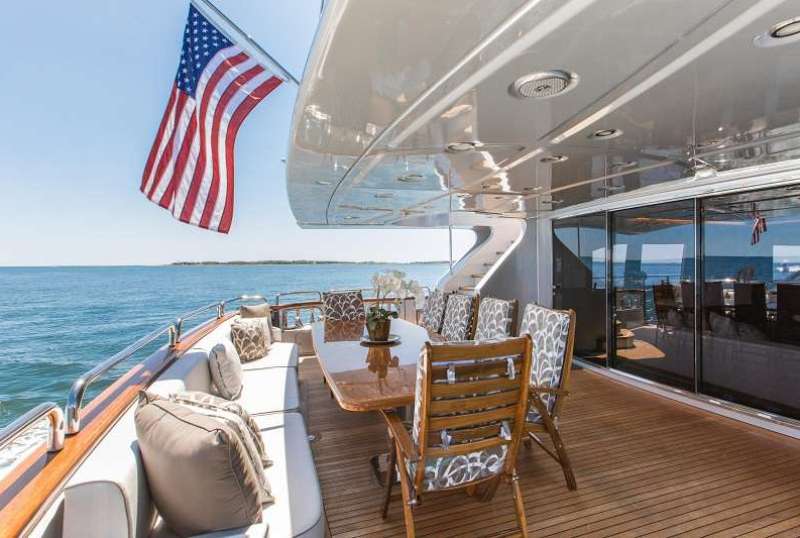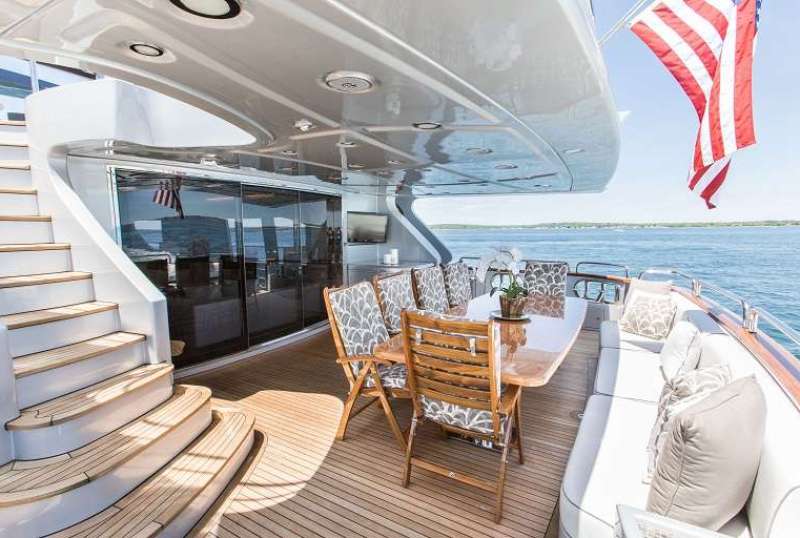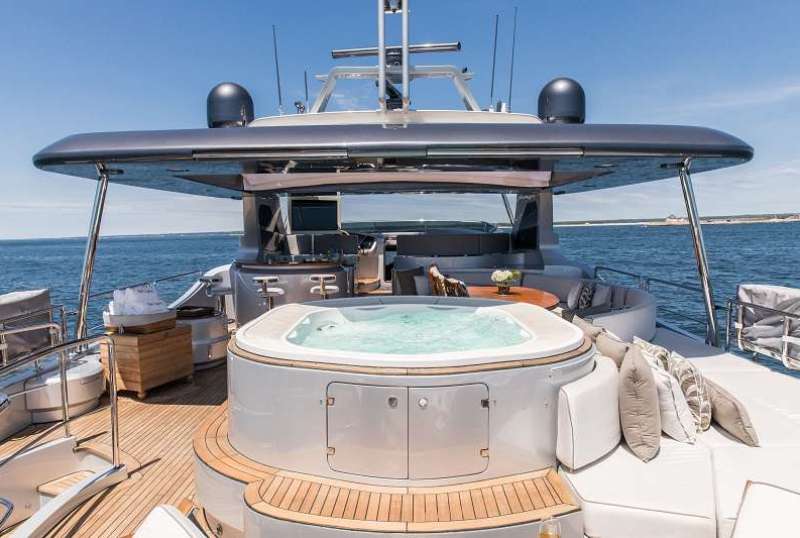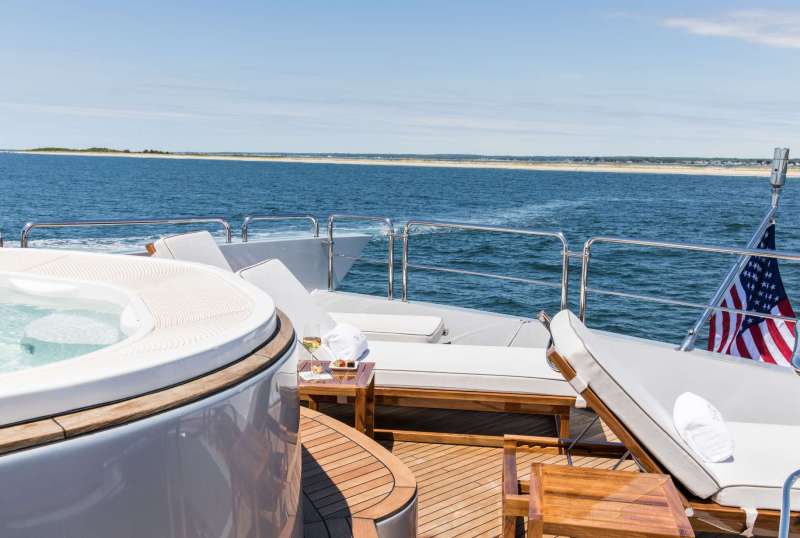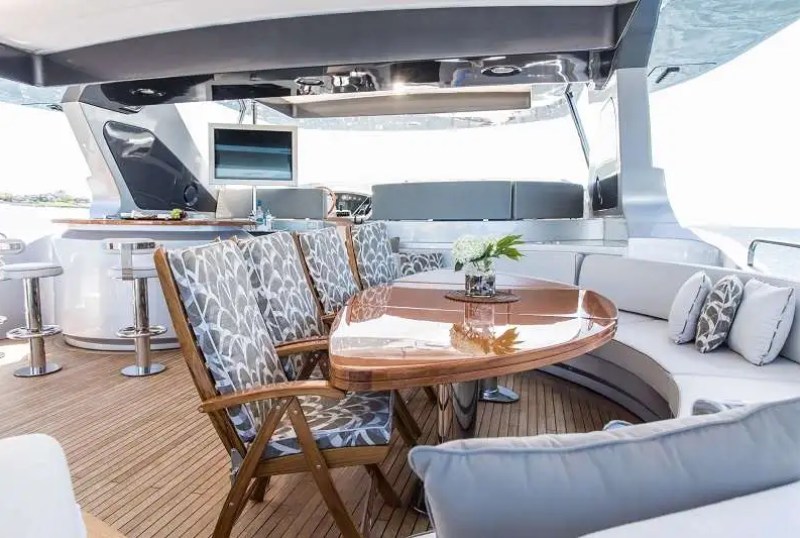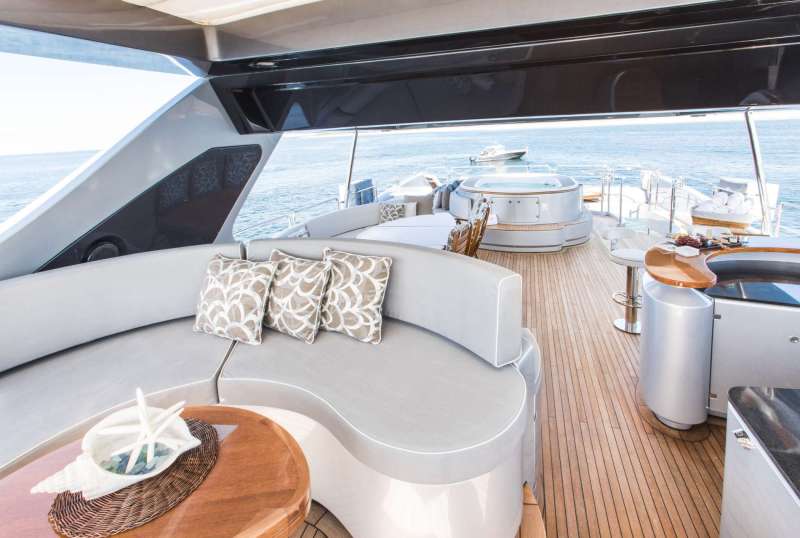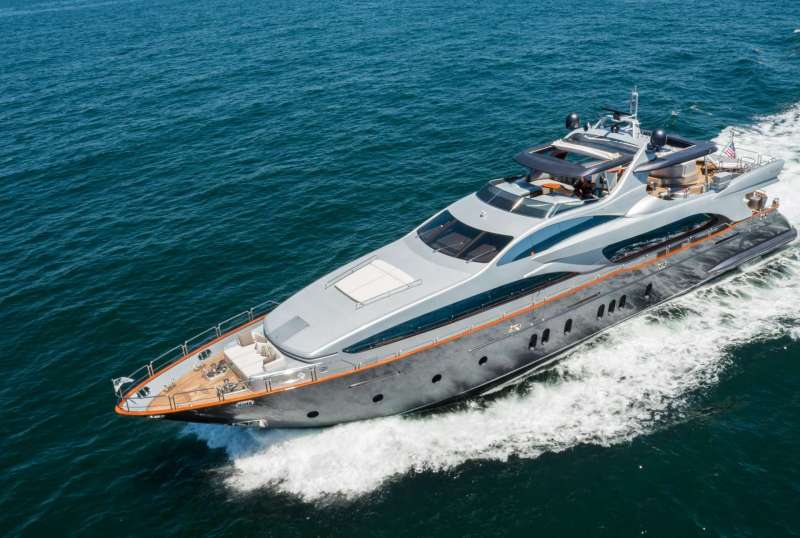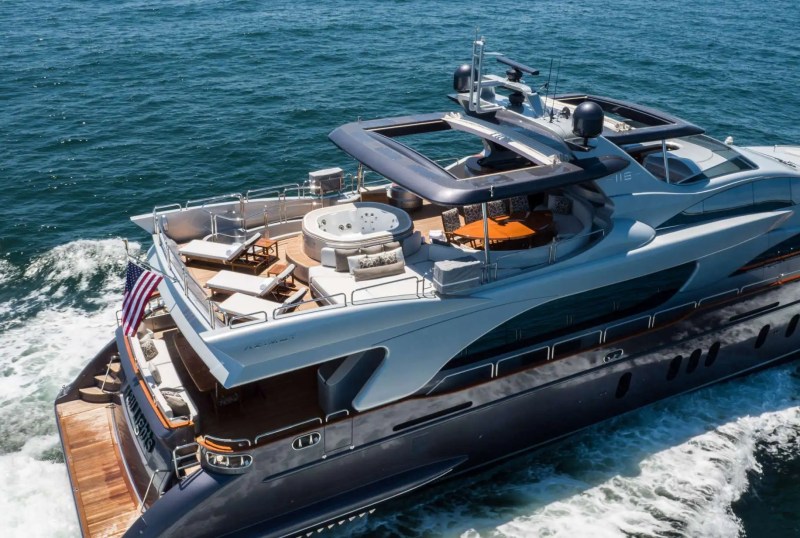 TAIL LIGHTS
From $80,000/week
5 cabins
116 ft
Azimut
12 guests
Refit: 2021
80 US Gall/Hr
5. ANOTHER ONE| 112 FT
If your main goal for the BVI charter is enjoying the sea, ANOTHER ONE is the perfect boat for you. Her highlighting feature is the enormous beach club design with opening balconies to port and starboard, almost all past clients mentioned doing meditation, yoga, or gazing at the stunning sea from there. Unlike regular sofas of other featured yachts, the saloon has a wide interior seating arrangement beside window walls to enjoy the breathtaking BVI with the comfort of AC.
ANOTHER ONE's 6'2" draft allows the charterers to explore the hidden gems of the BVI coastline and anchor anywhere. As the guests will never run out of places to visit, the natural colors inside the vessel ensure the guests can rest after a long day of activities. If you want to lounge most of your time onboard in the open communal spaces, the spacious sundeck with seating and dining zones and the aft deck won't disappoint you.
AMENITIES AND TOYS
ANOTHER ONE values the well-being of the visitors- offering a fully functional gym that is accessible through the master suite. Her collection of water gears includes the latest tender, Jet Ski, Seabobs, and Snorkeling Gear.
BVI's endless assortment of hidden coves, caves, and secluded beaches made it a perfect location for private beach parties. ANOTHER ONE has a beach party set up, and our experienced crew members are always prepared to throw a personalized event.
6. JUS CHILLN' 3 |108 FT
JUS CHILL'N 3 was designed for ultimate relaxation after water activities, fishing, and island hopping—the interior calms the guest with a soothing blue tone reminiscent of the sea. We had rave reviews about the Primary Suite featuring window walls that flood the space with natural light during the day and a breathtaking view of the starry sky at night. Upon entering the main salon, the guests get charmed by the generous seating arrangement and dining area adorned with vibrant artwork and light-accented woods.
JUS CHILL'N 3 has multiple communal spaces for recreation. The sky lounge draws in the tired charter guests through comfortable seating, panoramic ocean views, and a large television. If they want to enjoy the sea breeze and the shoreline, the bridge deck has enough couches, chairs, and loungers to sprawl over.
AMENITIES AND TOYS
JUS CHILL'N 3's sundeck Jacuzzi maximizes privacy while allowing visitors to enjoy the stunning coast. If you are more interested in the thrill than the chill, her extensive water and land sports collection –30′ Tender, Electric Bikes, Electric Scooters, SeaBobs, SUPs, various Inflatables, Wakeboard, Towable, Snorkel Gear- can keep you occupied for days.
As the crew members are avid fishermen, they help the beginners to catch a fish using high-quality Fishing Gear (Tiagra 30 Wide Trolling Rods, Spinning Rods, Bottom Fishing Gear). We often had charter guests who couldn't try out half of the available toys and gear because of time constraints and wanted to come back again.
7. VIVACE| 102 FT
VIVACE's structure, similar to a superyacht, creates an expansive living arrangement where guests don't feel cramped. Her full-beam master suite and enormous (76 square meters) flybridge deck ensure comfort indoors and outdoors. The modern interior space full of glass brings the sea inside, while the common zones check all the boxes of onboard fun. Previous visitors of family and friends praised the clever design of spaces that don't evade personal moments.
VIVACE holds multiple areas where guests can relax under the sun or shade. Even when it was time for dinner, it was hard for the crews to make the guests come out of the 2,000-litre heated plunge pool. VIVACE will let you enjoy the BVI at its best while the dedicated crew of 5 makes you feel at home. They can guide you onboard about the amenities and when is the right time to enjoy the panoramic views.
AMENITIES AND TOYS
VIVACE's versatile games, gears, and toys will always keep a group of guests occupied- no matter how different their tastes are. Older guests loved the small-scale golfing and rehabilitation exercises at the Technogym Bench. In contrast, the full beach setup and games are perfect for group bonding and collective memories.
You can slide straight to the water from VIVACE's hydraulic swim platform, which lowers into the water. Her toys and tender collection include a 32ft towed tender (completely equipped for fishing), Waverunner, Seabobs, e-foil, inflatables (paddle boards, party island), and a selection of snorkeling gear.
8. CHILLAXIN| 90 FT
CHILLAXIN offers a warm, welcoming, and elegant design incorporating light oak wood with high-gloss ebony and walnut molding. Prospective clients often asked us if CHILLAXIN would be comfortable because of her size. However, their qualms evaporated upon arrival seeing the vessel's atmosphere– large windows, tall headroom, ample storage, and a spa-like en-suite bathroom at the master suite.
CHILLAXIN blends relaxation and luxury seamlessly, both inside and out. The sky lounge provides entertainment with large windows, a helm station, and an indoor bar. The main deck aft showcases an alfresco dining area leading to a beach club with a lounge, bar, and water access. We threw many outdoor movie nights onboard as the yacht's vertical bow provides additional seating and a movie projector.
AMENITIES AND TOYS
CHILLAXIN stands out with its wide range of water toys: 33′ chaseboat with fishing gear, SeaBobs, E-Foil, SUPs, Floating Dock, Snorkel Gear, Floats, and Tube. She also has an exceptional beach club with a submergible swim platform. The crew members are pro fishermen who teach about the gears (inshore/offshore, spearfishing, lobstering) and lead even novice guests to their first catch.
After a long day of fishing, water activities, and exploring the Caribbean islands, guests often opted out for the aft deck jacuzzi to soothe their tired muscles.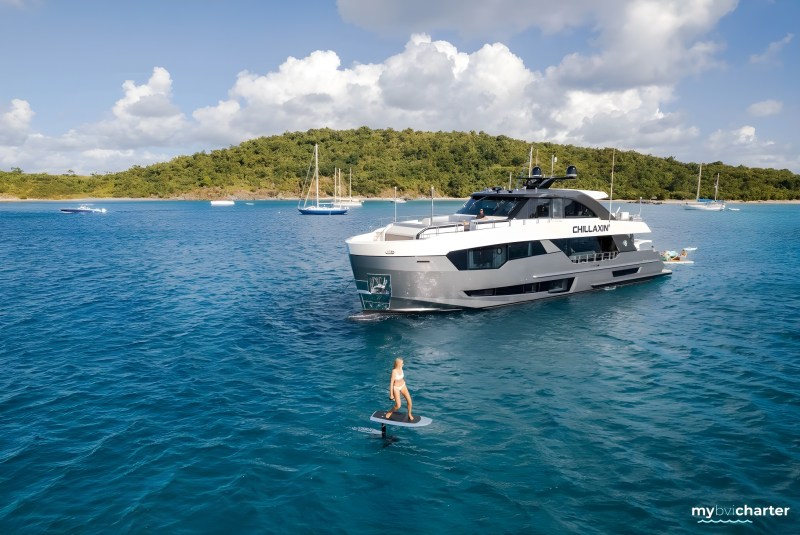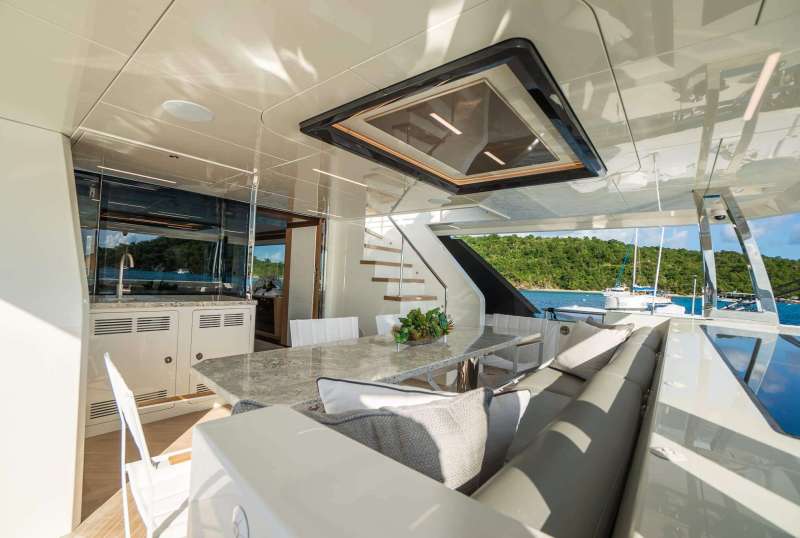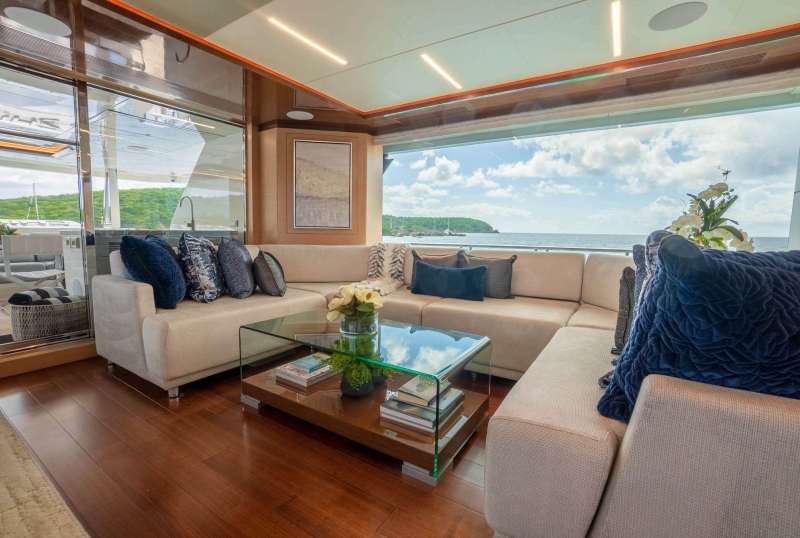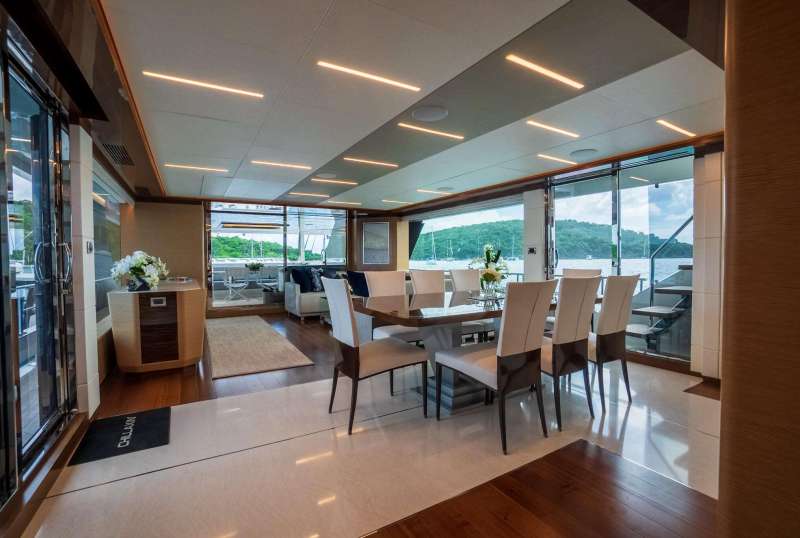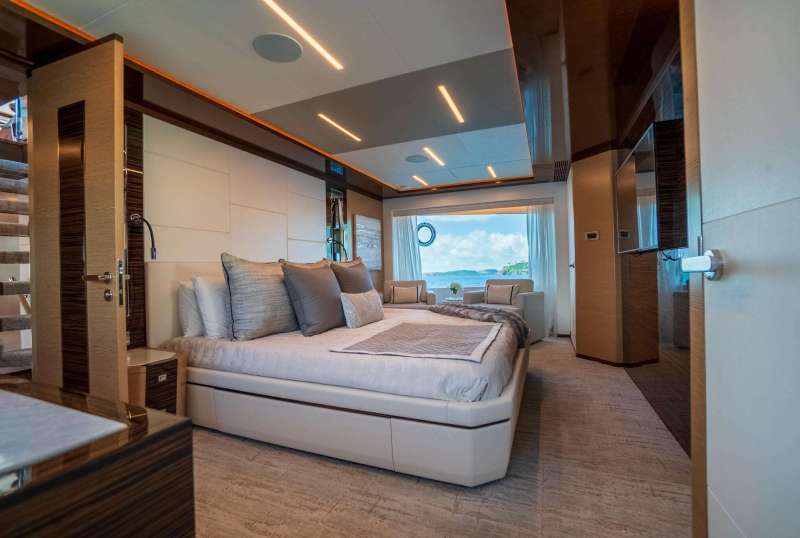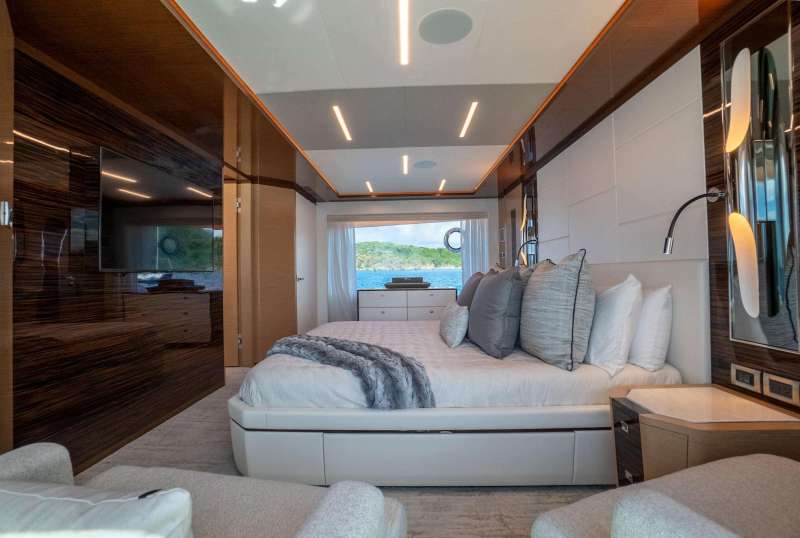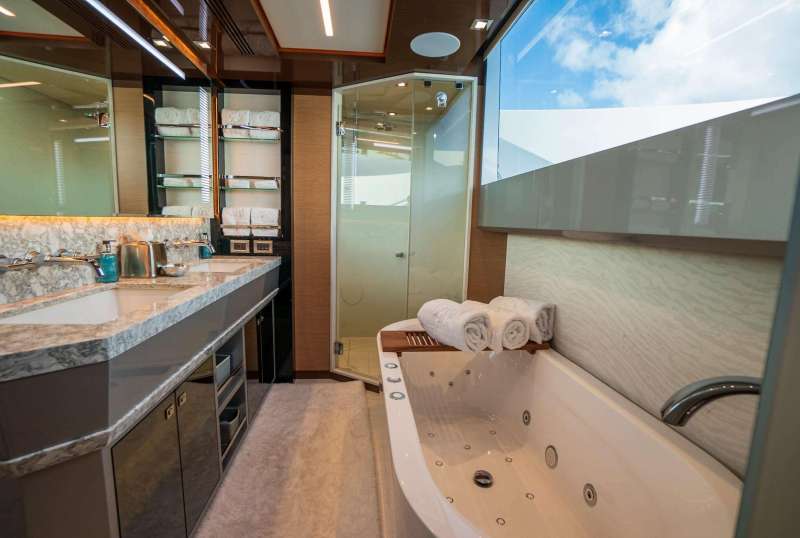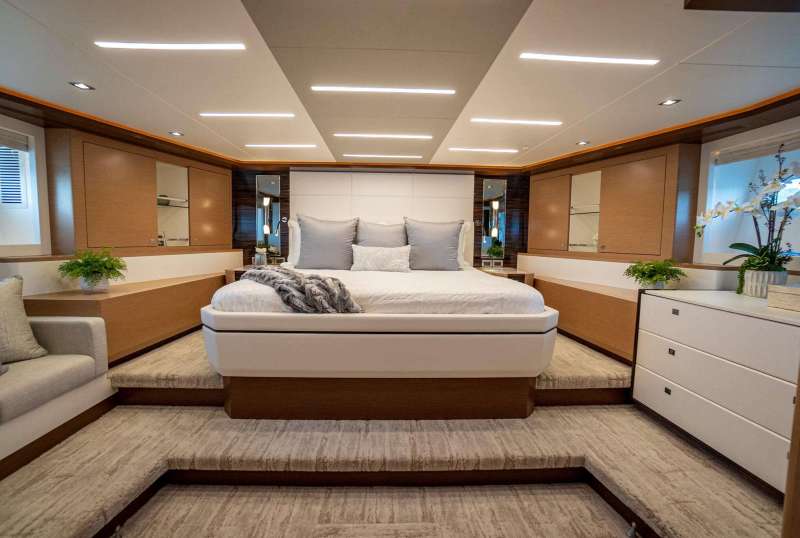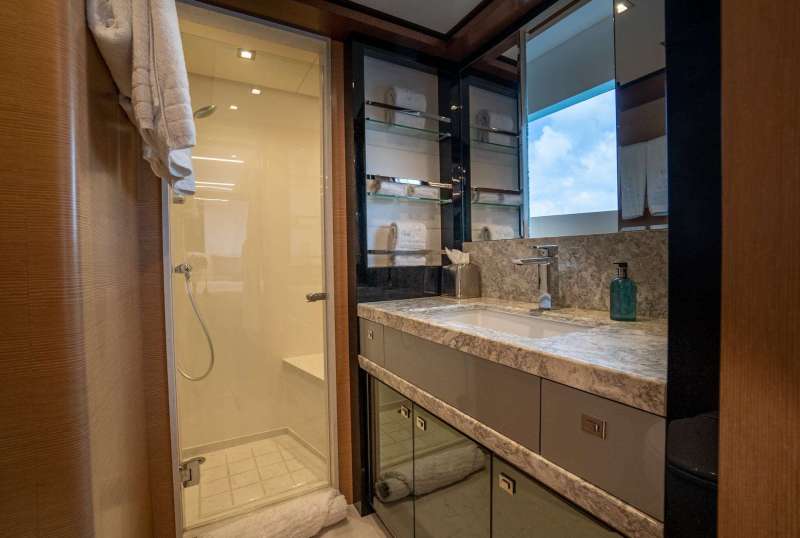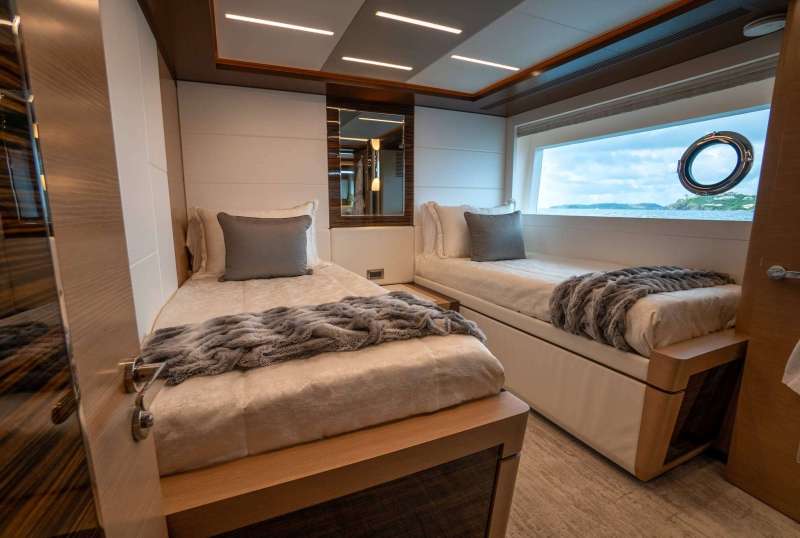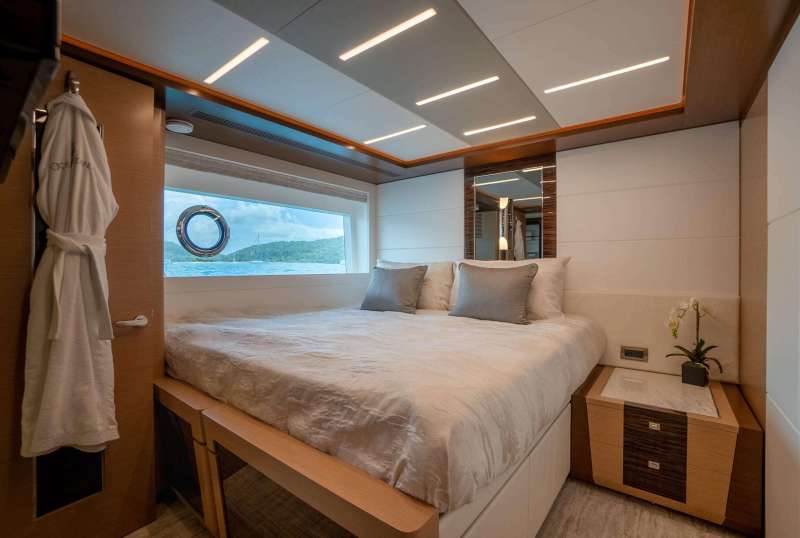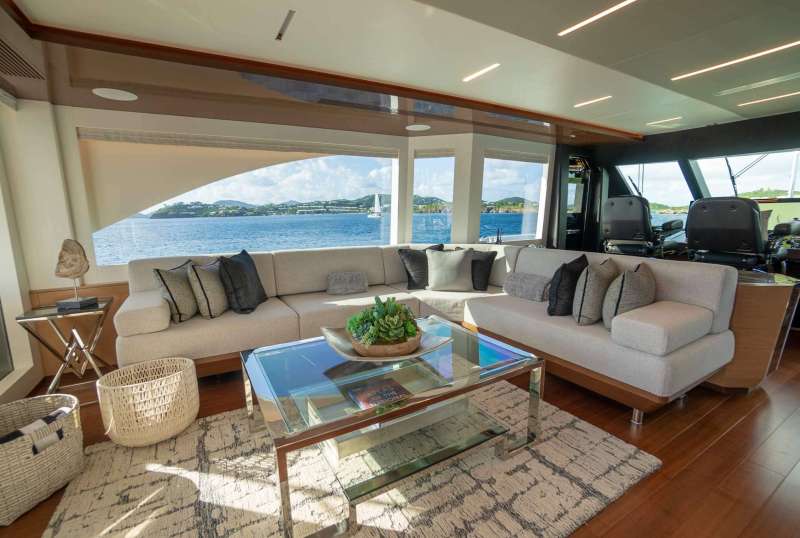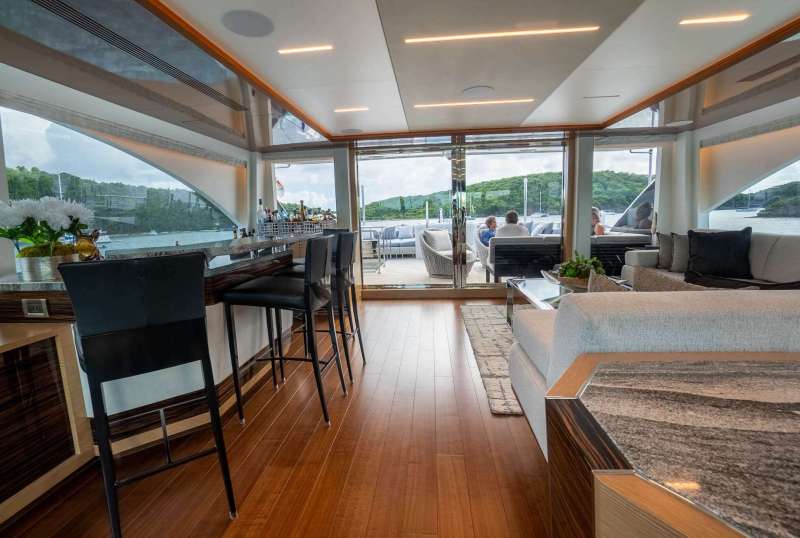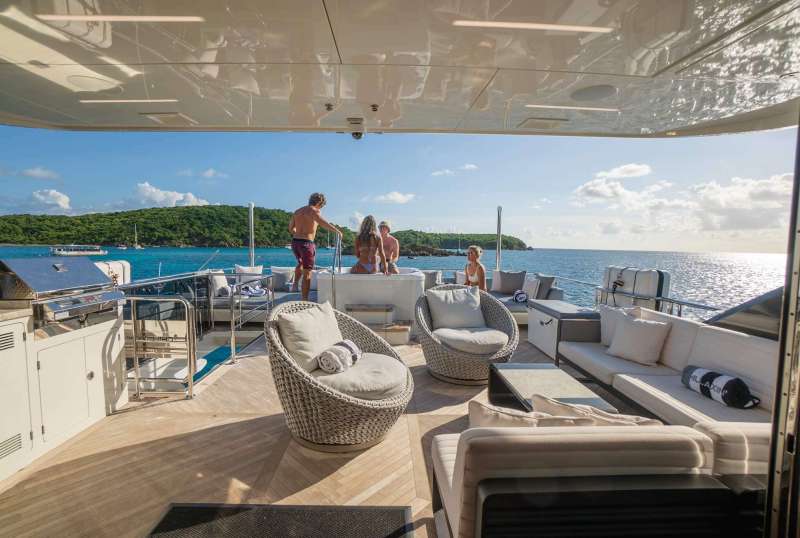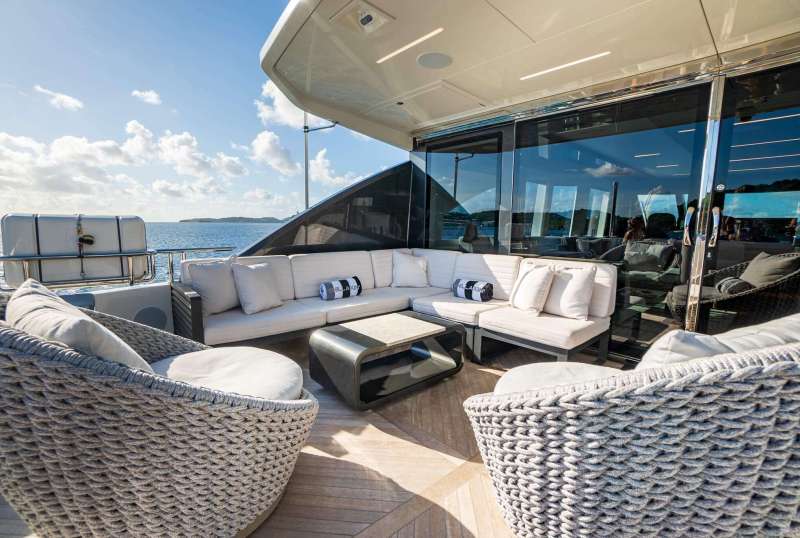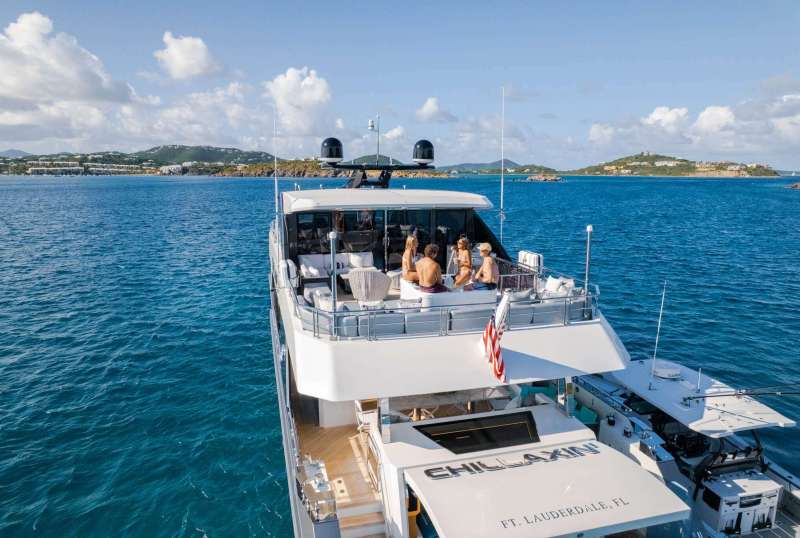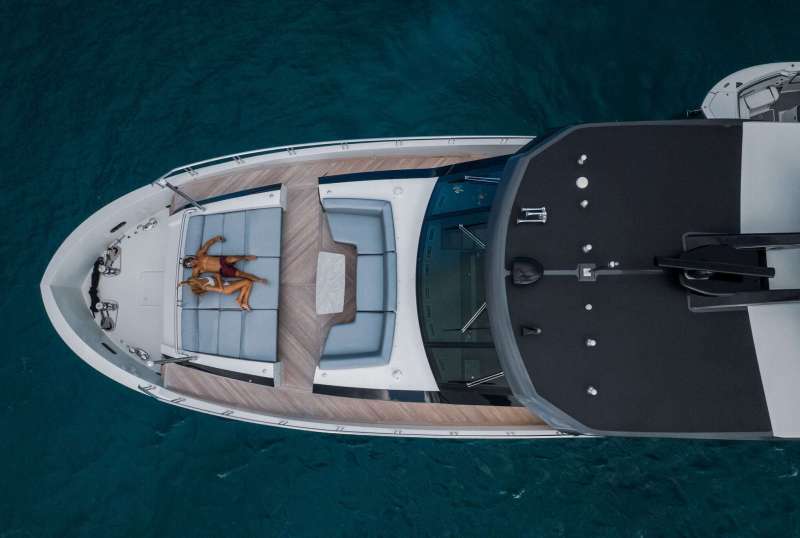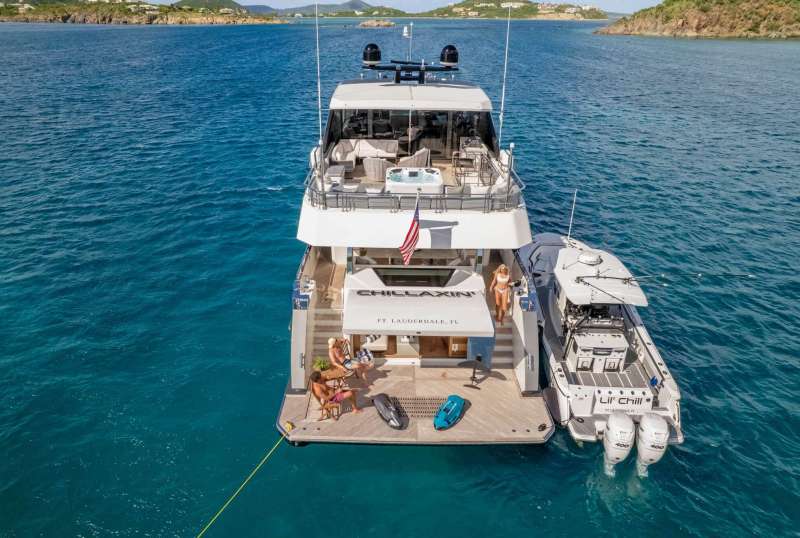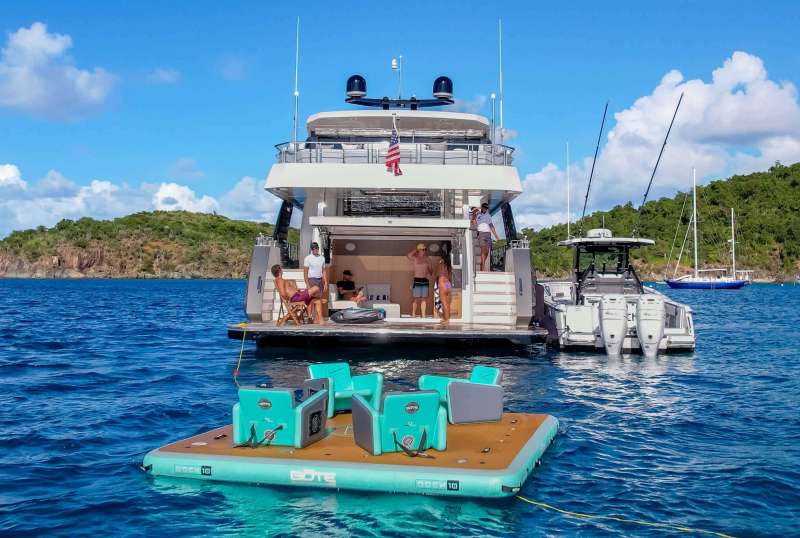 CHILLAXIN
From $85,000/week
4 cabins
90 ft
Ocean Alexander
8 guests
Built: 2021
75 US Gall/Hr
9. RIO| 90 FT
Like other boats from the popular Horizon FD series, RIO impresses charterers with her contemporary style, flexible cruising speeds, and spacious interior volume. We received great reviews about the earthy-toned furniture and eye-soothing color schemes from the visitors, as it helped them have a good night's sleep. Despite being a 90-foot vessel, you will be amazed by the ample closet space in every cabin and four options for al fresco dining, which let the guests utilize to have private dinner dates.
Unlike the beach clubs of similar-sized yachts, RIO has a spacious setting for lounging around or jumping into the water through the swim platform. You can also enjoy the multi-leveled deck spaces or drink on the upper deck or at the beach club. Another standout point of RIO is her international crew members, who, apart from being experienced sailors, are great at taking care of the visitors with exceptional skills. Her stewardess can nurture children and older adults, courtesy of her specialization in nursing care. Moreover, RIO's crew includes a yoga specialist who helped former guests find calm and inner peace through their yacht charter vacation.
AMENITIES AND TOYS
RIO is a seasoned fisherman's dream yacht charter due to the captain and available gear. Her captain has 27 years of maritime experience, including fishing and diving expertise. He is known to help a fishing enthusiast find a big catch in the BVI. RIO prides herself on the latest toys, underwater gear, and tender – Zodiac tender, Seabobs, Flipboard, SUPs, Snorkeling gear, Scuba diving gear, Dive compressor, Spearfishing gear, and Ocean pool.
If guests want to play at a secluded beach or onboard, we can provide assorted table games and volleyball sets to entertain them. Upon trying everything RIO has to offer, you will get exhausted for sure. However, her deck Jacuzzi is enough to relieve stress and improve sleep quality.
10. THE PEDDLER| 86 FT
For a vessel of 86 feet, THE PEDDLER amazed the charterers with remarkable features contributing to its luxurious, comfortable, and spacious design. The modern and efficient layout of cabins and common spaces ensures a pleasurable stay for a small charter group (8 people) while the crew of 4 takes care of every necessity. Past guests living at her King Cabin praised the suite for having window walls and a personal balcony, which is commonly seen in superyachts.
THE PEDDLER has sun pads and comfortable sofas on the upper deck. Her modern kitchen enhances the culinary experience and versatile meals for onboard parties and events. The experienced chef can whip anything- even a birthday cake- as per guest's requirements.
AMENITIES AND TOYS
If you want to be the one with the sea – featuring fishing, strenuous water sports, and underwater activities– THE PEDDLER's vast collection will impress you for sure. Guests can try their luck at catching common BVI fishes (Barracuda, Kingfish, Mackerel, Yellowtail Snapper) with the assorted fishing gear. Also, the crew tends to help the newbies with the yacht's assorted snorkeling and diving gears to open the unseen underwater world for them.
In previous seasons, guests who didn't enjoy fishing had the time of their lives with THE PEDDLER's versatile water toy collection. Her collection includes 2 tenders (28' and 18' ), Waverunner, Flite Boards, Jobe Seascooters, SUPs, Kayak, Nauti bouy inflatable Dock, Assorted Towables, and multiple Inflatables.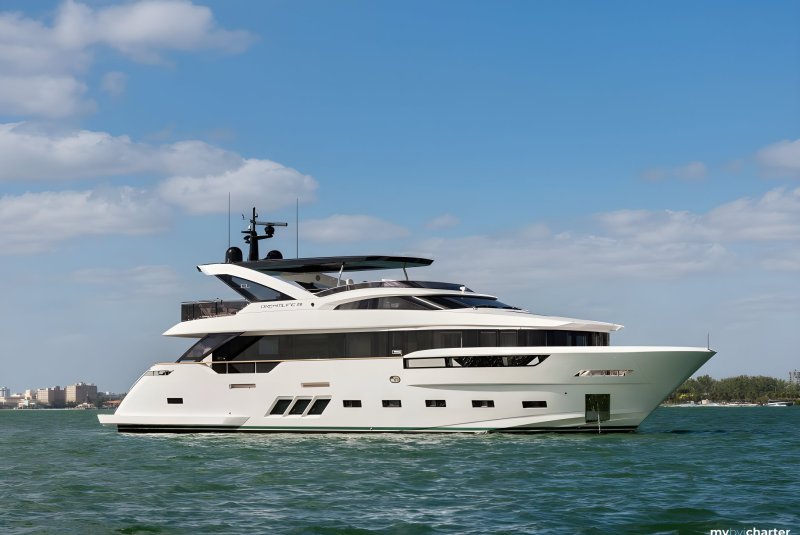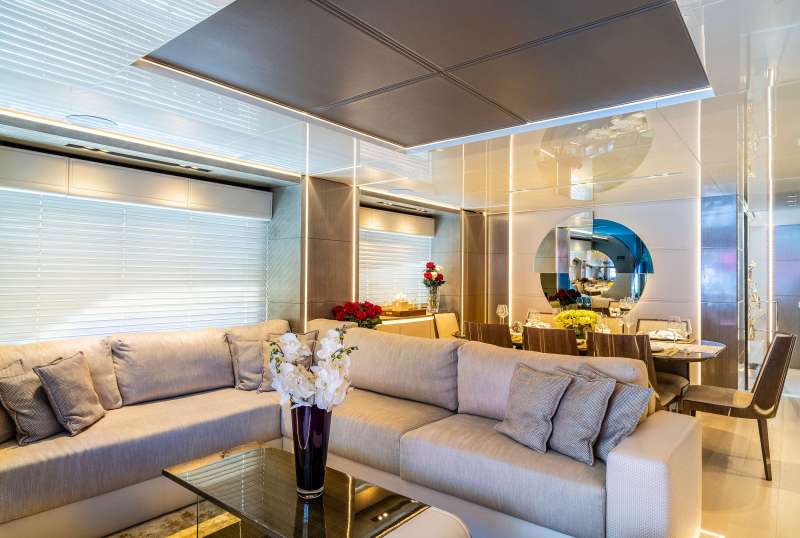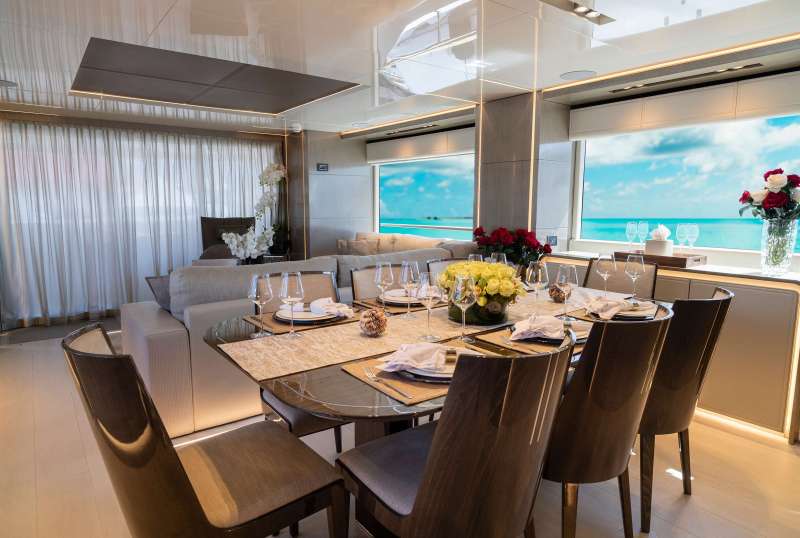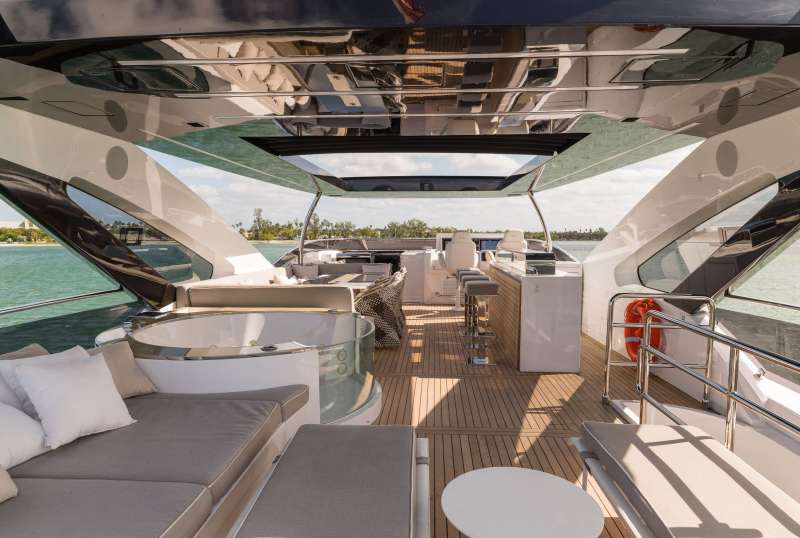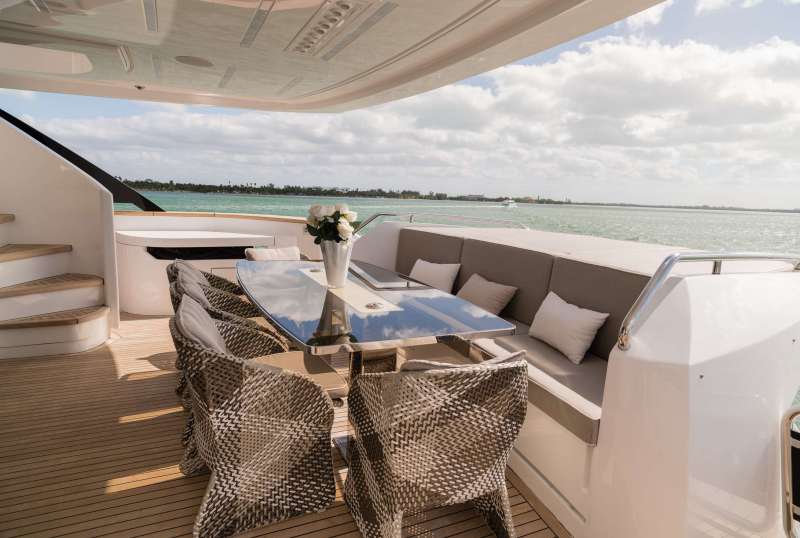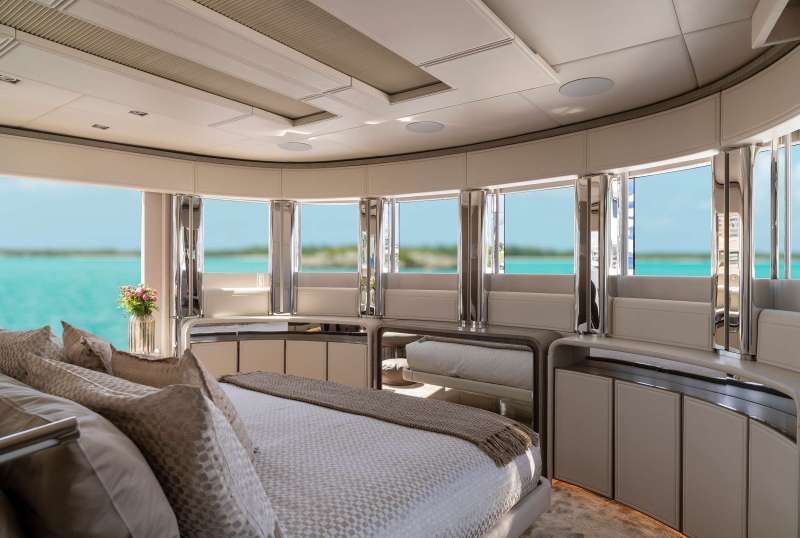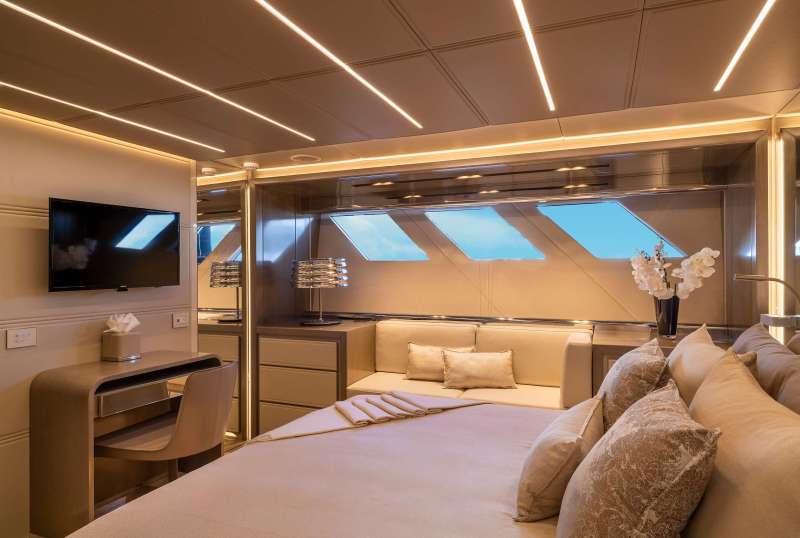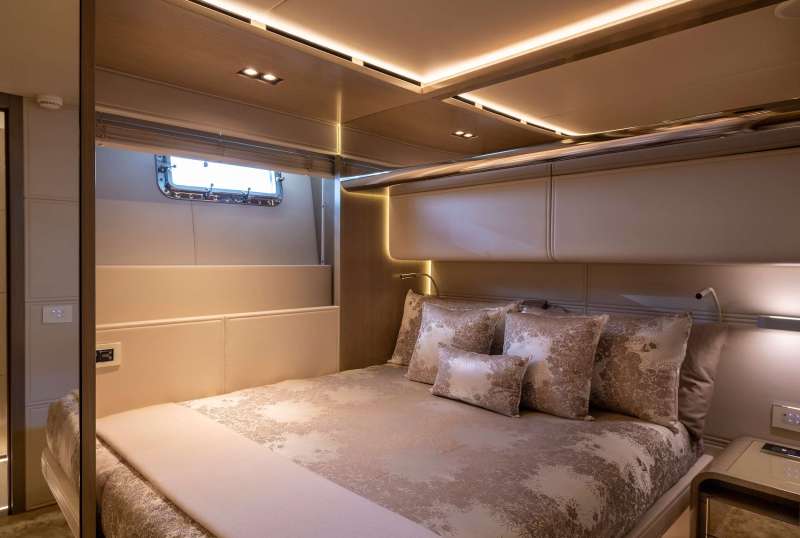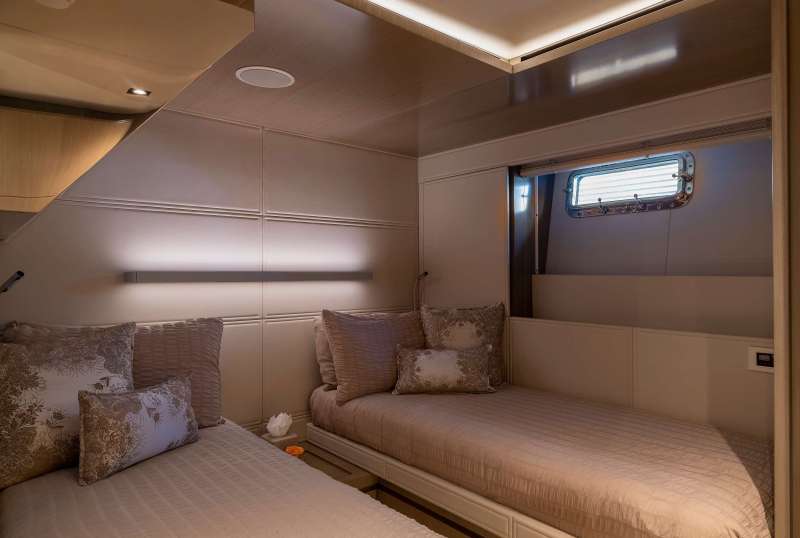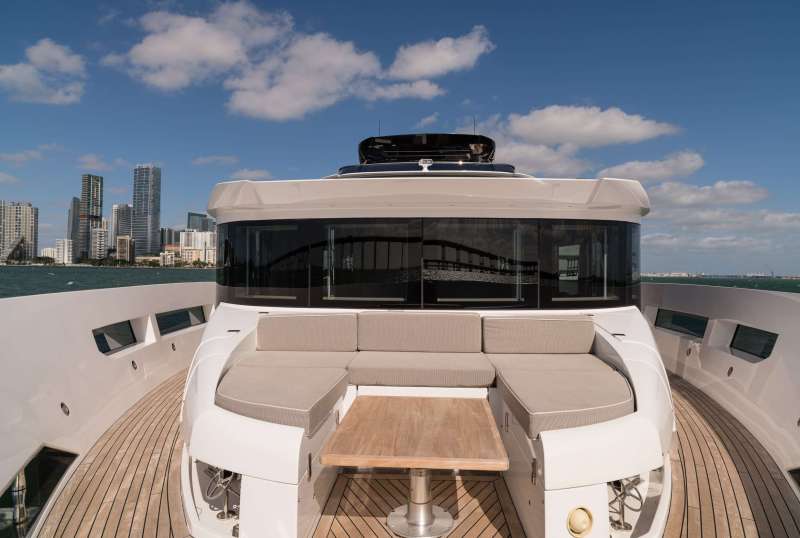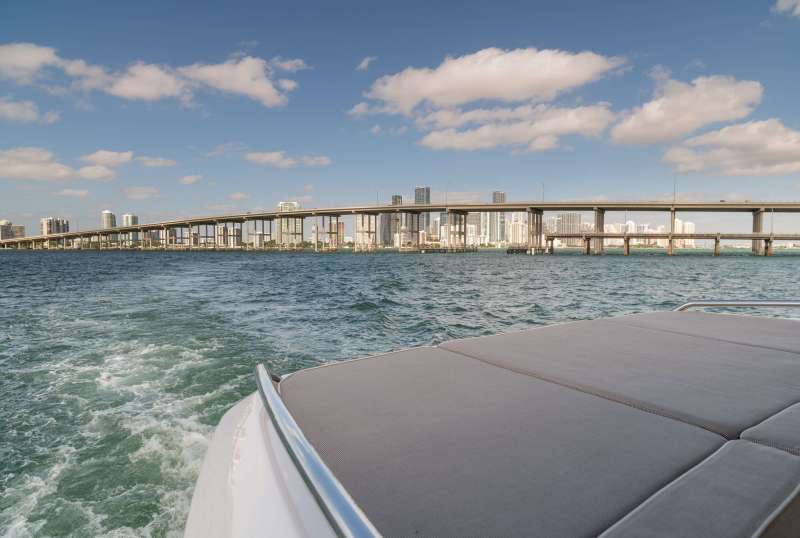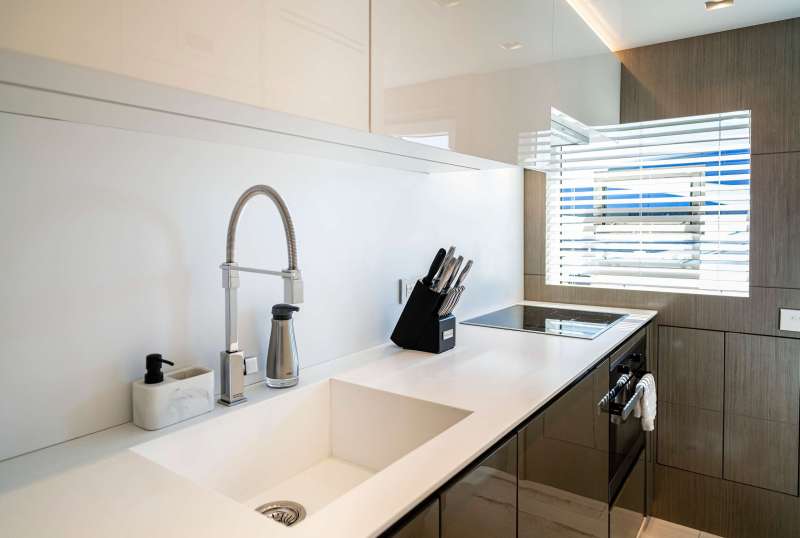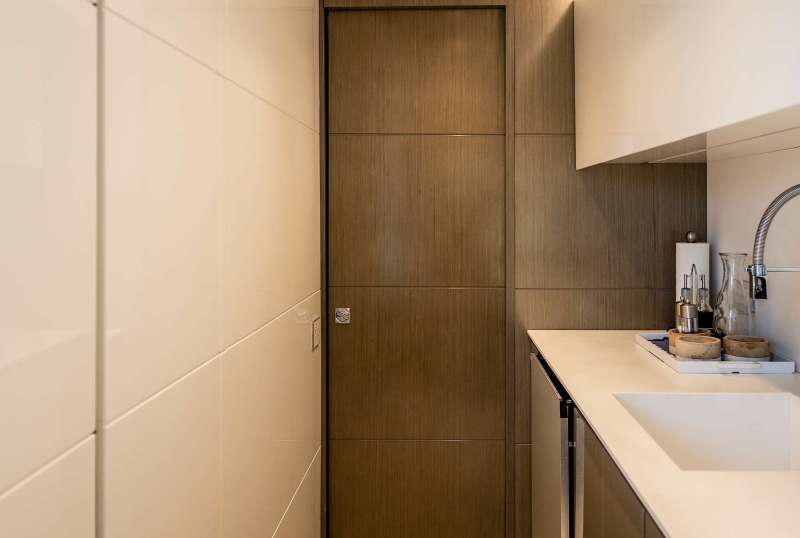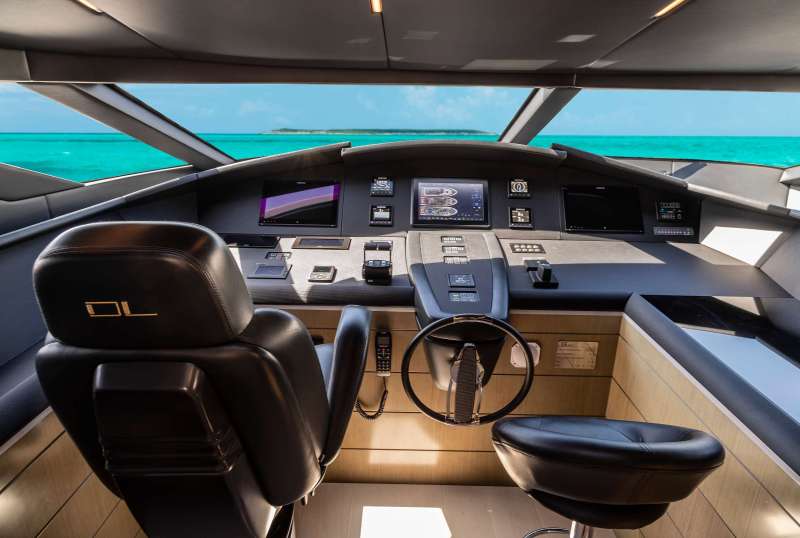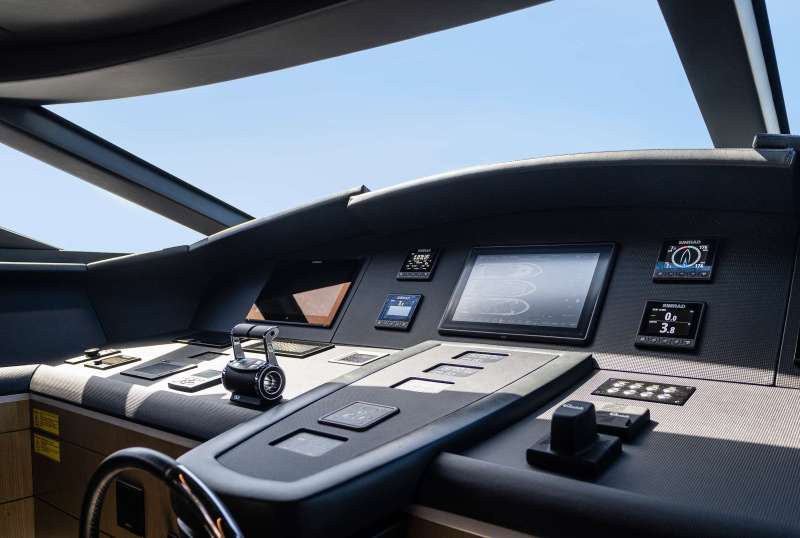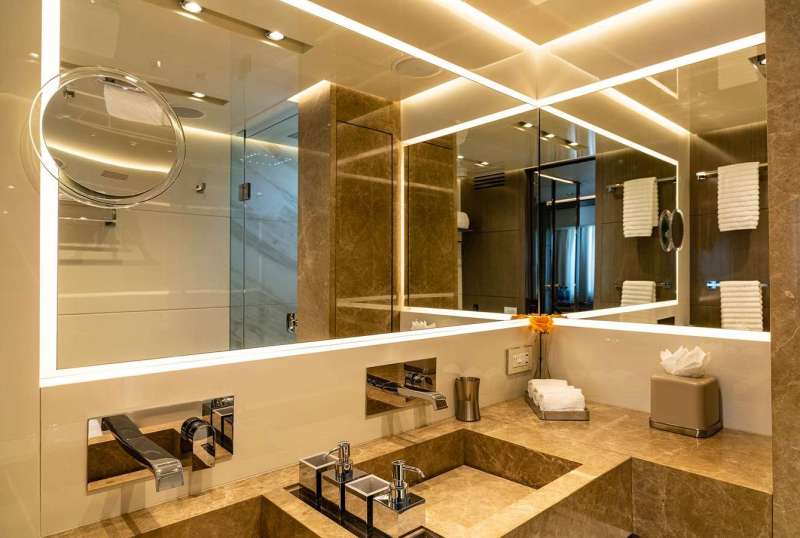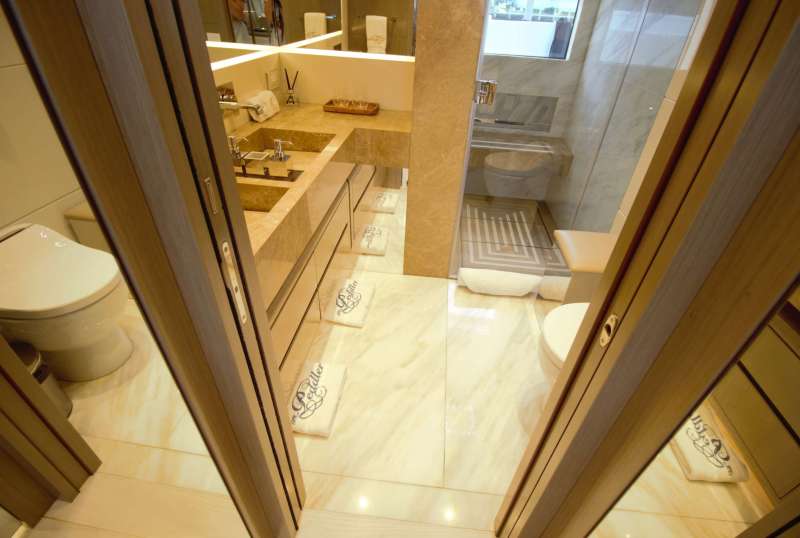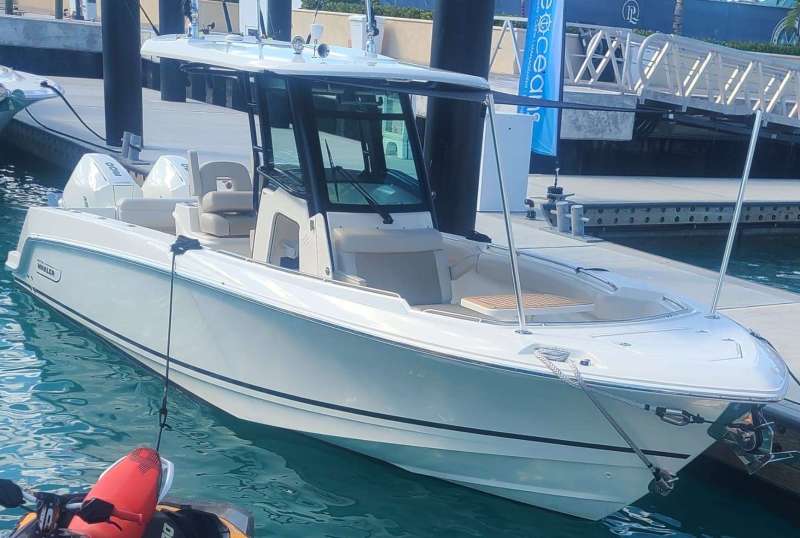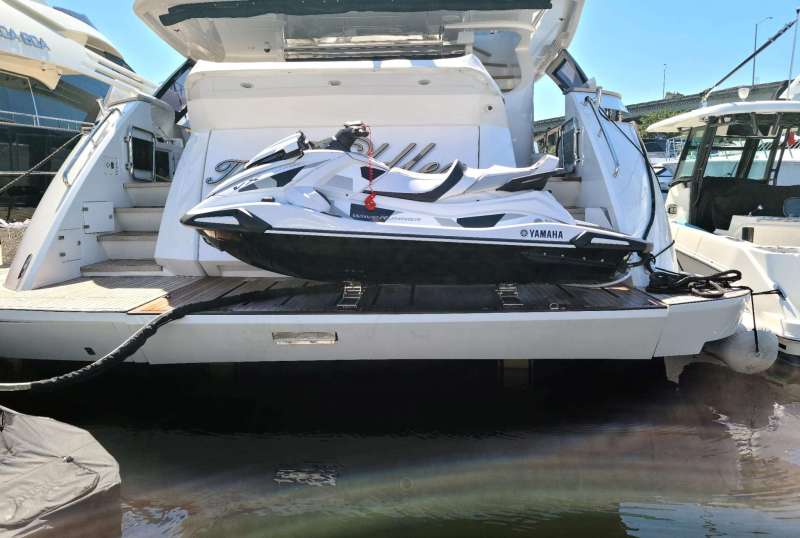 THE PEDDLER
From $65,000/week
4 cabins
86 ft
Custom
8 guests
Built: 2019
200 Litres/Hr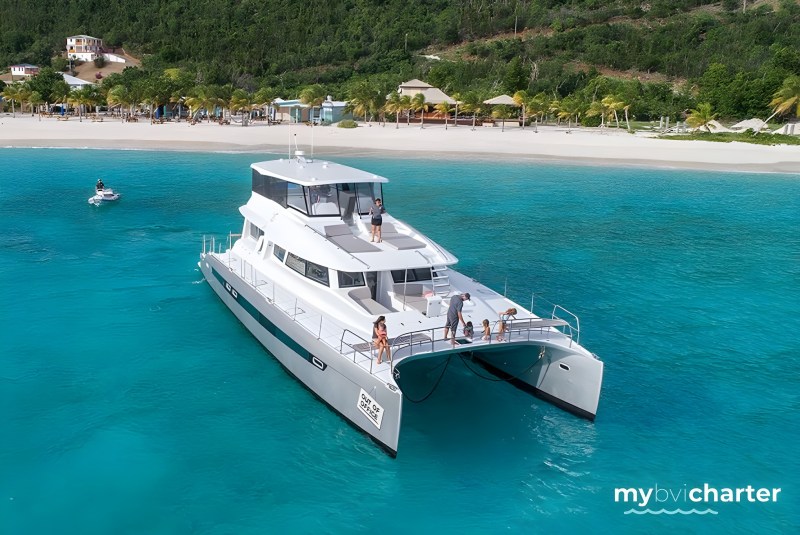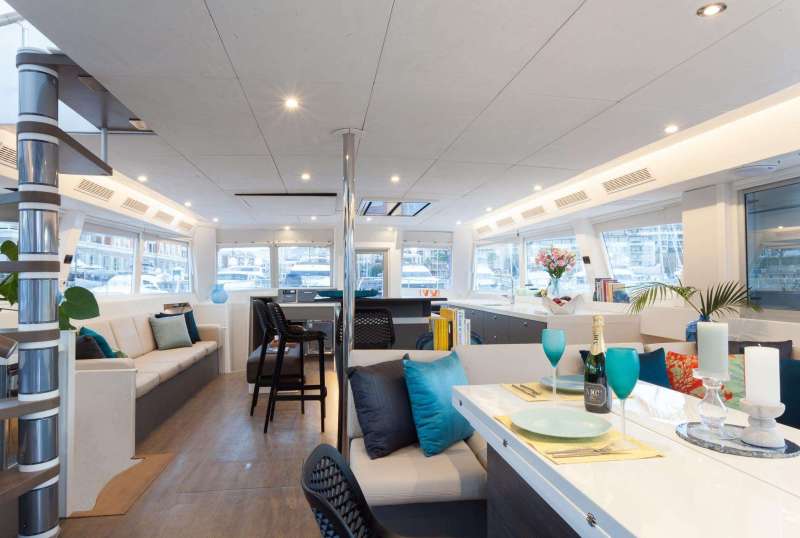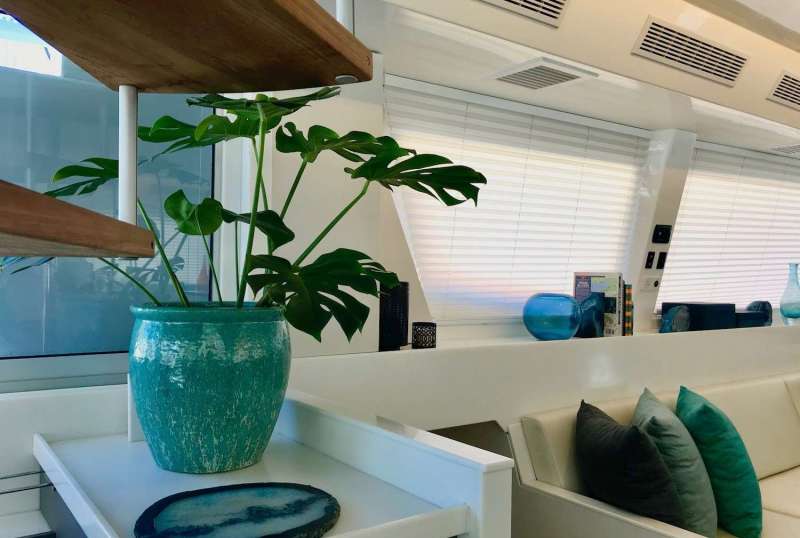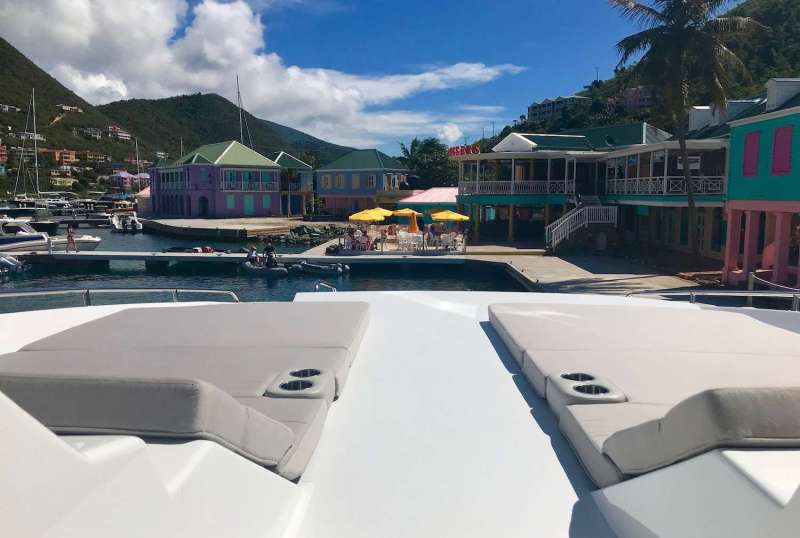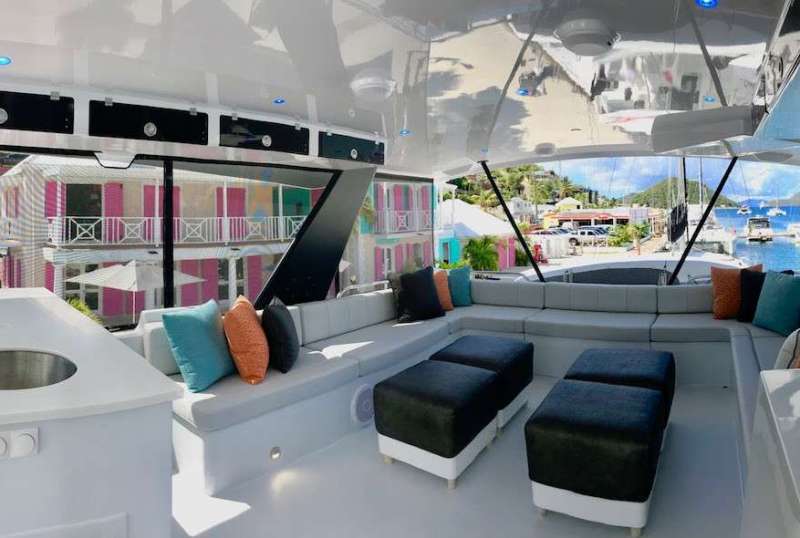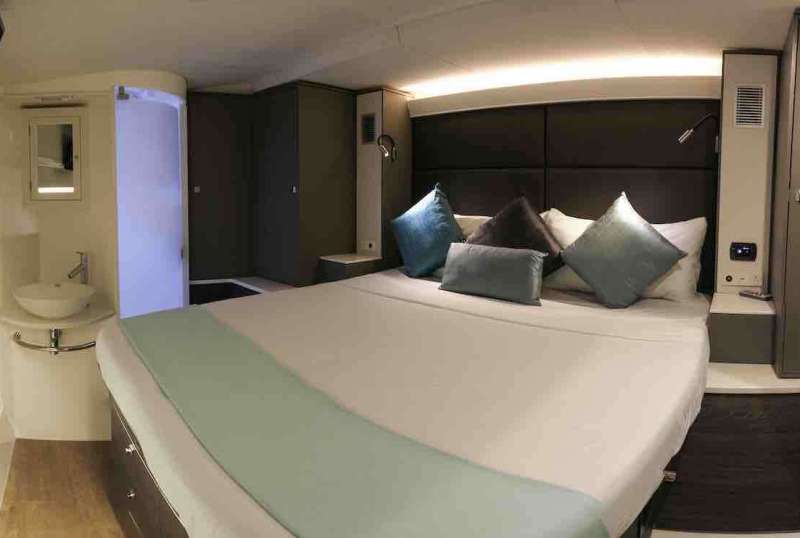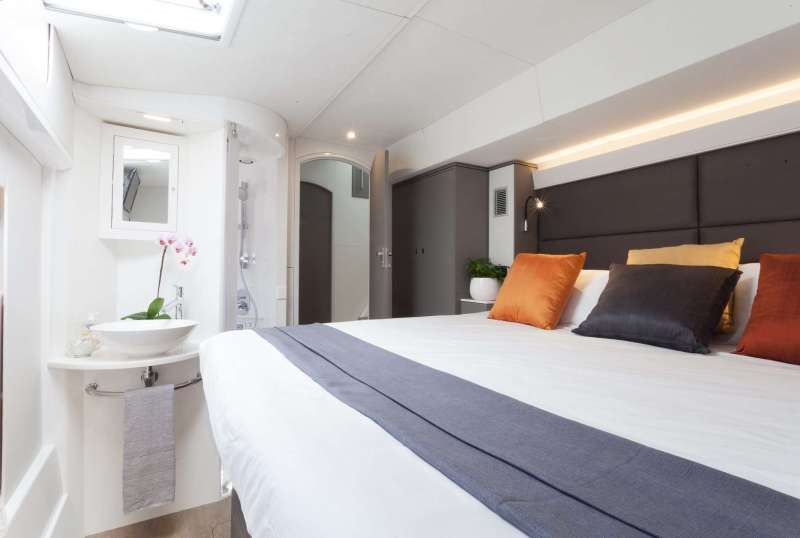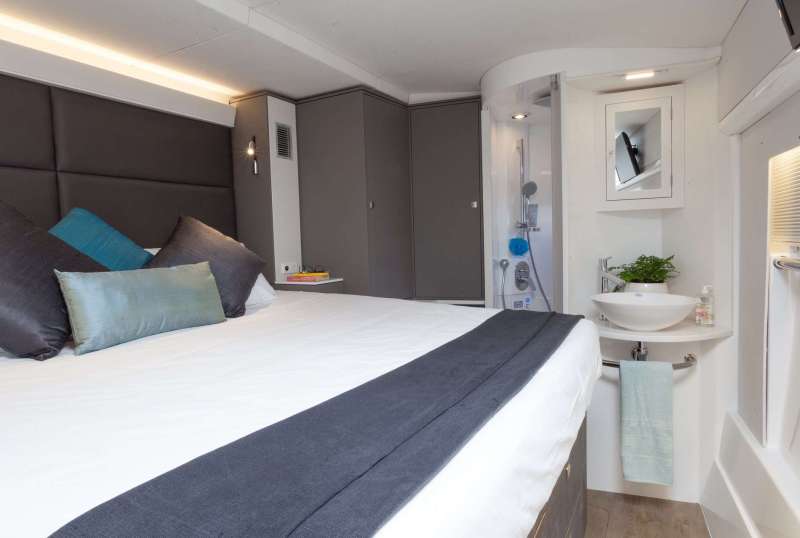 VOYAGE 650 Power Cat
From $45,660/week
6 cabins
65 ft
VOYAGE
12 guests
Refit: 2019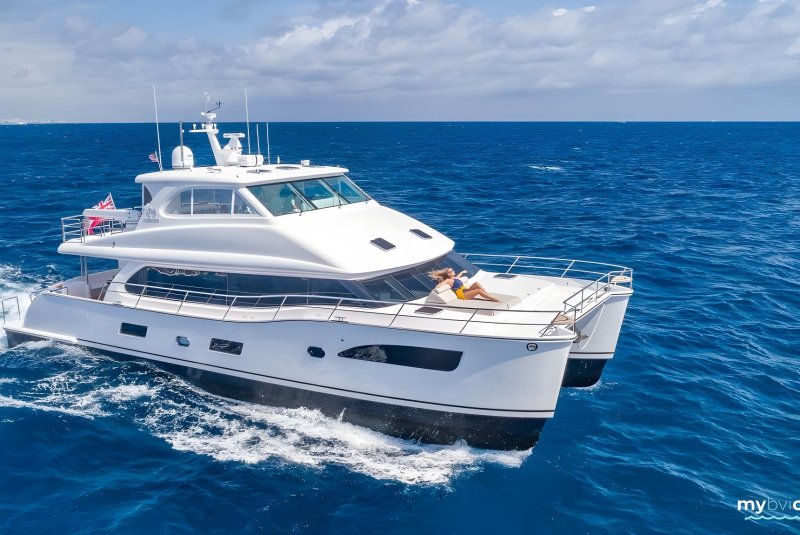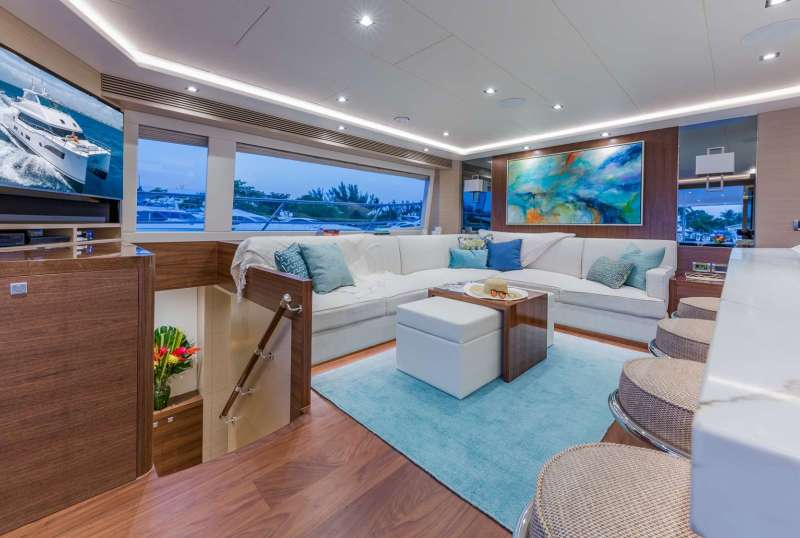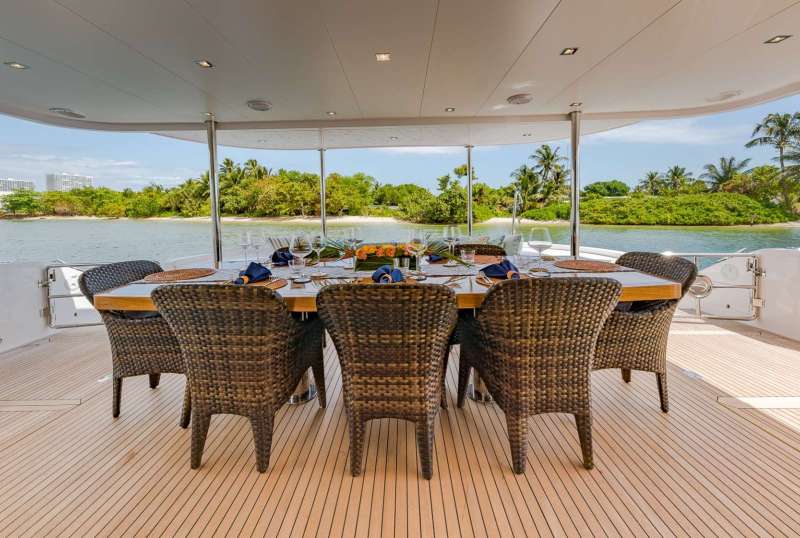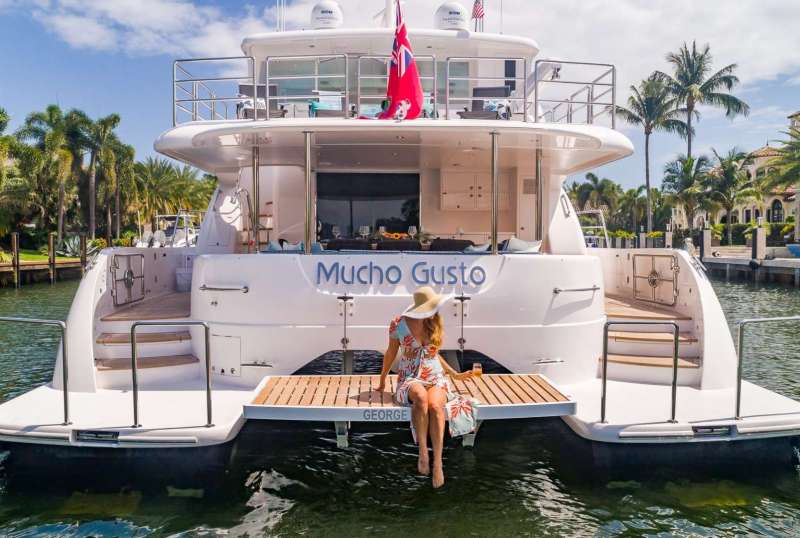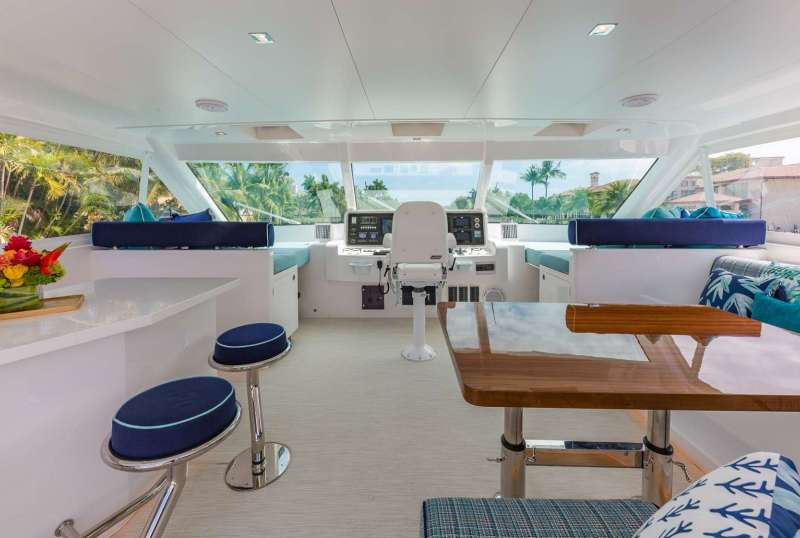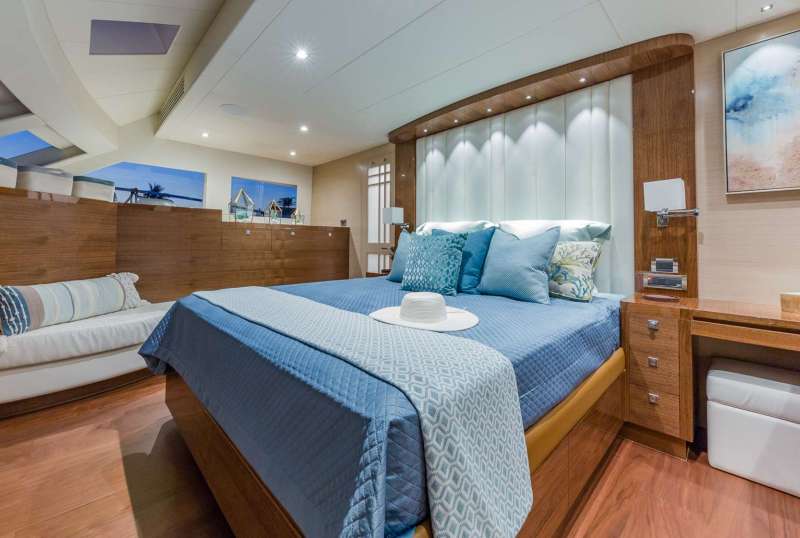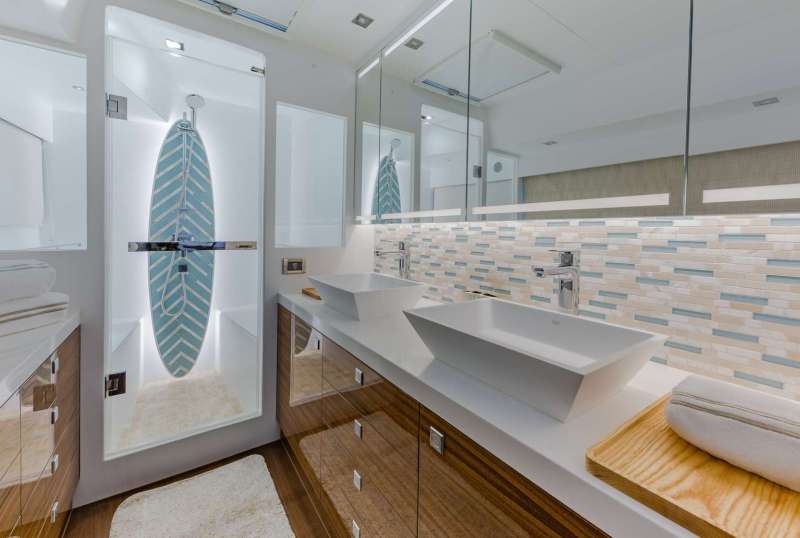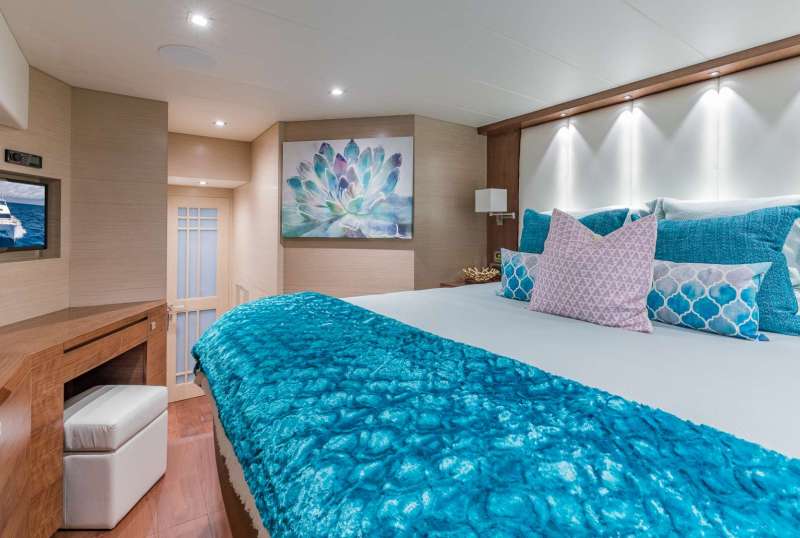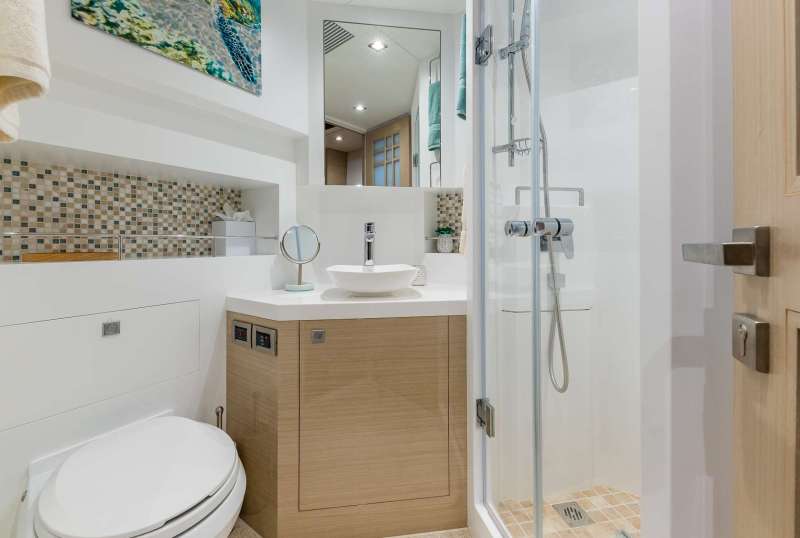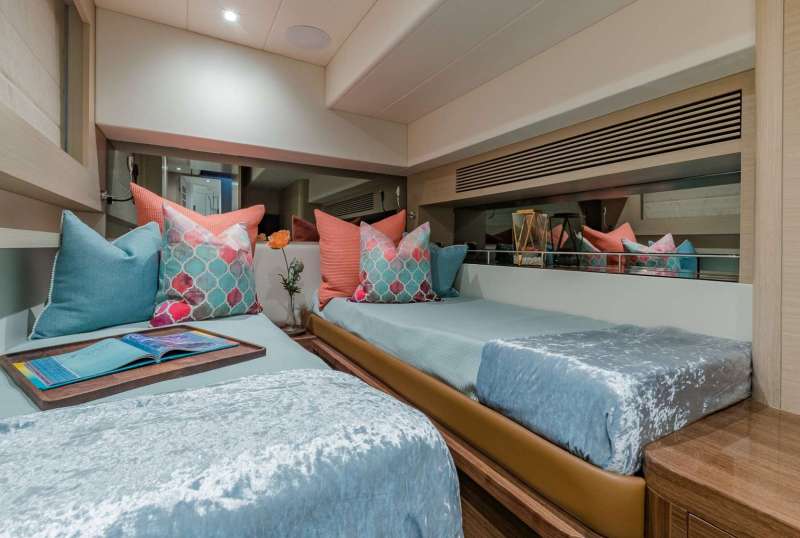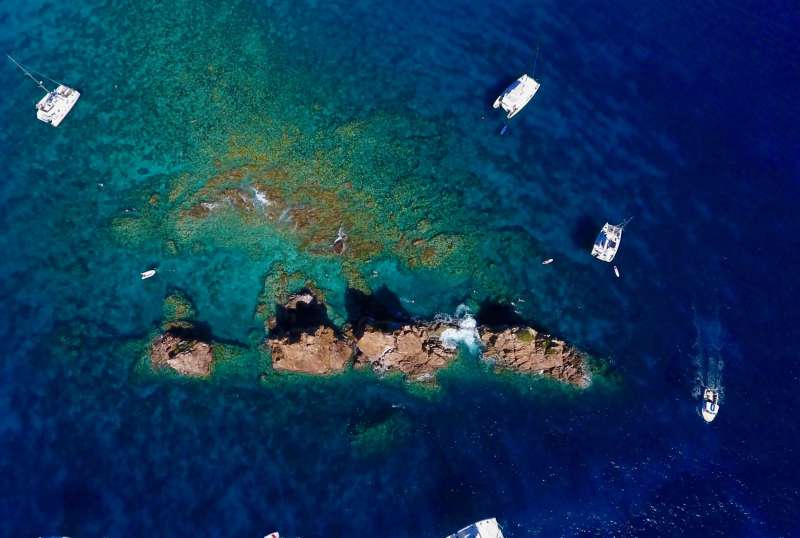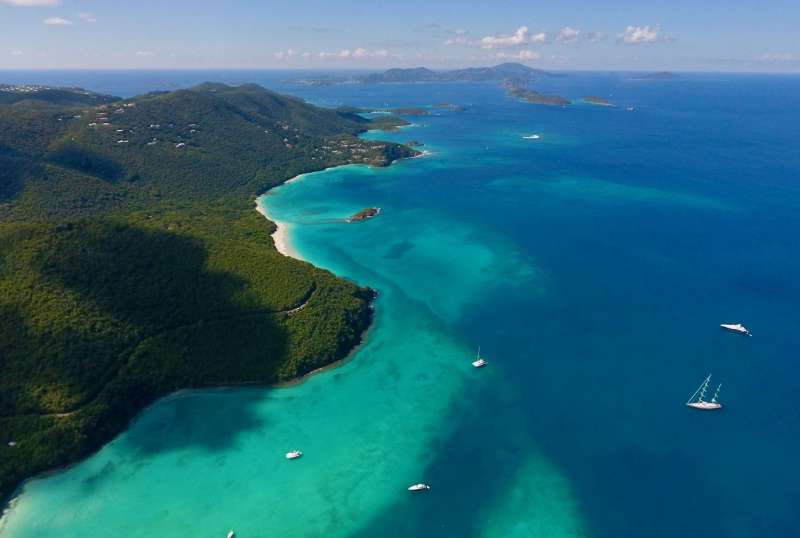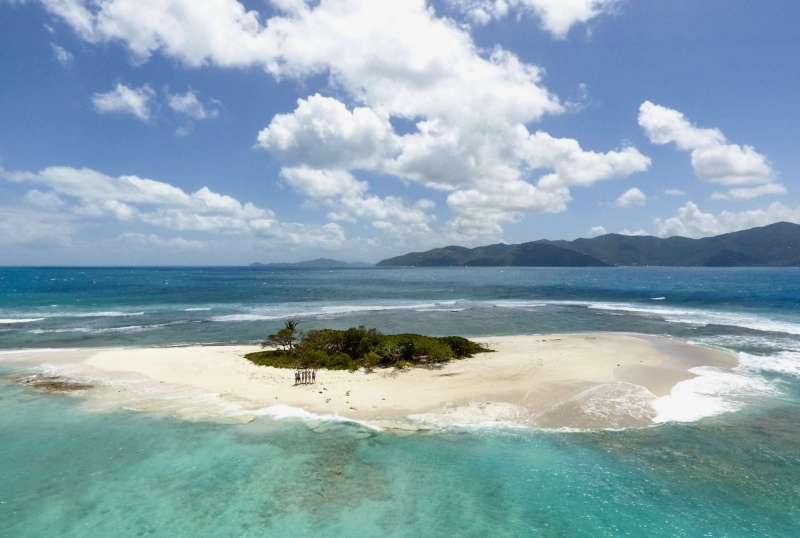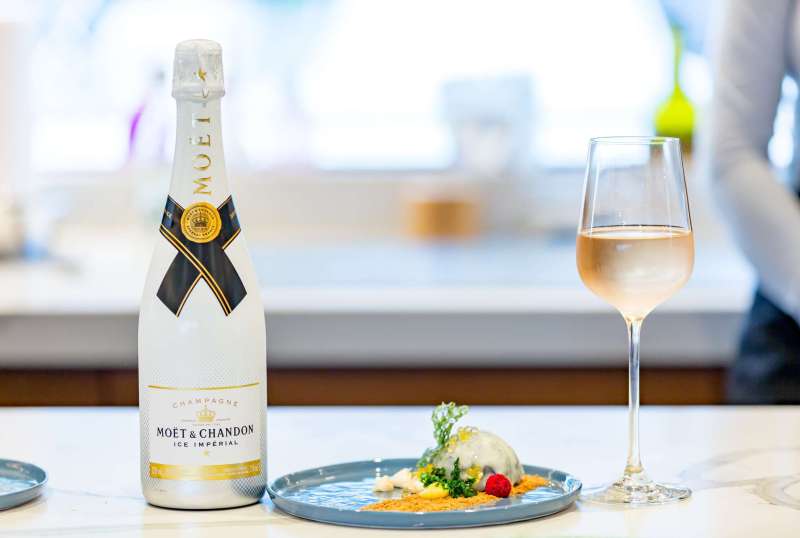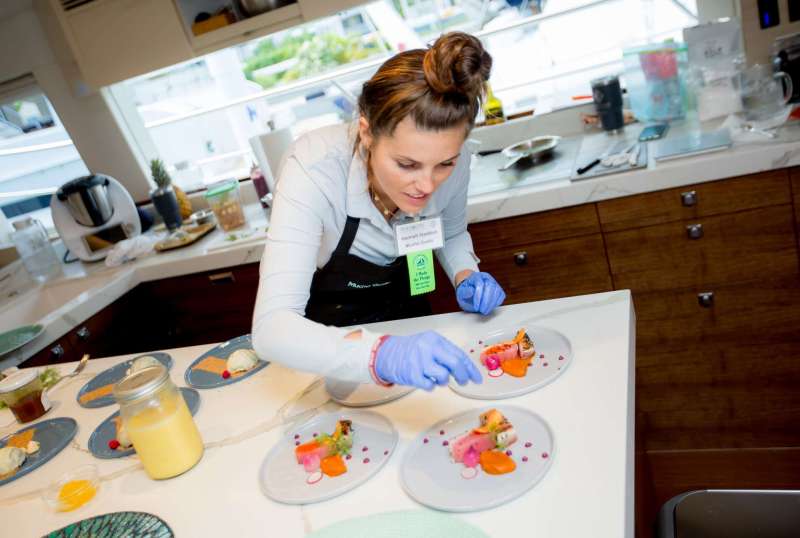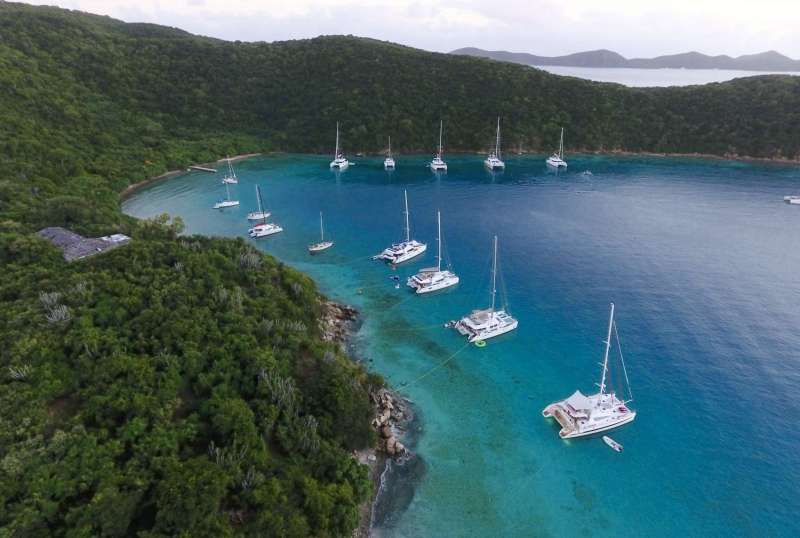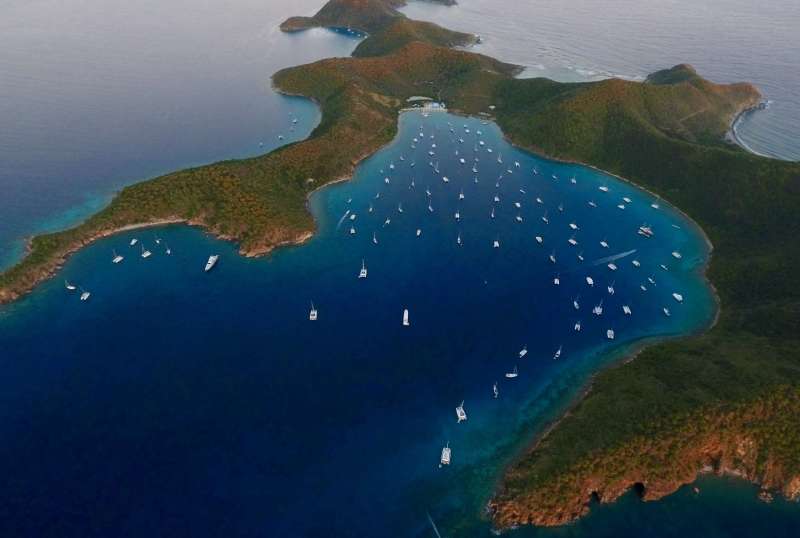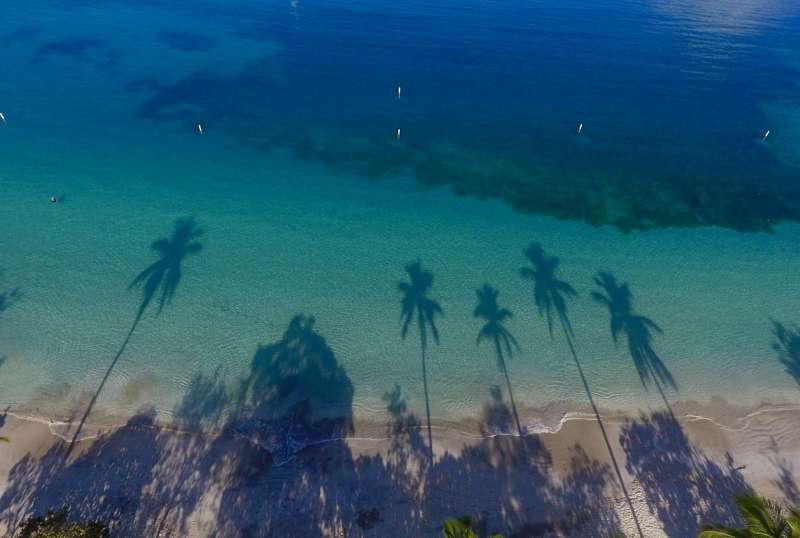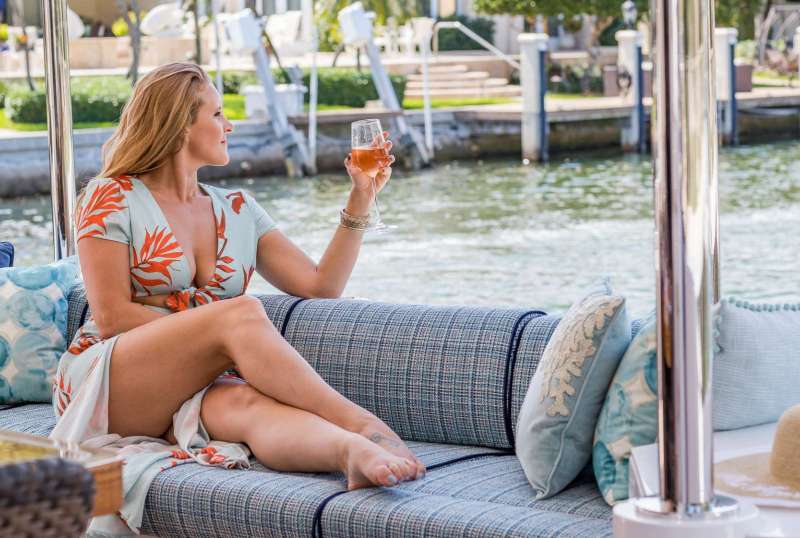 MUCHO GUSTO
From $45,000/week
3 cabins
65 ft
Horizon
6 guests
Built: 2019
75 US Gall/Hr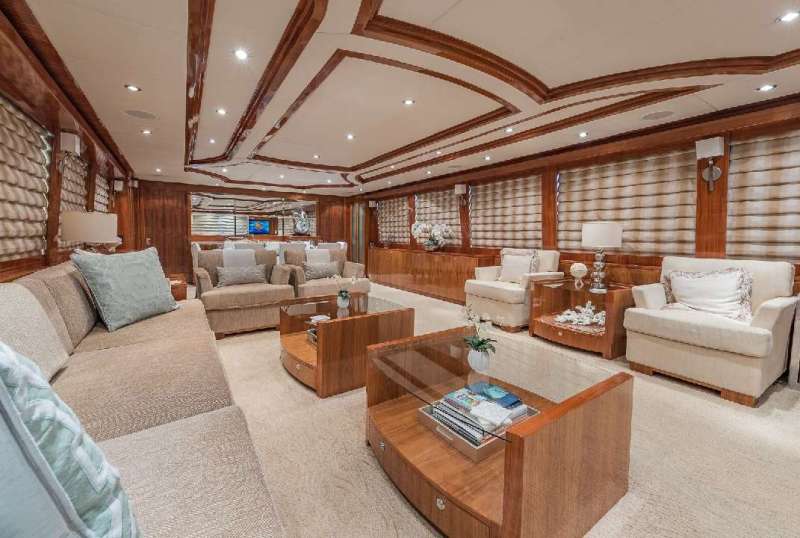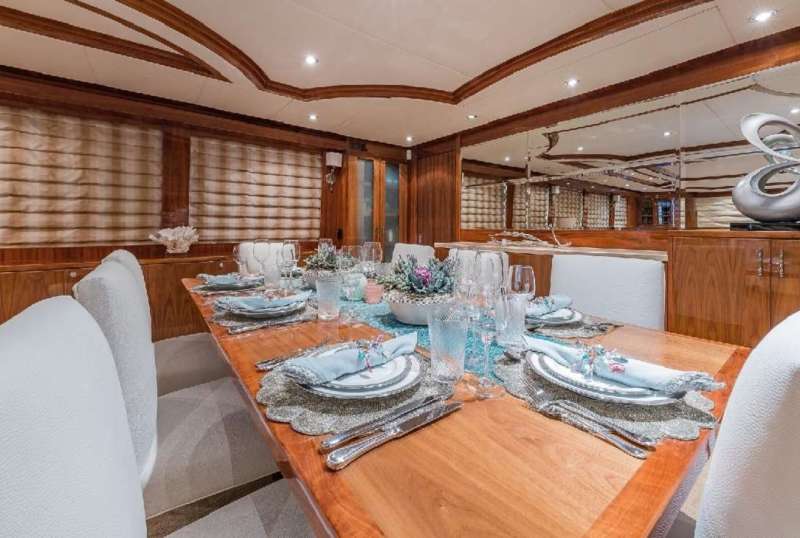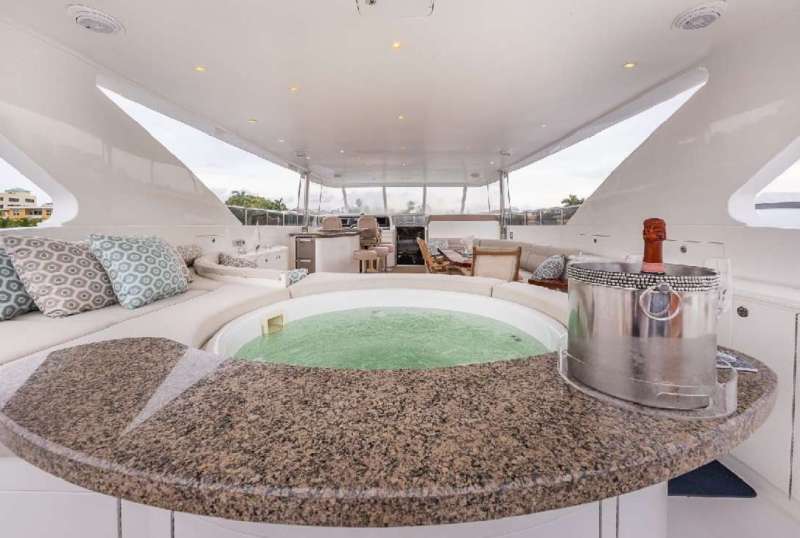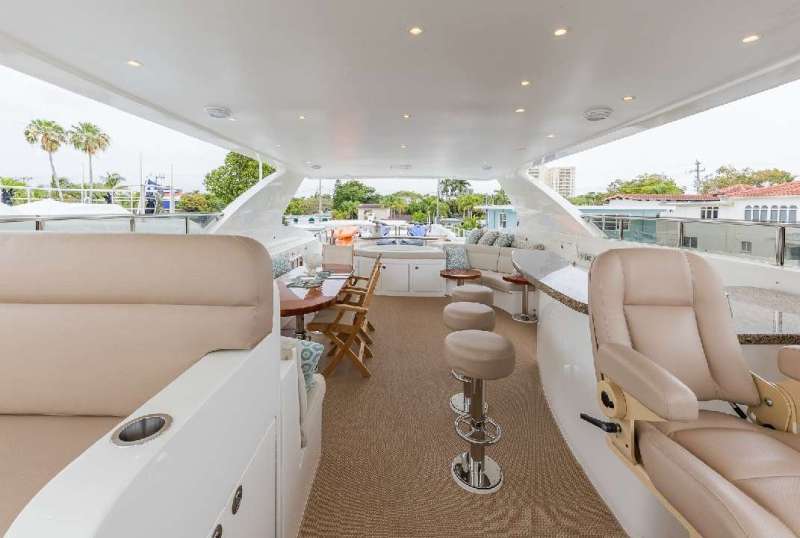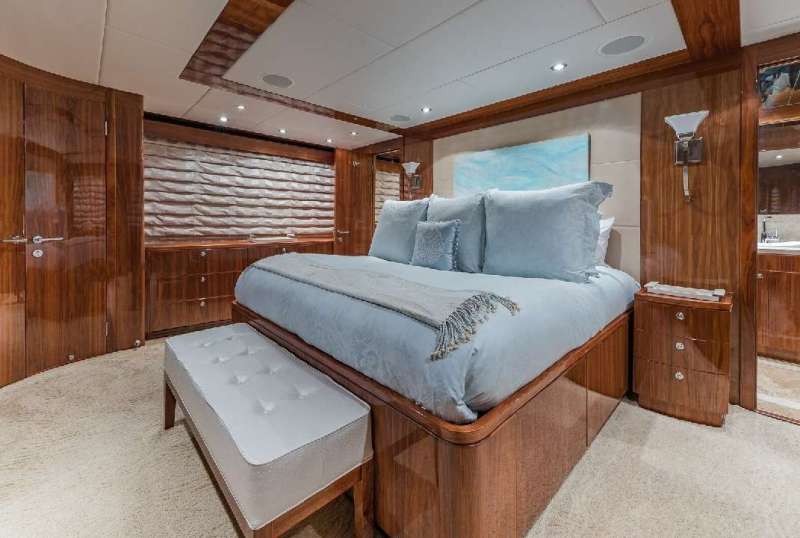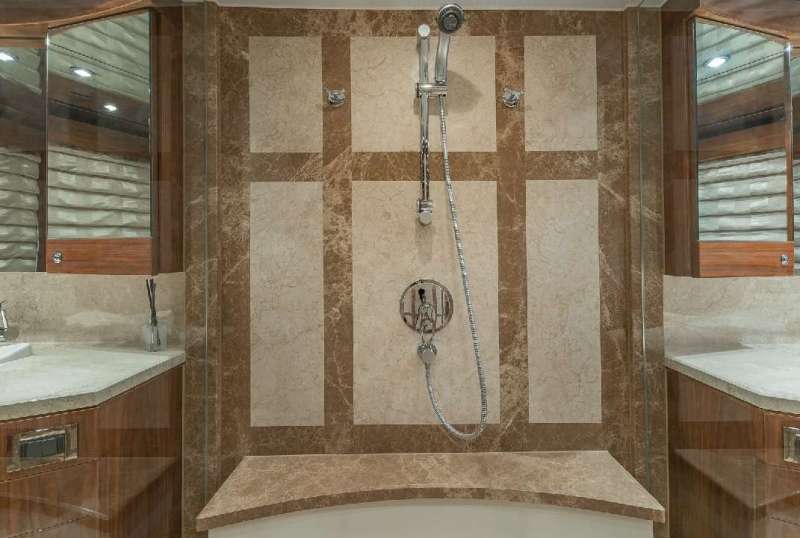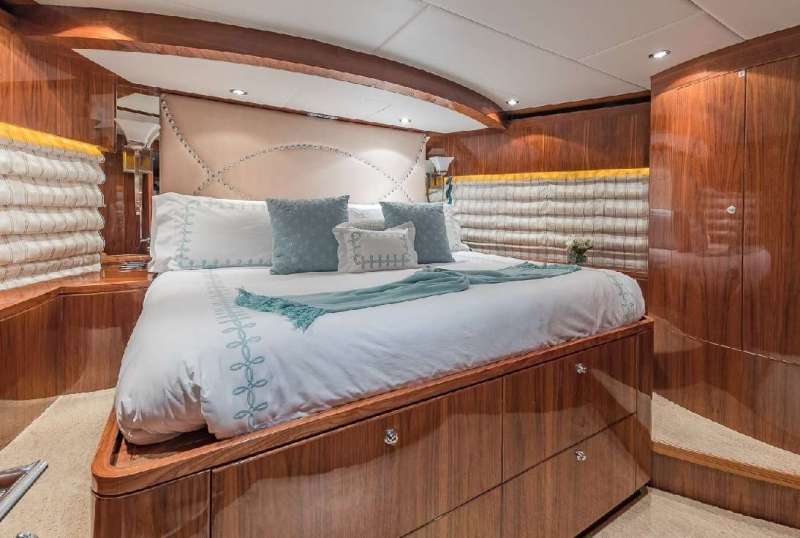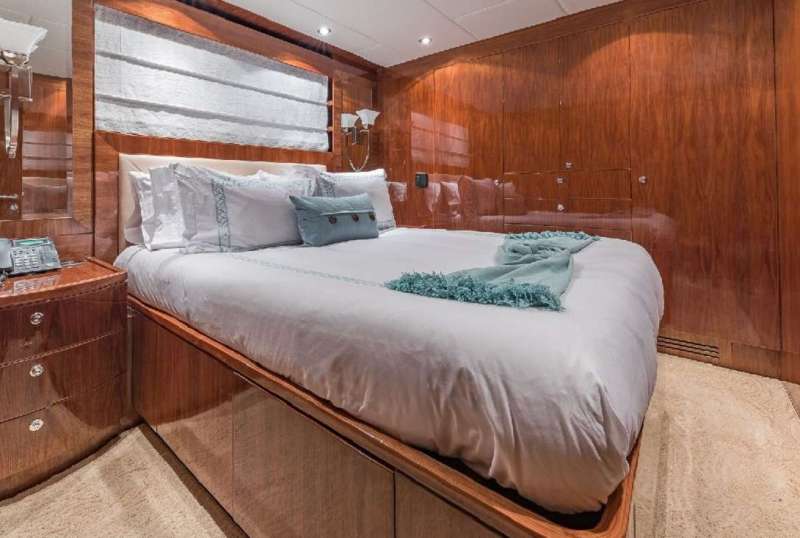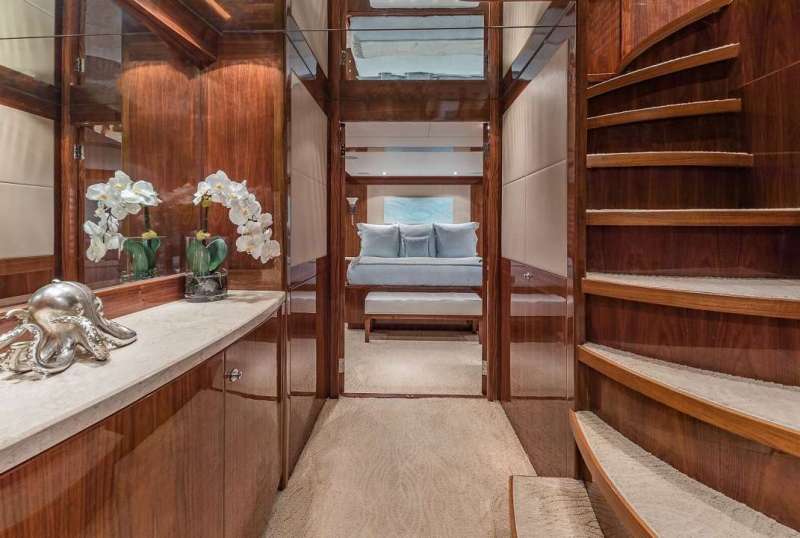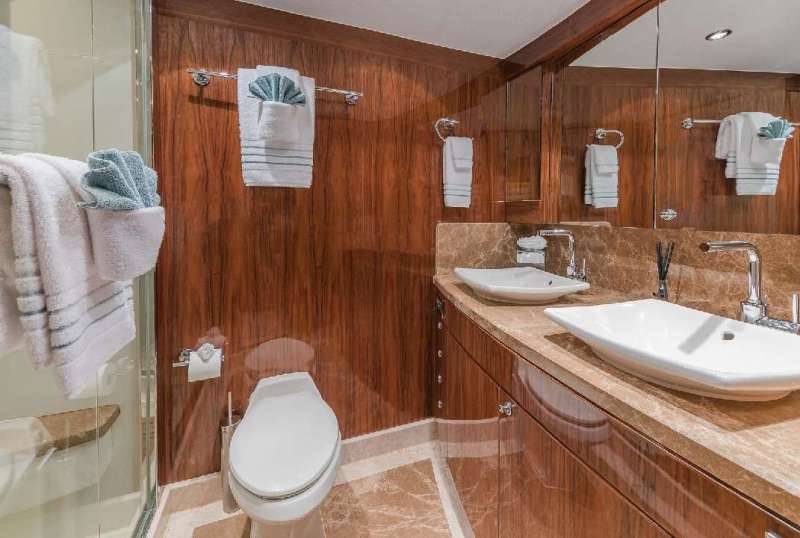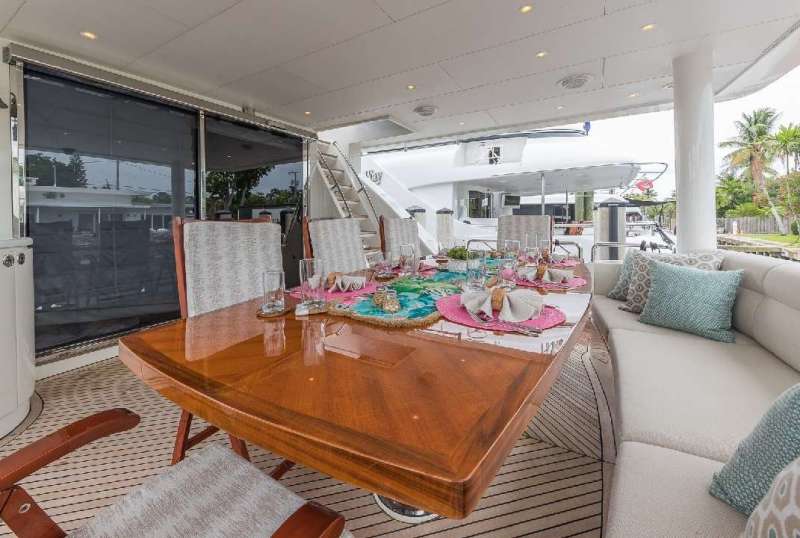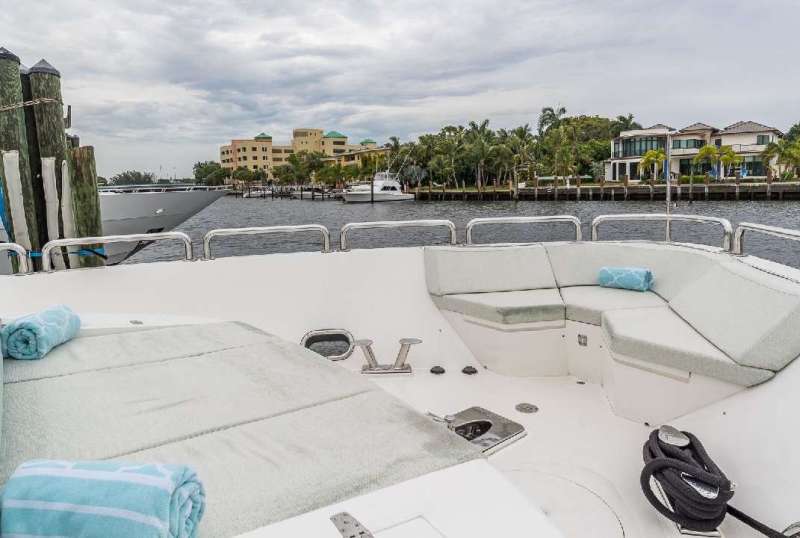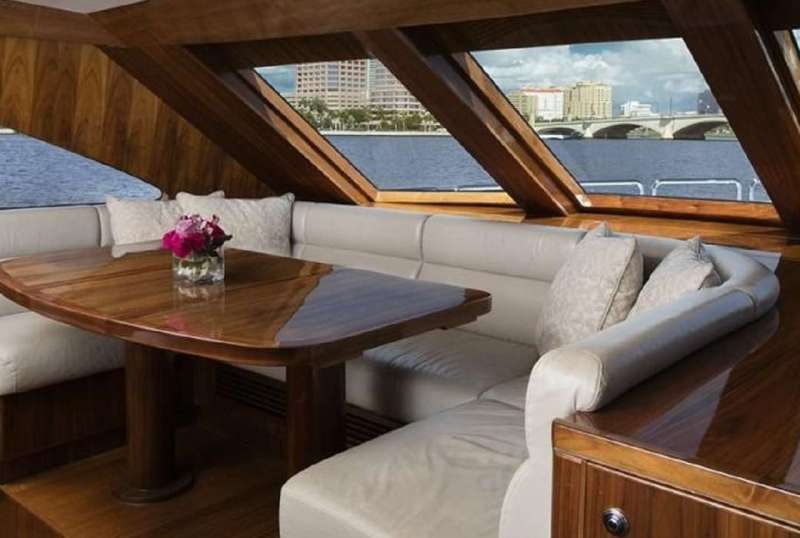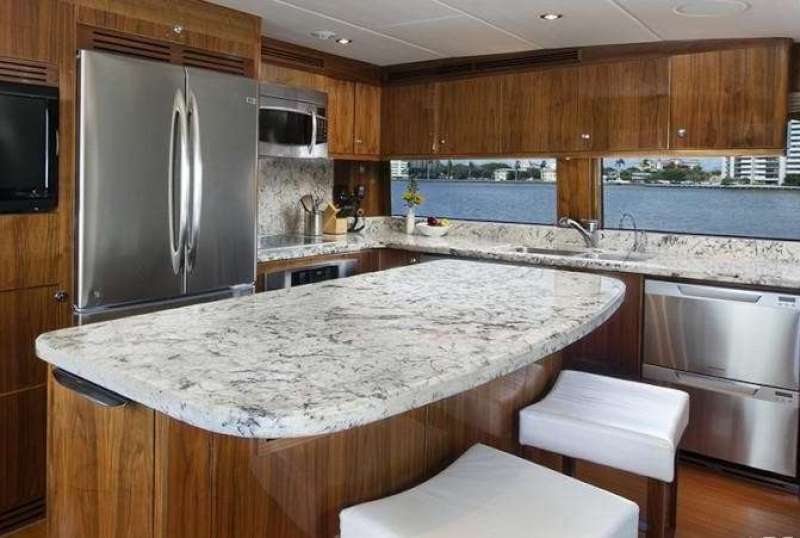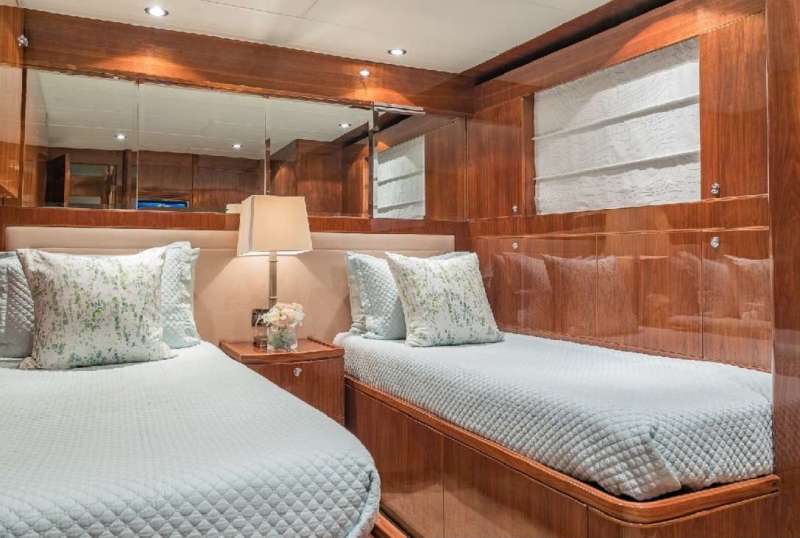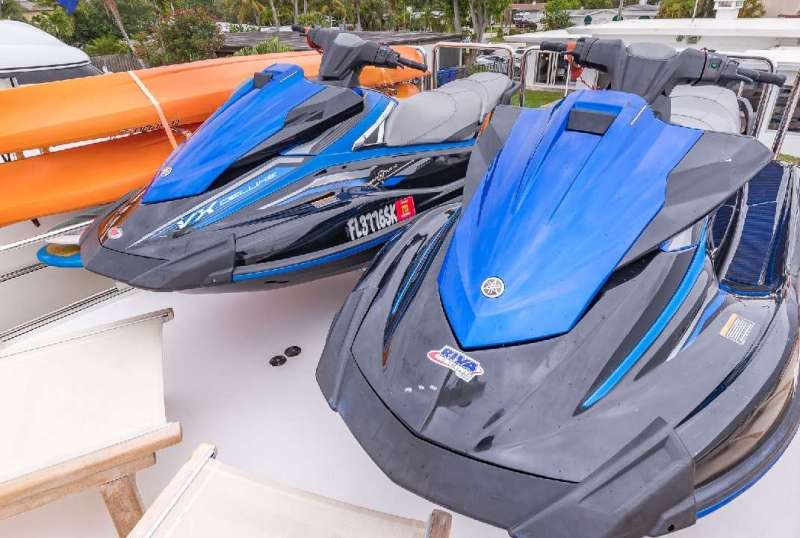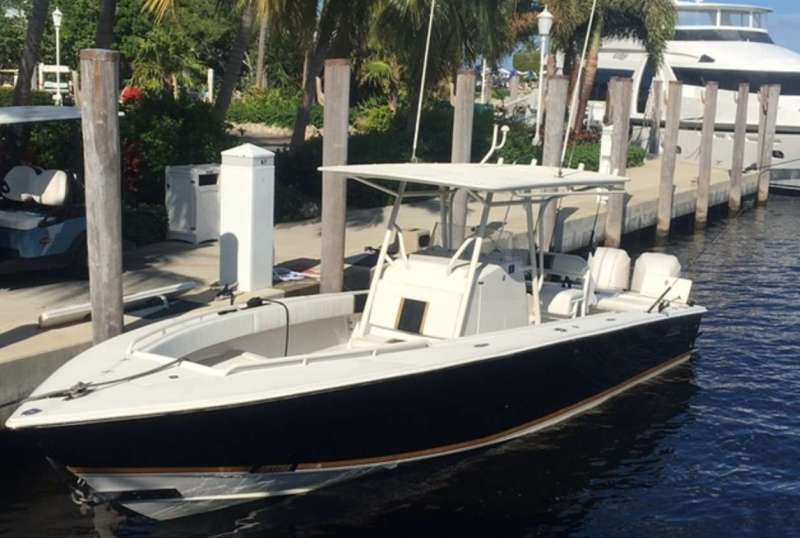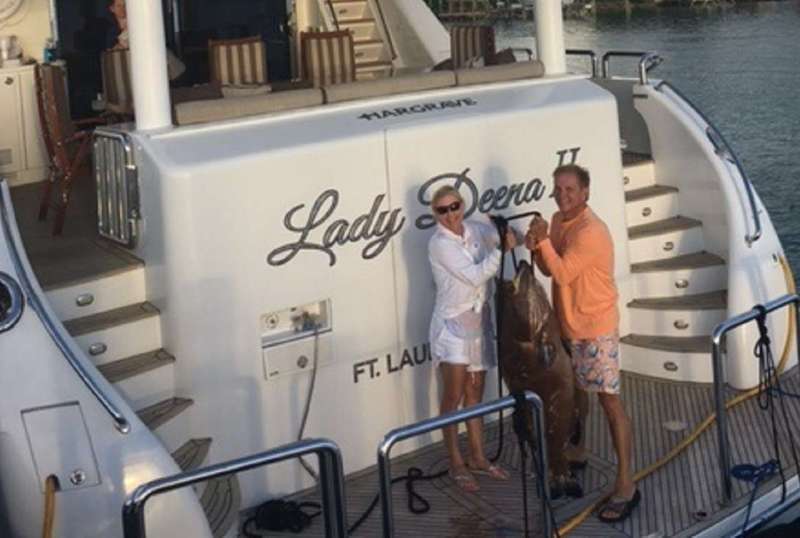 LADY DEENA II
From $45,000/week
4 cabins
101 ft
Hargrave
8 guests
Refit: 2016
50 US Gall/Hr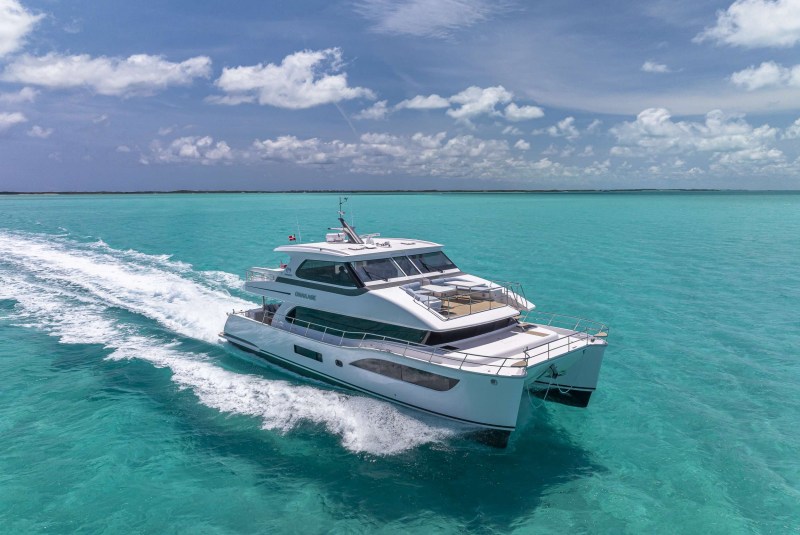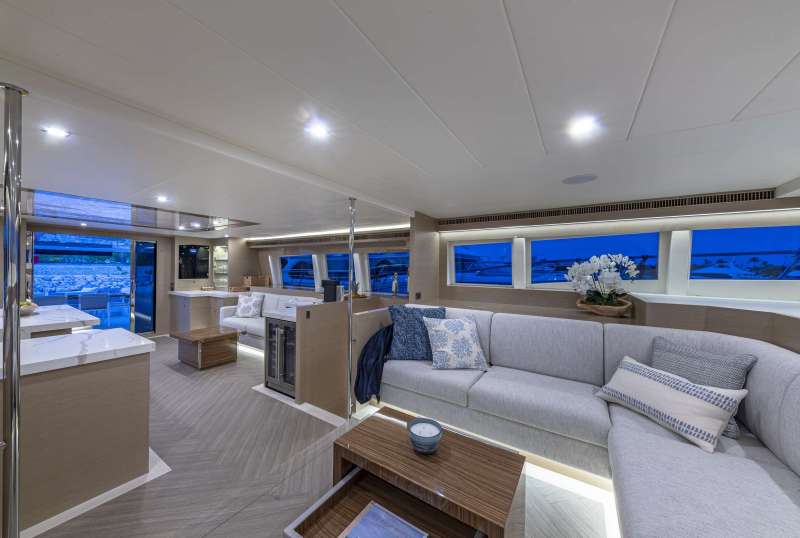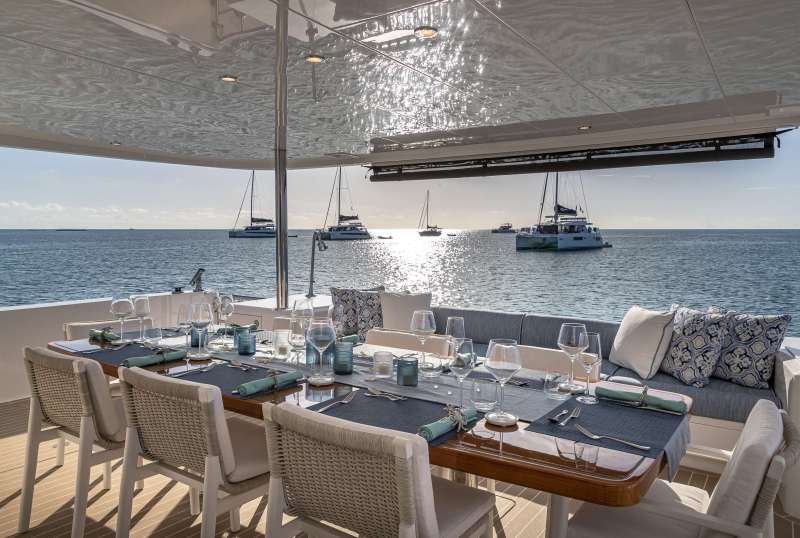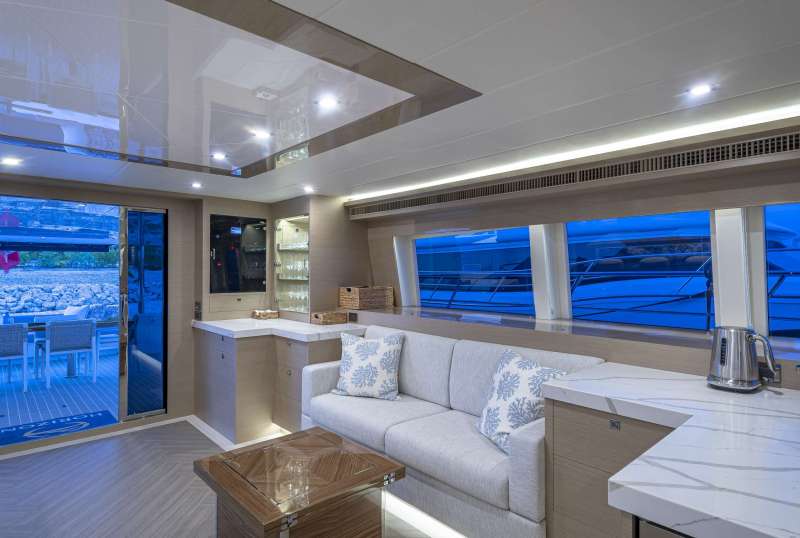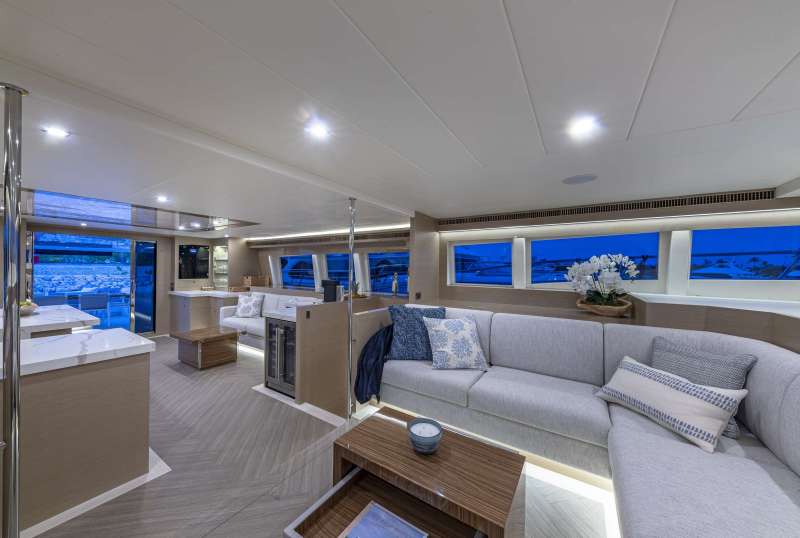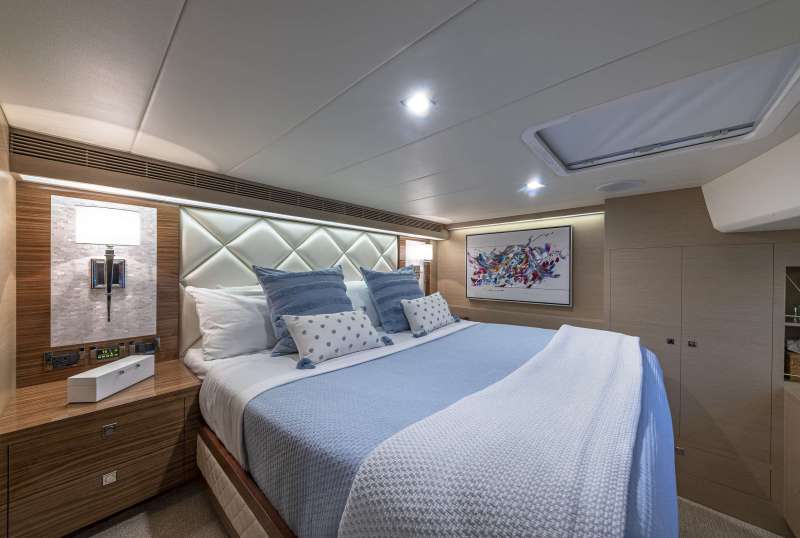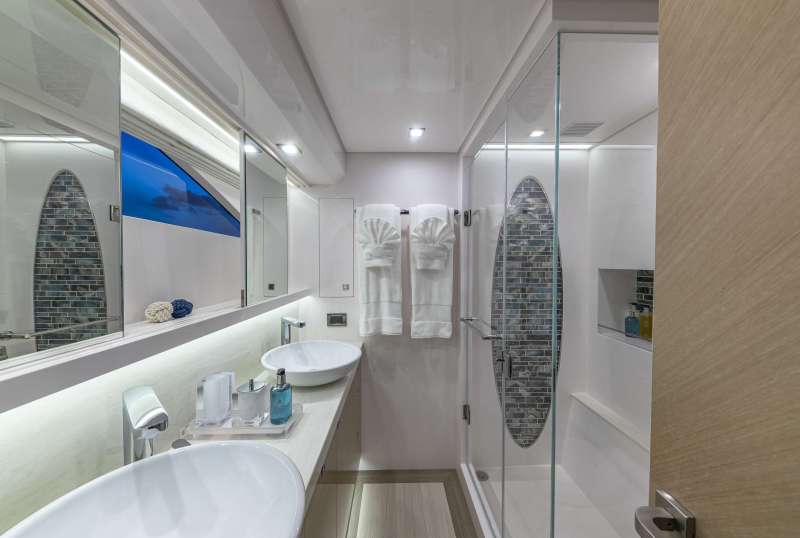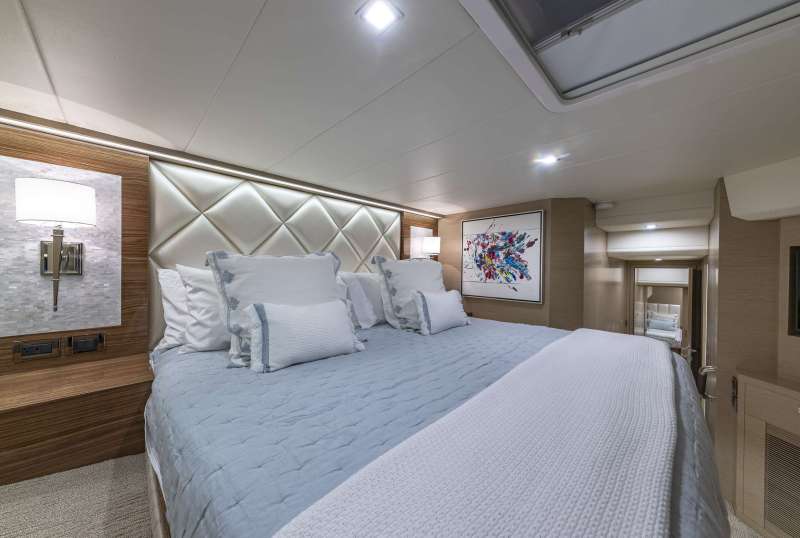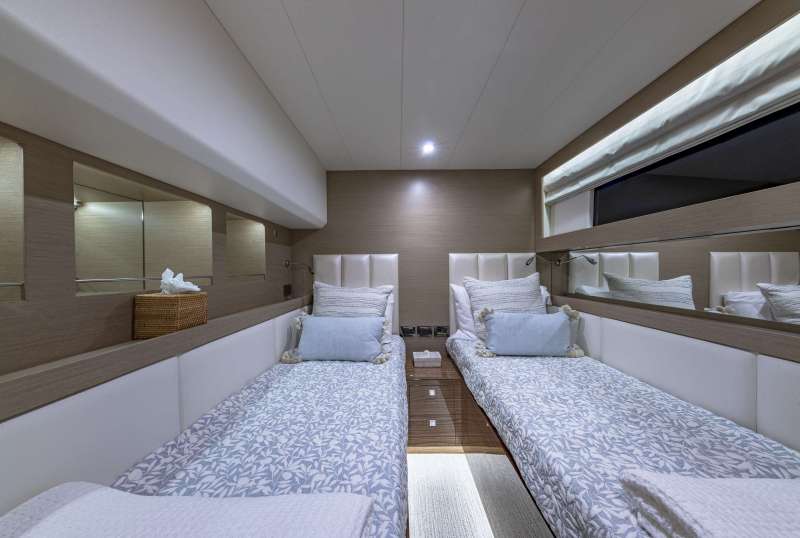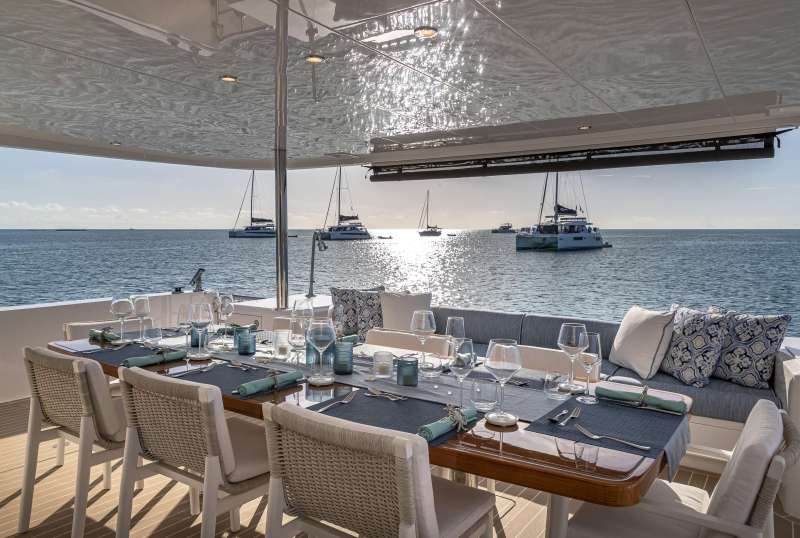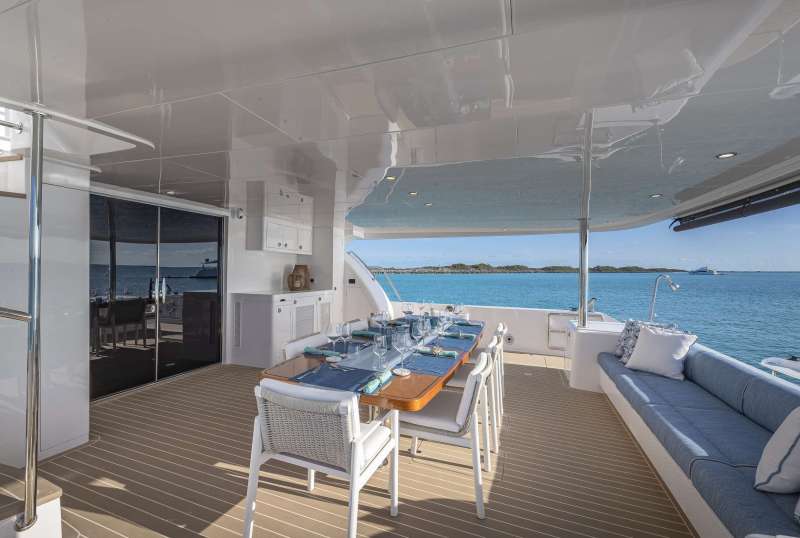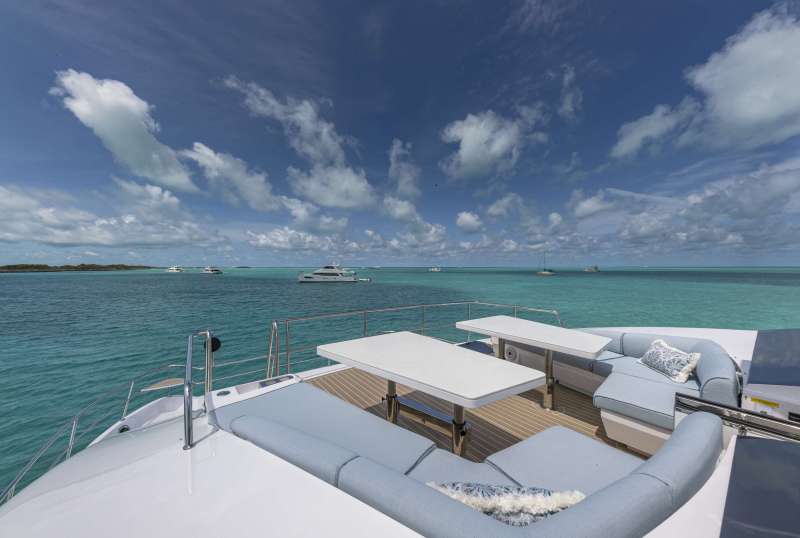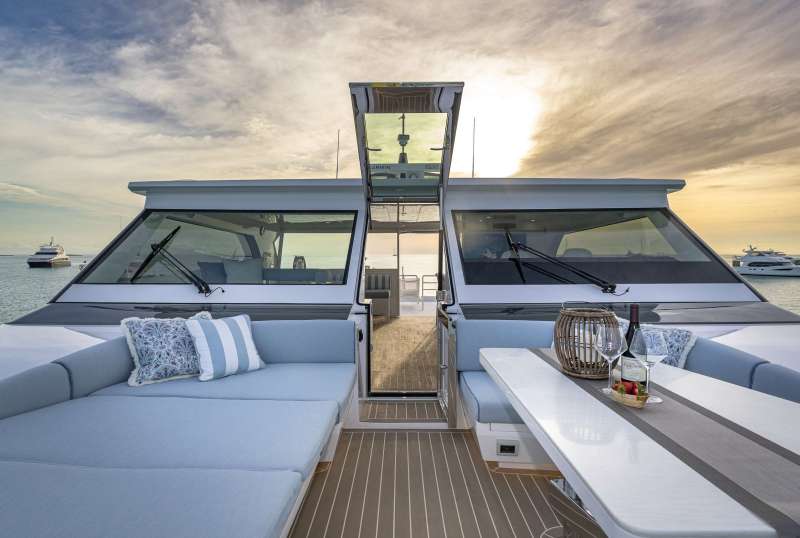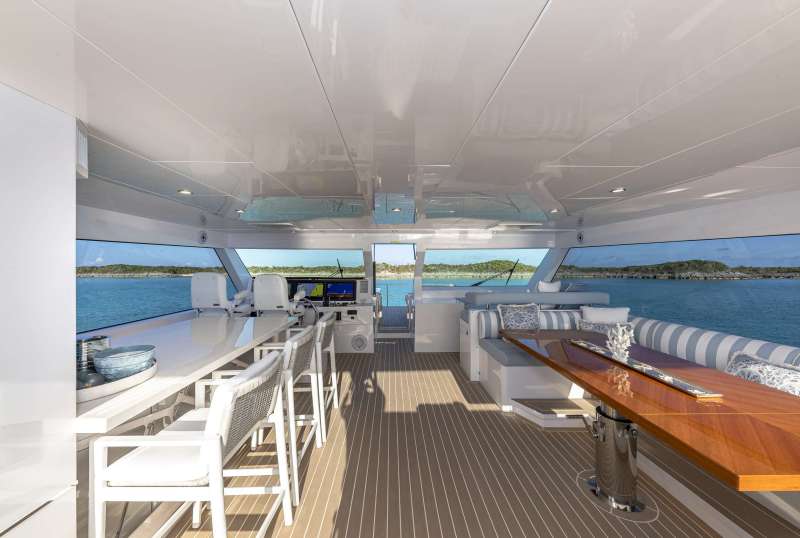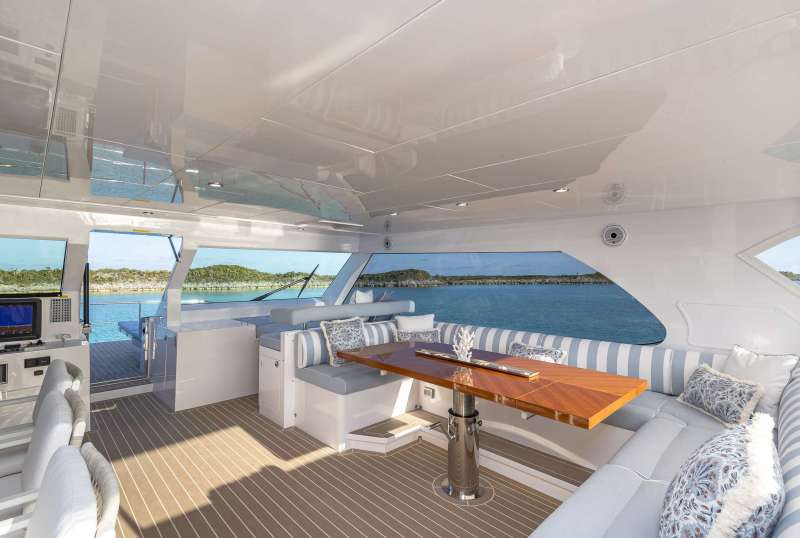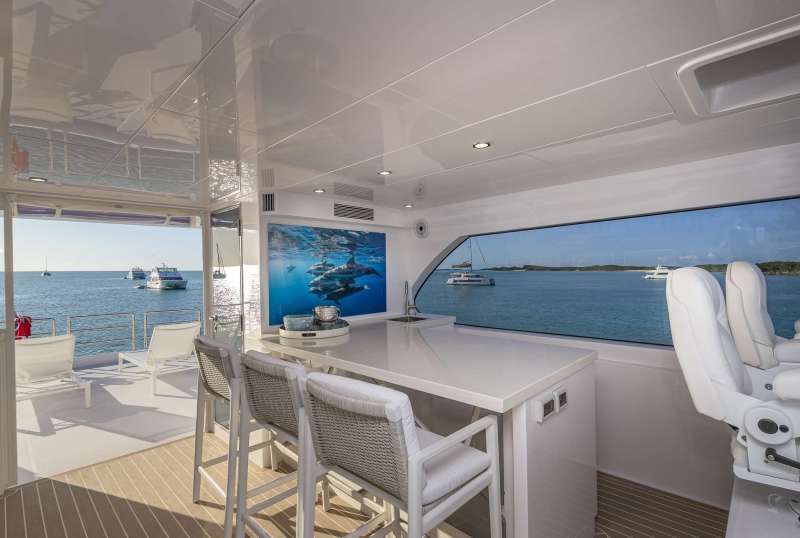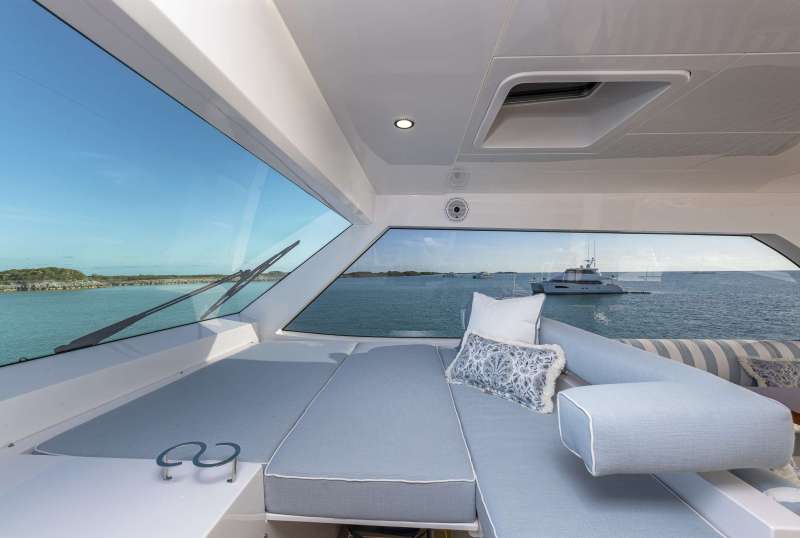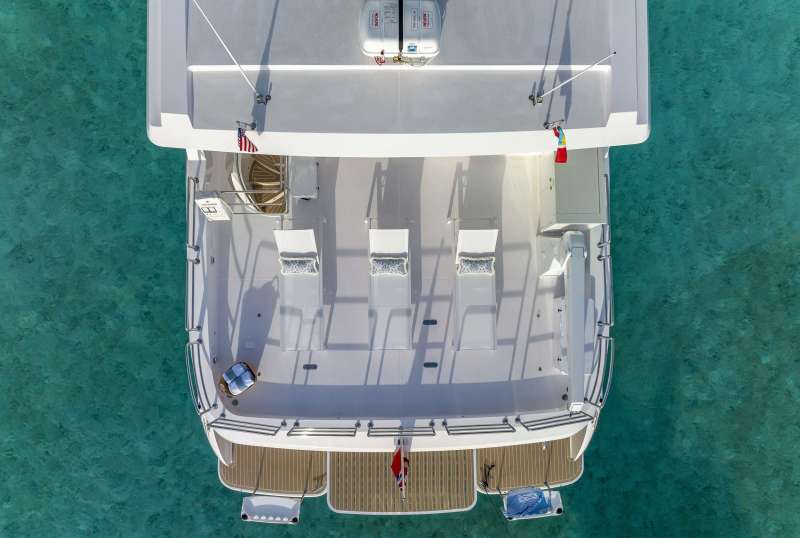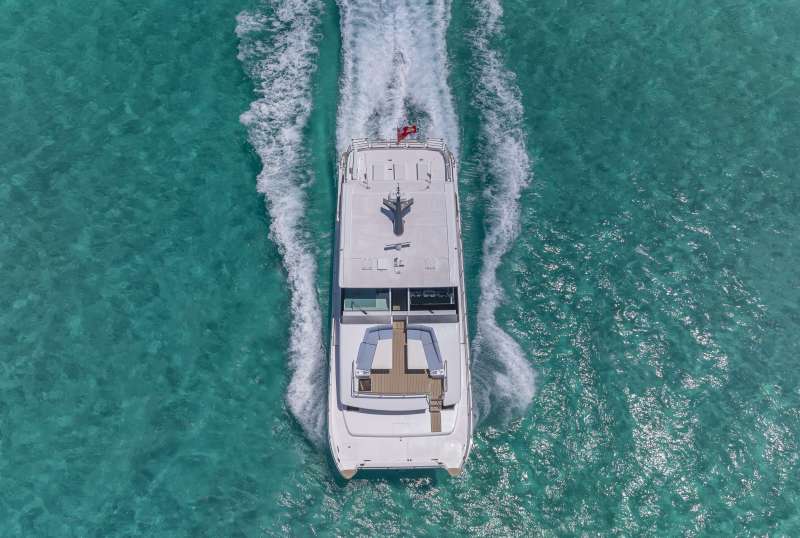 OMAKASE
From $43,900/week
3 cabins
68 ft
Horizon
6 guests
Built: 2023
48 US Gall/Hr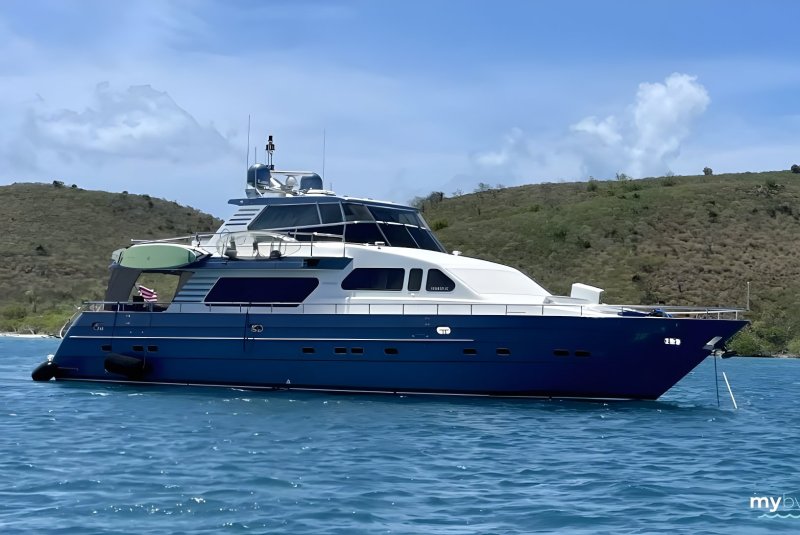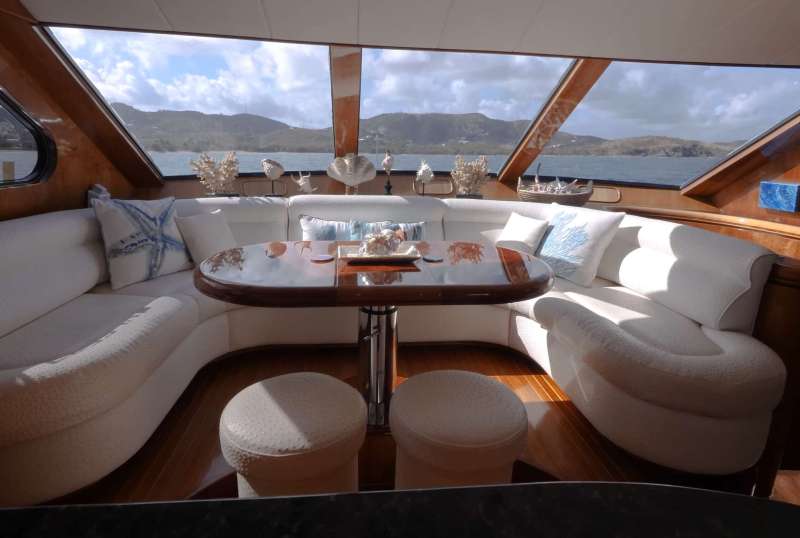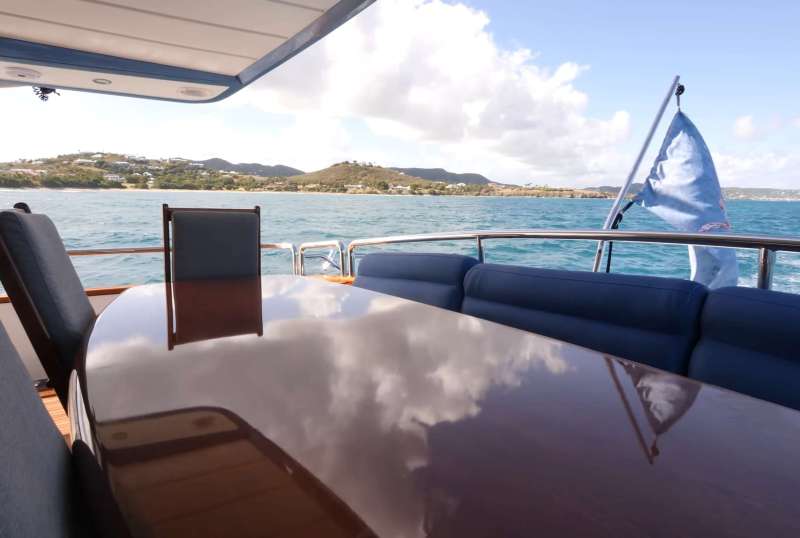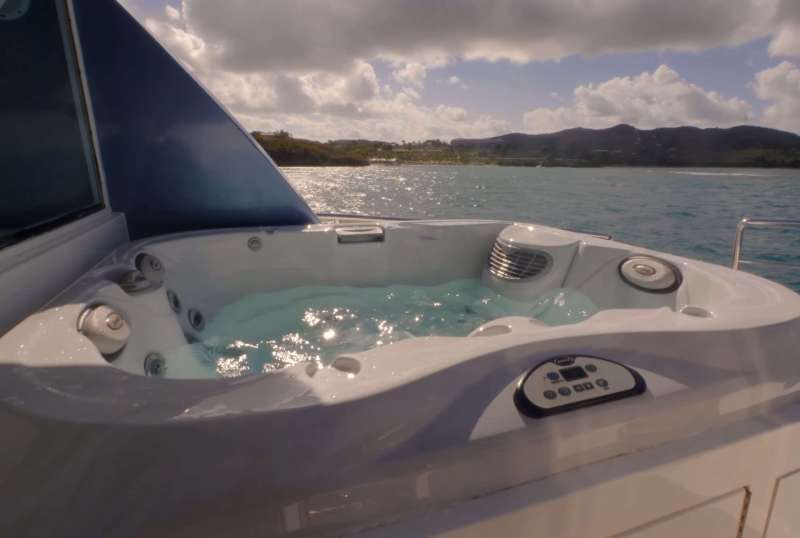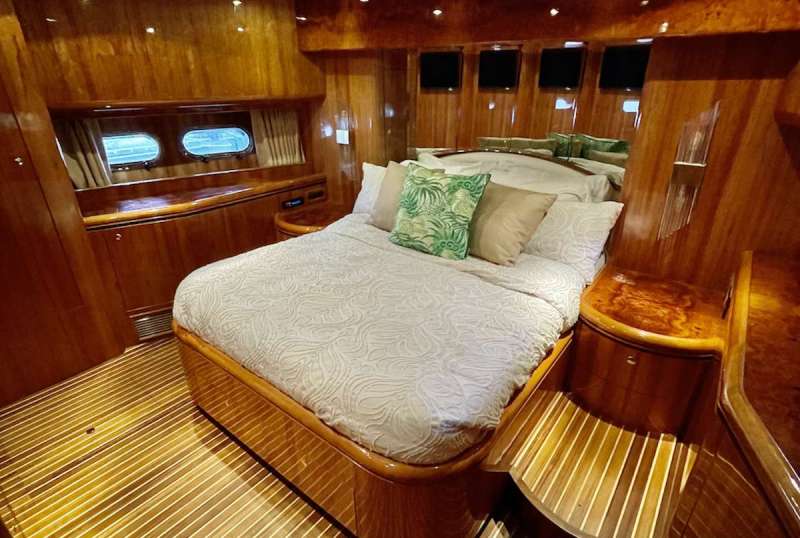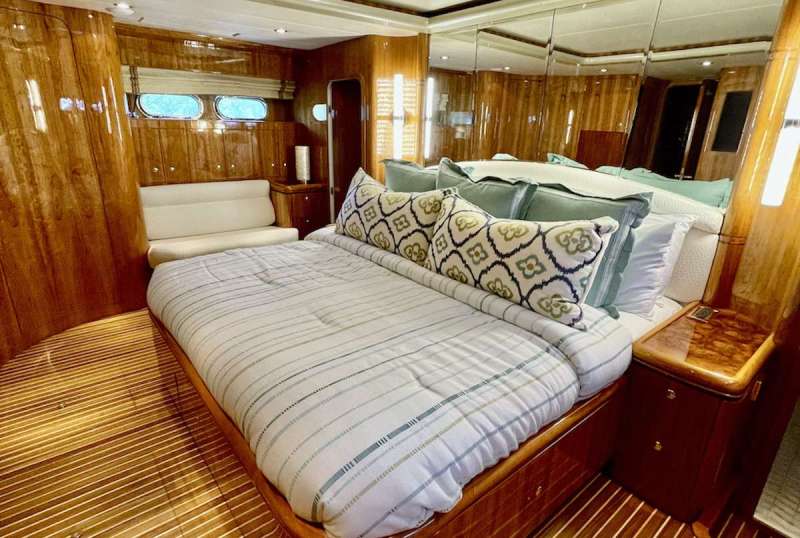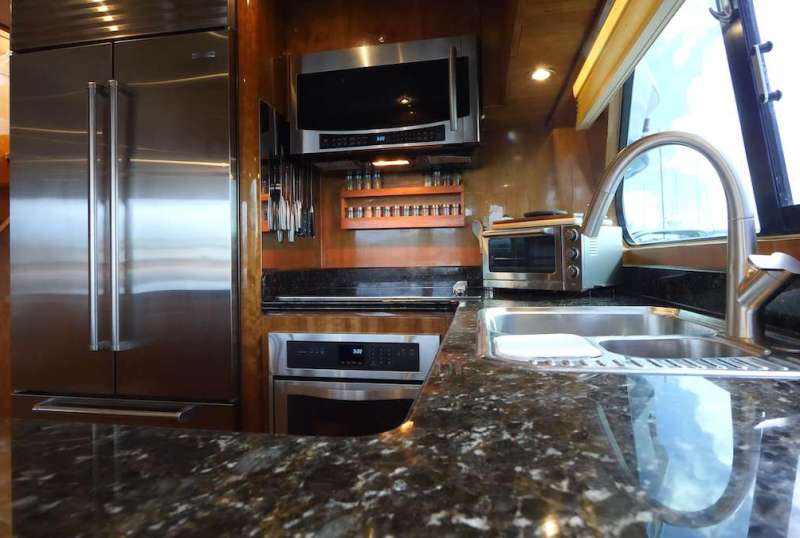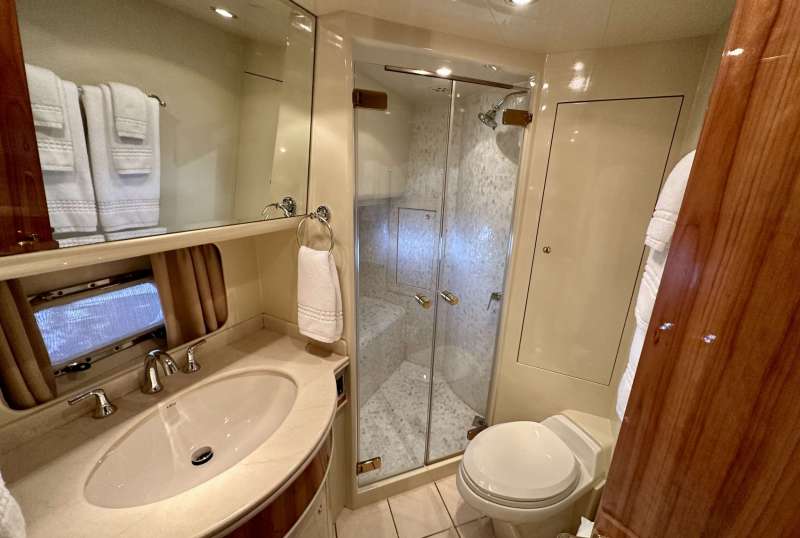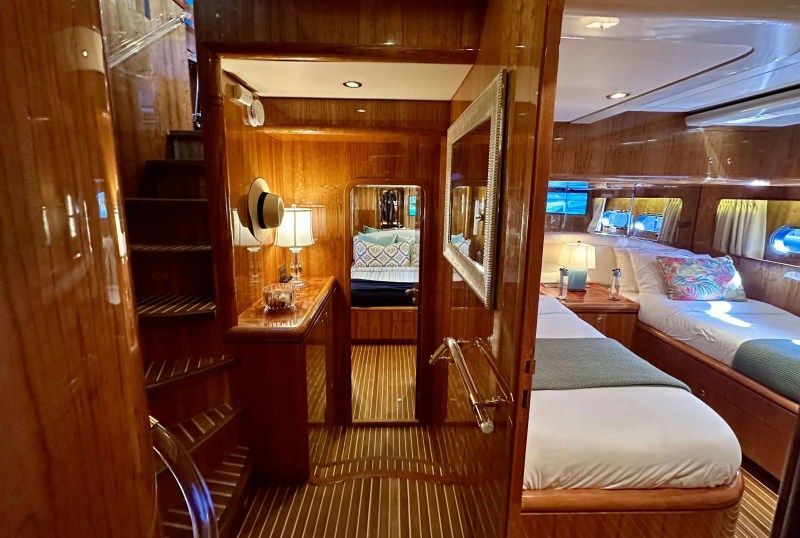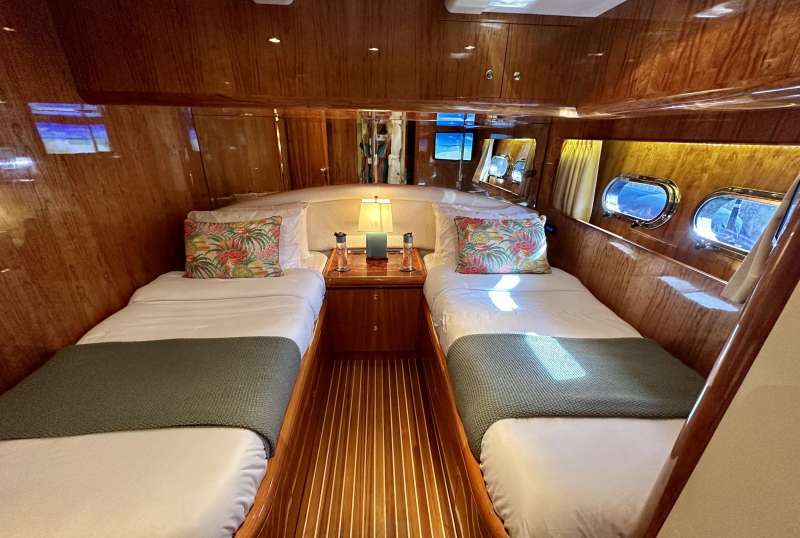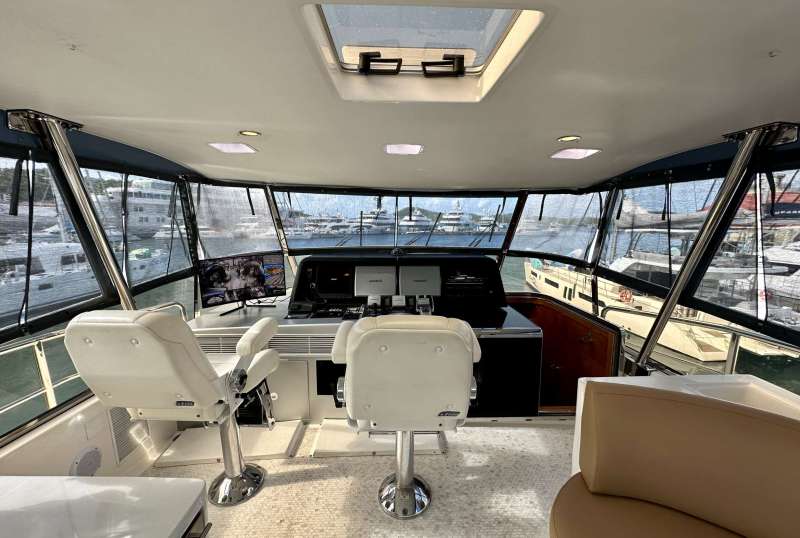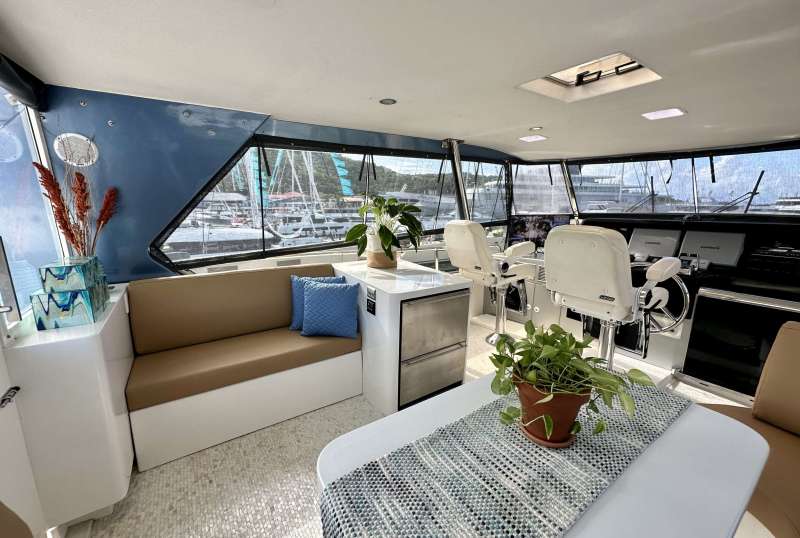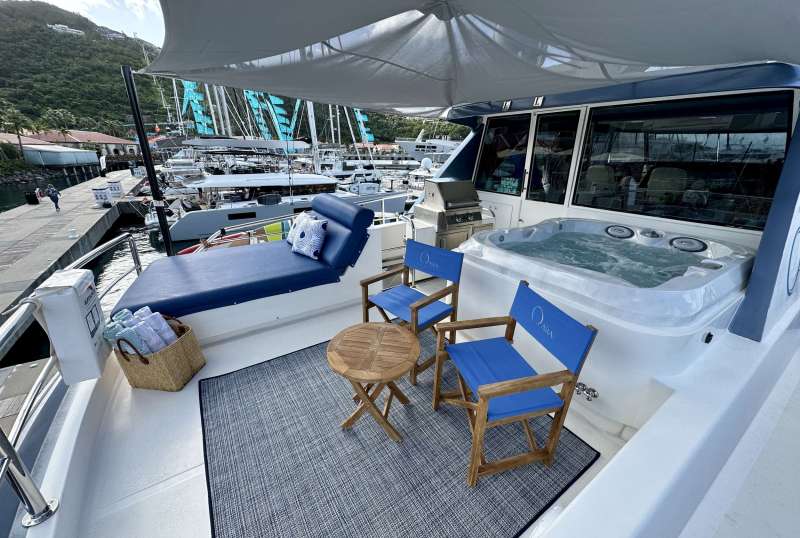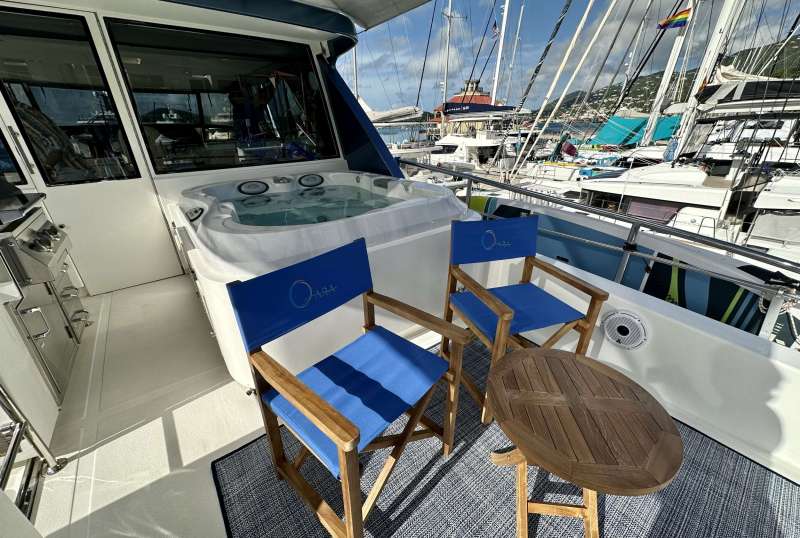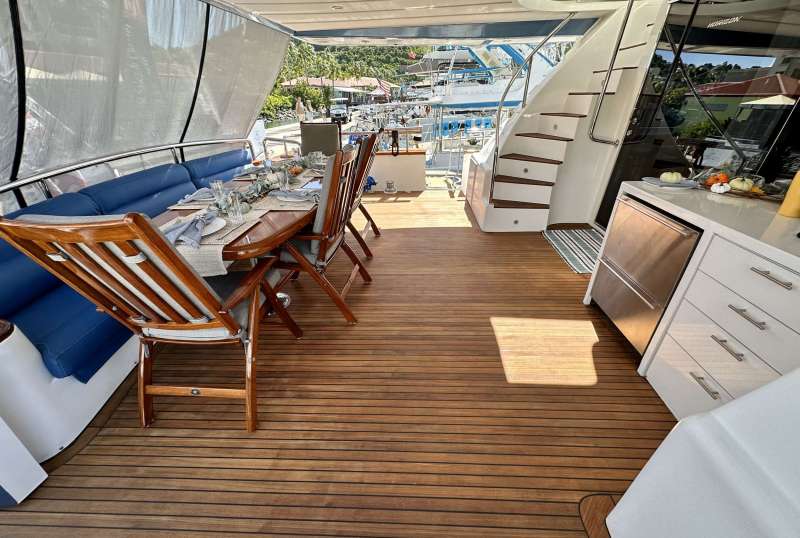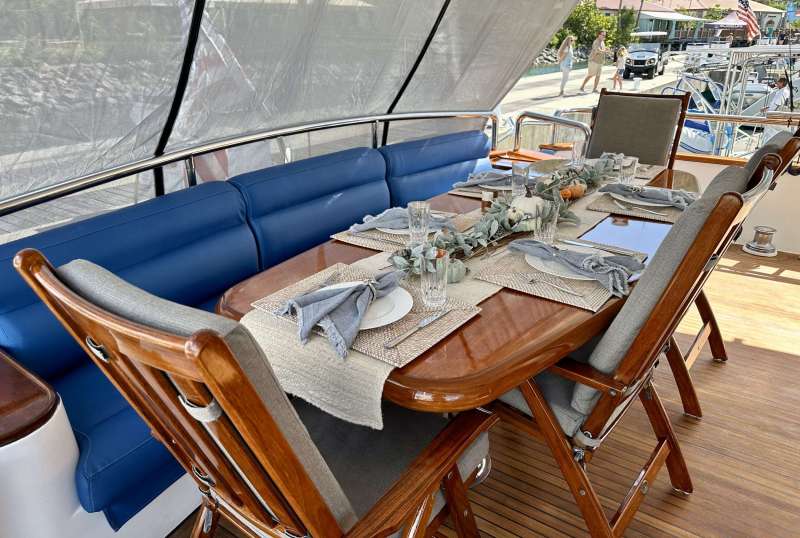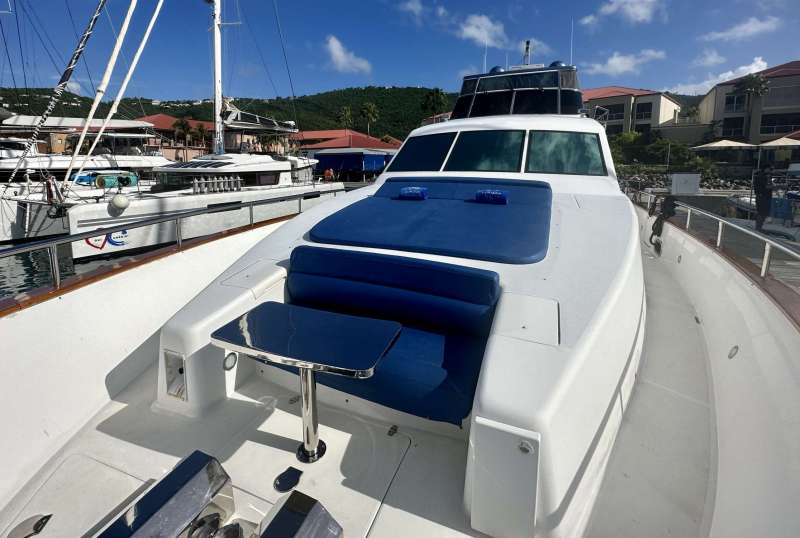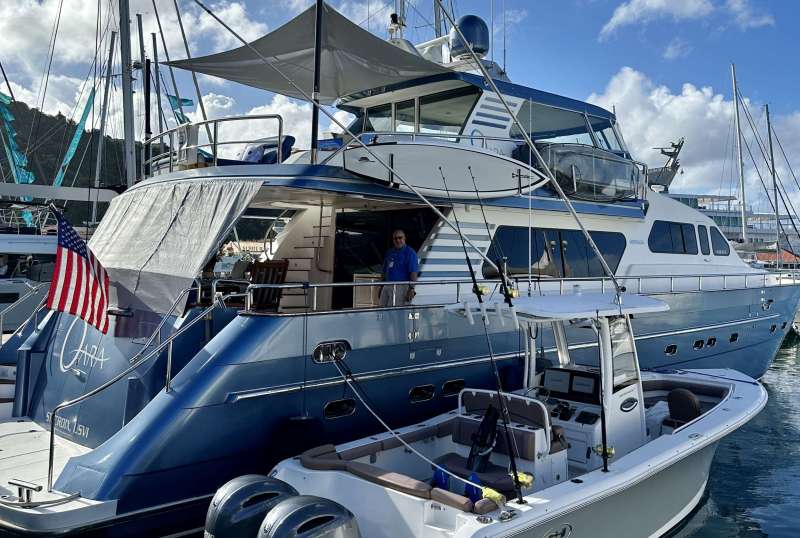 QARA
From $42,000/week
3 cabins
82 ft
Horizon
6 guests
Refit: 2023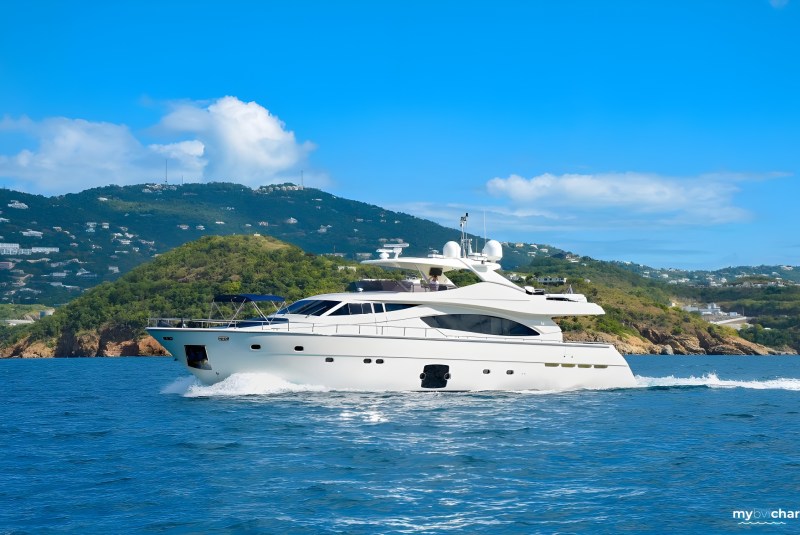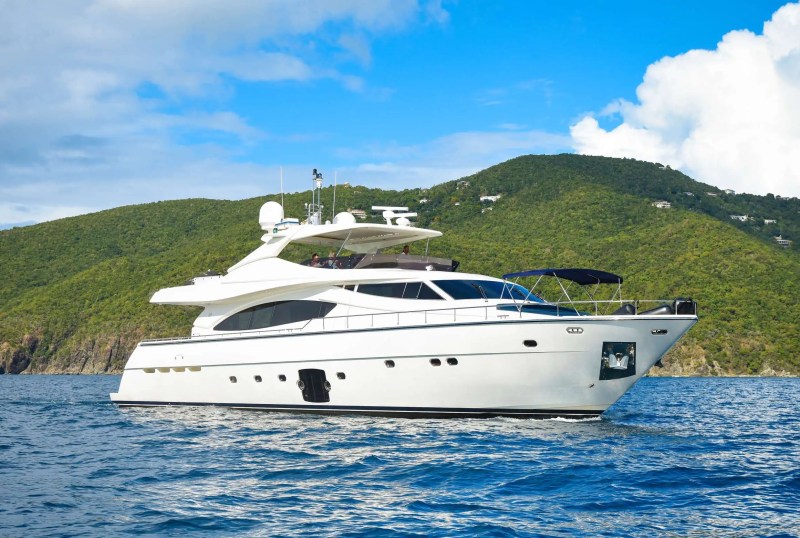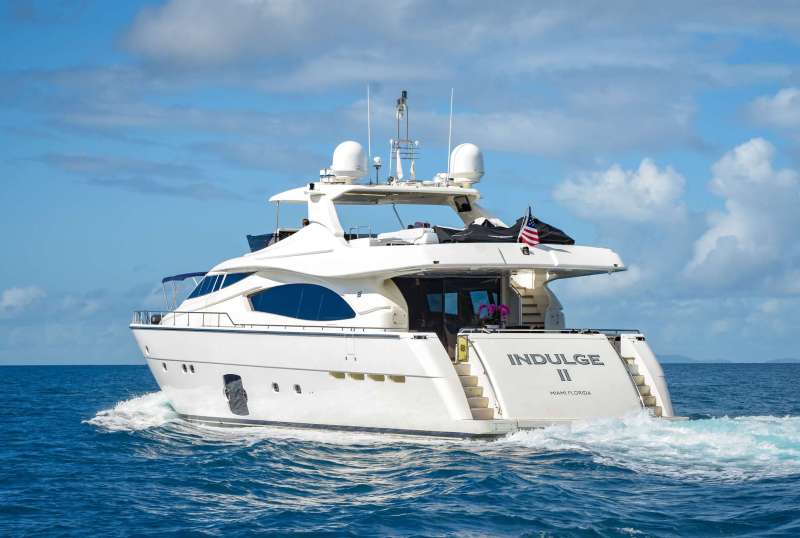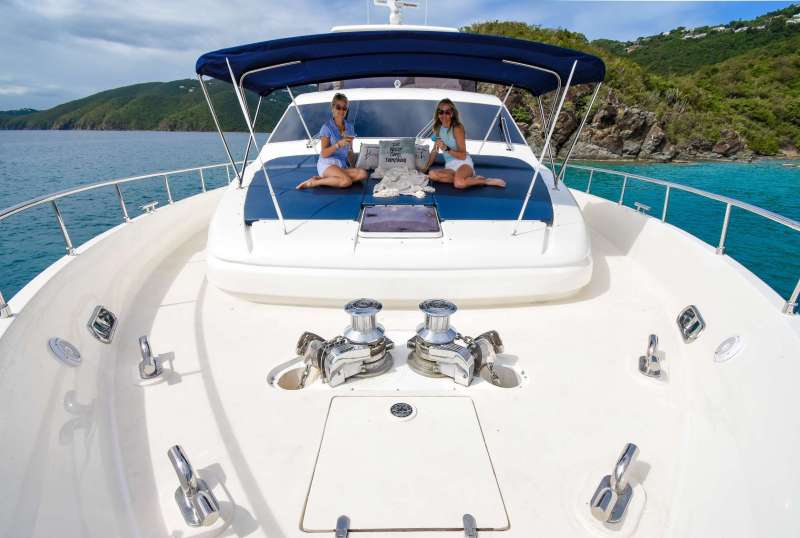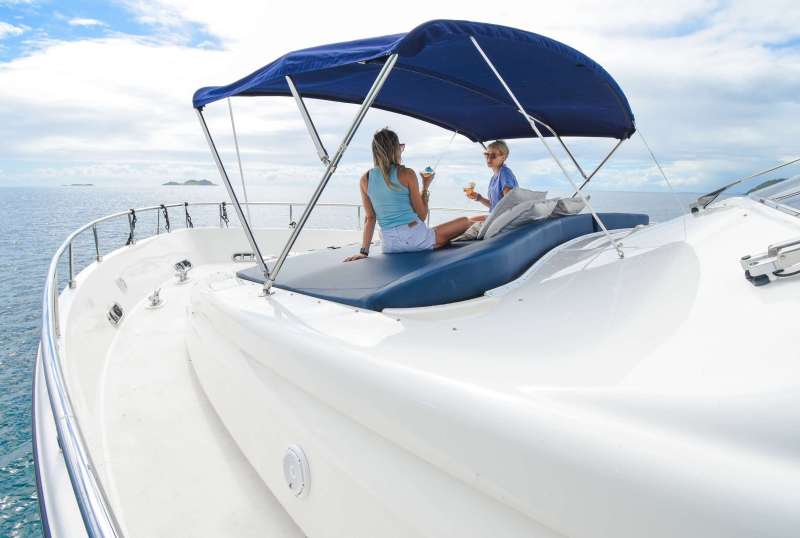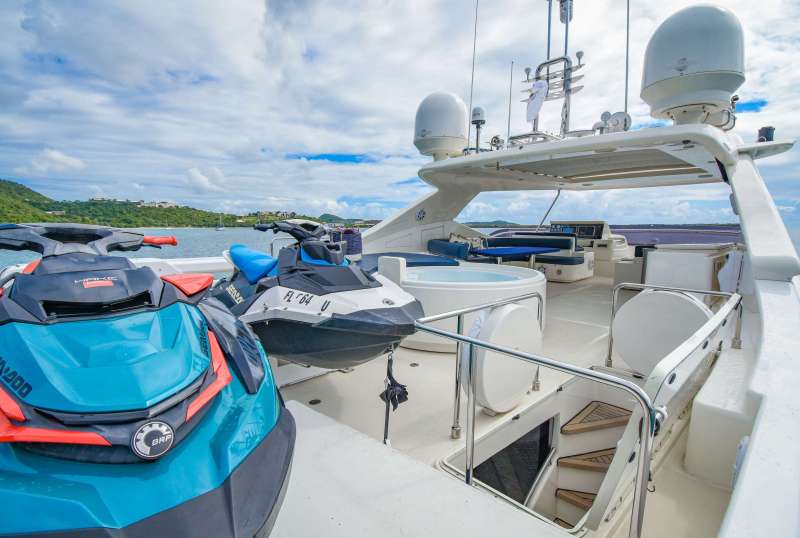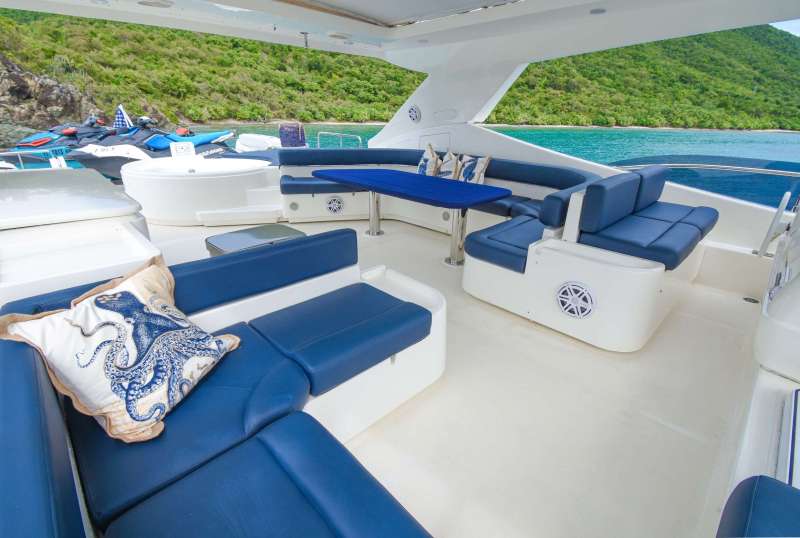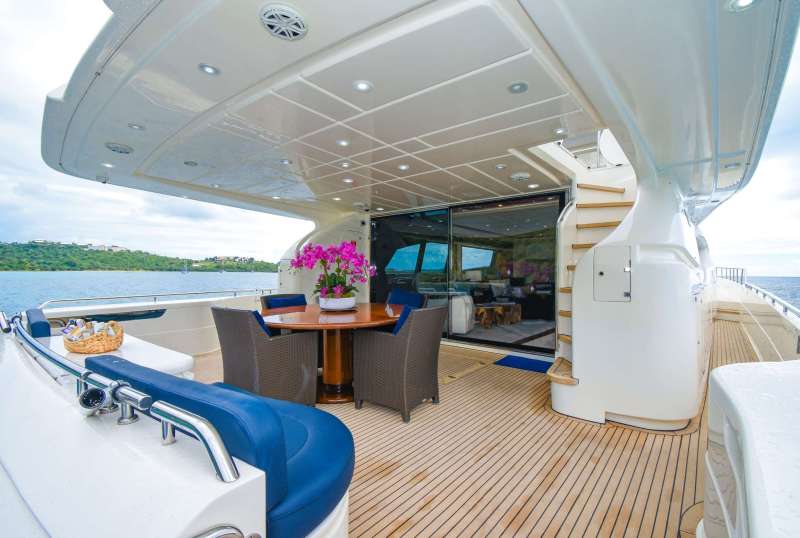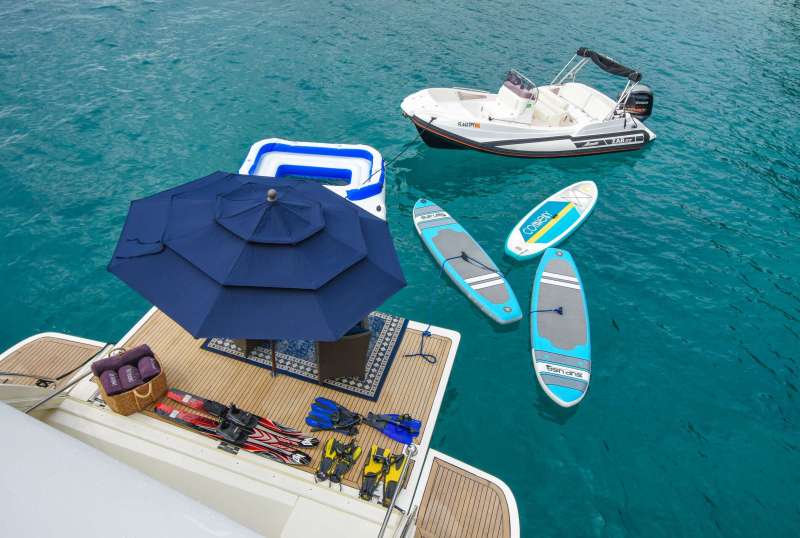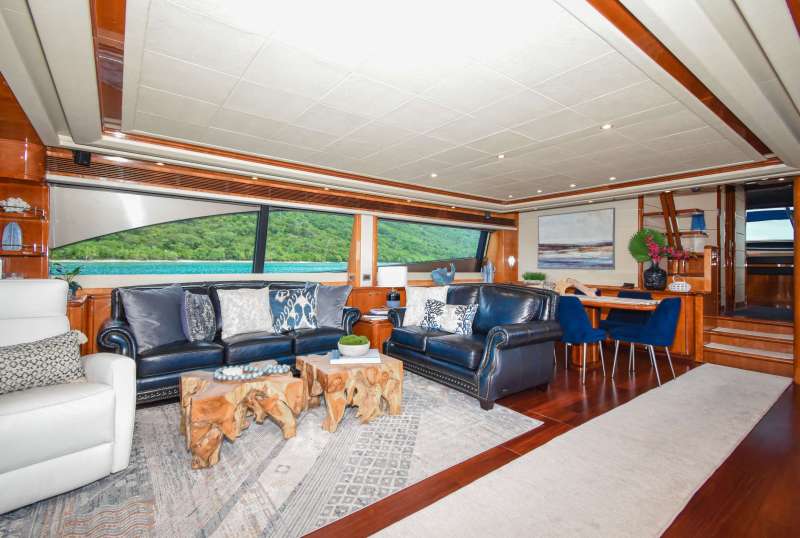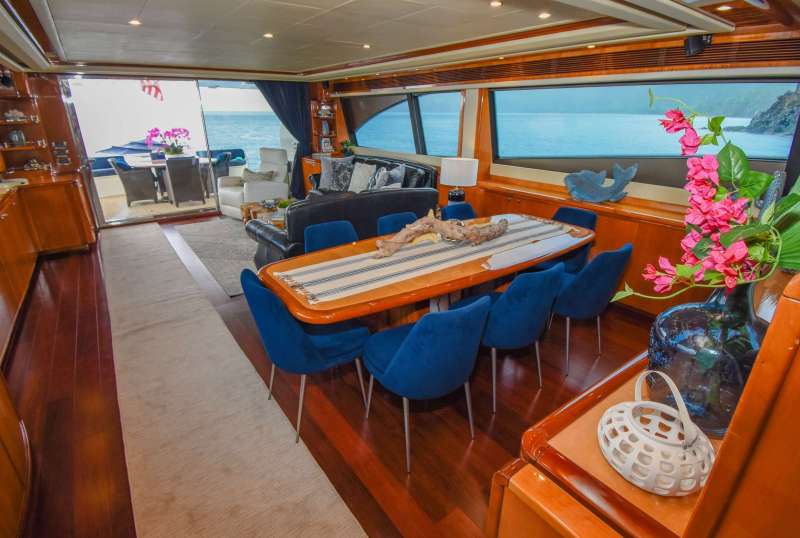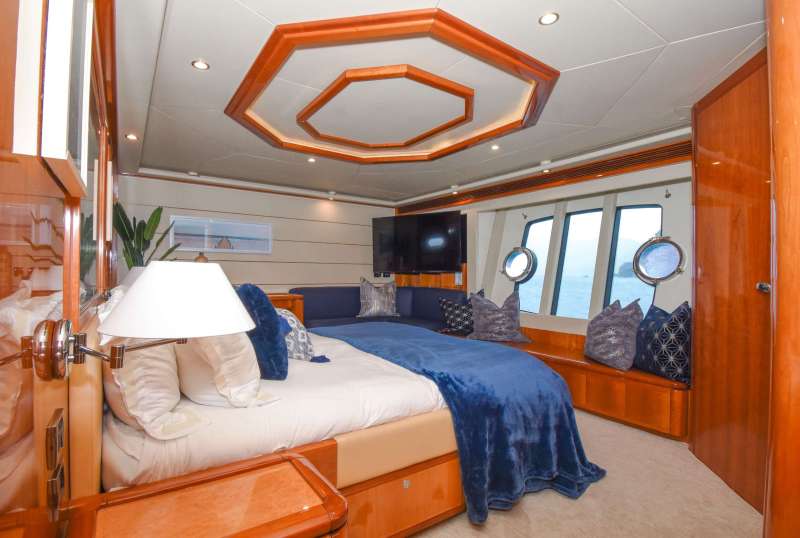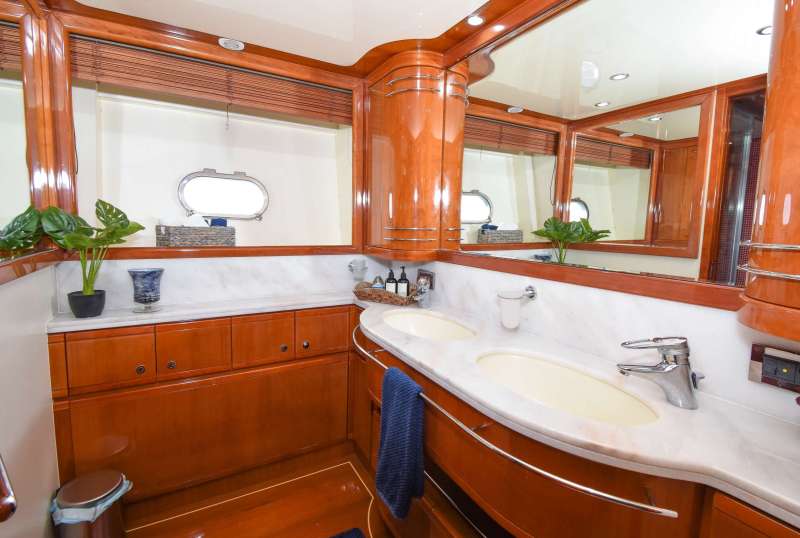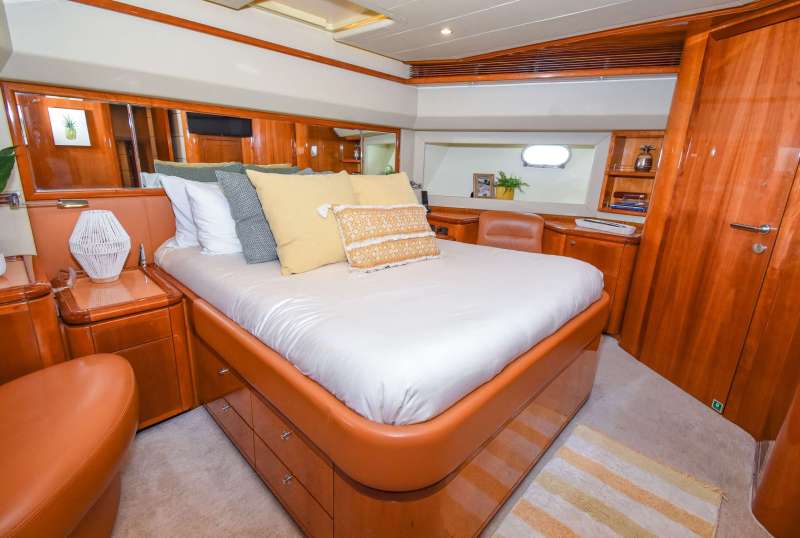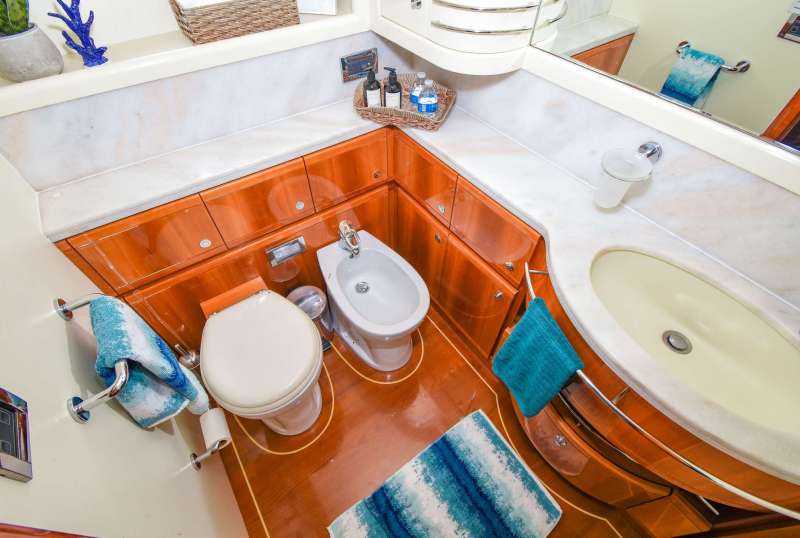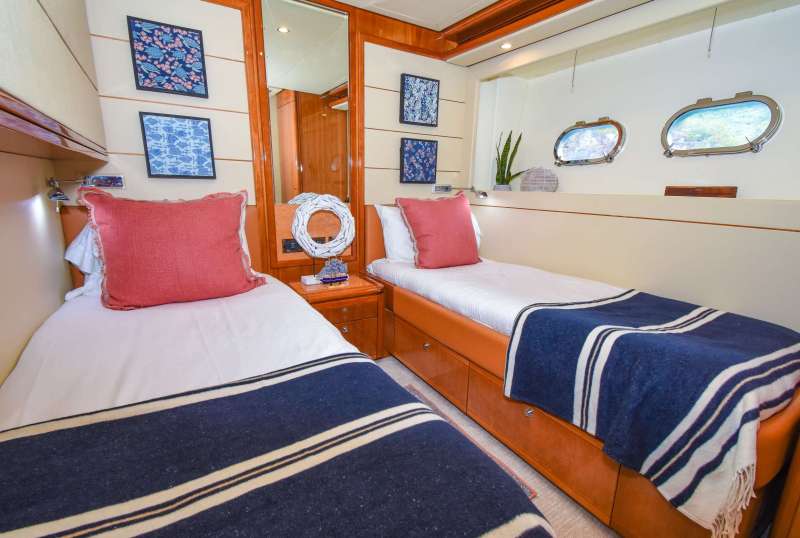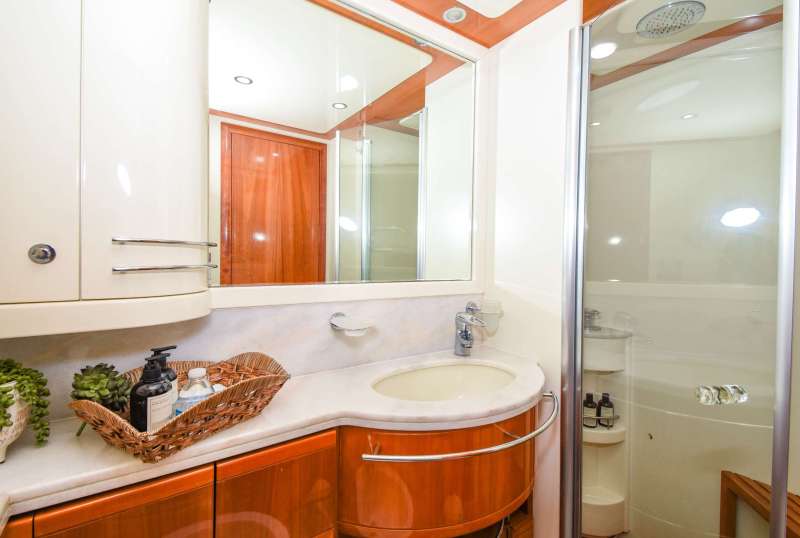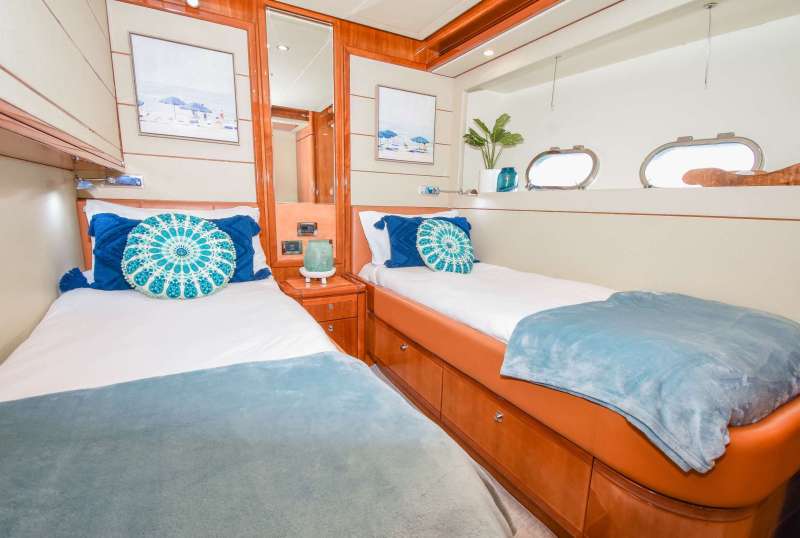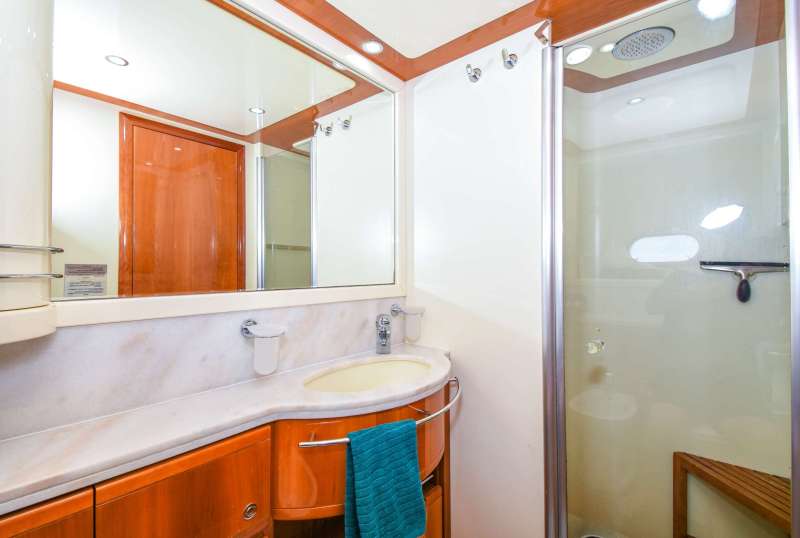 INDULGE II
From $42,000/week
4 cabins
90 ft
Ferretti
10 guests
Refit: 2022
60 US Gall/Hr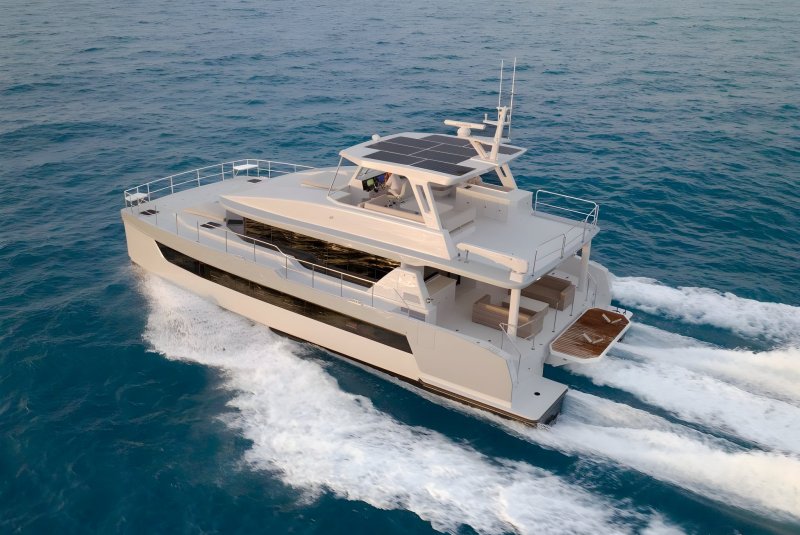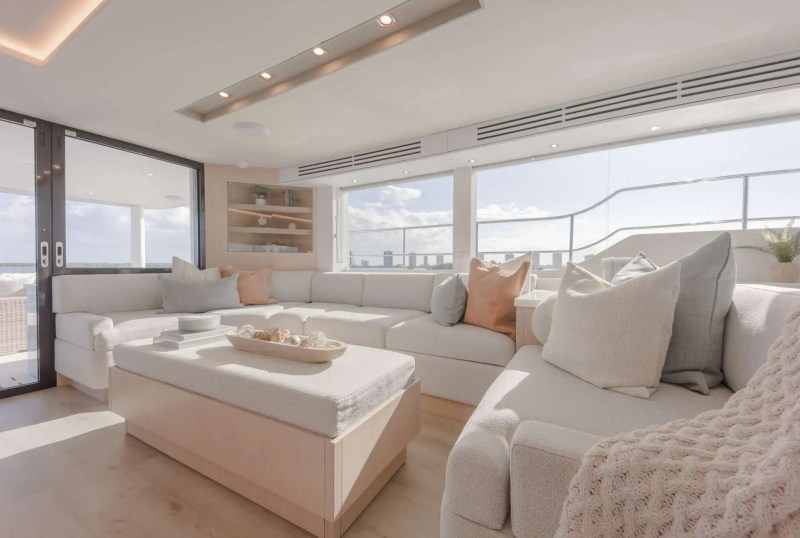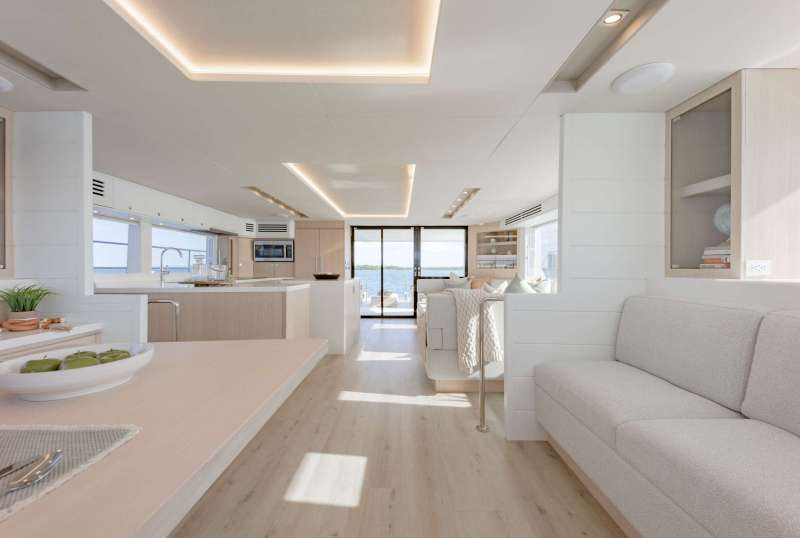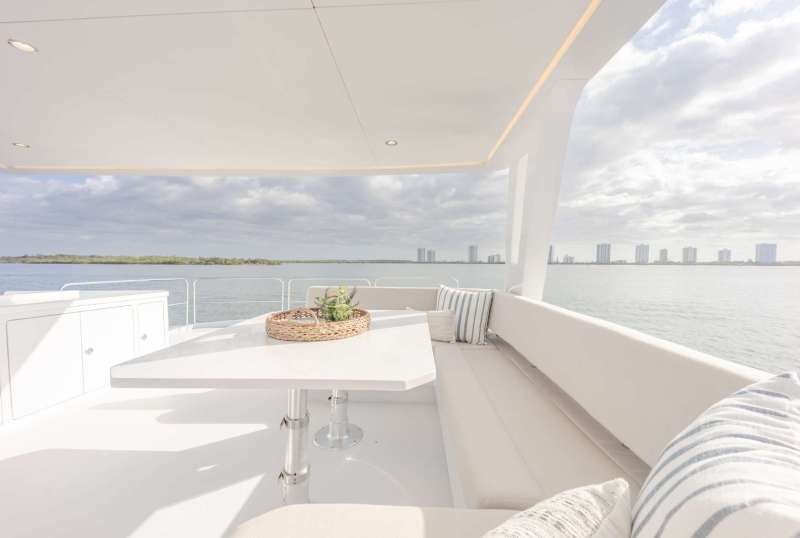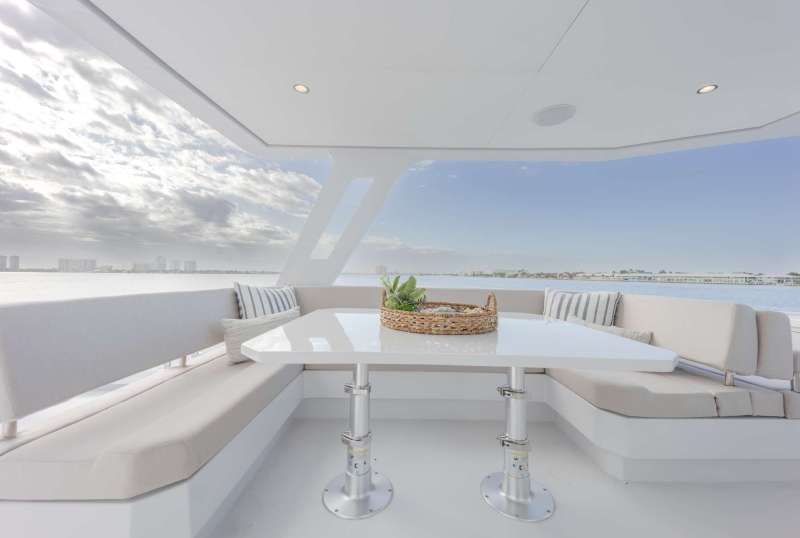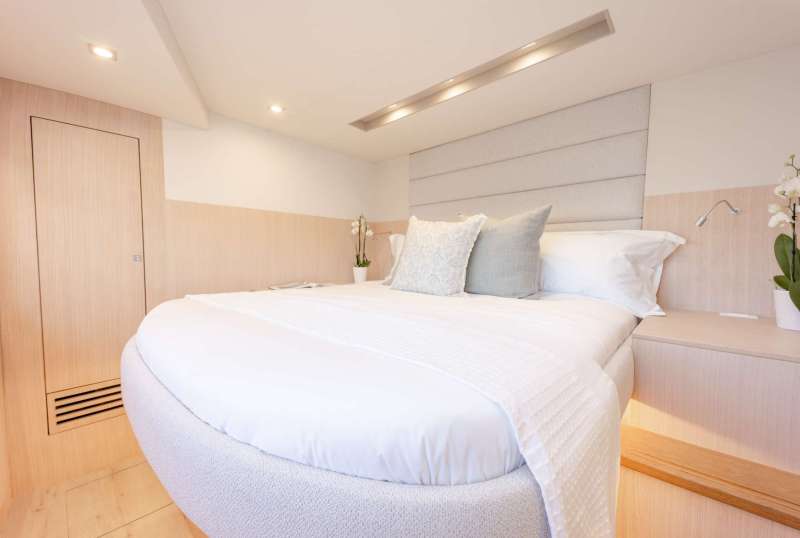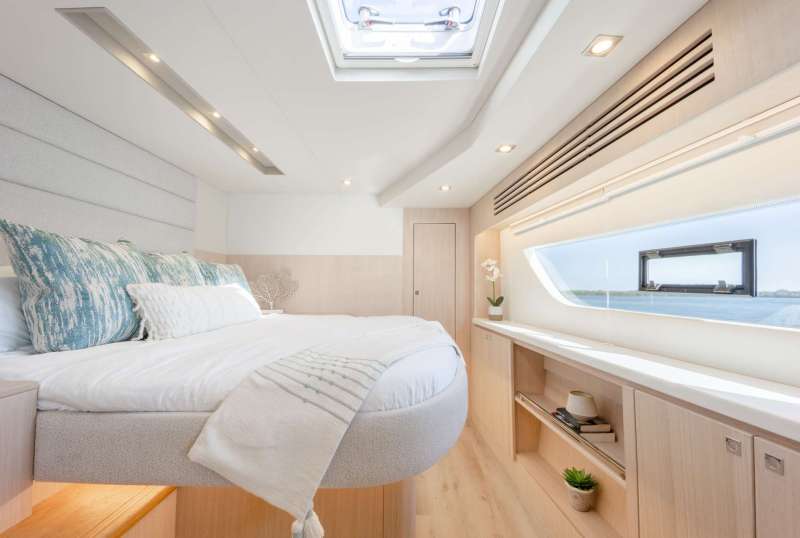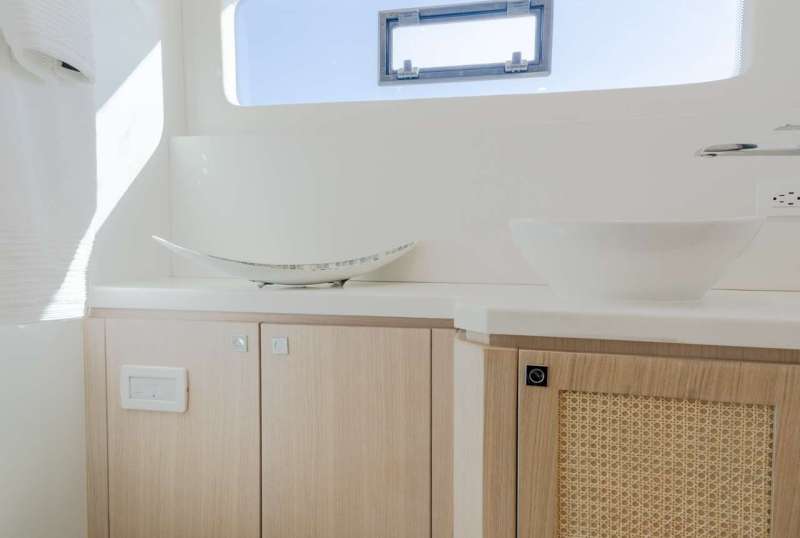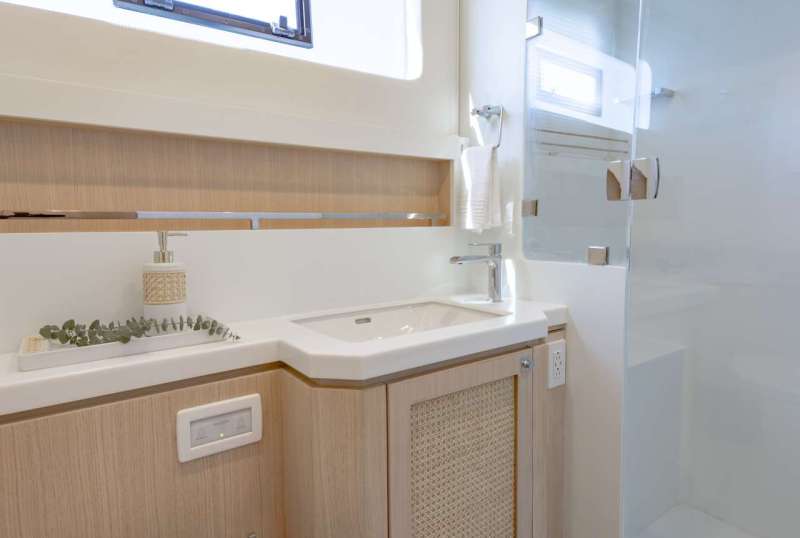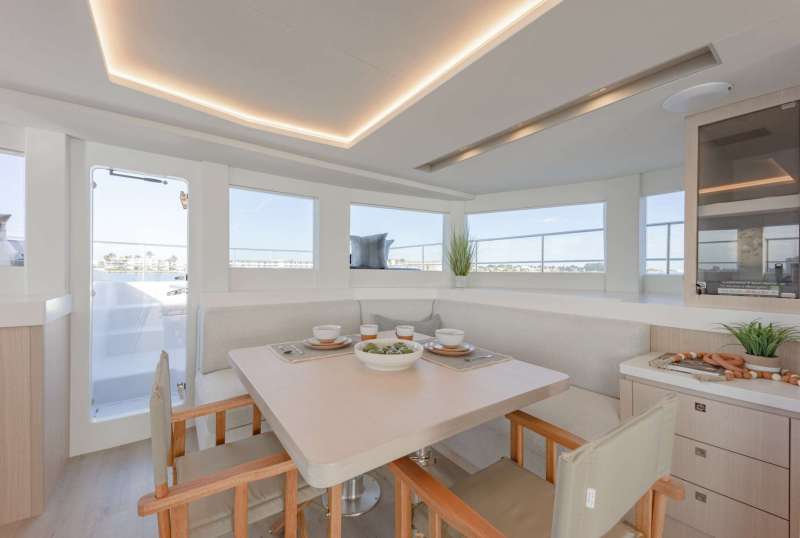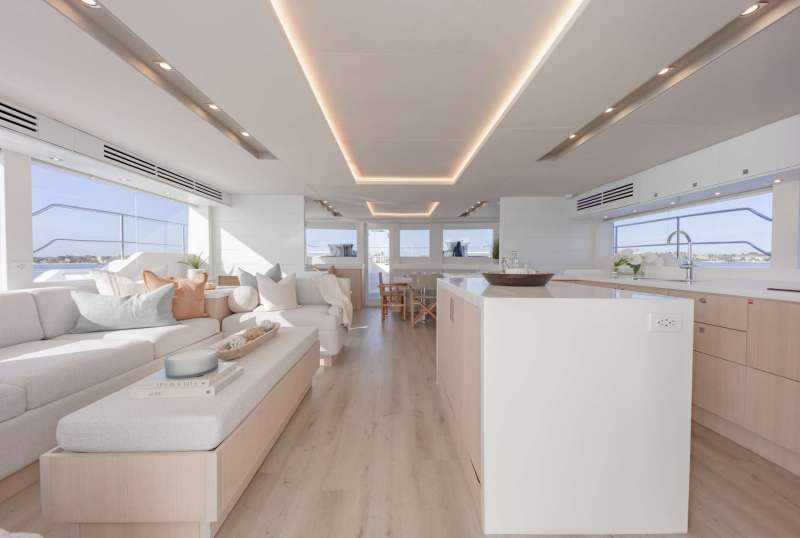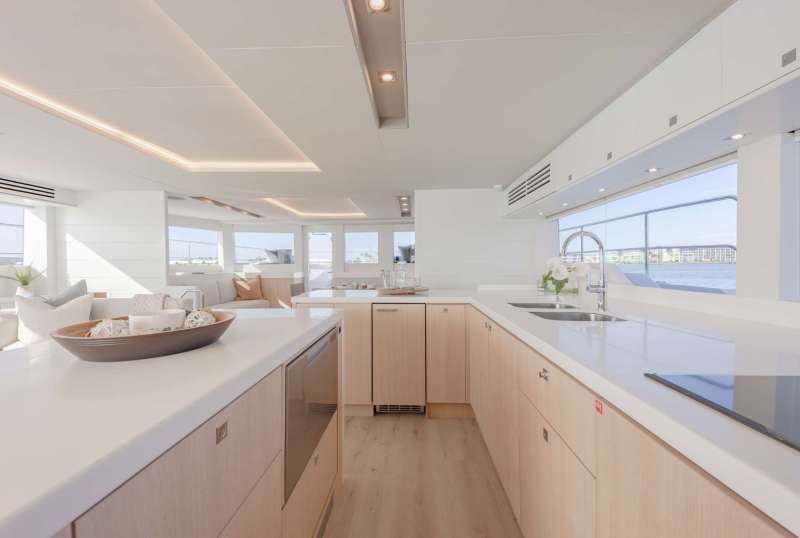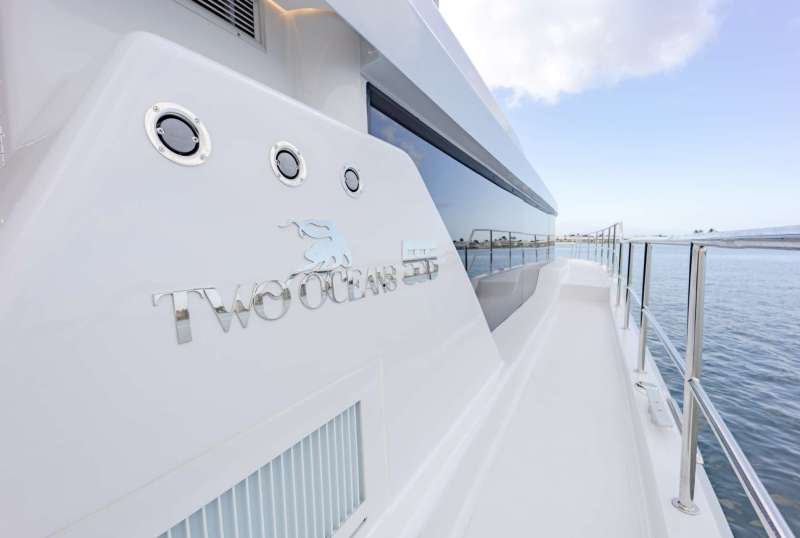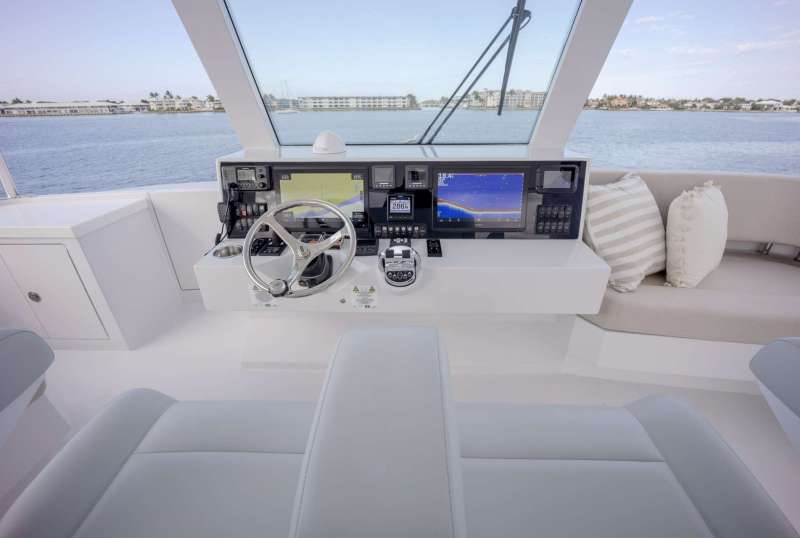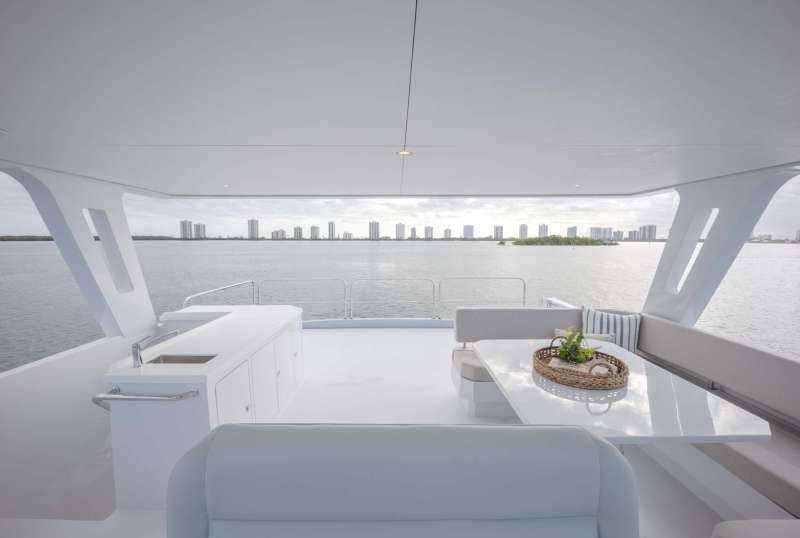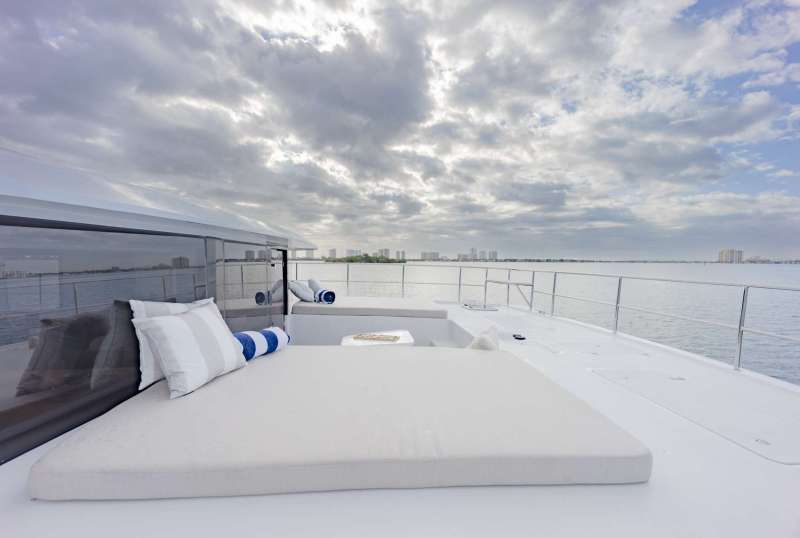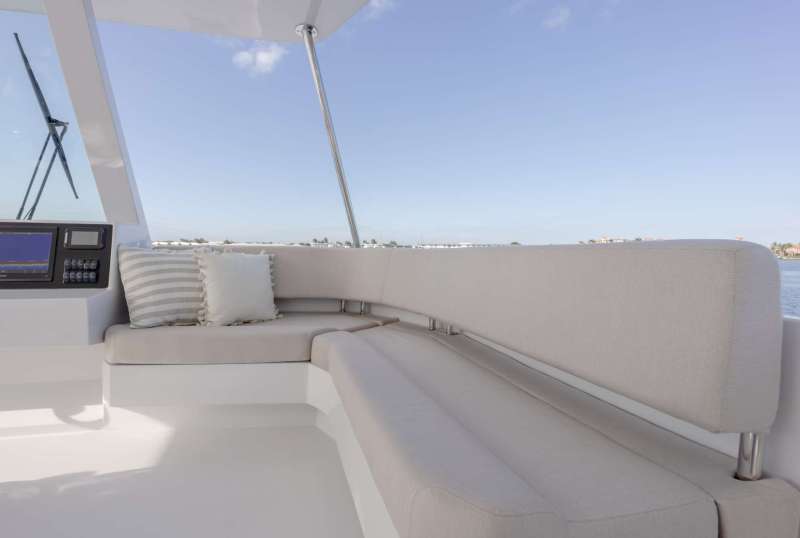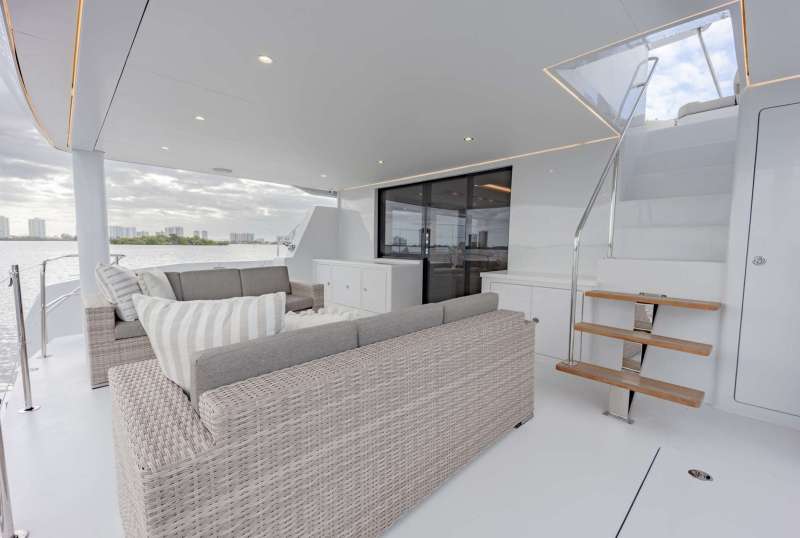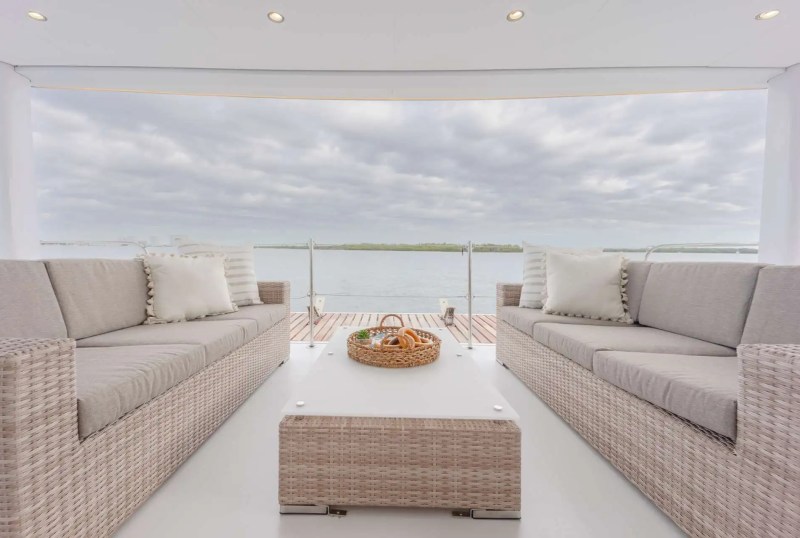 EARNOUT
From $41,500/week
3 cabins
55 ft
Two Oceans
6 guests
Built: 2024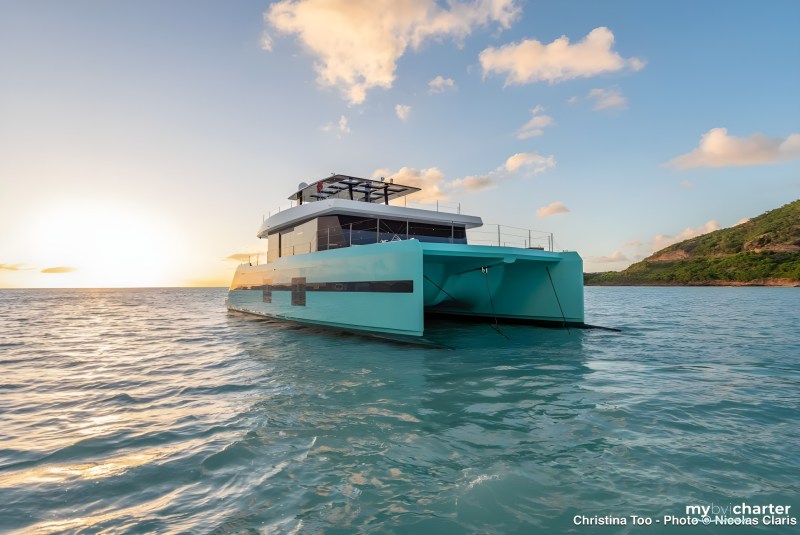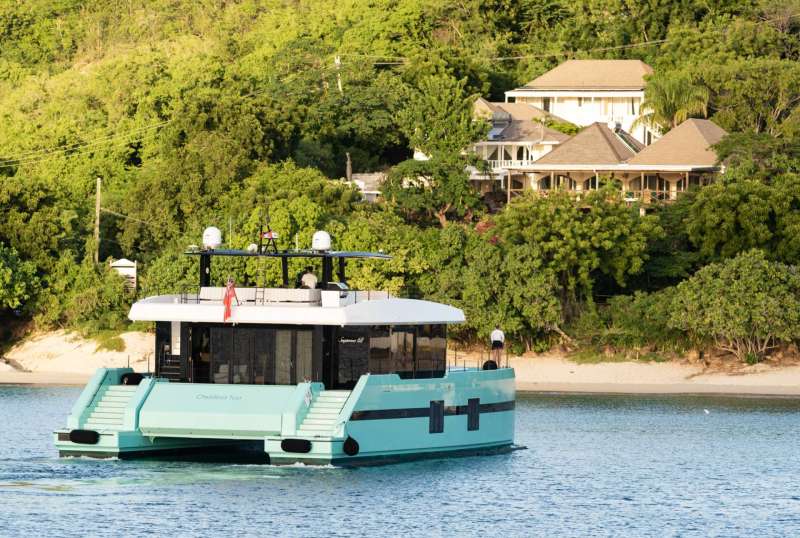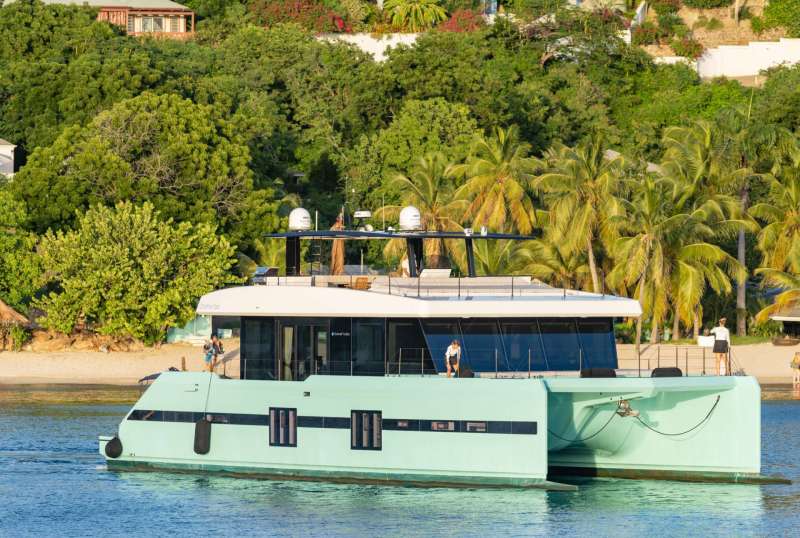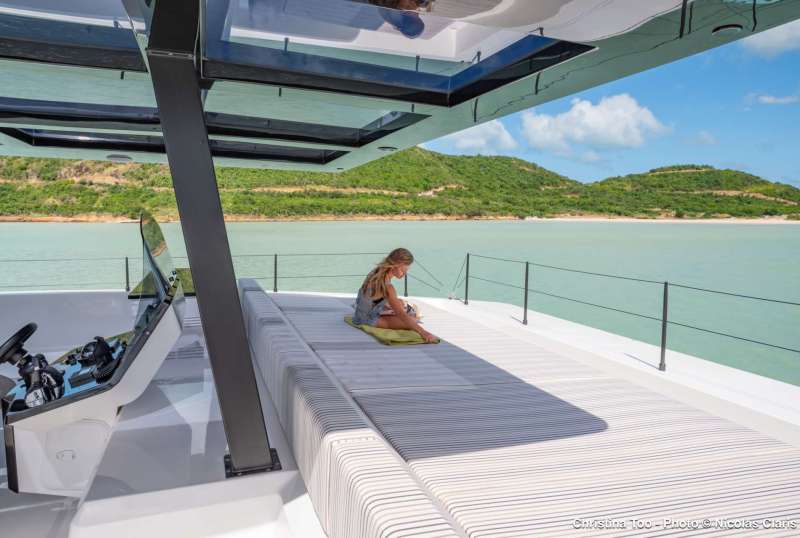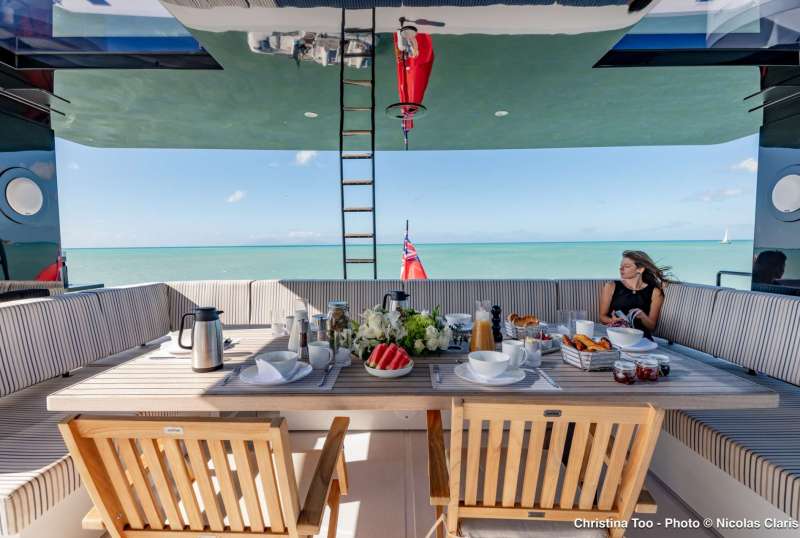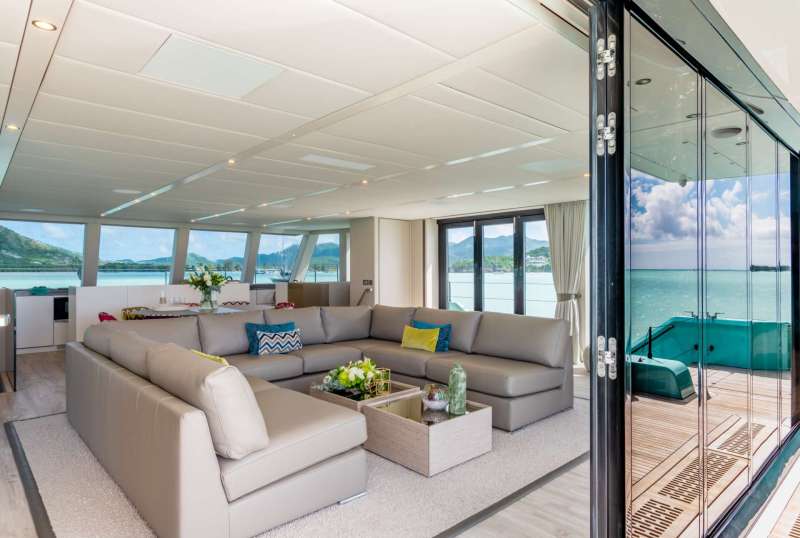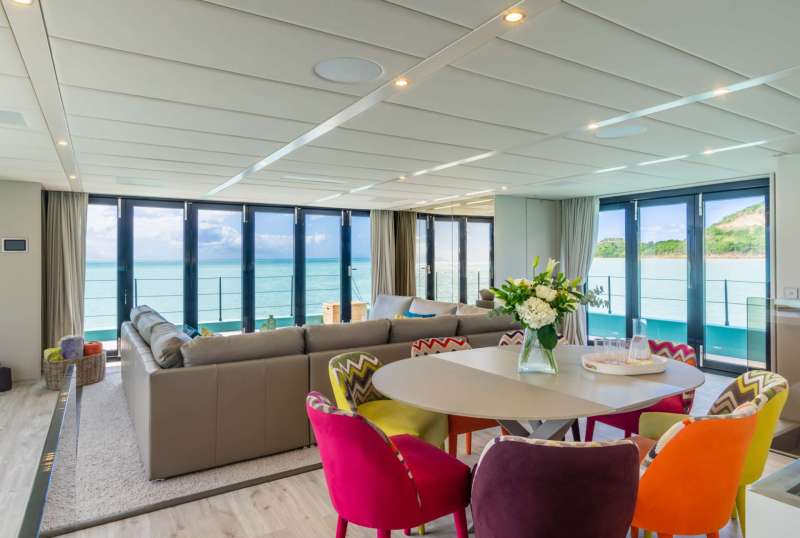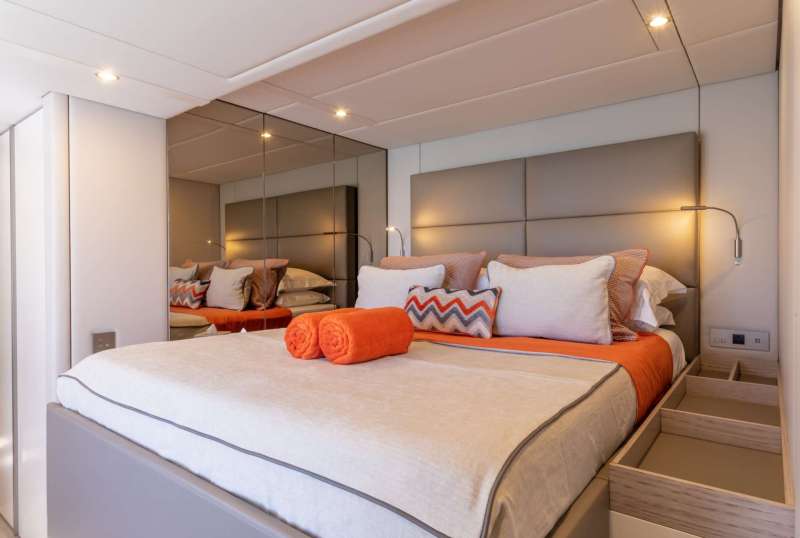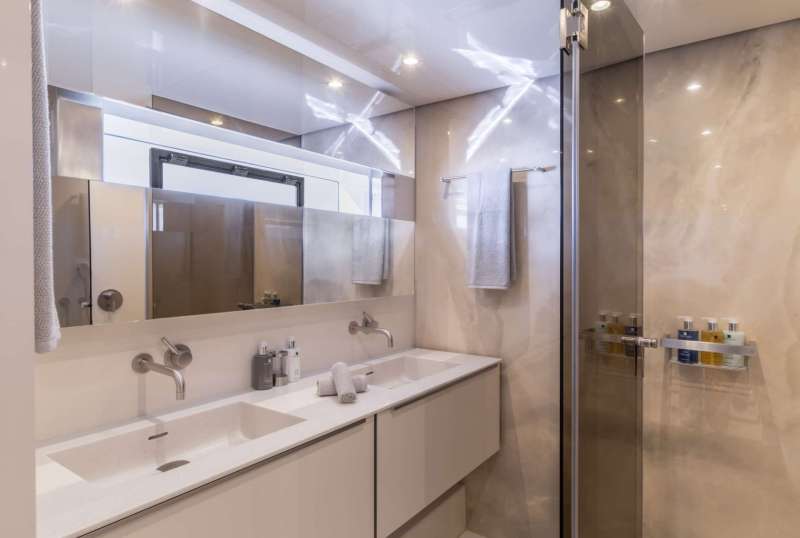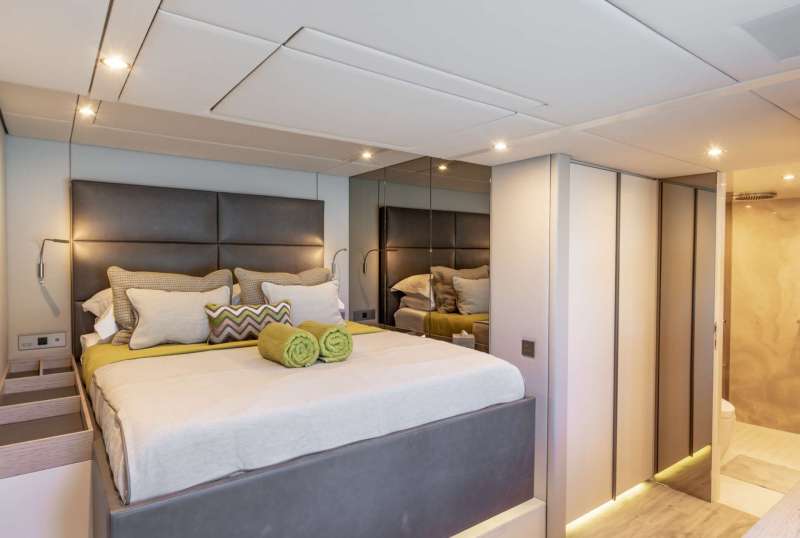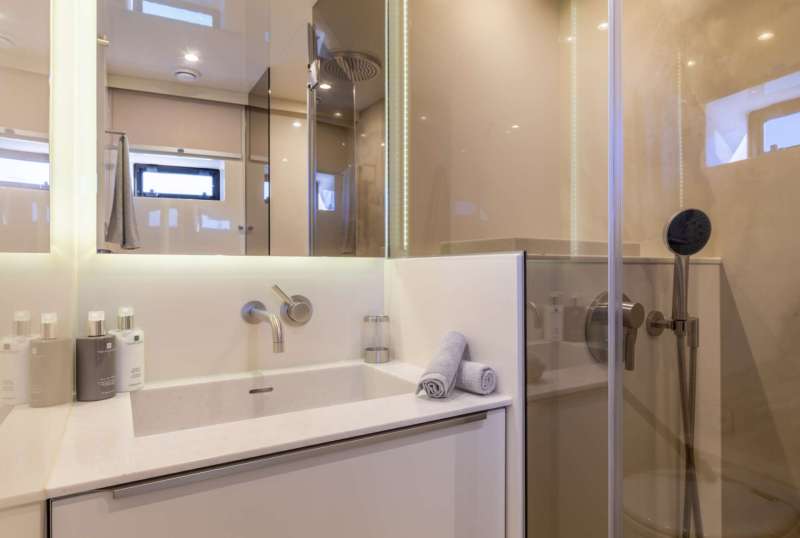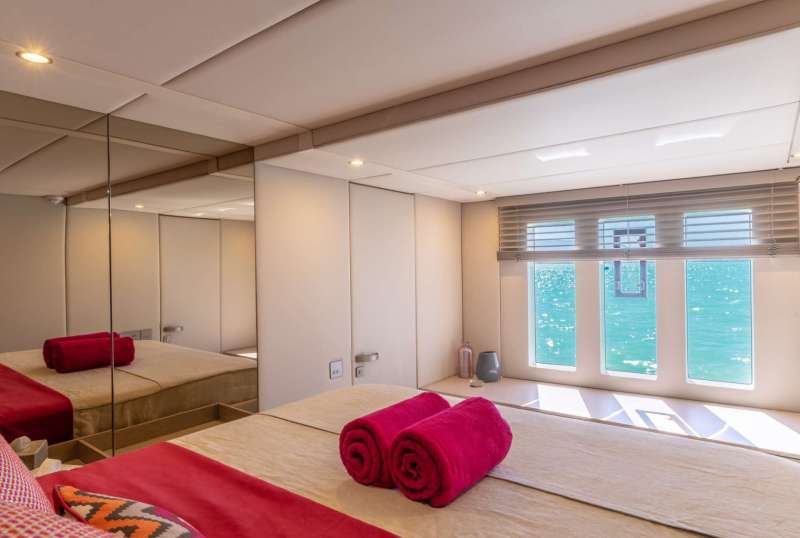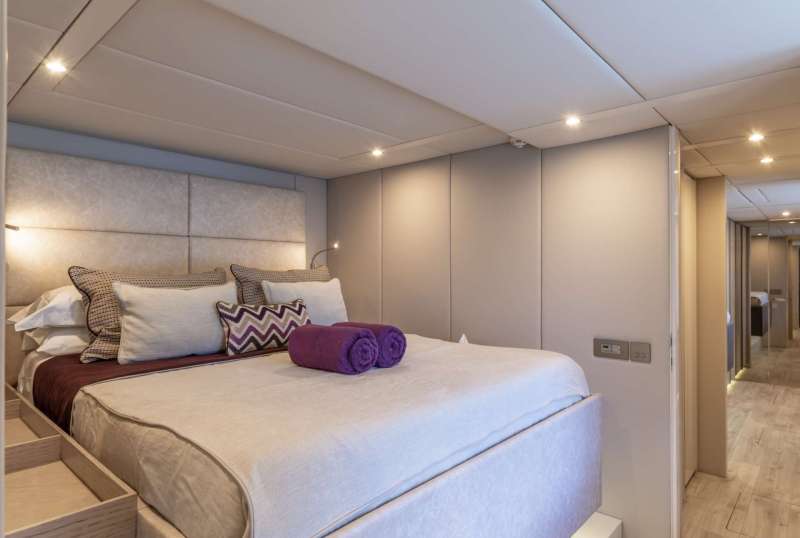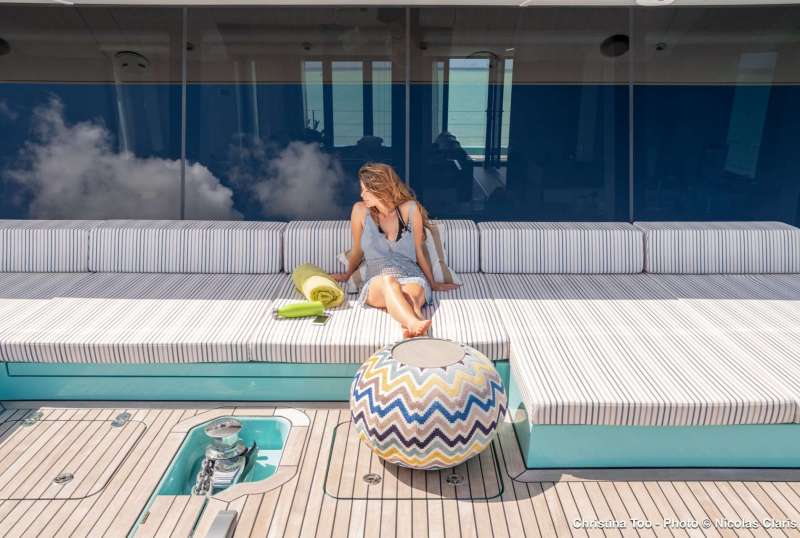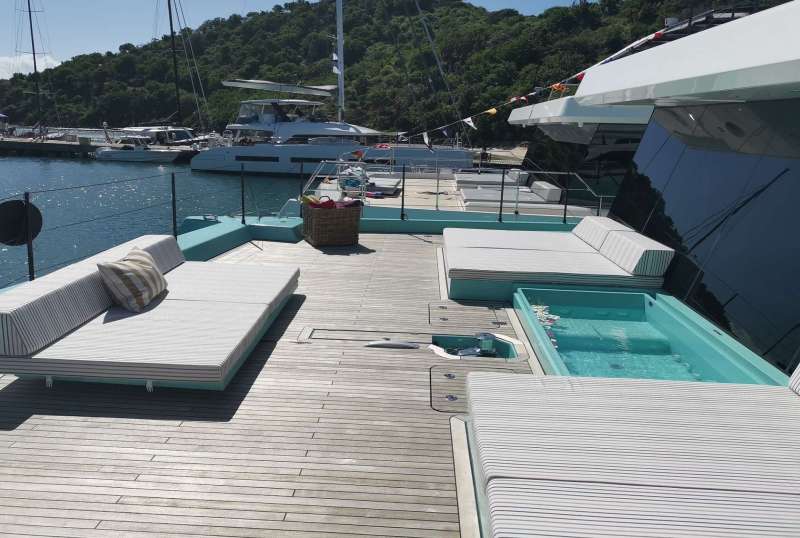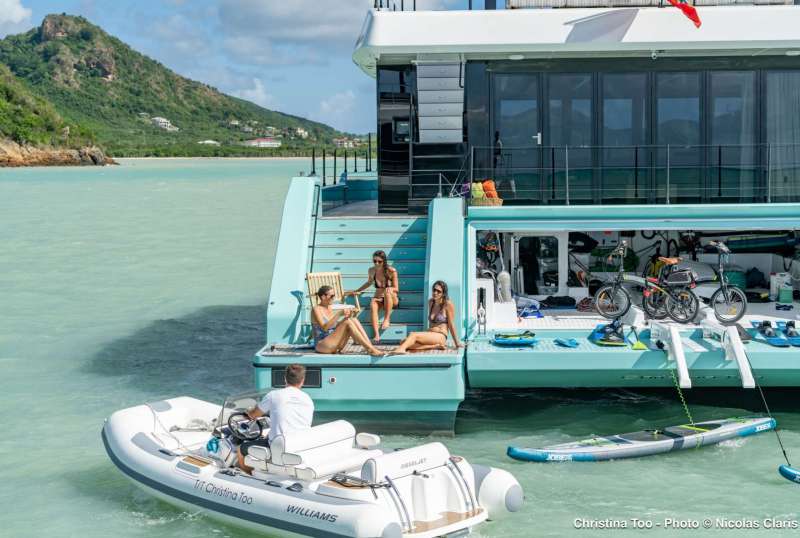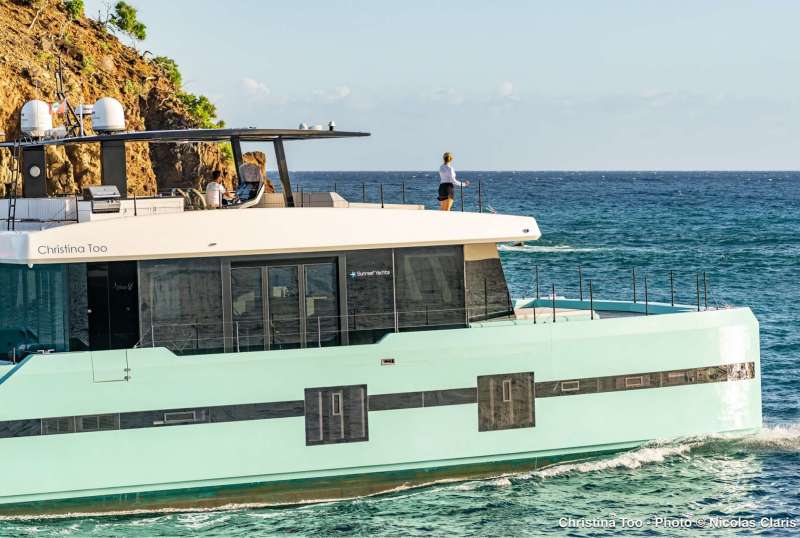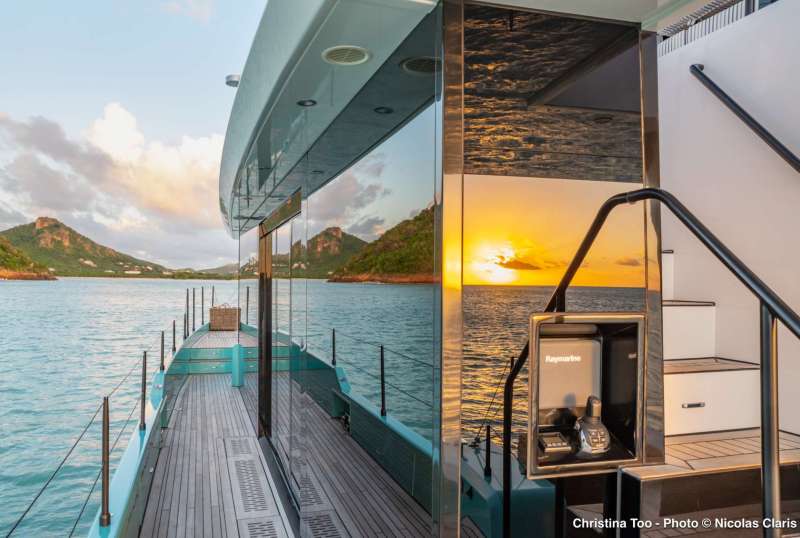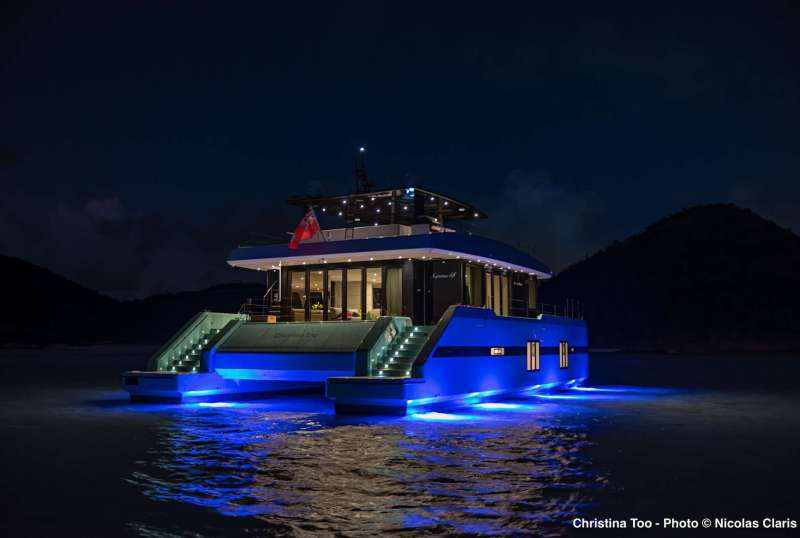 CHRISTINA TOO
From $38,000/week
4 cabins
68 ft
Sunreef Yachts
8 guests
Built: 2017
80 Litres/Hr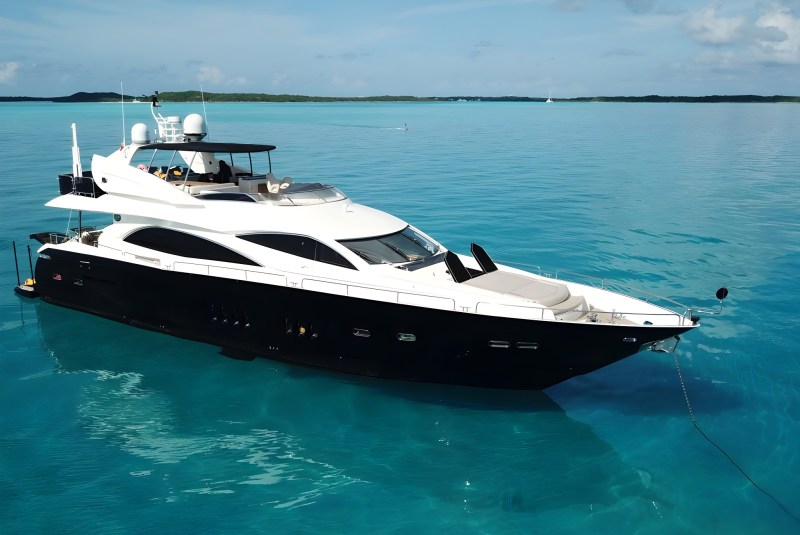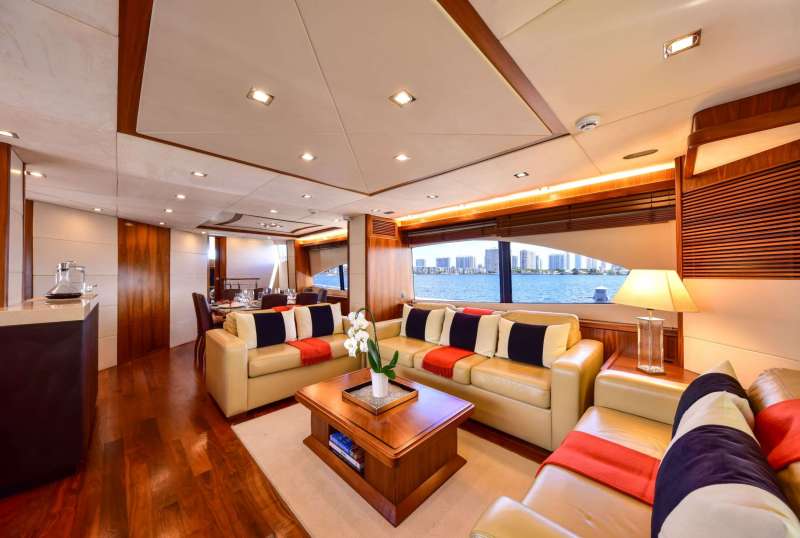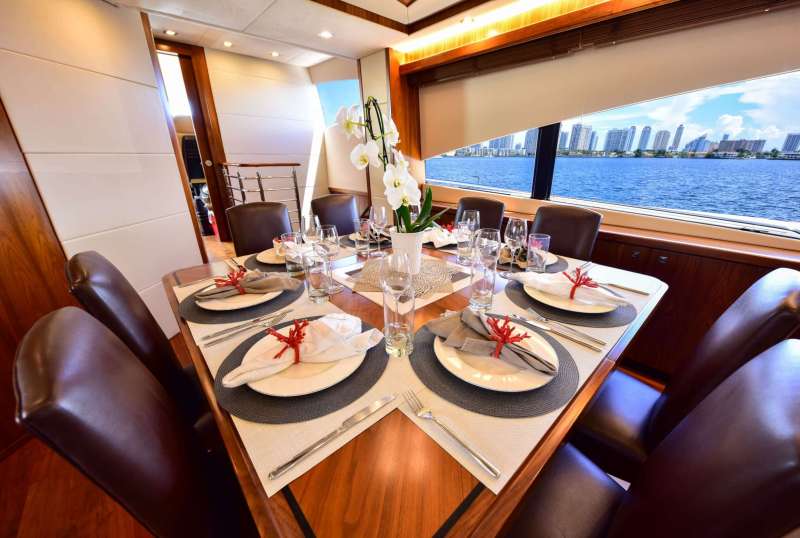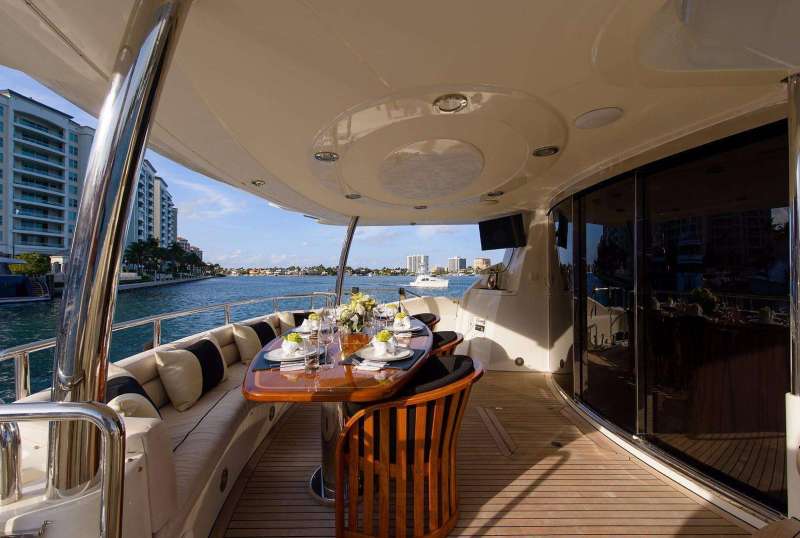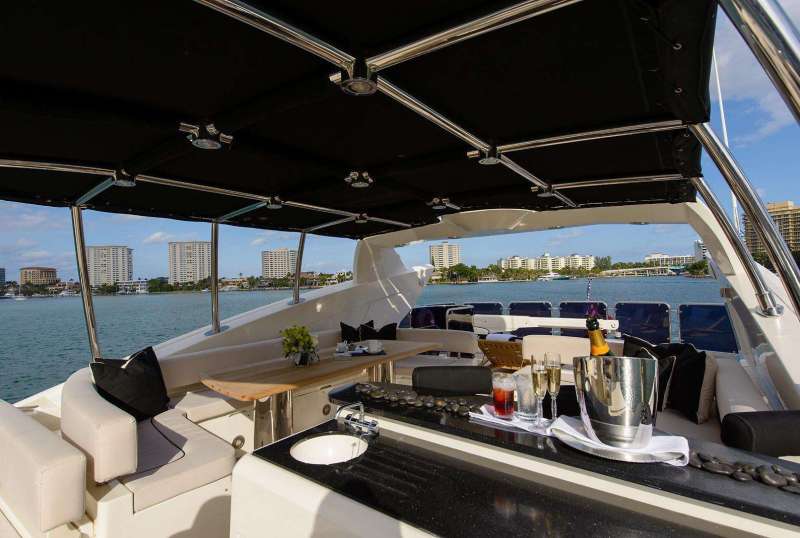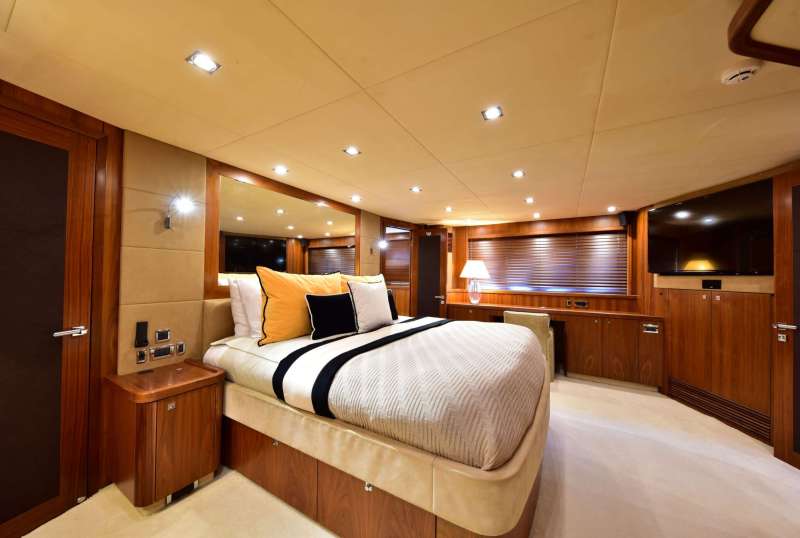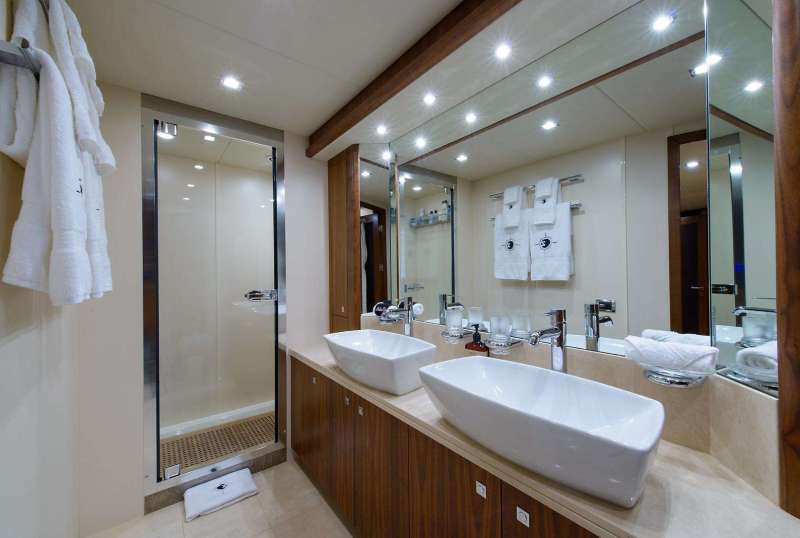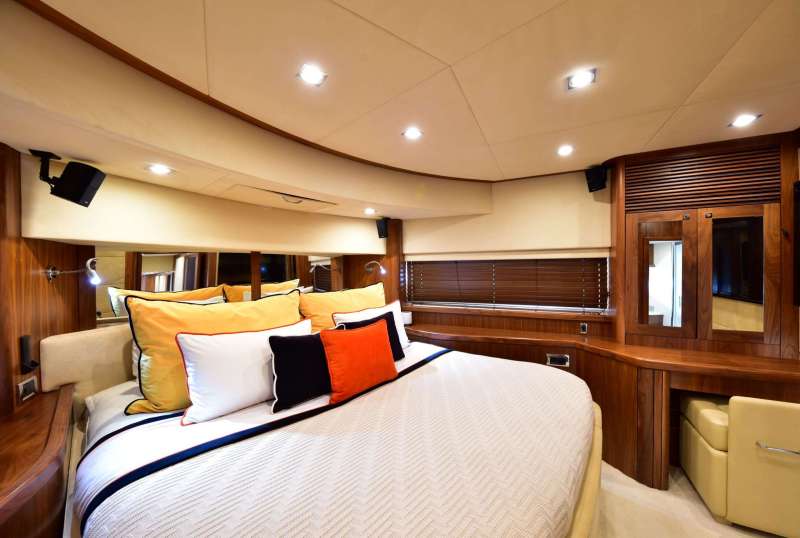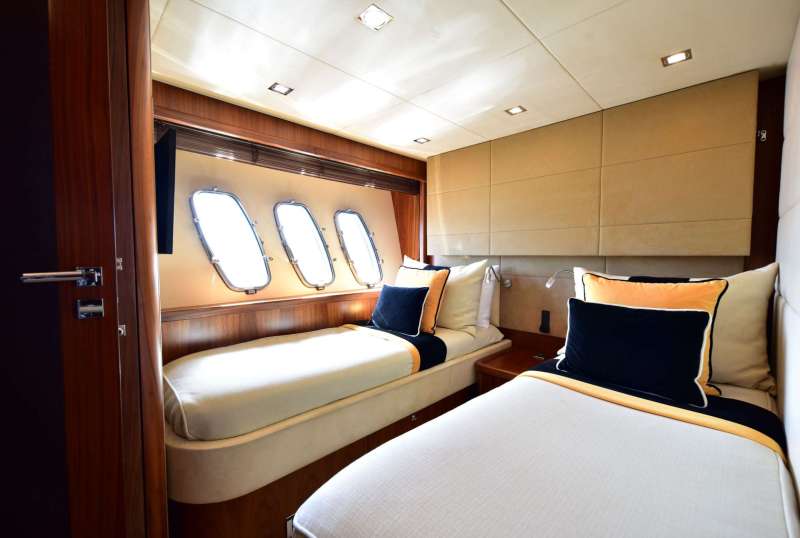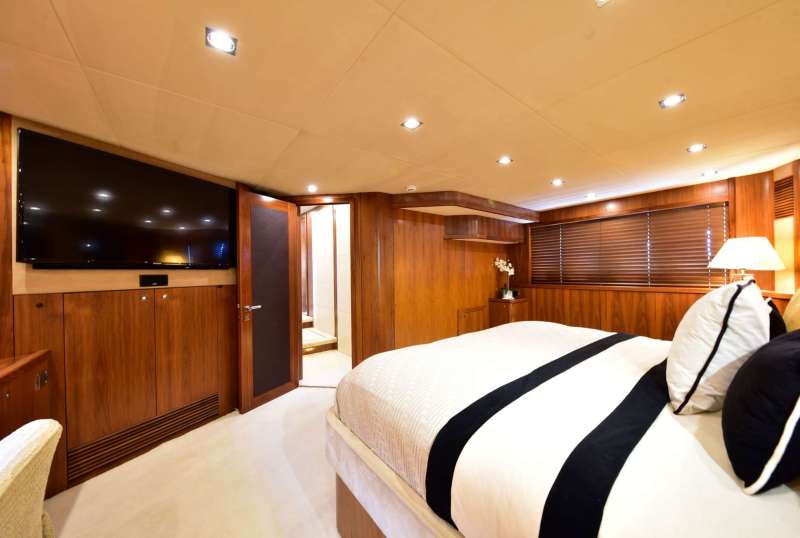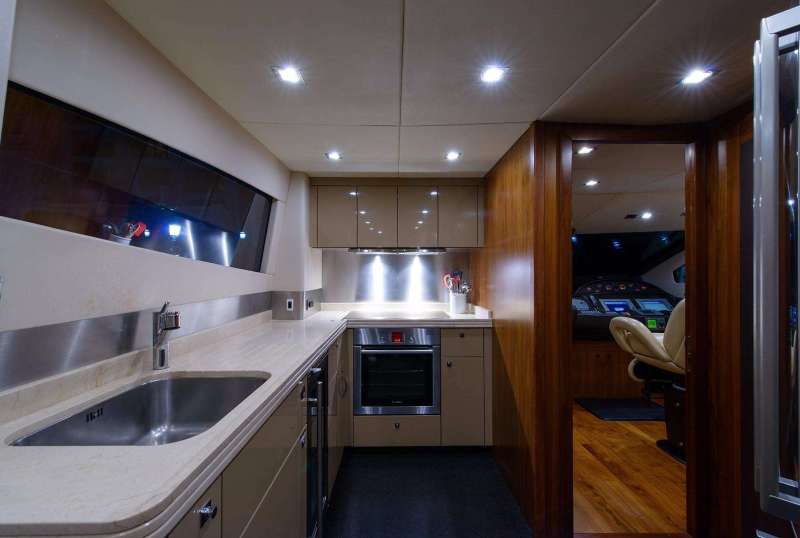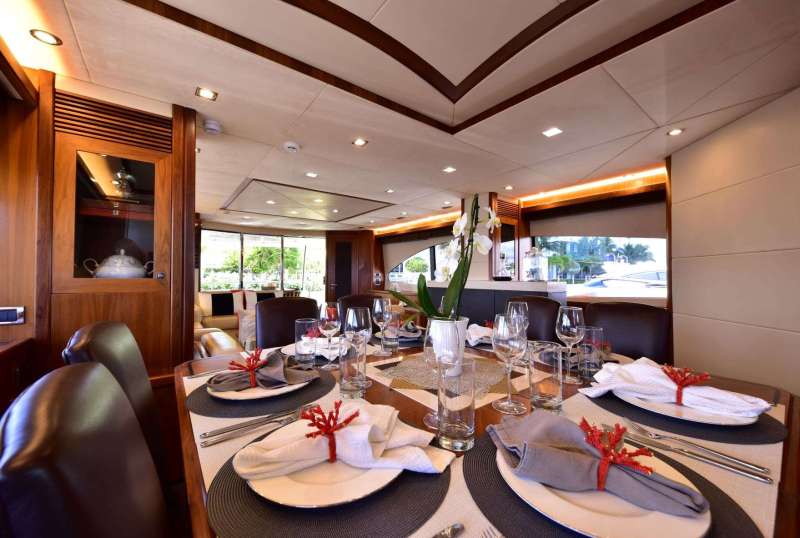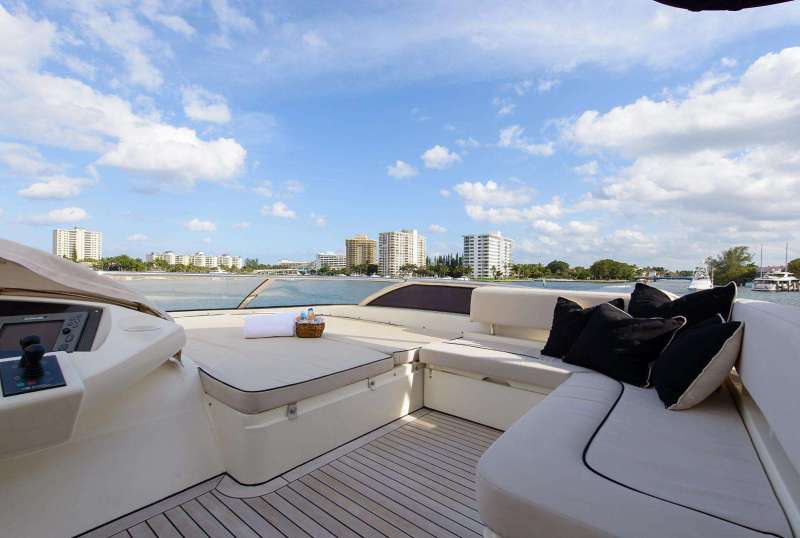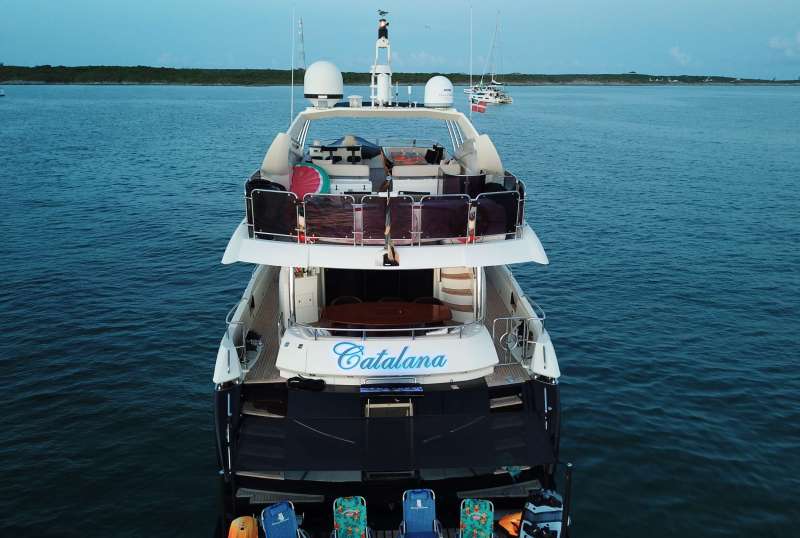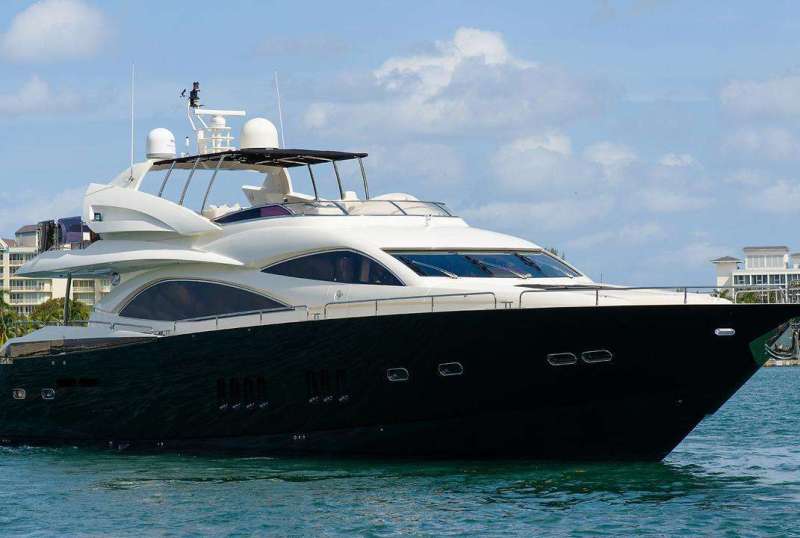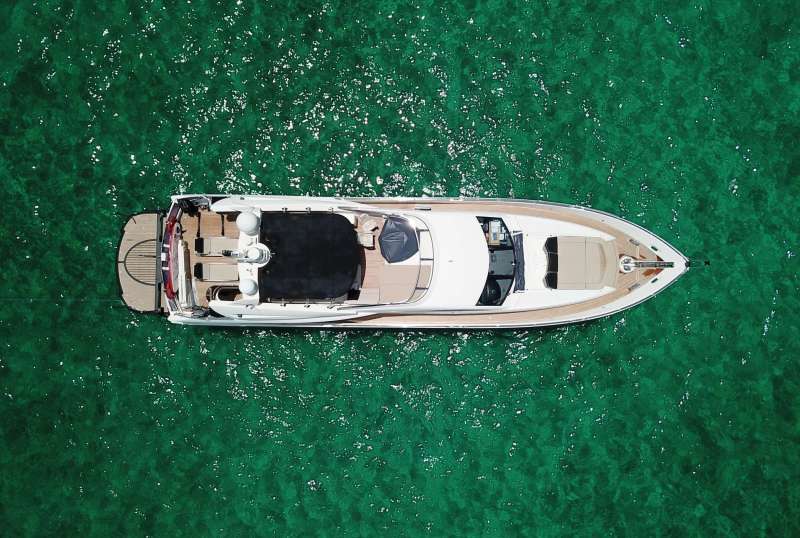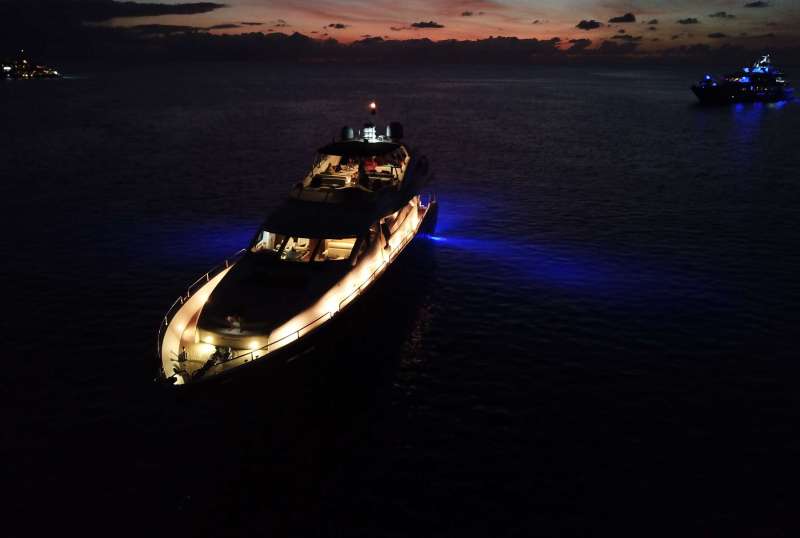 CATALANA
From $38,000/week
4 cabins
90 ft
Sunseeker
8 guests
Refit: 2018
110 US Gall/Hr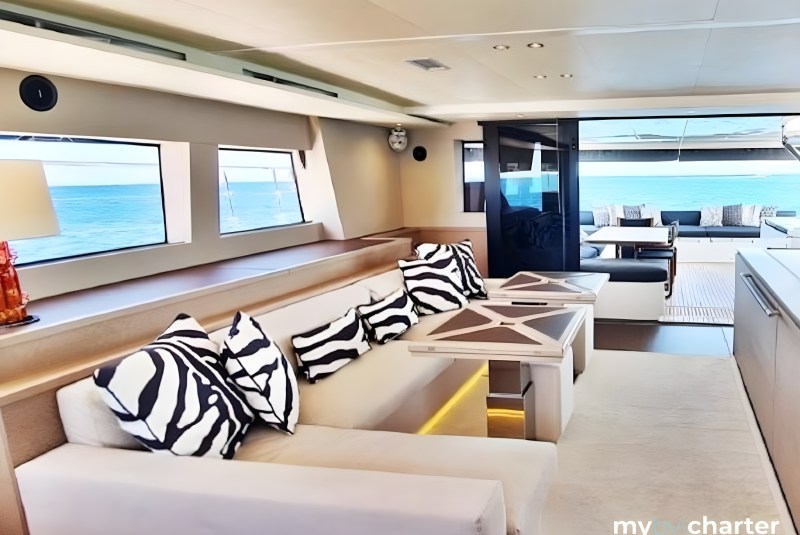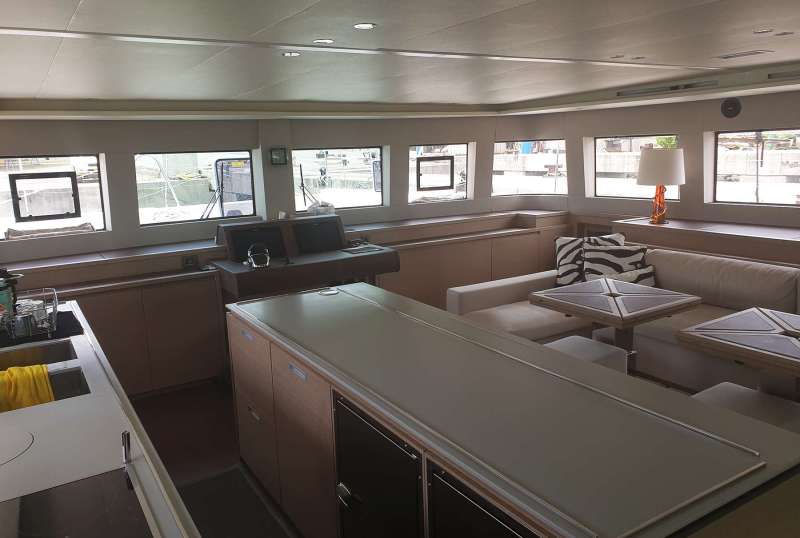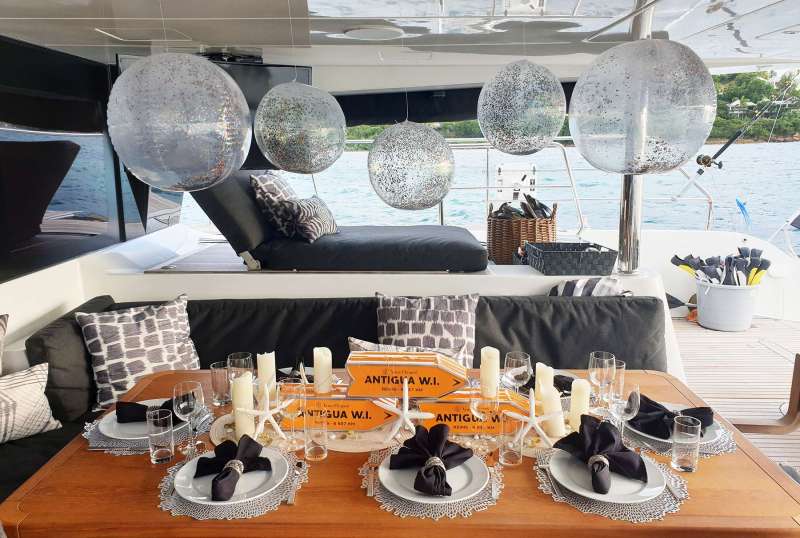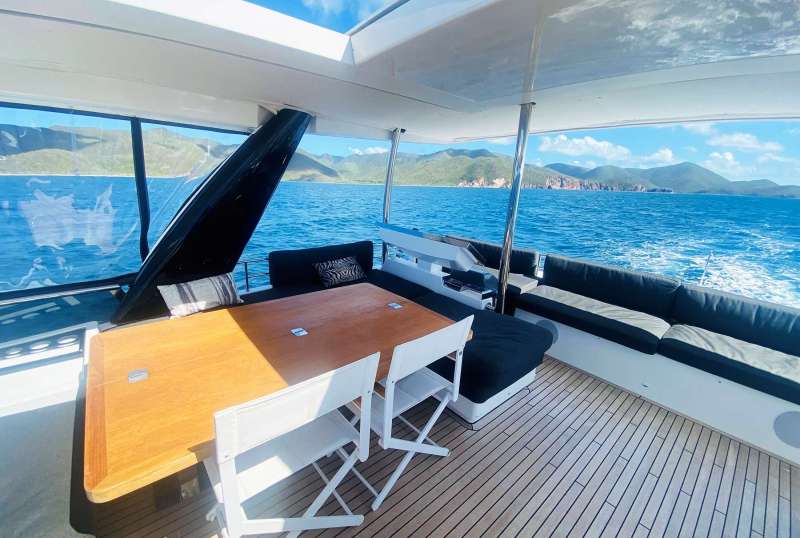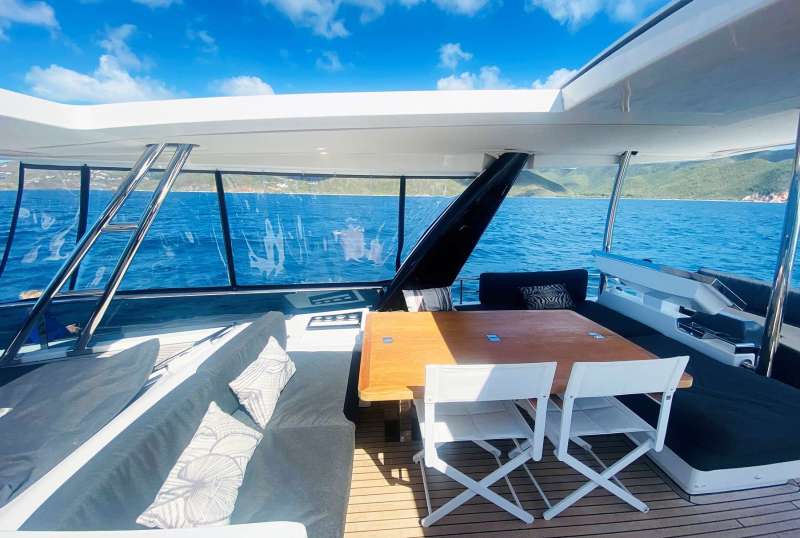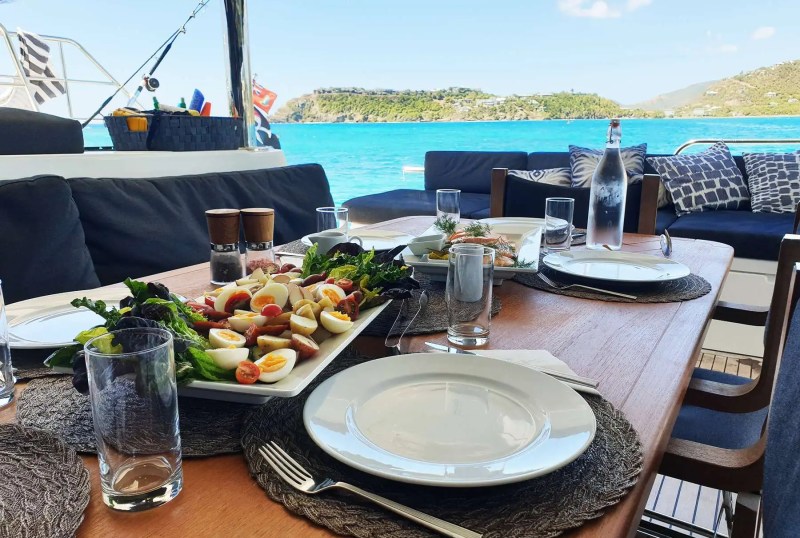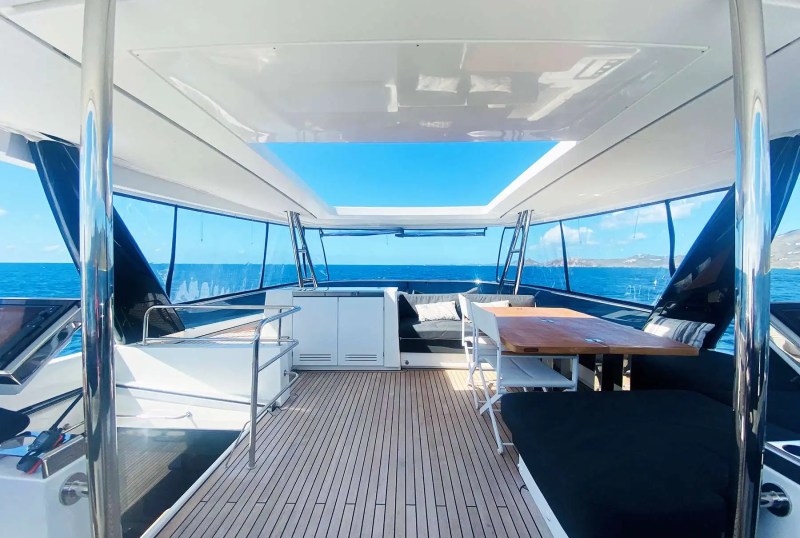 MARE BLU
From $37,000/week
4 cabins
64 ft
Lagoon
8 guests
Refit: 2022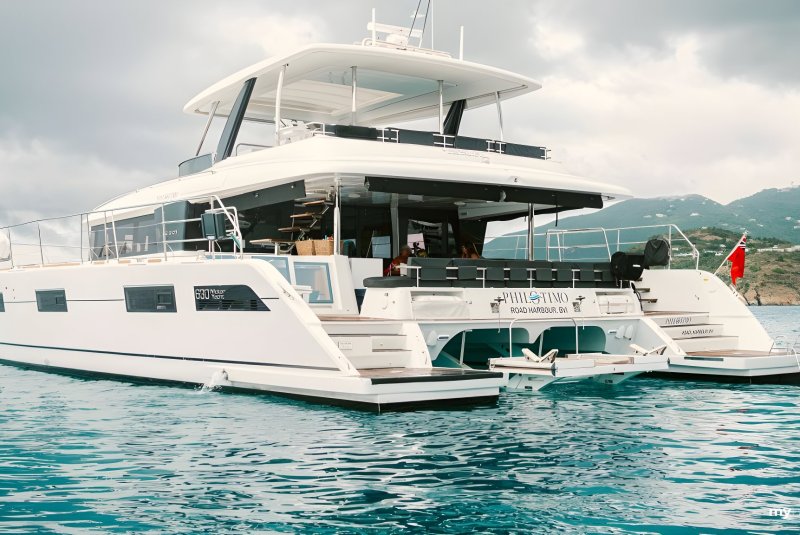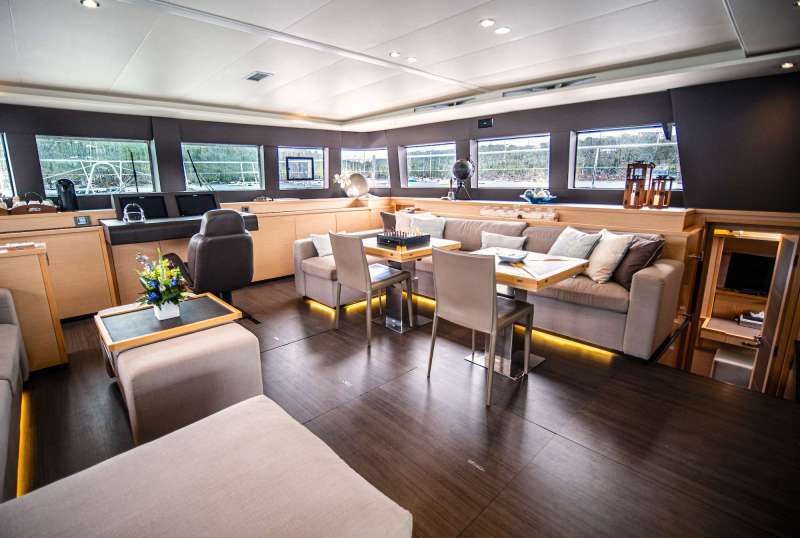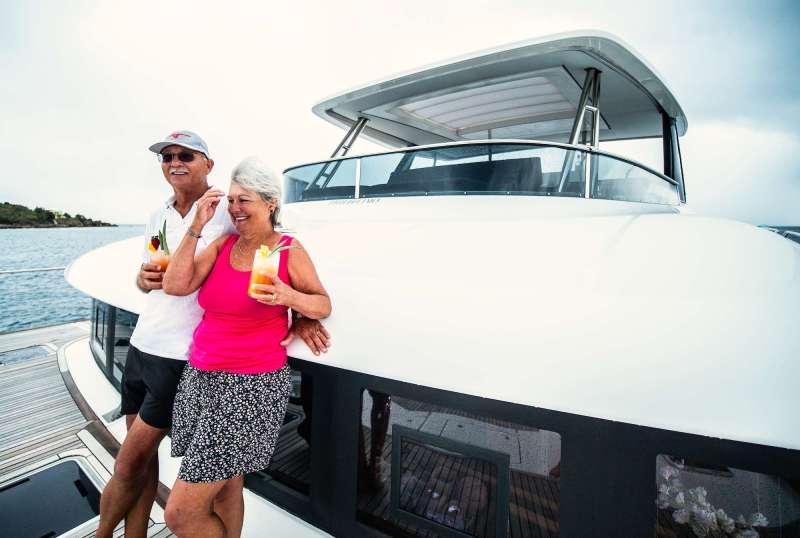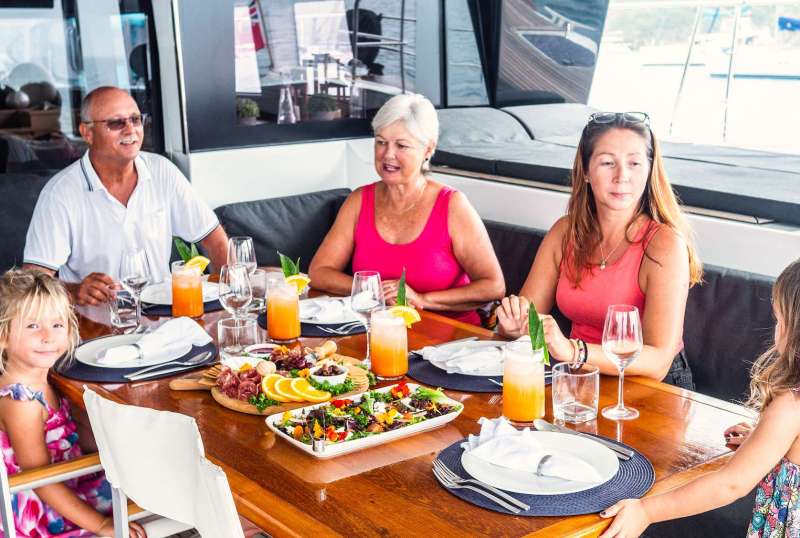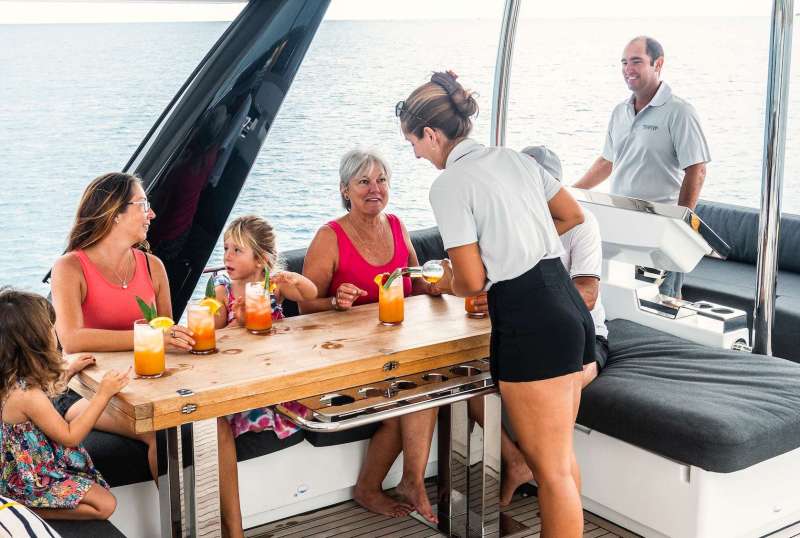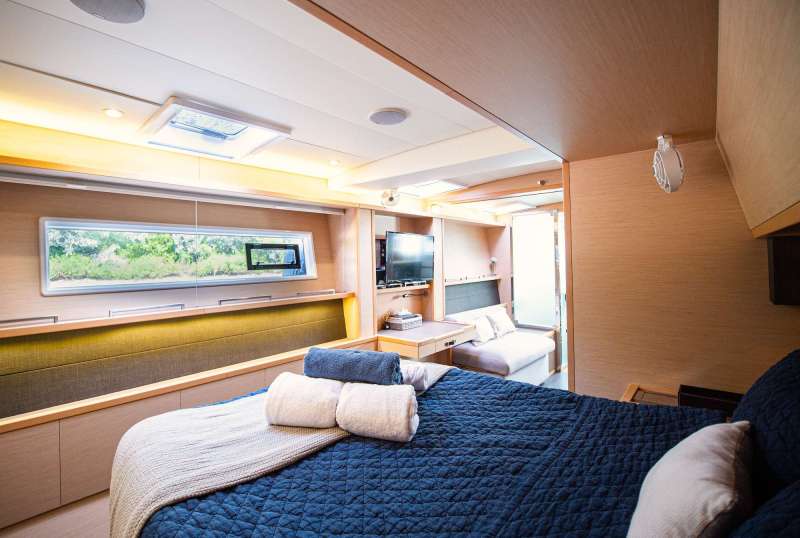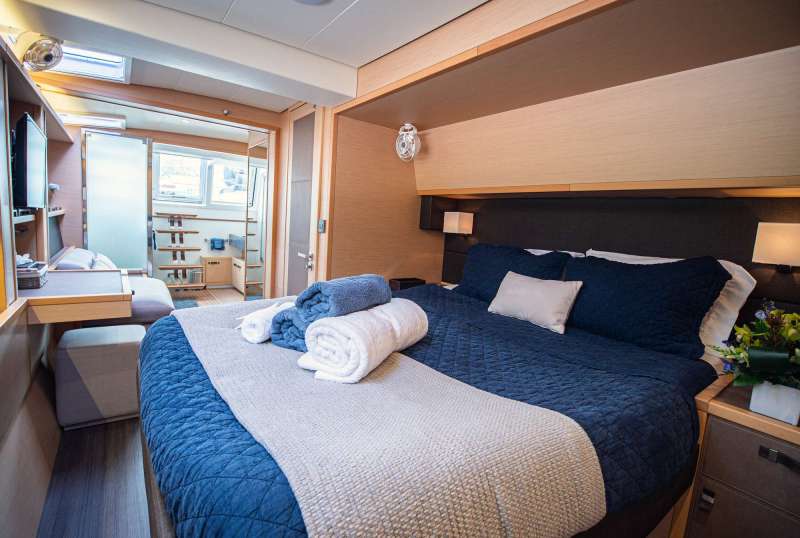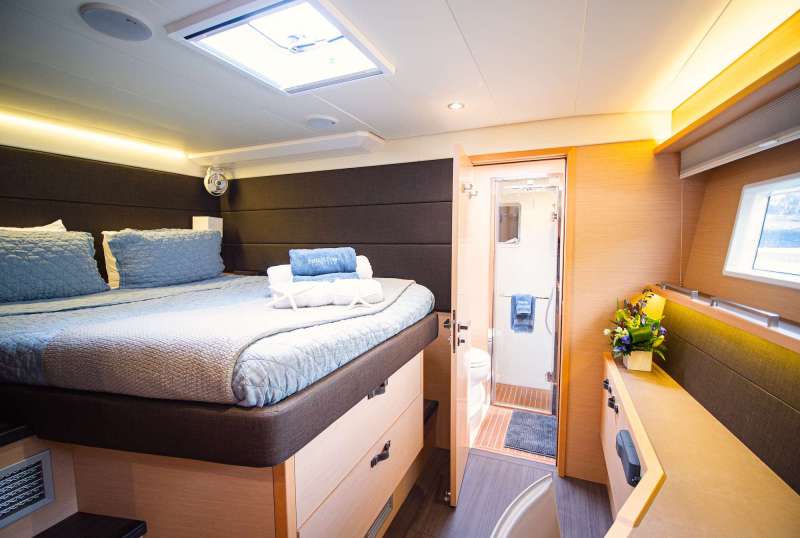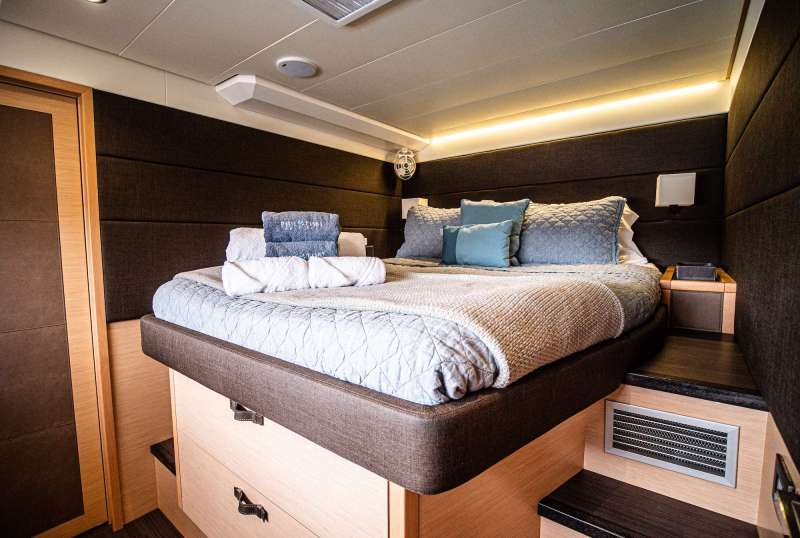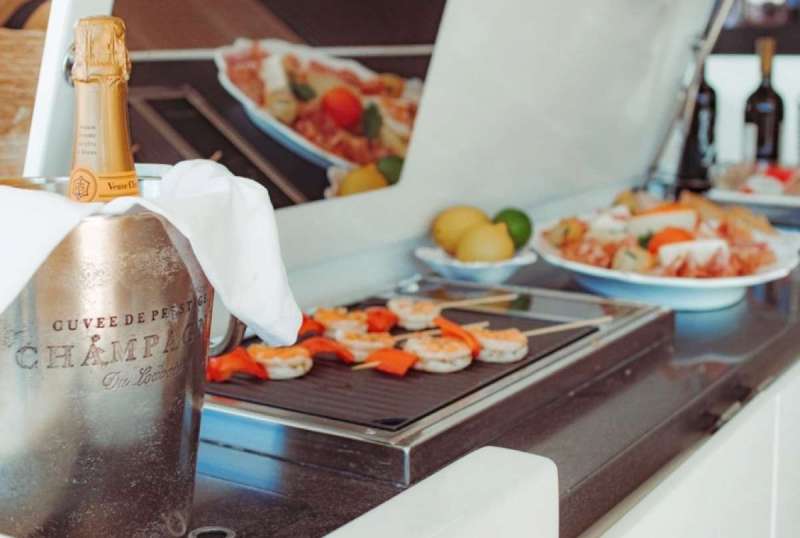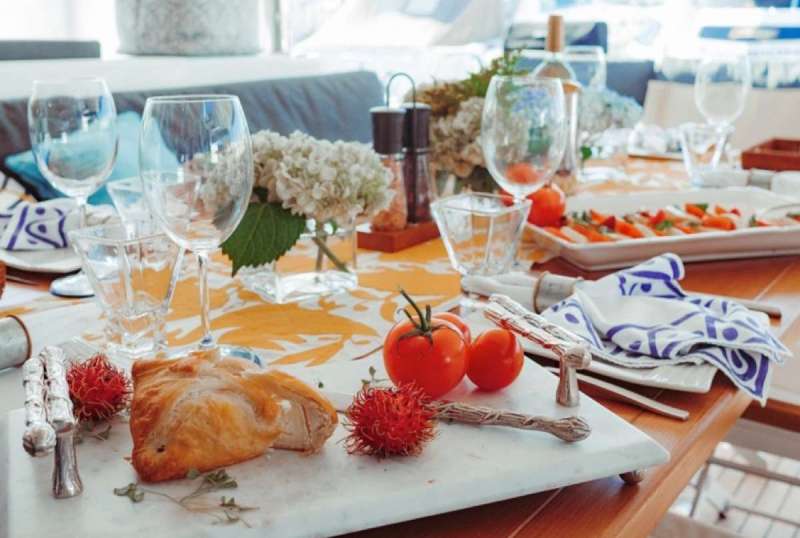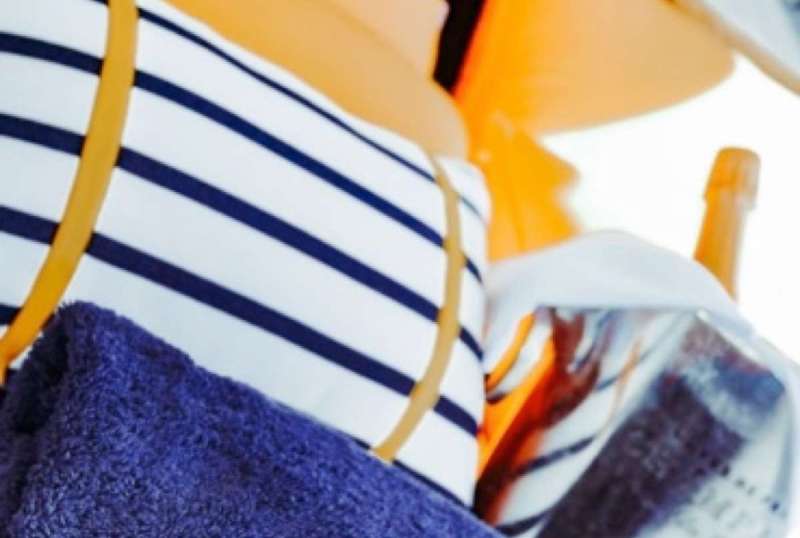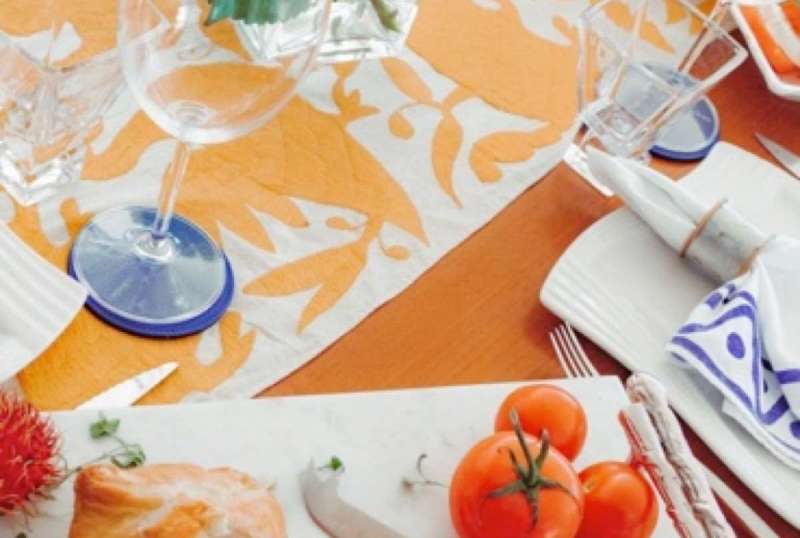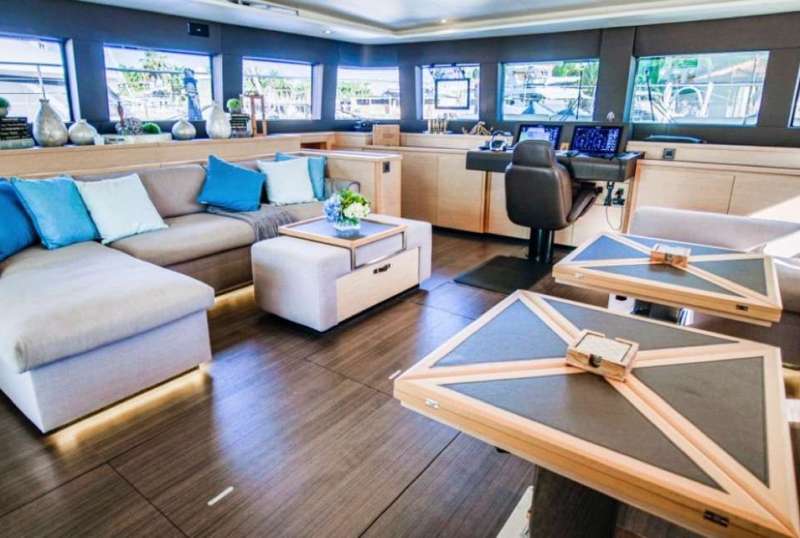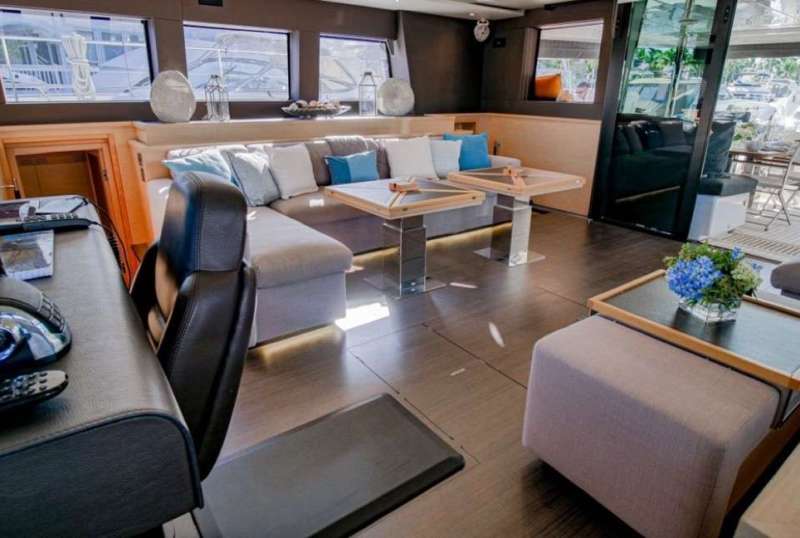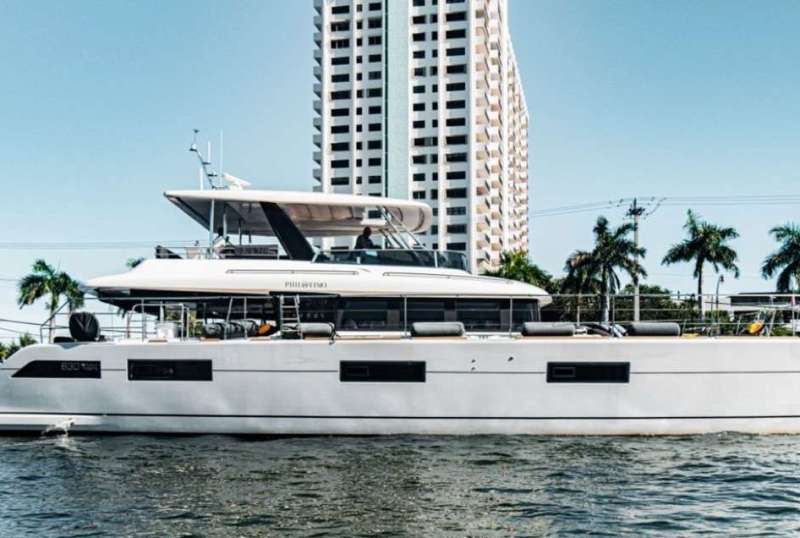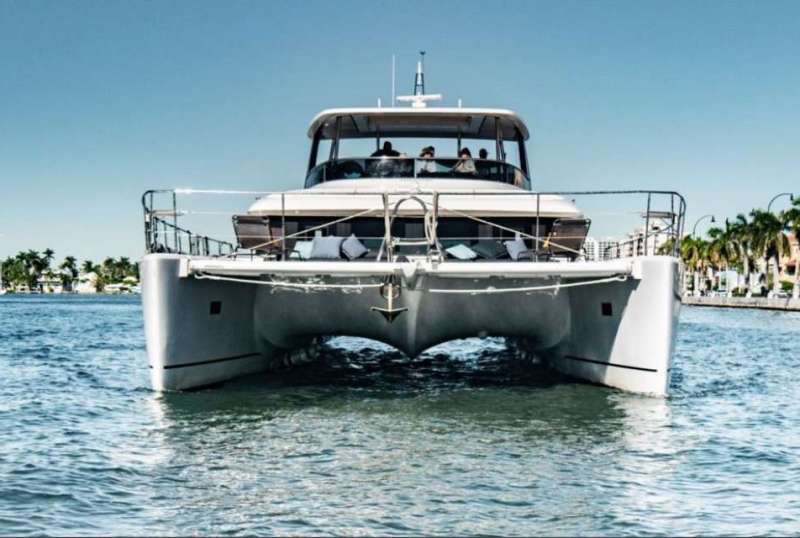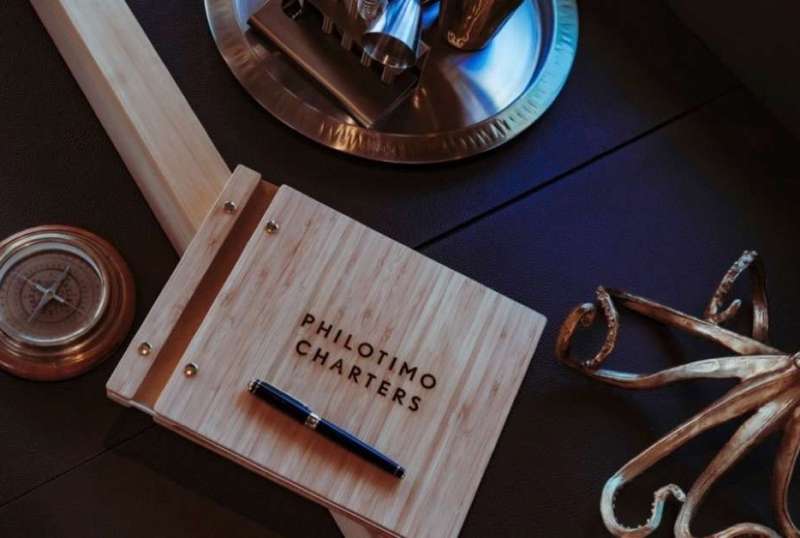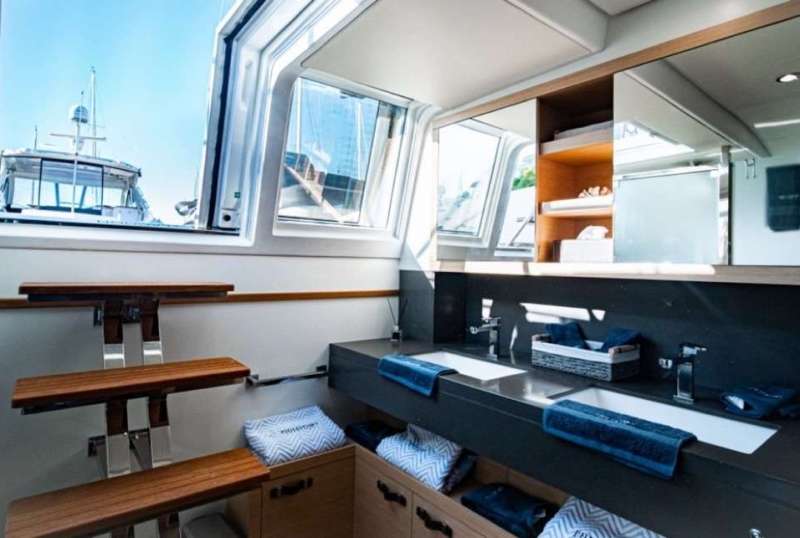 PHILOTIMO
From $37,000/week
3 cabins
63 ft
Lagoon
6 guests
Built: 2018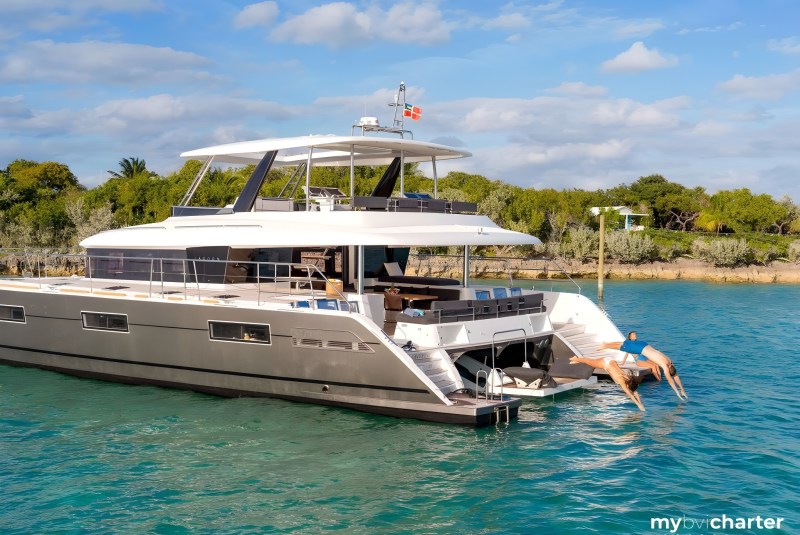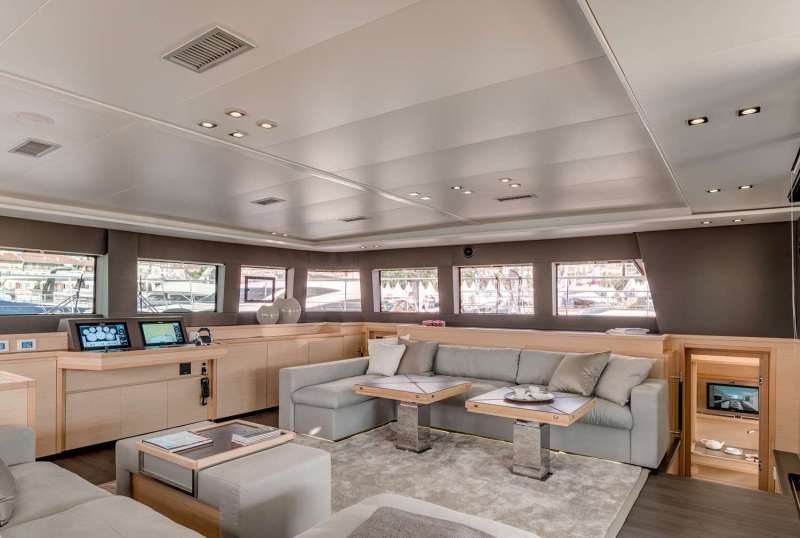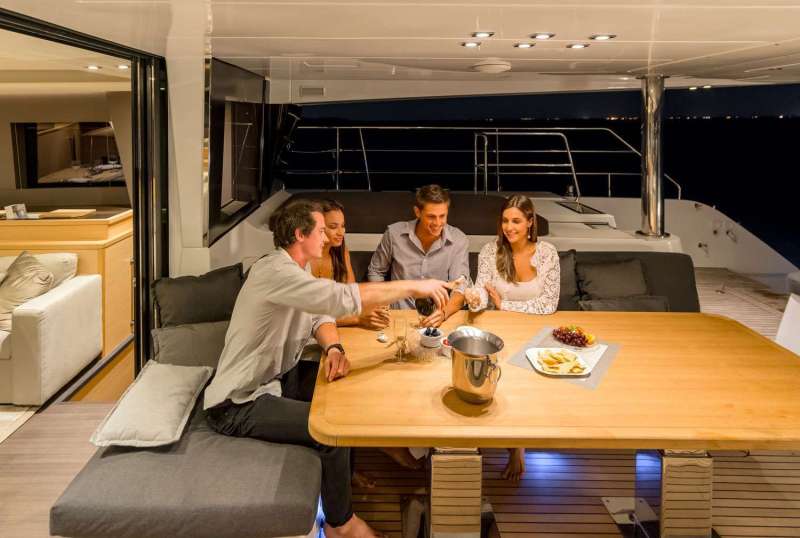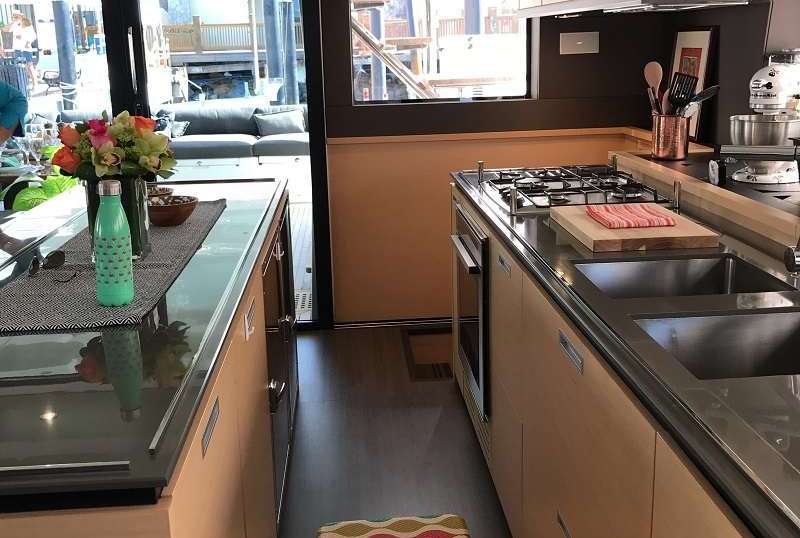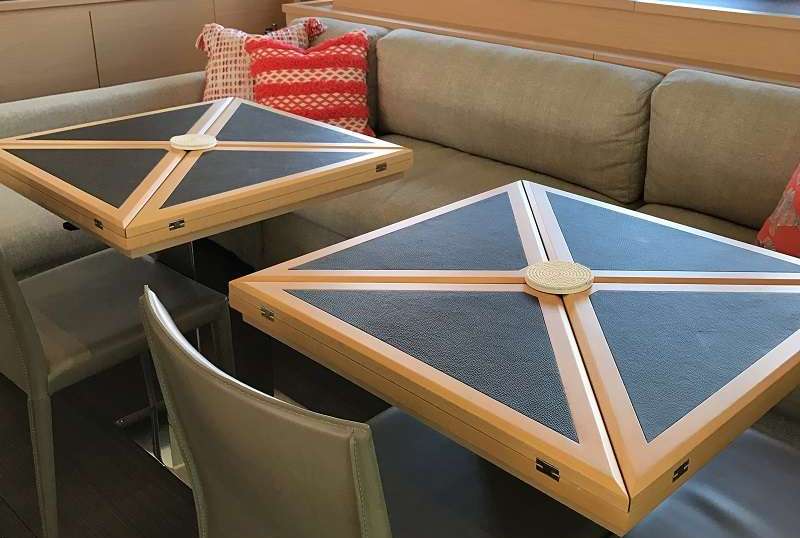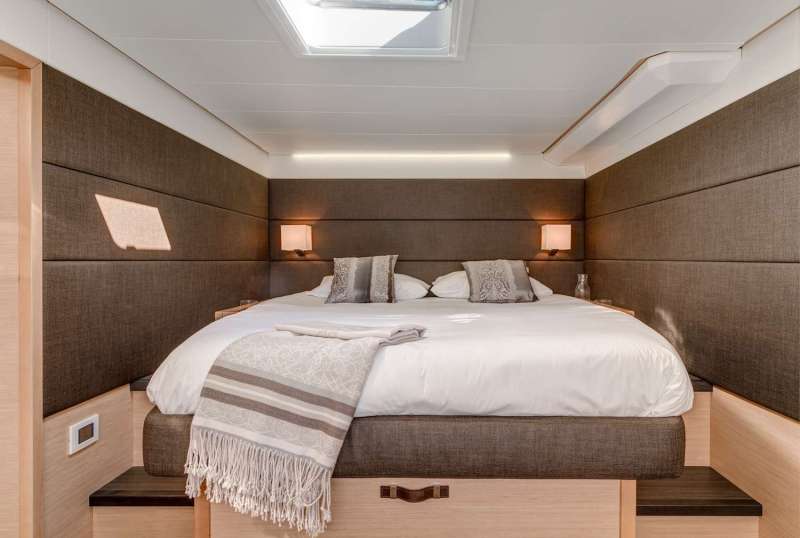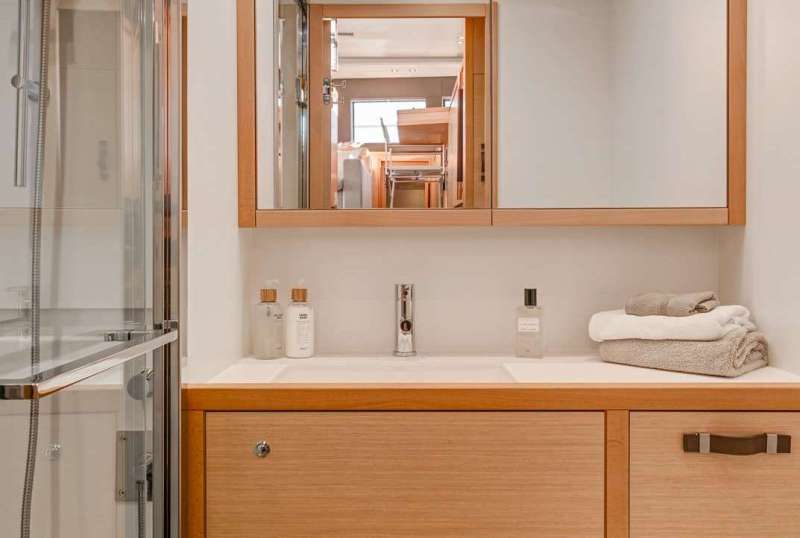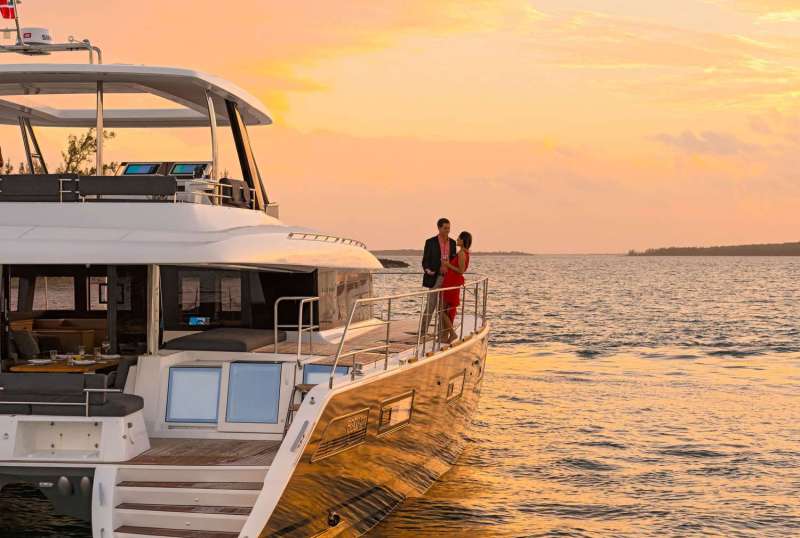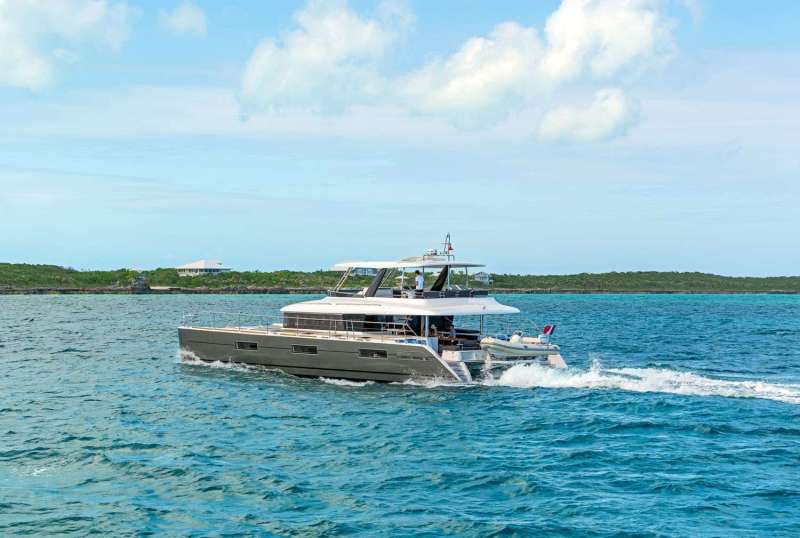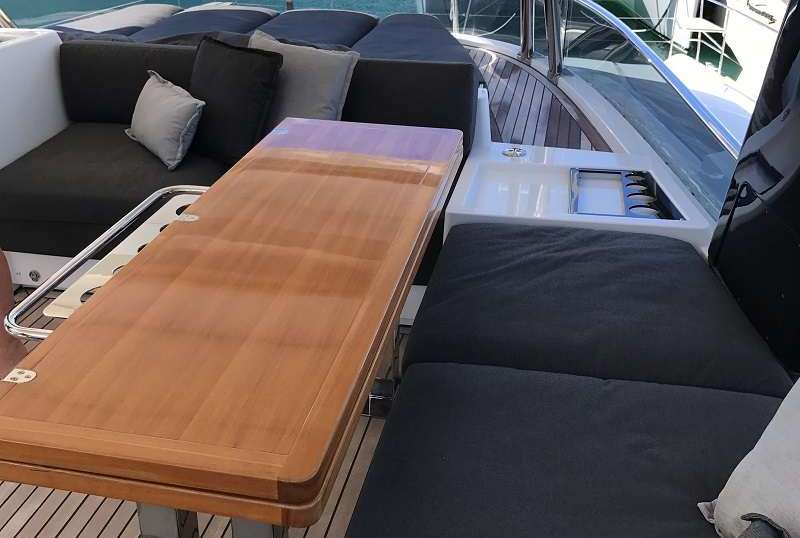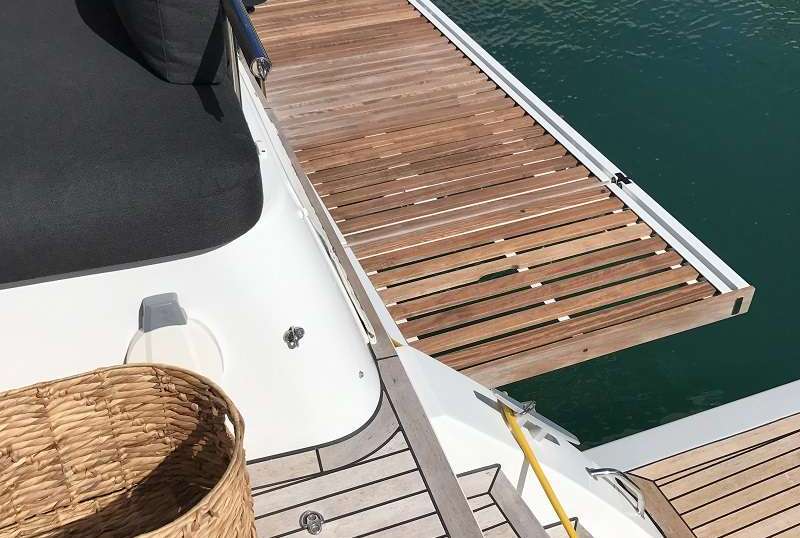 ULTRA
From $37,000/week
4 cabins
63 ft
Lagoon
8 guests
Built: 2017