PRIVATE YACHT CHARTER FOR THE BRITISH VIRGIN ISLANDS
Recent BVI Yacht Charter Trends
BVI YACHT CHARTERS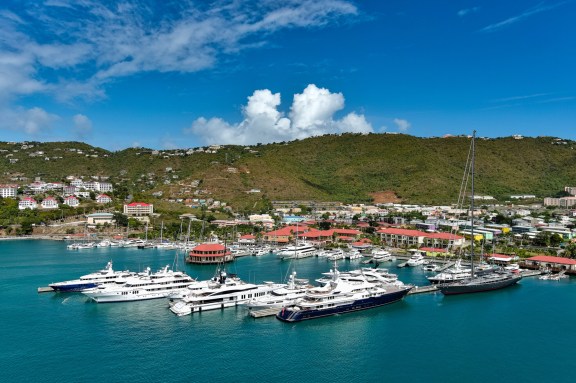 Luxury Private Yachts in BVI
The British Virgin Islands are considered one of the best-crewed catamaran destinations in the world. The catamarans operating in the area have evolved significantly and are now a popular sailing option in the virgin islands. With their larger size, superior stability, and luxurious amenities, guests can enjoy more space and comfort while on the BVI yacht charters.
This is because catamarans operating in the British Virgin Islands, far from being the second-best sailing choice of the distant past, are getting bigger and more luxurious, affording a pleasant, relaxed journey on the gentle trade winds of the archipelago. A fully crewed catamaran is a comfortable alternative to motor yachts, especially above the 60ft+ range.
Furthermore, while the British Virgin Islands have traditionally been known as sailing destinations, there has been a growing demand for motor yachts among luxury yacht charter guests. As the marinas compete to accommodate more and larger vessels, their numbers increase There are now over 200 large (over 100 feet meters) motor BVI yacht charters operating in the area in the high season. The motor yachts offer more privacy and prestige, more water toys, and comfort as they are able to accommodate a larger number of guests (and crew). Note that jetskis are not allowed in the BVI yacht charters (yes for USVI – except for national parks).
Virgin Islands Entry Regulations
From Covid To Work Permits and Business Licences
With the health crisis is almost at an end, Covid regulations in the British Virgin Islands have changed. They have not disappeared, but transferred into a bureaucracy war of work permit and trade licences.
What that means is that your charter starting in USVI might not go to the BVI because the paperwork did not make it through. How can you be sure that your selected yacht has the necessary paperwork to go? That depends on your dates. Consult your preferences with us and we'll be very direct about where your selected yacht is in terms of feasibility of a BVI charter. Note that the rules are subject to, often very unexpected, changes.
BVI charter guests on vacation are no longer required to register for entry clearance or show proof of travel insurance, regardless of their vaccination status. Also, there is no longer the need to present a COVID-19 test result upon arrival in the British Virgin Islands.
Keep in mind
Yacht Charter in British Virigin Islands
Selecting A Private Yacht Charter Broker
When it's time to charter a yacht for your trip to the British Virgin Islands, it's important to choose a broker with a local presence on the ground, and one that has the most experience in the market.
DMA Yachting has a permanent presence in the British Virgin Islands, which gives us the knowledge and experience of boats, the local fleet, crews, and the little local secrets that give an edge towards achieving the perfect luxury yacht charter vacation.
YACHT CHARTER SEASON IN BRITISH VIRGIN ISLANDS
If you're looking to charter a yacht in the BVI, you'll want to start your search at least six months out. The main charter season in the BVI spans from December to March, with a peak around Christmas/New Year. Notice the interesting months of April and November, which offer reasonable deals in the British Virgin Islands.
By the beginning of summer, the best choices for peak dates are booked. It's not unseen to have clients inquire 2 years ahead – the value for money First minute vs. Last minute is unbelievable. There still are "deals" on last minute charters that rarely have to do with last minute cancellations.
Top Reasons to Charter a Yacht in BVI
Enjoy warm tropical weather while sailing in BVI with temperatures between  80°F – 90°F
Over 50 small islands with secluded coves and anchorages, great for island hopping!
Availability of yacht  charter in winter charter season with off-season deals
Mecca of sailing with crystal-clear waters and pristine BVI beaches
Convenient access to BVI's world-class marinas and ports
Taste the popular Painkiller, Bushwacker in local bars
Incredible fresh seafood and of course, lobster!
Our favorite spots
BVI YACHT CHARTERS DESTINATIONs
Where to go
7-DAY BVI YACHT CHARTER ITINERARY
Welcome to the BVI, a dream sailing vacation place where white sand beaches meet excquist treats and premium water sport destinations. This also is where your dreams of island-hopping come true!
We've highlighted a few of our favorite stops and tips on making the most of your time in each place – accessible from a bareboat charter or a crewed yacht.