Yacht Description
CHRISTINA TOO yacht is a 68.00 ft long motor yacht monohull and spends the winter season in British Virgin Islands. It was built by Sunreef Yachts in 2017. The yacht layout features 4 cabins and accommodates 8 guests. The cabin arrangement is following: 4 queen cabins.
The motor yacht features Engines 2 x 588 kW (2 x 800 HP) Generators 2 x 19 kW engines and a generator.
Accommodation
CHRISTINA TOO is accommodating up to 8 guests in 4 ensuite double cabins.
Each cabin is equipped with 160 x 200 bed size, air conditionning with private control, plugs,hairdryer and HEOS surround 5.1 system.
CHRISTINA TOO Yacht Details
$38,000 - $50,000
Weekly price low-high season
Amenities
Voltages:
1x110V - 1x120V - 2 USB ports
Price Details
High season rate: $50,000
SUMMER WEEKLY RATES - MEDITERRANEAN SEASON

June - September: 2-4 guests: 38 000 Euros / 5-8 guests: 40 000 Euros
July - August: 2-4 guests: 43 000 Euros / 5-8 guests: 45 000 Euros

MYBA terms + 30% APA to cover all expenses + VAT

One week minimum required - Depending of the calendar and at low season 5 days could be considered.
Delivery fees required.


WINTER SEASON - CARIBBEAN

2-4 guests: $38 000 + 30% APA to cover all expenses
5-8 guests: $40 000 + 30% APA to cover all expenses

Christmas week: 2-8 guests: $45 000 + 30% APA to cover all expenses
New Year week: 2 - 8 guests: $50 000 + 30% APA to cover all expenses

Specifications
BBQ: Yes
AC: Full
Generator: 2 x 19kW
More Specifications
Air Compressor:
Not Onboard
Scuba On Board:
Yacht offers Rendezvous Diving only
Water Sports
Dinghy Size:
semi rigid tender 15ft - Yanmar 4JH4
Crew
CAPTAIN
CHEF
Deck hand - Stew
Captain: Alexander HAILWAX
CAPTAIN: Alexander HAILWAX
Namibian/German
Yacht-master offshore - STCW 95 – PADI Divemaster
Languages: English, German

Alex was born in Namibia, Africa, where he spent his early years developing a love for nature; both ocean and desert life became engraved in his character. He spent many weekends exploring the Atlantic coastline on foot and became an avid fisherman by the time he was five-years-old.

The next step was to head out onto the ocean and he was fortunate enough to have a family who encouraged him to get his Hobby Cat and Laser sailing licenses before he'd even finished primary school. He completed these courses while experiencing the waters off the East coast of Africa, the Indian Ocean.

He moved to South Africa for his high school and university years where he found a passion for diving in his free time. He never faltered on his love for sailing though and enjoyed family sailing trips all over the world. By the time he left school, he'd sailed a few more seas - the Caribbean, the Pacific and the Mediterranean.
When he finished up at the University of Stellenbosch (where he learnt a lot about wine, naturally), he headed to sailing school in Cape Town and eventually made his way up to France where his yachting adventures took him on an epic journey through the Mediterranean, across the Atlantic and finally onto Brazil.

Once Alex had completed his Yacht-master, he permanently moved into the yachting industry where he worked his way up the ranks eventually making it to Captain at the age of 23. He spent 3 years moving between the Caribbean and Mediterranean seasons and
completed his Divemaster in Panama in 2016.

Alex loves cooking and is known as the "Braai (BBQ) Master" where his skills range from Argentinian tenderloin to hand-caught lobster. His German sense of humor (no laughing matter), sailing experience and humble nature all lend a hand towards a great Captain whose crew and guests alike will tell you that a trip with Alex is "absolutely the best".


CHEF: Marcelle LIRON
South African/Bristish
RYA Powerboat level 2 – PADI rescue Diver – STCW 95
Yacht Cookery Course – Food Hygiene level 2
Languages: English

Born in Johannesburg, South Africa, the last thing Marcelle ever saw herself doing was actually getting to live the dream and sail the world.
She started dancing at the age of three and immediately developed into a confident stage-presence who is always the life of the party. Hosting and entertaining come naturally to Marcelle; a look through her guest testimonials will show a mature, organized Chef and Hostess who is also able to initiate a karaoke sing-off or create an unforgettable atmosphere at an impromptu Caribbean beach party.

Marcelle's love affair with food began early and she often reminisces about learning tricks and family secrets from her mother, an influence which is clearly visible in her repertoire.
She takes pride in not only delivering spectacular meals with interesting and varied "flavor-bombs" but also creating a special twist on every day dishes. She has been in the yachting industry for over 4 years and has made her way around the world making sure to pick up flavor combinations and recipes along the way. Tasting the influences from all over the globe, you'd think she ate her way through each of the 35+countries she has visited.

After spending time learning from an ex-yacht chef in Palma de Mallorca last year, Marcelle decided to head to Germany to learn a bit about the Bavarian cuisine. She worked in the kitchen of a reputable hotel in Munich where she was taught a variety of cooking, preparation and time management skills and gained invaluable experience.

Having spent the major part of the last 4 years extensively sailing the Caribbean Sea, she has developed an avid love for the ocean; scuba diving and snorkeling are some of Marcelle's favorite past times and she loves taking her guests on unforgettable reef tours to discovery some of the ocean's animal life.


DECK-STEW: Chad SIMS-HANDCOCK
German - South African
STCW 10 – RYA PWCand Pwer boat level 2 – CMAS Open Water Diver
Languages: English

Born and raised in a small town in South Africa, Chad kept himself busy by exploring the great outdoors with friends; cycling through forests and the countryside just about every weekend. Growing up in an English-speaking family and having had access to a good education ensures that he is well mannered and well spoken.
His love for the ocean started with family vacations to the coast of South Africa where he filled his days with fishing, snorkelling, surfing and scuba diving with his older brother.

Chad has always been inquisitive and his genuine interest in the world meant that when the opportunity to travel arose, he jumped! He began his yachting career last summer in Palma de Mallorca where he learnt the ropes during temporary work aboard yachts of all sizes.

Chad travelled into the mountains of France during the winter to work at a private 5-star chalet where he mastered all housekeeping roles as well as maintaining a mature, professional hosting manner. He prides himself on his high standard of service. During
this time, he also tried his hand at snowboarding, keeping in line with his active and adventurous lifestyle.

Chad loves reading and has a pleasant demeanour which, along with his witty humour, makes him a great conversationalist. His young and energetic personality make him a great asset to Christina Too.
Menu
Reviews:
Charter on July 29 – August 5, 2019 / Bonifacio – Olbia / Family of 8
Thank you Alex, Marcelle & Chad we had a lovely stay with your great hospitality. The boat was amazing and the places we have been too are incerdible. It was a trip & a lifetime. The beaches Alex took us to are always breathtaking and the food was always delicious. Thank you for the great holiday ! And finally many thanks for always taking care of our baby.
Thank you Christina Too team !
Family A.
Charter July 19-26, 2019 / Bonifacio - Olbia / Peruvian family
It has truly been the most amazing trip !!!
There a few words to thank you all for your amazing hospitality, you have made us feel at home and have truly spoiled spoiled us. You had all sorted out at all times and continually amazed us thinking of absolutely every small detail.
The food was superb, the places wa visited the best spots, all the water toys my kids couldn't be happier, the BBQ night was simply th bast and you warmly helped host our guests felt so welcome by you.
Thank you Chad for your warm smiles at all times, thank you Marcelle for making us feel at home and your contagious positive energy, thank you Alex for simply being the best captain and organizing everything to perfection.
We will truly miss you all. Hope to cruise with you again !! With love.
Family D.​
Charter June 13-20, 2019 / Corsica - Sardinia / American group of 5
OMG ! Sky high expectations was blown away by the most shining holyday of our lives. The attention details on this incredible yacht is simply stunning : the confort out of their world. It explains why everywhere we went breaks came receving up to take photographs. And that attention to details was marked by Alex, Marcelle and Tchad. We have never been better looked after. Nothing was too difficult for them and their professionalism absolutely superb. No Michelin Stars restaurant serves up food like this.

When I die and go to heaven ... I'm going to end up on Christina Too !

Thank you ! Thank you !

P., K., H., P., L.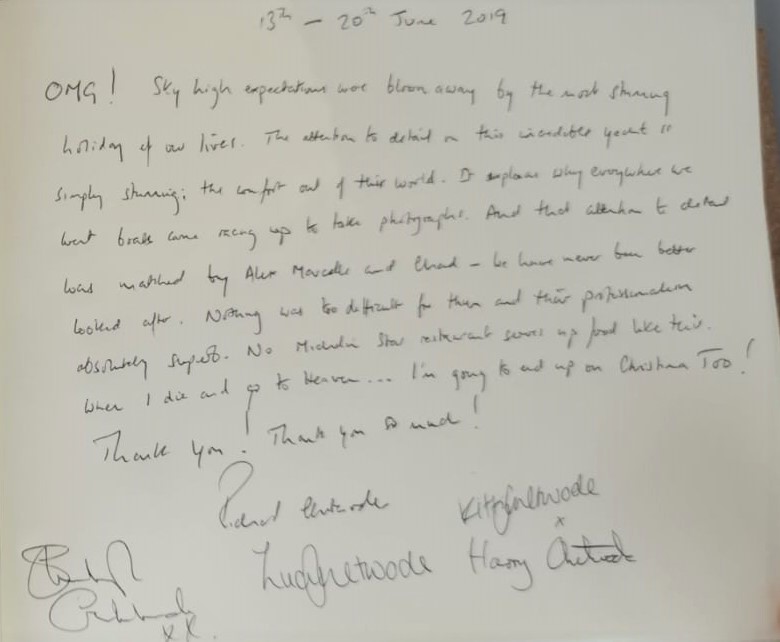 Gallery
6
5957
http://www.centralyachtagent.com/snapins/ebrochure-xml.php?idin=5957&uid=265&user=265
4
Power
Y
https://www.centralyachtagent.com/yachtadmin/yachtimg/yacht5957/5957brochure88.jpg
8
W. Med -Naples/Sicily, W. Med -Riviera/Cors/Sard.
Caribbean Virgin Islands, Caribbean Leewards
68.00
34.4
4.5
a:32:{s:12:"salon_stereo";s:3:"Yes";s:8:"salon_tv";s:3:"Yes";s:4:"nude";s:3:"Inq";s:5:"books";s:0:"";s:9:"crew_pets";s:2:"No";s:8:"pet_type";s:0:"";s:10:"guest_pets";s:1:"0";s:9:"camcorder";s:1:"0";s:14:"number_dine_in";s:0:"";s:11:"water_maker";s:3:"Yes";s:14:"water_capacity";s:6:"1000 L";s:9:"ice_maker";s:3:"Yes";s:14:"number_of_dvds";s:3:"Yes";s:13:"number_of_cds";s:3:"Yes";s:11:"board_games";s:1:"0";s:10:"sun_awning";s:3:"Yes";s:6:"bimini";s:3:"Yes";s:13:"special_diets";s:3:"Yes";s:6:"kosher";s:3:"Inq";s:3:"bbq";s:3:"Yes";s:12:"gay_charters";s:3:"Yes";s:10:"hairdryers";s:3:"Yes";s:22:"number_of_port_hatches";s:0:"";s:7:"smoking";s:0:"";s:11:"crew_smokes";s:3:"Inq";s:11:"children_ok";s:3:"Yes";s:17:"minimum_child_age";s:0:"";s:9:"generator";s:8:"2 x 19kW";s:8:"inverter";s:0:"";s:8:"voltages";s:29:"1x110V - 1x120V - 2 USB ports";s:7:"hammock";s:0:"";s:10:"windscoops";s:0:"";}
Full
Yes
2 x 19kW
Engines 2 x 588 kW (2 x 800 HP) Generators 2 x 19 kW
2017
Sunreef Yachts

Each cabin is equipped with 160 x 200 bed size, air conditionning with private control, plugs,hairdryer and HEOS surround 5.1 system.
CHRISTINA TOO is accommodating up to 8 guests in 4 ensuite double cabins.
€
38000
38000
$50,000
SUMMER WEEKLY RATES - MEDITERRANEAN SEASON June - September: 2-4 guests: 38 000 Euros / 5-8 guests: 40 000 Euros July - August: 2-4 guests: 43 000 Euros / 5-8 guests: 45 000 Euros MYBA terms + 30% APA to cover all expenses + VAT One week minimum required - Depending of the calendar and at low season 5 days could be considered. Delivery fees required. WINTER SEASON - CARIBBEAN 2-4 guests: $38 000 + 30% APA to cover all expenses 5-8 guests: $40 000 + 30% APA to cover all expenses Christmas week: 2-8 guests: $45 000 + 30% APA to cover all expenses New Year week: 2 - 8 guests: $50 000 + 30% APA to cover all expenses

Namibian/German
Yacht-master offshore - STCW 95 – PADI Divemaster
Languages: English, German

Alex was born in Namibia, Africa, where he spent his early years developing a love for nature; both ocean and desert life became engraved in his character. He spent many weekends exploring the Atlantic coastline on foot and became an avid fisherman by the time he was five-years-old.

The next step was to head out onto the ocean and he was fortunate enough to have a family who encouraged him to get his Hobby Cat and Laser sailing licenses before he'd even finished primary school. He completed these courses while experiencing the waters off the East coast of Africa, the Indian Ocean.

He moved to South Africa for his high school and university years where he found a passion for diving in his free time. He never faltered on his love for sailing though and enjoyed family sailing trips all over the world. By the time he left school, he'd sailed a few more seas - the Caribbean, the Pacific and the Mediterranean.
When he finished up at the University of Stellenbosch (where he learnt a lot about wine, naturally), he headed to sailing school in Cape Town and eventually made his way up to France where his yachting adventures took him on an epic journey through the Mediterranean, across the Atlantic and finally onto Brazil.

Once Alex had completed his Yacht-master, he permanently moved into the yachting industry where he worked his way up the ranks eventually making it to Captain at the age of 23. He spent 3 years moving between the Caribbean and Mediterranean seasons and
completed his Divemaster in Panama in 2016.

Alex loves cooking and is known as the "Braai (BBQ) Master" where his skills range from Argentinian tenderloin to hand-caught lobster. His German sense of humor (no laughing matter), sailing experience and humble nature all lend a hand towards a great Captain whose crew and guests alike will tell you that a trip with Alex is "absolutely the best".


CHEF: Marcelle LIRON
South African/Bristish
RYA Powerboat level 2 – PADI rescue Diver – STCW 95
Yacht Cookery Course – Food Hygiene level 2
Languages: English

Born in Johannesburg, South Africa, the last thing Marcelle ever saw herself doing was actually getting to live the dream and sail the world.
She started dancing at the age of three and immediately developed into a confident stage-presence who is always the life of the party. Hosting and entertaining come naturally to Marcelle; a look through her guest testimonials will show a mature, organized Chef and Hostess who is also able to initiate a karaoke sing-off or create an unforgettable atmosphere at an impromptu Caribbean beach party.

Marcelle's love affair with food began early and she often reminisces about learning tricks and family secrets from her mother, an influence which is clearly visible in her repertoire.
She takes pride in not only delivering spectacular meals with interesting and varied "flavor-bombs" but also creating a special twist on every day dishes. She has been in the yachting industry for over 4 years and has made her way around the world making sure to pick up flavor combinations and recipes along the way. Tasting the influences from all over the globe, you'd think she ate her way through each of the 35+countries she has visited.

After spending time learning from an ex-yacht chef in Palma de Mallorca last year, Marcelle decided to head to Germany to learn a bit about the Bavarian cuisine. She worked in the kitchen of a reputable hotel in Munich where she was taught a variety of cooking, preparation and time management skills and gained invaluable experience.

Having spent the major part of the last 4 years extensively sailing the Caribbean Sea, she has developed an avid love for the ocean; scuba diving and snorkeling are some of Marcelle's favorite past times and she loves taking her guests on unforgettable reef tours to discovery some of the ocean's animal life.


DECK-STEW: Chad SIMS-HANDCOCK
German - South African
STCW 10 – RYA PWCand Pwer boat level 2 – CMAS Open Water Diver
Languages: English

Born and raised in a small town in South Africa, Chad kept himself busy by exploring the great outdoors with friends; cycling through forests and the countryside just about every weekend. Growing up in an English-speaking family and having had access to a good education ensures that he is well mannered and well spoken.
His love for the ocean started with family vacations to the coast of South Africa where he filled his days with fishing, snorkelling, surfing and scuba diving with his older brother.

Chad has always been inquisitive and his genuine interest in the world meant that when the opportunity to travel arose, he jumped! He began his yachting career last summer in Palma de Mallorca where he learnt the ropes during temporary work aboard yachts of all sizes.

Chad travelled into the mountains of France during the winter to work at a private 5-star chalet where he mastered all housekeeping roles as well as maintaining a mature, professional hosting manner. He prides himself on his high standard of service. During
this time, he also tried his hand at snowboarding, keeping in line with his active and adventurous lifestyle.

Chad loves reading and has a pleasant demeanour which, along with his witty humour, makes him a great conversationalist. His young and energetic personality make him a great asset to Christina Too.";s:5:"photo";s:82:"https://www.centralyachtagent.com/yachtadmin/yachtimg/yacht5957/5957brochure44.jpg";s:4:"size";s:1:"3";s:12:"captain_name";s:17:"Alexander HAILWAX";s:14:"captain_nation";s:15:"Namibian-German";s:7:"crewimg";a:3:{i:1;a:2:{s:3:"url";s:76:"https://www.centralyachtagent.com/yachtadmin/yachtlg/yacht5957/5957crew1.jpg";s:4:"desc";s:7:"CAPTAIN";}i:2;a:2:{s:3:"url";s:76:"https://www.centralyachtagent.com/yachtadmin/yachtlg/yacht5957/5957crew2.jpg";s:4:"desc";s:4:"CHEF";}i:3;a:2:{s:3:"url";s:76:"https://www.centralyachtagent.com/yachtadmin/yachtlg/yacht5957/5957crew3.jpg";s:4:"desc";s:16:"Deck hand - Stew";}}}
a:6:{s:4:"info";s:5860:"CAPTAIN: Alexander HAILWAX
https://www.centralyachtagent.com/yachtadmin/yachtimg/yacht5957/5957brochure1.jpg
a:18:{i:2;a:2:{s:3:"url";s:80:"https://www.centralyachtagent.com/yachtadmin/yachtlg/yacht5957/5957brochure2.jpg";s:4:"desc";s:0:"";}i:3;a:2:{s:3:"url";s:80:"https://www.centralyachtagent.com/yachtadmin/yachtlg/yacht5957/5957brochure3.jpg";s:4:"desc";s:0:"";}i:4;a:2:{s:3:"url";s:80:"https://www.centralyachtagent.com/yachtadmin/yachtlg/yacht5957/5957brochure4.jpg";s:4:"desc";s:0:"";}i:5;a:2:{s:3:"url";s:80:"https://www.centralyachtagent.com/yachtadmin/yachtlg/yacht5957/5957brochure5.jpg";s:4:"desc";s:0:"";}i:6;a:2:{s:3:"url";s:80:"https://www.centralyachtagent.com/yachtadmin/yachtlg/yacht5957/5957brochure6.jpg";s:4:"desc";s:0:"";}i:7;a:2:{s:3:"url";s:80:"https://www.centralyachtagent.com/yachtadmin/yachtlg/yacht5957/5957brochure7.jpg";s:4:"desc";s:0:"";}i:8;a:2:{s:3:"url";s:80:"https://www.centralyachtagent.com/yachtadmin/yachtlg/yacht5957/5957brochure8.jpg";s:4:"desc";s:0:"";}i:9;a:2:{s:3:"url";s:80:"https://www.centralyachtagent.com/yachtadmin/yachtlg/yacht5957/5957brochure9.jpg";s:4:"desc";s:0:"";}i:10;a:2:{s:3:"url";s:81:"https://www.centralyachtagent.com/yachtadmin/yachtlg/yacht5957/5957brochure10.jpg";s:4:"desc";s:0:"";}i:11;a:2:{s:3:"url";s:81:"https://www.centralyachtagent.com/yachtadmin/yachtlg/yacht5957/5957brochure11.jpg";s:4:"desc";s:0:"";}i:12;a:2:{s:3:"url";s:81:"https://www.centralyachtagent.com/yachtadmin/yachtlg/yacht5957/5957brochure12.jpg";s:4:"desc";s:0:"";}i:13;a:2:{s:3:"url";s:81:"https://www.centralyachtagent.com/yachtadmin/yachtlg/yacht5957/5957brochure13.jpg";s:4:"desc";s:0:"";}i:14;a:2:{s:3:"url";s:81:"https://www.centralyachtagent.com/yachtadmin/yachtlg/yacht5957/5957brochure14.jpg";s:4:"desc";s:0:"";}i:15;a:2:{s:3:"url";s:81:"https://www.centralyachtagent.com/yachtadmin/yachtlg/yacht5957/5957brochure15.jpg";s:4:"desc";s:0:"";}i:16;a:2:{s:3:"url";s:81:"https://www.centralyachtagent.com/yachtadmin/yachtlg/yacht5957/5957brochure16.jpg";s:4:"desc";s:0:"";}i:17;a:2:{s:3:"url";s:81:"https://www.centralyachtagent.com/yachtadmin/yachtlg/yacht5957/5957brochure17.jpg";s:4:"desc";s:0:"";}i:18;a:2:{s:3:"url";s:81:"https://www.centralyachtagent.com/yachtadmin/yachtlg/yacht5957/5957brochure18.jpg";s:4:"desc";s:0:"";}i:19;a:2:{s:3:"url";s:81:"https://www.centralyachtagent.com/yachtadmin/yachtlg/yacht5957/5957brochure19.jpg";s:4:"desc";s:0:"";}}
<p style="text-align: center;">SAMPLE MENU by Marcelle LIRON</p> <p style="text-align: center;">&nbsp;</p> <p style="text-align: center;">BREAKFAST</p> <p style="text-align: center;">Poached Eggs with Wasabi Hollandaise and Crispy Bacon Rolls</p> <p style="text-align: center;">French Toast Rollups with Mascarpone and Maple Syrup</p> <p style="text-align: center;">Boiled Eggs with Prosciutto Wrapped Asparagus Soldiers</p> <p style="text-align: center;">Fresh Virgin Pi&ntilde;a Colada Smoothies</p> <p style="text-align: center;">Frittata with Spinach, Tomato and Pecorino Chunks</p> <p style="text-align: center;">Cinnamon and Apple Overnight Oat Cups</p> <p style="text-align: center;">Potato R&ouml;sti with Creamy Scrambled Eggs and Smoked Salmon Ribbons</p> <p style="text-align: center;">&nbsp;</p> <p style="text-align: center;">LUNCH</p> <p style="text-align: center;">Grilled Chicken and Pineapple Salad with Buttery Garlic Bread&nbsp;</p> <p style="text-align: center;">Summer Lamb Wraps with Pea and Mint Hummus&nbsp;</p> <p style="text-align: center;">Tuna Ni&ccedil;oise Salad with Garlic Potatoes and Beer Rolls&nbsp;</p> <p style="text-align: center;">Jerk Spice Prawn Skewers with Mango Salsa and a Black Bean Salad&nbsp;</p> <p style="text-align: center;">Shrimp Cobb Salad with a Cilantro Lime Dressing and Rustic Caraway Bread</p> <p style="text-align: center;">Mustard Salmon with a Crispy Broccoli and Rocket Salad and Yogurt Dressing</p> <p style="text-align: center;">Classic Carbonara Linguine served with Homemade Focaccia Bread</p> <p style="text-align: center;">&nbsp;</p> <p style="text-align: center;">CANAPES</p> <p style="text-align: center;">Beetroot and Goat&rsquo;s Cheese Crostini</p> <p style="text-align: center;">Golden Tumeric Hummus and Crudit&eacute;s</p> <p style="text-align: center;">Crispy Coconut Shrimp Sticks with Homemade Chilli Jam</p> <p style="text-align: center;">Chilled Pea Soup and Cr&egrave;me Fra&icirc;che Shots</p> <p style="text-align: center;">Gouda and Leek Quiche Rounds</p> <p style="text-align: center;">Assorted Cheese Board with Cured Meats,</p> <p style="text-align: center;">Fruit and Nuts Grilled Prawn and Homemade Alioli Bites</p> <p style="text-align: center;">&nbsp;</p> <p style="text-align: center;">STARTERS</p> <p style="text-align: center;">Spicy Carrot and Ginger Soup&nbsp;</p> <p style="text-align: center;">Grilled Scallops with Anchovy, Mint and Coriander</p> <p style="text-align: center;">Mahi Mahi Tartare with Pineapple,</p> <p style="text-align: center;">Lime and Crispy Tortilla Chips</p> <p style="text-align: center;">Roasted Beetroot and Candied Walnut Salad</p> <p style="text-align: center;">&nbsp;Black Sesame Seared Tuna with Passion Fruit Drops&nbsp;</p> <p style="text-align: center;">Vietnamese Spring Rolls with a Ginger Soy Dipping Sauce Zucchini Fritters with a Mint and Yogurt Sauce&nbsp;</p> <p style="text-align: center;">&nbsp;</p> <p style="text-align: center;">MAIN</p> <p style="text-align: center;">Crispy Duck Breast served with Potato Rosti and a Blueberry Green Peppercorn</p> <p style="text-align: center;">Chutney Chicken Korma Curry and Rice Pilaf with Crispy Papadums</p> <p style="text-align: center;">Pork Tenderloin with Orange and Brandy Sauce Served with Roasted Sweet Potato</p> <p style="text-align: center;">Discs Lobster Thermidor with New Potatoes and Parsley Oil</p> <p style="text-align: center;">Maple Glazed Pork Ribs with Mustard Slaw&nbsp;</p> <p style="text-align: center;">BBQ Rump Steak with a Paprika Carrot Puree and Buttered Asparagus Spears</p> <p style="text-align: center;">Red Snapper with Agrodolce, Pine Nuts and Charred Onions</p> <p style="text-align: center;">Slow Cooked Lamb Shanks in a Red Wine Sauce with Steamed White Rice</p> <p style="text-align: center;">&nbsp;</p> <p style="text-align: center;">DESSERTS</p> <p style="text-align: center;">Bacon and Chocolate Cupcakes served with Whipped Cream</p> <p style="text-align: center;">Homemade Traditional Greek Baklava Wedges</p> <p style="text-align: center;">Spicy Roasted Plums served with Crispy Toasted Almond Slices</p> <p style="text-align: center;">Heavenly Dark Chocolate Mousse with Fresh Berries</p> <p style="text-align: center;">Apple and Sultana Pie with Sage Crumble and Chantilly</p> <p style="text-align: center;">Cream South African Malva Pudding with Warm Vanilla Custard&nbsp;</p> <p style="text-align: center;">Orange Tiramisu with Grand Marnier Syrup and Mascarpone Filling</p>
a:10:{i:1;a:1:{s:3:"url";s:76:"https://www.centralyachtagent.com/yachtadmin/yachtlg/yacht5957/5957menu1.jpg";}i:2;a:1:{s:3:"url";s:76:"https://www.centralyachtagent.com/yachtadmin/yachtlg/yacht5957/5957menu2.jpg";}i:3;a:1:{s:3:"url";s:76:"https://www.centralyachtagent.com/yachtadmin/yachtlg/yacht5957/5957menu3.jpg";}i:4;a:1:{s:3:"url";s:76:"https://www.centralyachtagent.com/yachtadmin/yachtlg/yacht5957/5957menu4.jpg";}i:5;a:1:{s:3:"url";s:76:"https://www.centralyachtagent.com/yachtadmin/yachtlg/yacht5957/5957menu5.jpg";}i:6;a:1:{s:3:"url";s:76:"https://www.centralyachtagent.com/yachtadmin/yachtlg/yacht5957/5957menu6.jpg";}i:7;a:1:{s:3:"url";s:76:"https://www.centralyachtagent.com/yachtadmin/yachtlg/yacht5957/5957menu7.jpg";}i:8;a:1:{s:3:"url";s:76:"https://www.centralyachtagent.com/yachtadmin/yachtlg/yacht5957/5957menu8.jpg";}i:9;a:1:{s:3:"url";s:76:"https://www.centralyachtagent.com/yachtadmin/yachtlg/yacht5957/5957menu9.jpg";}i:10;a:1:{s:3:"url";s:77:"https://www.centralyachtagent.com/yachtadmin/yachtlg/yacht5957/5957menu10.jpg";}}
https://www.cyabrochure.com/ebn/265/pbaX/5957/1
https://www.cyabrochure.com/ebn/265/pbaX/5957/3
a:21:{s:4:"tube";s:3:"Yes";s:6:"guests";s:1:"8";s:11:"pref_pickup";s:0:"";s:5:"draft";s:3:"4.5";s:14:"cruising_speed";s:2:"10";s:7:"helipad";s:2:"No";s:8:"maxspeed";s:2:"12";s:12:"other_pickup";s:0:"";s:5:"built";s:4:"2017";s:10:"turnaround";s:8:"48 hours";s:6:"cabins";s:1:"4";s:4:"king";s:1:"0";s:5:"queen";s:1:"4";s:6:"double";s:1:"0";s:6:"single";s:1:"0";s:4:"twin";s:1:"0";s:7:"pullman";s:1:"0";s:7:"showers";s:1:"4";s:5:"heads";s:1:"0";s:14:"electric_heads";s:1:"4";s:7:"jacuzzi";s:3:"Yes";}
a:16:{s:13:"resort_course";s:0:"";s:7:"license";s:1:"-";s:5:"tanks";s:1:"0";s:9:"wet_suits";s:1:"0";s:15:"number_of_dives";s:0:"";s:11:"night_dives";s:1:"0";s:9:"dive_info";s:0:"";s:13:"communication";s:0:"";s:11:"full_course";s:0:"";s:14:"air_compressor";s:11:"Not Onboard";s:3:"bcs";s:1:"0";s:11:"weight_sets";s:1:"0";s:16:"number_of_divers";s:1:"0";s:11:"dive_lights";s:1:"0";s:10:"dive_costs";s:0:"";s:14:"scuba_on_board";s:35:"Yacht offers Rendezvous Diving only";}
a:24:{s:11:"dinghy_size";s:36:"semi rigid tender 15ft - Yanmar 4JH4";s:12:"kayaks_1_pax";s:2:"No";s:12:"kayaks_2_pax";s:3:"Yes";s:9:"dinghy_hp";s:13:"110 HP diesel";s:13:"floating_mats";s:1:"0";s:10:"dinghy_pax";s:0:"";s:13:"swim_platform";s:3:"Yes";s:16:"water_skis_adult";s:3:"Yes";s:15:"boarding_ladder";s:3:"Yes";s:15:"water_skis_kids";s:1:"0";s:14:"sailing_dinghy";s:0:"";s:8:"jet_skis";s:2:"No";s:11:"beach_games";s:3:"Yes";s:12:"wave_runners";s:1:"0";s:12:"fishing_gear";s:3:"Yes";s:9:"kneeboard";s:3:"Yes";s:17:"fishing_gear_type";s:0:"";s:10:"windsurfer";s:2:"No";s:4:"rods";s:0:"";s:12:"snorkel_gear";s:3:"Yes";s:17:"underwater_camera";s:1:"0";s:7:"scurfer";s:2:"No";s:16:"underwater_video";s:2:"No";s:10:"wake_board";s:3:"Yes";}
0
4
0
0
0
0
Yes
Yes
1x110V - 1x120V - 2 USB ports
OLBIA
Greece
5957 CHRISTINA TOO Power 68 Y 68.00 Ft 20.00 m 34.4 4.5 Feet 8 4 0 4 0 0 0 0 No Yes Full 48 hours 2017 Sunreef Yachts http://www.viewyacht.com/christinatoo https://www.cyabrochure.com/ebn/265/pbaX/5957/1 10 12 CHRISTINA TOO is accommodating up to 8 guests in 4 ensuite double cabins.<br /> Each cabin is equipped with 160 x 200 bed size, air conditionning with private control, plugs,hairdryer and HEOS surround 5.1 system. &#36;50,000 &#36;38,000 SUMMER WEEKLY RATES - MEDITERRANEAN SEASON June - September: 2-4 guests: 38 000 Euros / 5-8 guests: 40 000 Euros July - August: 2-4 guests: 43 000 Euros / 5-8 guests: 45 000 Euros MYBA terms + 30% APA to cover all expenses + VAT One week minimum required - Depending of the calendar and at low season 5 days could be considered. Delivery fees required. WINTER SEASON - CARIBBEAN 2-4 guests: $38 000 + 30% APA to cover all expenses 5-8 guests: $40 000 + 30% APA to cover all expenses Christmas week: 2-8 guests: $45 000 + 30% APA to cover all expenses New Year week: 2 - 8 guests: $50 000 + 30% APA to cover all expenses Plus Expenses Yes Yes Yes Yes 0 0 Yes Yes Yes Yes Inq Yes Yes Inq Yes 0 Yes 2 x 19kW Engines 2 x 588 kW (2 x 800 HP) Generators 2 x 19 kW 1x110V - 1x120V - 2 USB ports Yes 1000 L Yes semi rigid tender 15ft - Yanmar 4JH4 110 HP diesel Yes 0 No 0 Yes Yes No Yes Yes No Yes No Yes 0 Yes Yes Yes Yes 0 No Yacht offers Rendezvous Diving only - Not Onboard 0 0 0 0 0 0 0 0 https://www.centralyachtagent.com/yachtadmin/yachtimg/yacht5957/5957brochure1.jpg https://www.centralyachtagent.com/yachtadmin/yachtimg/yacht5957/5957brochure2.jpg https://www.centralyachtagent.com/yachtadmin/yachtimg/yacht5957/5957brochure3.jpg https://www.centralyachtagent.com/yachtadmin/yachtimg/yacht5957/5957brochure4.jpg https://www.centralyachtagent.com/yachtadmin/yachtimg/yacht5957/5957brochure5.jpg https://www.centralyachtagent.com/yachtadmin/yachtimg/yacht5957/5957brochure6.jpg https://www.centralyachtagent.com/yachtadmin/yachtimg/yacht5957/5957brochure7.jpg https://www.centralyachtagent.com/yachtadmin/yachtimg/yacht5957/5957brochure8.jpg https://www.centralyachtagent.com/yachtadmin/yachtimg/yacht5957/5957brochure9.jpg https://www.centralyachtagent.com/yachtadmin/yachtimg/yacht5957/5957brochure10.jpg https://www.centralyachtagent.com/yachtadmin/yachtimg/yacht5957/5957brochure11.jpg https://www.centralyachtagent.com/yachtadmin/yachtimg/yacht5957/5957brochure12.jpg https://www.centralyachtagent.com/yachtadmin/yachtimg/yacht5957/5957brochure13.jpg https://www.centralyachtagent.com/yachtadmin/yachtimg/yacht5957/5957brochure14.jpg https://www.centralyachtagent.com/yachtadmin/yachtimg/yacht5957/5957brochure15.jpg https://www.centralyachtagent.com/yachtadmin/yachtimg/yacht5957/5957brochure16.jpg https://www.centralyachtagent.com/yachtadmin/yachtimg/yacht5957/5957brochure17.jpg https://www.centralyachtagent.com/yachtadmin/yachtimg/yacht5957/5957brochure18.jpg https://www.centralyachtagent.com/yachtadmin/yachtimg/yacht5957/5957brochure19.jpg https://www.centralyachtagent.com/yachtadmin/yachtimg/yacht5957/5957brochure88.jpg https://www.cyabrochure.com/ebn/265/pbaX/5957/3 https://www.cyabrochure.com/ebn/265/pbaX/5957/4 W. Med -Naples/Sicily, W. Med -Riviera/Cors/Sard. Caribbean Virgin Islands, Caribbean Leewards 4 0 0 4 https://www.centralyachtagent.com/yachtadmin/yachtlg/yacht5957/5957brochure1.jpg https://www.centralyachtagent.com/yachtadmin/yachtlg/yacht5957/5957brochure2.jpg https://www.centralyachtagent.com/yachtadmin/yachtlg/yacht5957/5957brochure3.jpg https://www.centralyachtagent.com/yachtadmin/yachtlg/yacht5957/5957brochure4.jpg https://www.centralyachtagent.com/yachtadmin/yachtlg/yacht5957/5957brochure5.jpg https://www.centralyachtagent.com/yachtadmin/yachtlg/yacht5957/5957brochure6.jpg https://www.centralyachtagent.com/yachtadmin/yachtlg/yacht5957/5957brochure7.jpg https://www.centralyachtagent.com/yachtadmin/yachtlg/yacht5957/5957brochure8.jpg https://www.centralyachtagent.com/yachtadmin/yachtlg/yacht5957/5957brochure9.jpg https://www.centralyachtagent.com/yachtadmin/yachtlg/yacht5957/5957brochure10.jpg https://www.centralyachtagent.com/yachtadmin/yachtlg/yacht5957/5957brochure11.jpg https://www.centralyachtagent.com/yachtadmin/yachtlg/yacht5957/5957brochure12.jpg https://www.centralyachtagent.com/yachtadmin/yachtlg/yacht5957/5957brochure13.jpg https://www.centralyachtagent.com/yachtadmin/yachtlg/yacht5957/5957brochure14.jpg https://www.centralyachtagent.com/yachtadmin/yachtlg/yacht5957/5957brochure15.jpg https://www.centralyachtagent.com/yachtadmin/yachtlg/yacht5957/5957brochure16.jpg https://www.centralyachtagent.com/yachtadmin/yachtlg/yacht5957/5957brochure17.jpg https://www.centralyachtagent.com/yachtadmin/yachtlg/yacht5957/5957brochure18.jpg https://www.centralyachtagent.com/yachtadmin/yachtlg/yacht5957/5957brochure19.jpg &lt;p style="text-align: center;"&gt;SAMPLE MENU by Marcelle LIRON&lt;/p&gt; &lt;p style="text-align: center;"&gt;&amp;nbsp;&lt;/p&gt; &lt;p style="text-align: center;"&gt;BREAKFAST&lt;/p&gt; &lt;p style="text-align: center;"&gt;Poached Eggs with Wasabi Hollandaise and Crispy Bacon Rolls&lt;/p&gt; &lt;p style="text-align: center;"&gt;French Toast Rollups with Mascarpone and Maple Syrup&lt;/p&gt; &lt;p style="text-align: center;"&gt;Boiled Eggs with Prosciutto Wrapped Asparagus Soldiers&lt;/p&gt; &lt;p style="text-align: center;"&gt;Fresh Virgin Pi&amp;ntilde;a Colada Smoothies&lt;/p&gt; &lt;p style="text-align: center;"&gt;Frittata with Spinach, Tomato and Pecorino Chunks&lt;/p&gt; &lt;p style="text-align: center;"&gt;Cinnamon and Apple Overnight Oat Cups&lt;/p&gt; &lt;p style="text-align: center;"&gt;Potato R&amp;ouml;sti with Creamy Scrambled Eggs and Smoked Salmon Ribbons&lt;/p&gt; &lt;p style="text-align: center;"&gt;&amp;nbsp;&lt;/p&gt; &lt;p style="text-align: center;"&gt;LUNCH&lt;/p&gt; &lt;p style="text-align: center;"&gt;Grilled Chicken and Pineapple Salad with Buttery Garlic Bread&amp;nbsp;&lt;/p&gt; &lt;p style="text-align: center;"&gt;Summer Lamb Wraps with Pea and Mint Hummus&amp;nbsp;&lt;/p&gt; &lt;p style="text-align: center;"&gt;Tuna Ni&amp;ccedil;oise Salad with Garlic Potatoes and Beer Rolls&amp;nbsp;&lt;/p&gt; &lt;p style="text-align: center;"&gt;Jerk Spice Prawn Skewers with Mango Salsa and a Black Bean Salad&amp;nbsp;&lt;/p&gt; &lt;p style="text-align: center;"&gt;Shrimp Cobb Salad with a Cilantro Lime Dressing and Rustic Caraway Bread&lt;/p&gt; &lt;p style="text-align: center;"&gt;Mustard Salmon with a Crispy Broccoli and Rocket Salad and Yogurt Dressing&lt;/p&gt; &lt;p style="text-align: center;"&gt;Classic Carbonara Linguine served with Homemade Focaccia Bread&lt;/p&gt; &lt;p style="text-align: center;"&gt;&amp;nbsp;&lt;/p&gt; &lt;p style="text-align: center;"&gt;CANAPES&lt;/p&gt; &lt;p style="text-align: center;"&gt;Beetroot and Goat&amp;rsquo;s Cheese Crostini&lt;/p&gt; &lt;p style="text-align: center;"&gt;Golden Tumeric Hummus and Crudit&amp;eacute;s&lt;/p&gt; &lt;p style="text-align: center;"&gt;Crispy Coconut Shrimp Sticks with Homemade Chilli Jam&lt;/p&gt; &lt;p style="text-align: center;"&gt;Chilled Pea Soup and Cr&amp;egrave;me Fra&amp;icirc;che Shots&lt;/p&gt; &lt;p style="text-align: center;"&gt;Gouda and Leek Quiche Rounds&lt;/p&gt; &lt;p style="text-align: center;"&gt;Assorted Cheese Board with Cured Meats,&lt;/p&gt; &lt;p style="text-align: center;"&gt;Fruit and Nuts Grilled Prawn and Homemade Alioli Bites&lt;/p&gt; &lt;p style="text-align: center;"&gt;&amp;nbsp;&lt;/p&gt; &lt;p style="text-align: center;"&gt;STARTERS&lt;/p&gt; &lt;p style="text-align: center;"&gt;Spicy Carrot and Ginger Soup&amp;nbsp;&lt;/p&gt; &lt;p style="text-align: center;"&gt;Grilled Scallops with Anchovy, Mint and Coriander&lt;/p&gt; &lt;p style="text-align: center;"&gt;Mahi Mahi Tartare with Pineapple,&lt;/p&gt; &lt;p style="text-align: center;"&gt;Lime and Crispy Tortilla Chips&lt;/p&gt; &lt;p style="text-align: center;"&gt;Roasted Beetroot and Candied Walnut Salad&lt;/p&gt; &lt;p style="text-align: center;"&gt;&amp;nbsp;Black Sesame Seared Tuna with Passion Fruit Drops&amp;nbsp;&lt;/p&gt; &lt;p style="text-align: center;"&gt;Vietnamese Spring Rolls with a Ginger Soy Dipping Sauce Zucchini Fritters with a Mint and Yogurt Sauce&amp;nbsp;&lt;/p&gt; &lt;p style="text-align: center;"&gt;&amp;nbsp;&lt;/p&gt; &lt;p style="text-align: center;"&gt;MAIN&lt;/p&gt; &lt;p style="text-align: center;"&gt;Crispy Duck Breast served with Potato Rosti and a Blueberry Green Peppercorn&lt;/p&gt; &lt;p style="text-align: center;"&gt;Chutney Chicken Korma Curry and Rice Pilaf with Crispy Papadums&lt;/p&gt; &lt;p style="text-align: center;"&gt;Pork Tenderloin with Orange and Brandy Sauce Served with Roasted Sweet Potato&lt;/p&gt; &lt;p style="text-align: center;"&gt;Discs Lobster Thermidor with New Potatoes and Parsley Oil&lt;/p&gt; &lt;p style="text-align: center;"&gt;Maple Glazed Pork Ribs with Mustard Slaw&amp;nbsp;&lt;/p&gt; &lt;p style="text-align: center;"&gt;BBQ Rump Steak with a Paprika Carrot Puree and Buttered Asparagus Spears&lt;/p&gt; &lt;p style="text-align: center;"&gt;Red Snapper with Agrodolce, Pine Nuts and Charred Onions&lt;/p&gt; &lt;p style="text-align: center;"&gt;Slow Cooked Lamb Shanks in a Red Wine Sauce with Steamed White Rice&lt;/p&gt; &lt;p style="text-align: center;"&gt;&amp;nbsp;&lt;/p&gt; &lt;p style="text-align: center;"&gt;DESSERTS&lt;/p&gt; &lt;p style="text-align: center;"&gt;Bacon and Chocolate Cupcakes served with Whipped Cream&lt;/p&gt; &lt;p style="text-align: center;"&gt;Homemade Traditional Greek Baklava Wedges&lt;/p&gt; &lt;p style="text-align: center;"&gt;Spicy Roasted Plums served with Crispy Toasted Almond Slices&lt;/p&gt; &lt;p style="text-align: center;"&gt;Heavenly Dark Chocolate Mousse with Fresh Berries&lt;/p&gt; &lt;p style="text-align: center;"&gt;Apple and Sultana Pie with Sage Crumble and Chantilly&lt;/p&gt; &lt;p style="text-align: center;"&gt;Cream South African Malva Pudding with Warm Vanilla Custard&amp;nbsp;&lt;/p&gt; &lt;p style="text-align: center;"&gt;Orange Tiramisu with Grand Marnier Syrup and Mascarpone Filling&lt;/p&gt; https://www.centralyachtagent.com/yachtadmin/yachtlg/yacht5957/5957menu1.jpg https://www.centralyachtagent.com/yachtadmin/yachtlg/yacht5957/5957menu2.jpg https://www.centralyachtagent.com/yachtadmin/yachtlg/yacht5957/5957menu3.jpg https://www.centralyachtagent.com/yachtadmin/yachtlg/yacht5957/5957menu4.jpg https://www.centralyachtagent.com/yachtadmin/yachtlg/yacht5957/5957menu5.jpg https://www.centralyachtagent.com/yachtadmin/yachtlg/yacht5957/5957menu6.jpg https://www.centralyachtagent.com/yachtadmin/yachtlg/yacht5957/5957menu7.jpg https://www.centralyachtagent.com/yachtadmin/yachtlg/yacht5957/5957menu8.jpg https://www.centralyachtagent.com/yachtadmin/yachtlg/yacht5957/5957menu9.jpg https://www.centralyachtagent.com/yachtadmin/yachtlg/yacht5957/5957menu10.jpg 3 Inq No Alexander HAILWAX Namibian-German 1991 STCW95 0 0 English, German Marcelle LIRON Souht African-British Yacht Cookery Course 0 0 CAPTAIN: Alexander HAILWAX<br /> Namibian/German<br /> Yacht-master offshore - STCW 95 &ndash; PADI Divemaster <br /> Languages: English, German<br /> <br /> Alex was born in Namibia, Africa, where he spent his early years developing a love for nature; both ocean and desert life became engraved in his character. He spent many weekends exploring the Atlantic coastline on foot and became an avid fisherman by the time he was five-years-old.<br /> <br /> The next step was to head out onto the ocean and he was fortunate enough to have a family who encouraged him to get his Hobby Cat and Laser sailing licenses before he&rsquo;d even finished primary school. He completed these courses while experiencing the waters off the East coast of Africa, the Indian Ocean.<br /> <br /> He moved to South Africa for his high school and university years where he found a passion for diving in his free time. He never faltered on his love for sailing though and enjoyed family sailing trips all over the world. By the time he left school, he&rsquo;d sailed a few more seas - the Caribbean, the Pacific and the Mediterranean.<br /> When he finished up at the University of Stellenbosch (where he learnt a lot about wine, naturally), he headed to sailing school in Cape Town and eventually made his way up to France where his yachting adventures took him on an epic journey through the Mediterranean, across the Atlantic and finally onto Brazil.<br /> <br /> Once Alex had completed his Yacht-master, he permanently moved into the yachting industry where he worked his way up the ranks eventually making it to Captain at the age of 23. He spent 3 years moving between the Caribbean and Mediterranean seasons and<br /> completed his Divemaster in Panama in 2016.<br /> <br /> Alex loves cooking and is known as the &ldquo;Braai (BBQ) Master&rdquo; where his skills range from Argentinian tenderloin to hand-caught lobster. His German sense of humor (no laughing matter), sailing experience and humble nature all lend a hand towards a great Captain whose crew and guests alike will tell you that a trip with Alex is &ldquo;absolutely the best&rdquo;. <br /> <br /> <br /> CHEF: Marcelle LIRON<br /> South African/Bristish<br /> RYA Powerboat level 2 &ndash; PADI rescue Diver &ndash; STCW 95<br /> Yacht Cookery Course &ndash; Food Hygiene level 2<br /> Languages: English<br /> <br /> Born in Johannesburg, South Africa, the last thing Marcelle ever saw herself doing was actually getting to live the dream and sail the world.<br /> She started dancing at the age of three and immediately developed into a confident stage-presence who is always the life of the party. Hosting and entertaining come naturally to Marcelle; a look through her guest testimonials will show a mature, organized Chef and Hostess who is also able to initiate a karaoke sing-off or create an unforgettable atmosphere at an impromptu Caribbean beach party.<br /> <br /> Marcelle&rsquo;s love affair with food began early and she often reminisces about learning tricks and family secrets from her mother, an influence which is clearly visible in her repertoire.<br /> She takes pride in not only delivering spectacular meals with interesting and varied &ldquo;flavor-bombs&rdquo; but also creating a special twist on every day dishes. She has been in the yachting industry for over 4 years and has made her way around the world making sure to pick up flavor combinations and recipes along the way. Tasting the influences from all over the globe, you&rsquo;d think she ate her way through each of the 35+countries she has visited.<br /> <br /> After spending time learning from an ex-yacht chef in Palma de Mallorca last year, Marcelle decided to head to Germany to learn a bit about the Bavarian cuisine. She worked in the kitchen of a reputable hotel in Munich where she was taught a variety of cooking, preparation and time management skills and gained invaluable experience.<br /> <br /> Having spent the major part of the last 4 years extensively sailing the Caribbean Sea, she has developed an avid love for the ocean; scuba diving and snorkeling are some of Marcelle&rsquo;s favorite past times and she loves taking her guests on unforgettable reef tours to discovery some of the ocean&rsquo;s animal life.<br /> <br /> <br /> DECK-STEW: Chad SIMS-HANDCOCK<br /> German - South African<br /> STCW 10 &ndash; RYA PWCand Pwer boat level 2 &ndash; CMAS Open Water Diver <br /> Languages: English<br /> <br /> Born and raised in a small town in South Africa, Chad kept himself busy by exploring the great outdoors with friends; cycling through forests and the countryside just about every weekend. Growing up in an English-speaking family and having had access to a good education ensures that he is well mannered and well spoken.<br /> His love for the ocean started with family vacations to the coast of South Africa where he filled his days with fishing, snorkelling, surfing and scuba diving with his older brother.<br /> <br /> Chad has always been inquisitive and his genuine interest in the world meant that when the opportunity to travel arose, he jumped! He began his yachting career last summer in Palma de Mallorca where he learnt the ropes during temporary work aboard yachts of all sizes.<br /> <br /> Chad travelled into the mountains of France during the winter to work at a private 5-star chalet where he mastered all housekeeping roles as well as maintaining a mature, professional hosting manner. He prides himself on his high standard of service. During<br /> this time, he also tried his hand at snowboarding, keeping in line with his active and adventurous lifestyle.<br /> <br /> Chad loves reading and has a pleasant demeanour which, along with his witty humour, makes him a great conversationalist. His young and energetic personality make him a great asset to Christina Too. https://www.centralyachtagent.com/yachtadmin/yachtimg/yacht5957/5957brochure44.jpg https://www.centralyachtagent.com/yachtadmin/yachtlg/yacht5957/5957crew1.jpg https://www.centralyachtagent.com/yachtadmin/yachtlg/yacht5957/5957crew2.jpg https://www.centralyachtagent.com/yachtadmin/yachtlg/yacht5957/5957crew3.jpg Alex HAILWAX Marcelle LIRON Chad Sims-Handcock CAPTAIN CHEF Deck hand - Stew CAYMAN ISLANDS OLBIA TORTOLA Yes 0 + ALL SUMMER WEEKLY RATES - MEDITERRANEAN SEASON June - September: 2-4 guests: 38 000 Euros / 5-8 guests: 40 000 Euros July - August: 2-4 guests: 43 000 Euros / 5-8 guests: 45 000 Euros MYBA terms + 30% APA to cover all expenses + VAT One week minimum required - Depending of the calendar and at low season 5 days could be considered. Delivery fees required. WINTER SEASON - CARIBBEAN 2-4 guests: $38 000 + 30% APA to cover all expenses 5-8 guests: $40 000 + 30% APA to cover all expenses Christmas week: 2-8 guests: $45 000 + 30% APA to cover all expenses New Year week: 2 - 8 guests: $50 000 + 30% APA to cover all expenses US Gall/Hr 2800nm 2 2 0 Yes 0 Voltage AC: 230V 50Hz - Voltage DC: 24V, 12V Blue Latitude Yachting Laurence PROVOST +33 (0)134 121 147 Cell: +33 (0) 660 821 785 [email protected]
116
a:55:{s:10:"07-04-2019";i:1;s:10:"07-05-2019";i:1;s:10:"07-06-2019";i:2;s:10:"07-08-2019";i:1;s:10:"07-11-2019";i:1;s:10:"07-12-2019";i:2;s:10:"07-15-2019";i:2;s:10:"07-16-2019";i:1;s:10:"07-18-2019";i:1;s:10:"07-19-2019";i:2;s:10:"07-21-2019";i:1;s:10:"07-22-2019";i:2;s:10:"07-23-2019";i:4;s:10:"07-24-2019";i:3;s:10:"07-25-2019";i:1;s:10:"07-26-2019";i:1;s:10:"07-27-2019";i:2;s:10:"07-29-2019";i:2;s:10:"07-30-2019";i:2;s:10:"08-01-2019";i:2;s:10:"08-03-2019";i:3;s:10:"08-05-2019";i:2;s:10:"08-07-2019";i:1;s:10:"08-08-2019";i:3;s:10:"08-10-2019";i:1;s:10:"08-11-2019";i:3;s:10:"08-12-2019";i:24;s:10:"08-14-2019";i:1;s:10:"08-16-2019";i:1;s:10:"08-17-2019";i:1;s:10:"08-19-2019";i:1;s:10:"08-21-2019";i:2;s:10:"08-22-2019";i:1;s:10:"08-23-2019";i:2;s:10:"08-24-2019";i:1;s:10:"08-26-2019";i:2;s:10:"08-27-2019";i:2;s:10:"08-28-2019";i:1;s:10:"08-29-2019";i:1;s:10:"08-30-2019";i:1;s:10:"08-31-2019";i:1;s:10:"09-01-2019";i:1;s:10:"09-04-2019";i:1;s:10:"09-05-2019";i:2;s:10:"09-07-2019";i:2;s:10:"09-08-2019";i:2;s:10:"09-09-2019";i:4;s:10:"09-11-2019";i:2;s:10:"09-12-2019";i:2;s:10:"09-13-2019";i:1;s:10:"09-14-2019";i:2;s:10:"09-15-2019";i:3;s:10:"09-16-2019";i:1;s:10:"09-17-2019";i:3;s:10:"09-19-2019";i:1;}