Yacht Description
MUCHO GUSTO yacht is a 65.00 ft long motor yacht monohull and spends the winter season in British Virgin Islands. It was built by Horizon in 2019. The yacht layout features 3 cabins and accommodates 6 guests. The cabin arrangement is following: 2 king cabins, 1 twin cabin.
The motor yacht features 2 X Cat C12-9 1000hp engines and a generator.
Accommodation
MUCHO GUSTO offers bespoke accommodation in a main deck master King Suite, a VIP King suite and a Twin berth convertible to a King suite.
Cabin Breakdown
MUCHO GUSTO Yacht Details
$35,000 - $39,000
Weekly price low-high season
MUCHO GUSTO Charter Price Details
| | | | | | | | | | | | |
| --- | --- | --- | --- | --- | --- | --- | --- | --- | --- | --- | --- |
| Season Name | 2 guests | 3 guests | 4 guests | 5 guests | 6 guests | 7 guests | 8 guests | 9 guests | 10 guests | 11 guests | 12 guests |
| Summer 2020 | $35,000 | $36,000 | $37,000 | $38,000 | $39,000 | $0 | $0 | $0 | $0 | $0 | $0 |
| Winter 2020 to 2021 | $35,000 | $36,000 | $37,000 | $38,000 | $39,000 | $0 | $0 | $0 | $0 | $0 | $0 |
| Summer 2021 | $35,000 | $36,000 | $37,000 | $38,000 | $39,000 | $0 | $0 | $0 | $0 | $0 | $0 |
Price Terms
All Inclusive
Price Details
High season rate: $39,000
Winter 2020/2021 Virgin Islands - All inclusive - Includes cruising taxes
*******Summer 2020 Bahamas - Inclusive Plus 4% Bahamas Tax*******


Christmas Week (Virgin Islands): up to 6 guests US$42,900 inclusive ending by December 26th.
New Years Week (Virgin Islands): up to 6 guests US$44,850 inclusive starting December 27th or later
Amenities
Smoking:
Transoms only pls
Specifications
BBQ: Yes
AC: Full
Generator: 21Kw x 2
Internet: Onboard WIFI
Cruising Speed: 22
Max Speed: 26
More Specifications
Yacht Insurance:
Alliance Marine Insurance
Diving Yacht offers Rendezvous Diving only
Air Compressor:
Not Onboard
Scuba On Board:
Yacht offers Rendezvous Diving only
Fishing
Green Initiatives
Other Green Efforts:
Chef Hanna has many eco friendly products aboard, including shampoo and conditioner.
Water Sports
Swim Platform:
1 High Low
Other Entertainment
Offering Healthy Retreat Charters
Crew
Crew Information
Captain Dominic
Having lived on the coast all his life it seemed only natural that Dom followed his passion for the ocean and after extensive experience crewing on a variety of different sized vessels has a vast knowledge of the different roles onboard. Dom is an accomplished, hard working Skipper dedicated to providing the highest level of safety and service to any guests.
He is a qualified lifeguard, jet ski instructor, and worked several seasons on Mediterranean based vessels. He has also completed several Atlantic crossings and more recently has been based in Florida, the Caribbean & Bahamas.
Dominic has a sly sense of humor and although English is his first language, his command of German has proved very useful at times. He's also a keen athlete and tennis coach when the opportunity arises.
Stew/ Cook Hannah
Growing up in Cape Town Hannah has also been around water all her life. She's always swum competitively and was an accomplished dingy sailor throughout her teens. After leaving school and travelling extensively, Han found herself drawn to follow her love of cooking and all things culinary and put herself through culinary training to obtain her Diploma in Patisserie and Culinary Arts. She worked at some of Cape Town's premier restaurants and wine estates whilst studying. She is also a talented photographer and her positive outlook on life and strong work ethic makes her a great asset on any boat.
Together Dom & Han are a formidable team whose combined experience, ability and attention to detail will ensure guests have a warm and memorable stay on board MUCHO GUSTO!



Menu
Reviews:
Pre Isolation Charter March 2020
Dom and Hannah!

We could not have been "Quarantined" with nicer people or a better culinary Rock Star!
Thank you so much for making this last week FANTASTIC. Some of our favorite memories are the water sports (Dom, you're the best tube-driver ever) and the food (seriously!).
I'm personally thankful for 'The Four Tendencies' (book in the little library) and the added knowledge and vocabulary it has given me.
You know as an Obliger I cannot not write in this book and you know as a Rebel, Steve just won't write in this book, that Brody (our questioner) has thoroughly questioned and thought about why he should or shouldn't write in this book and that Ella (Upholder) has been ready to write in it all day.

Either way, please know that you are probably only 1/4 mile away from us at any given time/ place and we'd love to hear from you.

We would not hesitate to book again with you both and Mucho Gusto has been a dream boat!

Thanks so much for everything!

The Gray's,
Lucas, Texas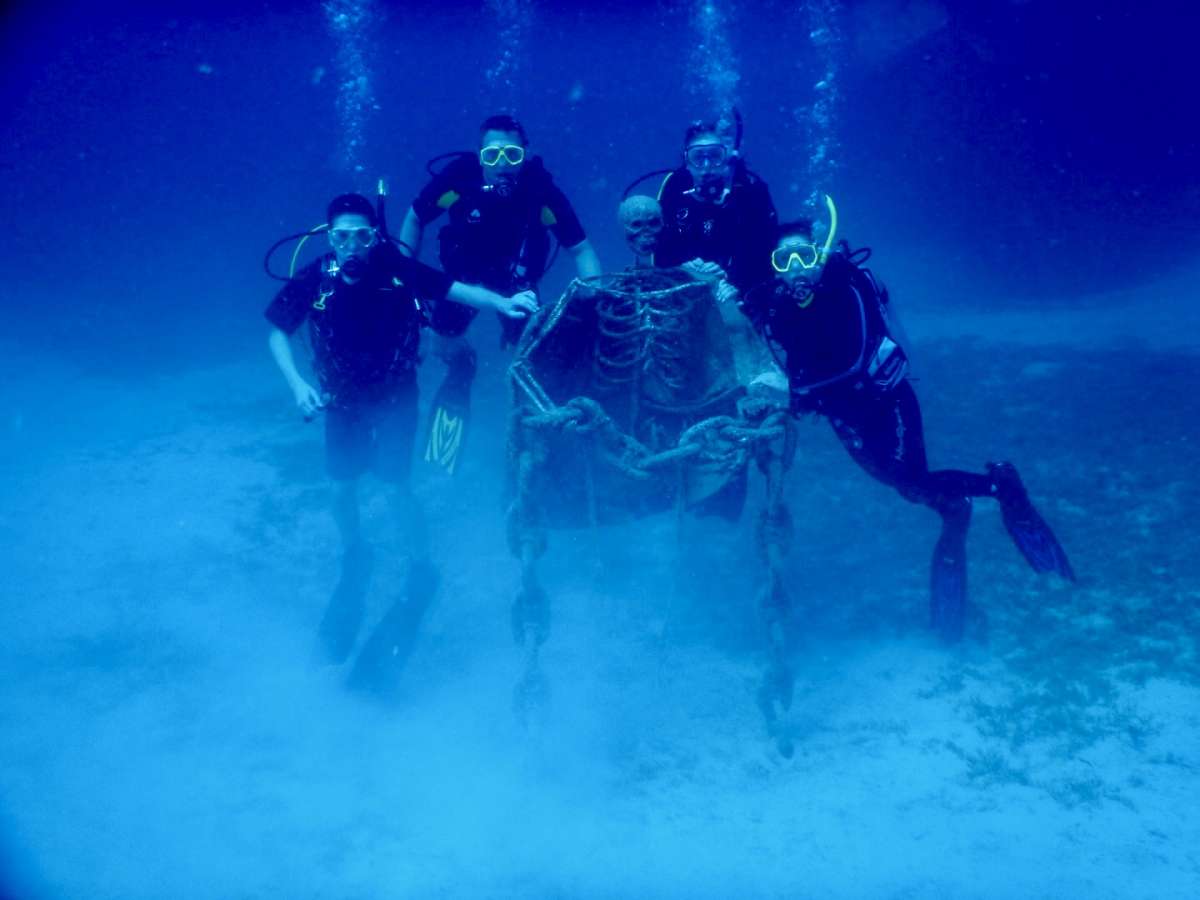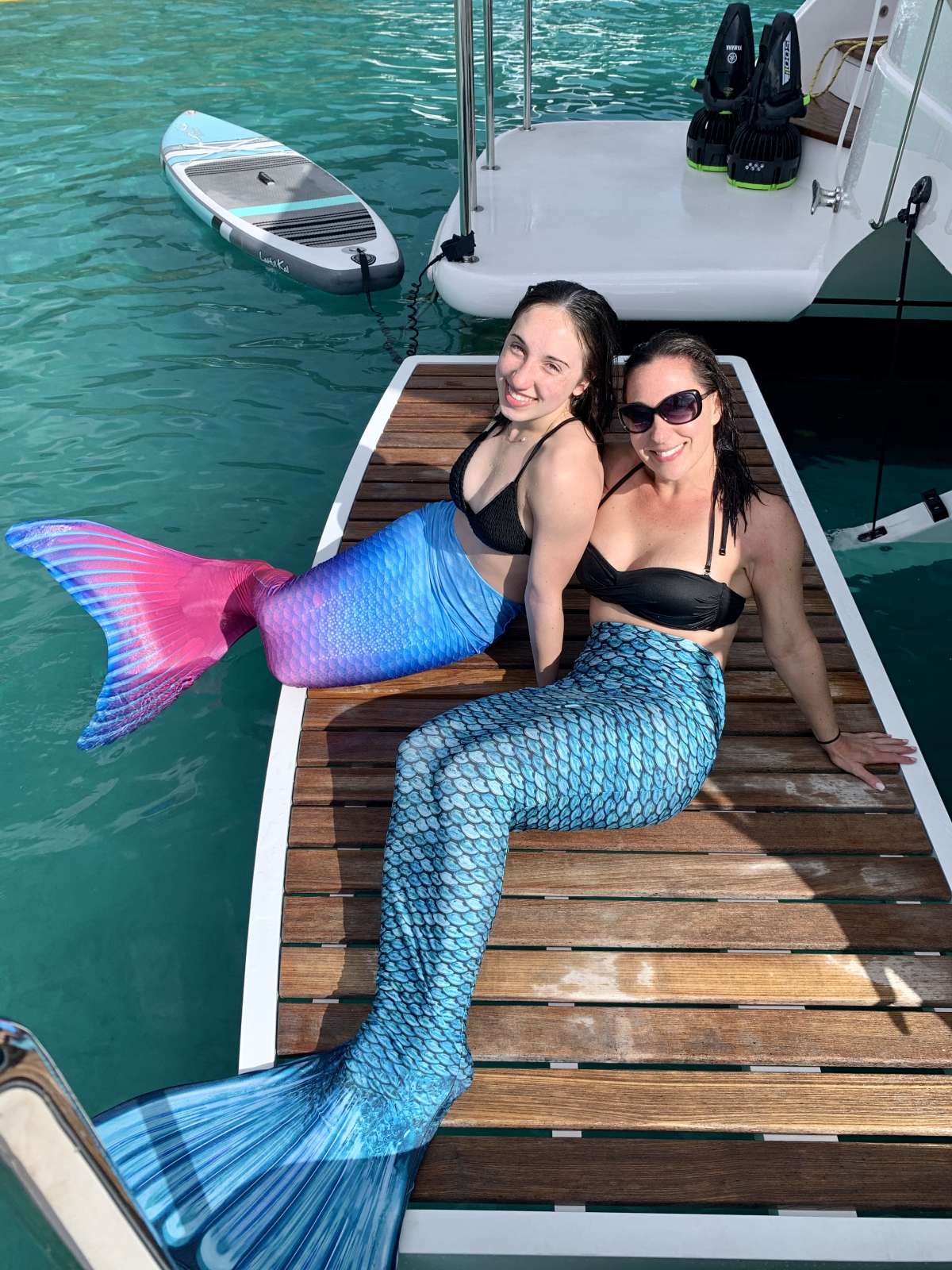 Celebratory Trip March 2020
Dom & Hannah,

Thank you both for the trip of a lifetime!

The only thing better than the yacht was the company of Dom & Hannah. The food & service exceeded any expectations we had.
Dom was an expert at picking the perfect locations to anchor, Hannah blew us away at every meal, & together they planned the perfect week of unforgettable memories.

We can't wait to see you guys again soon!!

The Hobick Family
Tampa, Florida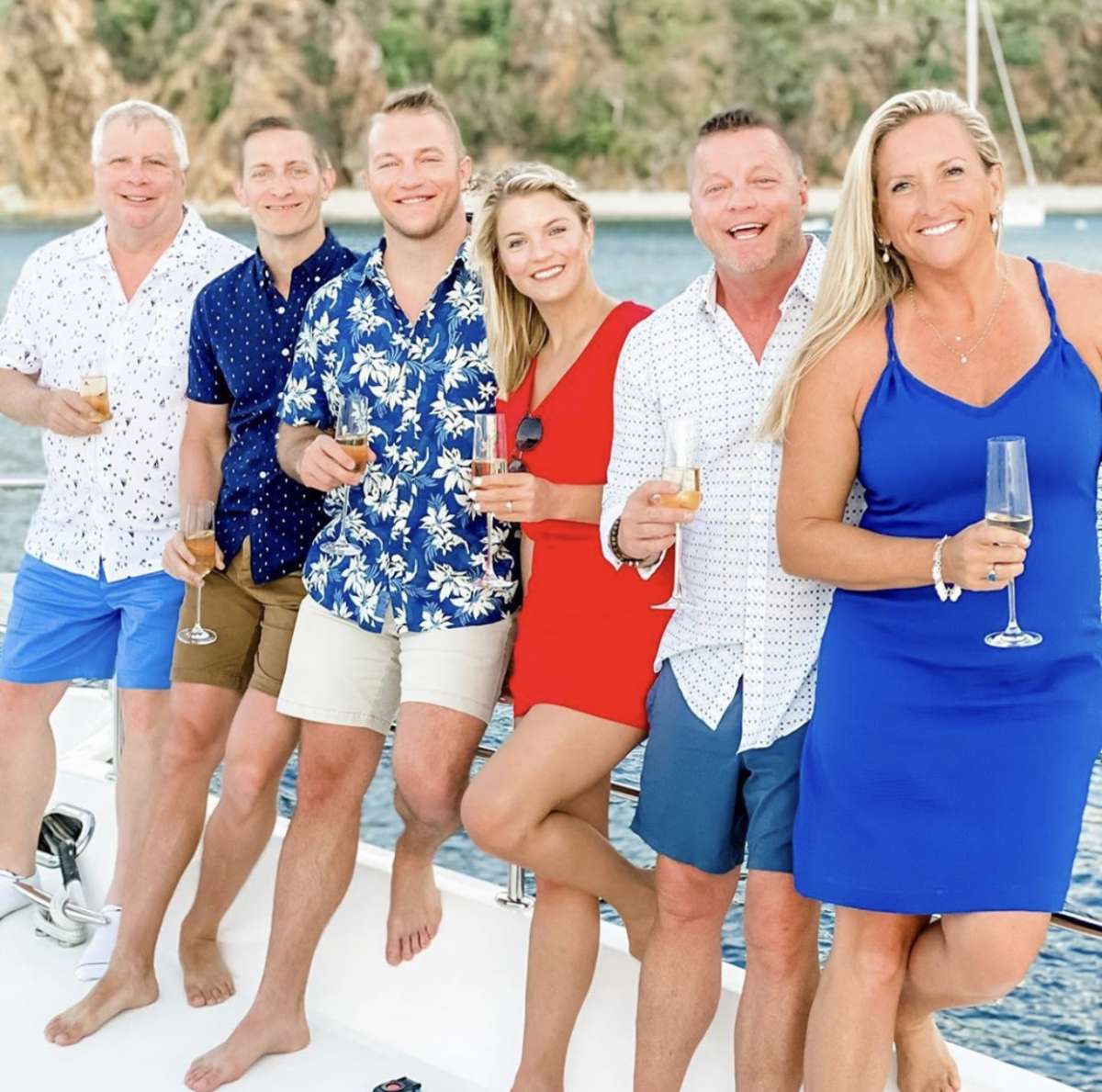 End of February 2020
WOW!!!

Nick & Hannah,

You folks made the trip - great yacht, very comfortable, and trip very well planned out- Hannah's cooking has us on an immediate diet when we get home!!

The Kimbrough's
Orange Beach, Alabama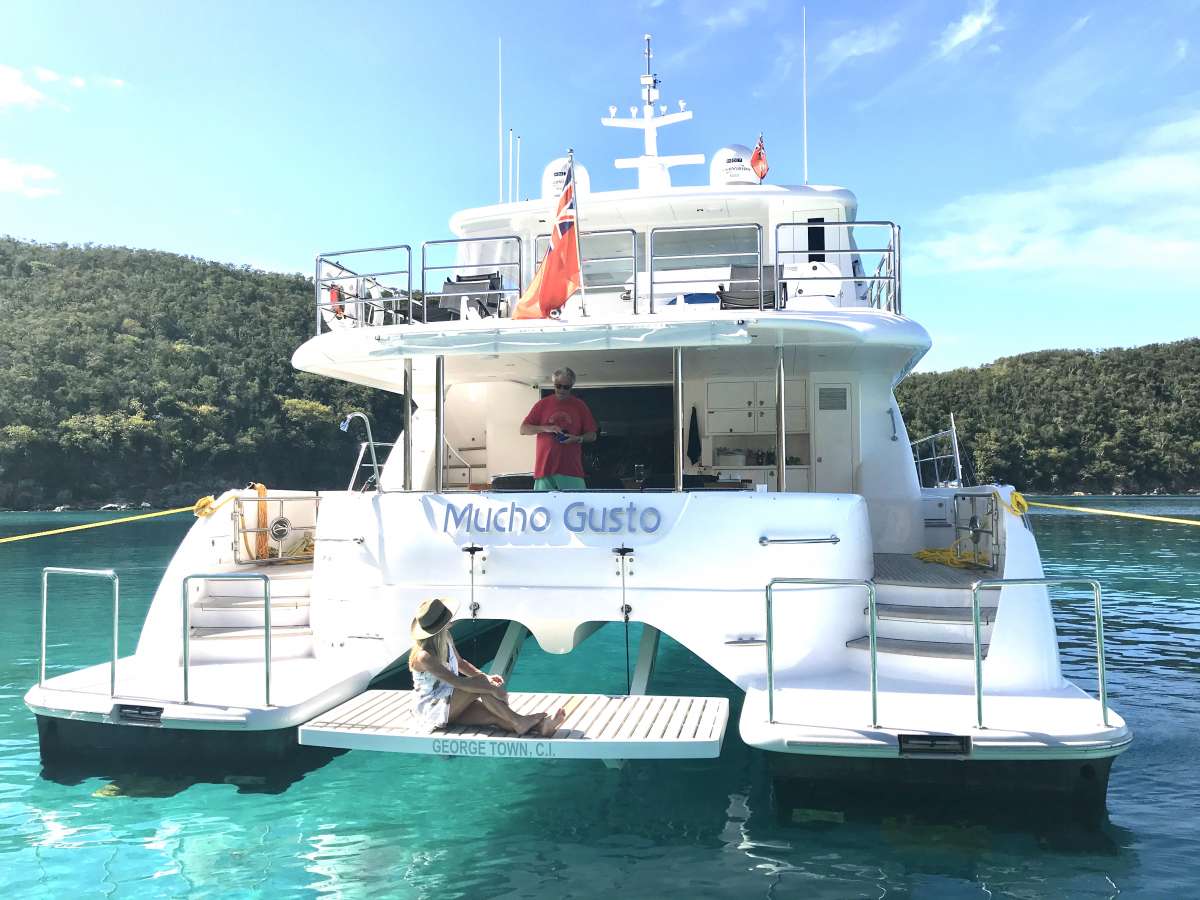 Tandem Charter with Seaglass Feb 2020
Dom and Hanna!

Thank you so so much! We had an unforgettable time!
Amazing food, creative drinks, lots of laughs!
Thank you for being so accommodating and helpful,
You really went above and beyond and made this trip so incredible!

Mucho Gusto!!
Hope to see you all again!

The Pisani Family,
Illinois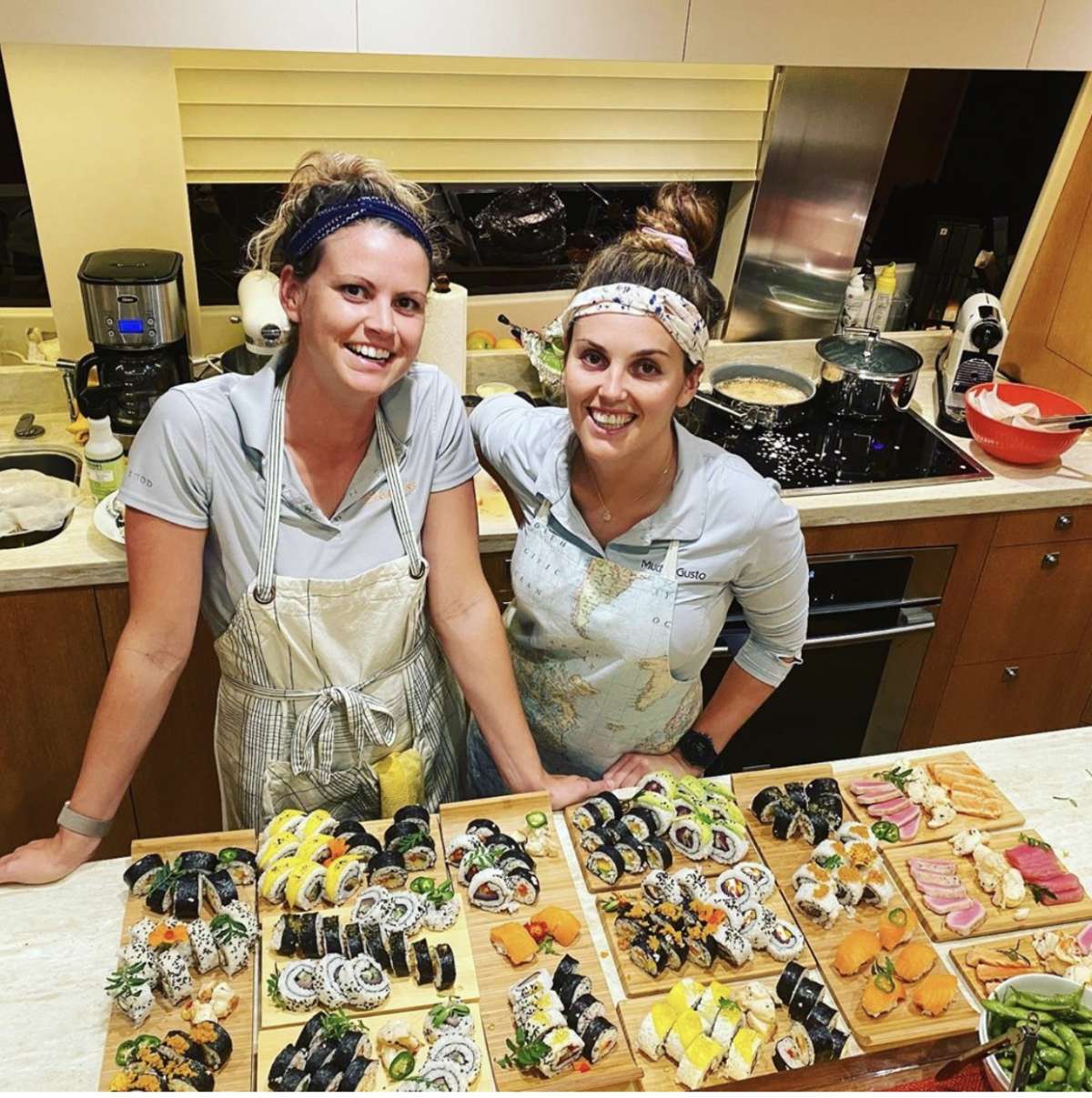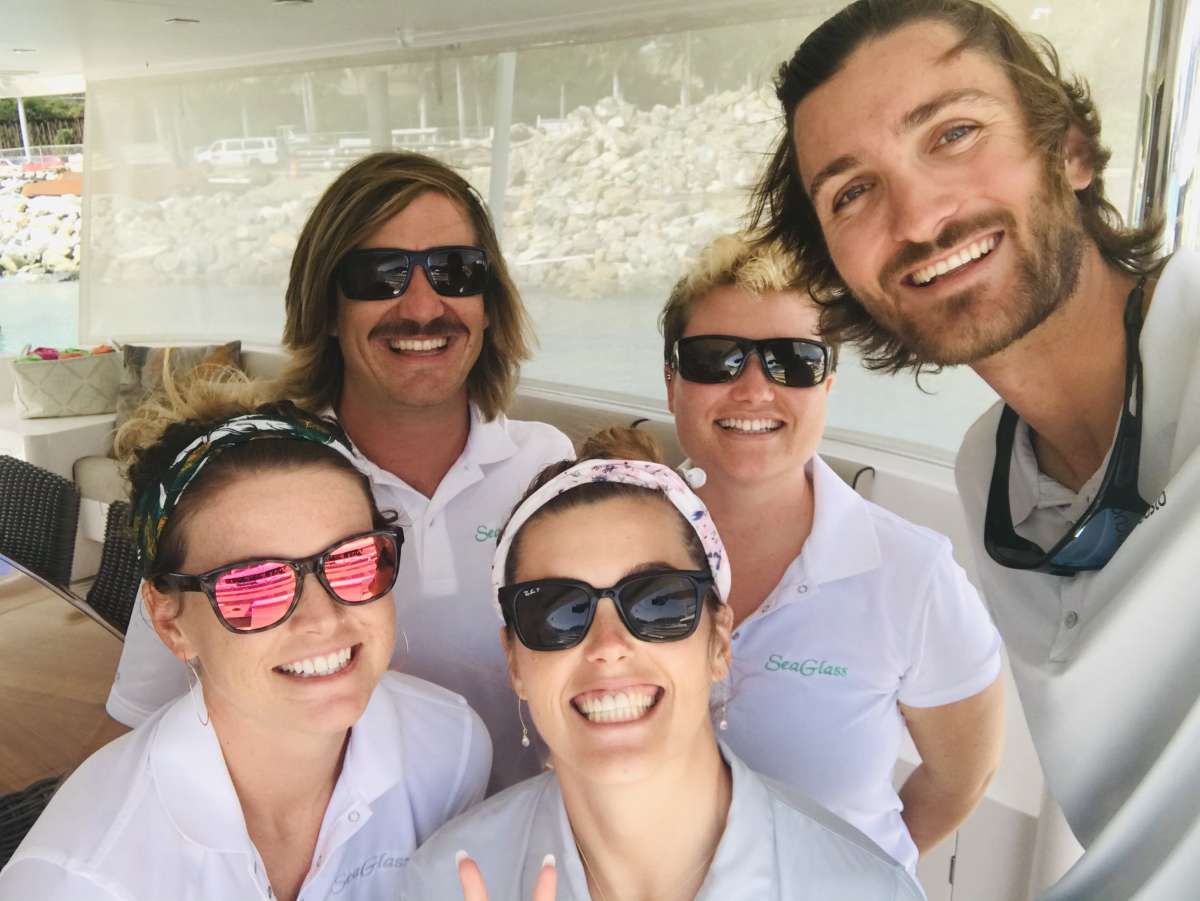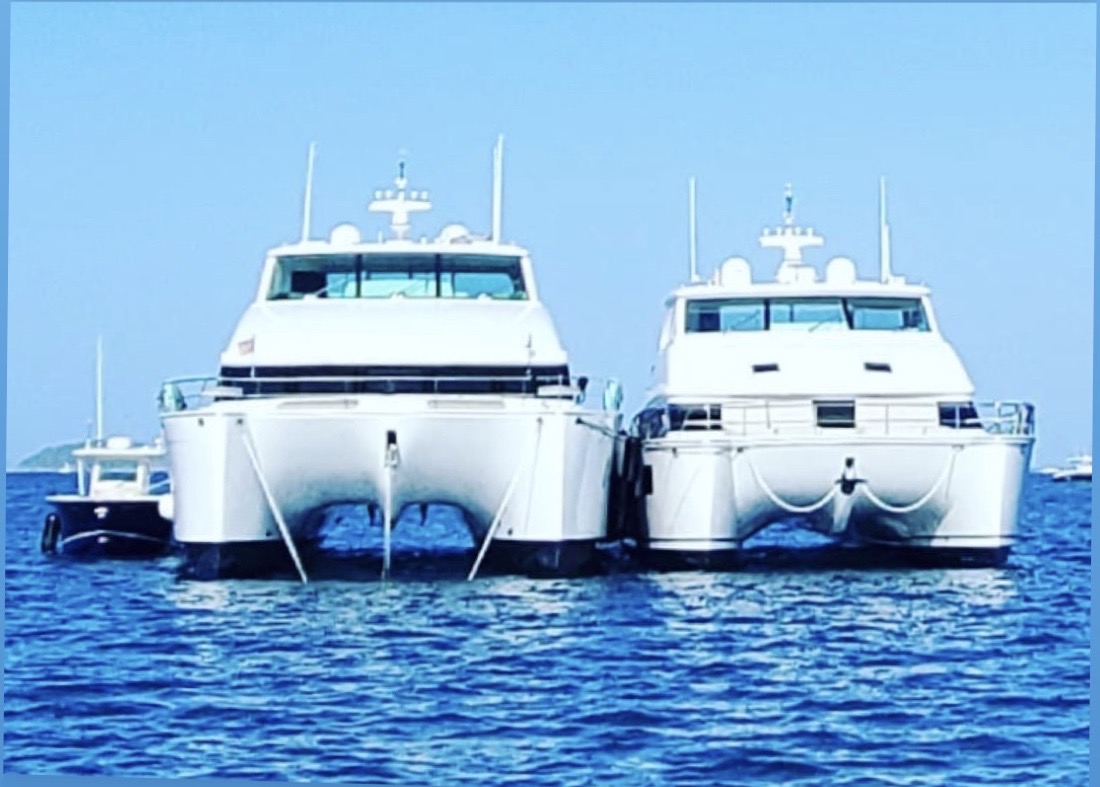 Valentines Day Charter 2020
Dom + Hannah,

Hard to believe our second voyage could top the first, but thanks to your incredible hospitality, you did just that.

The journey, the food, the drinks (!!!!), and the warm TLC made for a great 6 days.
You two feel like family... we'll definitely see you again on Mucho Gusto.

Thanks for everything,

The Chapek's
California
New Years Charter 2019/2020
Thank you Dom & Hannah for an incredible trip and a wonderful, unexpected friendship!

There was not a single thing that was not above- and - beyond, the food, the spots you took us, the snorkeling, and especially the company and conversation.

We cannot wait to come back and spend (hopefully) another two weeks onboard with you. Thank you again for the laughter, the fun, and the amazing memories!

Love,
Charlotte, Joey, Chance & Oren
Christmas Charter 2019
Thank you for a magical time this week on the Mucho Gusto!

Hannah and Dominic, you have truly spoiled us all. Thanks you for all the laughs and memories!

Love,
The Williams,
Greenville, South Carolina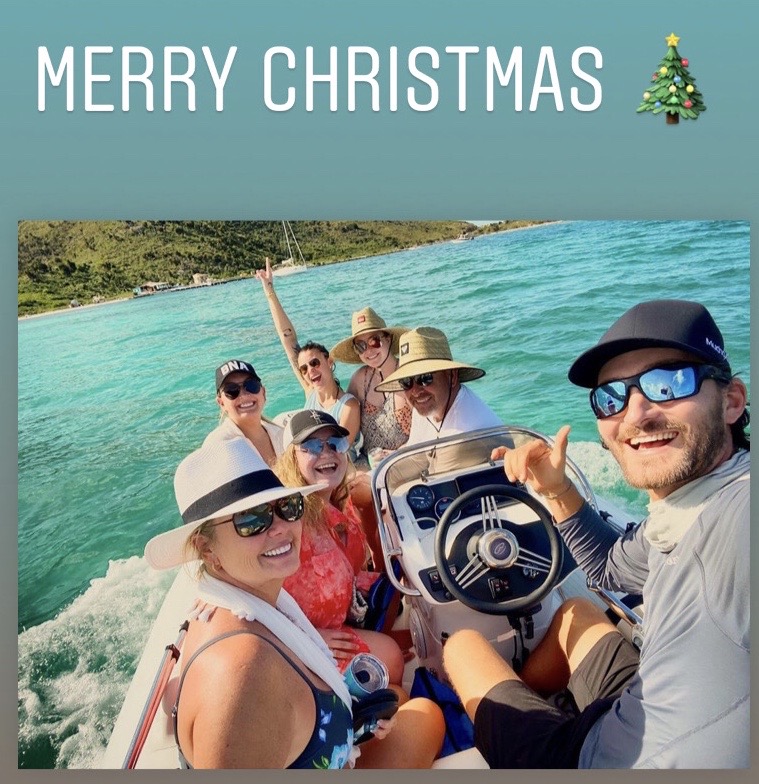 Thanksgiving Charter 2019
The Best compliment you can give a crew is to rebook, right?

See previous comment! (July 2019)

Fantastic, Wonderful, Outstanding etc etc, Thank you Dom & Hann!

Love,
The Barbers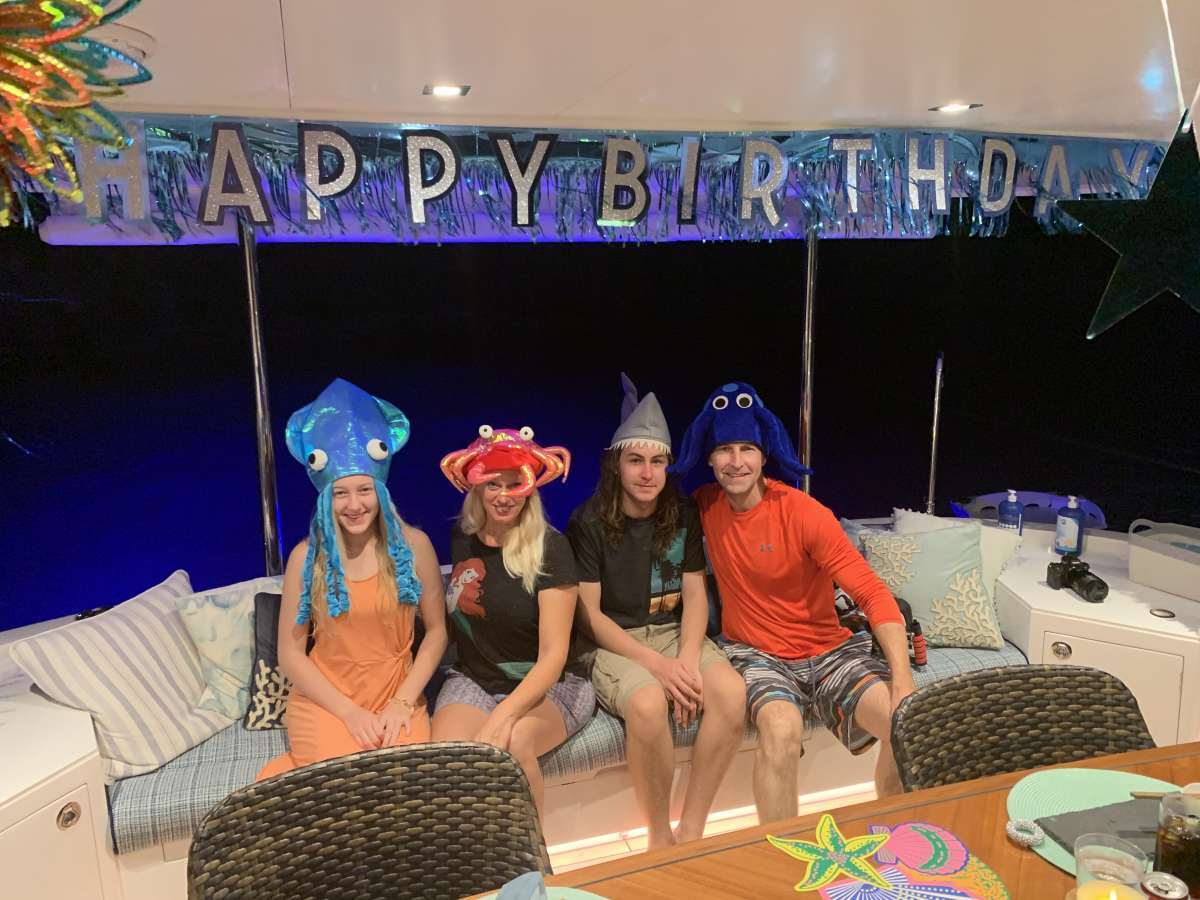 4 Day Exuma Excursion July 2019
To the Impeccable Captain Dominic & the Exquisite Chef, Hannah.

I don't think we have enough adjectives to properly describe the perfection of our time on Mucho Gusto!

From tendering over to pick us up by the airport (Staniel Cay), to planning the perfect anchorages, to seeking out fantastic snorkel spots both well known & brand new, Dominic, Your professionalism and attention to detail was levels above your years!

Chef Hannah, you my friend, have MAD food skills. Every meal was perfectly prepared and an explosion of complementary flavors and textures... A new adventure on every plate. I don't think we have ever eaten so well for so many meals in a row!

Mucho Gusto is truly a beautiful yacht and the attention to detailing the planning does not go unnoticed. the smart choices and stunning design elements make her a match above the competition. We cannot wait to get our next adventure with you guys on the books!

From the bottom of our Hearts, Thank you!
The Barber Family
Lucas, Texas
First Charter on the New 65! April 2019
Well that was a birthday to remember!

My first Paddleboard, my first manatee! Thank you for an idyllic time in a very special location. Thank you for making it so easy with the kids and all of us. Hannah and Dom, you brightened our journey.

Gallery
6
4975
http://www.centralyachtagent.com/snapins/ebrochure-xml.php?idin=4975&uid=265&user=265
3
Power
Y
https://www.centralyachtagent.com/yachtadmin/yachtimg/yacht4975/4975brochure88.jpg
6
Bahamas
Caribbean Virgin Islands
65.00
24.9
5.25

Exercise equipment available
Mermaid Tails (you swim in them) X 3
Saddle Floaties X 4
Swim Noodles
Surfboard
Mucho Gusto has a Hi/Lo platform on the back.
a:34:{s:12:"salon_stereo";s:3:"Yes";s:8:"salon_tv";s:3:"Yes";s:6:"sat_tv";s:3:"Yes";s:17:"multimedia_system";s:3:"Yes";s:4:"nude";s:3:"Yes";s:5:"books";s:3:"Yes";s:9:"crew_pets";s:2:"No";s:8:"pet_type";s:0:"";s:10:"guest_pets";s:2:"No";s:9:"camcorder";s:1:"0";s:14:"number_dine_in";s:2:"10";s:11:"water_maker";s:10:"60 gals/hr";s:14:"water_capacity";s:8:"350 gals";s:9:"ice_maker";s:3:"Yes";s:14:"number_of_dvds";s:7:"Netflix";s:13:"number_of_cds";s:0:"";s:11:"board_games";s:3:"Yes";s:10:"sun_awning";s:3:"Yes";s:6:"bimini";s:3:"Yes";s:13:"special_diets";s:3:"Yes";s:6:"kosher";s:3:"Yes";s:3:"bbq";s:3:"Yes";s:12:"gay_charters";s:3:"Yes";s:10:"hairdryers";s:3:"Yes";s:22:"number_of_port_hatches";s:0:"";s:7:"smoking";s:17:"Transoms only pls";s:11:"crew_smokes";s:2:"No";s:11:"children_ok";s:3:"Yes";s:17:"minimum_child_age";s:2:"12";s:9:"generator";s:9:"21Kw x 2";s:8:"inverter";s:3:"Yes";s:8:"voltages";s:13:"110 & 220";s:7:"hammock";s:0:"";s:10:"windscoops";s:0:"";}
Full
Yes
Onboard WIFI
21Kw x 2
2 X Cat C12-9 1000hp
2019
Horizon
MUCHO GUSTO offers bespoke accommodation in a main deck master King Suite, a VIP King suite and a Twin berth convertible to a King suite.
USD
35000
35000
$39,000
Winter 2020/2021 Virgin Islands - All inclusive - Includes cruising taxes *******Summer 2020 Bahamas - Inclusive Plus 4% Bahamas Tax******* Christmas Week (Virgin Islands): up to 6 guests US$42,900 inclusive ending by December 26th. New Years Week (Virgin Islands): up to 6 guests US$44,850 inclusive starting December 27th or later

Having lived on the coast all his life it seemed only natural that Dom followed his passion for the ocean and after extensive experience crewing on a variety of different sized vessels has a vast knowledge of the different roles onboard. Dom is an accomplished, hard working Skipper dedicated to providing the highest level of safety and service to any guests.
He is a qualified lifeguard, jet ski instructor, and worked several seasons on Mediterranean based vessels. He has also completed several Atlantic crossings and more recently has been based in Florida, the Caribbean & Bahamas.
Dominic has a sly sense of humor and although English is his first language, his command of German has proved very useful at times. He's also a keen athlete and tennis coach when the opportunity arises.
Stew/ Cook Hannah
Growing up in Cape Town Hannah has also been around water all her life. She's always swum competitively and was an accomplished dingy sailor throughout her teens. After leaving school and travelling extensively, Han found herself drawn to follow her love of cooking and all things culinary and put herself through culinary training to obtain her Diploma in Patisserie and Culinary Arts. She worked at some of Cape Town's premier restaurants and wine estates whilst studying. She is also a talented photographer and her positive outlook on life and strong work ethic makes her a great asset on any boat.
Together Dom & Han are a formidable team whose combined experience, ability and attention to detail will ensure guests have a warm and memorable stay on board MUCHO GUSTO!


";s:5:"photo";s:82:"https://www.centralyachtagent.com/yachtadmin/yachtimg/yacht4975/4975brochure44.jpg";s:4:"size";s:1:"2";s:12:"captain_name";s:7:"Dominic";s:14:"captain_nation";s:13:"South African";s:12:"captain_born";s:4:"1991";s:15:"captain_license";s:3:"RYA";s:18:"captain_yr_sailing";s:1:"0";s:21:"captain_yr_chartering";s:1:"0";s:17:"captain_languages";s:15:"English, German";s:9:"crew_name";s:6:"Hannah";s:16:"crew_nationality";s:13:"South African";s:12:"crew_license";s:0:"";s:15:"crew_yr_sailing";s:1:"0";s:18:"crew_yr_chartering";s:1:"6";}
a:15:{s:4:"info";s:1664:"Captain Dominic
https://www.centralyachtagent.com/yachtadmin/yachtlg/yacht4975/4975brochure1.jpg
Mucho Gusto is newest model from Horizon. She was launched in Feb 2019 and is the only 65ft Horizon Power Cat available for Charters. Available to Guests is an On Deck California King Master suite, A VIP King suite, and a Twin berth-or-King cabin, all of which are exclusively en-suite. On the main deck there is a gracious aft deck and dining area with seating for 10, 2 swim platforms with a stainless outdoor shower and a High Low Platform. Whilst on the flybridge guests are treated to a fully Air Conditioned helm station/ wet bar/ alfresco dining area with an option to lay out on the exterior loungers on the broad sundeck/ covered BBQ area. Additionally there is a day head on the flybridge too. On the Bow guests will find recently updated sun cushions for 6 to be enjoyed whilst underway.
a:18:{i:2;a:2:{s:3:"url";s:80:"https://www.centralyachtagent.com/yachtadmin/yachtlg/yacht4975/4975brochure2.jpg";s:4:"desc";s:34:"Salon Seating & Galley Counter";}i:3;a:2:{s:3:"url";s:80:"https://www.centralyachtagent.com/yachtadmin/yachtlg/yacht4975/4975brochure3.jpg";s:4:"desc";s:21:"Aft Deck Dining Table";}i:4;a:2:{s:3:"url";s:80:"https://www.centralyachtagent.com/yachtadmin/yachtlg/yacht4975/4975brochure4.jpg";s:4:"desc";s:17:"High Low Platform";}i:5;a:2:{s:3:"url";s:80:"https://www.centralyachtagent.com/yachtadmin/yachtlg/yacht4975/4975brochure5.jpg";s:4:"desc";s:57:"Flybridge Fully A/C'd helm station/ Bar & Dining Area";}i:6;a:2:{s:3:"url";s:80:"https://www.centralyachtagent.com/yachtadmin/yachtlg/yacht4975/4975brochure6.jpg";s:4:"desc";s:22:"Master California King";}i:7;a:2:{s:3:"url";s:80:"https://www.centralyachtagent.com/yachtadmin/yachtlg/yacht4975/4975brochure7.jpg";s:4:"desc";s:39:"Master Shower & His & Her Sinks";}i:8;a:2:{s:3:"url";s:80:"https://www.centralyachtagent.com/yachtadmin/yachtlg/yacht4975/4975brochure8.jpg";s:4:"desc";s:14:"VIP King Suite";}i:9;a:2:{s:3:"url";s:80:"https://www.centralyachtagent.com/yachtadmin/yachtlg/yacht4975/4975brochure9.jpg";s:4:"desc";s:19:"Twin Cabin Bathroom";}i:10;a:2:{s:3:"url";s:81:"https://www.centralyachtagent.com/yachtadmin/yachtlg/yacht4975/4975brochure10.jpg";s:4:"desc";s:36:"Twin Stateroom can convert to a King";}i:11;a:2:{s:3:"url";s:81:"https://www.centralyachtagent.com/yachtadmin/yachtlg/yacht4975/4975brochure11.jpg";s:4:"desc";s:19:"Snorkel the Indians";}i:12;a:2:{s:3:"url";s:81:"https://www.centralyachtagent.com/yachtadmin/yachtlg/yacht4975/4975brochure12.jpg";s:4:"desc";s:27:"Explore the Endless beaches";}i:13;a:2:{s:3:"url";s:81:"https://www.centralyachtagent.com/yachtadmin/yachtlg/yacht4975/4975brochure13.jpg";s:4:"desc";s:28:"Find your own Private Island";}i:14;a:2:{s:3:"url";s:81:"https://www.centralyachtagent.com/yachtadmin/yachtlg/yacht4975/4975brochure14.jpg";s:4:"desc";s:18:"Champagne Or Rose?";}i:15;a:2:{s:3:"url";s:81:"https://www.centralyachtagent.com/yachtadmin/yachtlg/yacht4975/4975brochure15.jpg";s:4:"desc";s:12:"Private Chef";}i:16;a:2:{s:3:"url";s:81:"https://www.centralyachtagent.com/yachtadmin/yachtlg/yacht4975/4975brochure16.jpg";s:4:"desc";s:26:"One of our favorite Spots!";}i:17;a:2:{s:3:"url";s:81:"https://www.centralyachtagent.com/yachtadmin/yachtlg/yacht4975/4975brochure17.jpg";s:4:"desc";s:13:"Norman Island";}i:18;a:2:{s:3:"url";s:81:"https://www.centralyachtagent.com/yachtadmin/yachtlg/yacht4975/4975brochure18.jpg";s:4:"desc";s:15:"Sunset shadows ";}i:19;a:2:{s:3:"url";s:81:"https://www.centralyachtagent.com/yachtadmin/yachtlg/yacht4975/4975brochure19.jpg";s:4:"desc";s:16:"Aft deck Comfort";}}
<p class=""><strong>Mucho Gusto - Sample Menu (Changes Constantly)</strong></p> <p><em><strong>Breakfasts</strong></em><br />Fruit, Yoghurts &amp; granola with muffins/ croissants&nbsp;&amp; Hot &lsquo;Special of the Day&rsquo; option</p> <p><em><strong>Lunch&nbsp;</strong></em><br />Grapefruit &amp; Fresh Lobster Salad<br />Chinese Chicken Cabbage salad with Crispy Wontons<br />Charred Shrimp &amp; a Green Mango Salad<br />Fresh Mahi (if they&rsquo;re biting!) &amp; a sprouted Lentil Salad<br />Crab Cakes with a Creamy Butter lettuce Salad<br />Honey Smoked Salmon Nicoise Salad<br />Blackend California Steak Salad with Carmelized Onions &amp; croutons</p> <p><em><strong>Sorbets</strong> (all homemade)</em><br />Raspberry Lime, Pineapple, Peach &amp; Strawberry, Mango Lime, Coconut</p> <p><em><strong>Starters</strong></em><br />Watermelon, Feta, Basil Salad<br />Zucchini Bacon Soup<br />Tomato Gazpacho<br />Beetroot &amp; Goats cheese Salad with Spiced walnuts<br />Mangazpacho<br />Flambe Cointreau Haloumi<br />Paprika-fried Cauliflower florets with aioli</p> <p><em><strong>Mains</strong></em><br />Pork Belly with cauliflower mash, crispy brussel sprouts<br />Sesame&rsquo;d Fish (depends on availability), Coconut Lemon Rice, Mango Salsa<br />Champange Lobster Papperadelle (Homemade)<br />Filet Mignon, mushroom sauce, chived mash<br />Fish (depends on availability), with onion sauce &amp; shitake, cabbage noodles <br />Frenched Lamb Rack, rosemary jus, Parsnip puree<br />Shitake Chicken Roulade, Pea &amp; Parmesan Risotto</p> <p><em><strong>Desserts</strong></em><br />Pumpkin Pie, dulce de leche, snickerdoodle<br />Lemon Parfait, vanilla whipped cream<br />Vanilla pannacotta, raspberry coulis, shortbread<br />Chocolate mousse flutes<br />Banofee pots<br />Homemade truffles; Whiskey Biscuit, Espresso, Coconut, Peppermint<br />Black Forest Trifle</p>
https://www.cyabrochure.com/ebn/265/pbaX/4975/1
https://www.cyabrochure.com/ebn/265/pbaX/4975/3
https://www.centralyachtagent.com/yachtadmin/yachtimg/yacht4975/4975brochure99.jpg
a:24:{s:4:"tube";s:3:"Yes";s:6:"guests";s:1:"6";s:8:"maxspeed";s:2:"26";s:11:"pref_pickup";s:9:"St Thomas";s:12:"other_pickup";s:7:"Inquire";s:5:"draft";s:4:"5.25";s:14:"cruising_speed";s:2:"22";s:7:"helipad";s:2:"No";s:2:"ac";s:4:"Full";s:8:"ac_night";s:3:"Yes";s:5:"built";s:4:"2019";s:10:"turnaround";s:8:"48 hours";s:6:"cabins";s:1:"3";s:4:"king";s:1:"2";s:5:"queen";s:1:"0";s:6:"double";s:1:"0";s:6:"single";s:1:"0";s:4:"twin";s:1:"1";s:7:"pullman";s:1:"0";s:7:"showers";s:1:"5";s:6:"basins";s:1:"5";s:5:"heads";s:1:"5";s:14:"electric_heads";s:1:"5";s:7:"jacuzzi";s:2:"No";}
a:7:{s:4:"flag";s:14:"Cayman Islands";s:8:"homeport";s:6:"Nassau";s:13:"resort_course";s:0:"";s:12:"yacht_permit";s:1:"1";s:13:"yacht_license";s:1:"1";s:9:"yacht_mca";s:1:"0";s:15:"yacht_insurance";s:25:"Alliance Marine Insurance";}
Offering Healthy Retreat Charters
a:22:{s:11:"dinghy_size";s:5:"15 ft";s:12:"kayaks_1_pax";s:1:"0";s:12:"kayaks_2_pax";s:1:"0";s:9:"dinghy_hp";s:2:"75";s:13:"floating_mats";s:1:"6";s:10:"dinghy_pax";s:1:"8";s:13:"swim_platform";s:10:"1 High Low";s:16:"water_skis_adult";s:3:"Yes";s:15:"boarding_ladder";s:5:"Stern";s:15:"water_skis_kids";s:3:"Yes";s:14:"sailing_dinghy";s:2:"No";s:8:"jet_skis";s:1:"0";s:11:"beach_games";s:3:"Yes";s:12:"wave_runners";s:1:"0";s:9:"kneeboard";s:3:"Yes";s:10:"windsurfer";s:1:"0";s:12:"snorkel_gear";s:3:"Yes";s:17:"underwater_camera";s:3:"Yes";s:7:"scurfer";s:1:"0";s:16:"underwater_video";s:1:"0";s:10:"wake_board";s:3:"Yes";s:11:"paddleboard";s:1:"2";}
2
0
0
0
1
0
Yes
Yes
110 & 220
Virgin Islands
Greece
4975 MUCHO GUSTO https://www.centralyachtagent.com/yachtadmin/yachtimg/yacht4975/4975brochure99.jpg Power 65 Y 65.00 Ft 19.00 m 24.9 5.25 Feet 6 3 2 0 0 0 1 0 No No Full St Thomas Inquire 48 hours 2019 Horizon http://www.viewyacht.com/muchogusto https://www.cyabrochure.com/ebn/265/pbaX/4975/1 22 26 MUCHO GUSTO offers bespoke accommodation in a main deck master King Suite, a VIP King suite and a Twin berth convertible to a King suite. &#36;39,000 &#36;35,000 35000 39000 USD &#36; Winter 2020/2021 Virgin Islands - All inclusive - Includes cruising taxes *******Summer 2020 Bahamas - Inclusive Plus 4% Bahamas Tax******* Christmas Week (Virgin Islands): up to 6 guests US$42,900 inclusive ending by December 26th. New Years Week (Virgin Islands): up to 6 guests US$44,850 inclusive starting December 27th or later All Inclusive Yes Yes Netflix Yes Yes 0 10 Yes Yes Yes Yes Yes Yes Yes Yes Yes Transoms only pls No Yes 12 21Kw x 2 2 X Cat C12-9 1000hp 75 Yes 110 &amp; 220 60 gals/hr 350 gals Yes 15 ft 75 8 Yes Yes 0 0 Yes 2 0 Yes Yes 0 Yes 0 0 6 1 High Low Stern No Yes No Yes 0 Yes Yes Chef Hanna has many eco friendly products aboard, including shampoo and conditioner. Yacht offers Rendezvous Diving only - Not Onboard 0 0 0 0 0 0 0 0 https://www.centralyachtagent.com/yachtadmin/yachtimg/yacht4975/4975brochure1.jpg Mucho Gusto is newest model from Horizon. She was launched in Feb 2019 and is the only 65ft Horizon Power Cat available for Charters. Available to Guests is an On Deck California King Master suite, A VIP King suite, and a Twin berth-or-King cabin, all of which are exclusively en-suite. On the main deck there is a gracious aft deck and dining area with seating for 10, 2 swim platforms with a stainless outdoor shower and a High Low Platform. Whilst on the flybridge guests are treated to a fully Air Conditioned helm station/ wet bar/ alfresco dining area with an option to lay out on the exterior loungers on the broad sundeck/ covered BBQ area. Additionally there is a day head on the flybridge too. On the Bow guests will find recently updated sun cushions for 6 to be enjoyed whilst underway. https://www.centralyachtagent.com/yachtadmin/yachtimg/yacht4975/4975brochure2.jpg Salon Seating &amp; Galley Counter https://www.centralyachtagent.com/yachtadmin/yachtimg/yacht4975/4975brochure3.jpg Aft Deck Dining Table https://www.centralyachtagent.com/yachtadmin/yachtimg/yacht4975/4975brochure4.jpg High Low Platform https://www.centralyachtagent.com/yachtadmin/yachtimg/yacht4975/4975brochure5.jpg Flybridge Fully A/C'd helm station/ Bar &amp; Dining Area https://www.centralyachtagent.com/yachtadmin/yachtimg/yacht4975/4975brochure6.jpg Master California King https://www.centralyachtagent.com/yachtadmin/yachtimg/yacht4975/4975brochure7.jpg Master Shower &amp; His &amp; Her Sinks https://www.centralyachtagent.com/yachtadmin/yachtimg/yacht4975/4975brochure8.jpg VIP King Suite https://www.centralyachtagent.com/yachtadmin/yachtimg/yacht4975/4975brochure9.jpg Twin Cabin Bathroom https://www.centralyachtagent.com/yachtadmin/yachtimg/yacht4975/4975brochure10.jpg Twin Stateroom can convert to a King https://www.centralyachtagent.com/yachtadmin/yachtimg/yacht4975/4975brochure11.jpg Snorkel the Indians https://www.centralyachtagent.com/yachtadmin/yachtimg/yacht4975/4975brochure12.jpg Explore the Endless beaches https://www.centralyachtagent.com/yachtadmin/yachtimg/yacht4975/4975brochure13.jpg Find your own Private Island https://www.centralyachtagent.com/yachtadmin/yachtimg/yacht4975/4975brochure14.jpg Champagne Or Rose? https://www.centralyachtagent.com/yachtadmin/yachtimg/yacht4975/4975brochure15.jpg Private Chef https://www.centralyachtagent.com/yachtadmin/yachtimg/yacht4975/4975brochure16.jpg One of our favorite Spots! https://www.centralyachtagent.com/yachtadmin/yachtimg/yacht4975/4975brochure17.jpg Norman Island https://www.centralyachtagent.com/yachtadmin/yachtimg/yacht4975/4975brochure18.jpg Sunset shadows https://www.centralyachtagent.com/yachtadmin/yachtimg/yacht4975/4975brochure19.jpg Aft deck Comfort https://www.centralyachtagent.com/yachtadmin/yachtimg/yacht4975/4975brochure88.jpg https://www.cyabrochure.com/ebn/265/pbaX/4975/3 https://www.cyabrochure.com/ebn/265/pbaX/4975/4 Mucho Gusto has a Hi/Lo platform on the back.<br /> Exercise equipment available<br /> Mermaid Tails (you swim in them) X 3<br /> Saddle Floaties X 4<br /> Swim Noodles<br /> Surfboard Offering Healthy Retreat Charters Bahamas Caribbean Virgin Islands 5 5 5 5 https://www.centralyachtagent.com/yachtadmin/yachtlg/yacht4975/4975brochure1.jpg https://www.centralyachtagent.com/yachtadmin/yachtlg/yacht4975/4975brochure2.jpg https://www.centralyachtagent.com/yachtadmin/yachtlg/yacht4975/4975brochure3.jpg https://www.centralyachtagent.com/yachtadmin/yachtlg/yacht4975/4975brochure4.jpg https://www.centralyachtagent.com/yachtadmin/yachtlg/yacht4975/4975brochure5.jpg https://www.centralyachtagent.com/yachtadmin/yachtlg/yacht4975/4975brochure6.jpg https://www.centralyachtagent.com/yachtadmin/yachtlg/yacht4975/4975brochure7.jpg https://www.centralyachtagent.com/yachtadmin/yachtlg/yacht4975/4975brochure8.jpg https://www.centralyachtagent.com/yachtadmin/yachtlg/yacht4975/4975brochure9.jpg https://www.centralyachtagent.com/yachtadmin/yachtlg/yacht4975/4975brochure10.jpg https://www.centralyachtagent.com/yachtadmin/yachtlg/yacht4975/4975brochure11.jpg https://www.centralyachtagent.com/yachtadmin/yachtlg/yacht4975/4975brochure12.jpg https://www.centralyachtagent.com/yachtadmin/yachtlg/yacht4975/4975brochure13.jpg https://www.centralyachtagent.com/yachtadmin/yachtlg/yacht4975/4975brochure14.jpg https://www.centralyachtagent.com/yachtadmin/yachtlg/yacht4975/4975brochure15.jpg https://www.centralyachtagent.com/yachtadmin/yachtlg/yacht4975/4975brochure16.jpg https://www.centralyachtagent.com/yachtadmin/yachtlg/yacht4975/4975brochure17.jpg https://www.centralyachtagent.com/yachtadmin/yachtlg/yacht4975/4975brochure18.jpg https://www.centralyachtagent.com/yachtadmin/yachtlg/yacht4975/4975brochure19.jpg &lt;p class=""&gt;&lt;strong&gt;Mucho Gusto - Sample Menu (Changes Constantly)&lt;/strong&gt;&lt;/p&gt; &lt;p&gt;&lt;em&gt;&lt;strong&gt;Breakfasts&lt;/strong&gt;&lt;/em&gt;&lt;br /&gt;Fruit, Yoghurts &amp;amp; granola with muffins/ croissants&amp;nbsp;&amp;amp; Hot &amp;lsquo;Special of the Day&amp;rsquo; option&lt;/p&gt; &lt;p&gt;&lt;em&gt;&lt;strong&gt;Lunch&amp;nbsp;&lt;/strong&gt;&lt;/em&gt;&lt;br /&gt;Grapefruit &amp;amp; Fresh Lobster Salad&lt;br /&gt;Chinese Chicken Cabbage salad with Crispy Wontons&lt;br /&gt;Charred Shrimp &amp;amp; a Green Mango Salad&lt;br /&gt;Fresh Mahi (if they&amp;rsquo;re biting!) &amp;amp; a sprouted Lentil Salad&lt;br /&gt;Crab Cakes with a Creamy Butter lettuce Salad&lt;br /&gt;Honey Smoked Salmon Nicoise Salad&lt;br /&gt;Blackend California Steak Salad with Carmelized Onions &amp;amp; croutons&lt;/p&gt; &lt;p&gt;&lt;em&gt;&lt;strong&gt;Sorbets&lt;/strong&gt; (all homemade)&lt;/em&gt;&lt;br /&gt;Raspberry Lime, Pineapple, Peach &amp;amp; Strawberry, Mango Lime, Coconut&lt;/p&gt; &lt;p&gt;&lt;em&gt;&lt;strong&gt;Starters&lt;/strong&gt;&lt;/em&gt;&lt;br /&gt;Watermelon, Feta, Basil Salad&lt;br /&gt;Zucchini Bacon Soup&lt;br /&gt;Tomato Gazpacho&lt;br /&gt;Beetroot &amp;amp; Goats cheese Salad with Spiced walnuts&lt;br /&gt;Mangazpacho&lt;br /&gt;Flambe Cointreau Haloumi&lt;br /&gt;Paprika-fried Cauliflower florets with aioli&lt;/p&gt; &lt;p&gt;&lt;em&gt;&lt;strong&gt;Mains&lt;/strong&gt;&lt;/em&gt;&lt;br /&gt;Pork Belly with cauliflower mash, crispy brussel sprouts&lt;br /&gt;Sesame&amp;rsquo;d Fish (depends on availability), Coconut Lemon Rice, Mango Salsa&lt;br /&gt;Champange Lobster Papperadelle (Homemade)&lt;br /&gt;Filet Mignon, mushroom sauce, chived mash&lt;br /&gt;Fish (depends on availability), with onion sauce &amp;amp; shitake, cabbage noodles &lt;br /&gt;Frenched Lamb Rack, rosemary jus, Parsnip puree&lt;br /&gt;Shitake Chicken Roulade, Pea &amp;amp; Parmesan Risotto&lt;/p&gt; &lt;p&gt;&lt;em&gt;&lt;strong&gt;Desserts&lt;/strong&gt;&lt;/em&gt;&lt;br /&gt;Pumpkin Pie, dulce de leche, snickerdoodle&lt;br /&gt;Lemon Parfait, vanilla whipped cream&lt;br /&gt;Vanilla pannacotta, raspberry coulis, shortbread&lt;br /&gt;Chocolate mousse flutes&lt;br /&gt;Banofee pots&lt;br /&gt;Homemade truffles; Whiskey Biscuit, Espresso, Coconut, Peppermint&lt;br /&gt;Black Forest Trifle&lt;/p&gt; https://www.centralyachtagent.com/yachtadmin/yachtlg/yacht4975/4975menu1.jpg https://www.centralyachtagent.com/yachtadmin/yachtlg/yacht4975/4975menu2.jpg https://www.centralyachtagent.com/yachtadmin/yachtlg/yacht4975/4975menu3.jpg https://www.centralyachtagent.com/yachtadmin/yachtlg/yacht4975/4975menu5.jpg https://www.centralyachtagent.com/yachtadmin/yachtlg/yacht4975/4975menu6.jpg https://www.centralyachtagent.com/yachtadmin/yachtlg/yacht4975/4975menu7.jpg https://www.centralyachtagent.com/yachtadmin/yachtlg/yacht4975/4975menu8.jpg https://www.centralyachtagent.com/yachtadmin/yachtlg/yacht4975/4975menu9.jpg https://www.centralyachtagent.com/yachtadmin/yachtlg/yacht4975/4975menu10.jpg 2 No No Dominic South African 1991 RYA 0 14 English, German Hannah South African 0 6 Captain Dominic<br /> Having lived on the coast all his life it seemed only natural that Dom followed his passion for the ocean and after extensive experience crewing on a variety of different sized vessels has a vast knowledge of the different roles onboard. Dom is an accomplished, hard working Skipper dedicated to providing the highest level of safety and service to any guests.<br /> He is a qualified lifeguard, jet ski instructor, and worked several seasons on Mediterranean based vessels. He has also completed several Atlantic crossings and more recently has been based in Florida, the Caribbean &amp; Bahamas.<br /> Dominic has a sly sense of humor and although English is his first language, his command of German has proved very useful at times. He's also a keen athlete and tennis coach when the opportunity arises.<br /> Stew/ Cook Hannah<br /> Growing up in Cape Town Hannah has also been around water all her life. She's always swum competitively and was an accomplished dingy sailor throughout her teens. After leaving school and travelling extensively, Han found herself drawn to follow her love of cooking and all things culinary and put herself through culinary training to obtain her Diploma in Patisserie and Culinary Arts. She worked at some of Cape Town's premier restaurants and wine estates whilst studying. She is also a talented photographer and her positive outlook on life and strong work ethic makes her a great asset on any boat.<br /> Together Dom &amp; Han are a formidable team whose combined experience, ability and attention to detail will ensure guests have a warm and memorable stay on board MUCHO GUSTO!<br /> <br /> <br /> https://www.centralyachtagent.com/yachtadmin/yachtimg/yacht4975/4975brochure44.jpg Cayman Islands Nassau Virgins Yes No 0 Summer Season: Based in the Bahamas ** Summer 2020 Mucho Gusto will be available in the Bahamas Winter Season: Based in the Virgin Islands CT Winter 2020/2021 Virgin Islands - All inclusive - Includes cruising taxes *******Summer 2020 Bahamas - Inclusive Plus 4% Bahamas Tax******* Christmas Week (Virgin Islands): up to 6 guests US$42,900 inclusive ending by December 26th. New Years Week (Virgin Islands): up to 6 guests US$44,850 inclusive starting December 27th or later US Gall/Hr 1 1 0 Yes Yes Netflix Onboard WIFI Alliance Marine Insurance $6,000,000.00 10 April 2020 Majac LLC Carib, Bahamas, Florida, Cayman Islands George Town 748645 284 344 2477 1 561 685 0447 [email protected] Regency // BVI 1.284.495.1970 1.800.524.7676 [email protected]
642
a:61:{s:10:"06-06-2020";i:2;s:10:"06-07-2020";i:2;s:10:"06-08-2020";i:2;s:10:"06-09-2020";i:3;s:10:"06-10-2020";i:2;s:10:"06-11-2020";i:2;s:10:"06-12-2020";i:3;s:10:"06-13-2020";i:2;s:10:"06-14-2020";i:3;s:10:"06-15-2020";i:2;s:10:"06-16-2020";i:2;s:10:"06-17-2020";i:1;s:10:"06-18-2020";i:3;s:10:"06-19-2020";i:2;s:10:"06-20-2020";i:2;s:10:"06-21-2020";i:2;s:10:"06-22-2020";i:2;s:10:"06-23-2020";i:1;s:10:"06-24-2020";i:3;s:10:"06-25-2020";i:2;s:10:"06-26-2020";i:2;s:10:"06-27-2020";i:2;s:10:"06-28-2020";i:3;s:10:"06-29-2020";i:2;s:10:"06-30-2020";i:2;s:10:"07-01-2020";i:2;s:10:"07-02-2020";i:2;s:10:"07-03-2020";i:2;s:10:"07-04-2020";i:3;s:10:"07-05-2020";i:2;s:10:"07-06-2020";i:2;s:10:"07-07-2020";i:2;s:10:"07-08-2020";i:3;s:10:"07-09-2020";i:2;s:10:"07-10-2020";i:2;s:10:"07-11-2020";i:2;s:10:"07-12-2020";i:3;s:10:"07-13-2020";i:1;s:10:"07-14-2020";i:1;s:10:"07-15-2020";i:1;s:10:"07-16-2020";i:2;s:10:"07-17-2020";i:2;s:10:"07-18-2020";i:2;s:10:"07-19-2020";i:2;s:10:"07-20-2020";i:3;s:10:"07-21-2020";i:2;s:10:"07-22-2020";i:2;s:10:"07-23-2020";i:2;s:10:"07-24-2020";i:3;s:10:"07-25-2020";i:2;s:10:"07-26-2020";i:2;s:10:"07-27-2020";i:2;s:10:"07-28-2020";i:3;s:10:"07-29-2020";i:2;s:10:"07-30-2020";i:2;s:10:"07-31-2020";i:2;s:10:"08-01-2020";i:2;s:10:"08-02-2020";i:2;s:10:"08-03-2020";i:1;s:10:"08-04-2020";i:2;s:10:"08-05-2020";i:2;}
a:9:{i:1;a:1:{s:3:"url";s:76:"https://www.centralyachtagent.com/yachtadmin/yachtlg/yacht4975/4975menu1.jpg";}i:2;a:1:{s:3:"url";s:76:"https://www.centralyachtagent.com/yachtadmin/yachtlg/yacht4975/4975menu2.jpg";}i:3;a:1:{s:3:"url";s:76:"https://www.centralyachtagent.com/yachtadmin/yachtlg/yacht4975/4975menu3.jpg";}i:5;a:1:{s:3:"url";s:76:"https://www.centralyachtagent.com/yachtadmin/yachtlg/yacht4975/4975menu5.jpg";}i:6;a:1:{s:3:"url";s:76:"https://www.centralyachtagent.com/yachtadmin/yachtlg/yacht4975/4975menu6.jpg";}i:7;a:1:{s:3:"url";s:76:"https://www.centralyachtagent.com/yachtadmin/yachtlg/yacht4975/4975menu7.jpg";}i:8;a:1:{s:3:"url";s:76:"https://www.centralyachtagent.com/yachtadmin/yachtlg/yacht4975/4975menu8.jpg";}i:9;a:1:{s:3:"url";s:76:"https://www.centralyachtagent.com/yachtadmin/yachtlg/yacht4975/4975menu9.jpg";}i:10;a:1:{s:3:"url";s:77:"https://www.centralyachtagent.com/yachtadmin/yachtlg/yacht4975/4975menu10.jpg";}}
75
22
26
Summer Season: Based in the Bahamas ** Summer 2020 Mucho Gusto will be available in the Bahamas Winter Season: Based in the Virgin Islands
No
19.00 m
75
US Gall/Hr
Winter 2020/2021 Virgin Islands - All inclusive - Includes cruising taxes *******Summer 2020 Bahamas - Inclusive Plus 4% Bahamas Tax******* Christmas Week (Virgin Islands): up to 6 guests US$42,900 inclusive ending by December 26th. New Years Week (Virgin Islands): up to 6 guests US$44,850 inclusive starting December 27th or later
All Inclusive
https://www.cyabrochure.com/ebn/265/pbaX/4975/4
a:3:{s:16:"green_initiative";s:3:"Yes";s:16:"reusable_bottles";s:3:"Yes";s:19:"other_green_efforts";s:84:"Chef Hanna has many eco friendly products aboard, including shampoo and conditioner.";}
a:15:{s:5:"tanks";s:1:"0";s:9:"wet_suits";s:1:"0";s:15:"number_of_dives";s:0:"";s:11:"night_dives";s:1:"0";s:9:"dive_info";s:0:"";s:13:"communication";s:0:"";s:11:"full_course";s:0:"";s:14:"air_compressor";s:11:"Not Onboard";s:3:"bcs";s:1:"0";s:11:"weight_sets";s:1:"0";s:16:"number_of_divers";s:1:"0";s:20:"registrations_number";s:1:"0";s:11:"dive_lights";s:1:"0";s:10:"dive_costs";s:0:"";s:14:"scuba_on_board";s:35:"Yacht offers Rendezvous Diving only";}
a:4:{s:12:"fishing_gear";s:2:"No";s:17:"fishing_gear_type";s:0:"";s:4:"rods";s:0:"";s:16:"deep_sea_fishing";s:0:"";}
Cayman Islands
South African
South African
Yacht offers Rendezvous Diving only

MUCHO GUSTO Charter Price Details

| | | | | | | | | | | | |
| --- | --- | --- | --- | --- | --- | --- | --- | --- | --- | --- | --- |
| Season Name | 2 guests | 3 guests | 4 guests | 5 guests | 6 guests | 7 guests | 8 guests | 9 guests | 10 guests | 11 guests | 12 guests |
| Summer 2020 | $35,000 | $36,000 | $37,000 | $38,000 | $39,000 | $0 | $0 | $0 | $0 | $0 | $0 |
| Winter 2020 to 2021 | $35,000 | $36,000 | $37,000 | $38,000 | $39,000 | $0 | $0 | $0 | $0 | $0 | $0 |
| Summer 2021 | $35,000 | $36,000 | $37,000 | $38,000 | $39,000 | $0 | $0 | $0 | $0 | $0 | $0 |