Yacht Description
KUMA TOO yacht is a 47.00 ft long sailboat catamaran and spends the summer and winter season in British Virgin Islands. It was built by Leopard in 2005. A refit was done in 2019. The yacht layout features 3 cabins and accommodates 6 guests. The cabin arrangement is following: 3 queen cabins.
The sailboat features 2 x 55hp Yanmar 9.5kw Onan genset engines and a generator.
Accommodation
3 Queen-sized guest cabins, each with private head, full A/C and ambient reading lights, state-of-the-art gel foam mattresses with cooling layer and organic cotton topper for comfortable nights.
New mattresses are dressed with Oeko-Tex sheets, which means they are certified free of harmful chemicals and are safe for human use.
Bountiful comfy throw pillows for lounging. Hanging closets, ample storage space and shelves for stowing personal items.
Skylights provide sunshine during the day, star-gazing at night and gentle breezes; fans for airflow.
Each private head is stocked with ocean-safe travel-size shampoo, conditioner, body wash, soap, and Oeko-Tex safe plush Turkish cotton towels and washcloths. These are "wet heads" not shower stalls and electric toilets are fresh water flush.
Full indoor & outdoor dining areas.
150+ square-foot covered deck space with ample seating on new 4-inch thick high density foam custom cushions,
Cabin Breakdown
KUMA TOO Yacht Details
$10,200 - $12,500
Weekly price low-high season
1.5 US Gall/Hr
Consumption
KUMA TOO Charter Price Details
| | | | | | | | | | | | |
| --- | --- | --- | --- | --- | --- | --- | --- | --- | --- | --- | --- |
| Season Name | 2 guests | 3 guests | 4 guests | 5 guests | 6 guests | 7 guests | 8 guests | 9 guests | 10 guests | 11 guests | 12 guests |
| Winter 2019 to 2020 | $10,500 | $11,000 | $11,500 | $12,000 | $12,500 | $0 | $0 | $0 | $0 | $0 | $0 |
| Summer 2020 | $10,500 | $11,000 | $11,500 | $12,000 | $12,500 | $0 | $0 | $0 | $0 | $0 | $0 |
| Winter 2020 to 2021 | $10,500 | $11,000 | $11,500 | $12,000 | $12,500 | $0 | $0 | $0 | $0 | $0 | $0 |
| Summer 2021 | $10,500 | $11,000 | $11,500 | $12,000 | $12,500 | $0 | $0 | $0 | $0 | $0 | $0 |
Price Terms
All Inclusive
Price Details
High season rate: $12,500

GENERAL NOTES:
LESS THAN 7 NIGHT CHARTERS: For 6 nights divide by 7N X 6N. For less than 6 nights, divide by 6N X number of nights.
MINIMUM NIGHTS: 5, inquire for less


*****VIRGIN ISLANDS CHARTERS*****
HALF-BOARD OPTION: Includes 7 breakfasts, 4 lunches & 3 dinners, happy hour canapes, standard ships bar and snacks. Other meals ashore at client expense.
[email protected]$10,200 [email protected]$10,550 [email protected]$10,900 [email protected]$11,250 [email protected]$11,600

LOCAL FARE OPTION: Includes 7 breakfasts, 5 lunches & 6 dinners, happy hour canapes, standard ships bar and snacks. Other meals ashore at client expense.
[email protected]$10,350 [email protected]$10,775 [email protected]$11,200 [email protected]$11,625 [email protected]$12,050

CHRISTMAS/NEW YEARS:
CHRISTMAS 2019: $13,750
1-6 pax, 6 night minimum, must end by Dec 26th
NEW YEARS: $15,000
1-6 pax, 7 night minimum, may not start prior to Dec 27th


***SPECIAL OFFERS ***

KUMA TOO - $1000 off per 7-night charter
All charter USVI only taking place between June 1 and July 31, 2020
Minimum nights: 5N, prorated
Valid through: 7/31/20
Book by: 7/25/20
Excludes: May not be combined with any other special
EXPIRES: 7/31/20






.


Amenities
Water Capacity:
Water maker
Number Of Port Hatches:
16
Smoking:
Yes, aft deck only
Minimum Child Age:
Water safe
Voltages:
110V, 220/240 adapters
Specifications
Turnaround:
48, Inquire for 24
BBQ: Yes
AC: Full
Generator: Yes
Internet: None-Hot Spots
Cruising Speed: 7 knots
Max Speed: 10 knots
More Specifications
Yacht Insurance:
YACHTINSURE
Diving Yacht offers Rendezvous Diving only
Communication:
Cell phone for local and international calls, VHF and handheld radio, satellite phone, walkie talkies for shore side communication
Air Compressor:
Not Onboard
Scuba On Board:
Yacht offers Rendezvous Diving only
Fishing
Green Initiatives
Other Green Efforts:
Eco-friendly vessel includes sail, wind-power, solar-power, LED lights, on-board filtered water maker, metal straws, no plastic water bottles or straws, reusable grocery and produce bags for provisioning.
Water Sports
Swim Platform:
Scoop steps
Boarding Ladder:
Off scoops
Other Entertainment
Underwater lights
Brand new trampolines with 2 bow seats
Bean bag chairs
Yoga mats
Card and board games
Books and field guides
Roll down shades allowing full enjoyment of sunsets
Rain screens shield from inclement weather while savoring the sounds of a Caribbean rain shower
Crew
Crew Information
Captain Joe grew up just 3 miles from the US's top-rated Clearwater Beach enjoying the typical Florida lifestyle of fishing, camping, boating and beachcombing. When he was old enough to breakaway from the Florida coastline he found himself bouncing around the Caribbean from Mexico to the Lesser Antilles in search of crystalline turquoise water several times a year. The sea was always calling him. In 2009, Joe had the opportunity to captain a sailing vessel in a club race and was hooked immediately. In the last 10+ years, he has raced sailboats ranging from 21-feet to 52-feet. Joe says, "The ability to harness wind and wave to get to a destination without the means of mechanical propulsion is intoxicating and rewarding." He now holds his USCG 100-ton master license with sailing and towing endorsement and his BVI Boatmaster in addition to his STCW, CPR, and first aid certifications.

Always the life of the party, Joe's infectious laugh can be heard across the room! With the perfect balance of comedic relief and professionalism, it was 2005 when Joe's wife Mandy first noticed Joe at work because of his ability to lead his staff with high spirits in the most stressful situations. Within a few months, they took their first trip together to Puerto Rico, unknowing what path was laid out for them. Scuba diving (both are certified open-water divers), sailing, and land exploration took them from Alaska to Europe, South America to the South Pacific, but most frequently to Florida's backyard, the Caribbean. Since music and food are a universal language, you can find Joe and Mandy on the dance floor, at a communal table, or around an acoustic guitarist making conversation with others. To them, the most rewarding part of travel is the people met along the way which turn into life-long friendships.

After years of traveling throughout the Virgin Islands, they married on St. Thomas in 2013. On a 2015 vacation to the British Virgin Islands, Joe and Mandy met a fellow sailor, and the idea hatched of pursuing their own sailing adventure full time. The corporate grind of deadlines and politics was about to be behind them, as Joe and Mandy sold everything, quit their jobs, took command of Kuma Too, and never looked back. They have sailed Kuma Too over 15,000 nautical miles throughout Florida, the Bahamas, Atlantic Ocean, and Caribbean Sea and the meter is still running.

Offering sailing charters along the West Coast of Florida, Joe and Mandy's love of hosting guests on board Kuma Too grew, and they were ready for the next step. For their 3rd charter season, they headed south to the Virgin Islands! Joe enjoys sharing his love of the sea and sailing with guests, and Mandy looks forward to sharing her love of cuisine!

Growing up landlocked, Mandy has always had an adventurous soul from rock climbing to skydiving and with dreams of traveling the world, even as a child. She began scuba diving with her dad at age 15 which unlocked a whole new world of travel and cuisine! On every trip, she tried new dishes and flavors which would eventually shape her own culinary skills. Bringing global influences into her dishes, Mandy most enjoys creating unique sauces and seasonings. Although Joe is the Captain of Kuma Too, Mandy holds her OUPV Captain's License, STCW, CPR, and first aid certifications as well and is fully competent in safely handling their 47-foot floating home.

With 15 years in general aviation, both Joe and Mandy have traveled around the US for work, but the Caribbean kept calling. Their unique backgrounds with private and corporate aircraft included not only handling mechanical and fueling matters but also providing superior customer service to affluent passengers. They both have extensive experience coordinating major events at airports along the East Coast such as Nascar, NFL, MLB, NBA, and PGA championship games and yacht shows. Their organized manner and ability to multitask while placing safety above all else was developed over those years but is now a key element for their success in providing a personalized dream sailing vacation aboard Kuma Too.

Menu
Reviews:
July 2020
We've been to the Virgin Islands many time and this, by far, is the best way to see it all! The BVI's boarders were closed due to COVID but we loved every minute of the USVI. Our favorites included the airplanes at Brewers Bay, the beauty of Magen's Bay and Chuckles, the snorkeling off of Congo Key, the turtles and sting rays at Maho Bay, meeting up with family and friends at Waterlemon, the quietness of Lameshur, the party at Lime Out, and all the boats at Christmas Cove!

Joe - thanks for all the fun times and great experiences. Thanks for playing with the kids and taking them tubing for hours.
Mandy - thanks for all the yummy food and delicious drinks of the day!

We promise to be back again! Love, Josh, Meg, Matt, Ben, and Drew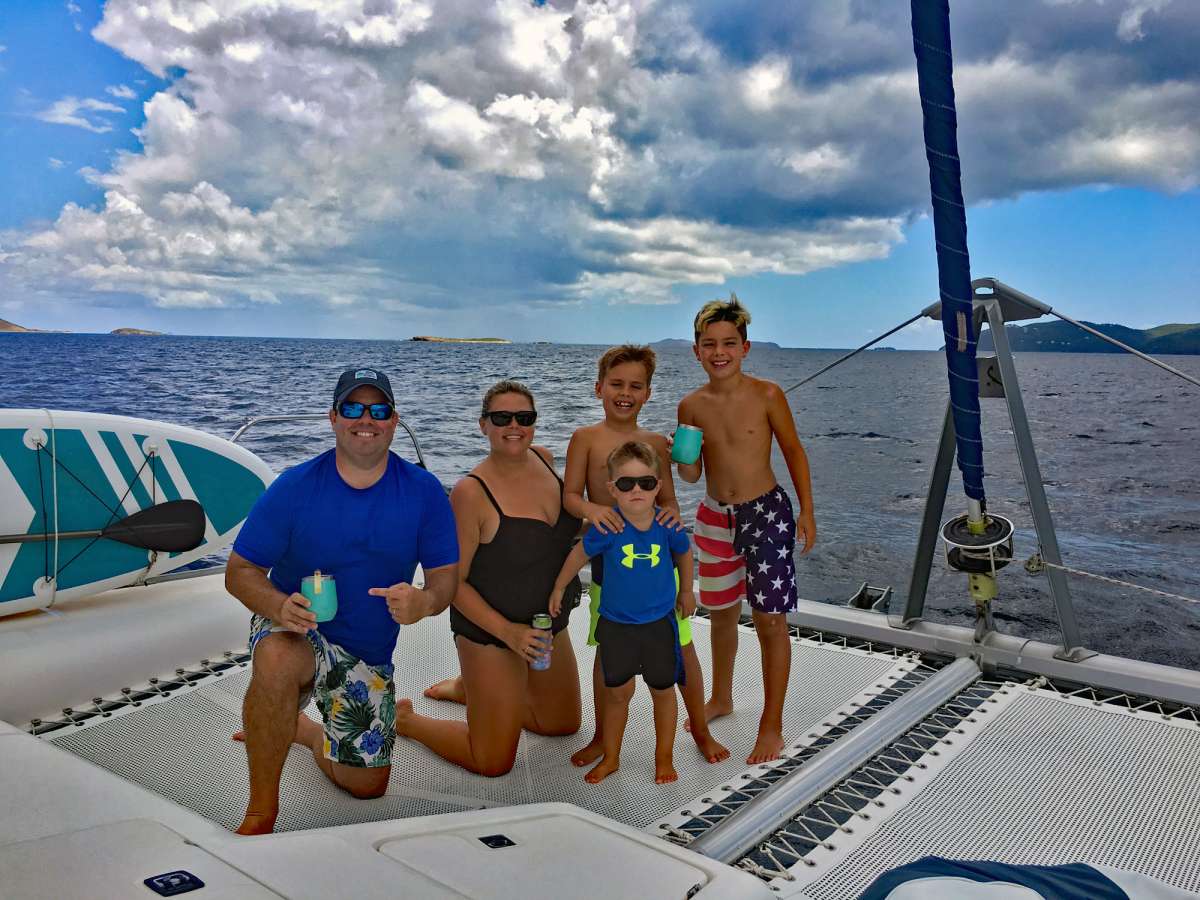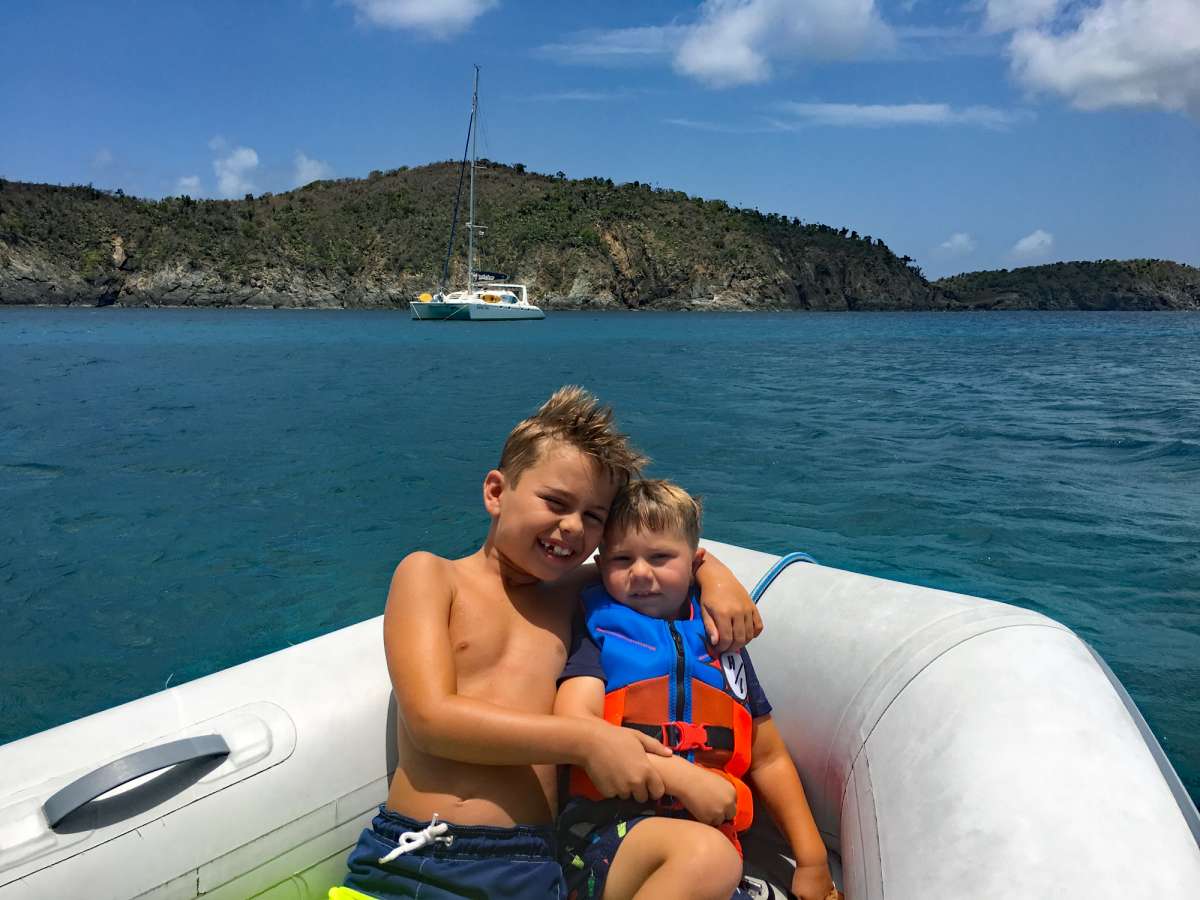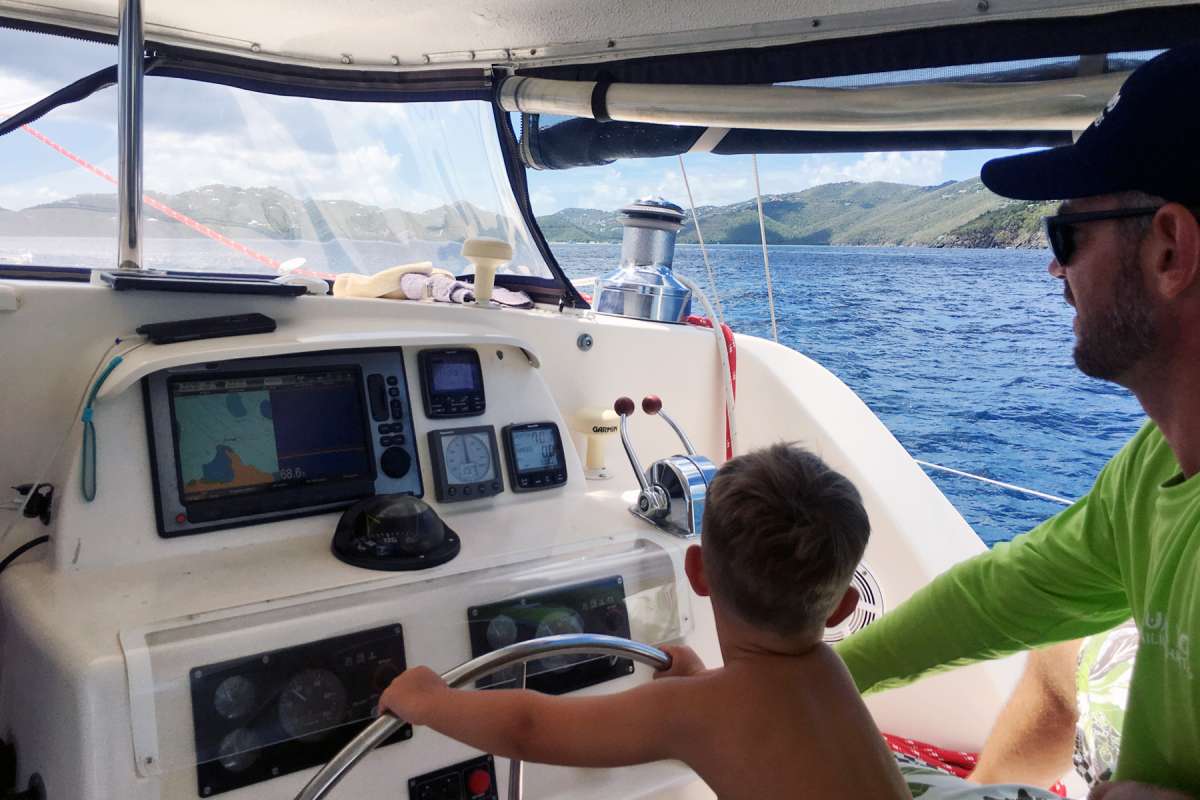 July 2020
Name: Meg
Yacht: KUMATOO with Joe and Mandy Rosello
Charter Dates: 06/28/2020 to 07/05/2020
Area Cruised: US Virgin Islands
Overall Rating: 5/5

1. Was the crew friendly and accommodating?
Absolutely YES

2. Was the yacht comfortable and clean?
Yes- above my expectations

3. Was the yacht well ventilated?
Yes!

4. Was the food good and well presented?
Food was amazing and beautifully presented! The variety and quality of the food exceeded my expectations by far!

5. Did you like the area you sailed?
Joe & Mandy found areas untouched in the USVI and we loved the itinerary they chose for us!

Additional comments on your charter?
This was an amazing vacation! My husband and I didn't lift a finger. The kids had a blast with all the water activities (floats, tubing, knee boarding, paddleboarding & kayaking) and Josh & I were able to sit back and relax. We didn't worry about cooking or cleaning up for any meals. Mandy provides ample snacks for my "growing" boys and did all of it with a smile on her face... even at 6am with my little one. Joe didn't let our drinks hit the bottom and was the best "boat driver". He found great snorkeling spots with a variety of marine life and colorful coral. Joe and Mandy have great communication and made our trip seamless. They even helped celebrate our anniversary and one of the boys birthdays. I appreciated all their efforts and we were super impressed. This boat is their home and they take great care of it.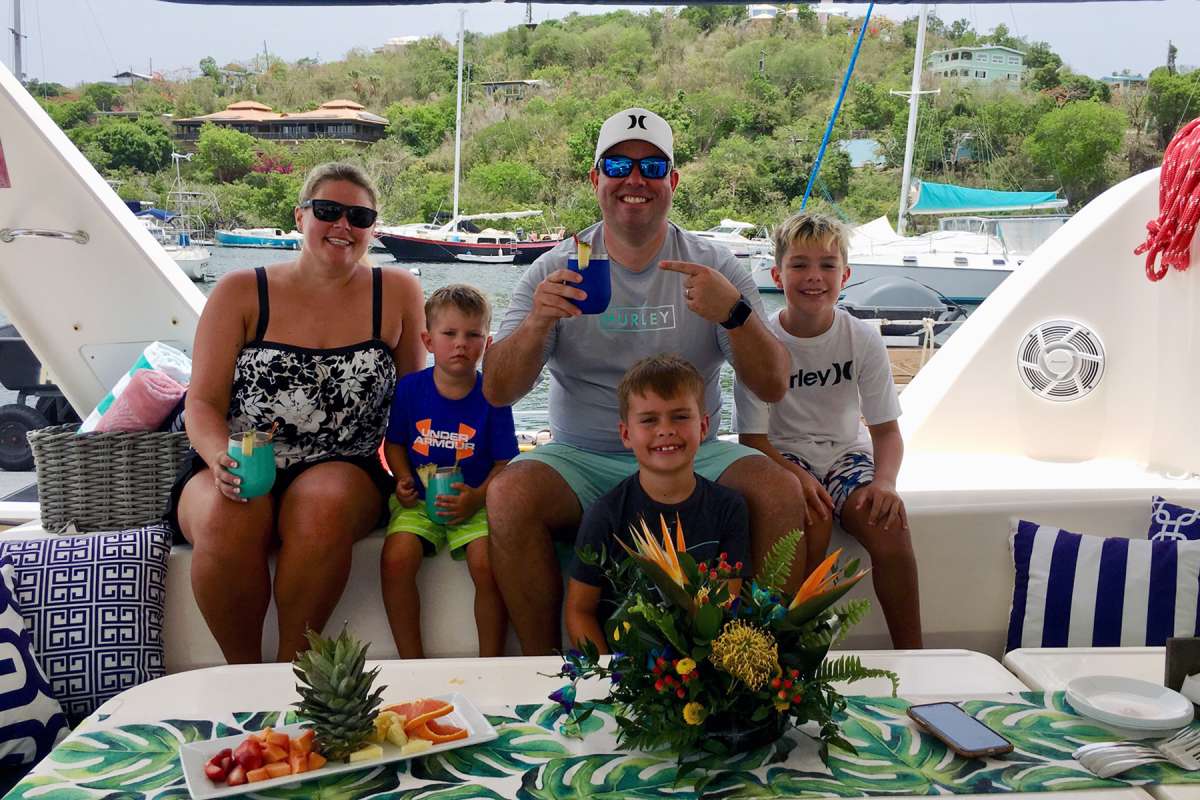 Broker provided questionnaire - March 2020
Overall rating:
5/5

Was this your first charter yacht experience?
Yes

Dates:
March 10-17, 2020

Destination:
Virgin Islands

How did you enjoy your cruising vacation?
We loved every minute of our vacation.

In the future, would you consider:
Charter again - Yes
Book the same Yacht again - Yes
Follow the crew onto another yacht - Yes
Sail a different destination - Yes

How often were your cabins cleaned?
Daily

How often were sheets and towels changed?
Midweek

Did you use all the water toys?
Water toys were available and offered.

Where your meals excellent and fresh?
The food was excellent and our tastes were considered. The food was plentiful.

How would you describe your Captain and crew?
Mandy and Joe were great. Friendly and knowledgeable.

Was it easy to get to your yachts destination?
Yes

How do you feel now after your vacation?
Could have stayed for another week!

How did you find the pace and the itinerary of your vacation?
We chose the itinerary and Joe made it happen! It was wonderful.
March 2020
We just returned from a spectacular week sailing with Joe and Mandy. There are not enough superlatives to describe our week with them. They were both so accommodating to our every need and want. The meals were first class and plentiful. Snacks were tasty. Joe was a great bartender, especially painkillers and bushwackers💜. Our itinerary was spot on and the made every attempt for us to see exactly what we asked for and exceeded it! Mandy's cooking skills in the tiny kitchen was truly amazing! Thank you so much Mandy and Joe. This was a top rated vacation and we hope to see you again.
Mike and Cheryl

Favorite memory/recommendation:
Snorkeling at all the different sites. Just relaxing & enjoying our new friends & old friends. All the different food was excellent. Mandy is an outstanding chef, Joe too.
It was one of our best vacations ever. Everything was great, service, making sure we were safe & comfortable. Taking us to different snorkel sites. Thank you for everything to make our vacation one we will never forget.
Larry & Debbie
February 2020
We were not aboard long before it was obvious we could rely on Joe & Mandy's knowledge and professionalism to take us on a tour of a lifetime through the beautiful secrets held by the USVI and BVI. Aside from their gregarious and welcoming nature, Joe & Mandy created made-from-scratch culinary delights for every meal. We had no desire to eat on shore as we looked forward to the next surprise Mandy had in store for us. We were very happy to have paid for full board. We enjoyed getting in the water in the quiet coves we found each night. The colors, aromas, and sea breezes delighted 24/7. It was easy to forget we were actually guests in their home as they were constantly attending to every need of their guests. We are staying in the USVI another week, but wish we could stay on the boat with Mandy & Joe.
-Bill & Sue

Everything on board was awesome. Food was outstanding & they exceeded my expectations with dealing with our food allergies. Enjoyed the snorkeling & island hopping. Joe & Mandy did a great job in pointing out the highlights not to miss on land & in the water. Snorkeling @ the Indians was awesome. It's been awesome to have Mandy & Joe share their home. Their hospitality exceeded our expectations.
-Rich & Kathy

Favorite memory/recommendation: snorkeling @ the Indians. Mandy & Joe, the great food, etc. I wouldn't change a thing! Awesome boat, owners, itinerary & weather- Thanks, Mandy & Joe for making our vacation the best. We loved everything about this trip. Great boat, crew, meals, weather, etc! We can't wait to return.
-Ron & Melinda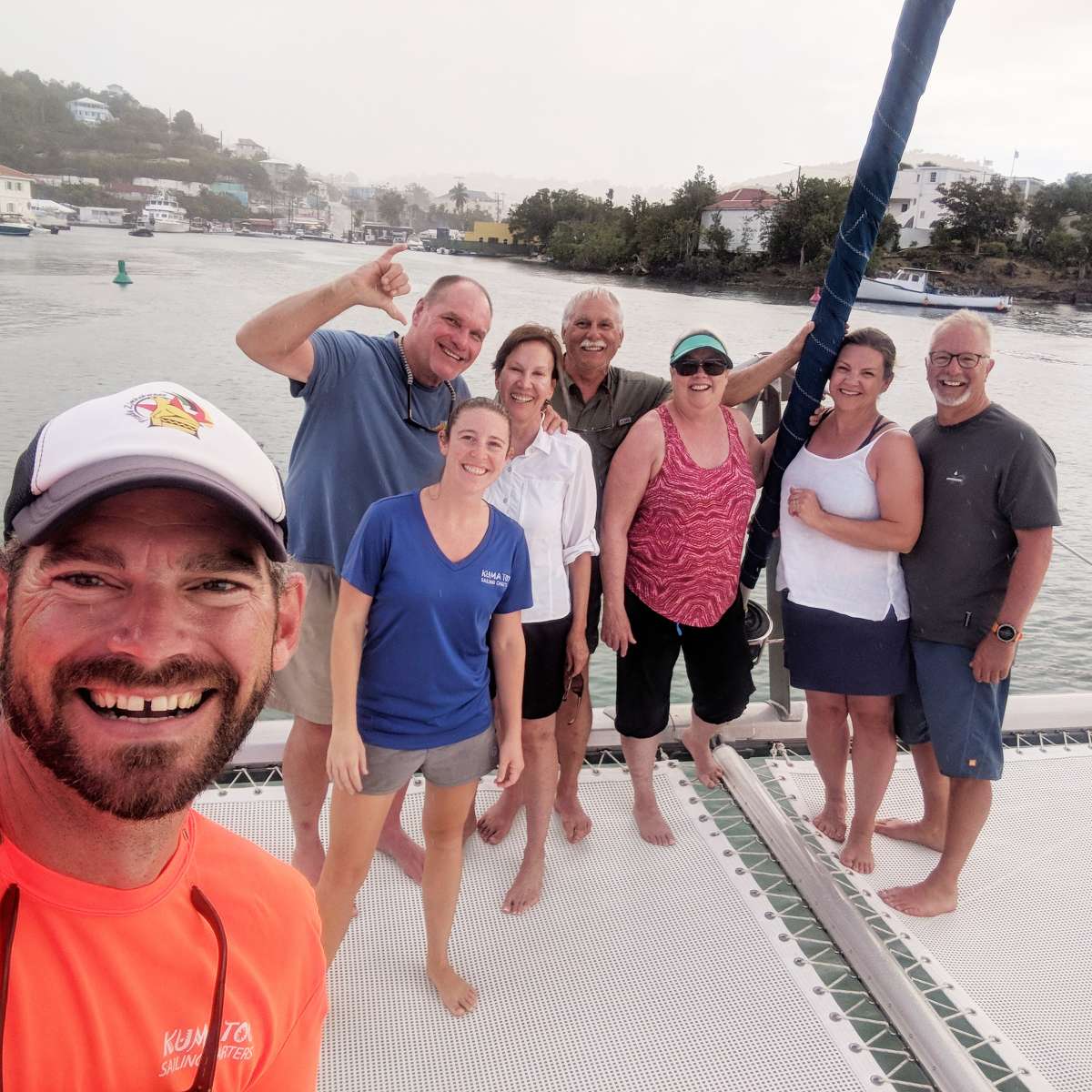 Broker provided questionnaire - February 2020
Name of yacht : Kuma Too
Dates of Charter : Feb 23
Name of Charterer : BVI/USVI

We hope you enjoyed your charter! We would really appreciate it if you would take a moment to complete this form. Naturally we hope that everything was perfect, but we also would like to know if there were any (small) problems. All comments are helpful!

When you arrived, your first impression of the yacht was:
Very clean and professional. Joe and Mandy had birthday decorations for me. Very sweet.

What did you think about your accommodation?
Cabins, beds, bathrooms: Clean and comfortable. Much roomier than expected.

Salon, cockpit, deck space:
Plenty of space. We rarely spent time inside the boat.

Was the boat kept clean during your charter (your cabins, the bathrooms/heads, your towels, bedding, the cockpit, the galley)?
We had twice daily maintenance and turn down service. We definitely felt spoiled.

Did you miss anything on board?
Like my dog or my socks? Not sure what the question means.

What did you enjoy the most on board?
On board the vessel or on our trip? I enjoyed sitting up front while sailing. The crew had constant attention to the sea life and commentary on the surrounding islands.

Please describe your Captain (professional/outgoing/friendly etc.)
Joe and Mandy have a genuinely outgoing disposition. They were professional, courteous and went above and beyond in EVERY aspect of our trip.

What do you think about your itinerary, the places and bays you visited and the activities you have done?
A great smattering of places to explore during our first visit. They gave us plenty of options and flexibility.

Please describe your chef (professional/outgoing/friendly etc.)
She went out of her way to accommodate many of us with dietary restrictions. Her food was gourmet and delicious, even with modifications. Mandy was always sure we were satisfied and had our plates full.

Please describe your meals (presentation, quality, quantity)
Beautiful presentations with each plate colorful and full. We always had plenty to eat. Most of what we ate was sourced locally and fresh. There was always food. We ate when we weren't hungry. There were drinks and food at our beckon call. It was embarrassing how much we consumed.

Do you feel the meals and drinks reflected the requests you made in your preference sheet?
Yes

Did you receive enough information from us before your trip, was the description of the yacht and crew accurate?
yes

Would you sail with us again?
Definitely
February 2020
The whole trip was beyond our expectations! Our favorite part was just the ability to relax any time & for as long as we wanted. Learning to be on island time was well worth it! The discovery dive was a highlight, as well as all the snorkeling. However, just being on the front of the boat enjoying the wind and water was the most enjoyable!!
Joe and Mandy are TOP NOTCH!! We didn't want for anything the entire trip! They really know how to make this a home. We cannot think of anything you could have done different or better! Your attention to detail, impeccable service and easy going personalities made it the perfect way to celebrate our anniversary. The small things, like our water bottles constantly being full, always having the snorkel gear ready or just the beautiful flowers and table setting, made a big impression!
Thanks so much, Joe & Mandy, for the best get away! It was fab!!
-Jay and Lara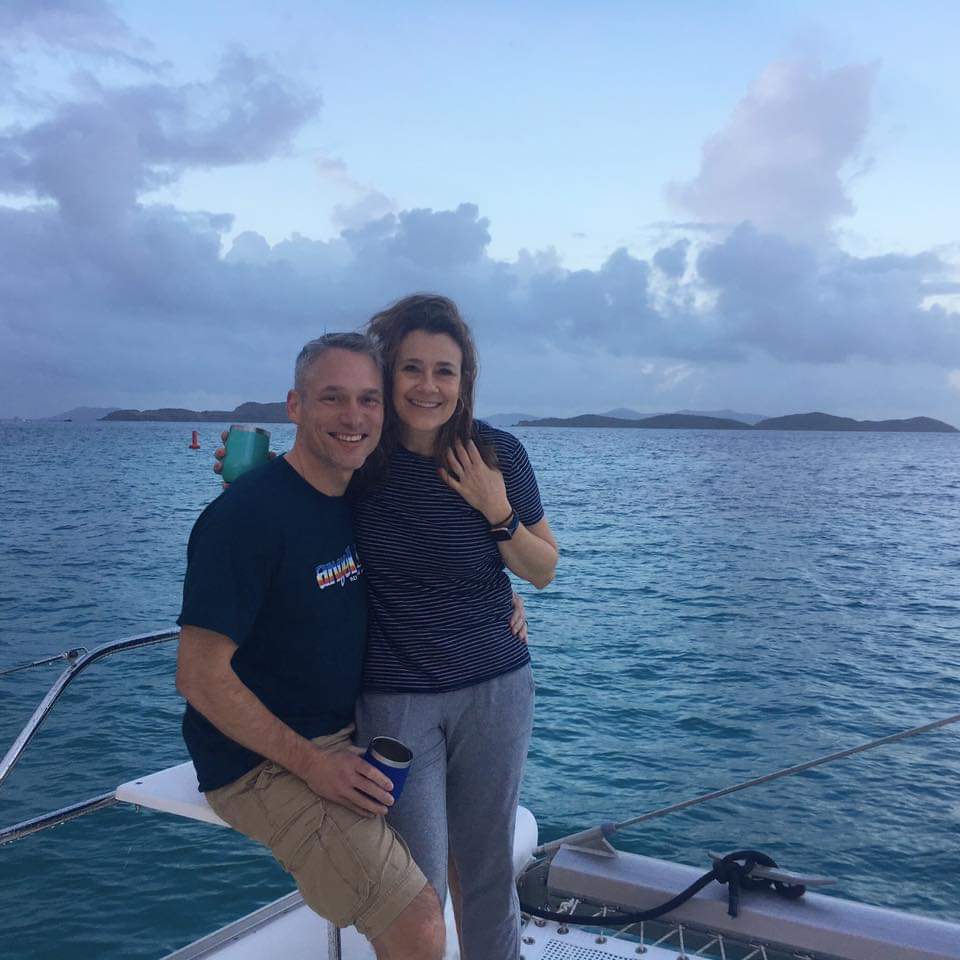 January 2020
Dear Mandy and Joe,

We wanted to thank you so much for the most wonderful weekend. We really enjoyed everything about the trip. Your hospitality and catamaran were fantastic and the food was absolutely delicious. (Thank you for these recipes!). It was such a nice relaxing get away for us. We hope to do it every year! I hope you both were able to relax and rest a little before you launched your next charter.

Thank you again for everything!

Best regards,
Rhonda and John
New Years 2019/2020
The Kuma Too was a great fit for our needs, spacious enough for a family with 4 teens (none of whom are 6ft tall), with lots of water toys. Joe and Mandy were the most pleasant hosts – engaging, fun and safety conscious....Joe and Mandy are a wonderful combo of captain, chef and bartender....Everything we had was delicious! Full breakfasts, lunches and dinners every day. Daily snacks put out. A cooler full of seltzers, beer and sodas was always available. A well-stocked bar enabled Joe to make painkillers, frozen daquiris and piña coladas, mimosas, bloody mary's, rum punch etc. Joe is a grill master and Mandy an excellent cook.

Joe often went snorkeling with us at different spots or walked with us to an old rum distillery or the Bubbly pools. Other captains may have just given us general directions, but he went with us each time.

They were a delightful couple to talk with. They had a great depth of knowledge about the fun stops through the BVI's. Their years of experience and tendencies instill great confidence that we would be safe at all times.

We highly recommend Mandy and Joe! They are delightful, have a very strong work ethic, take care of everything and it's clear they enjoy what they do. We feel super fortunate to have had them as our crew!

-Mimi and Family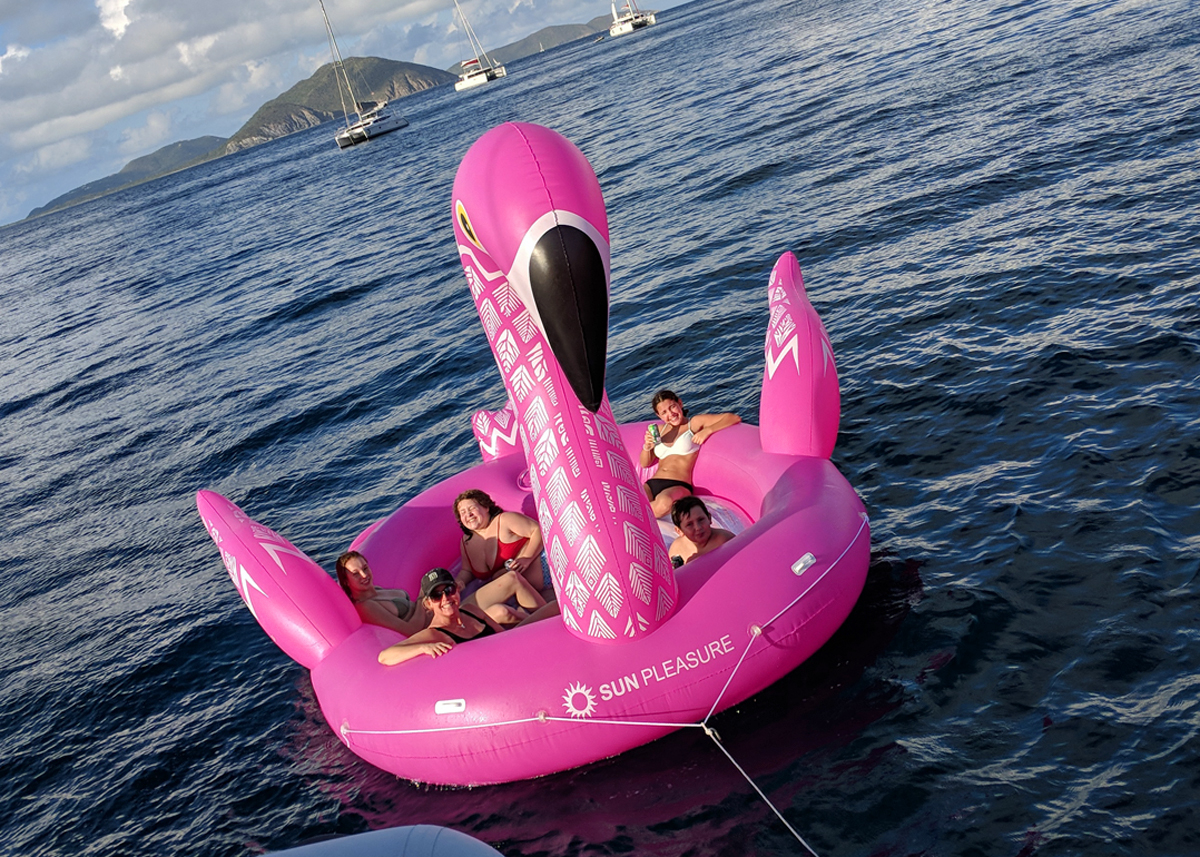 Christmas 2019
Name: Daniel
Yacht: Kumatoo with Joe and Mandy Rosello
Charter Dates: 2019-12-19 12:00 to 2019-12-26 11:00
Area Cruised: Virgin Islands
Overall Rating: 5/5

Were the staff at none friendly and accommodating?
Mandy and Joe were fantastic! Both were very friendly and took great care of our family. They found the perfect
balance between interaction with our family while also giving us some private time.

Was the yacht clean and in good working condition?
Kuma Too is in great condition and Joe and Mandy kept the yacht spotless the entire trip.

Was the yacht's cooking and cleaning equipment sufficient?
The meals were wonderful - it is amazing what was produced in the yacht galley. Our family of five, including some
hungry teenagers, were well fed and very satisfied with the meals. We especially appreciated all of the fresh fruits and
vegetables with meals and for snacks.

Was the boat well ventilated?
We were very comfortable at night. Mandy and Joe gave us the option of air conditioning, but we preferred to just keep
the windows/ports open and enjoy the breeze.

Did the staff at none do a good job familiarizing you with the yacht and its equipment?
Yes, and they were very responsive to our questions and inquires on how things worked.

Did you like the area you cruised?
Yes, and our trip out to Anegada was one of the highlights of the trip.

Additional comments on your charter?
It was a wonderful holiday for our family. We are always nervous when we try out a new boat and crew, but Mandy, Joe
and Kuma Too exceeded our expectations.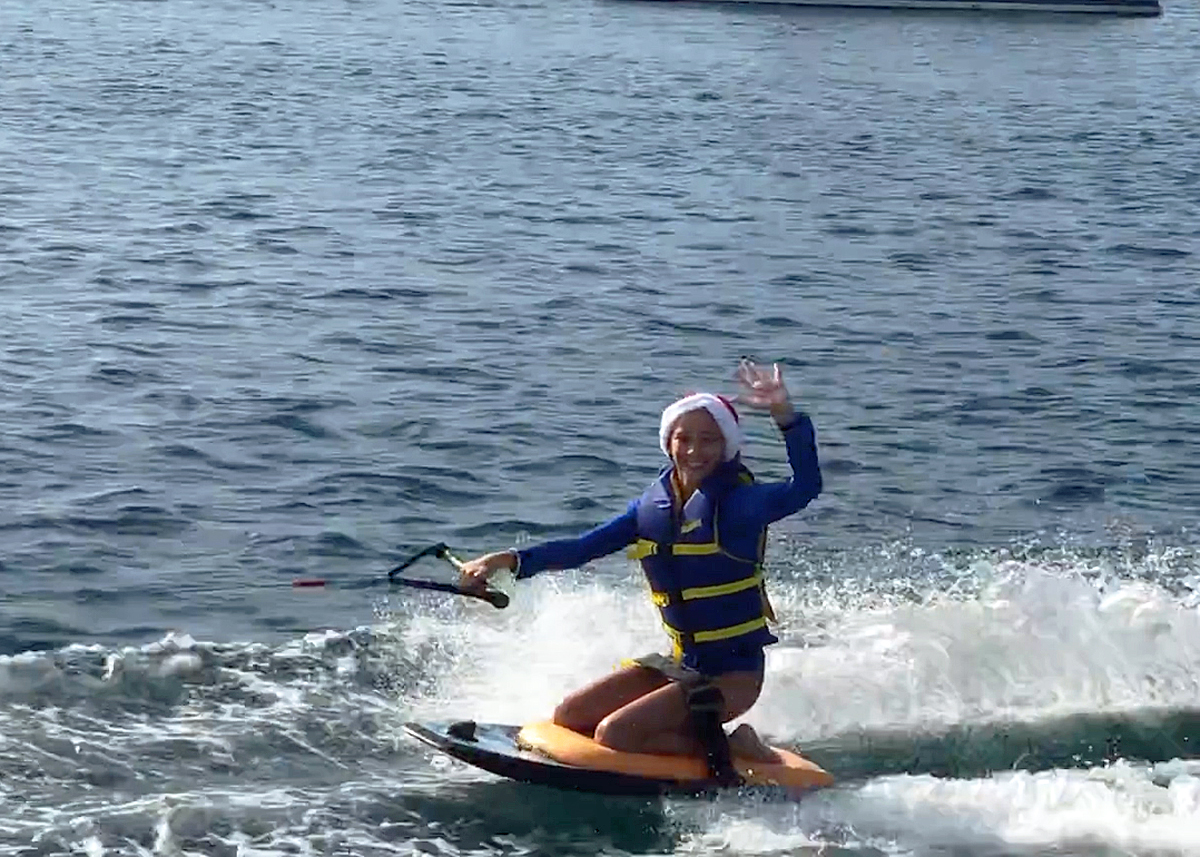 July 2019
Mandy and Joe are absolutely outstanding in every way. Since this was our second adventure on Kuma Too, it feels like coming back to visit with friends. We ate more in 3 days than we do in a week, and the food was absolutely fabulous! This is the most relaxing way to spend a weekend! If you need to "unplug" and reconnect and enjoy you favorite people - this is how to do it! The sailing was amazing; the island adventures were a blast. The berths were really comfortable and of course, with Joe and Mandy at the helm you knew you were going to be well taken care of & safe. We went with another couple who are great friends of ours -- they had a blast, too. Joe and Mandy even put up with us playing guitars, singing, and turning Kuma Too into a floating music studio - now that is hospitality!! It was the perfect 50th Birthday celebration!
Sara D.
June 2019
It was no easy task planning a trip with our kids--ages 22, 20 and 11 year old twins, but once we booked a week-long cruise to the Dry Tortugas on the Kuma Too, we looked forward to spending increasingly rare time together. Joe and Mandy were outstanding. They accommodated vegan and vegetarian diets as well as a picky 11 year old. The food was amazing and we left with several recipes to try at home. They facilitated all of our water activities. We snorkeled at Ft. Jefferson, the wreck of The Windjammer off Loggerhead Key, and Woman Key and had many opportunities to swim off the boat and kayak. They made sure we were always comfortable, serving snacks and drinks whenever we needed them, making sure we had water to shower off at the end of our salty days, and cranking on the A/C at night so we all slept comfortably. When we had to alter our schedule because of uncooperative weather conditions, Joe and Mandy quickly found alternatives that actually made our trip even better. We spent an extra night at sea on the way down, but during that night we witnessed a pod of dolphins chasing flying fish alongside the boat under the moon and stars for over an hour! A spectacular scene that none of us will ever forget. I can't say enough about this trip. As we cruised back, we all dreaded seeing land again. Not only was this an adventure of a lifetime, but also chance for us to reconnect and forge deeper connections as a family. Thank you, Joe and Mandy for a week of happy memories!!
Amy V.
December 2018
My friends and I (six of us total) did a ten-day Christmas/ New Year cruise on Kuma Too. The trip was more than we could have imagined. To begin with, Joe and Mandy were the absolute most accommodating hosts ever. They catered to our individual needs- drinks, food, and comfort. The meals they prepared and served were five star restaurant quality. We all left a bit heavier than when we boarded! (The margaritas were pretty great, too!) They definitely need to create a Kuma Cook Book! Their professionalism and sailing expertise kept me at ease while we were under sail and being transported on the dinghy. I've only briefly sailed once before... but I never ever felt unsafe. Joe and Mandy were also very knowledgeable about our destination locations as wellFort Jefferson/ Dry Tortugas, Loggerhead Key, and Key West! So much so that when Joe toured us around Fort Jefferson, random people would stop to listen and ask him questions! I could go on and on about the awesomeness of our trip... a lot of the credit goes to Joe and Mandy. I highly recommend sailing with them! Looking forward to booking again for another adventure with them!
Kim I.
March 2018
Sailing with Kuma Too and crew was one of the funnest, unique, top-notch experiences I've had. The boat is roomie enough for you to have your own space but also cozy enough to spend quality time with friends & family. Joe and Mandy where both friendly and personable but also very professional. They really make the boat feel like home for the time you are on it. Sailing is their passion and you can see it in the time and care they put into their boat and charters. They made sure that every detail was taken care of (every meal they made was fantastic) and all needs met for all guests. I wouldn't sail any other catamaran!
Danielle B.
March 2018
Absolutely amazing! I had the opportunity to get away for a week from the hustle and bustle of life on land sailing up and down the gorgeous west coast of Florida. Captains Joe and Mandy Rosello were professional, attentive, fun, great hosts and overall "good people". They made my 1-week sailing experience on their beautiful catamaran, Kuma Too, absolutely unforgettable. The trip was full of beautiful sunrises and sunsets, amazing wildlife (I lost count how many dolphins swam alongside the hulls) and, of course, plenty of rest and relaxation. Additionally, I wanted to better understand the sailing ins and outs and both captains were very informative and thorough in explaining procedures and techniques. Such a great trip! I genuinely enjoyed my time on Kuma Too and wholeheartedly recommend their chartering services. They definitely deliver the services and priceless memories you deserve.
Jennifer R.
Gallery
6
6411
http://www.centralyachtagent.com/snapins/ebrochure-xml.php?idin=6411&uid=265&user=265
3
Cat
N
https://www.centralyachtagent.com/yachtadmin/yachtimg/yacht6411/6411brochure88.jpg
6
Caribbean Virgin Islands
Caribbean Virgin Islands
47.00
25
4.5

Oversized beach towels
6-person giant flamingo float
Noodle floaties
Kayaks
SUPs
Tube
Kneeboard

Snorkel gear + fins
a:34:{s:12:"salon_stereo";s:3:"Yes";s:8:"salon_tv";s:3:"Yes";s:6:"sat_tv";s:1:"0";s:17:"multimedia_system";s:3:"Yes";s:4:"nude";s:3:"Yes";s:5:"books";s:3:"Yes";s:9:"crew_pets";s:2:"No";s:8:"pet_type";s:1:"0";s:10:"guest_pets";s:2:"No";s:9:"camcorder";s:3:"Yes";s:14:"number_dine_in";s:1:"6";s:11:"water_maker";s:3:"Yes";s:14:"water_capacity";s:11:"Water maker";s:9:"ice_maker";s:2:"No";s:14:"number_of_dvds";s:3:"Yes";s:13:"number_of_cds";s:3:"Yes";s:11:"board_games";s:3:"Yes";s:10:"sun_awning";s:3:"Yes";s:6:"bimini";s:3:"Yes";s:13:"special_diets";s:3:"Yes";s:6:"kosher";s:2:"No";s:3:"bbq";s:3:"Yes";s:12:"gay_charters";s:3:"Yes";s:10:"hairdryers";s:2:"No";s:22:"number_of_port_hatches";s:2:"16";s:7:"smoking";s:18:"Yes, aft deck only";s:11:"crew_smokes";s:2:"No";s:11:"children_ok";s:3:"Yes";s:17:"minimum_child_age";s:10:"Water safe";s:9:"generator";s:3:"Yes";s:8:"inverter";s:3:"Yes";s:8:"voltages";s:22:"110V, 220/240 adapters";s:7:"hammock";s:2:"No";s:10:"windscoops";s:2:"No";}
Full
Yes
None-Hot Spots
Yes
2 x 55hp Yanmar 9.5kw Onan genset
2005
Leopard


New mattresses are dressed with Oeko-Tex sheets, which means they are certified free of harmful chemicals and are safe for human use.
Bountiful comfy throw pillows for lounging. Hanging closets, ample storage space and shelves for stowing personal items.

Skylights provide sunshine during the day, star-gazing at night and gentle breezes; fans for airflow.

Each private head is stocked with ocean-safe travel-size shampoo, conditioner, body wash, soap, and Oeko-Tex safe plush Turkish cotton towels and washcloths. These are "wet heads" not shower stalls and electric toilets are fresh water flush.

Full indoor & outdoor dining areas.

150+ square-foot covered deck space with ample seating on new 4-inch thick high density foam custom cushions,
3 Queen-sized guest cabins, each with private head, full A/C and ambient reading lights, state-of-the-art gel foam mattresses with cooling layer and organic cotton topper for comfortable nights.
USD
10200
10200
$12,500
[email protected]$10,200 [email protected]$10,550 [email protected]$10,900 [email protected]$11,250 [email protected]$11,600 <B><BIG><U>LOCAL FARE OPTION:</B></BIG></U> Includes 7 breakfasts, 5 lunches & 6 dinners, happy hour canapes, standard ships bar and snacks. Other meals ashore at client expense. [email protected]$10,350 [email protected]$10,775 [email protected]$11,200 [email protected]$11,625 [email protected]$12,050 <B><BIG><U>CHRISTMAS/NEW YEARS:</B></U></big> <B>CHRISTMAS 2019:</b> $13,750 1-6 pax, 6 night minimum, must end by Dec 26th <B>NEW YEARS: </B> $15,000 1-6 pax, 7 night minimum, may not start prior to Dec 27th <font color="#f30000"><BIG><B>***SPECIAL OFFERS ***</big></b> <B><U><BIG>KUMA TOO - $1000 off per 7-night charter</B></BIG></U> All charter USVI only taking place between June 1 and July 31, 2020 Minimum nights: 5N, prorated Valid through: 7/31/20 Book by: 7/25/20 Excludes: May not be combined with any other special EXPIRES: 7/31/20 </font color> .
<font color="b700b7"> <B>GENERAL NOTES: </B> <B>LESS THAN 7 NIGHT CHARTERS: </B> For 6 nights divide by 7N X 6N. For less than 6 nights, divide by 6N X number of nights. <B>MINIMUM NIGHTS:</B> 5, inquire for less </font color> <B><BIG><U><font color="ff0000">*****VIRGIN ISLANDS CHARTERS*****</font color></b></BIG></u> <B><BIG>HALF-BOARD OPTION:</B></BIG> Includes 7 breakfasts, 4 lunches & 3 dinners, happy hour canapes, standard ships bar and snacks. Other meals ashore at client expense.


Always the life of the party, Joe's infectious laugh can be heard across the room! With the perfect balance of comedic relief and professionalism, it was 2005 when Joe's wife Mandy first noticed Joe at work because of his ability to lead his staff with high spirits in the most stressful situations. Within a few months, they took their first trip together to Puerto Rico, unknowing what path was laid out for them. Scuba diving (both are certified open-water divers), sailing, and land exploration took them from Alaska to Europe, South America to the South Pacific, but most frequently to Florida's backyard, the Caribbean. Since music and food are a universal language, you can find Joe and Mandy on the dance floor, at a communal table, or around an acoustic guitarist making conversation with others. To them, the most rewarding part of travel is the people met along the way which turn into life-long friendships.

After years of traveling throughout the Virgin Islands, they married on St. Thomas in 2013. On a 2015 vacation to the British Virgin Islands, Joe and Mandy met a fellow sailor, and the idea hatched of pursuing their own sailing adventure full time. The corporate grind of deadlines and politics was about to be behind them, as Joe and Mandy sold everything, quit their jobs, took command of Kuma Too, and never looked back. They have sailed Kuma Too over 15,000 nautical miles throughout Florida, the Bahamas, Atlantic Ocean, and Caribbean Sea and the meter is still running.

Offering sailing charters along the West Coast of Florida, Joe and Mandy's love of hosting guests on board Kuma Too grew, and they were ready for the next step. For their 3rd charter season, they headed south to the Virgin Islands! Joe enjoys sharing his love of the sea and sailing with guests, and Mandy looks forward to sharing her love of cuisine!

Growing up landlocked, Mandy has always had an adventurous soul from rock climbing to skydiving and with dreams of traveling the world, even as a child. She began scuba diving with her dad at age 15 which unlocked a whole new world of travel and cuisine! On every trip, she tried new dishes and flavors which would eventually shape her own culinary skills. Bringing global influences into her dishes, Mandy most enjoys creating unique sauces and seasonings. Although Joe is the Captain of Kuma Too, Mandy holds her OUPV Captain's License, STCW, CPR, and first aid certifications as well and is fully competent in safely handling their 47-foot floating home.

With 15 years in general aviation, both Joe and Mandy have traveled around the US for work, but the Caribbean kept calling. Their unique backgrounds with private and corporate aircraft included not only handling mechanical and fueling matters but also providing superior customer service to affluent passengers. They both have extensive experience coordinating major events at airports along the East Coast such as Nascar, NFL, MLB, NBA, and PGA championship games and yacht shows. Their organized manner and ability to multitask while placing safety above all else was developed over those years but is now a key element for their success in providing a personalized dream sailing vacation aboard Kuma Too.
";s:5:"photo";s:82:"https://www.centralyachtagent.com/yachtadmin/yachtimg/yacht6411/6411brochure44.jpg";s:4:"size";s:1:"2";s:12:"captain_name";s:11:"Joe Rosello";s:14:"captain_nation";s:3:"USA";s:12:"captain_born";s:4:"1984";s:15:"captain_license";s:9:"100T USCG";s:18:"captain_yr_sailing";s:1:"0";s:21:"captain_yr_chartering";s:1:"0";s:17:"captain_languages";s:7:"English";s:9:"crew_name";s:13:"Mandy Rosello";s:16:"crew_nationality";s:3:"USA";s:12:"crew_license";s:15:"OUPV & STCW";s:15:"crew_yr_sailing";s:1:"0";s:18:"crew_yr_chartering";s:1:"0";s:7:"crewimg";a:6:{i:1;a:2:{s:3:"url";s:76:"https://www.centralyachtagent.com/yachtadmin/yachtlg/yacht6411/6411crew1.jpg";s:4:"desc";s:0:"";}i:2;a:2:{s:3:"url";s:76:"https://www.centralyachtagent.com/yachtadmin/yachtlg/yacht6411/6411crew2.jpg";s:4:"desc";s:0:"";}i:3;a:2:{s:3:"url";s:76:"https://www.centralyachtagent.com/yachtadmin/yachtlg/yacht6411/6411crew3.jpg";s:4:"desc";s:0:"";}i:4;a:2:{s:3:"url";s:76:"https://www.centralyachtagent.com/yachtadmin/yachtlg/yacht6411/6411crew4.jpg";s:4:"desc";s:0:"";}i:5;a:2:{s:3:"url";s:76:"https://www.centralyachtagent.com/yachtadmin/yachtlg/yacht6411/6411crew5.jpg";s:4:"desc";s:0:"";}i:6;a:2:{s:3:"url";s:76:"https://www.centralyachtagent.com/yachtadmin/yachtlg/yacht6411/6411crew6.jpg";s:4:"desc";s:0:"";}}}
a:16:{s:4:"info";s:4201:"Captain Joe grew up just 3 miles from the US's top-rated Clearwater Beach enjoying the typical Florida lifestyle of fishing, camping, boating and beachcombing. When he was old enough to breakaway from the Florida coastline he found himself bouncing around the Caribbean from Mexico to the Lesser Antilles in search of crystalline turquoise water several times a year. The sea was always calling him. In 2009, Joe had the opportunity to captain a sailing vessel in a club race and was hooked immediately. In the last 10+ years, he has raced sailboats ranging from 21-feet to 52-feet. Joe says, "The ability to harness wind and wave to get to a destination without the means of mechanical propulsion is intoxicating and rewarding." He now holds his USCG 100-ton master license with sailing and towing endorsement and his BVI Boatmaster in addition to his STCW, CPR, and first aid certifications.
https://www.centralyachtagent.com/yachtadmin/yachtlg/yacht6411/6411brochure1.jpg
Kuma Too is a beautifully upgraded 47-foot Leopard sailing catamaran that delivers comfort and luxury for a picturesque island sailing adventure. Kuma Too has a superb track record and is a proven seaworthy vessel sailing from Cape Town, South Africa to the Lesser Antilles, Windward Islands, and throughout the Bahamas and even spending a few seasons chartering in Florida. Kuma Too and her crew have proven to sail faster than most sailing vessels can motor without sacrificing comfort. Her 2019 upgrades include state-of-the-art cooling gel foam mattresses, new interior and exterior cushions, upholstery and linens, brand new air conditioning, and much more. Kuma Too is the complete package for a dream sailing vacation!
a:18:{i:2;a:2:{s:3:"url";s:80:"https://www.centralyachtagent.com/yachtadmin/yachtlg/yacht6411/6411brochure2.jpg";s:4:"desc";s:10:"Main salon";}i:3;a:2:{s:3:"url";s:80:"https://www.centralyachtagent.com/yachtadmin/yachtlg/yacht6411/6411brochure3.jpg";s:4:"desc";s:6:"Galley";}i:4;a:2:{s:3:"url";s:80:"https://www.centralyachtagent.com/yachtadmin/yachtlg/yacht6411/6411brochure4.jpg";s:4:"desc";s:11:"Aft cockpit";}i:5;a:2:{s:3:"url";s:80:"https://www.centralyachtagent.com/yachtadmin/yachtlg/yacht6411/6411brochure5.jpg";s:4:"desc";s:0:"";}i:6;a:2:{s:3:"url";s:80:"https://www.centralyachtagent.com/yachtadmin/yachtlg/yacht6411/6411brochure6.jpg";s:4:"desc";s:11:"Guest cabin";}i:7;a:2:{s:3:"url";s:80:"https://www.centralyachtagent.com/yachtadmin/yachtlg/yacht6411/6411brochure7.jpg";s:4:"desc";s:11:"Guest cabin";}i:8;a:2:{s:3:"url";s:80:"https://www.centralyachtagent.com/yachtadmin/yachtlg/yacht6411/6411brochure8.jpg";s:4:"desc";s:10:"Guest head";}i:9;a:2:{s:3:"url";s:80:"https://www.centralyachtagent.com/yachtadmin/yachtlg/yacht6411/6411brochure9.jpg";s:4:"desc";s:21:"Entry to guest cabins";}i:10;a:2:{s:3:"url";s:81:"https://www.centralyachtagent.com/yachtadmin/yachtlg/yacht6411/6411brochure10.jpg";s:4:"desc";s:0:"";}i:11;a:2:{s:3:"url";s:81:"https://www.centralyachtagent.com/yachtadmin/yachtlg/yacht6411/6411brochure11.jpg";s:4:"desc";s:0:"";}i:12;a:2:{s:3:"url";s:81:"https://www.centralyachtagent.com/yachtadmin/yachtlg/yacht6411/6411brochure12.jpg";s:4:"desc";s:25:"Take a splash off the bow";}i:13;a:2:{s:3:"url";s:81:"https://www.centralyachtagent.com/yachtadmin/yachtlg/yacht6411/6411brochure13.jpg";s:4:"desc";s:6:"Dinghy";}i:14;a:2:{s:3:"url";s:81:"https://www.centralyachtagent.com/yachtadmin/yachtlg/yacht6411/6411brochure14.jpg";s:4:"desc";s:30:"Chuckles, the giant flamingo!!";}i:15;a:2:{s:3:"url";s:81:"https://www.centralyachtagent.com/yachtadmin/yachtlg/yacht6411/6411brochure15.jpg";s:4:"desc";s:16:"Kayak adventures";}i:16;a:2:{s:3:"url";s:81:"https://www.centralyachtagent.com/yachtadmin/yachtlg/yacht6411/6411brochure16.jpg";s:4:"desc";s:28:"Discover whats under the sea";}i:17;a:2:{s:3:"url";s:81:"https://www.centralyachtagent.com/yachtadmin/yachtlg/yacht6411/6411brochure17.jpg";s:4:"desc";s:40:"Guests having a blast on the trampolines";}i:18;a:2:{s:3:"url";s:81:"https://www.centralyachtagent.com/yachtadmin/yachtlg/yacht6411/6411brochure18.jpg";s:4:"desc";s:0:"";}i:19;a:2:{s:3:"url";s:81:"https://www.centralyachtagent.com/yachtadmin/yachtlg/yacht6411/6411brochure19.jpg";s:4:"desc";s:0:"";}}
<p style="text-align: center;">&nbsp;</p> <p style="text-align: center;"><span style="font-size: 12pt;"><strong>BREAKFAST</strong></span><br /><br /><span style="font-size: 12pt;"><em>Breakfast breads and fresh fruit, coffee, tea, juices, Bloody Marys and Mimosas available daily.</em></span></p> <p style="text-align: center;"><span style="font-size: 12pt;">Twice-Cooked French Toast</span></p> <p style="text-align: center;"><span style="font-size: 12pt;">All-American Breakfast</span></p> <p style="text-align: center;"><span style="font-size: 12pt;">French Crepes</span></p> <p style="text-align: center;"><span style="font-size: 12pt;">Classic Eggs Benedict</span></p> <p style="text-align: center;"><span style="font-size: 12pt;">Fresh Fruit Parfait with Poached Pear</span></p> <p style="text-align: center;"><span style="font-size: 12pt;">Breakfast Burritos</span></p> <p style="text-align: center;"><span style="font-size: 12pt;">Strawberry French Toast Bake</span></p> <p style="text-align: center;">&nbsp;</p> <p style="text-align: center;"><span style="font-size: 12pt;"><strong>LUNCH</strong></span></p> <p style="text-align: center;"><span style="font-size: 12pt;">Chicken Caesar Salad</span></p> <p style="text-align: center;"><span style="font-size: 12pt;">Seared Tuna Buddha Bowl</span></p> <p style="text-align: center;"><span style="font-size: 12pt;">Thai Red Curry Chicken</span></p> <p style="text-align: center;"><span style="font-size: 12pt;">Shrimp Tacos</span></p> <p style="text-align: center;"><span style="font-size: 12pt;">Cheeseburgers in Paradise</span></p> <p style="text-align: center;"><span style="font-size: 12pt;">Summer Chicken Salad Wrap</span></p> <p style="text-align: center;"><span style="font-size: 12pt;">Crab Cakes</span></p> <p style="text-align: center;"><span style="font-size: 12pt;">Pan-Seared Steak Salad</span></p> <p style="text-align: center;">&nbsp;</p> <p style="text-align: center;"><span style="font-size: 12pt;"><strong>DINNER</strong></span></p> <p style="text-align: center;"><span style="font-size: 12pt;"><em>Hors d&rsquo;oeuvres and Captain&rsquo;s Cocktails will be served each evening</em></span></p> <p style="text-align: center;"><span style="font-size: 12pt;">Baked Parmesan Fish Fillets</span></p> <p style="text-align: center;"><span style="font-size: 12pt;">Scallops, Steak, and Potatoes</span></p> <p style="text-align: center;"><span style="font-size: 12pt;">Caribbean Marinated Pork Chops</span></p> <p style="text-align: center;"><span style="font-size: 12pt;">Italian Pasta with Sundried Tomatoes</span></p> <p style="text-align: center;"><span style="font-size: 12pt;">Indian Chicken Curry</span></p> <p style="text-align: center;"><span style="font-size: 12pt;">Seafood Risotto</span></p> <p style="text-align: center;"><span style="font-size: 12pt;">Spicy Peach Chicken</span></p> <p style="text-align: center;">&nbsp;</p> <p style="text-align: center;"><span style="font-size: 12pt;"><strong>DESSERTS</strong></span></p> <p style="text-align: center;"><span style="font-size: 12pt;">Boatmade Key Lime Pie</span></p> <p style="text-align: center;"><span style="font-size: 12pt;">Mini Guava Cheesecakes</span></p> <p style="text-align: center;"><span style="font-size: 12pt;">Boat S&rsquo;mores</span></p> <p style="text-align: center;"><span style="font-size: 12pt;">Dessert Nachos</span></p> <p style="text-align: center;"><span style="font-size: 12pt;">Decadent Chocolate Cake</span></p> <p style="text-align: center;"><span style="font-size: 12pt;">Berry Gazpacho</span></p> <p style="text-align: center;"><span style="font-size: 12pt;">Poached Cherries</span></p> <p style="text-align: center;">&nbsp;</p> <p style="text-align: center;"><span style="font-size: 12pt;"><strong>STANDARD SHIP BAR</strong></span></p> <p style="text-align: center;"><span style="font-size: 12pt;">Cruzan Dark Rum, Cruzan Light Rum, Beefeater Gin, Tito's Vodka, Coconut Rum, Jack Daniels, 1800 Tequila, Bailey&rsquo;s, Kahlua</span></p> <p style="text-align: center;"><span style="font-size: 12pt;">Virgin Islands Summer Ale, Presidente, Heineken, Sauvignon Blanc, Cabernet Sauvignon, Champagne</span></p> <p style="text-align: center;"><span style="font-size: 12pt;">Coke, Diet Coke, Sprite, La Croix, Tonic, Club Soda, Cranberry Juice, Pineapple Juice, Orange Juice, Lemonade</span></p>
a:10:{i:1;a:1:{s:3:"url";s:76:"https://www.centralyachtagent.com/yachtadmin/yachtlg/yacht6411/6411menu1.jpg";}i:2;a:1:{s:3:"url";s:76:"https://www.centralyachtagent.com/yachtadmin/yachtlg/yacht6411/6411menu2.jpg";}i:3;a:1:{s:3:"url";s:76:"https://www.centralyachtagent.com/yachtadmin/yachtlg/yacht6411/6411menu3.jpg";}i:4;a:1:{s:3:"url";s:76:"https://www.centralyachtagent.com/yachtadmin/yachtlg/yacht6411/6411menu4.jpg";}i:5;a:1:{s:3:"url";s:76:"https://www.centralyachtagent.com/yachtadmin/yachtlg/yacht6411/6411menu5.jpg";}i:6;a:1:{s:3:"url";s:76:"https://www.centralyachtagent.com/yachtadmin/yachtlg/yacht6411/6411menu6.jpg";}i:7;a:1:{s:3:"url";s:76:"https://www.centralyachtagent.com/yachtadmin/yachtlg/yacht6411/6411menu7.jpg";}i:8;a:1:{s:3:"url";s:76:"https://www.centralyachtagent.com/yachtadmin/yachtlg/yacht6411/6411menu8.jpg";}i:9;a:1:{s:3:"url";s:76:"https://www.centralyachtagent.com/yachtadmin/yachtlg/yacht6411/6411menu9.jpg";}i:10;a:1:{s:3:"url";s:77:"https://www.centralyachtagent.com/yachtadmin/yachtlg/yacht6411/6411menu10.jpg";}}
https://www.cyabrochure.com/ebn/265/pbaX/6411/1
https://www.cyabrochure.com/ebn/265/pbaX/6411/3
https://www.centralyachtagent.com/yachtadmin/yachtimg/yacht6411/6411brochure99.jpg
a:24:{s:4:"tube";s:3:"Yes";s:6:"guests";s:1:"6";s:8:"maxspeed";s:8:"10 knots";s:11:"pref_pickup";s:7:"RH, STT";s:12:"other_pickup";s:3:"BVI";s:5:"draft";s:3:"4.5";s:14:"cruising_speed";s:7:"7 knots";s:7:"helipad";s:2:"No";s:2:"ac";s:4:"Full";s:8:"ac_night";s:3:"Yes";s:5:"built";s:4:"2005";s:10:"turnaround";s:18:"48, Inquire for 24";s:6:"cabins";s:1:"3";s:4:"king";s:1:"0";s:5:"queen";s:1:"3";s:6:"double";s:1:"0";s:6:"single";s:1:"0";s:4:"twin";s:1:"0";s:7:"pullman";s:1:"0";s:7:"showers";s:1:"3";s:6:"basins";s:1:"3";s:5:"heads";s:1:"0";s:14:"electric_heads";s:1:"3";s:7:"jacuzzi";s:2:"No";}
a:7:{s:4:"flag";s:3:"USA";s:8:"homeport";s:14:"Virgin Islands";s:13:"resort_course";s:0:"";s:12:"yacht_permit";s:1:"1";s:13:"yacht_license";s:1:"1";s:9:"yacht_mca";s:1:"1";s:15:"yacht_insurance";s:11:"YACHTINSURE";}

Brand new trampolines with 2 bow seats
Bean bag chairs
Yoga mats
Card and board games
Books and field guides
Roll down shades allowing full enjoyment of sunsets
Rain screens shield from inclement weather while savoring the sounds of a Caribbean rain shower
Underwater lights
a:22:{s:11:"dinghy_size";s:3:"13'";s:12:"kayaks_1_pax";s:1:"2";s:12:"kayaks_2_pax";s:1:"0";s:9:"dinghy_hp";s:4:"30hp";s:13:"floating_mats";s:2:"No";s:10:"dinghy_pax";s:1:"8";s:13:"swim_platform";s:11:"Scoop steps";s:16:"water_skis_adult";s:2:"No";s:15:"boarding_ladder";s:10:"Off scoops";s:15:"water_skis_kids";s:2:"No";s:14:"sailing_dinghy";s:2:"No";s:8:"jet_skis";s:2:"No";s:11:"beach_games";s:3:"Yes";s:12:"wave_runners";s:2:"No";s:9:"kneeboard";s:3:"Yes";s:10:"windsurfer";s:2:"No";s:12:"snorkel_gear";s:3:"Yes";s:17:"underwater_camera";s:3:"Yes";s:7:"scurfer";s:2:"No";s:16:"underwater_video";s:3:"Yes";s:10:"wake_board";s:2:"No";s:11:"paddleboard";s:1:"2";}
0
3
0
0
0
0
2019
Yes
Yes
110V, 220/240 adapters
Virgin Islands
Greece
6411 KUMA TOO https://www.centralyachtagent.com/yachtadmin/yachtimg/yacht6411/6411brochure99.jpg Cat 47 N 47.00 Ft 14.00 m 25 4.5 Feet 6 3 0 3 0 0 0 0 2019 No No Full RH, STT BVI 48, Inquire for 24 2005 Leopard http://www.viewyacht.com/kumatoo https://www.cyabrochure.com/ebn/265/pbaX/6411/1 7 knots 10 knots 3 Queen-sized guest cabins, each with private head, full A/C and ambient reading lights, state-of-the-art gel foam mattresses with cooling layer and organic cotton topper for comfortable nights.<br /> <br /> New mattresses are dressed with Oeko-Tex sheets, which means they are certified free of harmful chemicals and are safe for human use. <br /> Bountiful comfy throw pillows for lounging. Hanging closets, ample storage space and shelves for stowing personal items. <br /> <br /> Skylights provide sunshine during the day, star-gazing at night and gentle breezes; fans for airflow.<br /> <br /> Each private head is stocked with ocean-safe travel-size shampoo, conditioner, body wash, soap, and Oeko-Tex safe plush Turkish cotton towels and washcloths. These are "wet heads" not shower stalls and electric toilets are fresh water flush. <br /> <br /> Full indoor &amp; outdoor dining areas.<br /> <br /> 150+ square-foot covered deck space with ample seating on new 4-inch thick high density foam custom cushions, &#36;12,500 &#36;10,200 10200 12500 USD &#36; &lt;font color="b700b7"&gt; &lt;B&gt;GENERAL NOTES: &lt;/B&gt; &lt;B&gt;LESS THAN 7 NIGHT CHARTERS: &lt;/B&gt; For 6 nights divide by 7N X 6N. For less than 6 nights, divide by 6N X number of nights. &lt;B&gt;MINIMUM NIGHTS:&lt;/B&gt; 5, inquire for less &lt;/font color&gt; &lt;B&gt;&lt;BIG&gt;&lt;U&gt;&lt;font color="ff0000"&gt;*****VIRGIN ISLANDS CHARTERS*****&lt;/font color&gt;&lt;/b&gt;&lt;/BIG&gt;&lt;/u&gt; &lt;B&gt;&lt;BIG&gt;HALF-BOARD OPTION:&lt;/B&gt;&lt;/BIG&gt; Includes 7 breakfasts, 4 lunches &amp; 3 dinners, happy hour canapes, standard ships bar and snacks. Other meals ashore at client expense. [email protected]$10,200 [email protected]$10,550 [email protected]$10,900 [email protected]$11,250 [email protected]$11,600 &lt;B&gt;&lt;BIG&gt;&lt;U&gt;LOCAL FARE OPTION:&lt;/B&gt;&lt;/BIG&gt;&lt;/U&gt; Includes 7 breakfasts, 5 lunches &amp; 6 dinners, happy hour canapes, standard ships bar and snacks. Other meals ashore at client expense. [email protected]$10,350 [email protected]$10,775 [email protected]$11,200 [email protected]$11,625 [email protected]$12,050 &lt;B&gt;&lt;BIG&gt;&lt;U&gt;CHRISTMAS/NEW YEARS:&lt;/B&gt;&lt;/U&gt;&lt;/big&gt; &lt;B&gt;CHRISTMAS 2019:&lt;/b&gt; $13,750 1-6 pax, 6 night minimum, must end by Dec 26th &lt;B&gt;NEW YEARS: &lt;/B&gt; $15,000 1-6 pax, 7 night minimum, may not start prior to Dec 27th &lt;font color="#f30000"&gt;&lt;BIG&gt;&lt;B&gt;***SPECIAL OFFERS ***&lt;/big&gt;&lt;/b&gt; &lt;B&gt;&lt;U&gt;&lt;BIG&gt;KUMA TOO - $1000 off per 7-night charter&lt;/B&gt;&lt;/BIG&gt;&lt;/U&gt; All charter USVI only taking place between June 1 and July 31, 2020 Minimum nights: 5N, prorated Valid through: 7/31/20 Book by: 7/25/20 Excludes: May not be combined with any other special EXPIRES: 7/31/20 &lt;/font color&gt; . All Inclusive Yes Yes Yes Yes Yes Yes Yes 6 Yes No No Yes Yes Yes No Yes Yes Yes No 16 Yes, aft deck only No Yes Water safe Yes 2 x 55hp Yanmar 9.5kw Onan genset 1.5 Yes 110V, 220/240 adapters Yes Water maker No 13' 30hp 8 No No No No Yes 2 No Yes Yes No No 2 0 No Scoop steps Off scoops No Yes No None None Yes Yes Yes Yes Eco-friendly vessel includes sail, wind-power, solar-power, LED lights, on-board filtered water maker, metal straws, no plastic water bottles or straws, reusable grocery and produce bags for provisioning. Yacht offers Rendezvous Diving only - Not Onboard 0 0 0 0 0 0 0 0 https://www.centralyachtagent.com/yachtadmin/yachtimg/yacht6411/6411brochure1.jpg Kuma Too is a beautifully upgraded 47-foot Leopard sailing catamaran that delivers comfort and luxury for a picturesque island sailing adventure. Kuma Too has a superb track record and is a proven seaworthy vessel sailing from Cape Town, South Africa to the Lesser Antilles, Windward Islands, and throughout the Bahamas and even spending a few seasons chartering in Florida. Kuma Too and her crew have proven to sail faster than most sailing vessels can motor without sacrificing comfort. Her 2019 upgrades include state-of-the-art cooling gel foam mattresses, new interior and exterior cushions, upholstery and linens, brand new air conditioning, and much more. Kuma Too is the complete package for a dream sailing vacation! https://www.centralyachtagent.com/yachtadmin/yachtimg/yacht6411/6411brochure2.jpg Main salon https://www.centralyachtagent.com/yachtadmin/yachtimg/yacht6411/6411brochure3.jpg Galley https://www.centralyachtagent.com/yachtadmin/yachtimg/yacht6411/6411brochure4.jpg Aft cockpit https://www.centralyachtagent.com/yachtadmin/yachtimg/yacht6411/6411brochure5.jpg https://www.centralyachtagent.com/yachtadmin/yachtimg/yacht6411/6411brochure6.jpg Guest cabin https://www.centralyachtagent.com/yachtadmin/yachtimg/yacht6411/6411brochure7.jpg Guest cabin https://www.centralyachtagent.com/yachtadmin/yachtimg/yacht6411/6411brochure8.jpg Guest head https://www.centralyachtagent.com/yachtadmin/yachtimg/yacht6411/6411brochure9.jpg Entry to guest cabins https://www.centralyachtagent.com/yachtadmin/yachtimg/yacht6411/6411brochure10.jpg https://www.centralyachtagent.com/yachtadmin/yachtimg/yacht6411/6411brochure11.jpg https://www.centralyachtagent.com/yachtadmin/yachtimg/yacht6411/6411brochure12.jpg Take a splash off the bow https://www.centralyachtagent.com/yachtadmin/yachtimg/yacht6411/6411brochure13.jpg Dinghy https://www.centralyachtagent.com/yachtadmin/yachtimg/yacht6411/6411brochure14.jpg Chuckles, the giant flamingo!! https://www.centralyachtagent.com/yachtadmin/yachtimg/yacht6411/6411brochure15.jpg Kayak adventures https://www.centralyachtagent.com/yachtadmin/yachtimg/yacht6411/6411brochure16.jpg Discover whats under the sea https://www.centralyachtagent.com/yachtadmin/yachtimg/yacht6411/6411brochure17.jpg Guests having a blast on the trampolines https://www.centralyachtagent.com/yachtadmin/yachtimg/yacht6411/6411brochure18.jpg https://www.centralyachtagent.com/yachtadmin/yachtimg/yacht6411/6411brochure19.jpg https://www.centralyachtagent.com/yachtadmin/yachtimg/yacht6411/6411brochure88.jpg https://www.cyabrochure.com/ebn/265/pbaX/6411/3 https://www.cyabrochure.com/ebn/265/pbaX/6411/4 Snorkel gear + fins<br /> Oversized beach towels<br /> 6-person giant flamingo float<br /> Noodle floaties<br /> Kayaks<br /> SUPs<br /> Tube<br /> Kneeboard<br /> Underwater lights<br /> Brand new trampolines with 2 bow seats <br /> Bean bag chairs <br /> Yoga mats<br /> Card and board games<br /> Books and field guides<br /> Roll down shades allowing full enjoyment of sunsets<br /> Rain screens shield from inclement weather while savoring the sounds of a Caribbean rain shower Cell phone for local and international calls, VHF and handheld radio, satellite phone, walkie talkies for shore side communication Caribbean Virgin Islands Caribbean Virgin Islands 3 3 0 3 https://www.centralyachtagent.com/yachtadmin/yachtlg/yacht6411/6411brochure1.jpg https://www.centralyachtagent.com/yachtadmin/yachtlg/yacht6411/6411brochure2.jpg https://www.centralyachtagent.com/yachtadmin/yachtlg/yacht6411/6411brochure3.jpg https://www.centralyachtagent.com/yachtadmin/yachtlg/yacht6411/6411brochure4.jpg https://www.centralyachtagent.com/yachtadmin/yachtlg/yacht6411/6411brochure5.jpg https://www.centralyachtagent.com/yachtadmin/yachtlg/yacht6411/6411brochure6.jpg https://www.centralyachtagent.com/yachtadmin/yachtlg/yacht6411/6411brochure7.jpg https://www.centralyachtagent.com/yachtadmin/yachtlg/yacht6411/6411brochure8.jpg https://www.centralyachtagent.com/yachtadmin/yachtlg/yacht6411/6411brochure9.jpg https://www.centralyachtagent.com/yachtadmin/yachtlg/yacht6411/6411brochure10.jpg https://www.centralyachtagent.com/yachtadmin/yachtlg/yacht6411/6411brochure11.jpg https://www.centralyachtagent.com/yachtadmin/yachtlg/yacht6411/6411brochure12.jpg https://www.centralyachtagent.com/yachtadmin/yachtlg/yacht6411/6411brochure13.jpg https://www.centralyachtagent.com/yachtadmin/yachtlg/yacht6411/6411brochure14.jpg https://www.centralyachtagent.com/yachtadmin/yachtlg/yacht6411/6411brochure15.jpg https://www.centralyachtagent.com/yachtadmin/yachtlg/yacht6411/6411brochure16.jpg https://www.centralyachtagent.com/yachtadmin/yachtlg/yacht6411/6411brochure17.jpg https://www.centralyachtagent.com/yachtadmin/yachtlg/yacht6411/6411brochure18.jpg https://www.centralyachtagent.com/yachtadmin/yachtlg/yacht6411/6411brochure19.jpg &lt;p style="text-align: center;"&gt;&amp;nbsp;&lt;/p&gt; &lt;p style="text-align: center;"&gt;&lt;span style="font-size: 12pt;"&gt;&lt;strong&gt;BREAKFAST&lt;/strong&gt;&lt;/span&gt;&lt;br /&gt;&lt;br /&gt;&lt;span style="font-size: 12pt;"&gt;&lt;em&gt;Breakfast breads and fresh fruit, coffee, tea, juices, Bloody Marys and Mimosas available daily.&lt;/em&gt;&lt;/span&gt;&lt;/p&gt; &lt;p style="text-align: center;"&gt;&lt;span style="font-size: 12pt;"&gt;Twice-Cooked French Toast&lt;/span&gt;&lt;/p&gt; &lt;p style="text-align: center;"&gt;&lt;span style="font-size: 12pt;"&gt;All-American Breakfast&lt;/span&gt;&lt;/p&gt; &lt;p style="text-align: center;"&gt;&lt;span style="font-size: 12pt;"&gt;French Crepes&lt;/span&gt;&lt;/p&gt; &lt;p style="text-align: center;"&gt;&lt;span style="font-size: 12pt;"&gt;Classic Eggs Benedict&lt;/span&gt;&lt;/p&gt; &lt;p style="text-align: center;"&gt;&lt;span style="font-size: 12pt;"&gt;Fresh Fruit Parfait with Poached Pear&lt;/span&gt;&lt;/p&gt; &lt;p style="text-align: center;"&gt;&lt;span style="font-size: 12pt;"&gt;Breakfast Burritos&lt;/span&gt;&lt;/p&gt; &lt;p style="text-align: center;"&gt;&lt;span style="font-size: 12pt;"&gt;Strawberry French Toast Bake&lt;/span&gt;&lt;/p&gt; &lt;p style="text-align: center;"&gt;&amp;nbsp;&lt;/p&gt; &lt;p style="text-align: center;"&gt;&lt;span style="font-size: 12pt;"&gt;&lt;strong&gt;LUNCH&lt;/strong&gt;&lt;/span&gt;&lt;/p&gt; &lt;p style="text-align: center;"&gt;&lt;span style="font-size: 12pt;"&gt;Chicken Caesar Salad&lt;/span&gt;&lt;/p&gt; &lt;p style="text-align: center;"&gt;&lt;span style="font-size: 12pt;"&gt;Seared Tuna Buddha Bowl&lt;/span&gt;&lt;/p&gt; &lt;p style="text-align: center;"&gt;&lt;span style="font-size: 12pt;"&gt;Thai Red Curry Chicken&lt;/span&gt;&lt;/p&gt; &lt;p style="text-align: center;"&gt;&lt;span style="font-size: 12pt;"&gt;Shrimp Tacos&lt;/span&gt;&lt;/p&gt; &lt;p style="text-align: center;"&gt;&lt;span style="font-size: 12pt;"&gt;Cheeseburgers in Paradise&lt;/span&gt;&lt;/p&gt; &lt;p style="text-align: center;"&gt;&lt;span style="font-size: 12pt;"&gt;Summer Chicken Salad Wrap&lt;/span&gt;&lt;/p&gt; &lt;p style="text-align: center;"&gt;&lt;span style="font-size: 12pt;"&gt;Crab Cakes&lt;/span&gt;&lt;/p&gt; &lt;p style="text-align: center;"&gt;&lt;span style="font-size: 12pt;"&gt;Pan-Seared Steak Salad&lt;/span&gt;&lt;/p&gt; &lt;p style="text-align: center;"&gt;&amp;nbsp;&lt;/p&gt; &lt;p style="text-align: center;"&gt;&lt;span style="font-size: 12pt;"&gt;&lt;strong&gt;DINNER&lt;/strong&gt;&lt;/span&gt;&lt;/p&gt; &lt;p style="text-align: center;"&gt;&lt;span style="font-size: 12pt;"&gt;&lt;em&gt;Hors d&amp;rsquo;oeuvres and Captain&amp;rsquo;s Cocktails will be served each evening&lt;/em&gt;&lt;/span&gt;&lt;/p&gt; &lt;p style="text-align: center;"&gt;&lt;span style="font-size: 12pt;"&gt;Baked Parmesan Fish Fillets&lt;/span&gt;&lt;/p&gt; &lt;p style="text-align: center;"&gt;&lt;span style="font-size: 12pt;"&gt;Scallops, Steak, and Potatoes&lt;/span&gt;&lt;/p&gt; &lt;p style="text-align: center;"&gt;&lt;span style="font-size: 12pt;"&gt;Caribbean Marinated Pork Chops&lt;/span&gt;&lt;/p&gt; &lt;p style="text-align: center;"&gt;&lt;span style="font-size: 12pt;"&gt;Italian Pasta with Sundried Tomatoes&lt;/span&gt;&lt;/p&gt; &lt;p style="text-align: center;"&gt;&lt;span style="font-size: 12pt;"&gt;Indian Chicken Curry&lt;/span&gt;&lt;/p&gt; &lt;p style="text-align: center;"&gt;&lt;span style="font-size: 12pt;"&gt;Seafood Risotto&lt;/span&gt;&lt;/p&gt; &lt;p style="text-align: center;"&gt;&lt;span style="font-size: 12pt;"&gt;Spicy Peach Chicken&lt;/span&gt;&lt;/p&gt; &lt;p style="text-align: center;"&gt;&amp;nbsp;&lt;/p&gt; &lt;p style="text-align: center;"&gt;&lt;span style="font-size: 12pt;"&gt;&lt;strong&gt;DESSERTS&lt;/strong&gt;&lt;/span&gt;&lt;/p&gt; &lt;p style="text-align: center;"&gt;&lt;span style="font-size: 12pt;"&gt;Boatmade Key Lime Pie&lt;/span&gt;&lt;/p&gt; &lt;p style="text-align: center;"&gt;&lt;span style="font-size: 12pt;"&gt;Mini Guava Cheesecakes&lt;/span&gt;&lt;/p&gt; &lt;p style="text-align: center;"&gt;&lt;span style="font-size: 12pt;"&gt;Boat S&amp;rsquo;mores&lt;/span&gt;&lt;/p&gt; &lt;p style="text-align: center;"&gt;&lt;span style="font-size: 12pt;"&gt;Dessert Nachos&lt;/span&gt;&lt;/p&gt; &lt;p style="text-align: center;"&gt;&lt;span style="font-size: 12pt;"&gt;Decadent Chocolate Cake&lt;/span&gt;&lt;/p&gt; &lt;p style="text-align: center;"&gt;&lt;span style="font-size: 12pt;"&gt;Berry Gazpacho&lt;/span&gt;&lt;/p&gt; &lt;p style="text-align: center;"&gt;&lt;span style="font-size: 12pt;"&gt;Poached Cherries&lt;/span&gt;&lt;/p&gt; &lt;p style="text-align: center;"&gt;&amp;nbsp;&lt;/p&gt; &lt;p style="text-align: center;"&gt;&lt;span style="font-size: 12pt;"&gt;&lt;strong&gt;STANDARD SHIP BAR&lt;/strong&gt;&lt;/span&gt;&lt;/p&gt; &lt;p style="text-align: center;"&gt;&lt;span style="font-size: 12pt;"&gt;Cruzan Dark Rum, Cruzan Light Rum, Beefeater Gin, Tito's Vodka, Coconut Rum, Jack Daniels, 1800 Tequila, Bailey&amp;rsquo;s, Kahlua&lt;/span&gt;&lt;/p&gt; &lt;p style="text-align: center;"&gt;&lt;span style="font-size: 12pt;"&gt;Virgin Islands Summer Ale, Presidente, Heineken, Sauvignon Blanc, Cabernet Sauvignon, Champagne&lt;/span&gt;&lt;/p&gt; &lt;p style="text-align: center;"&gt;&lt;span style="font-size: 12pt;"&gt;Coke, Diet Coke, Sprite, La Croix, Tonic, Club Soda, Cranberry Juice, Pineapple Juice, Orange Juice, Lemonade&lt;/span&gt;&lt;/p&gt; https://www.centralyachtagent.com/yachtadmin/yachtlg/yacht6411/6411menu1.jpg https://www.centralyachtagent.com/yachtadmin/yachtlg/yacht6411/6411menu2.jpg https://www.centralyachtagent.com/yachtadmin/yachtlg/yacht6411/6411menu3.jpg https://www.centralyachtagent.com/yachtadmin/yachtlg/yacht6411/6411menu4.jpg https://www.centralyachtagent.com/yachtadmin/yachtlg/yacht6411/6411menu5.jpg https://www.centralyachtagent.com/yachtadmin/yachtlg/yacht6411/6411menu6.jpg https://www.centralyachtagent.com/yachtadmin/yachtlg/yacht6411/6411menu7.jpg https://www.centralyachtagent.com/yachtadmin/yachtlg/yacht6411/6411menu8.jpg https://www.centralyachtagent.com/yachtadmin/yachtlg/yacht6411/6411menu9.jpg https://www.centralyachtagent.com/yachtadmin/yachtlg/yacht6411/6411menu10.jpg 2 No No 0 Joe Rosello USA 1984 100T USCG 0 0 English Mandy Rosello USA OUPV &amp; STCW 0 0 Captain Joe grew up just 3 miles from the US's top-rated Clearwater Beach enjoying the typical Florida lifestyle of fishing, camping, boating and beachcombing. When he was old enough to breakaway from the Florida coastline he found himself bouncing around the Caribbean from Mexico to the Lesser Antilles in search of crystalline turquoise water several times a year. The sea was always calling him. In 2009, Joe had the opportunity to captain a sailing vessel in a club race and was hooked immediately. In the last 10+ years, he has raced sailboats ranging from 21-feet to 52-feet. Joe says, &ldquo;The ability to harness wind and wave to get to a destination without the means of mechanical propulsion is intoxicating and rewarding.&rdquo; He now holds his USCG 100-ton master license with sailing and towing endorsement and his BVI Boatmaster in addition to his STCW, CPR, and first aid certifications. <br /> <br /> Always the life of the party, Joe's infectious laugh can be heard across the room! With the perfect balance of comedic relief and professionalism, it was 2005 when Joe&rsquo;s wife Mandy first noticed Joe at work because of his ability to lead his staff with high spirits in the most stressful situations. Within a few months, they took their first trip together to Puerto Rico, unknowing what path was laid out for them. Scuba diving (both are certified open-water divers), sailing, and land exploration took them from Alaska to Europe, South America to the South Pacific, but most frequently to Florida's backyard, the Caribbean. Since music and food are a universal language, you can find Joe and Mandy on the dance floor, at a communal table, or around an acoustic guitarist making conversation with others. To them, the most rewarding part of travel is the people met along the way which turn into life-long friendships.<br /> <br /> After years of traveling throughout the Virgin Islands, they married on St. Thomas in 2013. On a 2015 vacation to the British Virgin Islands, Joe and Mandy met a fellow sailor, and the idea hatched of pursuing their own sailing adventure full time. The corporate grind of deadlines and politics was about to be behind them, as Joe and Mandy sold everything, quit their jobs, took command of Kuma Too, and never looked back. They have sailed Kuma Too over 15,000 nautical miles throughout Florida, the Bahamas, Atlantic Ocean, and Caribbean Sea and the meter is still running. <br /> <br /> Offering sailing charters along the West Coast of Florida, Joe and Mandy's love of hosting guests on board Kuma Too grew, and they were ready for the next step. For their 3rd charter season, they headed south to the Virgin Islands! Joe enjoys sharing his love of the sea and sailing with guests, and Mandy looks forward to sharing her love of cuisine! <br /> <br /> Growing up landlocked, Mandy has always had an adventurous soul from rock climbing to skydiving and with dreams of traveling the world, even as a child. She began scuba diving with her dad at age 15 which unlocked a whole new world of travel and cuisine! On every trip, she tried new dishes and flavors which would eventually shape her own culinary skills. Bringing global influences into her dishes, Mandy most enjoys creating unique sauces and seasonings. Although Joe is the Captain of Kuma Too, Mandy holds her OUPV Captain's License, STCW, CPR, and first aid certifications as well and is fully competent in safely handling their 47-foot floating home.<br /> <br /> With 15 years in general aviation, both Joe and Mandy have traveled around the US for work, but the Caribbean kept calling. Their unique backgrounds with private and corporate aircraft included not only handling mechanical and fueling matters but also providing superior customer service to affluent passengers. They both have extensive experience coordinating major events at airports along the East Coast such as Nascar, NFL, MLB, NBA, and PGA championship games and yacht shows. Their organized manner and ability to multitask while placing safety above all else was developed over those years but is now a key element for their success in providing a personalized dream sailing vacation aboard Kuma Too. <br /> https://www.centralyachtagent.com/yachtadmin/yachtimg/yacht6411/6411brochure44.jpg https://www.centralyachtagent.com/yachtadmin/yachtlg/yacht6411/6411crew1.jpg https://www.centralyachtagent.com/yachtadmin/yachtlg/yacht6411/6411crew2.jpg https://www.centralyachtagent.com/yachtadmin/yachtlg/yacht6411/6411crew3.jpg https://www.centralyachtagent.com/yachtadmin/yachtlg/yacht6411/6411crew4.jpg https://www.centralyachtagent.com/yachtadmin/yachtlg/yacht6411/6411crew5.jpg https://www.centralyachtagent.com/yachtadmin/yachtlg/yacht6411/6411crew6.jpg Dancing on Anegada Day 1 on Kuma Too Having fun at Whistling Cay Mandy always ready for an adventure Sailing Silly Captain Joe exploring Lake Titicaca, Peru USA Virgin Islands Virgin Islands Yes None 0 CT &lt;font color="b700b7"&gt; &lt;B&gt;GENERAL NOTES: &lt;/B&gt; &lt;B&gt;LESS THAN 7 NIGHT CHARTERS: &lt;/B&gt; For 6 nights divide by 7N X 6N. For less than 6 nights, divide by 6N X number of nights. &lt;B&gt;MINIMUM NIGHTS:&lt;/B&gt; 5, inquire for less &lt;/font color&gt; &lt;B&gt;&lt;BIG&gt;&lt;U&gt;&lt;font color="ff0000"&gt;*****VIRGIN ISLANDS CHARTERS*****&lt;/font color&gt;&lt;/b&gt;&lt;/BIG&gt;&lt;/u&gt; &lt;B&gt;&lt;BIG&gt;HALF-BOARD OPTION:&lt;/B&gt;&lt;/BIG&gt; Includes 7 breakfasts, 4 lunches &amp; 3 dinners, happy hour canapes, standard ships bar and snacks. Other meals ashore at client expense. [email protected]$10,200 [email protected]$10,550 [email protected]$10,900 [email protected]$11,250 [email protected]$11,600 &lt;B&gt;&lt;BIG&gt;&lt;U&gt;LOCAL FARE OPTION:&lt;/B&gt;&lt;/BIG&gt;&lt;/U&gt; Includes 7 breakfasts, 5 lunches &amp; 6 dinners, happy hour canapes, standard ships bar and snacks. Other meals ashore at client expense. [email protected]$10,350 [email protected]$10,775 [email protected]$11,200 [email protected]$11,625 [email protected]$12,050 &lt;B&gt;&lt;BIG&gt;&lt;U&gt;CHRISTMAS/NEW YEARS:&lt;/B&gt;&lt;/U&gt;&lt;/big&gt; &lt;B&gt;CHRISTMAS 2019:&lt;/b&gt; $13,750 1-6 pax, 6 night minimum, must end by Dec 26th &lt;B&gt;NEW YEARS: &lt;/B&gt; $15,000 1-6 pax, 7 night minimum, may not start prior to Dec 27th &lt;font color="#f30000"&gt;&lt;BIG&gt;&lt;B&gt;***SPECIAL OFFERS ***&lt;/big&gt;&lt;/b&gt; &lt;B&gt;&lt;U&gt;&lt;BIG&gt;KUMA TOO - $1000 off per 7-night charter&lt;/B&gt;&lt;/BIG&gt;&lt;/U&gt; All charter USVI only taking place between June 1 and July 31, 2020 Minimum nights: 5N, prorated Valid through: 7/31/20 Book by: 7/25/20 Excludes: May not be combined with any other special EXPIRES: 7/31/20 &lt;/font color&gt; . US Gall/Hr 1 1 1 0 Yes Yes None-Hot Spots TA commission: Yes with 6 night minimum. Excludes holidays.<br /> <br /> No commission on sleep aboards<br /> <br /> Crew Gratuity options: cash, Paypal, credit cards, personal checks (on US banks only)<br /> YACHTINSURE ASU00702200 1 MIL 11-AUG-2019 SAILING KUMA TOO LLC Florida, Bahamas, Caribbean Sea USA DUNEDIN FL 1162249 727-512-0502 [email protected] Charter Yacht Solutions Donna Romasco 340-642-4386 844-642-4386 [email protected]
411
a:61:{s:10:"06-04-2020";i:3;s:10:"06-05-2020";i:2;s:10:"06-06-2020";i:2;s:10:"06-07-2020";i:2;s:10:"06-08-2020";i:3;s:10:"06-09-2020";i:2;s:10:"06-10-2020";i:2;s:10:"06-11-2020";i:2;s:10:"06-12-2020";i:3;s:10:"06-13-2020";i:2;s:10:"06-14-2020";i:1;s:10:"06-16-2020";i:1;s:10:"06-17-2020";i:1;s:10:"06-19-2020";i:3;s:10:"06-20-2020";i:2;s:10:"06-21-2020";i:2;s:10:"06-22-2020";i:1;s:10:"06-24-2020";i:2;s:10:"06-25-2020";i:3;s:10:"06-26-2020";i:2;s:10:"06-27-2020";i:2;s:10:"06-28-2020";i:1;s:10:"06-29-2020";i:1;s:10:"06-30-2020";i:3;s:10:"07-01-2020";i:2;s:10:"07-02-2020";i:2;s:10:"07-03-2020";i:3;s:10:"07-04-2020";i:2;s:10:"07-05-2020";i:2;s:10:"07-06-2020";i:2;s:10:"07-07-2020";i:3;s:10:"07-11-2020";i:2;s:10:"07-12-2020";i:2;s:10:"07-13-2020";i:1;s:10:"07-14-2020";i:1;s:10:"07-15-2020";i:2;s:10:"07-16-2020";i:2;s:10:"07-17-2020";i:2;s:10:"07-18-2020";i:2;s:10:"07-21-2020";i:3;s:10:"07-22-2020";i:2;s:10:"07-23-2020";i:2;s:10:"07-24-2020";i:2;s:10:"07-25-2020";i:3;s:10:"07-26-2020";i:2;s:10:"07-27-2020";i:2;s:10:"07-28-2020";i:2;s:10:"07-29-2020";i:3;s:10:"07-30-2020";i:2;s:10:"07-31-2020";i:2;s:10:"08-01-2020";i:2;s:10:"08-02-2020";i:3;s:10:"08-03-2020";i:2;s:10:"08-04-2020";i:2;s:10:"08-05-2020";i:2;s:10:"08-06-2020";i:3;s:10:"08-07-2020";i:2;s:10:"08-08-2020";i:2;s:10:"08-09-2020";i:2;s:10:"08-10-2020";i:2;s:10:"08-11-2020";i:1;}
1.5
7 knots
10 knots
No
Yes
14.00 m
1.5
US Gall/Hr
[email protected]$10,200 [email protected]$10,550 [email protected]$10,900 [email protected]$11,250 [email protected]$11,600 <B><BIG><U>LOCAL FARE OPTION:</B></BIG></U> Includes 7 breakfasts, 5 lunches & 6 dinners, happy hour canapes, standard ships bar and snacks. Other meals ashore at client expense. [email protected]$10,350 [email protected]$10,775 [email protected]$11,200 [email protected]$11,625 [email protected]$12,050 <B><BIG><U>CHRISTMAS/NEW YEARS:</B></U></big> <B>CHRISTMAS 2019:</b> $13,750 1-6 pax, 6 night minimum, must end by Dec 26th <B>NEW YEARS: </B> $15,000 1-6 pax, 7 night minimum, may not start prior to Dec 27th <font color="#f30000"><BIG><B>***SPECIAL OFFERS ***</big></b> <B><U><BIG>KUMA TOO - $1000 off per 7-night charter</B></BIG></U> All charter USVI only taking place between June 1 and July 31, 2020 Minimum nights: 5N, prorated Valid through: 7/31/20 Book by: 7/25/20 Excludes: May not be combined with any other special EXPIRES: 7/31/20 </font color> .
<font color="b700b7"> <B>GENERAL NOTES: </B> <B>LESS THAN 7 NIGHT CHARTERS: </B> For 6 nights divide by 7N X 6N. For less than 6 nights, divide by 6N X number of nights. <B>MINIMUM NIGHTS:</B> 5, inquire for less </font color> <B><BIG><U><font color="ff0000">*****VIRGIN ISLANDS CHARTERS*****</font color></b></BIG></u> <B><BIG>HALF-BOARD OPTION:</B></BIG> Includes 7 breakfasts, 4 lunches & 3 dinners, happy hour canapes, standard ships bar and snacks. Other meals ashore at client expense.
All Inclusive
https://www.cyabrochure.com/ebn/265/pbaX/6411/4
a:3:{s:16:"green_initiative";s:3:"Yes";s:16:"reusable_bottles";s:3:"Yes";s:19:"other_green_efforts";s:204:"Eco-friendly vessel includes sail, wind-power, solar-power, LED lights, on-board filtered water maker, metal straws, no plastic water bottles or straws, reusable grocery and produce bags for provisioning.";}
a:15:{s:5:"tanks";s:1:"0";s:9:"wet_suits";s:1:"0";s:15:"number_of_dives";s:0:"";s:11:"night_dives";s:1:"0";s:9:"dive_info";s:0:"";s:13:"communication";s:130:"Cell phone for local and international calls, VHF and handheld radio, satellite phone, walkie talkies for shore side communication";s:11:"full_course";s:0:"";s:14:"air_compressor";s:11:"Not Onboard";s:3:"bcs";s:1:"0";s:11:"weight_sets";s:1:"0";s:16:"number_of_divers";s:1:"0";s:20:"registrations_number";s:1:"0";s:11:"dive_lights";s:1:"0";s:10:"dive_costs";s:0:"";s:14:"scuba_on_board";s:35:"Yacht offers Rendezvous Diving only";}
a:4:{s:12:"fishing_gear";s:2:"No";s:17:"fishing_gear_type";s:4:"None";s:4:"rods";s:4:"None";s:16:"deep_sea_fishing";s:0:"";}
USA
USA
USA
Yacht offers Rendezvous Diving only

KUMA TOO Charter Price Details

| | | | | | | | | | | | |
| --- | --- | --- | --- | --- | --- | --- | --- | --- | --- | --- | --- |
| Season Name | 2 guests | 3 guests | 4 guests | 5 guests | 6 guests | 7 guests | 8 guests | 9 guests | 10 guests | 11 guests | 12 guests |
| Winter 2019 to 2020 | $10,500 | $11,000 | $11,500 | $12,000 | $12,500 | $0 | $0 | $0 | $0 | $0 | $0 |
| Summer 2020 | $10,500 | $11,000 | $11,500 | $12,000 | $12,500 | $0 | $0 | $0 | $0 | $0 | $0 |
| Winter 2020 to 2021 | $10,500 | $11,000 | $11,500 | $12,000 | $12,500 | $0 | $0 | $0 | $0 | $0 | $0 |
| Summer 2021 | $10,500 | $11,000 | $11,500 | $12,000 | $12,500 | $0 | $0 | $0 | $0 | $0 | $0 |