Ghost Yacht Charter Special: $20,360
Yacht Description
Ghost yacht is a 50.00 ft long sailboat catamaran and spends the summer and winter season in British Virgin Islands. It was built by FOUNTAINE PAJOT in 2019. The yacht layout features 4 cabins and accommodates 8 guests. The cabin arrangement is following: 4 queen cabins.
The sailboat features Main engines/2X Volvo Penta D2-75 Turbocharged diesels. Genset/13.5 Kw Onan Diesel engines and a generator.
Cabin Breakdown
Ghost Yacht Details
$21,860 - $24,860
Weekly price low-high season
2.5 US Gall/Hr
Consumption
Ghost Charter Price Details
| | | | | | | | | | | | |
| --- | --- | --- | --- | --- | --- | --- | --- | --- | --- | --- | --- |
| Season Name | 2 guests | 3 guests | 4 guests | 5 guests | 6 guests | 7 guests | 8 guests | 9 guests | 10 guests | 11 guests | 12 guests |
| Summer 2019 | $21,860 | $22,360 | $22,860 | $23,360 | $23,860 | $24,360 | $24,860 | $0 | $0 | $0 | $0 |
| Winter 2019 to 2020 | $21,860 | $22,360 | $22,860 | $23,360 | $23,860 | $24,360 | $24,860 | $0 | $0 | $0 | $0 |
| Summer 2020 | $21,860 | $22,360 | $22,860 | $23,360 | $23,860 | $24,360 | $24,860 | $0 | $0 | $0 | $0 |
| Winter 2020 to 2021 | $21,860 | $22,360 | $22,860 | $23,360 | $23,860 | $24,360 | $24,860 | $0 | $0 | $0 | $0 |
Price Terms
All Inclusive
Price Details
High season rate: $24,860
Current Special:
Early Booking Discount $1500 off charter rates for Summer and next Fall
Sail by: December 8th, 2020
Book by: July 1st, 2020

Minimum charter length: 4 night minimum.
FOR LESS THAN 7 NIGHT CHARTERS: For 6 nights, divide by 7N X 6N. For less than 6 nights, divide by 6N X number of nights.

7 nights over Christmas flat rate $27500 for 2-8 guests.
7 nights over New Year's $32500 for 2-8 guests.
New Year's charters must start December 27th or later. Please do not book both Christmas and New Year's rate in same week unless 10 days or more. No half board Christmas or New Year's week. Must be full board.

Embarkation 12 pm / Disembarkation 12 am

Half-board Rates: Includes 7 breakfast, 4 lunches, and 3 dinners (Or, 3 lunches and 4 dinners). Other meals ashore at client expense. Subtract $150 per person from weekly rate. Not available over Christmas/NYE.

The rates include:
Private Yacht & Service of the crew (captain, hostess/cook)
Insurance for the yacht and the passengers (civil liability)
Accommodation in 4 private air-conditioned double cabins with en suite bathroom
Bedding, towels and beach towels
Full board includes all meals served aboard (breakfast, lunch and dinner daily), full bar, and wine served nightly.
Consumables for the yacht (diesel, fuel and water), cruising taxes, mooring fees
Water sports on board: snorkeling gear, stand-up paddle board, kayak (2 seats), floats, tow able inflatable, sub wing shark, fishing gear and tackles.
Clearance, customs, moorings.

The rates do not include:
Cancellation Insurance and private insurance
Extra drinks, fine wines, champagne & spirits, special meals orders
Docking fees, and harbour fees.
Transfer airport – base – airport
Personal expenses


Tip. It is customary to tip your crew at the end of your charter. The amount you leave is totally at your discretion and should be based on the level of service provided. The suggested gratuity is 15-20% of the total charter fee.
And more generally all that is not specified as included
One ways / Relocation in Caribbean: please consult us.

Notes:
72 Hour turnaround needed from Staniel Cay to Nassau.

Please do not take a booking that will block a full week of a Christmas and NYE booking.
Please make sure to mention gratuity at the time of booking.


Amenities
Smoking:
On sugar scoops only
Specifications
Pref Pickup:
St. Thomas, USVI
Other Pickup:
Tortola, BVI
Turnaround:
24 hours, see specifics
BBQ: Yes
AC: Full
Generator: Yes
Internet: Onboard WIFI
Cruising Speed: 7 Knots
Max Speed: 10 Knots
More Specifications
Diving Yacht offers Rendezvous Diving only
Communication:
Audio/Video and communications – Ghost is fitted with custom A/V and communication equipment including Iridium Satellite communications and,
• PepWave / Rogue Pro Extended CELL/WiFi system – Once connected to Ghost's router, you have unlimited WiFi access including cellular data connectivity up to 18 miles offshore. This provides Internet continuous internet connectivity on most areas in the Bahamas.
• Satellite based TV – 500+ channels including HBO, Showtime, Cinemax and virtually all other premium cable and sports networks are available onboard.
• 3X 4K QLED TV's with huge 49" TVs located in the Saloon and Master stateroom each equipped with Apple TV provide personalized access to Ghosts stunning video system.
• A combination of Fusion and Sonos audio equipment provide music through Ghost, including access to your personal audio library. Personal Bluetooth speakers are provided in each cabin for your personal listening pleasure.
Air Compressor:
Not Onboard
Scuba On Board:
Yacht offers Rendezvous Diving only
Fishing
Fishing Gear Type:
3 Rods and Tackle
Green Initiatives
Other Green Efforts:
Our onboard water maker produces 40 gallons per hour providing virtually unlimited access to fresh water. Our drinking water system includes a 5 stage filtration including carbon block providing the very best drinking water and ice.
Water Sports
Dinghy Size:
Highfield CLT-380
Boarding Ladder:
Yes/Stern
Other Entertainment
Ghost's Galley:
No expense has been spared in providing guests aboard Ghost the finest culinary experience. Her commercial-grade galley equipment includes a 1000-degree pizza oven/searing station, Plancha, Solaire infra-red grill, sous vide, and bread maker (there's nothing like waking to the aromas of fresh baked bread.) Commercial espresso and coffee machines, full size dishwasher, pizza/searing oven, induction cook tops.

Crew
Crew Information
Captain
Chef/Mate
Captain Stephen Powell

Captain Stephen Powell grew up sailing in Newport Beach, California. "My brother and I would spend the entire summer sailing in Newport Harbor, like a modern version of Tom Sawyer and Huckleberry Finn. My entire family were lifeguards, sailors, scuba divers, pilots and general Bon Vivants", he said. After graduating from the University of Southern California, Stephen traveled down to South Africa, to race and deliver sailboats, where he earned his Yachtmaster Ocean certification. Capt. Stephen has sailed in all of the great oceans of the world and has logged in excess of 40,000 miles offshore, including 2 trans Atlantic and Indian Ocean crossings. He holds a USCG 50 ton Master license and is also a PADI Divemaster and a private pilot. In 2017 he purchased his very own 41' sloop in Palma de Mallorca, which he sailed across the Atlantic, through the Caribbean, and up the east coast of the USA. As a result of his extensive travels, Capt. Stephen speaks fluent Spanish and can generally get by in a couple other languages as well. He will keep you entertained with tales of the high seas and even teach you a few sailing knots if you so choose.

Born and raised in southern New Jersey just outside Philadelphia and Delaware. Elise has a strong Italian background with a love of food, family and travel. Her earliest memories start with cooking with her grandmother. They loved to cook authentic Italian dishes from scratch. Growing up in a large Italian family meant big Sunday dinners were a tradition in our household. This was the start of her love for cooking.

Elise studied Business and Economics in College while continuing traveling and exploring different culinary delights with every venture abroad. She soon moved to New York City to start a business career among the hustle and bustle of city life. She quickly found that her earlier love of travel, exploration of local cuisines, and sailing the blue green waters of the Mediterranean and Caribbean kept calling her away.

Before long, she had traveled 35 countries and all throughout the states with some destinations visited several times only to find an intense realization that her heart's desire was in sharing her sailing and culinary life experiences with others to create a memorable vacation adventure.
With years of knowledge acquired during her travels and with great passion, Elise creates healthy, deep flavored dishes and well-planned combinations prepared with the highest quality ingredients. My cooking style is healthy and pure with great flavor for the palate and prepared the traditional way but served with a modern twist for your enjoyment. Any diets and personal preferences are always welcomed.

Stephen and Elise look forward and welcome you to set sail with them aboard Ghost for a vacation of a lifetime.

Menu
Reviews:
Fantastic trip!
Fantastic trip with great friends and a great crew! Capt. Angie and Martin were fantastic and catered to our every need...including some rousing games!! We gained 15 lbs. and a greater love for the ocean. We will be back!
-Mike & Stephanie
Scottsdale, AZ
Trip of a Lifetime!
Words cannot describe what an amazing trip this was....activities....views, FOOD & crew were over the top great! Thank you for the trip of a lifetime.
-Gary & Jana
Glendale, AZ
Until next time...
To Captain Angie, Martin & The Ghost -
Our deepest thanks for making our week so special, from the moment we emarked, the service, fun and experiences were unparalled, and you managed to make an incredible week among close friends even better. Our trip would not have been the same with anohter crew. Until next time!
-Mark & Melissa
Perfect Vacation
This boat trip was the perfect vacation post grad and pre-moving to Manhattan. Angie and Martin were fabulous hosts and Martin's food was incredible. We loved our snorkel trips, sunset cocktails, and beach explorations. This was one of our best family trips thus far! Thank you!

-The Laughlin Family
Charlotte, NC
Top 10 for the week
The view from this boat is nearly as beautiful as the view of this boat...incredible! Angie and Martin have led us on a picture-perfect exploration of the Exumas, punctuated by their top notch service and genuine warmth. The top 10 for the week:
-The Grotto at Staniel Cay
-Warderick Wells...could have stayed 3 days
-Swimming with Turtles
-Swimming with sharks
-Drifting through the mangroves
-Chilling on the top deck
-Angie's sure hand at the helm
-Martin's expert cocktails and healthy cooking
-Angie's accent
-Martin's accent
-The pirate's Lair, JK
Thank you for putting up with us and our whims!
-The Laughlins
Charlotte, NC

Fantastic time!
To the Ghost Crew-
We have had a fantastic time snorkeling, hiking, and dining with ya'll. I've loved spending time with the nurse sharks and turtles. A truly beautiful place. Thank you Martin for the delicious food (very instagram worthy presentations, also) and yummy cocktails. Thank you Angie for indulging our curiosities and sharing the Exumas with us!

-Tracy
To the Ghost!
To the Ghost! Angie and Martin, thank you so much for your excellent service. I know I speak for all of us when I say this is a trip we will treasure for he rest of our lives. I am so incredibly grateful and fortunate to experience such a time. I wish you all the best on your future adventures and hope we see you again someday. Thank you, Chris DeGortano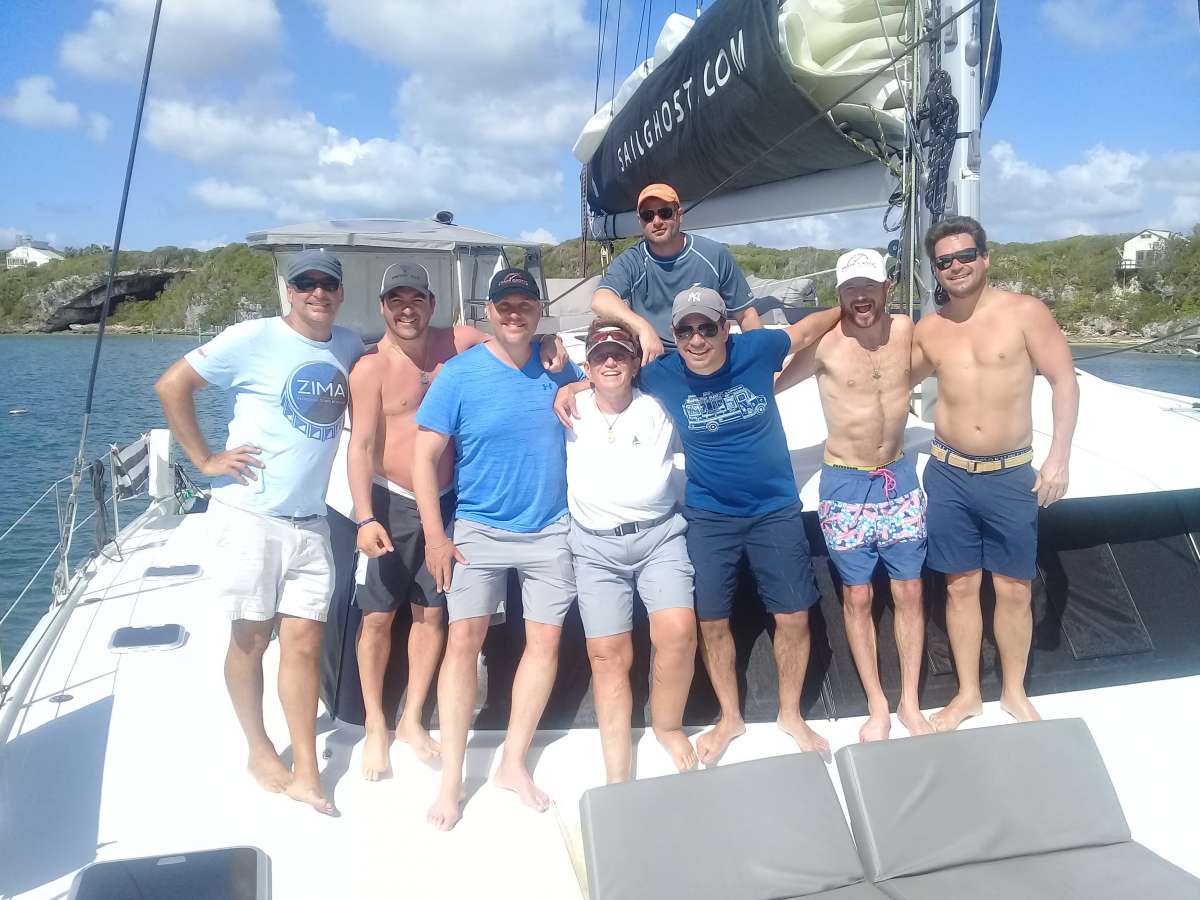 Gallery
6
6064
http://www.centralyachtagent.com/snapins/ebrochure-xml.php?idin=6064&uid=265&user=265
4
Cat
N
https://www.centralyachtagent.com/yachtadmin/yachtimg/yacht6064/6064brochure88.jpg
8
Caribbean Virgin Islands, Caribbean Leewards, Caribbean Windwards
Caribbean Virgin Islands
50.00
26.2
4.1

• iRocker Blackfin XL 2-person stand-up paddleboards (2X) (stable enough for water Yoga!)
• Kayak seats (4X) converting the SUPs into Kayaks
• Floating island – 12' X 9" CoolerZ floating island lounge equipped with canopy and inflatable pillows.
• ZUP board – Beginner to advanced, this board provides a thrilling ski-board experience.
• Fishing gear and tackle – Trolling and casting fishing gear
• Underwater lighting – Ghost is equipped with spectacular custom, one-of-a-kind 120,000 Lumen underwater lighting system.

Custom made Canopy and sun shades – Created in France specifically for Ghost, this shades transforms the forward cockpit into an incredible relaxation area (the perfect spot for sun-setters.) In addition to shelter from the sun, it creates a "wind-tunnel" affect providing a large temperature decrease; amplifying the comforting island breezes. In addition, Ghosts cockpit sun screens adjust to your preference creating a cool relaxing environment.

Ghost carries the lasted generation Thermacell Radius system protecting our guests from shore based mosquitos and no-see-ums. These units are portable and also available for use when dining outside ashore.

• Snorkeling gear – Top-of-the-line Cressi snorkel gear in all sizes (including children's)
a:34:{s:12:"salon_stereo";s:3:"Yes";s:8:"salon_tv";s:3:"Yes";s:6:"sat_tv";s:2:"No";s:17:"multimedia_system";s:3:"Yes";s:4:"nude";s:3:"Inq";s:5:"books";s:0:"";s:9:"crew_pets";s:2:"No";s:8:"pet_type";s:0:"";s:10:"guest_pets";s:2:"No";s:9:"camcorder";s:2:"No";s:14:"number_dine_in";s:0:"";s:11:"water_maker";s:3:"Yes";s:14:"water_capacity";s:0:"";s:9:"ice_maker";s:3:"Yes";s:14:"number_of_dvds";s:3:"Yes";s:13:"number_of_cds";s:3:"Yes";s:11:"board_games";s:3:"Yes";s:10:"sun_awning";s:3:"Yes";s:6:"bimini";s:3:"Yes";s:13:"special_diets";s:3:"Inq";s:6:"kosher";s:3:"Inq";s:3:"bbq";s:3:"Yes";s:12:"gay_charters";s:3:"Inq";s:10:"hairdryers";s:3:"Yes";s:22:"number_of_port_hatches";s:0:"";s:7:"smoking";s:20:"On sugar scoops only";s:11:"crew_smokes";s:3:"Inq";s:11:"children_ok";s:3:"Yes";s:17:"minimum_child_age";s:1:"6";s:9:"generator";s:3:"Yes";s:8:"inverter";s:3:"Yes";s:8:"voltages";s:9:"110V/60Hz";s:7:"hammock";s:0:"";s:10:"windscoops";s:2:"No";}
Full
Yes
Onboard WIFI
Yes
Main engines/2X Volvo Penta D2-75 Turbocharged diesels. Genset/13.5 Kw Onan Diesel
2019
FOUNTAINE PAJOT
USD
21860
21860
$24,860
Current Special: Early Booking Discount $1500 off charter rates for Summer and next Fall Sail by: December 8th, 2020 Book by: July 1st, 2020 Minimum charter length: 4 night minimum. FOR LESS THAN 7 NIGHT CHARTERS: For 6 nights, divide by 7N X 6N. For less than 6 nights, divide by 6N X number of nights. 7 nights over Christmas flat rate $27500 for 2-8 guests. 7 nights over New Year's $32500 for 2-8 guests. New Year's charters must start December 27th or later. Please do not book both Christmas and New Year's rate in same week unless 10 days or more. No half board Christmas or New Year's week. Must be full board. Embarkation 12 pm / Disembarkation 12 am Half-board Rates: Includes 7 breakfast, 4 lunches, and 3 dinners (Or, 3 lunches and 4 dinners). Other meals ashore at client expense. Subtract $150 per person from weekly rate. Not available over Christmas/NYE. The rates include: Private Yacht & Service of the crew (captain, hostess/cook) Insurance for the yacht and the passengers (civil liability) Accommodation in 4 private air-conditioned double cabins with en suite bathroom Bedding, towels and beach towels Full board includes all meals served aboard (breakfast, lunch and dinner daily), full bar, and wine served nightly. Consumables for the yacht (diesel, fuel and water), cruising taxes, mooring fees Water sports on board: snorkeling gear, stand-up paddle board, kayak (2 seats), floats, tow able inflatable, sub wing shark, fishing gear and tackles. Clearance, customs, moorings. The rates do not include: Cancellation Insurance and private insurance Extra drinks, fine wines, champagne & spirits, special meals orders Docking fees, and harbour fees. Transfer airport – base – airport Personal expenses Tip. It is customary to tip your crew at the end of your charter. The amount you leave is totally at your discretion and should be based on the level of service provided. The suggested gratuity is 15-20% of the total charter fee. And more generally all that is not specified as included One ways / Relocation in Caribbean: please consult us. Notes: 72 Hour turnaround needed from Staniel Cay to Nassau. Please do not take a booking that will block a full week of a Christmas and NYE booking. Please make sure to mention gratuity at the time of booking.


Captain Stephen Powell grew up sailing in Newport Beach, California. "My brother and I would spend the entire summer sailing in Newport Harbor, like a modern version of Tom Sawyer and Huckleberry Finn. My entire family were lifeguards, sailors, scuba divers, pilots and general Bon Vivants", he said. After graduating from the University of Southern California, Stephen traveled down to South Africa, to race and deliver sailboats, where he earned his Yachtmaster Ocean certification. Capt. Stephen has sailed in all of the great oceans of the world and has logged in excess of 40,000 miles offshore, including 2 trans Atlantic and Indian Ocean crossings. He holds a USCG 50 ton Master license and is also a PADI Divemaster and a private pilot. In 2017 he purchased his very own 41' sloop in Palma de Mallorca, which he sailed across the Atlantic, through the Caribbean, and up the east coast of the USA. As a result of his extensive travels, Capt. Stephen speaks fluent Spanish and can generally get by in a couple other languages as well. He will keep you entertained with tales of the high seas and even teach you a few sailing knots if you so choose.

Born and raised in southern New Jersey just outside Philadelphia and Delaware. Elise has a strong Italian background with a love of food, family and travel. Her earliest memories start with cooking with her grandmother. They loved to cook authentic Italian dishes from scratch. Growing up in a large Italian family meant big Sunday dinners were a tradition in our household. This was the start of her love for cooking.

Elise studied Business and Economics in College while continuing traveling and exploring different culinary delights with every venture abroad. She soon moved to New York City to start a business career among the hustle and bustle of city life. She quickly found that her earlier love of travel, exploration of local cuisines, and sailing the blue green waters of the Mediterranean and Caribbean kept calling her away.

Before long, she had traveled 35 countries and all throughout the states with some destinations visited several times only to find an intense realization that her heart's desire was in sharing her sailing and culinary life experiences with others to create a memorable vacation adventure.
With years of knowledge acquired during her travels and with great passion, Elise creates healthy, deep flavored dishes and well-planned combinations prepared with the highest quality ingredients. My cooking style is healthy and pure with great flavor for the palate and prepared the traditional way but served with a modern twist for your enjoyment. Any diets and personal preferences are always welcomed.

Stephen and Elise look forward and welcome you to set sail with them aboard Ghost for a vacation of a lifetime.
";s:5:"photo";s:0:"";s:4:"size";s:1:"2";s:12:"captain_name";s:14:"Stephen Powell";s:14:"captain_nation";s:8:"American";s:12:"captain_born";s:4:"1966";s:15:"captain_license";s:60:"USCG 50 Ton Master, STCW, Padi Divemaster, Private Pilot's L";s:18:"captain_yr_sailing";s:1:"0";s:21:"captain_yr_chartering";s:1:"0";s:17:"captain_languages";s:7:"English";s:9:"crew_name";s:14:"Elise Esposito";s:16:"crew_nationality";s:8:"American";s:12:"crew_license";s:20:"STCW, First Aid, CPR";s:15:"crew_yr_sailing";s:1:"0";s:18:"crew_yr_chartering";s:1:"0";s:7:"crewimg";a:4:{i:1;a:2:{s:3:"url";s:72:"https://www.centralyachtagent.com/yachtadmin/yachtlg/yacht6064/6064crew1";s:4:"desc";s:7:"Captain";}i:2;a:2:{s:3:"url";s:76:"https://www.centralyachtagent.com/yachtadmin/yachtlg/yacht6064/6064crew2.jpg";s:4:"desc";s:9:"Chef/Mate";}i:3;a:2:{s:3:"url";s:76:"https://www.centralyachtagent.com/yachtadmin/yachtlg/yacht6064/6064crew3.jpg";s:4:"desc";s:0:"";}i:4;a:2:{s:3:"url";s:76:"https://www.centralyachtagent.com/yachtadmin/yachtlg/yacht6064/6064crew4.jpg";s:4:"desc";s:0:"";}}}
a:16:{s:4:"info";s:2916:"Captain Stephen Powell
https://www.centralyachtagent.com/yachtadmin/yachtlg/yacht6064/6064brochure1.jpg
a:14:{i:2;a:2:{s:3:"url";s:80:"https://www.centralyachtagent.com/yachtadmin/yachtlg/yacht6064/6064brochure2.jpg";s:4:"desc";s:0:"";}i:3;a:2:{s:3:"url";s:80:"https://www.centralyachtagent.com/yachtadmin/yachtlg/yacht6064/6064brochure3.jpg";s:4:"desc";s:0:"";}i:4;a:2:{s:3:"url";s:80:"https://www.centralyachtagent.com/yachtadmin/yachtlg/yacht6064/6064brochure4.jpg";s:4:"desc";s:0:"";}i:5;a:2:{s:3:"url";s:80:"https://www.centralyachtagent.com/yachtadmin/yachtlg/yacht6064/6064brochure5.jpg";s:4:"desc";s:0:"";}i:6;a:2:{s:3:"url";s:80:"https://www.centralyachtagent.com/yachtadmin/yachtlg/yacht6064/6064brochure6.jpg";s:4:"desc";s:0:"";}i:7;a:2:{s:3:"url";s:80:"https://www.centralyachtagent.com/yachtadmin/yachtlg/yacht6064/6064brochure7.jpg";s:4:"desc";s:27:"Ghost Master Cabin and Bath";}i:8;a:2:{s:3:"url";s:80:"https://www.centralyachtagent.com/yachtadmin/yachtlg/yacht6064/6064brochure8.jpg";s:4:"desc";s:0:"";}i:9;a:2:{s:3:"url";s:80:"https://www.centralyachtagent.com/yachtadmin/yachtlg/yacht6064/6064brochure9.jpg";s:4:"desc";s:18:"Ghost Master Cabin";}i:10;a:2:{s:3:"url";s:81:"https://www.centralyachtagent.com/yachtadmin/yachtlg/yacht6064/6064brochure10.jpg";s:4:"desc";s:0:"";}i:11;a:2:{s:3:"url";s:81:"https://www.centralyachtagent.com/yachtadmin/yachtlg/yacht6064/6064brochure11.jpg";s:4:"desc";s:0:"";}i:12;a:2:{s:3:"url";s:81:"https://www.centralyachtagent.com/yachtadmin/yachtlg/yacht6064/6064brochure12.jpg";s:4:"desc";s:0:"";}i:13;a:2:{s:3:"url";s:81:"https://www.centralyachtagent.com/yachtadmin/yachtlg/yacht6064/6064brochure13.jpg";s:4:"desc";s:0:"";}i:14;a:2:{s:3:"url";s:81:"https://www.centralyachtagent.com/yachtadmin/yachtlg/yacht6064/6064brochure14.jpg";s:4:"desc";s:0:"";}i:15;a:2:{s:3:"url";s:81:"https://www.centralyachtagent.com/yachtadmin/yachtlg/yacht6064/6064brochure15.jpg";s:4:"desc";s:0:"";}}
<p><span style="text-decoration: underline;"><strong>Culinary and Libations</strong></span></p> <p><strong>Breakfast</strong></p> <p><span style="font-weight: 400;">Fresh juices, coffee and tea will be served every morning accompanied by granola, cereals and a local fruit platter with fresh baked breads and muffins.&nbsp;</span></p> <ul> <li><span style="font-weight: 400;">Pineapple Pancakes - </span>Enjoy the blend of tropical flavors with these fluffy pineapple pancakes and homemade coconut syrup.</li> <li>Vegetable Frittata - Eggs mixed with a variety of colorful vegetables and cheese. Baked to perfection and topped with fresh herbs.</li> <li>Create Your Own Omelet - A French Omelet made with your choice of vegetables, cheeses, spinach and saut&eacute;ed onions.</li> <li>Eggs Benedict With Jumbo Lump Crab - Toasted English muffin layered with a slice of Canadian bacon, poached egg and jumbo lump crab meat. Topped with a rich and creamy hollandaise sauce and vibrant fresh herbs.</li> <li>Perfectly Golden French Toast - Fluffy Brioche bread dipped in a vanilla and cinnamon mixture. Topped with powdered sugar, fresh berries and homemade syrup.</li> <li>Cast Iron Shakshuka - Poached Eggs in a spicy tomato sauce with fresh herbs and avocado.</li> <li>Classic American Breakfast - Eggs cooked to order with a side of bacon or sausage and classic crispy breakfast potatoes. Accompanied with a fruit and yogurt parfait.&nbsp;</li> </ul> <p>&nbsp;</p> <p><strong>Lunch</strong></p> <ul> <li><span style="font-weight: 400;">Crab Cakes - </span>Maryland style crab cakes with jumbo lump crab meat served over a bed of vegetables with a delicious horseradish sriracha remoulade.</li> <li>Spicy Shrimp Sushi Tower - Four layers starting with sushi rice. Then cucumbers and avocado, fresh mango salsa and spicy shrimp. Topped with black sesame seeds.</li> <li>Seafood Bouillabaisse - Lobster, mussels, clams and scallops in a flavorful broth thickened with healthy vegetables and served with toasted French bread.</li> <li>Seared Scallops - Scallops seared to perfection in an orange rum sauce overtop a sweet potato pur&eacute;e.&nbsp;</li> <li>Summer Peach Spinach Salad - Grilled peaches over a bed of spinach. Packed with creamy goat cheese, avocado and crunchy toasted almonds and then drizzled with a homemade balsamic vinaigrette.</li> <li>Shrimp Tacos - Spicy grilled jerk shrimp tacos with pineapple salsa. Topped with a creamy pina colada sauce.</li> <li>Baked Lemon Pepper Chicken - Baked chicken in a peppery creamy lemon sauce served over almond rice with fresh vegetables.&nbsp;</li> </ul> <p>&nbsp;</p> <p><strong>Appetizers</strong></p> <p><span style="font-weight: 400;">Served with refreshing Cocktails, Wine or Champagne.&nbsp;</span></p> <ul> <li><span style="font-weight: 400;">Charcuterie Board</span></li> <li>Sushi Assortment</li> <li>Mahi Mahi Ceviche</li> <li>Creamy Cucumber Gazpacho</li> <li>Melon, Prosciutto and Mozzarella Skewers topped with a Balsamic glaze</li> <li>Bacon Wrapped Grilled Peaches</li> <li>Teriyaki Salmon Bites</li> <li>Grilled Caprese toast with burrata cheese and grilled avocados</li> <li>Tuna Sashimi and avocado wonton cups</li> <li>Homemade Pumpkin and Ricotta Ravioli</li> </ul> <p>&nbsp;</p> <p><strong>Dinner&nbsp;</strong></p> <ul> <li><span style="font-weight: 400;">Steak Oscar - </span>Filet Mignon topped with Crab meat and a homemade Bearnaise sauce. Served with garlic mashed potatoes and grilled asparagus</li> <li>Parmesan Pesto Tilapia - Tilapia broiled to a cheesy golden perfection and topped with pesto and fresh chopped tomatoes. Served with a truffle risotto and vegetables.</li> <li>Lamb Kleftiko - Tender Lamb Shanks baked to perfection served over a potato puree with green beans and a red wine jelly sauce.</li> <li>Baked Wild Striped Sea Bass - Sea Bass with Braised Daikon Radish and Piquillo Peppers in a Butter Sauce</li> <li>Honey Garlic Salmon - Seared Salmon in a honey garlic sauce served with potato wedges and roasted red peppers</li> <li>Cabernet Braised Short Ribs - Short Ribs baked in a cabernet wine sauce. Served with mashed potatoes and roasted vegetables.</li> <li>Apricot Dijon Glazed White Fish - Local fresh caught fish baked in an apricot Dijon glaze with ginger and lime. Served over couscous rice and fresh greens.</li> </ul> <p>&nbsp;</p> <p><strong>Desserts&nbsp;</strong></p> <ul> <li><span style="font-weight: 400;">Poires Belle Helene - </span>Classic French dessert of poached pears dipped in chocolate sauce with a side of vanilla bean ice cream and toasted almonds.</li> <li>Chocolate Hazelnut Mousse - Light and fluffy hazelnut mousse topped with a homemade whipped cream and dusted with cocoa powder.</li> <li>Lemon Semifreddo - Refreshing lemon semifreddo served on top of a Italian sponge cake with whipped cream and lemon zest.</li> <li>Panna Cotta - Delicious Coconut Panna Cotta with Blackberry, Thyme and Sloe Gin Compote.</li> <li>Almond Joy Pie - Enjoy pure coconut heaven with this almond joy pie. Coconut filling inside an Oreo crust with whipped cream and chocolate sauce drizzle and flakes of coconut topping.</li> <li>Tiramisu - Authentic Italian Tiramisu. Elegant, rich layering of bold espresso and coco, creamy mascarpone cheese and ladyfinger cookies.</li> <li>Mango Mousse Cake - This tropical whipped mango mouse is layered with coconut sorbet and then topped with fresh diced mangoes and coconut flakes.</li> </ul> <p>&nbsp;</p> <p><span style="font-weight: 400;"><strong>Ships Bar</strong> <em>(or equivalents subject to island availability.) </em></span></p> <p><span style="font-weight: 400;">Soft drinks, sodas, water, beers &amp; well drinks are available all day for your enjoyment. </span></p> <ul> <li><span style="font-weight: 400;"> Ghost&rsquo;s galley is equipped with an Aarke carbonation system providing dozens of soda, sparkling beverage and craft mixer options while dramatically reducing plastic onboard. </span></li> <li><span style="font-weight: 400;"> Spirits include: Tito&rsquo;s Vodka, Bombay Sapphire Gin, Jack Daniels, Jose Quervo and Patron Tequilas, A variety of local Rums and an assortment of liqueurs. </span></li> <li><span style="font-weight: 400;"> Wines pairings (Chefs discretion) with each dinner. Custom wine orders available through the preference sheet process. </span></li> <li><span style="font-weight: 400;"> Beer is stocked per your request <em>(subject to availability in the Islands.)</em> Options include: Bud &amp; Bud Lite, Coors Lite, Corona, Michelob Ultra, Miller Lite, Caribe and Presidente / Presidente lite </span></li> </ul> <p><span style="font-weight: 400;">If your preferred premium wines and/or spirits are not included in the above please let us know and we will do our best to have them on board <em>(subject to island availability)</em> at additional cost. </span></p>
a:5:{i:1;a:1:{s:3:"url";s:76:"https://www.centralyachtagent.com/yachtadmin/yachtlg/yacht6064/6064menu1.jpg";}i:2;a:1:{s:3:"url";s:76:"https://www.centralyachtagent.com/yachtadmin/yachtlg/yacht6064/6064menu2.jpg";}i:3;a:1:{s:3:"url";s:76:"https://www.centralyachtagent.com/yachtadmin/yachtlg/yacht6064/6064menu3.jpg";}i:4;a:1:{s:3:"url";s:76:"https://www.centralyachtagent.com/yachtadmin/yachtlg/yacht6064/6064menu4.jpg";}i:5;a:1:{s:3:"url";s:76:"https://www.centralyachtagent.com/yachtadmin/yachtlg/yacht6064/6064menu5.jpg";}}
https://www.cyabrochure.com/ebn/265/pbaX/6064/1
https://www.cyabrochure.com/ebn/265/pbaX/6064/3
a:24:{s:4:"tube";s:3:"Yes";s:6:"guests";s:1:"8";s:8:"maxspeed";s:8:"10 Knots";s:11:"pref_pickup";s:16:"St. Thomas, USVI";s:12:"other_pickup";s:12:"Tortola, BVI";s:5:"draft";s:3:"4.1";s:14:"cruising_speed";s:7:"7 Knots";s:7:"helipad";s:2:"No";s:2:"ac";s:4:"Full";s:8:"ac_night";s:3:"Yes";s:5:"built";s:4:"2019";s:10:"turnaround";s:23:"24 hours, see specifics";s:6:"cabins";s:1:"4";s:4:"king";s:1:"0";s:5:"queen";s:1:"4";s:6:"double";s:1:"0";s:6:"single";s:1:"0";s:4:"twin";s:1:"0";s:7:"pullman";s:1:"0";s:7:"showers";s:1:"4";s:6:"basins";s:1:"0";s:5:"heads";s:1:"4";s:14:"electric_heads";s:1:"4";s:7:"jacuzzi";s:2:"No";}
a:7:{s:4:"flag";s:8:"American";s:8:"homeport";s:6:"Nassau";s:13:"resort_course";s:0:"";s:12:"yacht_permit";s:1:"1";s:13:"yacht_license";s:1:"1";s:9:"yacht_mca";s:1:"0";s:15:"yacht_insurance";s:0:"";}

No expense has been spared in providing guests aboard Ghost the finest culinary experience. Her commercial-grade galley equipment includes a 1000-degree pizza oven/searing station, Plancha, Solaire infra-red grill, sous vide, and bread maker (there's nothing like waking to the aromas of fresh baked bread.) Commercial espresso and coffee machines, full size dishwasher, pizza/searing oven, induction cook tops.

Ghost's Galley:
a:22:{s:11:"dinghy_size";s:18:"Highfield CLT-380 ";s:12:"kayaks_1_pax";s:2:"No";s:12:"kayaks_2_pax";s:1:"2";s:9:"dinghy_hp";s:11:"30HP E-TECH";s:13:"floating_mats";s:2:"No";s:10:"dinghy_pax";s:5:"7 Pax";s:13:"swim_platform";s:3:"Yes";s:16:"water_skis_adult";s:2:"No";s:15:"boarding_ladder";s:9:"Yes/Stern";s:15:"water_skis_kids";s:2:"No";s:14:"sailing_dinghy";s:0:"";s:8:"jet_skis";s:2:"No";s:11:"beach_games";s:2:"No";s:12:"wave_runners";s:2:"No";s:9:"kneeboard";s:3:"Yes";s:10:"windsurfer";s:2:"No";s:12:"snorkel_gear";s:2:"12";s:17:"underwater_camera";s:3:"Yes";s:7:"scurfer";s:2:"No";s:16:"underwater_video";s:3:"Yes";s:10:"wake_board";s:2:"No";s:11:"paddleboard";s:1:"2";}
0
4
0
0
0
0
Yes
Yes
110V/60Hz
Nassau
Greece
6064 Ghost Cat 50 N 50.00 Ft 15.00 m 26.2 4.1 Feet 8 4 0 4 0 0 0 0 No No Full St. Thomas, USVI Tortola, BVI 24 hours, see specifics 2019 FOUNTAINE PAJOT http://www.viewyacht.com/ghost https://www.cyabrochure.com/ebn/265/pbaX/6064/1 7 Knots 10 Knots &#36;24,860 &#36;21,860 21860 24860 USD &#36; Current Special: Early Booking Discount $1500 off charter rates for Summer and next Fall Sail by: December 8th, 2020 Book by: July 1st, 2020 Minimum charter length: 4 night minimum. FOR LESS THAN 7 NIGHT CHARTERS: For 6 nights, divide by 7N X 6N. For less than 6 nights, divide by 6N X number of nights. 7 nights over Christmas flat rate $27500 for 2-8 guests. 7 nights over New Year&rsquo;s $32500 for 2-8 guests. New Year&rsquo;s charters must start December 27th or later. Please do not book both Christmas and New Year&rsquo;s rate in same week unless 10 days or more. No half board Christmas or New Year&rsquo;s week. Must be full board. Embarkation 12 pm / Disembarkation 12 am Half-board Rates: Includes 7 breakfast, 4 lunches, and 3 dinners (Or, 3 lunches and 4 dinners). Other meals ashore at client expense. Subtract $150 per person from weekly rate. Not available over Christmas/NYE. The rates include: Private Yacht &amp; Service of the crew (captain, hostess/cook) Insurance for the yacht and the passengers (civil liability) Accommodation in 4 private air-conditioned double cabins with en suite bathroom Bedding, towels and beach towels Full board includes all meals served aboard (breakfast, lunch and dinner daily), full bar, and wine served nightly. Consumables for the yacht (diesel, fuel and water), cruising taxes, mooring fees Water sports on board: snorkeling gear, stand-up paddle board, kayak (2 seats), floats, tow able inflatable, sub wing shark, fishing gear and tackles. Clearance, customs, moorings. The rates do not include: Cancellation Insurance and private insurance Extra drinks, fine wines, champagne &amp; spirits, special meals orders Docking fees, and harbour fees. Transfer airport &ndash; base &ndash; airport Personal expenses Tip. It is customary to tip your crew at the end of your charter. The amount you leave is totally at your discretion and should be based on the level of service provided. The suggested gratuity is 15-20% of the total charter fee. And more generally all that is not specified as included One ways / Relocation in Caribbean: please consult us. Notes: 72 Hour turnaround needed from Staniel Cay to Nassau. Please do not take a booking that will block a full week of a Christmas and NYE booking. Please make sure to mention gratuity at the time of booking. All Inclusive Yes Yes Yes Yes Yes No Yes No Yes Yes Inq Inq Yes Inq Inq Yes On sugar scoops only No Yes 6 Yes Main engines/2X Volvo Penta D2-75 Turbocharged diesels. Genset/13.5 Kw Onan Diesel 2.5 Yes 110V/60Hz Yes Yes Highfield CLT-380 30HP E-TECH 7 Pax No No No No Yes 2 No 12 Yes No No No 2 No Yes Yes/Stern No Yes 3 Rods and Tackle 3 Yes Yes Yes Yes Our onboard water maker produces 40 gallons per hour providing virtually unlimited access to fresh water. Our drinking water system includes a 5 stage filtration including carbon block providing the very best drinking water and ice. Yacht offers Rendezvous Diving only - Not Onboard 0 0 0 0 0 0 0 0 https://www.centralyachtagent.com/yachtadmin/yachtimg/yacht6064/6064brochure1.jpg https://www.centralyachtagent.com/yachtadmin/yachtimg/yacht6064/6064brochure2.jpg https://www.centralyachtagent.com/yachtadmin/yachtimg/yacht6064/6064brochure3.jpg https://www.centralyachtagent.com/yachtadmin/yachtimg/yacht6064/6064brochure4.jpg https://www.centralyachtagent.com/yachtadmin/yachtimg/yacht6064/6064brochure5.jpg https://www.centralyachtagent.com/yachtadmin/yachtimg/yacht6064/6064brochure6.jpg https://www.centralyachtagent.com/yachtadmin/yachtimg/yacht6064/6064brochure7.jpg Ghost Master Cabin and Bath https://www.centralyachtagent.com/yachtadmin/yachtimg/yacht6064/6064brochure8.jpg https://www.centralyachtagent.com/yachtadmin/yachtimg/yacht6064/6064brochure9.jpg Ghost Master Cabin https://www.centralyachtagent.com/yachtadmin/yachtimg/yacht6064/6064brochure10.jpg https://www.centralyachtagent.com/yachtadmin/yachtimg/yacht6064/6064brochure11.jpg https://www.centralyachtagent.com/yachtadmin/yachtimg/yacht6064/6064brochure12.jpg https://www.centralyachtagent.com/yachtadmin/yachtimg/yacht6064/6064brochure13.jpg https://www.centralyachtagent.com/yachtadmin/yachtimg/yacht6064/6064brochure14.jpg https://www.centralyachtagent.com/yachtadmin/yachtimg/yacht6064/6064brochure15.jpg https://www.centralyachtagent.com/yachtadmin/yachtimg/yacht6064/6064brochure88.jpg https://www.cyabrochure.com/ebn/265/pbaX/6064/3 https://www.cyabrochure.com/ebn/265/pbaX/6064/4 &bull; Snorkeling gear &ndash; Top-of-the-line Cressi snorkel gear in all sizes (including children&rsquo;s) <br /> &bull; iRocker Blackfin XL 2-person stand-up paddleboards (2X) (stable enough for water Yoga!) <br /> &bull; Kayak seats (4X) converting the SUPs into Kayaks <br /> &bull; Floating island &ndash; 12&rsquo; X 9&rdquo; CoolerZ floating island lounge equipped with canopy and inflatable pillows. <br /> &bull; ZUP board &ndash; Beginner to advanced, this board provides a thrilling ski-board experience. <br /> &bull; Fishing gear and tackle &ndash; Trolling and casting fishing gear <br /> &bull; Underwater lighting &ndash; Ghost is equipped with spectacular custom, one-of-a-kind 120,000 Lumen underwater lighting system. <br /> <br /> Custom made Canopy and sun shades &ndash; Created in France specifically for Ghost, this shades transforms the forward cockpit into an incredible relaxation area (the perfect spot for sun-setters.) In addition to shelter from the sun, it creates a &ldquo;wind-tunnel&rdquo; affect providing a large temperature decrease; amplifying the comforting island breezes. In addition, Ghosts cockpit sun screens adjust to your preference creating a cool relaxing environment.<br /> <br /> Ghost carries the lasted generation Thermacell Radius system protecting our guests from shore based mosquitos and no-see-ums. These units are portable and also available for use when dining outside ashore. <br /> Ghost&rsquo;s Galley:<br /> No expense has been spared in providing guests aboard Ghost the finest culinary experience. Her commercial-grade galley equipment includes a 1000-degree pizza oven/searing station, Plancha, Solaire infra-red grill, sous vide, and bread maker (there&rsquo;s nothing like waking to the aromas of fresh baked bread.) Commercial espresso and coffee machines, full size dishwasher, pizza/searing oven, induction cook tops. <br /> Audio/Video and communications &ndash; Ghost is fitted with custom A/V and communication equipment including Iridium Satellite communications and, <br /> &bull; PepWave / Rogue Pro Extended CELL/WiFi system &ndash; Once connected to Ghost&rsquo;s router, you have unlimited WiFi access including cellular data connectivity up to 18 miles offshore. This provides Internet continuous internet connectivity on most areas in the Bahamas. <br /> &bull; Satellite based TV &ndash; 500+ channels including HBO, Showtime, Cinemax and virtually all other premium cable and sports networks are available onboard. <br /> &bull; 3X 4K QLED TV&rsquo;s with huge 49&rdquo; TVs located in the Saloon and Master stateroom each equipped with Apple TV provide personalized access to Ghosts stunning video system. <br /> &bull; A combination of Fusion and Sonos audio equipment provide music through Ghost, including access to your personal audio library. Personal Bluetooth speakers are provided in each cabin for your personal listening pleasure. <br /> Caribbean Virgin Islands, Caribbean Leewards, Caribbean Windwards Caribbean Virgin Islands 4 0 4 4 https://www.centralyachtagent.com/yachtadmin/yachtlg/yacht6064/6064brochure1.jpg https://www.centralyachtagent.com/yachtadmin/yachtlg/yacht6064/6064brochure2.jpg https://www.centralyachtagent.com/yachtadmin/yachtlg/yacht6064/6064brochure3.jpg https://www.centralyachtagent.com/yachtadmin/yachtlg/yacht6064/6064brochure4.jpg https://www.centralyachtagent.com/yachtadmin/yachtlg/yacht6064/6064brochure5.jpg https://www.centralyachtagent.com/yachtadmin/yachtlg/yacht6064/6064brochure6.jpg https://www.centralyachtagent.com/yachtadmin/yachtlg/yacht6064/6064brochure7.jpg https://www.centralyachtagent.com/yachtadmin/yachtlg/yacht6064/6064brochure8.jpg https://www.centralyachtagent.com/yachtadmin/yachtlg/yacht6064/6064brochure9.jpg https://www.centralyachtagent.com/yachtadmin/yachtlg/yacht6064/6064brochure10.jpg https://www.centralyachtagent.com/yachtadmin/yachtlg/yacht6064/6064brochure11.jpg https://www.centralyachtagent.com/yachtadmin/yachtlg/yacht6064/6064brochure12.jpg https://www.centralyachtagent.com/yachtadmin/yachtlg/yacht6064/6064brochure13.jpg https://www.centralyachtagent.com/yachtadmin/yachtlg/yacht6064/6064brochure14.jpg https://www.centralyachtagent.com/yachtadmin/yachtlg/yacht6064/6064brochure15.jpg &lt;p&gt;&lt;span style="text-decoration: underline;"&gt;&lt;strong&gt;Culinary and Libations&lt;/strong&gt;&lt;/span&gt;&lt;/p&gt; &lt;p&gt;&lt;strong&gt;Breakfast&lt;/strong&gt;&lt;/p&gt; &lt;p&gt;&lt;span style="font-weight: 400;"&gt;Fresh juices, coffee and tea will be served every morning accompanied by granola, cereals and a local fruit platter with fresh baked breads and muffins.&amp;nbsp;&lt;/span&gt;&lt;/p&gt; &lt;ul&gt; &lt;li&gt;&lt;span style="font-weight: 400;"&gt;Pineapple Pancakes - &lt;/span&gt;Enjoy the blend of tropical flavors with these fluffy pineapple pancakes and homemade coconut syrup.&lt;/li&gt; &lt;li&gt;Vegetable Frittata - Eggs mixed with a variety of colorful vegetables and cheese. Baked to perfection and topped with fresh herbs.&lt;/li&gt; &lt;li&gt;Create Your Own Omelet - A French Omelet made with your choice of vegetables, cheeses, spinach and saut&amp;eacute;ed onions.&lt;/li&gt; &lt;li&gt;Eggs Benedict With Jumbo Lump Crab - Toasted English muffin layered with a slice of Canadian bacon, poached egg and jumbo lump crab meat. Topped with a rich and creamy hollandaise sauce and vibrant fresh herbs.&lt;/li&gt; &lt;li&gt;Perfectly Golden French Toast - Fluffy Brioche bread dipped in a vanilla and cinnamon mixture. Topped with powdered sugar, fresh berries and homemade syrup.&lt;/li&gt; &lt;li&gt;Cast Iron Shakshuka - Poached Eggs in a spicy tomato sauce with fresh herbs and avocado.&lt;/li&gt; &lt;li&gt;Classic American Breakfast - Eggs cooked to order with a side of bacon or sausage and classic crispy breakfast potatoes. Accompanied with a fruit and yogurt parfait.&amp;nbsp;&lt;/li&gt; &lt;/ul&gt; &lt;p&gt;&amp;nbsp;&lt;/p&gt; &lt;p&gt;&lt;strong&gt;Lunch&lt;/strong&gt;&lt;/p&gt; &lt;ul&gt; &lt;li&gt;&lt;span style="font-weight: 400;"&gt;Crab Cakes - &lt;/span&gt;Maryland style crab cakes with jumbo lump crab meat served over a bed of vegetables with a delicious horseradish sriracha remoulade.&lt;/li&gt; &lt;li&gt;Spicy Shrimp Sushi Tower - Four layers starting with sushi rice. Then cucumbers and avocado, fresh mango salsa and spicy shrimp. Topped with black sesame seeds.&lt;/li&gt; &lt;li&gt;Seafood Bouillabaisse - Lobster, mussels, clams and scallops in a flavorful broth thickened with healthy vegetables and served with toasted French bread.&lt;/li&gt; &lt;li&gt;Seared Scallops - Scallops seared to perfection in an orange rum sauce overtop a sweet potato pur&amp;eacute;e.&amp;nbsp;&lt;/li&gt; &lt;li&gt;Summer Peach Spinach Salad - Grilled peaches over a bed of spinach. Packed with creamy goat cheese, avocado and crunchy toasted almonds and then drizzled with a homemade balsamic vinaigrette.&lt;/li&gt; &lt;li&gt;Shrimp Tacos - Spicy grilled jerk shrimp tacos with pineapple salsa. Topped with a creamy pina colada sauce.&lt;/li&gt; &lt;li&gt;Baked Lemon Pepper Chicken - Baked chicken in a peppery creamy lemon sauce served over almond rice with fresh vegetables.&amp;nbsp;&lt;/li&gt; &lt;/ul&gt; &lt;p&gt;&amp;nbsp;&lt;/p&gt; &lt;p&gt;&lt;strong&gt;Appetizers&lt;/strong&gt;&lt;/p&gt; &lt;p&gt;&lt;span style="font-weight: 400;"&gt;Served with refreshing Cocktails, Wine or Champagne.&amp;nbsp;&lt;/span&gt;&lt;/p&gt; &lt;ul&gt; &lt;li&gt;&lt;span style="font-weight: 400;"&gt;Charcuterie Board&lt;/span&gt;&lt;/li&gt; &lt;li&gt;Sushi Assortment&lt;/li&gt; &lt;li&gt;Mahi Mahi Ceviche&lt;/li&gt; &lt;li&gt;Creamy Cucumber Gazpacho&lt;/li&gt; &lt;li&gt;Melon, Prosciutto and Mozzarella Skewers topped with a Balsamic glaze&lt;/li&gt; &lt;li&gt;Bacon Wrapped Grilled Peaches&lt;/li&gt; &lt;li&gt;Teriyaki Salmon Bites&lt;/li&gt; &lt;li&gt;Grilled Caprese toast with burrata cheese and grilled avocados&lt;/li&gt; &lt;li&gt;Tuna Sashimi and avocado wonton cups&lt;/li&gt; &lt;li&gt;Homemade Pumpkin and Ricotta Ravioli&lt;/li&gt; &lt;/ul&gt; &lt;p&gt;&amp;nbsp;&lt;/p&gt; &lt;p&gt;&lt;strong&gt;Dinner&amp;nbsp;&lt;/strong&gt;&lt;/p&gt; &lt;ul&gt; &lt;li&gt;&lt;span style="font-weight: 400;"&gt;Steak Oscar - &lt;/span&gt;Filet Mignon topped with Crab meat and a homemade Bearnaise sauce. Served with garlic mashed potatoes and grilled asparagus&lt;/li&gt; &lt;li&gt;Parmesan Pesto Tilapia - Tilapia broiled to a cheesy golden perfection and topped with pesto and fresh chopped tomatoes. Served with a truffle risotto and vegetables.&lt;/li&gt; &lt;li&gt;Lamb Kleftiko - Tender Lamb Shanks baked to perfection served over a potato puree with green beans and a red wine jelly sauce.&lt;/li&gt; &lt;li&gt;Baked Wild Striped Sea Bass - Sea Bass with Braised Daikon Radish and Piquillo Peppers in a Butter Sauce&lt;/li&gt; &lt;li&gt;Honey Garlic Salmon - Seared Salmon in a honey garlic sauce served with potato wedges and roasted red peppers&lt;/li&gt; &lt;li&gt;Cabernet Braised Short Ribs - Short Ribs baked in a cabernet wine sauce. Served with mashed potatoes and roasted vegetables.&lt;/li&gt; &lt;li&gt;Apricot Dijon Glazed White Fish - Local fresh caught fish baked in an apricot Dijon glaze with ginger and lime. Served over couscous rice and fresh greens.&lt;/li&gt; &lt;/ul&gt; &lt;p&gt;&amp;nbsp;&lt;/p&gt; &lt;p&gt;&lt;strong&gt;Desserts&amp;nbsp;&lt;/strong&gt;&lt;/p&gt; &lt;ul&gt; &lt;li&gt;&lt;span style="font-weight: 400;"&gt;Poires Belle Helene - &lt;/span&gt;Classic French dessert of poached pears dipped in chocolate sauce with a side of vanilla bean ice cream and toasted almonds.&lt;/li&gt; &lt;li&gt;Chocolate Hazelnut Mousse - Light and fluffy hazelnut mousse topped with a homemade whipped cream and dusted with cocoa powder.&lt;/li&gt; &lt;li&gt;Lemon Semifreddo - Refreshing lemon semifreddo served on top of a Italian sponge cake with whipped cream and lemon zest.&lt;/li&gt; &lt;li&gt;Panna Cotta - Delicious Coconut Panna Cotta with Blackberry, Thyme and Sloe Gin Compote.&lt;/li&gt; &lt;li&gt;Almond Joy Pie - Enjoy pure coconut heaven with this almond joy pie. Coconut filling inside an Oreo crust with whipped cream and chocolate sauce drizzle and flakes of coconut topping.&lt;/li&gt; &lt;li&gt;Tiramisu - Authentic Italian Tiramisu. Elegant, rich layering of bold espresso and coco, creamy mascarpone cheese and ladyfinger cookies.&lt;/li&gt; &lt;li&gt;Mango Mousse Cake - This tropical whipped mango mouse is layered with coconut sorbet and then topped with fresh diced mangoes and coconut flakes.&lt;/li&gt; &lt;/ul&gt; &lt;p&gt;&amp;nbsp;&lt;/p&gt; &lt;p&gt;&lt;span style="font-weight: 400;"&gt;&lt;strong&gt;Ships Bar&lt;/strong&gt; &lt;em&gt;(or equivalents subject to island availability.) &lt;/em&gt;&lt;/span&gt;&lt;/p&gt; &lt;p&gt;&lt;span style="font-weight: 400;"&gt;Soft drinks, sodas, water, beers &amp;amp; well drinks are available all day for your enjoyment. &lt;/span&gt;&lt;/p&gt; &lt;ul&gt; &lt;li&gt;&lt;span style="font-weight: 400;"&gt; Ghost&amp;rsquo;s galley is equipped with an Aarke carbonation system providing dozens of soda, sparkling beverage and craft mixer options while dramatically reducing plastic onboard. &lt;/span&gt;&lt;/li&gt; &lt;li&gt;&lt;span style="font-weight: 400;"&gt; Spirits include: Tito&amp;rsquo;s Vodka, Bombay Sapphire Gin, Jack Daniels, Jose Quervo and Patron Tequilas, A variety of local Rums and an assortment of liqueurs. &lt;/span&gt;&lt;/li&gt; &lt;li&gt;&lt;span style="font-weight: 400;"&gt; Wines pairings (Chefs discretion) with each dinner. Custom wine orders available through the preference sheet process. &lt;/span&gt;&lt;/li&gt; &lt;li&gt;&lt;span style="font-weight: 400;"&gt; Beer is stocked per your request &lt;em&gt;(subject to availability in the Islands.)&lt;/em&gt; Options include: Bud &amp;amp; Bud Lite, Coors Lite, Corona, Michelob Ultra, Miller Lite, Caribe and Presidente / Presidente lite &lt;/span&gt;&lt;/li&gt; &lt;/ul&gt; &lt;p&gt;&lt;span style="font-weight: 400;"&gt;If your preferred premium wines and/or spirits are not included in the above please let us know and we will do our best to have them on board &lt;em&gt;(subject to island availability)&lt;/em&gt; at additional cost. &lt;/span&gt;&lt;/p&gt; https://www.centralyachtagent.com/yachtadmin/yachtlg/yacht6064/6064menu1.jpg https://www.centralyachtagent.com/yachtadmin/yachtlg/yacht6064/6064menu2.jpg https://www.centralyachtagent.com/yachtadmin/yachtlg/yacht6064/6064menu3.jpg https://www.centralyachtagent.com/yachtadmin/yachtlg/yacht6064/6064menu4.jpg https://www.centralyachtagent.com/yachtadmin/yachtlg/yacht6064/6064menu5.jpg 2 Inq No Stephen Powell American 1966 USCG 50 Ton Master, STCW, Padi Divemaster, Private Pilot's L 0 0 English Elise Esposito American STCW, First Aid, CPR 0 0 Captain Stephen Powell <br /> <br /> Captain Stephen Powell grew up sailing in Newport Beach, California. "My brother and I would spend the entire summer sailing in Newport Harbor, like a modern version of Tom Sawyer and Huckleberry Finn. My entire family were lifeguards, sailors, scuba divers, pilots and general Bon Vivants", he said. After graduating from the University of Southern California, Stephen traveled down to South Africa, to race and deliver sailboats, where he earned his Yachtmaster Ocean certification. Capt. Stephen has sailed in all of the great oceans of the world and has logged in excess of 40,000 miles offshore, including 2 trans Atlantic and Indian Ocean crossings. He holds a USCG 50 ton Master license and is also a PADI Divemaster and a private pilot. In 2017 he purchased his very own 41' sloop in Palma de Mallorca, which he sailed across the Atlantic, through the Caribbean, and up the east coast of the USA. As a result of his extensive travels, Capt. Stephen speaks fluent Spanish and can generally get by in a couple other languages as well. He will keep you entertained with tales of the high seas and even teach you a few sailing knots if you so choose. <br /> <br /> Born and raised in southern New Jersey just outside Philadelphia and Delaware. Elise has a strong Italian background with a love of food, family and travel. Her earliest memories start with cooking with her grandmother. They loved to cook authentic Italian dishes from scratch. Growing up in a large Italian family meant big Sunday dinners were a tradition in our household. This was the start of her love for cooking.<br /> <br /> Elise studied Business and Economics in College while continuing traveling and exploring different culinary delights with every venture abroad. She soon moved to New York City to start a business career among the hustle and bustle of city life. She quickly found that her earlier love of travel, exploration of local cuisines, and sailing the blue green waters of the Mediterranean and Caribbean kept calling her away.<br /> <br /> Before long, she had traveled 35 countries and all throughout the states with some destinations visited several times only to find an intense realization that her heart&rsquo;s desire was in sharing her sailing and culinary life experiences with others to create a memorable vacation adventure.<br /> With years of knowledge acquired during her travels and with great passion, Elise creates healthy, deep flavored dishes and well-planned combinations prepared with the highest quality ingredients. My cooking style is healthy and pure with great flavor for the palate and prepared the traditional way but served with a modern twist for your enjoyment. Any diets and personal preferences are always welcomed.<br /> <br /> Stephen and Elise look forward and welcome you to set sail with them aboard Ghost for a vacation of a lifetime.<br /> https://www.centralyachtagent.com/yachtadmin/yachtlg/yacht6064/6064crew1 https://www.centralyachtagent.com/yachtadmin/yachtlg/yacht6064/6064crew2.jpg https://www.centralyachtagent.com/yachtadmin/yachtlg/yacht6064/6064crew3.jpg https://www.centralyachtagent.com/yachtadmin/yachtlg/yacht6064/6064crew4.jpg Stephen Powell Elise Esposito Captain Chef/Mate American Nassau St. Thomas Yes 0 Virgin Islands based November '19 - June 2, 2020. Bahamas based and available for charter September 1st, 2020 to October 15th, 2020 Virgin Islands based Fall/Winter 2020-2021 CT Current Special: Early Booking Discount $1500 off charter rates for Summer and next Fall Sail by: December 8th, 2020 Book by: July 1st, 2020 Minimum charter length: 4 night minimum. FOR LESS THAN 7 NIGHT CHARTERS: For 6 nights, divide by 7N X 6N. For less than 6 nights, divide by 6N X number of nights. 7 nights over Christmas flat rate $27500 for 2-8 guests. 7 nights over New Year&rsquo;s $32500 for 2-8 guests. New Year&rsquo;s charters must start December 27th or later. Please do not book both Christmas and New Year&rsquo;s rate in same week unless 10 days or more. No half board Christmas or New Year&rsquo;s week. Must be full board. Embarkation 12 pm / Disembarkation 12 am Half-board Rates: Includes 7 breakfast, 4 lunches, and 3 dinners (Or, 3 lunches and 4 dinners). Other meals ashore at client expense. Subtract $150 per person from weekly rate. Not available over Christmas/NYE. The rates include: Private Yacht &amp; Service of the crew (captain, hostess/cook) Insurance for the yacht and the passengers (civil liability) Accommodation in 4 private air-conditioned double cabins with en suite bathroom Bedding, towels and beach towels Full board includes all meals served aboard (breakfast, lunch and dinner daily), full bar, and wine served nightly. Consumables for the yacht (diesel, fuel and water), cruising taxes, mooring fees Water sports on board: snorkeling gear, stand-up paddle board, kayak (2 seats), floats, tow able inflatable, sub wing shark, fishing gear and tackles. Clearance, customs, moorings. The rates do not include: Cancellation Insurance and private insurance Extra drinks, fine wines, champagne &amp; spirits, special meals orders Docking fees, and harbour fees. Transfer airport &ndash; base &ndash; airport Personal expenses Tip. It is customary to tip your crew at the end of your charter. The amount you leave is totally at your discretion and should be based on the level of service provided. The suggested gratuity is 15-20% of the total charter fee. And more generally all that is not specified as included One ways / Relocation in Caribbean: please consult us. Notes: 72 Hour turnaround needed from Staniel Cay to Nassau. Please do not take a booking that will block a full week of a Christmas and NYE booking. Please make sure to mention gratuity at the time of booking. US Gall/Hr 1 1 0 No No Yes Yes Yes Onboard WIFI Calmseasquest LLC USA St. Thomas, USVI 1292427 [email protected] Dream Yacht Charter 857-330-4330 866-469-0912 [email protected]
370
a:61:{s:10:"06-02-2020";i:1;s:10:"06-03-2020";i:2;s:10:"06-04-2020";i:2;s:10:"06-05-2020";i:2;s:10:"06-06-2020";i:2;s:10:"06-07-2020";i:3;s:10:"06-08-2020";i:2;s:10:"06-09-2020";i:2;s:10:"06-10-2020";i:2;s:10:"06-11-2020";i:2;s:10:"06-12-2020";i:3;s:10:"06-13-2020";i:1;s:10:"06-14-2020";i:1;s:10:"06-19-2020";i:1;s:10:"06-20-2020";i:2;s:10:"06-21-2020";i:3;s:10:"06-22-2020";i:1;s:10:"06-23-2020";i:1;s:10:"06-24-2020";i:2;s:10:"06-25-2020";i:2;s:10:"06-26-2020";i:3;s:10:"06-27-2020";i:2;s:10:"06-28-2020";i:2;s:10:"06-29-2020";i:2;s:10:"06-30-2020";i:1;s:10:"07-01-2020";i:2;s:10:"07-02-2020";i:2;s:10:"07-03-2020";i:2;s:10:"07-04-2020";i:2;s:10:"07-06-2020";i:2;s:10:"07-07-2020";i:2;s:10:"07-08-2020";i:3;s:10:"07-09-2020";i:2;s:10:"07-10-2020";i:2;s:10:"07-11-2020";i:2;s:10:"07-12-2020";i:2;s:10:"07-13-2020";i:1;s:10:"07-14-2020";i:2;s:10:"07-15-2020";i:2;s:10:"07-16-2020";i:2;s:10:"07-17-2020";i:2;s:10:"07-18-2020";i:2;s:10:"07-20-2020";i:1;s:10:"07-23-2020";i:1;s:10:"07-24-2020";i:2;s:10:"07-25-2020";i:2;s:10:"07-26-2020";i:3;s:10:"07-27-2020";i:2;s:10:"07-28-2020";i:2;s:10:"07-29-2020";i:2;s:10:"07-30-2020";i:3;s:10:"07-31-2020";i:2;s:10:"08-01-2020";i:2;s:10:"08-02-2020";i:2;s:10:"08-03-2020";i:3;s:10:"08-04-2020";i:2;s:10:"08-05-2020";i:2;s:10:"08-06-2020";i:2;s:10:"08-09-2020";i:2;s:10:"08-10-2020";i:1;s:10:"08-11-2020";i:1;}
2.5
7 Knots
10 Knots
Virgin Islands based November '19 - June 2, 2020. Bahamas based and available for charter September 1st, 2020 to October 15th, 2020 Virgin Islands based Fall/Winter 2020-2021
No
Yes
15.00 m
2.5
US Gall/Hr
Current Special: Early Booking Discount $1500 off charter rates for Summer and next Fall Sail by: December 8th, 2020 Book by: July 1st, 2020 Minimum charter length: 4 night minimum. FOR LESS THAN 7 NIGHT CHARTERS: For 6 nights, divide by 7N X 6N. For less than 6 nights, divide by 6N X number of nights. 7 nights over Christmas flat rate $27500 for 2-8 guests. 7 nights over New Year's $32500 for 2-8 guests. New Year's charters must start December 27th or later. Please do not book both Christmas and New Year's rate in same week unless 10 days or more. No half board Christmas or New Year's week. Must be full board. Embarkation 12 pm / Disembarkation 12 am Half-board Rates: Includes 7 breakfast, 4 lunches, and 3 dinners (Or, 3 lunches and 4 dinners). Other meals ashore at client expense. Subtract $150 per person from weekly rate. Not available over Christmas/NYE. The rates include: Private Yacht & Service of the crew (captain, hostess/cook) Insurance for the yacht and the passengers (civil liability) Accommodation in 4 private air-conditioned double cabins with en suite bathroom Bedding, towels and beach towels Full board includes all meals served aboard (breakfast, lunch and dinner daily), full bar, and wine served nightly. Consumables for the yacht (diesel, fuel and water), cruising taxes, mooring fees Water sports on board: snorkeling gear, stand-up paddle board, kayak (2 seats), floats, tow able inflatable, sub wing shark, fishing gear and tackles. Clearance, customs, moorings. The rates do not include: Cancellation Insurance and private insurance Extra drinks, fine wines, champagne & spirits, special meals orders Docking fees, and harbour fees. Transfer airport – base – airport Personal expenses Tip. It is customary to tip your crew at the end of your charter. The amount you leave is totally at your discretion and should be based on the level of service provided. The suggested gratuity is 15-20% of the total charter fee. And more generally all that is not specified as included One ways / Relocation in Caribbean: please consult us. Notes: 72 Hour turnaround needed from Staniel Cay to Nassau. Please do not take a booking that will block a full week of a Christmas and NYE booking. Please make sure to mention gratuity at the time of booking.
All Inclusive
https://www.cyabrochure.com/ebn/265/pbaX/6064/4
a:3:{s:16:"green_initiative";s:3:"Yes";s:16:"reusable_bottles";s:3:"Yes";s:19:"other_green_efforts";s:233:"Our onboard water maker produces 40 gallons per hour providing virtually unlimited access to fresh water. Our drinking water system includes a 5 stage filtration including carbon block providing the very best drinking water and ice. ";}

• PepWave / Rogue Pro Extended CELL/WiFi system – Once connected to Ghost's router, you have unlimited WiFi access including cellular data connectivity up to 18 miles offshore. This provides Internet continuous internet connectivity on most areas in the Bahamas.
• Satellite based TV – 500+ channels including HBO, Showtime, Cinemax and virtually all other premium cable and sports networks are available onboard.
• 3X 4K QLED TV's with huge 49" TVs located in the Saloon and Master stateroom each equipped with Apple TV provide personalized access to Ghosts stunning video system.
• A combination of Fusion and Sonos audio equipment provide music through Ghost, including access to your personal audio library. Personal Bluetooth speakers are provided in each cabin for your personal listening pleasure.
";s:11:"full_course";s:0:"";s:14:"air_compressor";s:11:"Not Onboard";s:3:"bcs";s:1:"0";s:11:"weight_sets";s:1:"0";s:16:"number_of_divers";s:1:"0";s:20:"registrations_number";s:1:"0";s:11:"dive_lights";s:1:"0";s:10:"dive_costs";s:0:"";s:14:"scuba_on_board";s:35:"Yacht offers Rendezvous Diving only";}
a:15:{s:5:"tanks";s:1:"0";s:9:"wet_suits";s:1:"0";s:15:"number_of_dives";s:0:"";s:11:"night_dives";s:1:"0";s:9:"dive_info";s:0:"";s:13:"communication";s:1037:"Audio/Video and communications – Ghost is fitted with custom A/V and communication equipment including Iridium Satellite communications and,
a:4:{s:12:"fishing_gear";s:3:"Yes";s:17:"fishing_gear_type";s:17:"3 Rods and Tackle";s:4:"rods";s:1:"3";s:16:"deep_sea_fishing";s:2:"No";}
American
American
American
Yacht offers Rendezvous Diving only

Ghost Charter Price Details

| | | | | | | | | | | | |
| --- | --- | --- | --- | --- | --- | --- | --- | --- | --- | --- | --- |
| Season Name | 2 guests | 3 guests | 4 guests | 5 guests | 6 guests | 7 guests | 8 guests | 9 guests | 10 guests | 11 guests | 12 guests |
| Summer 2019 | $21,860 | $22,360 | $22,860 | $23,360 | $23,860 | $24,360 | $24,860 | $0 | $0 | $0 | $0 |
| Winter 2019 to 2020 | $21,860 | $22,360 | $22,860 | $23,360 | $23,860 | $24,360 | $24,860 | $0 | $0 | $0 | $0 |
| Summer 2020 | $21,860 | $22,360 | $22,860 | $23,360 | $23,860 | $24,360 | $24,860 | $0 | $0 | $0 | $0 |
| Winter 2020 to 2021 | $21,860 | $22,360 | $22,860 | $23,360 | $23,860 | $24,360 | $24,860 | $0 | $0 | $0 | $0 |

1
a:32:{s:2:"id";i:11323;s:4:"date";s:19:"2020-06-22T04:06:29";s:8:"date_gmt";s:19:"2020-06-22T11:06:29";s:4:"guid";a:1:{s:8:"rendered";s:36:"https://yachtsummary.com/deal/11323/";}s:8:"modified";s:19:"2020-06-22T04:06:29";s:12:"modified_gmt";s:19:"2020-06-22T11:06:29";s:4:"slug";s:5:"11323";s:6:"status";s:7:"publish";s:4:"type";s:4:"deal";s:4:"link";s:36:"https://yachtsummary.com/deal/11323/";s:5:"title";a:1:{s:8:"rendered";s:5:"Ghost";}s:7:"content";a:2:{s:8:"rendered";s:0:"";s:9:"protected";b:0;}s:6:"author";i:16;s:14:"featured_media";i:0;s:8:"template";s:0:"";s:7:"country";a:0:{}s:11:"wpcf-images";s:0:"";s:12:"wpcf-country";s:3:"BVI";s:12:"wpcf_mainimg";s:97:"https://i2.wp.com/www.centralyachtagent.com/yachtadmin/yachtimg/yacht6064/6064brochure1.jpg?ssl=1";s:8:"wpcf_img";a:14:{i:2;a:2:{s:3:"url";s:80:"https://www.centralyachtagent.com/yachtadmin/yachtlg/yacht6064/6064brochure2.jpg";s:4:"desc";s:0:"";}i:3;a:2:{s:3:"url";s:80:"https://www.centralyachtagent.com/yachtadmin/yachtlg/yacht6064/6064brochure3.jpg";s:4:"desc";s:0:"";}i:4;a:2:{s:3:"url";s:80:"https://www.centralyachtagent.com/yachtadmin/yachtlg/yacht6064/6064brochure4.jpg";s:4:"desc";s:0:"";}i:5;a:2:{s:3:"url";s:80:"https://www.centralyachtagent.com/yachtadmin/yachtlg/yacht6064/6064brochure5.jpg";s:4:"desc";s:0:"";}i:6;a:2:{s:3:"url";s:80:"https://www.centralyachtagent.com/yachtadmin/yachtlg/yacht6064/6064brochure6.jpg";s:4:"desc";s:0:"";}i:7;a:2:{s:3:"url";s:80:"https://www.centralyachtagent.com/yachtadmin/yachtlg/yacht6064/6064brochure7.jpg";s:4:"desc";s:27:"Ghost Master Cabin and Bath";}i:8;a:2:{s:3:"url";s:80:"https://www.centralyachtagent.com/yachtadmin/yachtlg/yacht6064/6064brochure8.jpg";s:4:"desc";s:0:"";}i:9;a:2:{s:3:"url";s:80:"https://www.centralyachtagent.com/yachtadmin/yachtlg/yacht6064/6064brochure9.jpg";s:4:"desc";s:18:"Ghost Master Cabin";}i:10;a:2:{s:3:"url";s:81:"https://www.centralyachtagent.com/yachtadmin/yachtlg/yacht6064/6064brochure10.jpg";s:4:"desc";s:0:"";}i:11;a:2:{s:3:"url";s:81:"https://www.centralyachtagent.com/yachtadmin/yachtlg/yacht6064/6064brochure11.jpg";s:4:"desc";s:0:"";}i:12;a:2:{s:3:"url";s:81:"https://www.centralyachtagent.com/yachtadmin/yachtlg/yacht6064/6064brochure12.jpg";s:4:"desc";s:0:"";}i:13;a:2:{s:3:"url";s:81:"https://www.centralyachtagent.com/yachtadmin/yachtlg/yacht6064/6064brochure13.jpg";s:4:"desc";s:0:"";}i:14;a:2:{s:3:"url";s:81:"https://www.centralyachtagent.com/yachtadmin/yachtlg/yacht6064/6064brochure14.jpg";s:4:"desc";s:0:"";}i:15;a:2:{s:3:"url";s:81:"https://www.centralyachtagent.com/yachtadmin/yachtlg/yacht6064/6064brochure15.jpg";s:4:"desc";s:0:"";}}s:11:"wpcf-crypto";s:5:"$";s:17:"wpcf-deal-expires";s:0:"";s:11:"wpcf-length";s:8:"50.00 Ft";s:11:"wpcf-guests";s:1:"8";s:15:"wpcf-deal-price";s:5:"20360";s:10:"wpcf-price";s:5:"24860";s:12:"discountperc";s:0:"";s:5:"cyaID";s:4:"6064";s:5:"price";s:0:"";s:14:"fixed-discount";s:4:"1500";s:10:"yoast_head";s:1446:" ";s:6:"_links";a:7:{s:4:"self";a:1:{i:0;a:1:{s:4:"href";s:49:"https://yachtsummary.com/wp-json/wp/v2/deal/11323";}}s:10:"collection";a:1:{i:0;a:1:{s:4:"href";s:43:"https://yachtsummary.com/wp-json/wp/v2/deal";}}s:5:"about";a:1:{i:0;a:1:{s:4:"href";s:49:"https://yachtsummary.com/wp-json/wp/v2/types/deal";}}s:6:"author";a:1:{i:0;a:2:{s:10:"embeddable";b:1;s:4:"href";s:47:"https://yachtsummary.com/wp-json/wp/v2/users/16";}}s:13:"wp:attachment";a:1:{i:0;a:1:{s:4:"href";s:57:"https://yachtsummary.com/wp-json/wp/v2/media?parent=11323";}}s:7:"wp:term";a:1:{i:0;a:3:{s:8:"taxonomy";s:7:"country";s:10:"embeddable";b:1;s:4:"href";s:57:"https://yachtsummary.com/wp-json/wp/v2/country?post=11323";}}s:6:"curies";a:1:{i:0;a:3:{s:4:"name";s:2:"wp";s:4:"href";s:23:"https://api.w.org/{rel}";s:9:"templated";b:1;}}}}