Yacht Description
LADY SHARON GALE yacht is a 112.00 ft long motor yacht monohull and spends the summer and winter season in British Virgin Islands. It was built by Broward in 1998. A refit was done in 2018. The yacht layout features 4 cabins and accommodates 10 guests. The cabin arrangement is following: 1 king cabin, 1 queen cabin, 2 double cabins, 2 twin cabins.
The motor yacht features Twin Detroit 16V-2000's, 1800 HP engines and a generator.
Accommodation
Originally commissioned as Varsity Jacket and then becoming Strait Jacket, LADY SHARON GALE has a successful charter history, a brand new updated interior, and is ready to resume making memories of a vacation of a lifetime.
On deck, Lady Sharon Gale offers an unusually large and multifunctional cockpit which is original to the yacht's construction. All outdoor living areas are easily accessed via comfortable stairs that transition from the cockpit to aft deck to the fly bridge. The fixed hardtop provides sun protection while the Jacuzzi and bow areas have great sunning spaces..
LADY SHARON GALE'S interior is beautifully paneled in satin finished maple throughout. The furnishings, fabrics and stone are of the highest quality. The decor is cohesive and comfortable, and provides a perfect combination of informal elegance. The main salon caters to practical and informal day to day living with comfortable furnishings, a formal dining area, living room area, and full entertainment system. Forward in the galley, she features the enormous Broward "country kitchen" that provides for a casual dining space and comfortable spot to converse with the chef.
Below, the master stateroom features a king size bed, large flat screen TV with all of the entertainment options, cedar lined closet and his-and-hers baths. Two of the guest staterooms are identical, and offer a double bed in addition to one twin bed in each cabin. A VIP stateroom is unusually large, and features a queen size bed, very large and comfortable en suite bathroom with shower, and occupies the entire bow area.
LADY SHARON GALE Yacht Details
$42,000 - $42,000
Weekly price low-high season
Amenities
Number Of Dvds:
Hard drive
Number Of Cds:
Hard drive
Number Of Port Hatches:
n/a
Price Details
High season rate: $42,000
$42000+ all
APA of 35%
Christmas rate + 10%
New Years rate + 15%

Based in St. Martin
$5k round trip delivery to the BVI's and St. Thomas
Specifications
Pref Pickup:
Sint Maarten
Other Pickup:
St Martin, French West Indies
BBQ: Yes
AC: Full
Generator: yes
Internet: Onboard WIFI
More Specifications
Communication:
Sat Com, cellular
Scuba On Board:
Yacht offers Rendezvous Diving only
Water Sports
Dinghy Size:
30' towed tender
Other Entertainment
All new updated TV's and entertainment systems. Direct Sat TV in all rooms.

Fly bridge with customized table with seating for dining, large Jacuzzi and sunning areas.

Crew
Engineer
Chef
Stewardess
CAPTAIN - TBA

ENGINEER FRANCISCUS PETRUS CORNELIUS - (Netherlands)
Frans is a seriously talented Jack-of-all-trades. If you've got some gizmo that you can't quite figure out how to fix, Frans seems to have a sixth sense about those things. He's held a lot of interesting jobs over the years that have demanded exactly this sort of adaptive genius.

As a young man in the Netherlands, Frans worked for a few years in construction before joining the military and training in first aid. After completing his service, he joined a traveling carnival, working with customers and building, maintaining and repairing the rides and attractions. Then he became a truck driver and after that he was the maintenance manager of 90 apartments in Amsterdam. In 2014, Frans moved to Dutch St. Maarten to manage a private villa that was also rented to guests. All of these experiences placed a critical emphasis on safety, which is also first priority on LADY SHARON GALE.

CHEF MARTIN PARSONS - (Great Britain)
Martin says he was lucky to grow up in the small town of Exeter set against the backdrop of the lovely rolling hills of Devon, England. Situated twenty minutes from the south coast and one hour from the north coast, family dog walks to the coast, or on the moors, were very common. Friends describe him as kind, loyal, and friendly. They still call him Mart, Marty and now Chef. He always loved sports and aggressive inline skating took up a lot of his time. He also took ski lessons. He made it on to the Exeter ski team and eventually spent six months at Courchevel, the French Alps ski resort center, perfecting his technique.

While Marty was still in school he landed a part-time job as a chef. He found his calling. He says, "As soon as school finished I started a chef apprenticeship and never looked back! But, I am fairly new to the yachting industry. I got my first foot in the door through an old head chef I knew. He asked me to be his crew chef on board a 68-meter superyacht with 18 crew." Now, Martin is excited to be exclusively in charge of the galley on LADY SHARON GALE. He is even planning special cooking classes for interested guests.

Martin has 17 years of culinary experience. He was trained at a Michelin Star restaurant in classical French/European cuisine, and has an extensive repertoire of international cuisines. He has held numerous prestigious positions at restaurants in Great Britain, in France, and aboard superyachts. His resume includes Sous Chef at Gordon Ramsey Restaurants, Waldorf Astoria Trianon Palace Versailles.

Martin says, "I love European food, particularly French and Italian, but I also love Japanese cuisine, Thai curry, broths and salads, as well as Mexican food. My guests often like dishes the most, which require the least effort. We chefs have a saying; less is more. Let the ingredients speak for themselves." For more professional insights into gourmet cooking, or just to be spoiled with fabulous fare on a beautiful yacht, charter LADY SHARON GALE!

STEWARDESS LISA VAN VEGHEL - (Netherlands)
Lisa grew up in The Netherlands, in a tiny village with a population of just 800. She lived with Mom, Dad and two older sisters. The local dam and channel were favorite summer spots for swimming, water play and walking the dog. It was an idyllic environment.

Lisa remembers being very active as a child. "I couldn't sit still. I played with other kids, made forts, played ball, skated and ice skated. I was a competitive tennis player and won many awards, always coming in first or second place. I was prepared to attend a sports academy after I finished high school to become a gym teacher. Then problems started with both of my knees. I went to a therapist for four years but, even after extensive treatments, I had to give up because I did not get better." Instead, Lisa opted to attend Avans University and was awarded a degree in business innovations. She moved to St. Maarten in 2013.

This year, despite other offers, Lisa had "the best feeling" about Lady Sharon Gale and accepted a position as the stewardess on board. She especially likes the team spirit. Everyone agrees their top priority is to give the guests the best vacation they can have. For the crew, this means providing silver service and privacy, yet with interactive activities always available to guests. If you'd like to play some beach tennis or board games, she's a ready opponent. Still very athletic, join Lisa and Captain Keith for a boot camp workout. Or, when you're ready to relax on deck and enjoy the scenery, Lisa has an awesome collection of tropical cocktail recipes from her bartending days. She'll help you find your bliss aboard Lady Sharon Gale, however you envision it.

Menu
Reviews:
April 13-20, 2019 ~ A great charter with a wonderful family
To Captain Mike and the wonderful and efficient crew of Lady Sharon Gale; Patricia, Martin & Frans-
What a great team!!! Many, many thanks for making us a fantastic family vacation experience cruising the islands. We will miss you and look forward to meeting again soon.
Best,
The "C" Family

April 5, 2019 ~ An Amazing Adventure!!
What a memorable way to spend Tim's birthday! Thank you for all you did to create a flawless experience.
Capt. Mike – for your expertise in safe navigation and for tweeking the itinerary, and great stories.
Chris – For your tireless energy, especially in Tender.
Frans – For resolving any mechanical queries and keeping ship
Lisa – For your ever-present smile and excellent ability to anticipate every need
And Chef Martin – The culinary wizard, whose extraordinary mastery of the kitchen never ceased to amaze and delight us!
Kudos to the crew of Lady Sharon Gale for an amazing adventure!
Tim, Deb, Denise & Barry

Broker Charter Show transit November 2018
Lady Sharon Gale transported some very qualified charter brokers from the British Virgin Islands Show to the US Virgin Islands show. A great time was had by all! For more info contact you favorite charter broker.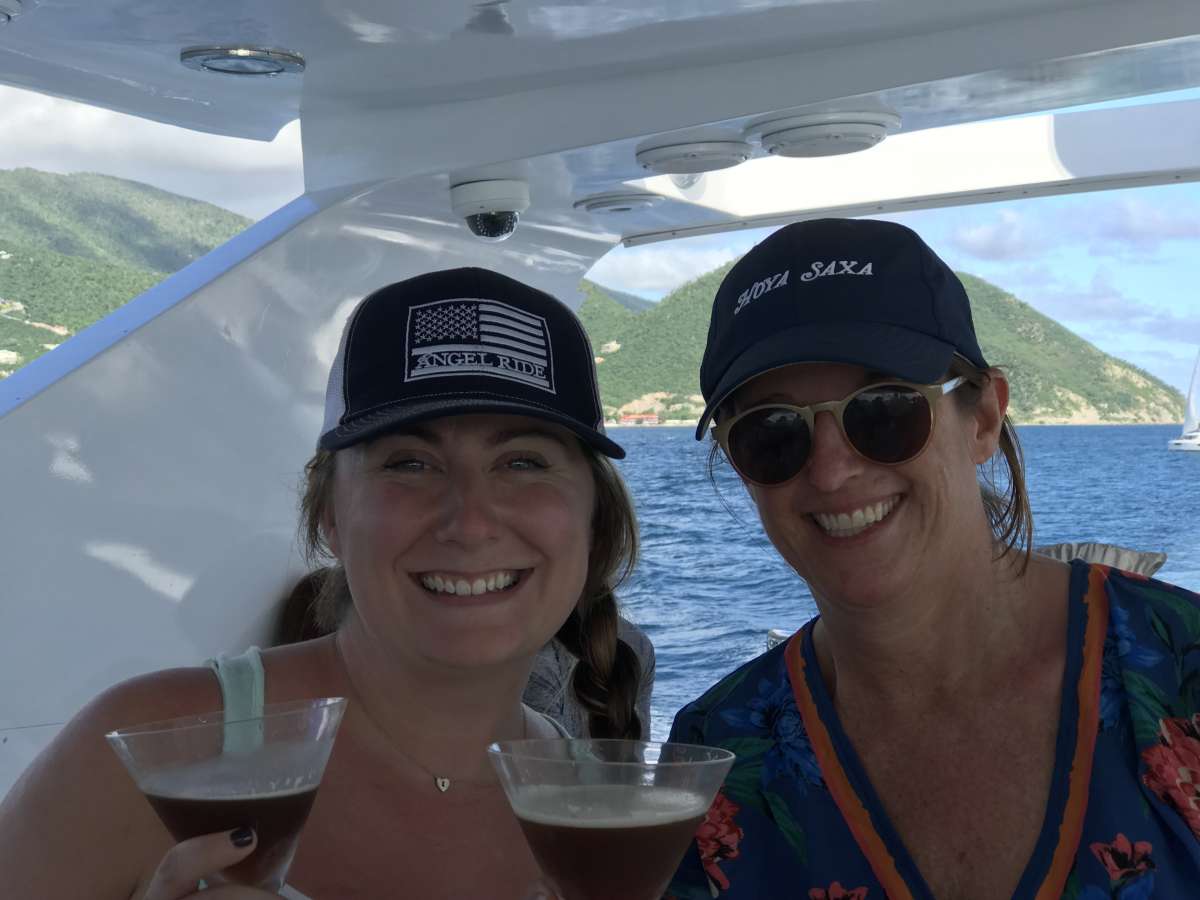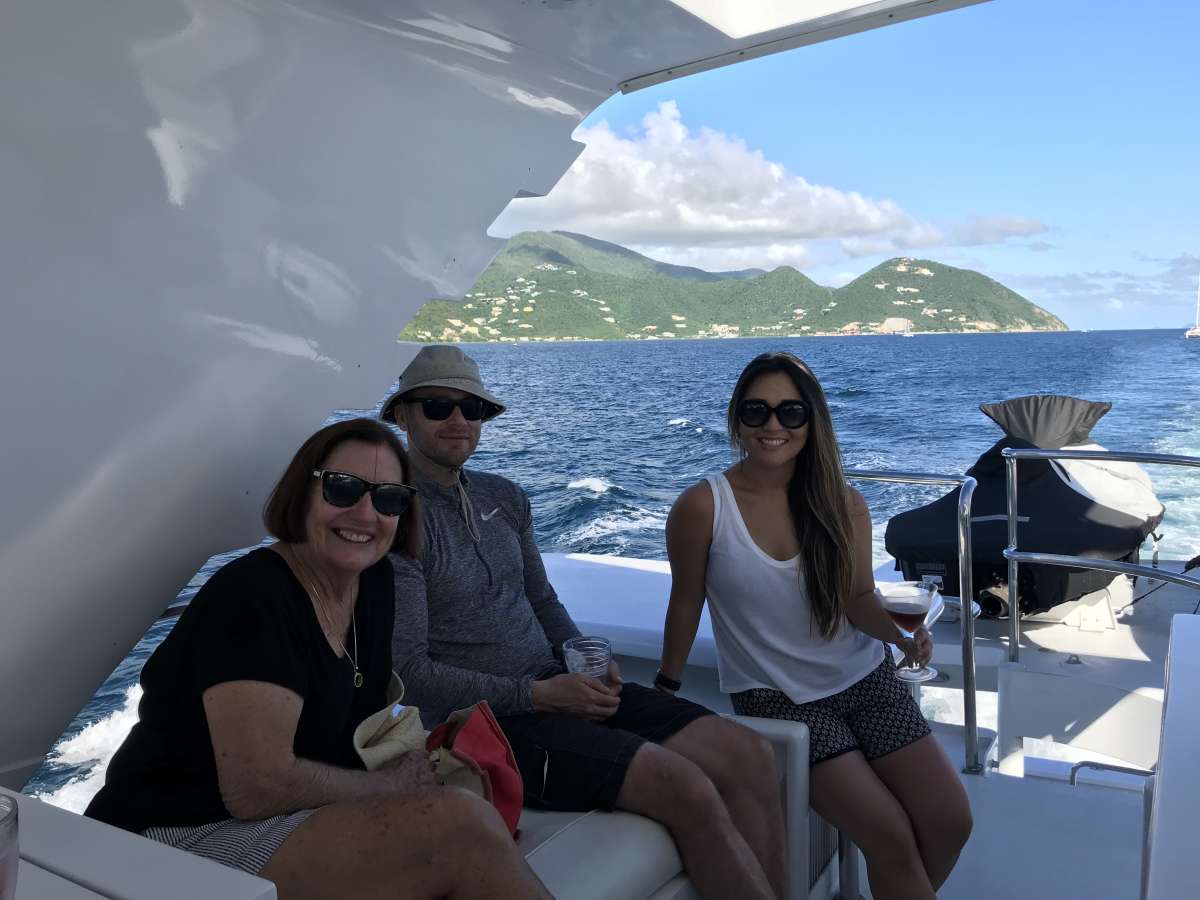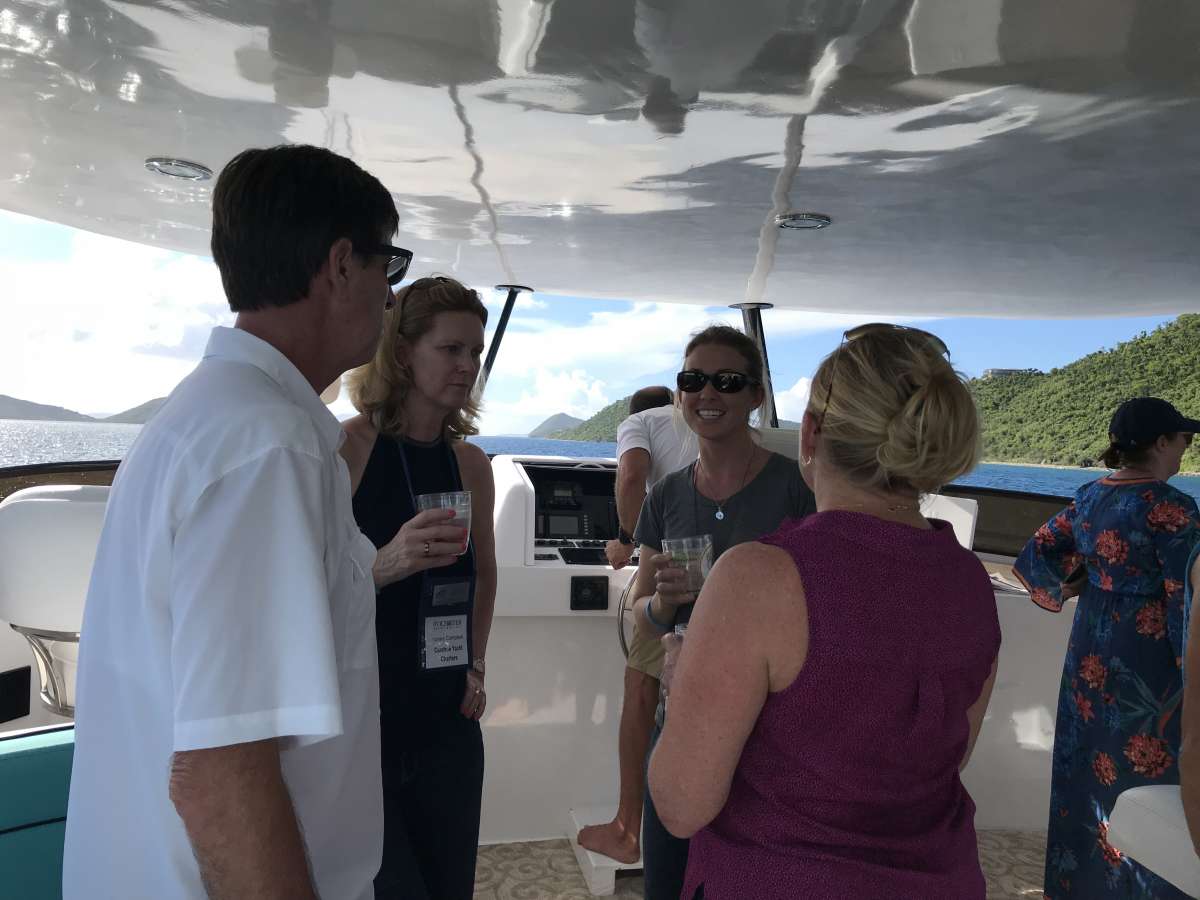 Enjoy a great charter on Lady Sharon Gale
Lady Sharon Gale is based in St Maarten.
2nd inflatable dinghy - exterior dining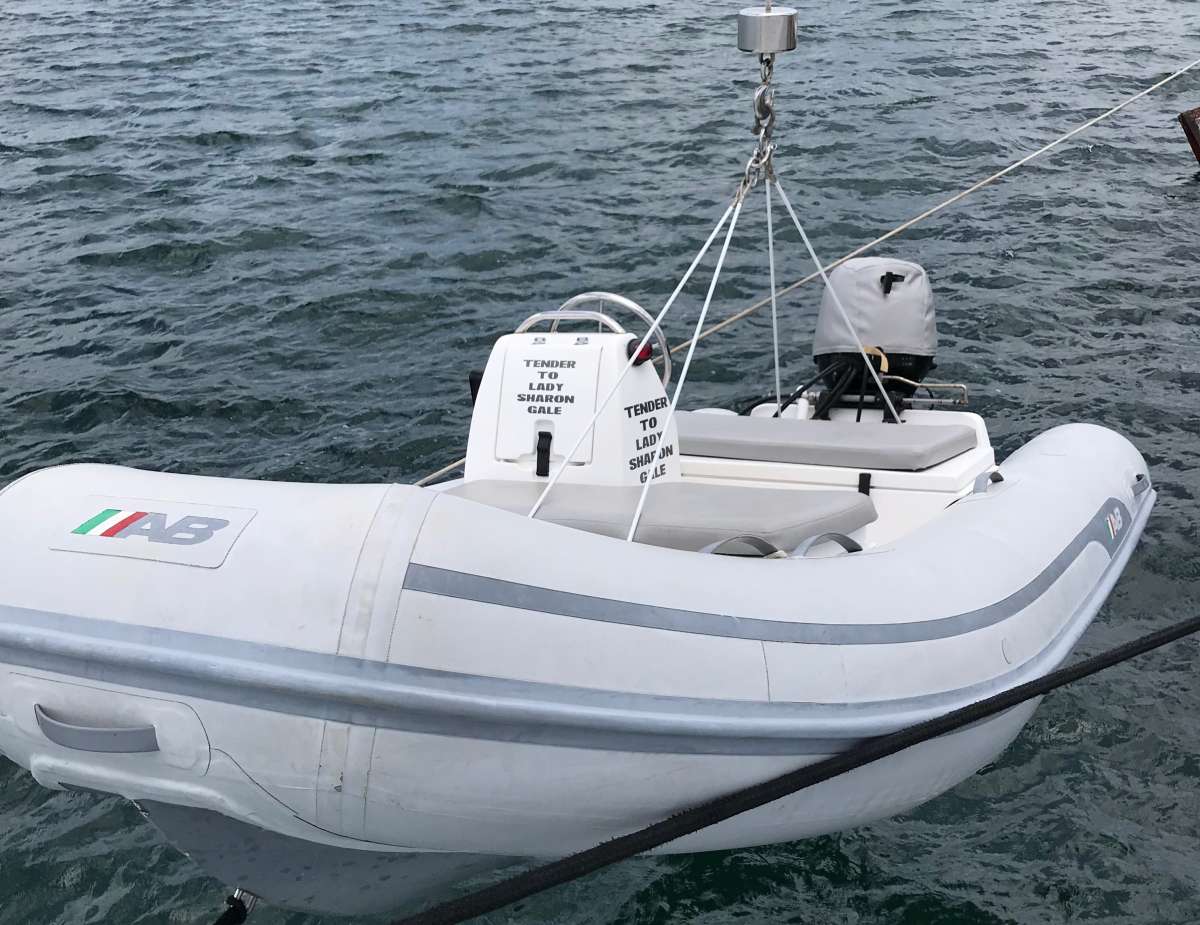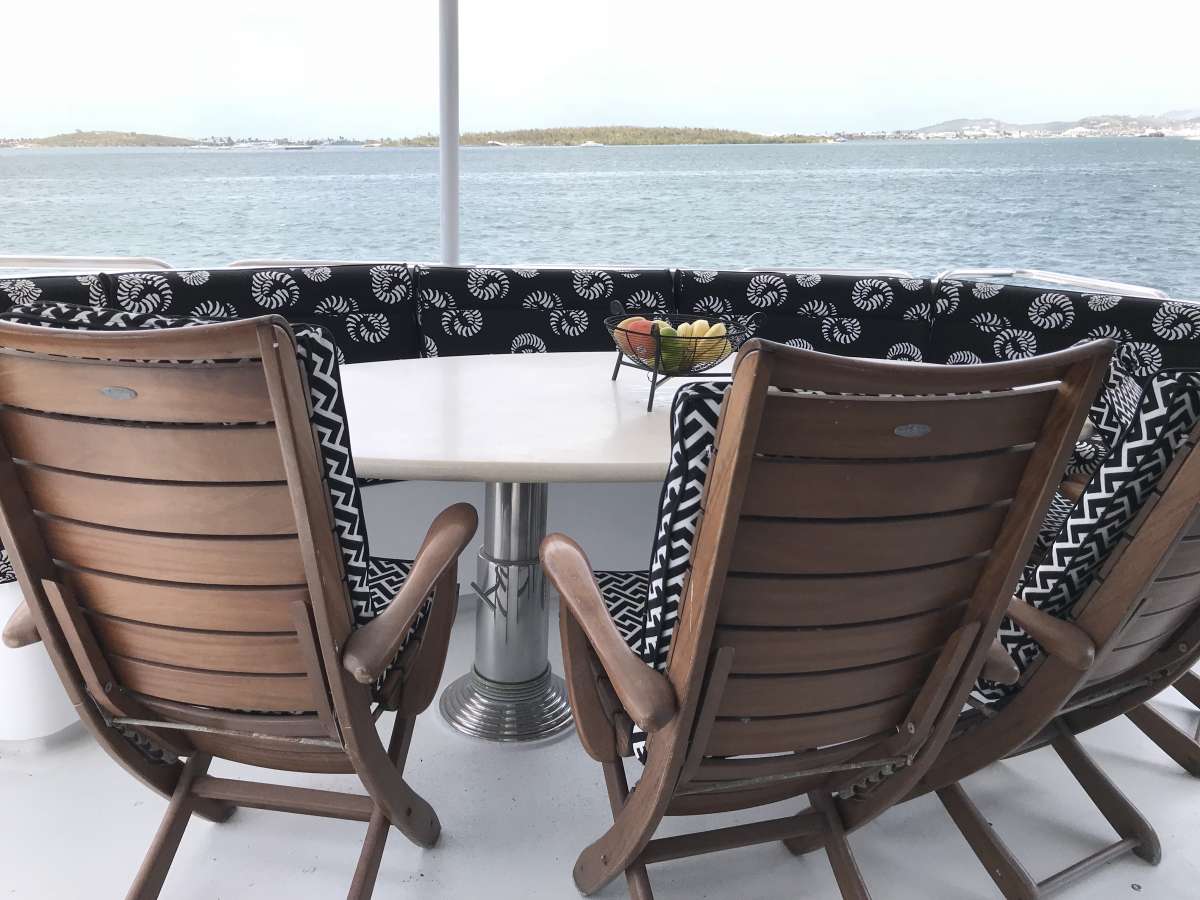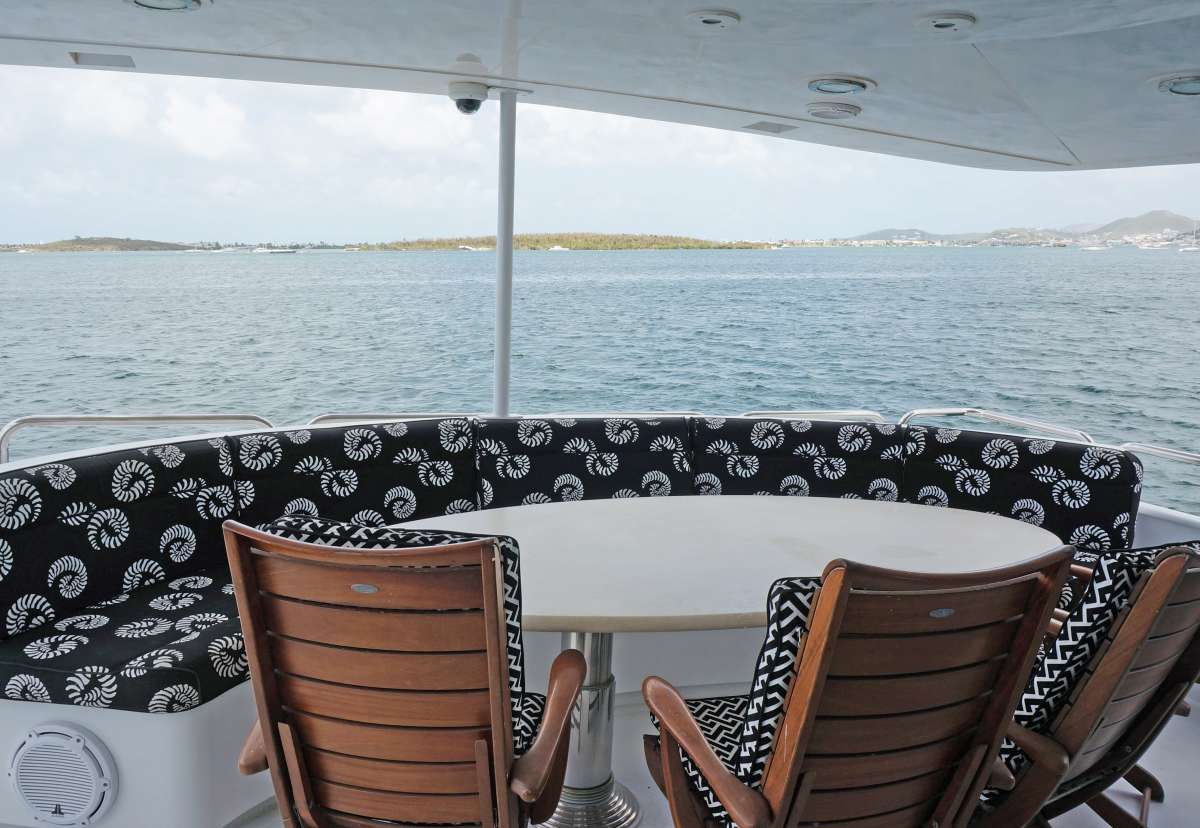 6
2916
http://www.centralyachtagent.com/snapins/ebrochure-xml.php?idin=2916&uid=265&user=265
4
Power
N
https://www.centralyachtagent.com/yachtadmin/yachtimg/yacht2916/2916brochure88.jpg
10
Caribbean Virgin Islands, Caribbean Leewards, Caribbean Windwards
Caribbean Virgin Islands, Caribbean Leewards, Caribbean Windwards
112.00
21
6.5

Additionally the yacht has an AB 12 inflatable tender with 25hp carrying 6 passengers.
The 30' Towable Tender is complete with bathroom + capacity for 10. Twin Yamaha 205.5' Southport 2900TE.
a:32:{s:12:"salon_stereo";s:3:"Yes";s:8:"salon_tv";s:3:"Yes";s:4:"nude";s:3:"Yes";s:5:"books";s:3:"Yes";s:9:"crew_pets";s:2:"No";s:8:"pet_type";s:0:"";s:10:"guest_pets";s:1:"0";s:9:"camcorder";s:2:"No";s:14:"number_dine_in";s:3:"8/1";s:11:"water_maker";s:3:"Yes";s:14:"water_capacity";s:5:"1000g";s:9:"ice_maker";s:3:"Yes";s:14:"number_of_dvds";s:10:"Hard drive";s:13:"number_of_cds";s:10:"Hard drive";s:11:"board_games";s:1:"0";s:10:"sun_awning";s:3:"Yes";s:6:"bimini";s:3:"Yes";s:13:"special_diets";s:3:"Yes";s:6:"kosher";s:3:"Yes";s:3:"bbq";s:3:"Yes";s:12:"gay_charters";s:3:"Yes";s:10:"hairdryers";s:3:"Yes";s:22:"number_of_port_hatches";s:3:"n/a";s:7:"smoking";s:7:"Outside";s:11:"crew_smokes";s:3:"Inq";s:11:"children_ok";s:3:"Yes";s:17:"minimum_child_age";s:4:"none";s:9:"generator";s:3:"yes";s:8:"inverter";s:3:"Yes";s:8:"voltages";s:7:"110/220";s:7:"hammock";s:2:"No";s:10:"windscoops";s:2:"No";}
Full
Yes
Onboard WIFI
yes
Twin Detroit 16V-2000's, 1800 HP
1998
Broward


On deck, Lady Sharon Gale offers an unusually large and multifunctional cockpit which is original to the yacht's construction. All outdoor living areas are easily accessed via comfortable stairs that transition from the cockpit to aft deck to the fly bridge. The fixed hardtop provides sun protection while the Jacuzzi and bow areas have great sunning spaces..

LADY SHARON GALE'S interior is beautifully paneled in satin finished maple throughout. The furnishings, fabrics and stone are of the highest quality. The decor is cohesive and comfortable, and provides a perfect combination of informal elegance. The main salon caters to practical and informal day to day living with comfortable furnishings, a formal dining area, living room area, and full entertainment system. Forward in the galley, she features the enormous Broward "country kitchen" that provides for a casual dining space and comfortable spot to converse with the chef.

Below, the master stateroom features a king size bed, large flat screen TV with all of the entertainment options, cedar lined closet and his-and-hers baths. Two of the guest staterooms are identical, and offer a double bed in addition to one twin bed in each cabin. A VIP stateroom is unusually large, and features a queen size bed, very large and comfortable en suite bathroom with shower, and occupies the entire bow area.


Originally commissioned as Varsity Jacket and then becoming Strait Jacket, LADY SHARON GALE has a successful charter history, a brand new updated interior, and is ready to resume making memories of a vacation of a lifetime.
€
42000
42000
$42,000
$42000+ all APA of 35% Christmas rate + 10% New Years rate + 15% Based in St. Martin $5k round trip delivery to the BVI's and St. Thomas


ENGINEER FRANCISCUS PETRUS CORNELIUS - (Netherlands)
Frans is a seriously talented Jack-of-all-trades. If you've got some gizmo that you can't quite figure out how to fix, Frans seems to have a sixth sense about those things. He's held a lot of interesting jobs over the years that have demanded exactly this sort of adaptive genius.

As a young man in the Netherlands, Frans worked for a few years in construction before joining the military and training in first aid. After completing his service, he joined a traveling carnival, working with customers and building, maintaining and repairing the rides and attractions. Then he became a truck driver and after that he was the maintenance manager of 90 apartments in Amsterdam. In 2014, Frans moved to Dutch St. Maarten to manage a private villa that was also rented to guests. All of these experiences placed a critical emphasis on safety, which is also first priority on LADY SHARON GALE.

CHEF MARTIN PARSONS - (Great Britain)
Martin says he was lucky to grow up in the small town of Exeter set against the backdrop of the lovely rolling hills of Devon, England. Situated twenty minutes from the south coast and one hour from the north coast, family dog walks to the coast, or on the moors, were very common. Friends describe him as kind, loyal, and friendly. They still call him Mart, Marty and now Chef. He always loved sports and aggressive inline skating took up a lot of his time. He also took ski lessons. He made it on to the Exeter ski team and eventually spent six months at Courchevel, the French Alps ski resort center, perfecting his technique.

While Marty was still in school he landed a part-time job as a chef. He found his calling. He says, "As soon as school finished I started a chef apprenticeship and never looked back! But, I am fairly new to the yachting industry. I got my first foot in the door through an old head chef I knew. He asked me to be his crew chef on board a 68-meter superyacht with 18 crew." Now, Martin is excited to be exclusively in charge of the galley on LADY SHARON GALE. He is even planning special cooking classes for interested guests.

Martin has 17 years of culinary experience. He was trained at a Michelin Star restaurant in classical French/European cuisine, and has an extensive repertoire of international cuisines. He has held numerous prestigious positions at restaurants in Great Britain, in France, and aboard superyachts. His resume includes Sous Chef at Gordon Ramsey Restaurants, Waldorf Astoria Trianon Palace Versailles.

Martin says, "I love European food, particularly French and Italian, but I also love Japanese cuisine, Thai curry, broths and salads, as well as Mexican food. My guests often like dishes the most, which require the least effort. We chefs have a saying; less is more. Let the ingredients speak for themselves." For more professional insights into gourmet cooking, or just to be spoiled with fabulous fare on a beautiful yacht, charter LADY SHARON GALE!

STEWARDESS LISA VAN VEGHEL - (Netherlands)
Lisa grew up in The Netherlands, in a tiny village with a population of just 800. She lived with Mom, Dad and two older sisters. The local dam and channel were favorite summer spots for swimming, water play and walking the dog. It was an idyllic environment.

Lisa remembers being very active as a child. "I couldn't sit still. I played with other kids, made forts, played ball, skated and ice skated. I was a competitive tennis player and won many awards, always coming in first or second place. I was prepared to attend a sports academy after I finished high school to become a gym teacher. Then problems started with both of my knees. I went to a therapist for four years but, even after extensive treatments, I had to give up because I did not get better." Instead, Lisa opted to attend Avans University and was awarded a degree in business innovations. She moved to St. Maarten in 2013.

This year, despite other offers, Lisa had "the best feeling" about Lady Sharon Gale and accepted a position as the stewardess on board. She especially likes the team spirit. Everyone agrees their top priority is to give the guests the best vacation they can have. For the crew, this means providing silver service and privacy, yet with interactive activities always available to guests. If you'd like to play some beach tennis or board games, she's a ready opponent. Still very athletic, join Lisa and Captain Keith for a boot camp workout. Or, when you're ready to relax on deck and enjoy the scenery, Lisa has an awesome collection of tropical cocktail recipes from her bartending days. She'll help you find your bliss aboard Lady Sharon Gale, however you envision it.
";s:5:"photo";s:82:"https://www.centralyachtagent.com/yachtadmin/yachtimg/yacht2916/2916brochure44.jpg";s:4:"size";s:1:"4";s:12:"captain_name";s:3:"TBA";s:14:"captain_nation";s:0:"";s:7:"crewimg";a:3:{i:2;a:2:{s:3:"url";s:76:"https://www.centralyachtagent.com/yachtadmin/yachtlg/yacht2916/2916crew2.jpg";s:4:"desc";s:8:"Engineer";}i:3;a:2:{s:3:"url";s:76:"https://www.centralyachtagent.com/yachtadmin/yachtlg/yacht2916/2916crew3.jpg";s:4:"desc";s:4:"Chef";}i:4;a:2:{s:3:"url";s:76:"https://www.centralyachtagent.com/yachtadmin/yachtlg/yacht2916/2916crew4.jpg";s:4:"desc";s:10:"Stewardess";}}}
a:6:{s:4:"info";s:4952:"CAPTAIN - TBA
https://www.centralyachtagent.com/yachtadmin/yachtimg/yacht2916/2916brochure1.jpg
LADY SHARON GALE is a highly customized 112' Broward superyacht. Indulge in a yacht that offers classic styling, elegant interiors, an energetic crew and gourmet chef at a remarkable rate. This luxurious charter yacht offers unusually large spaces and lavish features. Imagine relaxing with a signature cocktail and panoramic views from the sundeck Jacuzzi. Enjoy the passing shoreline from the fully-equipped bar, or the roomy table surrounded by plush banquette seating. Interiors are designed to be welcoming, upscale yet informal, stylish and comfortable. The palette of muted earth tones is relaxing. Rich, maple paneling with a soft satin finish is featured throughout. The new furnishings, fabrics and stone are of the highest quality and create an ambience of casual elegance. On the main deck, charter families and friends will enjoy canapés and conversation in the newly furnished salon. Indulge in a signature cocktail from the bar, or be entertained with music and videos on the yacht's updated system. Dine in the formal dining area, or al fresco with sea breezes and stunning views on the aft deck or sundeck. Gather together in the all-new sky lounge with JL Audio sound and LED lighting. Guest accommodations are wonderful for extended families and groups of colleagues and friends. There are four staterooms with six berths positioned on the lower deck level. The master stateroom features a king size bed, cedar lined closet and his-and-her facilities. The VIP stateroom occupies the entire bow area and is nearly equal to the master. It features a queen size bed, plenty of storage and sizable bathroom with shower. Two guest staterooms are furnished with one double bed and one twin bed, so extra berths for children, single guests or staff. Staterooms are updated with new bedding, pillows, linens and towels. LADY SHARON GALE is ideal for island hopping. Powered by Detroit Diesel engines of 1800 HP each, she reaches a speedy 18 knots and happily cruises at 12 knots. Pick up the yacht in St Maarten and enjoy excursions to chic St. Barth's and pristine Anguilla. Also available for Virgin Islands charters.
a:18:{i:2;a:2:{s:3:"url";s:80:"https://www.centralyachtagent.com/yachtadmin/yachtlg/yacht2916/2916brochure2.jpg";s:4:"desc";s:32:"Stylish sofa beckons relaxation.";}i:3;a:2:{s:3:"url";s:80:"https://www.centralyachtagent.com/yachtadmin/yachtlg/yacht2916/2916brochure3.jpg";s:4:"desc";s:21:"Elegant Formal Dining";}i:4;a:2:{s:3:"url";s:80:"https://www.centralyachtagent.com/yachtadmin/yachtlg/yacht2916/2916brochure4.jpg";s:4:"desc";s:24:"A quiet nook for a book.";}i:5;a:2:{s:3:"url";s:80:"https://www.centralyachtagent.com/yachtadmin/yachtlg/yacht2916/2916brochure5.jpg";s:4:"desc";s:20:"Seating for a crowd.";}i:6;a:2:{s:3:"url";s:80:"https://www.centralyachtagent.com/yachtadmin/yachtlg/yacht2916/2916brochure6.jpg";s:4:"desc";s:26:"Updated Navigation Systems";}i:7;a:2:{s:3:"url";s:80:"https://www.centralyachtagent.com/yachtadmin/yachtlg/yacht2916/2916brochure7.jpg";s:4:"desc";s:26:"Salon Entertainment Center";}i:8;a:2:{s:3:"url";s:80:"https://www.centralyachtagent.com/yachtadmin/yachtlg/yacht2916/2916brochure8.jpg";s:4:"desc";s:24:"Deluxe Master Stateroom ";}i:9;a:2:{s:3:"url";s:80:"https://www.centralyachtagent.com/yachtadmin/yachtlg/yacht2916/2916brochure9.jpg";s:4:"desc";s:32:"Exquisite His and Her Facilities";}i:10;a:2:{s:3:"url";s:81:"https://www.centralyachtagent.com/yachtadmin/yachtlg/yacht2916/2916brochure10.jpg";s:4:"desc";s:23:"VIP Queen Bed Stateroom";}i:11;a:2:{s:3:"url";s:81:"https://www.centralyachtagent.com/yachtadmin/yachtlg/yacht2916/2916brochure11.jpg";s:4:"desc";s:14:"Guest Bathroom";}i:12;a:2:{s:3:"url";s:81:"https://www.centralyachtagent.com/yachtadmin/yachtlg/yacht2916/2916brochure12.jpg";s:4:"desc";s:19:"Leaving St. Maarten";}i:13;a:2:{s:3:"url";s:81:"https://www.centralyachtagent.com/yachtadmin/yachtlg/yacht2916/2916brochure13.jpg";s:4:"desc";s:30:"Heading out Simpson Bay Bridge";}i:14;a:2:{s:3:"url";s:81:"https://www.centralyachtagent.com/yachtadmin/yachtlg/yacht2916/2916brochure14.jpg";s:4:"desc";s:23:"Breezy aft deck dining.";}i:15;a:2:{s:3:"url";s:81:"https://www.centralyachtagent.com/yachtadmin/yachtlg/yacht2916/2916brochure15.jpg";s:4:"desc";s:38:"Professional service with a big smile.";}i:16;a:2:{s:3:"url";s:81:"https://www.centralyachtagent.com/yachtadmin/yachtlg/yacht2916/2916brochure16.jpg";s:4:"desc";s:23:"Sun deck luxury living.";}i:17;a:2:{s:3:"url";s:81:"https://www.centralyachtagent.com/yachtadmin/yachtlg/yacht2916/2916brochure17.jpg";s:4:"desc";s:28:"Jacuzzi with panoramic views";}i:18;a:2:{s:3:"url";s:81:"https://www.centralyachtagent.com/yachtadmin/yachtlg/yacht2916/2916brochure18.jpg";s:4:"desc";s:27:"Towed Center Console Tender";}i:19;a:2:{s:3:"url";s:81:"https://www.centralyachtagent.com/yachtadmin/yachtlg/yacht2916/2916brochure19.jpg";s:4:"desc";s:25:"Readying New Southport 30";}}
<p><strong><em>Day 1:</em></strong></p> <p><em>Vegetable Minestrone Soup </em><em>Basil pesto fresh, grated parmesan </em></p> <p><em>Rosemary Focaccia </em><em>Olive oil, balsamic vinegar </em></p> <p><em>Char grilled peppers and courgettes </em><em>Toasted pumpkin seeds, feta cheese </em></p> <p><em>Butter nut squash tortellini </em><em>Toasted pine nuts, gorgonzola cheese sauce </em></p> <p><em>King prawn linguine </em><em>Garlic chili, lemon </em></p> <p><em>Porchetta (Pork belly ) </em><em>Marinated with sage, garlic and thyme, fennel and apple salad </em></p> <p><em>Vanilla Panna cotta </em><em>Short bread, poached rhubarb</em></p> <p><strong><em>Day 2:</em></strong></p> <p><em>cucumber and avocado gazpacho</em></p> <p><em>cucumber and chive</em></p> <p><em>Cajun seared tuna chilli mango salsa, coriander, crispy wonton</em></p> <p><em>Tartart of mahi mahi baby gem leaves, crispy shallots</em></p> <p><em>Jerk chicken thighs coriander rice and beans</em></p> <p><em>Scallops baked in the shell garlic, chilli and herb crust</em></p> <p><em>Selection of ice cream and sorbets fresh fruit compote</em></p> <p><em>Vanilla Panna cotta Short bread, poached rhubarb</em></p> <p><strong><em>Day 3:</em></strong></p> <p><em>miso soup </em></p> <p><em>tofu and spring onions </em></p> <p><em>chicken yakitori </em><em>sesame seeds </em></p> <p><em>selection of maki rolls </em><em>king prawn, salmon, tuna </em></p> <p><em>wasabi and soy marinated sirloin </em><em>daikon radish </em></p> <p><em>tempura fried vegetables </em><em>tempura dipping sauce </em></p> <p><em>coconut and lime cr&egrave;me brulee </em><em>mango sorbet </em></p> <p><em>Vanilla Panna cotta </em><em>Short bread, poached rhubarb</em></p> <p><strong><em>Day 4:</em></strong></p> <p><em>French onion soup</em></p> <p><em>Grilled cheese</em></p> <p><em>Foie grass terrine fig chutney, granary toast</em></p> <p><em>Plum tomatoe gallette sun dried tomatoes, rocket salad</em></p> <p><em>Char grilled fillet steak French fries, blue cheese sauce</em></p> <p><em>salmon gravalax sauce gribiche, crostinis</em></p> <p><em>glazed lemon tart fresh raspberries, raspberry sorbe</em></p> <p><em>Vanilla Panna cotta Short bread, poached rhubarb</em></p> <p><strong><em>Day 5:</em></strong></p> <p><em>white bean soup</em></p> <p><em>truffle oil</em></p> <p><em>char grilled Williams pear chicory, blue cheese, candied wall nuts</em></p> <p><em>greek salad fetta cheese, balsamic dressing</em></p> <p><em>salt pepper king prawns sweet chilli dipping sauce</em></p> <p><em>salmon gravalax sauce gribiche, crostinis</em></p> <p><em>glazed lemon tart fresh raspberries, raspberry sorbet</em></p> <p><em>Vanilla Panna cotta Short bread, poached rhubarb</em></p> <p><strong><em>Day 6: </em></strong></p> <p><em>cucumber and avocado gazpacho</em></p> <p><em>cucumber and chive</em></p> <p><em>Cajun seared tuna chilli mango salsa, coriander, crispy wonton</em></p> <p><em>Tartart of mahi mahi baby gem leaves, crispy shallots</em></p> <p><em>Jerk chicken thighs coriander rice and beans</em></p> <p><em>Scallops baked in the shell garlic, chilli and herb crust</em></p> <p><em>Selection of ice cream and sorbets fresh fruit compote</em></p> <p><em>Vanilla Panna cotta Short bread, poached rhubarb</em></p>
a:5:{i:1;a:1:{s:3:"url";s:76:"https://www.centralyachtagent.com/yachtadmin/yachtlg/yacht2916/2916menu1.jpg";}i:2;a:1:{s:3:"url";s:76:"https://www.centralyachtagent.com/yachtadmin/yachtlg/yacht2916/2916menu2.jpg";}i:3;a:1:{s:3:"url";s:76:"https://www.centralyachtagent.com/yachtadmin/yachtlg/yacht2916/2916menu3.jpg";}i:4;a:1:{s:3:"url";s:76:"https://www.centralyachtagent.com/yachtadmin/yachtlg/yacht2916/2916menu4.jpg";}i:5;a:1:{s:3:"url";s:76:"https://www.centralyachtagent.com/yachtadmin/yachtlg/yacht2916/2916menu5.jpg";}}
https://www.cyabrochure.com/ebn/265/pbaX/2916/1
https://www.cyabrochure.com/ebn/265/pbaX/2916/3
https://www.centralyachtagent.com/yachtadmin/yachtimg/yacht2916/2916brochure99.jpg
a:21:{s:4:"tube";s:3:"Yes";s:6:"guests";s:2:"10";s:11:"pref_pickup";s:12:"Sint Maarten";s:5:"draft";s:3:"6.5";s:14:"cruising_speed";s:2:"12";s:7:"helipad";s:2:"No";s:8:"maxspeed";s:2:"18";s:12:"other_pickup";s:29:"St Martin, French West Indies";s:5:"built";s:4:"1998";s:10:"turnaround";s:5:"48hrs";s:6:"cabins";s:1:"4";s:4:"king";s:1:"1";s:5:"queen";s:1:"1";s:6:"double";s:1:"2";s:6:"single";s:1:"0";s:4:"twin";s:1:"2";s:7:"pullman";s:1:"0";s:7:"showers";s:1:"0";s:5:"heads";s:1:"5";s:14:"electric_heads";s:1:"5";s:7:"jacuzzi";s:3:"Yes";}
a:16:{s:13:"resort_course";s:0:"";s:7:"license";s:1:"-";s:5:"tanks";s:1:"0";s:9:"wet_suits";s:1:"0";s:15:"number_of_dives";s:0:"";s:11:"night_dives";s:1:"0";s:9:"dive_info";s:0:"";s:13:"communication";s:17:"Sat Com, cellular";s:11:"full_course";s:0:"";s:14:"air_compressor";s:7:"Onboard";s:3:"bcs";s:1:"0";s:11:"weight_sets";s:1:"0";s:16:"number_of_divers";s:1:"0";s:11:"dive_lights";s:1:"0";s:10:"dive_costs";s:0:"";s:14:"scuba_on_board";s:35:"Yacht offers Rendezvous Diving only";}


Fly bridge with customized table with seating for dining, large Jacuzzi and sunning areas.

All new updated TV's and entertainment systems. Direct Sat TV in all rooms.
a:24:{s:11:"dinghy_size";s:16:"30' towed tender";s:12:"kayaks_1_pax";s:2:"No";s:12:"kayaks_2_pax";s:2:"No";s:9:"dinghy_hp";s:10:"2 x 250 hp";s:13:"floating_mats";s:3:"Yes";s:10:"dinghy_pax";s:2:"10";s:13:"swim_platform";s:3:"Yes";s:16:"water_skis_adult";s:3:"Yes";s:15:"boarding_ladder";s:3:"Yes";s:15:"water_skis_kids";s:2:"No";s:14:"sailing_dinghy";s:2:"No";s:8:"jet_skis";s:2:"No";s:11:"beach_games";s:3:"Yes";s:12:"wave_runners";s:1:"2";s:12:"fishing_gear";s:3:"Yes";s:9:"kneeboard";s:2:"No";s:17:"fishing_gear_type";s:4:"Penn";s:10:"windsurfer";s:2:"No";s:4:"rods";s:1:"2";s:12:"snorkel_gear";s:3:"Yes";s:17:"underwater_camera";s:1:"0";s:7:"scurfer";s:2:"No";s:16:"underwater_video";s:3:"Yes";s:10:"wake_board";s:3:"Yes";}
1
1
0
2
2
0
2018
Yes
Yes
110/220
Grenada and Grenadines
Greece
2916 LADY SHARON GALE https://www.centralyachtagent.com/yachtadmin/yachtimg/yacht2916/2916brochure99.jpg Power 112 N 112.00 Ft 34.00 m 21 6.5 Feet 10 4 1 1 0 2 2 0 2018 No Yes Full Sint Maarten St Martin, French West Indies 48hrs 1998 Broward http://www.viewyacht.com/ladysharongale https://www.cyabrochure.com/ebn/265/pbaX/2916/1 12 18 Originally commissioned as Varsity Jacket and then becoming Strait Jacket, LADY SHARON GALE has a successful charter history, a brand new updated interior, and is ready to resume making memories of a vacation of a lifetime. <br /> <br /> On deck, Lady Sharon Gale offers an unusually large and multifunctional cockpit which is original to the yacht's construction. All outdoor living areas are easily accessed via comfortable stairs that transition from the cockpit to aft deck to the fly bridge. The fixed hardtop provides sun protection while the Jacuzzi and bow areas have great sunning spaces..<br /> <br /> LADY SHARON GALE'S interior is beautifully paneled in satin finished maple throughout. The furnishings, fabrics and stone are of the highest quality. The decor is cohesive and comfortable, and provides a perfect combination of informal elegance. The main salon caters to practical and informal day to day living with comfortable furnishings, a formal dining area, living room area, and full entertainment system. Forward in the galley, she features the enormous Broward "country kitchen" that provides for a casual dining space and comfortable spot to converse with the chef. <br /> <br /> Below, the master stateroom features a king size bed, large flat screen TV with all of the entertainment options, cedar lined closet and his-and-hers baths. Two of the guest staterooms are identical, and offer a double bed in addition to one twin bed in each cabin. A VIP stateroom is unusually large, and features a queen size bed, very large and comfortable en suite bathroom with shower, and occupies the entire bow area.<br /> <br /> &#36;42,000 &#36;42,000 $42000+ all APA of 35% Christmas rate + 10% New Years rate + 15% Based in St. Martin $5k round trip delivery to the BVI's and St. Thomas Plus Expenses Yes Yes Hard drive Hard drive 0 Yes No 8/1 Yes No No Yes Yes Yes Yes Yes Yes Yes Yes n/a Outside 0 Yes none yes Twin Detroit 16V-2000's, 1800 HP 60 Yes 110/220 Yes 1000g Yes 30' towed tender 2 x 250 hp 10 Yes No No 2 No 4 No Yes Yes No Yes No No Yes Yes Yes No Yes Yes Penn 2 0 Yes Yes Yes Yacht offers Rendezvous Diving only - Onboard 0 0 0 0 0 0 0 0 https://www.centralyachtagent.com/yachtadmin/yachtimg/yacht2916/2916brochure1.jpg LADY SHARON GALE is a highly customized 112' Broward superyacht. Indulge in a yacht that offers classic styling, elegant interiors, an energetic crew and gourmet chef at a remarkable rate. This luxurious charter yacht offers unusually large spaces and lavish features. Imagine relaxing with a signature cocktail and panoramic views from the sundeck Jacuzzi. Enjoy the passing shoreline from the fully-equipped bar, or the roomy table surrounded by plush banquette seating. Interiors are designed to be welcoming, upscale yet informal, stylish and comfortable. The palette of muted earth tones is relaxing. Rich, maple paneling with a soft satin finish is featured throughout. The new furnishings, fabrics and stone are of the highest quality and create an ambience of casual elegance. On the main deck, charter families and friends will enjoy canap&eacute;s and conversation in the newly furnished salon. Indulge in a signature cocktail from the bar, or be entertained with music and videos on the yacht&rsquo;s updated system. Dine in the formal dining area, or al fresco with sea breezes and stunning views on the aft deck or sundeck. Gather together in the all-new sky lounge with JL Audio sound and LED lighting. Guest accommodations are wonderful for extended families and groups of colleagues and friends. There are four staterooms with six berths positioned on the lower deck level. The master stateroom features a king size bed, cedar lined closet and his-and-her facilities. The VIP stateroom occupies the entire bow area and is nearly equal to the master. It features a queen size bed, plenty of storage and sizable bathroom with shower. Two guest staterooms are furnished with one double bed and one twin bed, so extra berths for children, single guests or staff. Staterooms are updated with new bedding, pillows, linens and towels. LADY SHARON GALE is ideal for island hopping. Powered by Detroit Diesel engines of 1800 HP each, she reaches a speedy 18 knots and happily cruises at 12 knots. Pick up the yacht in St Maarten and enjoy excursions to chic St. Barth&rsquo;s and pristine Anguilla. Also available for Virgin Islands charters. https://www.centralyachtagent.com/yachtadmin/yachtimg/yacht2916/2916brochure2.jpg Stylish sofa beckons relaxation. https://www.centralyachtagent.com/yachtadmin/yachtimg/yacht2916/2916brochure3.jpg Elegant Formal Dining https://www.centralyachtagent.com/yachtadmin/yachtimg/yacht2916/2916brochure4.jpg A quiet nook for a book. https://www.centralyachtagent.com/yachtadmin/yachtimg/yacht2916/2916brochure5.jpg Seating for a crowd. https://www.centralyachtagent.com/yachtadmin/yachtimg/yacht2916/2916brochure6.jpg Updated Navigation Systems https://www.centralyachtagent.com/yachtadmin/yachtimg/yacht2916/2916brochure7.jpg Salon Entertainment Center https://www.centralyachtagent.com/yachtadmin/yachtimg/yacht2916/2916brochure8.jpg Deluxe Master Stateroom https://www.centralyachtagent.com/yachtadmin/yachtimg/yacht2916/2916brochure9.jpg Exquisite His and Her Facilities https://www.centralyachtagent.com/yachtadmin/yachtimg/yacht2916/2916brochure10.jpg VIP Queen Bed Stateroom https://www.centralyachtagent.com/yachtadmin/yachtimg/yacht2916/2916brochure11.jpg Guest Bathroom https://www.centralyachtagent.com/yachtadmin/yachtimg/yacht2916/2916brochure12.jpg Leaving St. Maarten https://www.centralyachtagent.com/yachtadmin/yachtimg/yacht2916/2916brochure13.jpg Heading out Simpson Bay Bridge https://www.centralyachtagent.com/yachtadmin/yachtimg/yacht2916/2916brochure14.jpg Breezy aft deck dining. https://www.centralyachtagent.com/yachtadmin/yachtimg/yacht2916/2916brochure15.jpg Professional service with a big smile. https://www.centralyachtagent.com/yachtadmin/yachtimg/yacht2916/2916brochure16.jpg Sun deck luxury living. https://www.centralyachtagent.com/yachtadmin/yachtimg/yacht2916/2916brochure17.jpg Jacuzzi with panoramic views https://www.centralyachtagent.com/yachtadmin/yachtimg/yacht2916/2916brochure18.jpg Towed Center Console Tender https://www.centralyachtagent.com/yachtadmin/yachtimg/yacht2916/2916brochure19.jpg Readying New Southport 30 https://www.centralyachtagent.com/yachtadmin/yachtimg/yacht2916/2916brochure88.jpg https://www.cyabrochure.com/ebn/265/pbaX/2916/3 https://www.cyabrochure.com/ebn/265/pbaX/2916/4 The 30' Towable Tender is complete with bathroom + capacity for 10. Twin Yamaha 205.5' Southport 2900TE. <br /> Additionally the yacht has an AB 12 inflatable tender with 25hp carrying 6 passengers. All new updated TV's and entertainment systems. Direct Sat TV in all rooms. <br /> <br /> Fly bridge with customized table with seating for dining, large Jacuzzi and sunning areas.<br /> Sat Com, cellular Caribbean Virgin Islands, Caribbean Leewards, Caribbean Windwards Caribbean Virgin Islands, Caribbean Leewards, Caribbean Windwards 0 5 5 5 https://www.centralyachtagent.com/yachtadmin/yachtlg/yacht2916/2916brochure2.jpg https://www.centralyachtagent.com/yachtadmin/yachtlg/yacht2916/2916brochure3.jpg https://www.centralyachtagent.com/yachtadmin/yachtlg/yacht2916/2916brochure4.jpg https://www.centralyachtagent.com/yachtadmin/yachtlg/yacht2916/2916brochure5.jpg https://www.centralyachtagent.com/yachtadmin/yachtlg/yacht2916/2916brochure6.jpg https://www.centralyachtagent.com/yachtadmin/yachtlg/yacht2916/2916brochure7.jpg https://www.centralyachtagent.com/yachtadmin/yachtlg/yacht2916/2916brochure8.jpg https://www.centralyachtagent.com/yachtadmin/yachtlg/yacht2916/2916brochure9.jpg https://www.centralyachtagent.com/yachtadmin/yachtlg/yacht2916/2916brochure10.jpg https://www.centralyachtagent.com/yachtadmin/yachtlg/yacht2916/2916brochure11.jpg https://www.centralyachtagent.com/yachtadmin/yachtlg/yacht2916/2916brochure12.jpg https://www.centralyachtagent.com/yachtadmin/yachtlg/yacht2916/2916brochure13.jpg https://www.centralyachtagent.com/yachtadmin/yachtlg/yacht2916/2916brochure14.jpg https://www.centralyachtagent.com/yachtadmin/yachtlg/yacht2916/2916brochure15.jpg https://www.centralyachtagent.com/yachtadmin/yachtlg/yacht2916/2916brochure16.jpg https://www.centralyachtagent.com/yachtadmin/yachtlg/yacht2916/2916brochure17.jpg https://www.centralyachtagent.com/yachtadmin/yachtlg/yacht2916/2916brochure18.jpg https://www.centralyachtagent.com/yachtadmin/yachtlg/yacht2916/2916brochure19.jpg &lt;p&gt;&lt;strong&gt;&lt;em&gt;Day 1:&lt;/em&gt;&lt;/strong&gt;&lt;/p&gt; &lt;p&gt;&lt;em&gt;Vegetable Minestrone Soup &lt;/em&gt;&lt;em&gt;Basil pesto fresh, grated parmesan &lt;/em&gt;&lt;/p&gt; &lt;p&gt;&lt;em&gt;Rosemary Focaccia &lt;/em&gt;&lt;em&gt;Olive oil, balsamic vinegar &lt;/em&gt;&lt;/p&gt; &lt;p&gt;&lt;em&gt;Char grilled peppers and courgettes &lt;/em&gt;&lt;em&gt;Toasted pumpkin seeds, feta cheese &lt;/em&gt;&lt;/p&gt; &lt;p&gt;&lt;em&gt;Butter nut squash tortellini &lt;/em&gt;&lt;em&gt;Toasted pine nuts, gorgonzola cheese sauce &lt;/em&gt;&lt;/p&gt; &lt;p&gt;&lt;em&gt;King prawn linguine &lt;/em&gt;&lt;em&gt;Garlic chili, lemon &lt;/em&gt;&lt;/p&gt; &lt;p&gt;&lt;em&gt;Porchetta (Pork belly ) &lt;/em&gt;&lt;em&gt;Marinated with sage, garlic and thyme, fennel and apple salad &lt;/em&gt;&lt;/p&gt; &lt;p&gt;&lt;em&gt;Vanilla Panna cotta &lt;/em&gt;&lt;em&gt;Short bread, poached rhubarb&lt;/em&gt;&lt;/p&gt; &lt;p&gt;&lt;strong&gt;&lt;em&gt;Day 2:&lt;/em&gt;&lt;/strong&gt;&lt;/p&gt; &lt;p&gt;&lt;em&gt;cucumber and avocado gazpacho&lt;/em&gt;&lt;/p&gt; &lt;p&gt;&lt;em&gt;cucumber and chive&lt;/em&gt;&lt;/p&gt; &lt;p&gt;&lt;em&gt;Cajun seared tuna chilli mango salsa, coriander, crispy wonton&lt;/em&gt;&lt;/p&gt; &lt;p&gt;&lt;em&gt;Tartart of mahi mahi baby gem leaves, crispy shallots&lt;/em&gt;&lt;/p&gt; &lt;p&gt;&lt;em&gt;Jerk chicken thighs coriander rice and beans&lt;/em&gt;&lt;/p&gt; &lt;p&gt;&lt;em&gt;Scallops baked in the shell garlic, chilli and herb crust&lt;/em&gt;&lt;/p&gt; &lt;p&gt;&lt;em&gt;Selection of ice cream and sorbets fresh fruit compote&lt;/em&gt;&lt;/p&gt; &lt;p&gt;&lt;em&gt;Vanilla Panna cotta Short bread, poached rhubarb&lt;/em&gt;&lt;/p&gt; &lt;p&gt;&lt;strong&gt;&lt;em&gt;Day 3:&lt;/em&gt;&lt;/strong&gt;&lt;/p&gt; &lt;p&gt;&lt;em&gt;miso soup &lt;/em&gt;&lt;/p&gt; &lt;p&gt;&lt;em&gt;tofu and spring onions &lt;/em&gt;&lt;/p&gt; &lt;p&gt;&lt;em&gt;chicken yakitori &lt;/em&gt;&lt;em&gt;sesame seeds &lt;/em&gt;&lt;/p&gt; &lt;p&gt;&lt;em&gt;selection of maki rolls &lt;/em&gt;&lt;em&gt;king prawn, salmon, tuna &lt;/em&gt;&lt;/p&gt; &lt;p&gt;&lt;em&gt;wasabi and soy marinated sirloin &lt;/em&gt;&lt;em&gt;daikon radish &lt;/em&gt;&lt;/p&gt; &lt;p&gt;&lt;em&gt;tempura fried vegetables &lt;/em&gt;&lt;em&gt;tempura dipping sauce &lt;/em&gt;&lt;/p&gt; &lt;p&gt;&lt;em&gt;coconut and lime cr&amp;egrave;me brulee &lt;/em&gt;&lt;em&gt;mango sorbet &lt;/em&gt;&lt;/p&gt; &lt;p&gt;&lt;em&gt;Vanilla Panna cotta &lt;/em&gt;&lt;em&gt;Short bread, poached rhubarb&lt;/em&gt;&lt;/p&gt; &lt;p&gt;&lt;strong&gt;&lt;em&gt;Day 4:&lt;/em&gt;&lt;/strong&gt;&lt;/p&gt; &lt;p&gt;&lt;em&gt;French onion soup&lt;/em&gt;&lt;/p&gt; &lt;p&gt;&lt;em&gt;Grilled cheese&lt;/em&gt;&lt;/p&gt; &lt;p&gt;&lt;em&gt;Foie grass terrine fig chutney, granary toast&lt;/em&gt;&lt;/p&gt; &lt;p&gt;&lt;em&gt;Plum tomatoe gallette sun dried tomatoes, rocket salad&lt;/em&gt;&lt;/p&gt; &lt;p&gt;&lt;em&gt;Char grilled fillet steak French fries, blue cheese sauce&lt;/em&gt;&lt;/p&gt; &lt;p&gt;&lt;em&gt;salmon gravalax sauce gribiche, crostinis&lt;/em&gt;&lt;/p&gt; &lt;p&gt;&lt;em&gt;glazed lemon tart fresh raspberries, raspberry sorbe&lt;/em&gt;&lt;/p&gt; &lt;p&gt;&lt;em&gt;Vanilla Panna cotta Short bread, poached rhubarb&lt;/em&gt;&lt;/p&gt; &lt;p&gt;&lt;strong&gt;&lt;em&gt;Day 5:&lt;/em&gt;&lt;/strong&gt;&lt;/p&gt; &lt;p&gt;&lt;em&gt;white bean soup&lt;/em&gt;&lt;/p&gt; &lt;p&gt;&lt;em&gt;truffle oil&lt;/em&gt;&lt;/p&gt; &lt;p&gt;&lt;em&gt;char grilled Williams pear chicory, blue cheese, candied wall nuts&lt;/em&gt;&lt;/p&gt; &lt;p&gt;&lt;em&gt;greek salad fetta cheese, balsamic dressing&lt;/em&gt;&lt;/p&gt; &lt;p&gt;&lt;em&gt;salt pepper king prawns sweet chilli dipping sauce&lt;/em&gt;&lt;/p&gt; &lt;p&gt;&lt;em&gt;salmon gravalax sauce gribiche, crostinis&lt;/em&gt;&lt;/p&gt; &lt;p&gt;&lt;em&gt;glazed lemon tart fresh raspberries, raspberry sorbet&lt;/em&gt;&lt;/p&gt; &lt;p&gt;&lt;em&gt;Vanilla Panna cotta Short bread, poached rhubarb&lt;/em&gt;&lt;/p&gt; &lt;p&gt;&lt;strong&gt;&lt;em&gt;Day 6: &lt;/em&gt;&lt;/strong&gt;&lt;/p&gt; &lt;p&gt;&lt;em&gt;cucumber and avocado gazpacho&lt;/em&gt;&lt;/p&gt; &lt;p&gt;&lt;em&gt;cucumber and chive&lt;/em&gt;&lt;/p&gt; &lt;p&gt;&lt;em&gt;Cajun seared tuna chilli mango salsa, coriander, crispy wonton&lt;/em&gt;&lt;/p&gt; &lt;p&gt;&lt;em&gt;Tartart of mahi mahi baby gem leaves, crispy shallots&lt;/em&gt;&lt;/p&gt; &lt;p&gt;&lt;em&gt;Jerk chicken thighs coriander rice and beans&lt;/em&gt;&lt;/p&gt; &lt;p&gt;&lt;em&gt;Scallops baked in the shell garlic, chilli and herb crust&lt;/em&gt;&lt;/p&gt; &lt;p&gt;&lt;em&gt;Selection of ice cream and sorbets fresh fruit compote&lt;/em&gt;&lt;/p&gt; &lt;p&gt;&lt;em&gt;Vanilla Panna cotta Short bread, poached rhubarb&lt;/em&gt;&lt;/p&gt; https://www.centralyachtagent.com/yachtadmin/yachtlg/yacht2916/2916menu1.jpg https://www.centralyachtagent.com/yachtadmin/yachtlg/yacht2916/2916menu2.jpg https://www.centralyachtagent.com/yachtadmin/yachtlg/yacht2916/2916menu3.jpg https://www.centralyachtagent.com/yachtadmin/yachtlg/yacht2916/2916menu4.jpg https://www.centralyachtagent.com/yachtadmin/yachtlg/yacht2916/2916menu5.jpg 4 Inq No TBA 0 0 0 English, Dutch, German, Spanish, Afrikans Frans Cornelisse Dutch Engineer 0 0 CAPTAIN - TBA<br /> <br /> ENGINEER FRANCISCUS PETRUS CORNELIUS - (Netherlands)<br /> Frans is a seriously talented Jack-of-all-trades. If you&rsquo;ve got some gizmo that you can&rsquo;t quite figure out how to fix, Frans seems to have a sixth sense about those things. He&rsquo;s held a lot of interesting jobs over the years that have demanded exactly this sort of adaptive genius. <br /> <br /> As a young man in the Netherlands, Frans worked for a few years in construction before joining the military and training in first aid. After completing his service, he joined a traveling carnival, working with customers and building, maintaining and repairing the rides and attractions. Then he became a truck driver and after that he was the maintenance manager of 90 apartments in Amsterdam. In 2014, Frans moved to Dutch St. Maarten to manage a private villa that was also rented to guests. All of these experiences placed a critical emphasis on safety, which is also first priority on LADY SHARON GALE.<br /> <br /> CHEF MARTIN PARSONS - (Great Britain)<br /> Martin says he was lucky to grow up in the small town of Exeter set against the backdrop of the lovely rolling hills of Devon, England. Situated twenty minutes from the south coast and one hour from the north coast, family dog walks to the coast, or on the moors, were very common. Friends describe him as kind, loyal, and friendly. They still call him Mart, Marty and now Chef. He always loved sports and aggressive inline skating took up a lot of his time. He also took ski lessons. He made it on to the Exeter ski team and eventually spent six months at Courchevel, the French Alps ski resort center, perfecting his technique.<br /> <br /> While Marty was still in school he landed a part-time job as a chef. He found his calling. He says, &ldquo;As soon as school finished I started a chef apprenticeship and never looked back! But, I am fairly new to the yachting industry. I got my first foot in the door through an old head chef I knew. He asked me to be his crew chef on board a 68-meter superyacht with 18 crew.&rdquo; Now, Martin is excited to be exclusively in charge of the galley on LADY SHARON GALE. He is even planning special cooking classes for interested guests. <br /> <br /> Martin has 17 years of culinary experience. He was trained at a Michelin Star restaurant in classical French/European cuisine, and has an extensive repertoire of international cuisines. He has held numerous prestigious positions at restaurants in Great Britain, in France, and aboard superyachts. His resume includes Sous Chef at Gordon Ramsey Restaurants, Waldorf Astoria Trianon Palace Versailles. <br /> <br /> Martin says, &ldquo;I love European food, particularly French and Italian, but I also love Japanese cuisine, Thai curry, broths and salads, as well as Mexican food. My guests often like dishes the most, which require the least effort. We chefs have a saying; less is more. Let the ingredients speak for themselves.&rdquo; For more professional insights into gourmet cooking, or just to be spoiled with fabulous fare on a beautiful yacht, charter LADY SHARON GALE!<br /> <br /> STEWARDESS LISA VAN VEGHEL - (Netherlands) <br /> Lisa grew up in The Netherlands, in a tiny village with a population of just 800. She lived with Mom, Dad and two older sisters. The local dam and channel were favorite summer spots for swimming, water play and walking the dog. It was an idyllic environment. <br /> <br /> Lisa remembers being very active as a child. &ldquo;I couldn&rsquo;t sit still. I played with other kids, made forts, played ball, skated and ice skated. I was a competitive tennis player and won many awards, always coming in first or second place. I was prepared to attend a sports academy after I finished high school to become a gym teacher. Then problems started with both of my knees. I went to a therapist for four years but, even after extensive treatments, I had to give up because I did not get better.&rdquo; Instead, Lisa opted to attend Avans University and was awarded a degree in business innovations. She moved to St. Maarten in 2013.<br /> <br /> This year, despite other offers, Lisa had &ldquo;the best feeling&rdquo; about Lady Sharon Gale and accepted a position as the stewardess on board. She especially likes the team spirit. Everyone agrees their top priority is to give the guests the best vacation they can have. For the crew, this means providing silver service and privacy, yet with interactive activities always available to guests. If you&rsquo;d like to play some beach tennis or board games, she&rsquo;s a ready opponent. Still very athletic, join Lisa and Captain Keith for a boot camp workout. Or, when you&rsquo;re ready to relax on deck and enjoy the scenery, Lisa has an awesome collection of tropical cocktail recipes from her bartending days. She&rsquo;ll help you find your bliss aboard Lady Sharon Gale, however you envision it. <br /> https://www.centralyachtagent.com/yachtadmin/yachtimg/yacht2916/2916brochure44.jpg https://www.centralyachtagent.com/yachtadmin/yachtlg/yacht2916/2916crew2.jpg https://www.centralyachtagent.com/yachtadmin/yachtlg/yacht2916/2916crew3.jpg https://www.centralyachtagent.com/yachtadmin/yachtlg/yacht2916/2916crew4.jpg Frans Cornelisse Martin Parsons Lisa van Veghel Engineer Chef Stewardess St. Vincent Grenada and Grenadines St. Maarten Yes No 0 Based in St. Maarten for Winter season Grenadines for hurricane season. + ALL $42000+ all APA of 35% Christmas rate + 10% New Years rate + 15% Based in St. Martin $5k round trip delivery to the BVI's and St. Thomas US Gall/Hr 2 2 1 Yes Yes No Onboard WIFI Lady Sharon Gale 2018 Refurbish items:<br /> Painted complete Vessel<br /> New Southport 2900TE Tender<br /> New 12&rsquo; AB Dinghy with 30hp motor<br /> 2x new Seadoo Spark Waverunners<br /> 4 new paddleboards, new inflatable island<br /> New port side engine<br /> Serviced generators and SB engine<br /> New hydraulic system, rebuilt water makers<br /> New aft ice machine, deep freezer <br /> New kitchen appliances <br /> New carpeting<br /> New bedding, pillows, linens, towels<br /> New salon furniture <br /> New sky lounge with JL Audio sound, LED lighting<br /> New jacuzzi equipment including LED lights<br /> New 4K video &amp; smart home system audio/security<br /> New pumps, fans throughout the vessel<br /> New navigation radar equipment<br /> New KVH communications Satellite <br /> New regulation fire &amp; safety equipment <br /> New life rafts<br /> Central Vac system Concept Special Risks Ltd CSRYP/170992 $5Million 25th October each year PK Yacht Operations LLC Caribbean USA St Thomas, VI 1134975 Select Yachts Marilyn, Daisy, Ann E 1-954-246-3815 [email protected]
150
a:58:{s:10:"03-17-2019";i:2;s:10:"03-18-2019";i:3;s:10:"03-19-2019";i:2;s:10:"03-20-2019";i:3;s:10:"03-21-2019";i:2;s:10:"03-22-2019";i:1;s:10:"03-24-2019";i:5;s:10:"03-25-2019";i:4;s:10:"03-26-2019";i:1;s:10:"03-27-2019";i:2;s:10:"03-28-2019";i:1;s:10:"03-29-2019";i:1;s:10:"03-30-2019";i:2;s:10:"03-31-2019";i:2;s:10:"04-01-2019";i:15;s:10:"04-02-2019";i:3;s:10:"04-03-2019";i:1;s:10:"04-04-2019";i:5;s:10:"04-05-2019";i:3;s:10:"04-06-2019";i:3;s:10:"04-07-2019";i:3;s:10:"04-08-2019";i:2;s:10:"04-09-2019";i:4;s:10:"04-10-2019";i:1;s:10:"04-11-2019";i:1;s:10:"04-13-2019";i:2;s:10:"04-14-2019";i:3;s:10:"04-15-2019";i:1;s:10:"04-16-2019";i:2;s:10:"04-17-2019";i:2;s:10:"04-18-2019";i:1;s:10:"04-19-2019";i:1;s:10:"04-20-2019";i:2;s:10:"04-21-2019";i:6;s:10:"04-22-2019";i:3;s:10:"04-26-2019";i:3;s:10:"04-27-2019";i:2;s:10:"04-28-2019";i:2;s:10:"04-29-2019";i:4;s:10:"04-30-2019";i:5;s:10:"05-02-2019";i:2;s:10:"05-03-2019";i:2;s:10:"05-04-2019";i:1;s:10:"05-05-2019";i:2;s:10:"05-08-2019";i:1;s:10:"05-09-2019";i:3;s:10:"05-10-2019";i:1;s:10:"05-12-2019";i:1;s:10:"05-13-2019";i:4;s:10:"05-14-2019";i:5;s:10:"05-15-2019";i:4;s:10:"05-16-2019";i:2;s:10:"05-17-2019";i:2;s:10:"05-18-2019";i:2;s:10:"05-19-2019";i:2;s:10:"05-20-2019";i:1;s:10:"05-21-2019";i:2;s:10:"05-22-2019";i:2;}